The Best Caesar Salad consists of a thick dressing made up of egg yolks, anchovy fillets, olive oil, parmesan and lemon juice. These ingredients create a delicious savory dressing that is delicious when tossed with garlic croutons and crisp romaine leaves.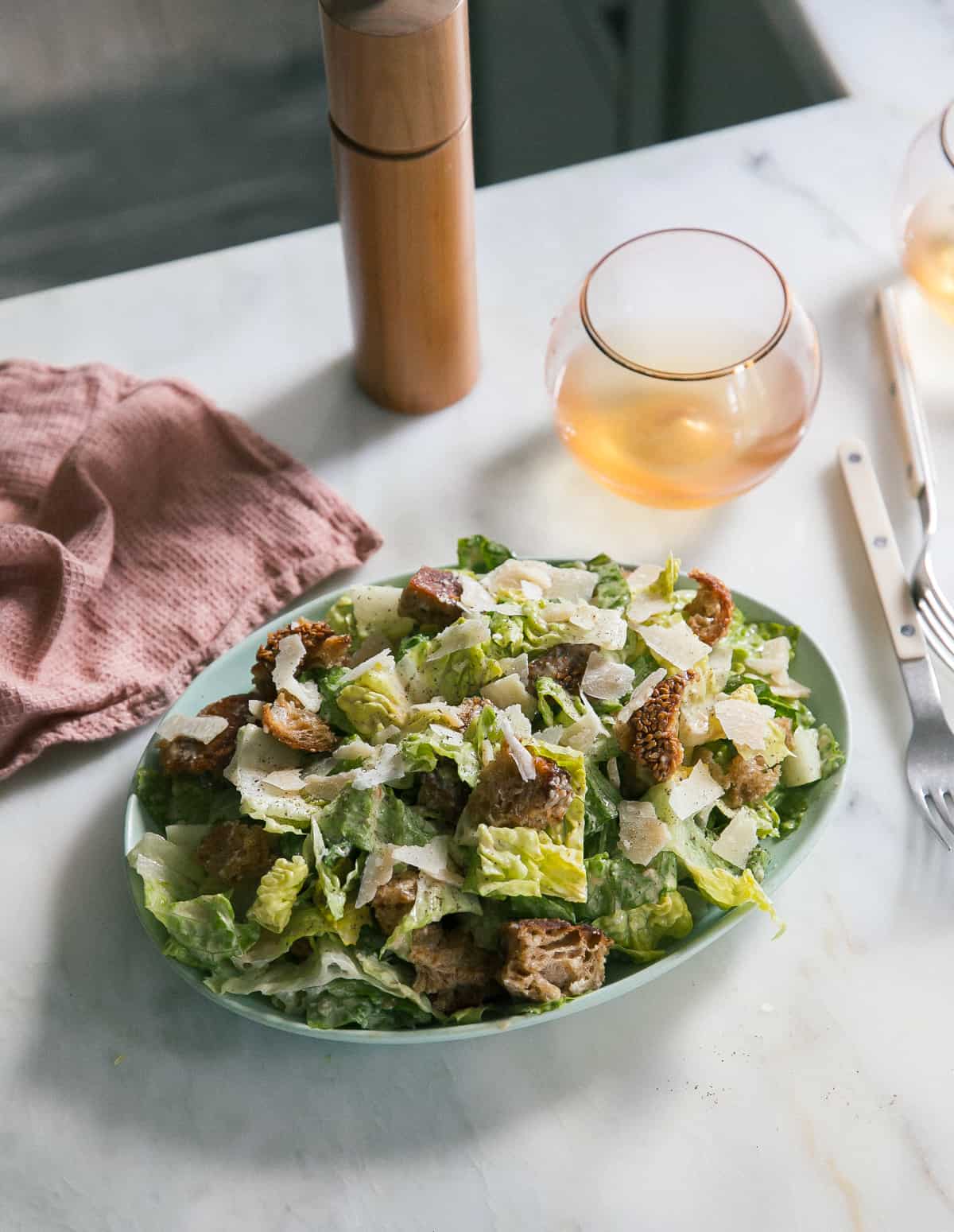 If you were to ask me, "Adrianna, what is your favorite salad?" Without skipping a beat, I would say, A CAESAR SALAD. I love the crispiness of romaine lettuce, I love the savory quality of anchovies, I love bread in salad (who doesn't). It's all glorious.
This blog post is a story of how I like to make the Best Caesar Salad. It's actually not super difficult. A food processor makes it go very quickly. If you don't have one, no worries, I gotchu (more info below). Let's begin.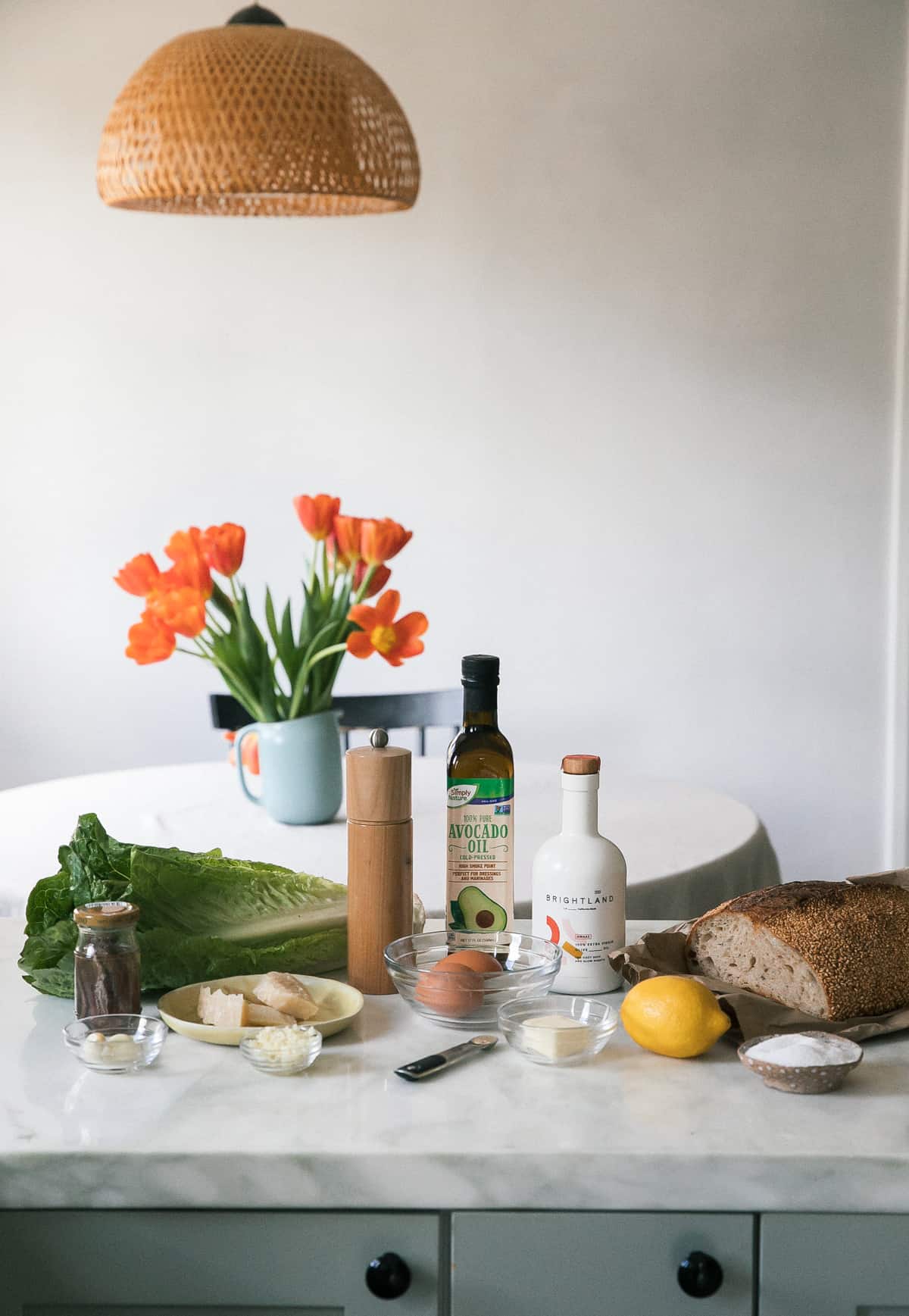 Caesar Salad Origin
I love topics like this! Caesar salad was first originally started at a restaurant in Tijuana, Mexico by the Italian immigrant named Caesar Cardini in 1924. It's been around for a LONG time. A lot of people thing its origins are from Italy but it's much more complicated than that.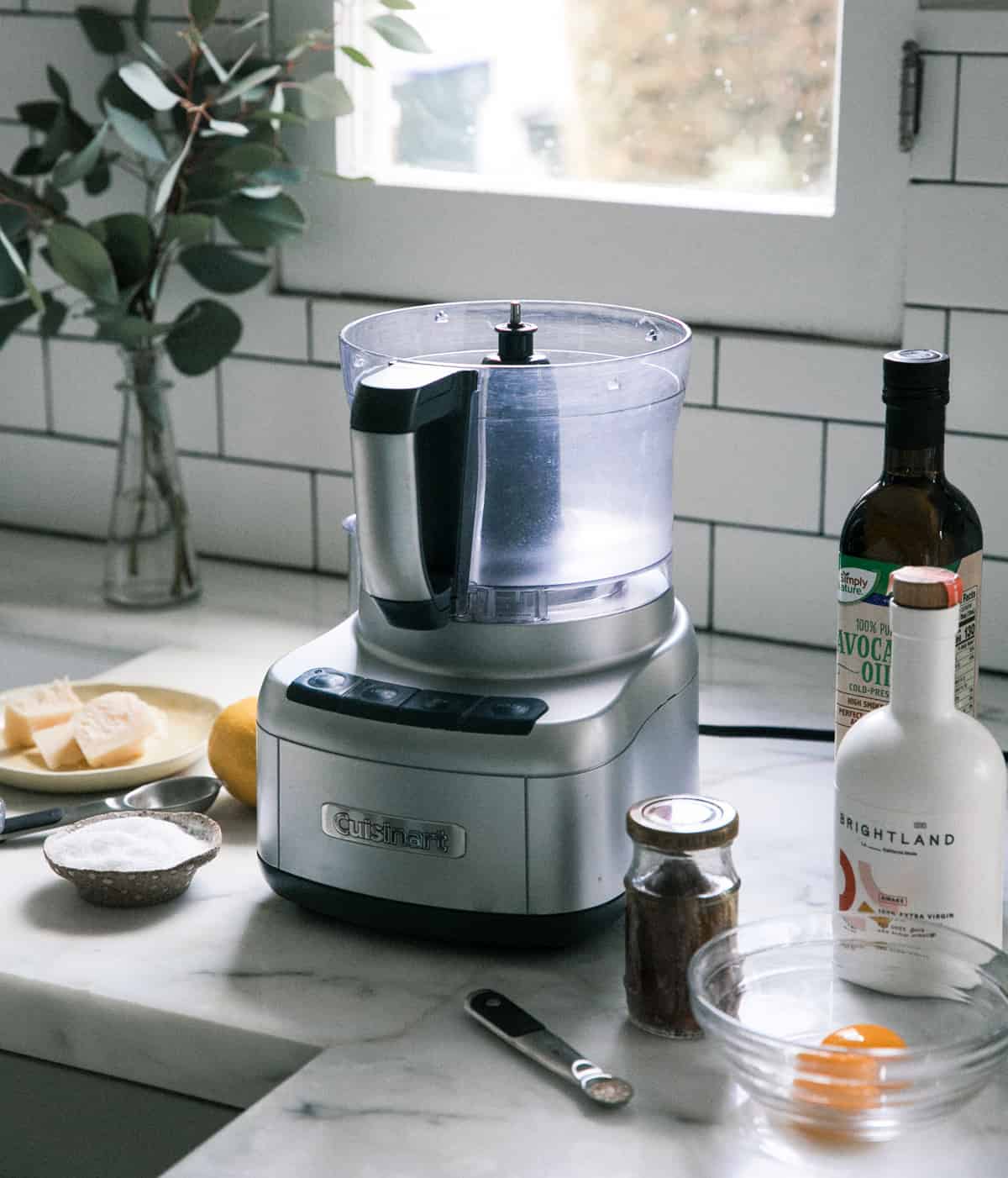 Caesar Salad Ingredients
Anchovies. I like to buy anchovies packed in olive oil that are jarred. You store them in the fridge and they're delightful. I would avoid anchovy paste, if possible. It's not as delicious. White anchovies are the best you can get. Unfortunately I hardly ever buy them due to their price point.
Parmesan. It's a delicious savory addition to this salad.
Egg yolks. This will thicken the dressing and help with the emulsification.
Lemon Juice. This balances out the saltiness beautifully.
Dijon mustard. The flavor from the mustard is super delicious but what I love is that you don't even taste it.
Olive oil.
Avocado Oil (or other neutral oil). If you don't have neutral oil, you could absolutely use ALL olive oil or ALL avocado oil.
Freshly ground pepper.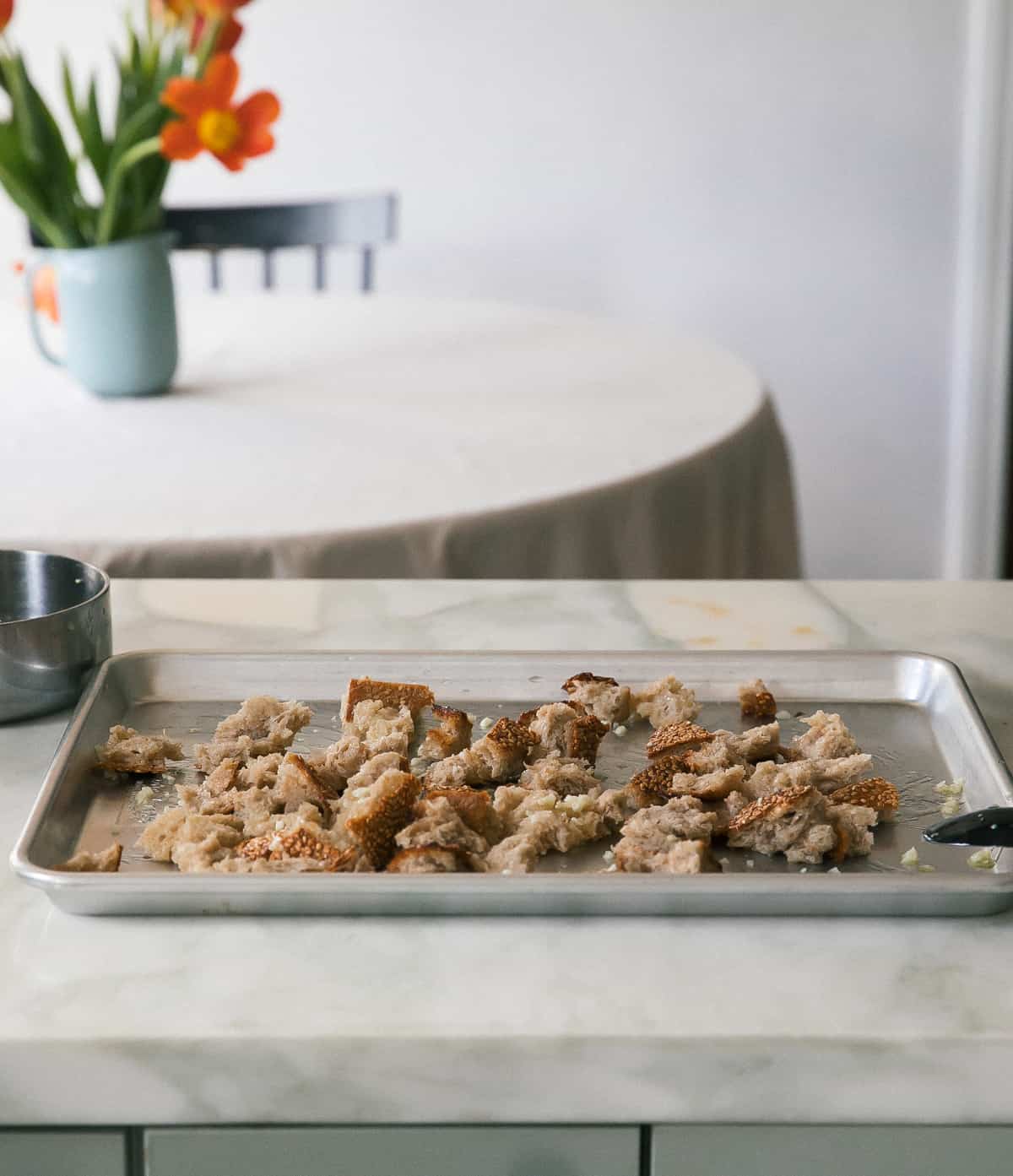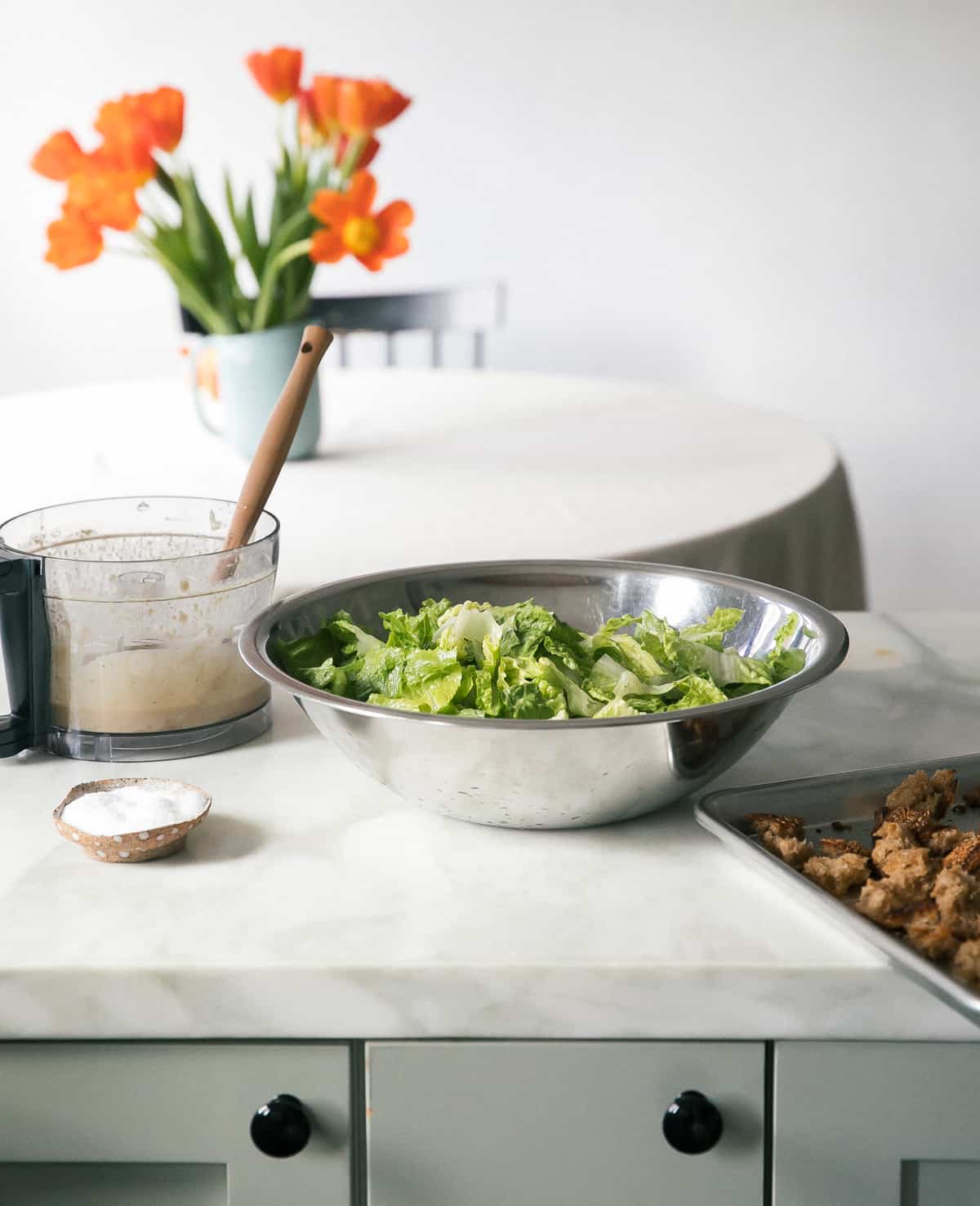 How to Make Caesar Salad
Start with the croutons. I like to melt butter, a bit of olive oil, minced garlic and salt. And then toss it with bread on a baking sheet.
Bake the croutons. Is it just me but I don't like rock hard croutons? I like ones with a bit of give but with crunchy edges.
Add the Parmesan to a food processor. What if you don't own a food processor? You can do all of this in a big bowl! See below for more details. Blend it up until the food processor resembles a corse meal.
Next up, add the anchovies, garlic cloves, egg yolks, lemon juice and Dijon mustard.
With the food processor running, pour in the neutral oil and olive oil.
Scrape down the sides, add a few rounds of freshly ground pepper and blend again.
Give it a taste and add any additional salt. I didn't really need any. This will depend on your anchovies.

How to Make Caesar Dressing Without a Food Processor
For this recipe, I utilized a food processor. But what if you don't have one? No biggie! Here's what I would recommend:
Grab a large bowl
Mince up and mash the anchovies and garlic together. Add a pinch of salt to them both and mash and mash with the back of your knife so that it resembles a paste. No big chunks of garlic allowed!
Grate the Parmesan with a box grater or hand grater. And then proceed by mixing everything together. A whisk will be your best friend in this.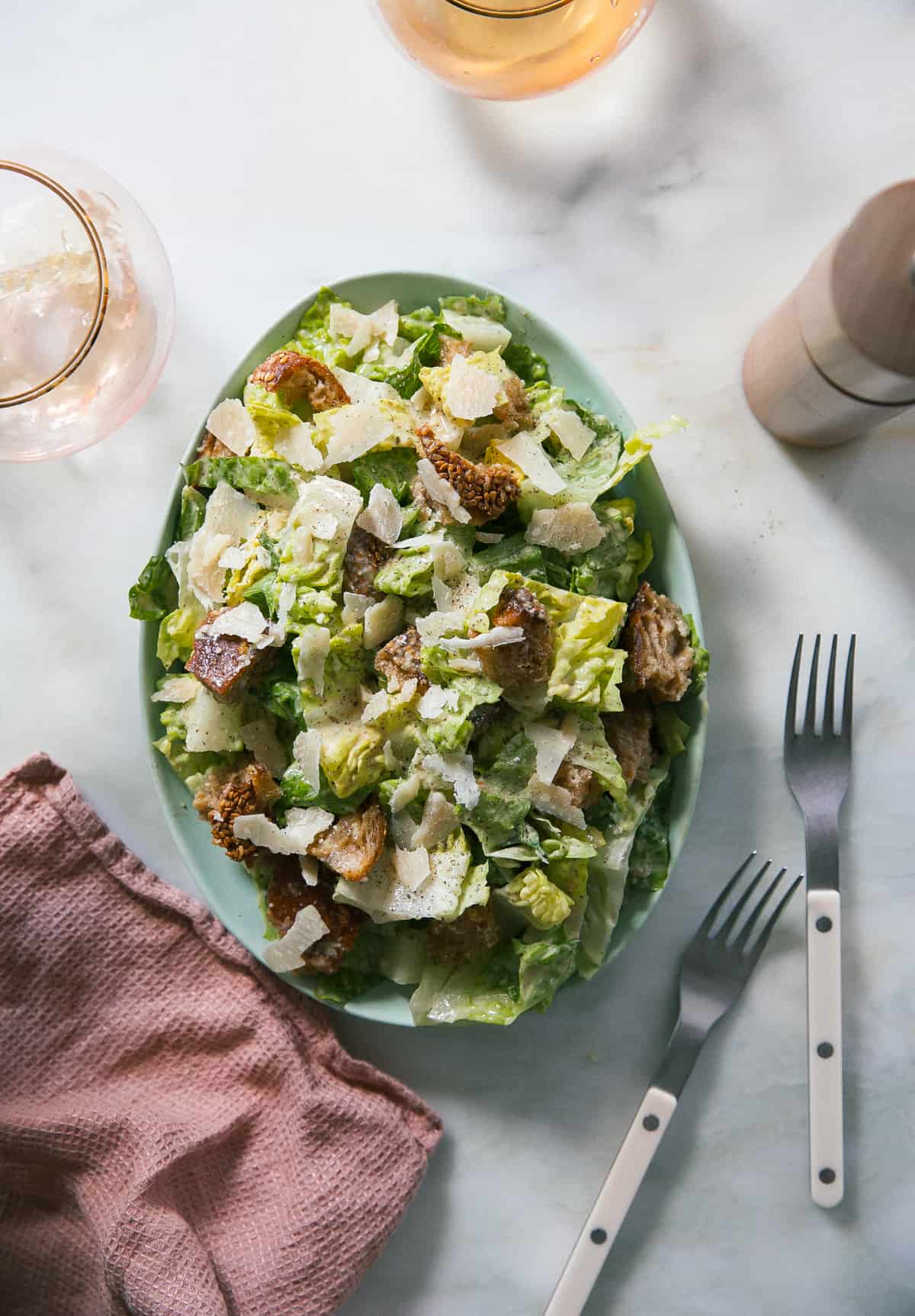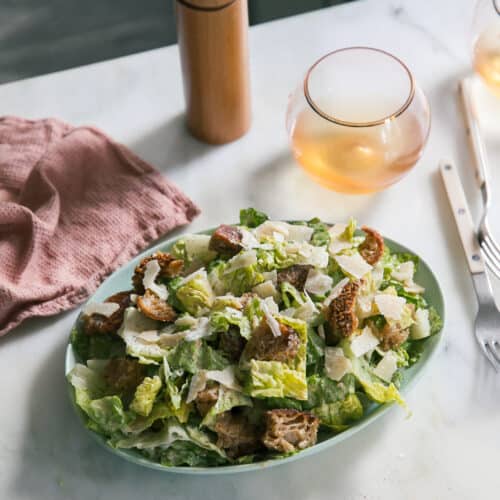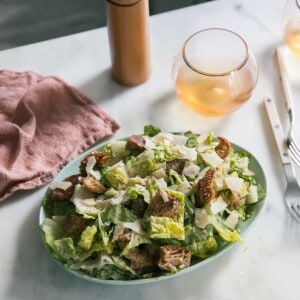 Ingredients
Garlic Croutons:
3

cups

(1-inch) pieces of Italian or country bread

,

with crusts and all

2

tablespoons

unsalted butter

2

tablespoons

olive oil

3

garlic cloves

,

peeled and minced

Kosher salt
Dressing:
2

ounces

Parmesan-Reggiano

,

(about 1/2 cup grated Parmesan-Reggiano)

6

anchovy fillets packet in oil

,

drained

3

garlic cloves

,

peeled

2

large egg yolks

3

tablespoons

lemon juice

,

from about 1 1/2 lemons

1/4

teaspoon

Dijon mustard

3

tablespoons

olive oil

3

tablespoons

avocado oil

,

(or other neutral oil)

Freshly ground pepper

Kosher salt
Romaine:
1

large head of romaine lettuce

,

outside leaves trimmed and/or discarded

Topping:

Freshly ground black pepper

1

ounce

Parmesan-Reggiano
Directions
To Make the Croutons:
Preheat your oven to 350 degrees F. Tear your bread until you get 3 cups of torn bread pieces. Add them to a baking sheet.

In a small saucepan, set over medium heat, add the butter, olive oil, garlic and a few pinches of salt. Cook until fragrant, about 2 minutes.

Immediately pour over the torn bread and toss until the bread has been coated in the butter mixture. Transfer to the oven to bake until lightly golden brown, about 10 minutes.

I don't like my croutons too too hard. If you like them crunchy, you're more than welcome to bake them an extra 5 minutes longer.
To Make the Dressing:
In a food processor, add the Parmesan-Reggiano. Pulse until it's grated and ground up. Then, add the anchovy fillets and garlic cloves; and blend. Next, pour in the egg yolks, lemon juice and Dijon mustard. With the food processor running, pour in the neutral oil and olive oil. Open up the food processor and scrape down the sides. Add about 5 turns of freshly ground pepper and blend one last time. Give it a taste and mix in salt to taste. I only needed a pinch. This will vary depending on your anchovies.

At this point, you can store in the fridge in an airtight container for up to 3 days.
To Assemble the Salad:
Prep your romaine lettuce. Trim off the root end. Discard any outer leaves that are witty and browned. And then using a knife, slice the romaine into 2-inch strips. Transfer it to a colander and wash. And then dry.

Place romaine lettuce in a large bowl. Pour dressing on top, along with the reserved bread crumbs, Parmesan-Reggiano and toss until evenly coated. You really want to make sure the leaves are thoroughly coated in dressing.

Serve immediately.
Serving:
6
g
|
Calories:
205
kcal
|
Carbohydrates:
2
g
|
Protein:
1
g
|
Fat:
22
g
|
Saturated Fat:
5
g
|
Cholesterol:
10
mg
|
Sodium:
4
mg
|
Potassium:
20
mg
|
Sugar:
1
g
|
Vitamin A:
117
IU
|
Vitamin C:
4
mg
|
Calcium:
5
mg
|
Iron:
1
mg
If you make this recipe, let me know on Instagram! 
Looking to pair caesar salad some things? Here are some options: