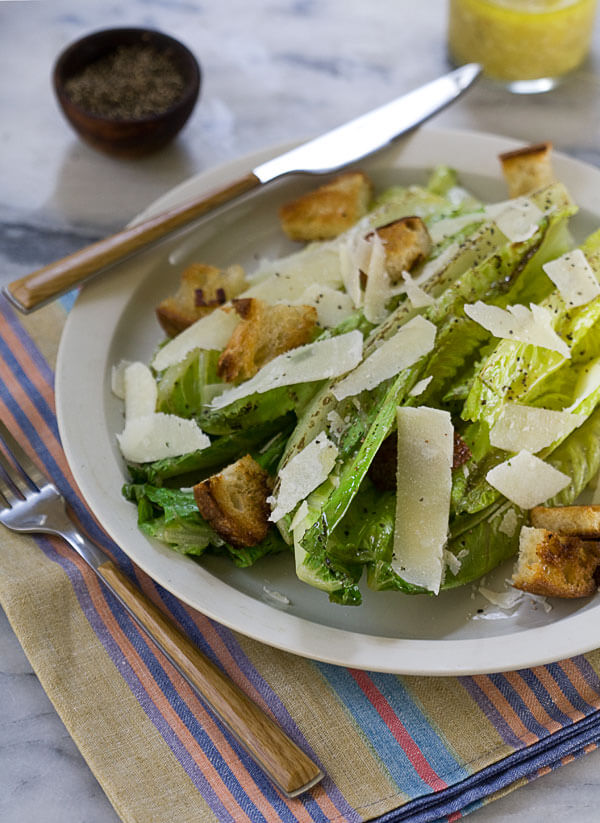 I lived in Orange County California until I was around 10 years old. My favorite So Cal memory is going to this restaurant called Souplantaion. I remember thinking it was so 80s, even though we were totally in the 90s. The concept is cafeteria-style make-your-own salads. It's supposed to be healthy but it's actually the kind of place for a kid to put a bunch of bacon bits and creamy ranch dressing on a pile of bleached lettuce and call it dinner. I loved it. And I especially loved dessert, which was a killer soft serve bar. Tons of sprinkles were poured on top. Tons of crushed Oreos were added when mama wasn't looking. I was sneaky.
Up until recently I've never been a big salad eater. Now–if I'm at a particularly good restaurant–I'll always order a salad. Always. A good salad is what dreams are made of. (And this is coming from a girl who loves biscuits.) Too often than not salads are treated like an afterthought for vegetarians. They aren't properly dressed. The lettuce isn't dried off properly. The leaves aren't properly seasoned. That stupid ubiquitous kale salad is always on the menu. I can literally go on and on and on about my salad gripes. I will stop. You didn't come here to listen to me be a brat about salads. Instead, I'll share with you a fancy-ass caesar salad. I loooove a good caesar salad. They're so simple, but so amazing when done correctly.
I think the first step to making good caesar salad is making a good caesar dressing. This requires anchovies.
White anchovies are always the preference, but I couldn't find them at my fancy grocery store, so I used the normal ones, which were just as good.
The dressing is a mix of minced anchovies, olive oil, loads of garlic, Parmesan-Reggiano and a good amount of pepper.
I was going to take a picture of the anchovies all mashed up in my mortar and pestle but it looked like cat food and I got scared you wouldn't like me anymore.
SO WARNING! It will look like cat food! Just keep it moving; you won't end up seeing it in the end anyway.
Important side note: dogs LOVE anchovies. Their breath will smell terribly afterward. So will yours. Match made in heaven.
Croutons are important. I love browning some butter, adding a bit of olive oil, garlic and salt; and then pan sautéing the cubed bread until they're a pretty golden brown.
I particularly like the flavor of char. I like grilling the whole head or romaine lettuce, then taking it apart a little, dressing it and then putting it back together.
The rest is pretty simple. Little more Parmesan cheese on top, more black pepper, croutons and that's it!
P.S. Like fancy-ass dishes? Here are a few other "fancy" posts from the past: Fancy-Ass BLT and Fancy-Ass Tuna Melt.
How To Make a Fancy-Ass Caesar Salad
Croutons:
1 tablespoon unsalted butter
1 teaspoon olive oil
Salt
Pepper
1 garlic clove, minced
3 slices of old bread (I have a weakness for sourdough), cut into 1-inch by 1-inch cubes
Salad:
2 garlic cloves, peeled and minced
1/4 cup olive oil
1 anchovy (white or other is cool)
1 large egg
1 tablespoon lemon juice (from 1/2 lemon)
1 tablespoon grated Parmesan-Reggiano, plus more for garnish
4 heads of romaine lettuce
1. To a medium skillet, add the butter and cook for 2-3 minutes, until the butter is a light brown color and the foam has begun to subside. Pour in the olive oil, add a pinch of salt, a dash of pepper and the garlic. Cook for an additional minute, until the garlic is fragrant and delicious. Add the cubed bread and cook on each side for 1-2 minutes, until the bread turns a pretty golden brown color. Remove from the pan and set aside.
2. To a small bowl, add the olive oil and garlic cloves; whisk until combined. Mash the anchovies in a mortar and pestle until they resembles a paste. Add the anchovies to the bowl, along with the egg. Whisk vigorously, until the mixture is emulsified. Squeeze in the lemon juice, being sure to catch any seeds and discard. Add about 1 tablespoon of Parmesan-Reggiano. Salt and pepper to taste. (I added about 1/2 teaspoon of salt and pepper.)
3. Brush a grill pan with olive oil and place it over high heat. When hot, add the heads of romaine, charring them on all sides. Carefully transfer them to a cutting board. Cut off the stem and discard. Using a brush or your hands, rub the leaves with the caesar dressing. Transfer to a plate and top with croutons, black pepper and Parmesan-Reggiano.
Serves 4 as a meal; Serves about 6 as a salad appetizer