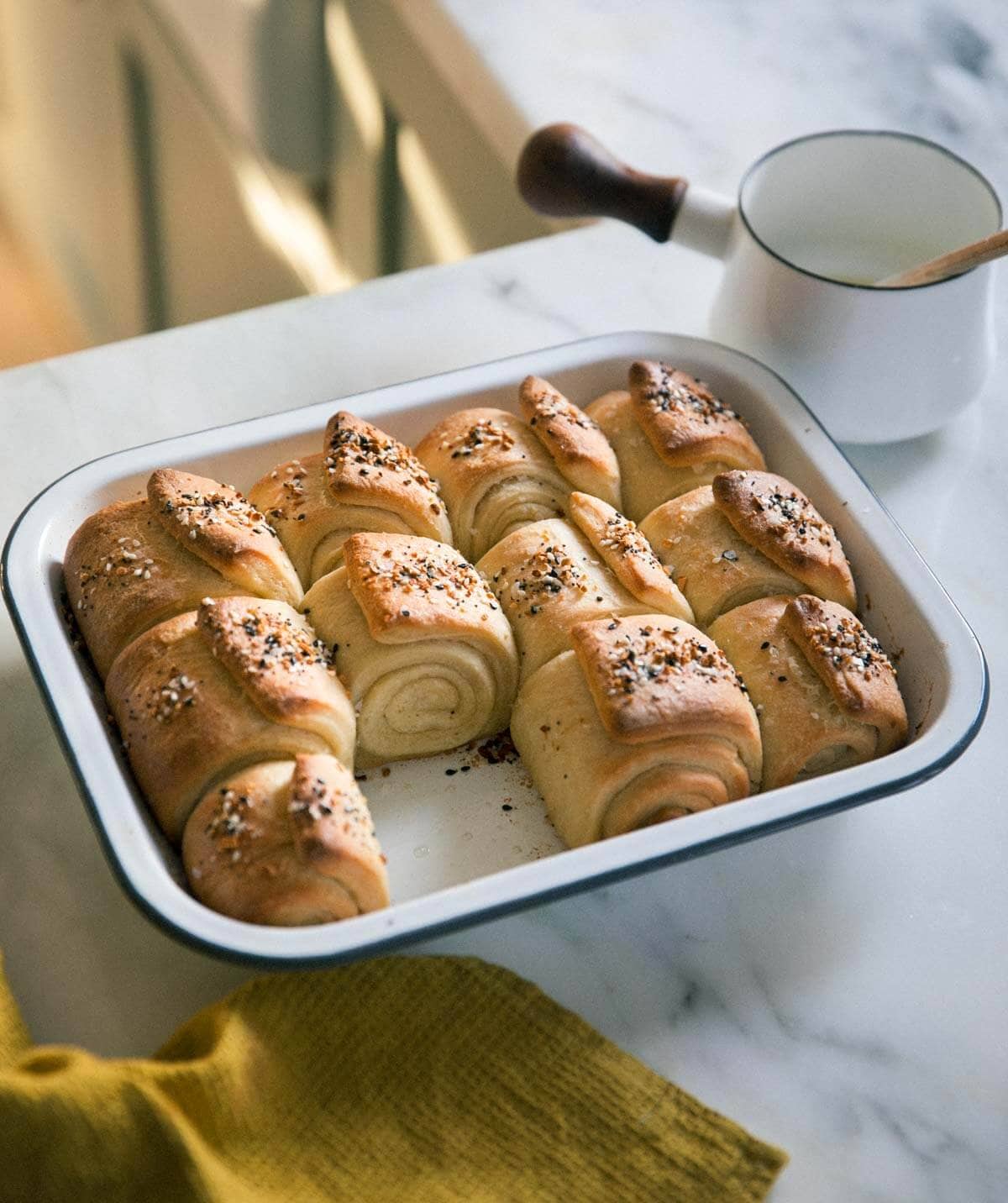 Today we are gathered here today to experience the gloriousness of these Everything Parker House Rolls.
For this post, I teamed up with Fleischmann's® Rapid Rise® Yeast and, let me tell you, it's amazing.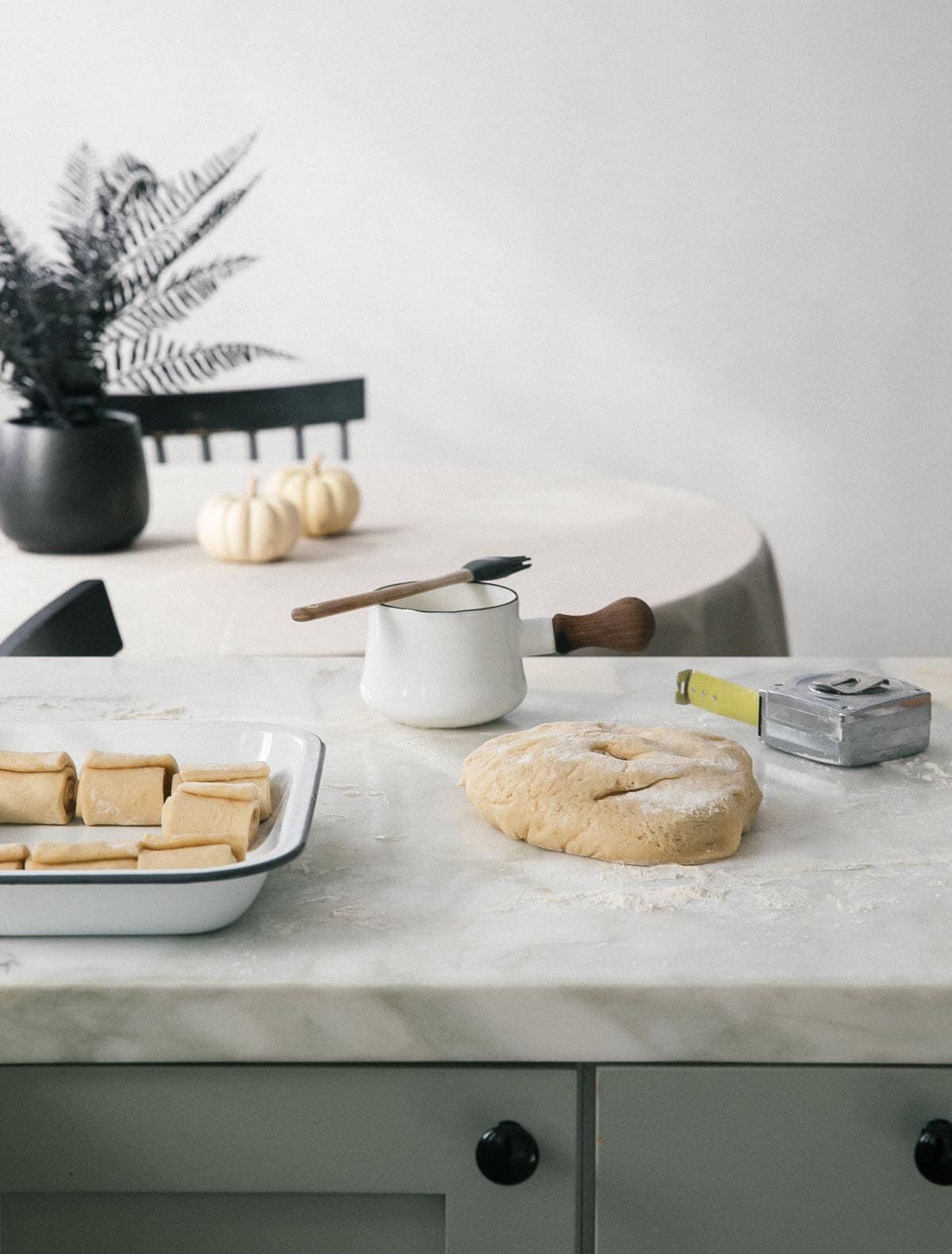 What is RapidRise® Yeast?
Most yeast requires you to get it started in water. Most of my recipes have you dissolve it into lukewarm water or milk and wait until it activates. Sometimes this can be finicky. It can take anywhere from 5 to 8 minutes for it to activate and get all nice and foamy. But Fleischmann's® RapidRise® Yeast is actually mixed within the dry ingredients—no activation required! This means no waiting around for it to be activated. You can mix and proceed with the recipe!
It saves a total of 5 minutes for this recipe and it makes these rolls super fool-proof. No need to worry if you activated the yeast correctly!
Before we deep dive into baking up these rolls, let's talk about history.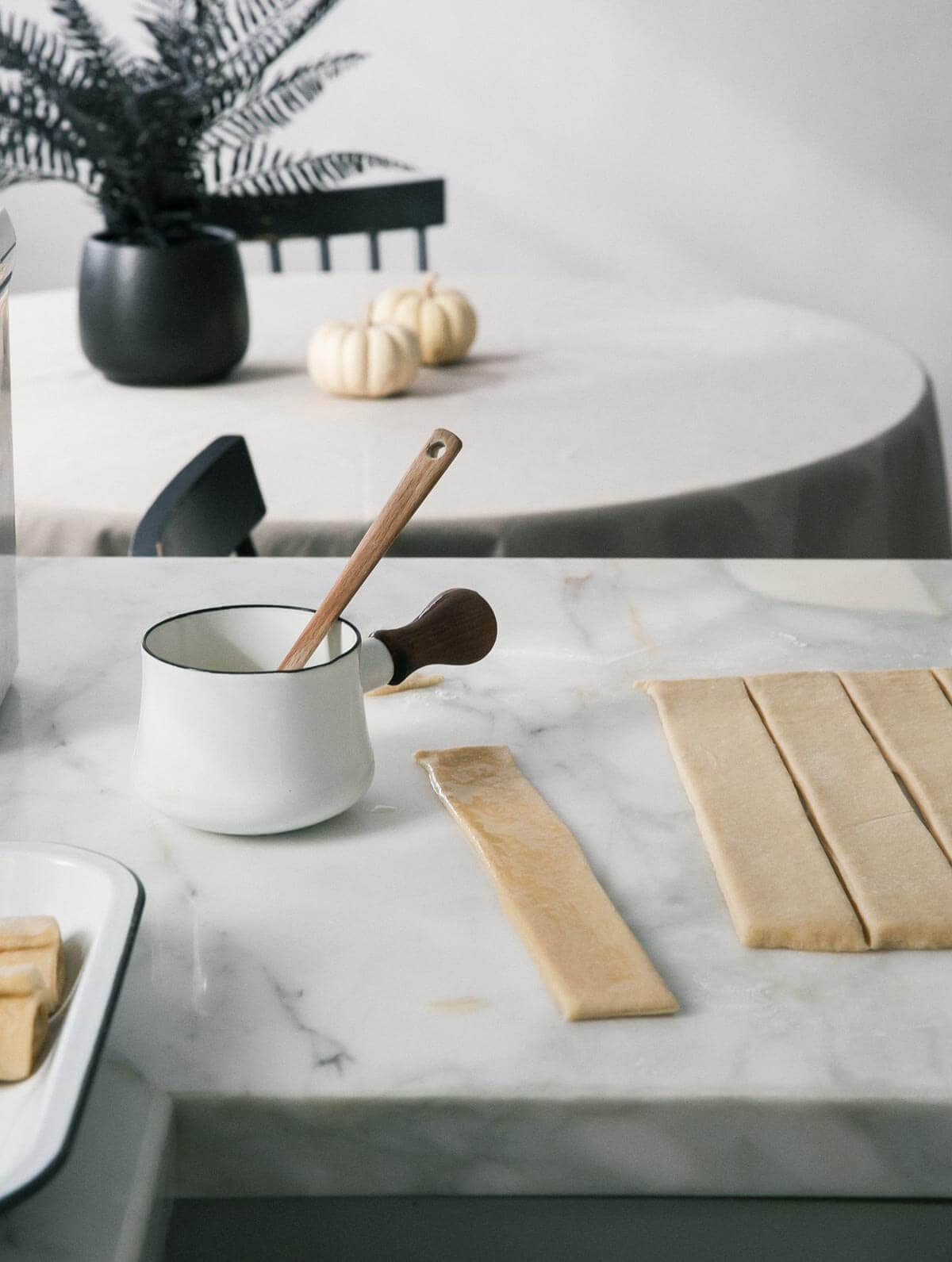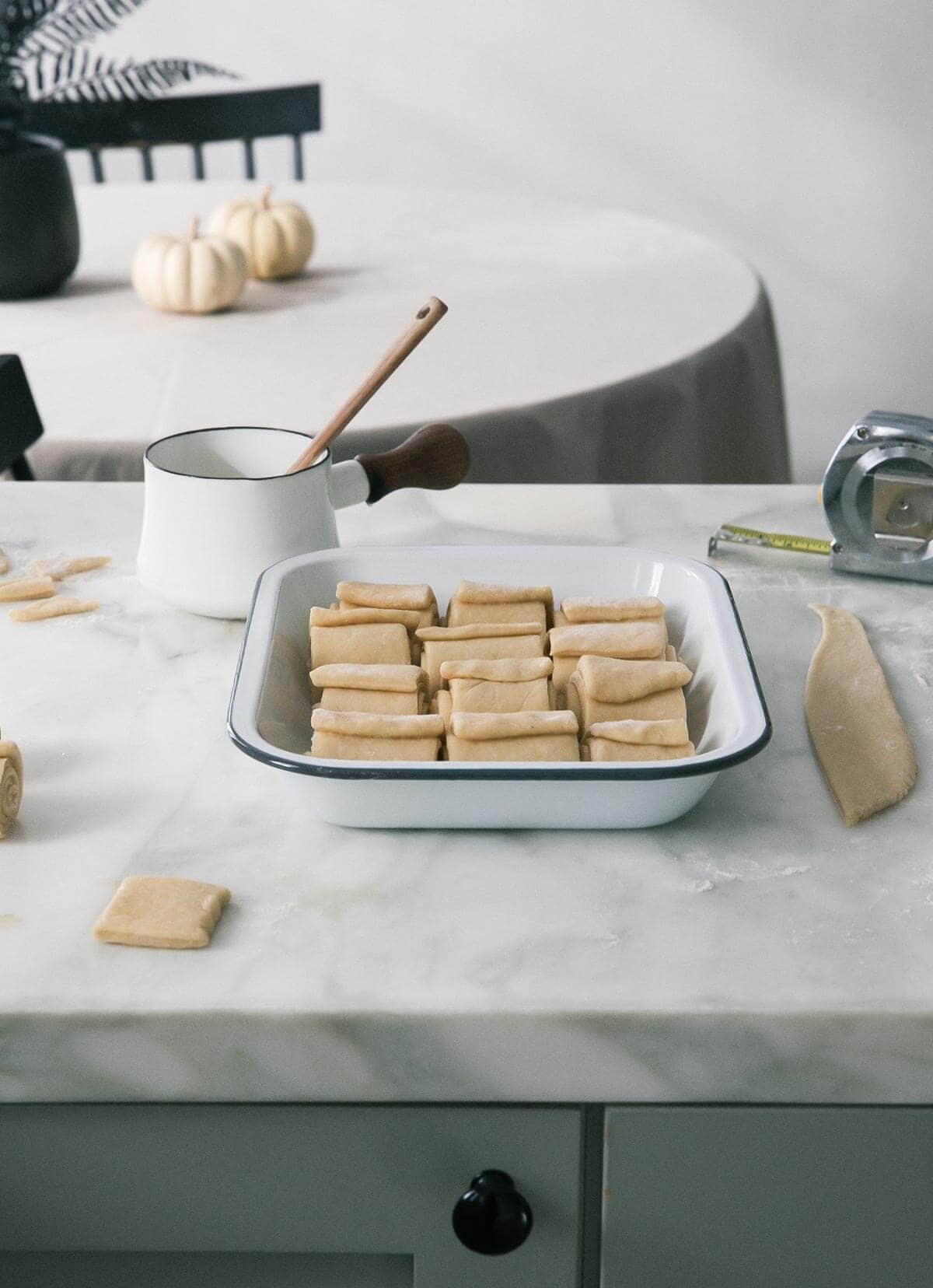 History of Parker House Rolls
Legend has it that Parker House Rolls come from a little inn in Boston called The Parker House, the same place that invented the Boston cream pie. This hotel, while small, was a place where a lot of famous people in the 1800s and early 1900s stayed and ate a version of these rolls. Lucky them.
Traditionally, parker house rolls are oval and folded over almost making a round sandwich. They've always been made with milk and butter in the dough, making them a super soft dinner roll. They made their official American mark by being put in the Fannie Farmer book in the late 1800s.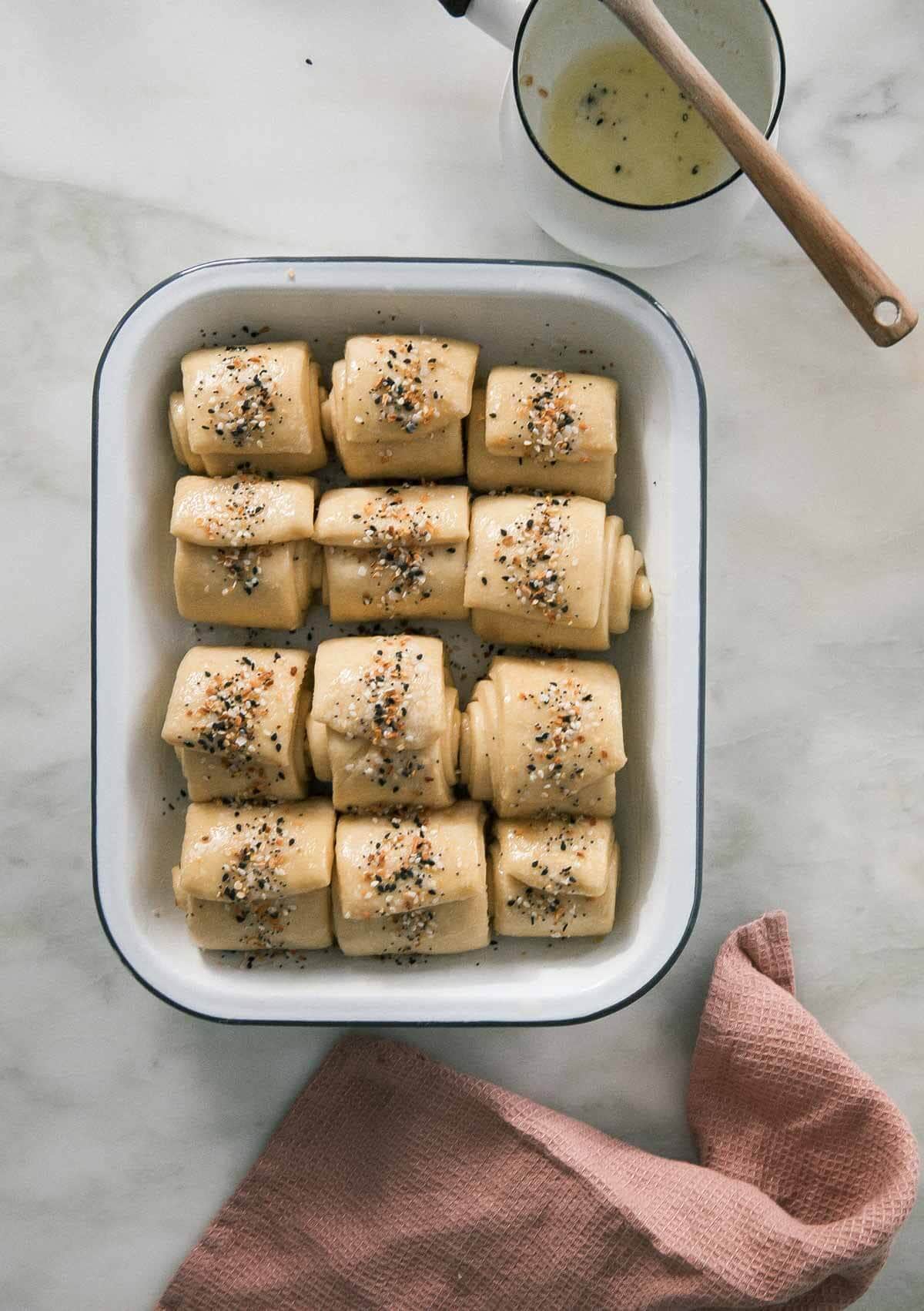 This of course is a different version. One that results in rolling them up, like those childhood croissant rolls I would eat as a kid. I also sprinkled on my favorite 'Everything Bagel Seasoning' on top because who doesn't love the combination of garlic flakes, onion flakes, sesame seeds and crunchy salt?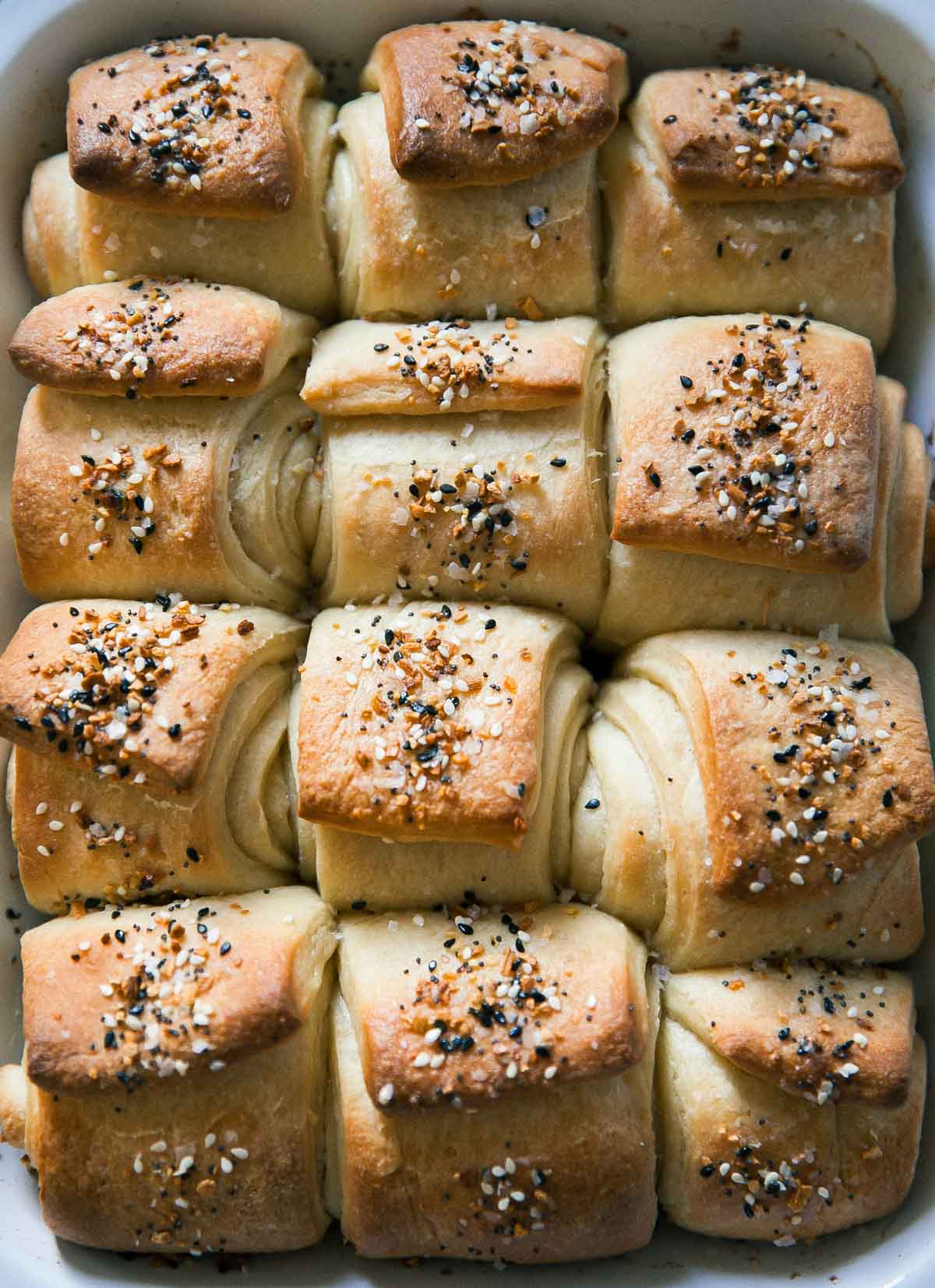 They are glorious and buttery and perfectly light.
People are intimidated by using yeast. It's something we don't work with ALL the time. but I will tell you that Fleischmann's® RapidRise® Yeast takes a lot of guessing game out of the equation. The yeast is added to the dry ingredients, which results in a very simple process!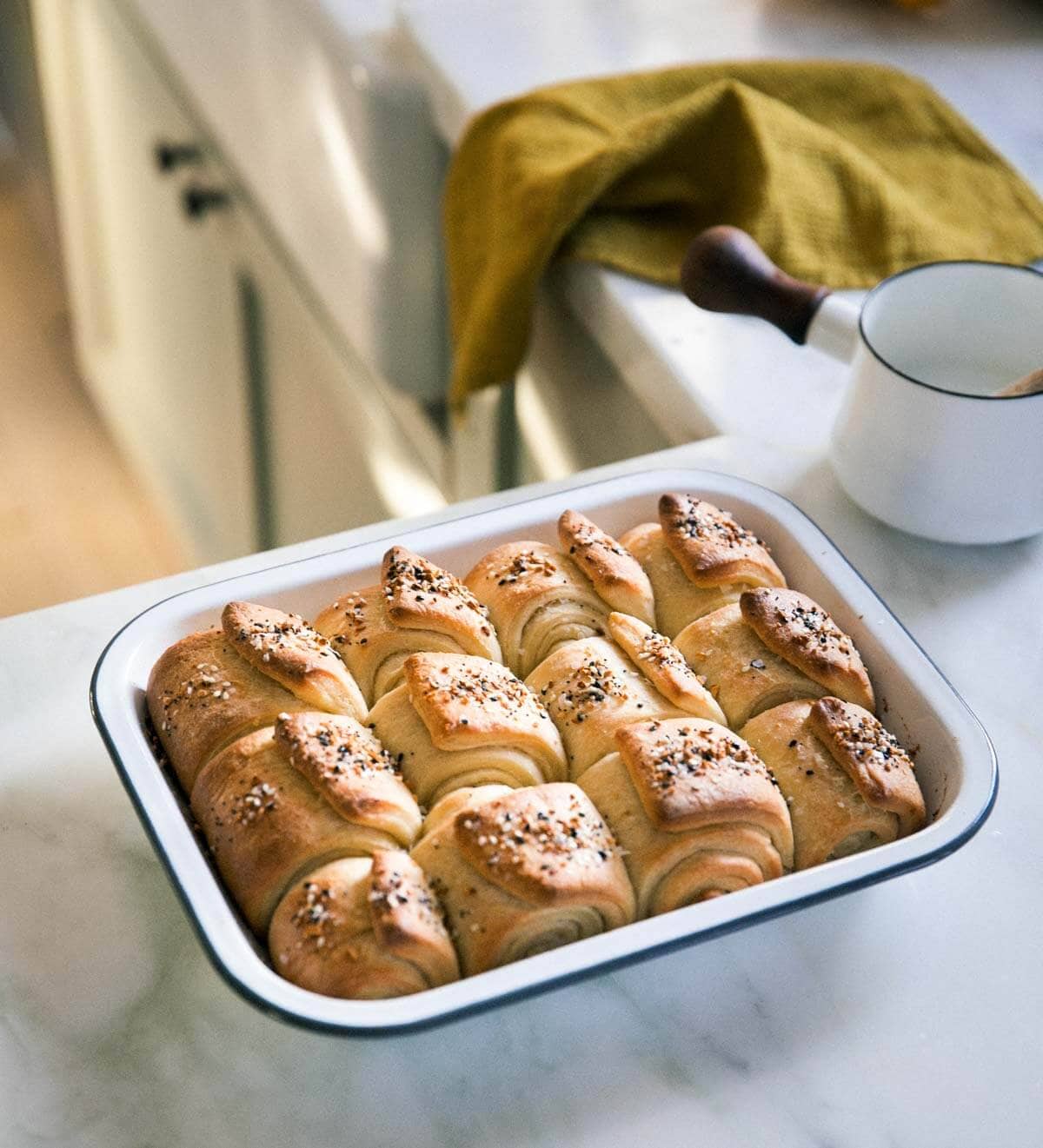 I hope these Everything Parker House Rolls are in your future. They are GOOD. And if they are, you know, make sure to let me know on the Instagram!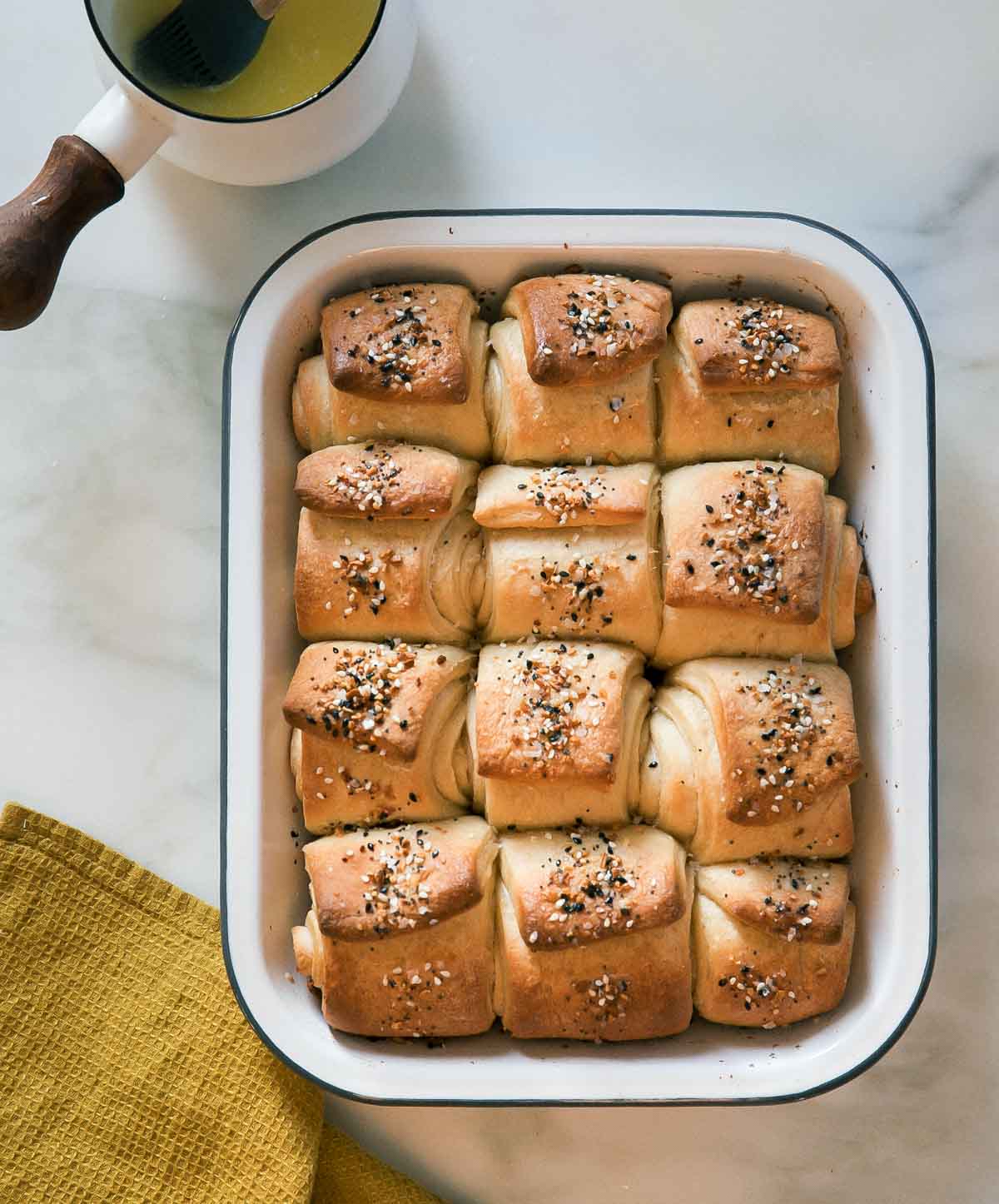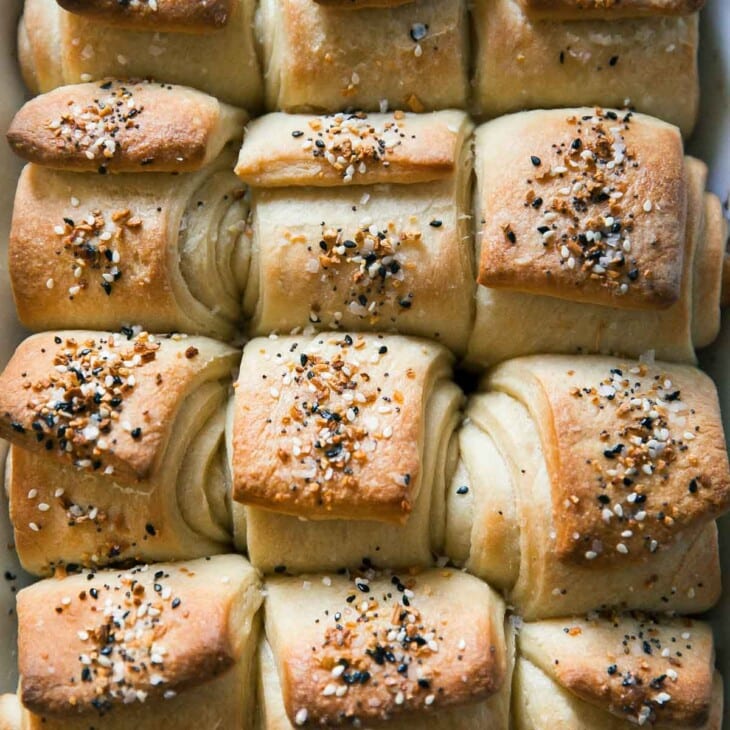 Print Recipe
Everything Parker House Rolls
Everything Parker House Rolls are a flavorful take on this traditional dinner roll. Everything bagel seasoning is delicious on this buttery roll.
Ingredients
4 1/2

cups

all-purpose flour

1/3

cup

white granulated sugar

2

envelopes

Fleischmann's® RapidRise® Yeast

2

teaspoons

kosher salt

3/4

cup

whole milk

3/4

cup

water

1/4

cup

unsalted butter

, melted

1

large

egg

1/4

cup

unsalted butter

melted, for topping

2

tablespoons

'everything bagel seasoning'
Instructions
Brush a 8x9-inch baking dish or something comparable. The size doesn't really matter because you can use 1 dish or use a few that you have. Not pictured is a small additional dish that I needed in order to bake up the remaining 8 small rolls. Set aside.

*Note, this recipe uses a stand-up mixer but if you don't have one, you can simply mix the ingredients together with a spatula and knead the dough by hand!

In the bowl of a stand-up mixer (with the hook attachment), add the flour, sugar, yeast and salt. Mix until combined. In a small pot, set over medium-low heat, warm the milk, water and butter, until butter is melted, being sure it's not too hot (it should be lukewarm) or else the yeast won't rise. If it does get a bit too hot, simply let it stand at room temperature until it cools down.

Pour the liquid mixture into the dry ingredients and mix for about 1 to 2 minutes. Next, add the egg and knead with machine for about 5 minutes, until smooth and elastic. Rub a medium bowl with a bit of olive oil and transfer dough to bowl. Cover with a clean kitchen towel and allow to rest for 10 minutes. Alternatively (and this is what I did), cover the bowl with a lid and allow to rise in the fridge for 12 to 24 hours.

Divide the dough in half; roll each half to a 12-inch x 18-inch square, about 1/4-inch thick. Cut 6 (12x3-inch) strips. Brush each strip with the melted butter and roll it up tightly. Repeat with all of the strips of dough. And then repeat rolling out and slicing and rolling up the dough, using the second half of dough. Transfer the rolls to the the prepared baking dish, arranging the rolls in a row, leaving about 1/4-inch of space between each row. Cover and let rise in a draft-free place until doubled in size, about 30 minutes.

Preheat the oven to 400 degrees F. Brush the tops of the rolls with butter and then sprinkle on a few pinches of the 'everything bagel seasoning' on top. Transfer to the oven to bake for about 13 to 15 minutes, until the tops are golden brown. Remove from the oven and brush with a bit more butter, if you like. Serve warm.
Notes
Bagel Seasoning:
*If you want A LOT of bagel seasoning flavor, feel free to put the seasoning all over the strip and THEN roll it up. And then put more on top. 
Baking Dish Options:
I used one 8x9-inch baking dish and an additional baking dish to fit the remaining small rolls. Feel free to use what you have. 
(This post is sponsored by Fleischmann's®. Thanks for supporting the sponsors that keep A Cozy Kitchen cozy.)