This Overnight Cinnamon Rolls recipe are the perfect make-ahead breakfast item. These rolls are soft and buttery. They have have a punchy cinnamon flavor and are topped with a fluffy cream cheese frosting. The best part about this recipe is that you can split up the work, dividing it into two days.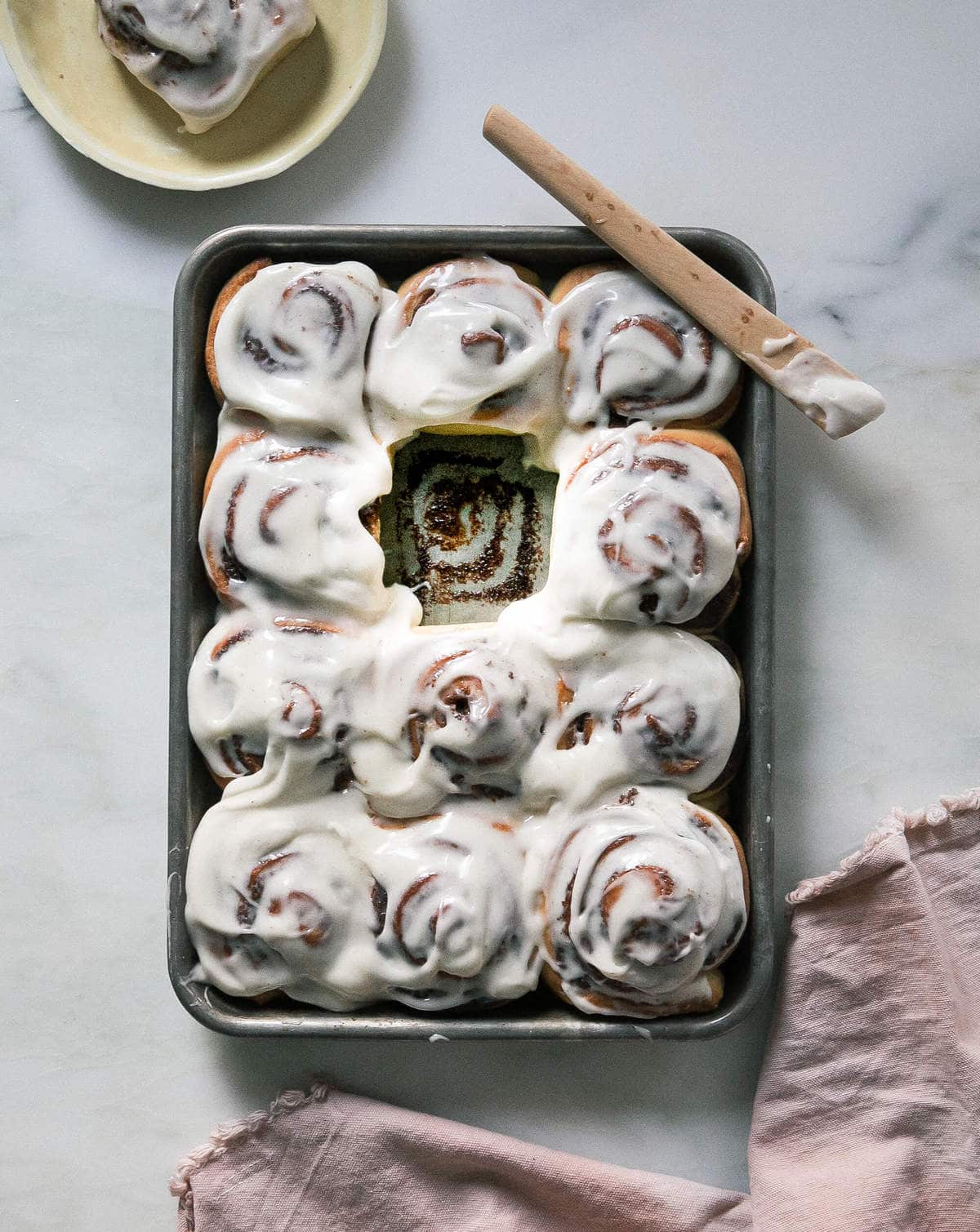 I am currently writing this while it is hailing outside (!!) while a very vintage (circa 2011) episode of Real Housewives of New York plays on in the background. I guess you could say it's a splendid, wonderful day filled with positivity and bright light!
These rolls are sooooo good. I'm not gonna lie, cinnamon rolls are a labor of love. They require two rises, making three separate components (the dough, the filling and the glaze), assembling, chilling, slicing, etc.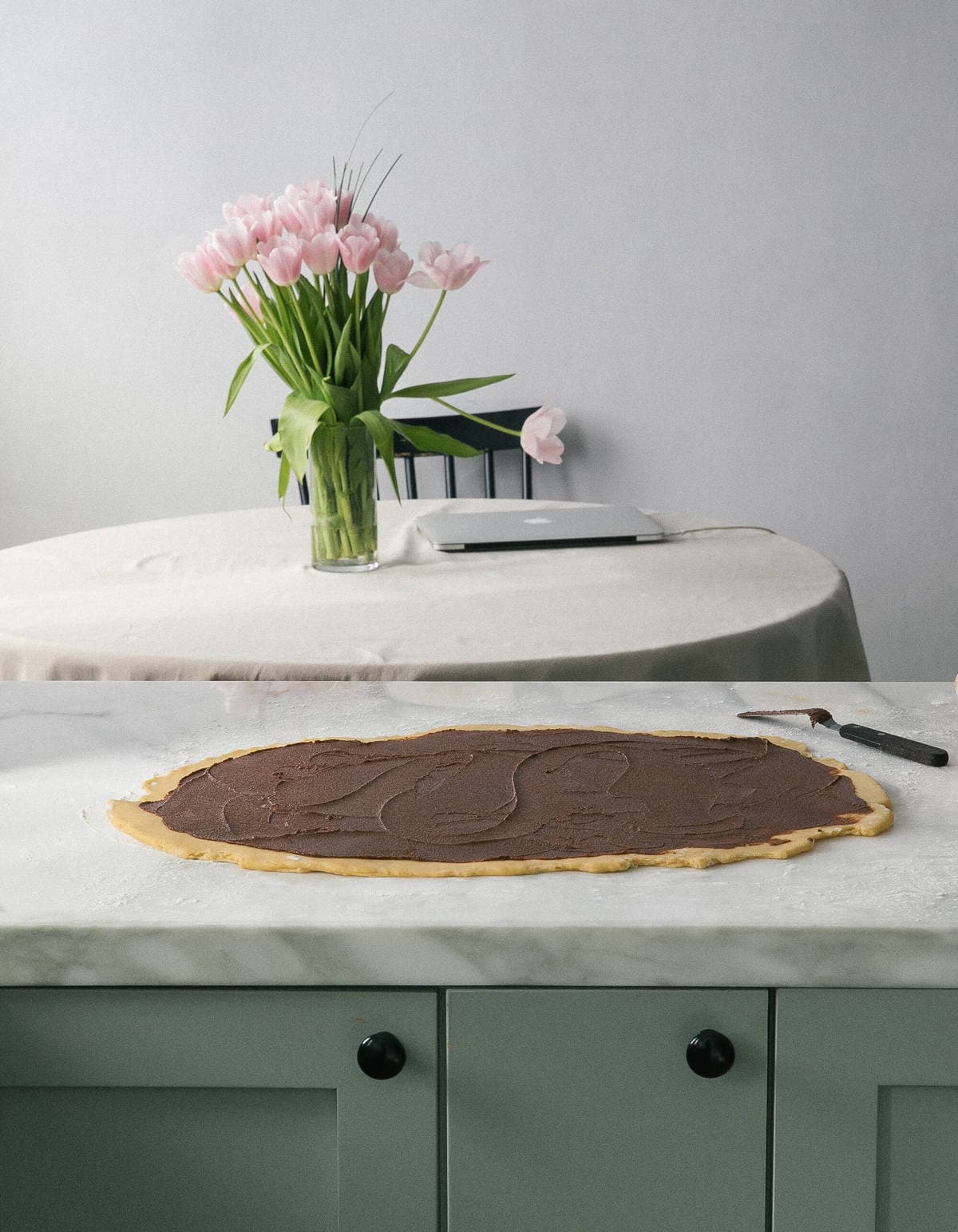 That's why I am a firm believer of dividing the work in half. It's like an interest-free loan when buying a high-ticket item, you know? If you do/pay a little at a time, it doesn't sting as much!
How to Make Cinnamon Rolls Ahead: 
Make the dough
And then make the filling
Make the glaze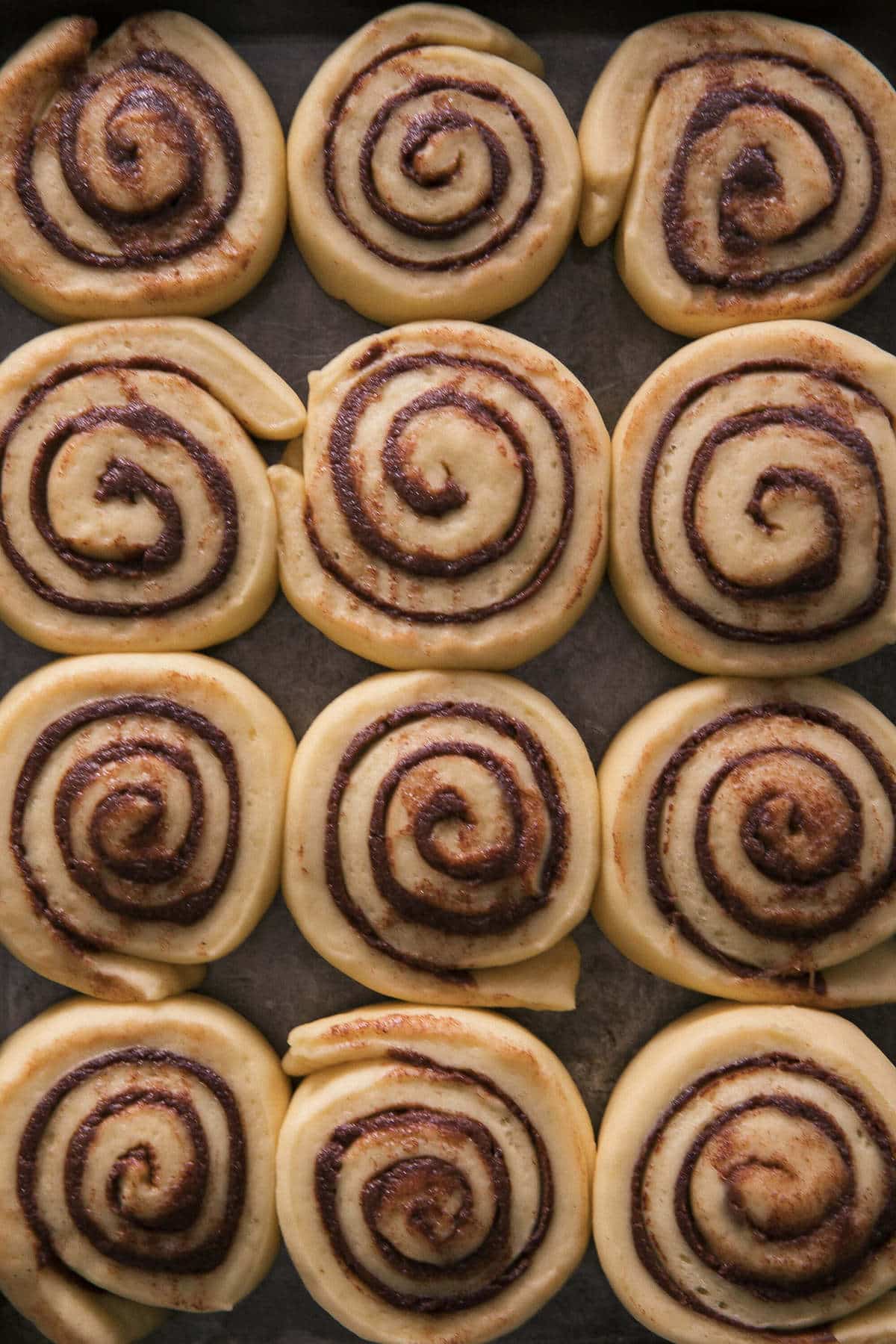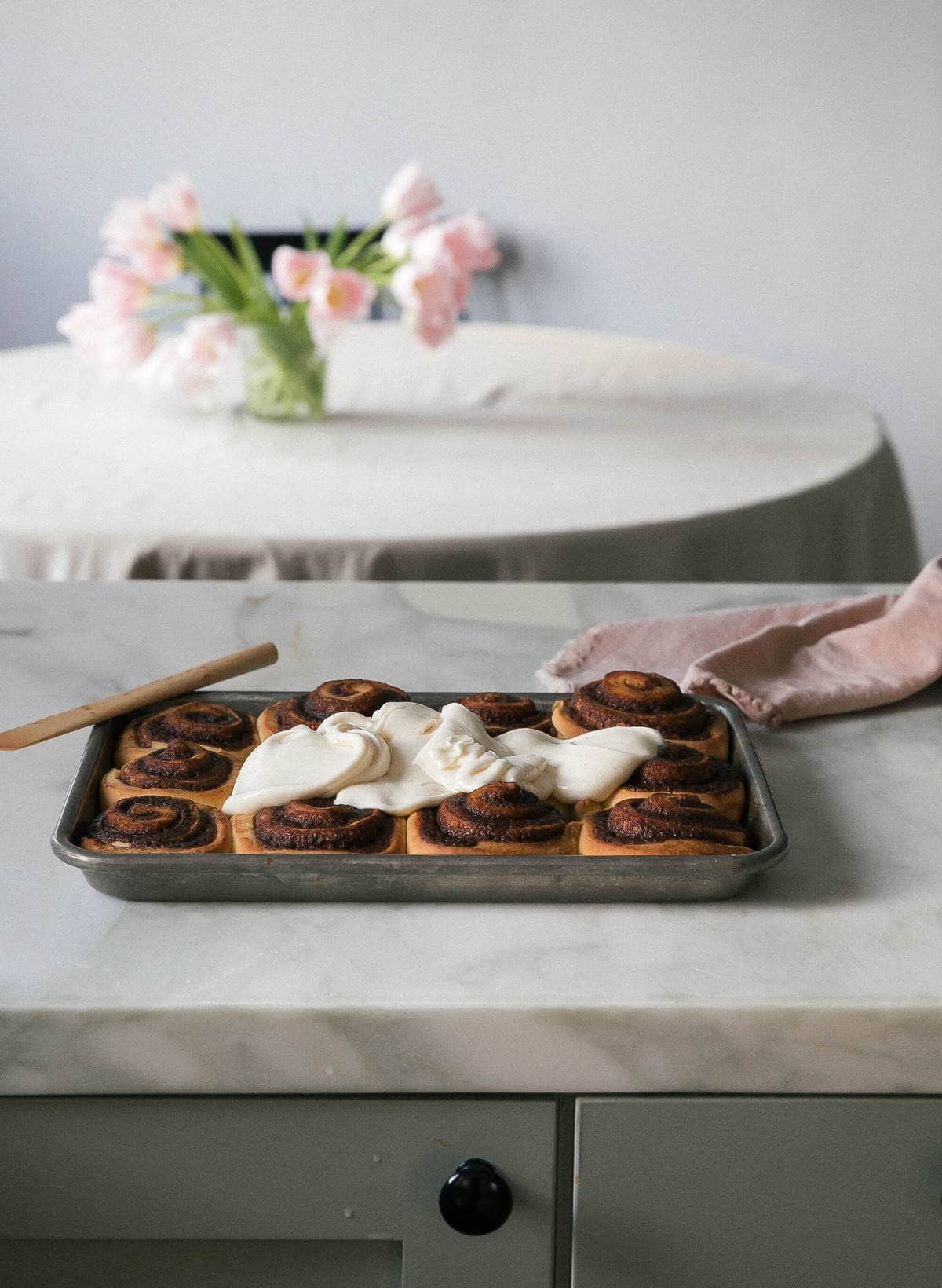 It makes it SO much easier the next day. You'll still have work to do the next day, but dividing it by half makes it a breeze!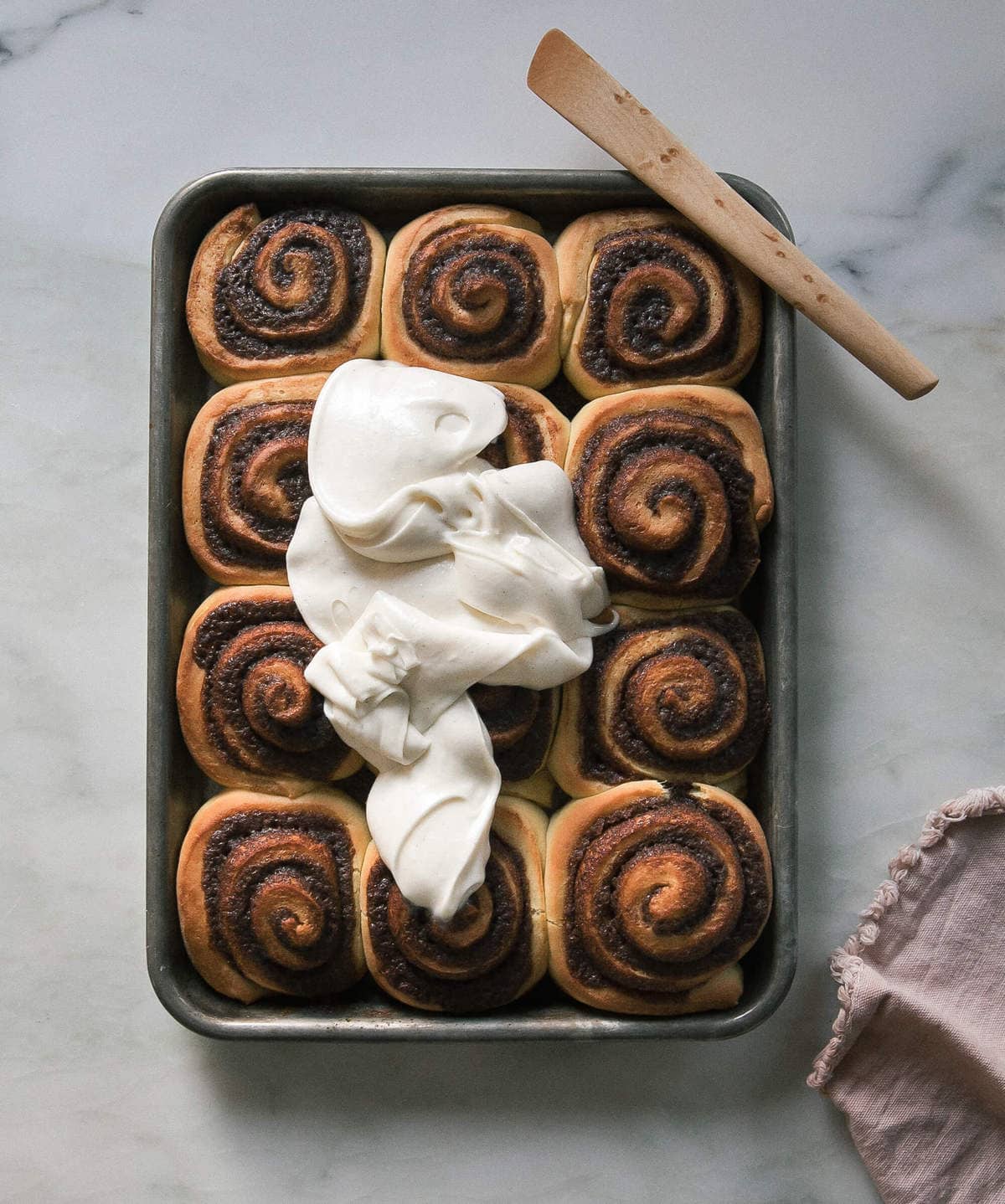 The Next Day You'll Have This On Your To-Do List:
Assemble the rolls
Slice up the rolls and place them cut side up in a baking pan (assembly and slicing them will take about 30 minutes)
Let the rolls rise in a greased bowl in a warm place
Bake them
Make the cream cheese frosting and glaze with room temperature butter/cream cheese. It's super easy and delicious
Smother them with the cream cheese frosting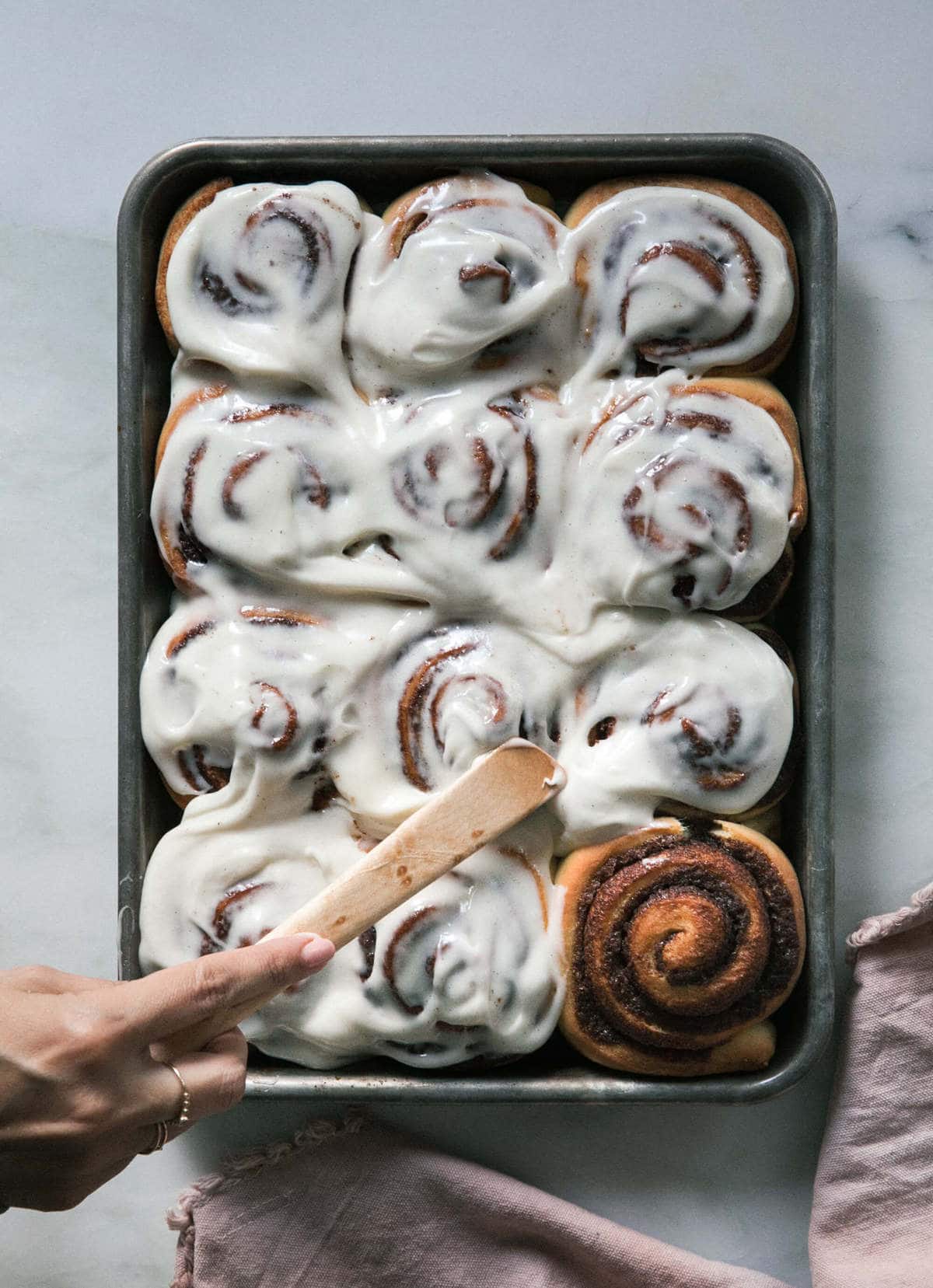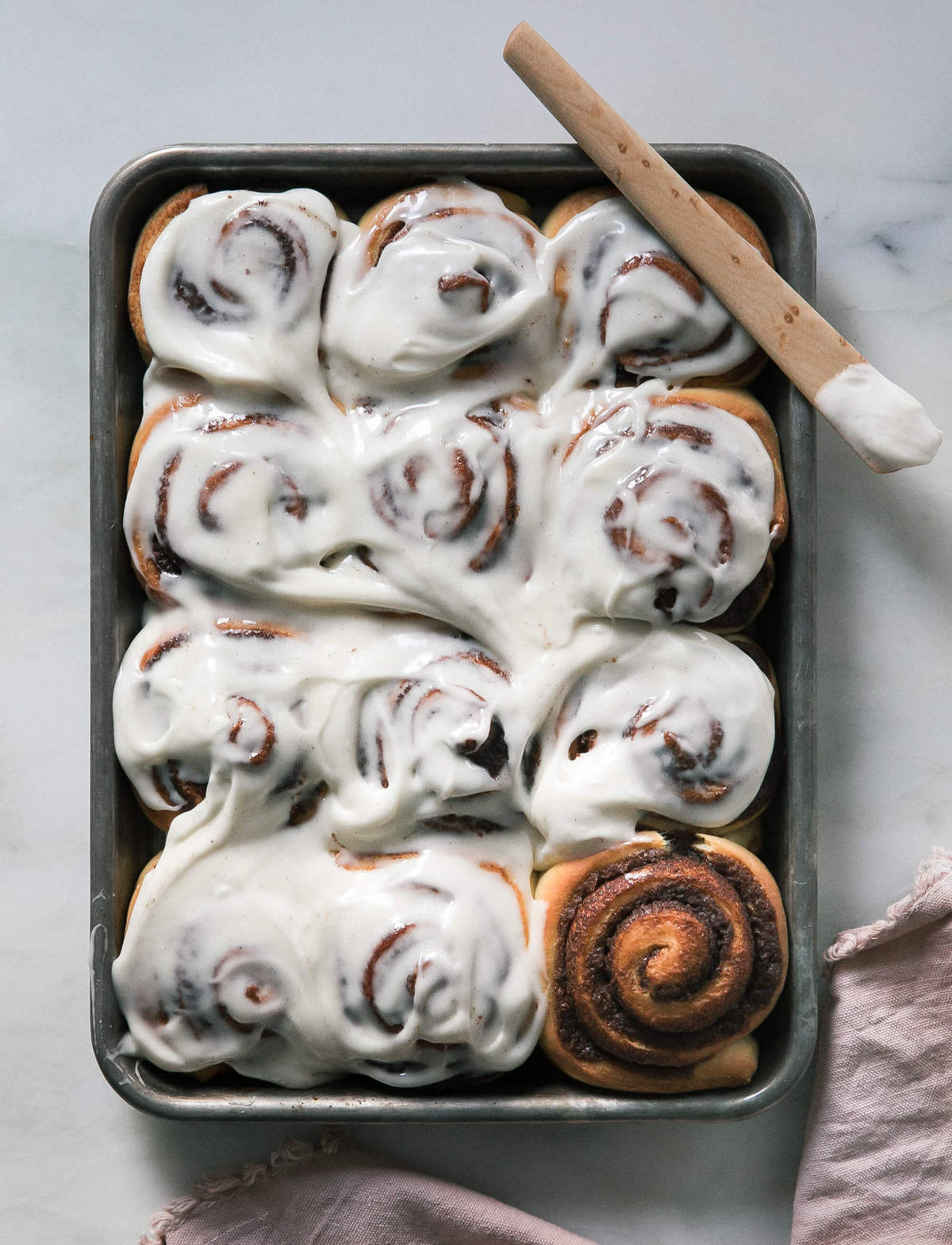 See! So much better. Doing this all in one day (if you're not a pro-baker and used to projects), might be a bit aggressive. If you do make these straight through, here's how the steps will go:
How Do You Make Cinnamon Rolls Soft?
For cinnamon rolls you really want–what is called–"an enriched dough." This means that instead of just combining yeast, flour and water (think: baguettes, boules, etc.), you want to add things that will make it soft and billowy. To achieve a soft cinnamon roll, we add butter, milk and sugar. These three ingredients will give you that soft dough that is oh so lovely in a cinnamon roll.
This dough is super versatile and I love using orange juice as the liquid. But of course, you can use milk, too.
For the glaze, I love using vanilla paste. It makes it so you can see the little speckles of vanilla and for some reason seeing vanilla speckles just makes me so happy.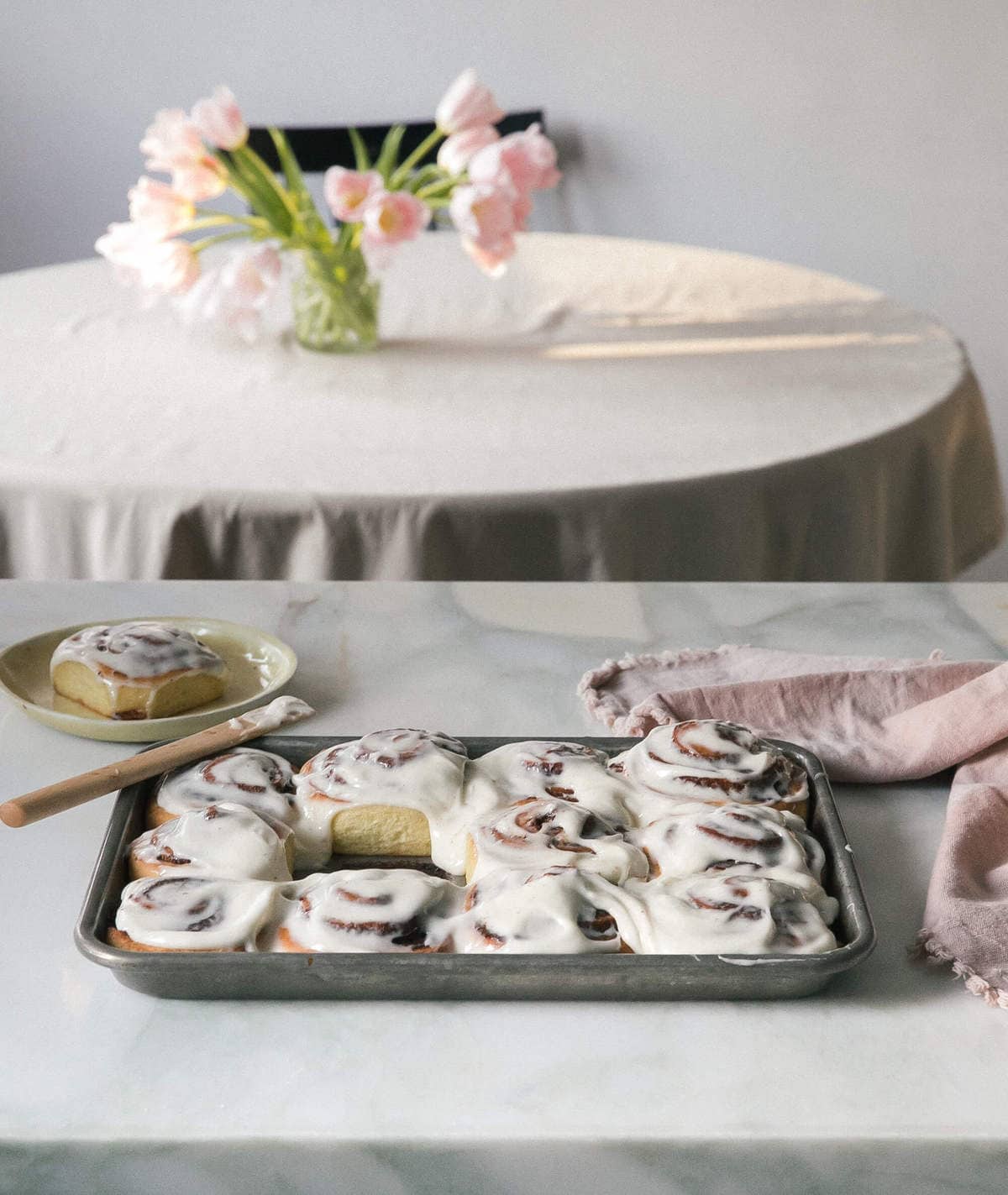 Tips and Tricks
If you've never used Active Dry Yeast before and you're a bit scared or hesitant to use it, then use Instant Yeast (also known as Rapid Rise). You can add the Instant Yeast to the dry ingredients (flour and salt) and proceed with the recipe. No need to activate it!
Activating yeast can be tricky! You want to wait until it gets nice and foamy. If no foam or bubbles form, you'll have to start again to ensure activation.
Can You Put Cinnamon Rolls In The Fridge Overnight
If you like, you can assemble the cinnamon rolls, put them in the baking dish you're using and cover tightly with plastic wrap and transfer to the fridge to rise overnight. They might NOT rise very much in the fridge; that's ok! Allow them to rise on your counter for 1 hour (until doubled in size) and then proceed with baking them.  That way, when you wake up in the morning, all you have to do is bake them off and then smother them with the cream cheese frosting!
Looking for more breakfast roll recipes? Here are some favorites: 
And here are some other my favorite breakfast recipes: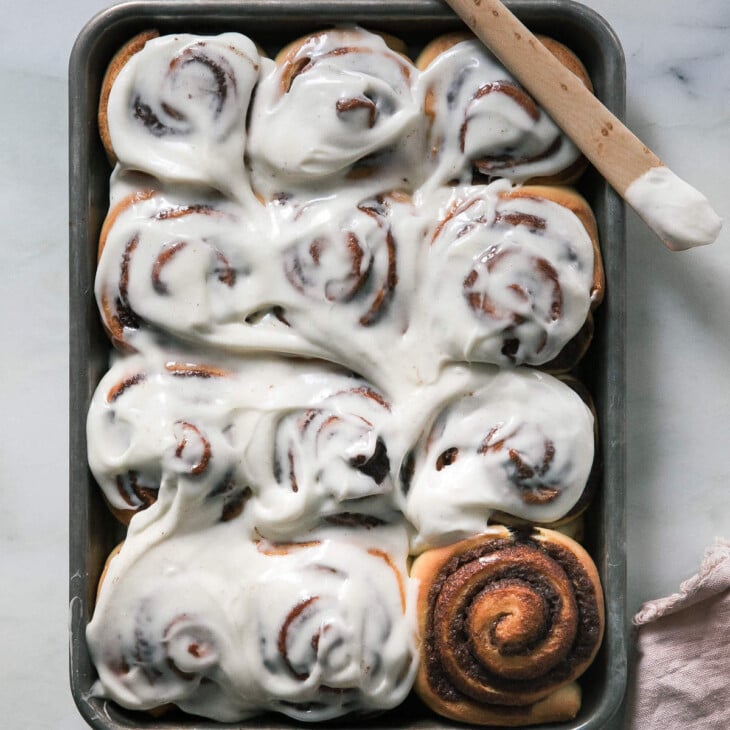 Print Recipe
Overnight Cinnamon Rolls Recipe
Overnight cinnamon rolls that are ooey and gooey and soft. Make the dough the night before and allow it to rise in the fridge overnight. Assemble the next morning!
Serving Size:
cinnamon rolls
Ingredients
Dough:
1/4

cup

lukewarm milk

(you can also use orange juice for an added tang)

1

tablespoon

active dry yeast

(see below for instructions on using *instant* yeast)

2 3/4

cup

all-purpose flour

3

tablespoons

granulated sugar

1 1/4

teaspoon

kosher salt

3

large

eggs

beaten in a bowl

1

teaspoon

pure vanilla extract or vanilla paste

1/2

cup

unsalted butter

at room temperature, cut into cubes
Cinnamon Roll Filling:
1/2

cup

unsalted butter

at room temperature

1/3

cup

ground cinnamon

3

tablespoons

light or dark brown sugar

3

tablespoons

white granulated sugar

1

teaspoon

pure vanilla extract or vanilla paste

Pinch

kosher salt
Cream Cheese Glaze:
2

tablespoons

unsalted butter

at room temperature

4

ounces

cream cheese

at room temperature

2

cups

powdered sugar

sifted

1/2

teaspoon

pure vanilla extract or vanilla paste

Pinch

kosher salt

1

tablespoon

heavy cream
Instructions
To Make the Dough:
To the bowl with of a stand-up mixer (alternatively, you can do this in a large bowl by hand), add the lukewarm milk. Mix in the active dry yeast and allow to stand and activate, about 8 minutes, until foamy and alive! 

To a medium bowl, whisk together the flour, sugar and salt. To the bowl with the yeast mixture, add the beaten eggs and vanilla extract; then all at once, add the flour mixture. Attach the dough hook to your mixer and mix on low until the dough starts to become cohesive. With the mixer running on low, slowly add the cubes of butter.

Knead on medium speed for about 5 minutes. Alternatively, if you're doing this by hand, you'll need to knead the dough for about 10 to 15 minutes. The dough will go from crumbly and separate to completely cohesive and smooth. The dough shouldn't be sticky. Remove the dough from the hook and the bowl and form it into a ball.

Transfer the ball of dough to a clean, lightly greased bowl (I used the flour bowl and just wiped it clean with a kitchen towel and then greased it). Cover with plastic wrap or a clean kitchen towel and transfer to the fridge to rise for at least 2 hours or overnight.
To Make the Filling:
To the bowl of a stand-up mixer (with the paddle attachment) or using a medium bowl and a fork, add the butter, cinnamon, brown sugar, white sugar, vanilla and salt. Mix and mash until the filling is completely smooth.

*If you're looking to save yourself a step in the morning, you can make this filling let it sit on the counter overnight so it stays softened. 
To Assemble the Cinnamon Rolls:
The following morning (or after the 2-hour mark), remove the dough from the fridge. Lightly flour your work surface and place the dough into the center. Lightly flour your rolling pin and roll the dough into a 1/8-inch thick rectangle that measures 15" x 22" If it's not a perfect rectangle, then that's totally ok.

Add the filling to the dough and spread into a thin layer, using a butter knife or offset spatula. I smeared the filling pretty close to the edges. Starting from the edge furthest from you, roll the dough towards you, horizontally, into a firm log.

Slice the dough into two and transfer and carefully transfer them to a cutting board. Place them in the freezer to chill for 10 minutes. I find that slicing cold dough is WAY easier.

Remove from the freezer and slice the rolls into 1 1/2-inch rolls, about 12-16 rolls, trimming the ends off.

Transfer to a greased 9 x 13 baking sheet (or something comparable). Cover with a kitchen towel and allow to rise for an additional 45 minutes, or until doubled in size.

*If you're house is particularly cold, it may take longer for the rolls to rise. I like to place my cinnamon rolls by the oven because it's usually warmer in that part of my house.

Preheat the oven to 350 degrees F. Bake for 18 to 20 minutes.
To Make the Cream Cheese Icing:
To the bowl of a stand-up mixer (or a large bowl) with the paddle attachment, mix together the butter and cream cheese until smooth. Add the sugars, vanilla paste, salt and heavy cream. Beat for about 20 seconds.
To Serve:
When the cinnamon rolls come out of the oven, pour the icing over the cinnamon rolls and smother them with icing. 

*See below for instructions on assembling the rolls and then allowing them to rise overnight in the fridge.
Notes
Using Instant Yeast: 
Instant yeast is different than active dry yeast. Active dry yeast has to be activated in liquid until it's foamy and alive. Instant yeast can be added to dry ingredients. You can use instant yeast with this recipe. To do that, mix into the dry ingredients (you can skip activating it). 
You Have Other Overnight Options: 
If you like, you can assemble the rolls (don't bake them), place them in a baking dish or baking sheet, cover them with plastic wrap and place them in the fridge overnight. 
In the morning, let them come to room temp (about 1 hour) and then bake them. 
Equipment: 
Pyrex Bowl with Lids | Quarter Baking Sheet | KitchenAid Stand-Up Mixer 
Equipment
1 (quarter) baking sheet or baking dish
Nutrition
Serving:
12
g
|
Calories:
405
kcal
(20%)
|
Carbohydrates:
25.7
g
(9%)
|
Protein:
5
g
(10%)
|
Fat:
9.3
g
(14%)
|
Saturated Fat:
5.3
g
(33%)
|
Cholesterol:
67
mg
(22%)
|
Sodium:
264
mg
(11%)
|
Potassium:
81
mg
(2%)
|
Fiber:
1
g
(4%)
|
Sugar:
3.5
g
(4%)
|
Calcium:
140
mg
(14%)
|
Iron:
0.4
mg
(2%)