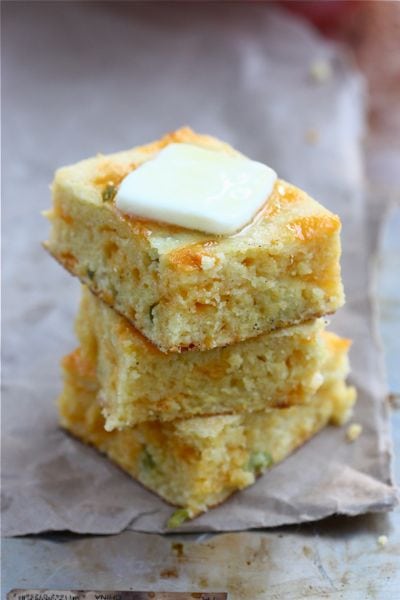 I'm never the girl that's super prepared for things.
I wash my clothes only when I start wearing mismatched socks. I wash my hair when I can't go another day. I only buy paper towels when I start using bath towels to clean up messes.
And the list goes on…and on. And on.
I think it's just that I'm really good at wingin' stuff. It's how I like livin'…
The only season I actually prepare for is Fall. I dig it so much that I can't just can't help it.
I buy sweaters while it's still hot outside. My boot game starts to get good when I really should be wearing sandals. I have 30 minute conversations (in September) with my dad about turkey brining plans.
And as of right now, I have thirty-two Fall-ish recipes written down in a notebook that I can't wait to make. Yeah, I'm way prepared.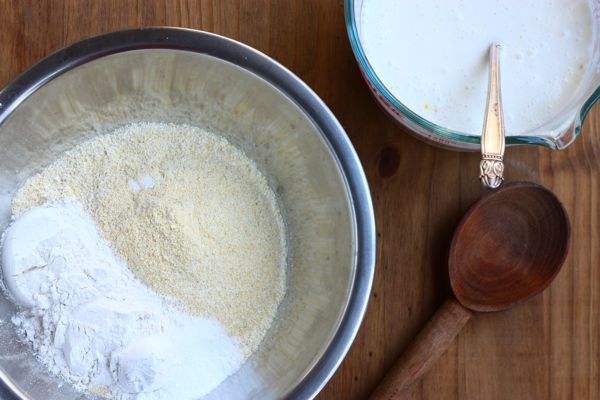 This Cheddar Jalapeño Cornbread (with the Vegan Chili) was one of the first things to hit the list.
I was just waiting for it to be the right temperature.
But since I live in LA, it's sort of never the right temperature.
Whatever. I'm gonna experience Fall…even if I have to force it.
Let's talk cornbread details…
Despite no pictures of the cast iron skillet, it's made in one, which means the edges are crispy and brown and delicious. There's loads of cheddar in this cornbread…as well as a kick of spice from the jalapeños.
Add a pat of salted butter on top and experience what Fall tastes like.
Cheddar Jalapeño Cornbread
Recipe adapted from Homesick Texan
2 tablespoons vegetable oil (or bacon drippings)
2 cups of cornmeal (yellow or white)
½ cup sifted all-purpose flour
1 teaspoon baking powder
1 1/2 teaspoon salt
1 large egg, lightly beaten
2 cups buttermilk, shaken
2 jalapeños, diced
1 1/4 cup of cheddar cheese, shredded and divided
Preheat oven to 450 degrees. Put the oil (or drippings) in a cast iron skillet and place it in the oven for a few minutes until it's sizzling.
Mix together dry ingredients. Set aside. Whisk egg and buttermilk. Mix with dry ingredients. Fold in jalapeños and 1 cup of shredded cheddar.
Take cast iron skillet out of oven, and pour hot oil into batter, and mix. Pour batter into cast iron skillet and top with remaining 1/4 cup of cheddar. Bake in oven for 20 minutes. Cornbread should be brown on top and pulling away from the sides of the skillet.