Jalapeño Cheddar Cornbread
98
Nov 18, 2019, Updated Nov 29, 2023
Disclosure: This post may contain affiliate links, which means I may earn a commission if you click on the link and make a purchase.
This Jalapeño Cheddar Cornbread has crispy edges, a super moist crumb, is very cheesy and spicy (thanks to the cheese, cornmeal and jalapeño), and a teeny bit sweet. It's delicious and moist for days after! If you love Jiffy cornbread, this will remind you a bit of that! Make this in a skillet OR make them as muffins. Explore these cozy recipes: start your evening with a hearty beef stew, move on to a tasty vegan chili, and finish with a delicious pumpkin chili.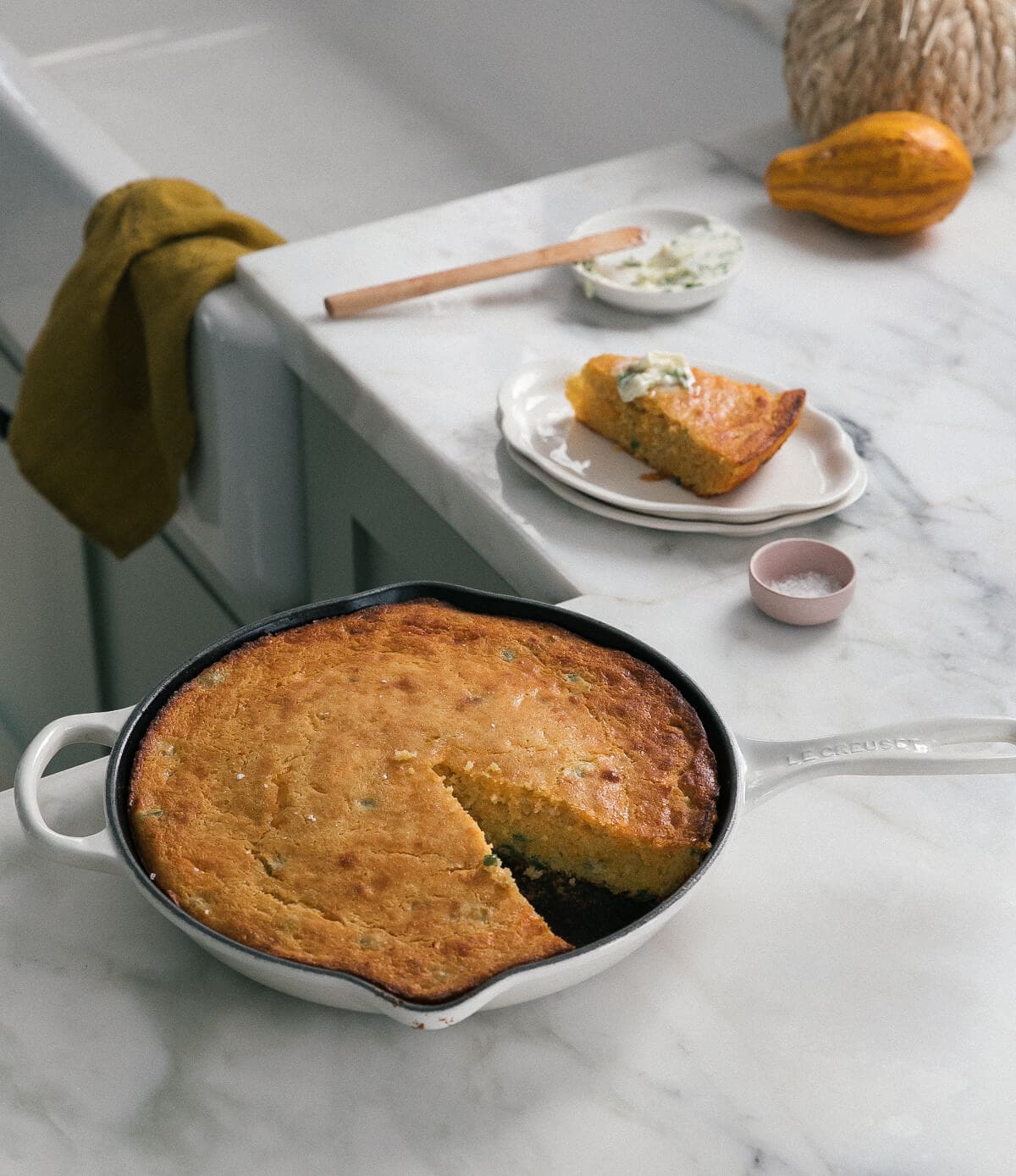 Before we dive in, let's discuss what I love and want from cornbread.
History of Cornbread
Cornbread history has it that it first started with Native Americans grinding corn into cornmeal and mixing it with water and cooking it over a fire. It was simple back then. It evolved over time; people added buttermilk, leavening, pork fat, salt…all the good things. They often times cooked it on a gardening hoe, over an open flame, hence the name "hoe cake."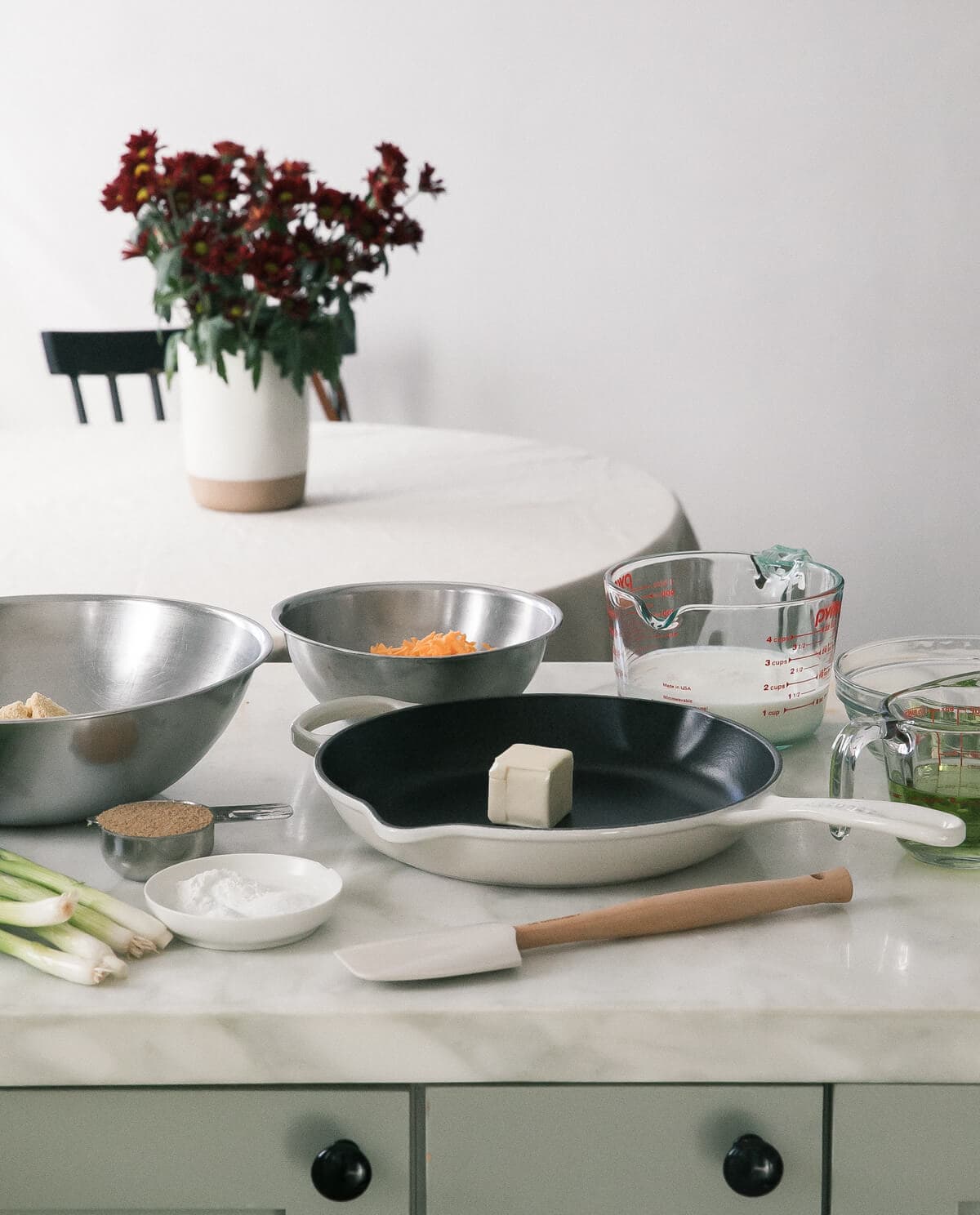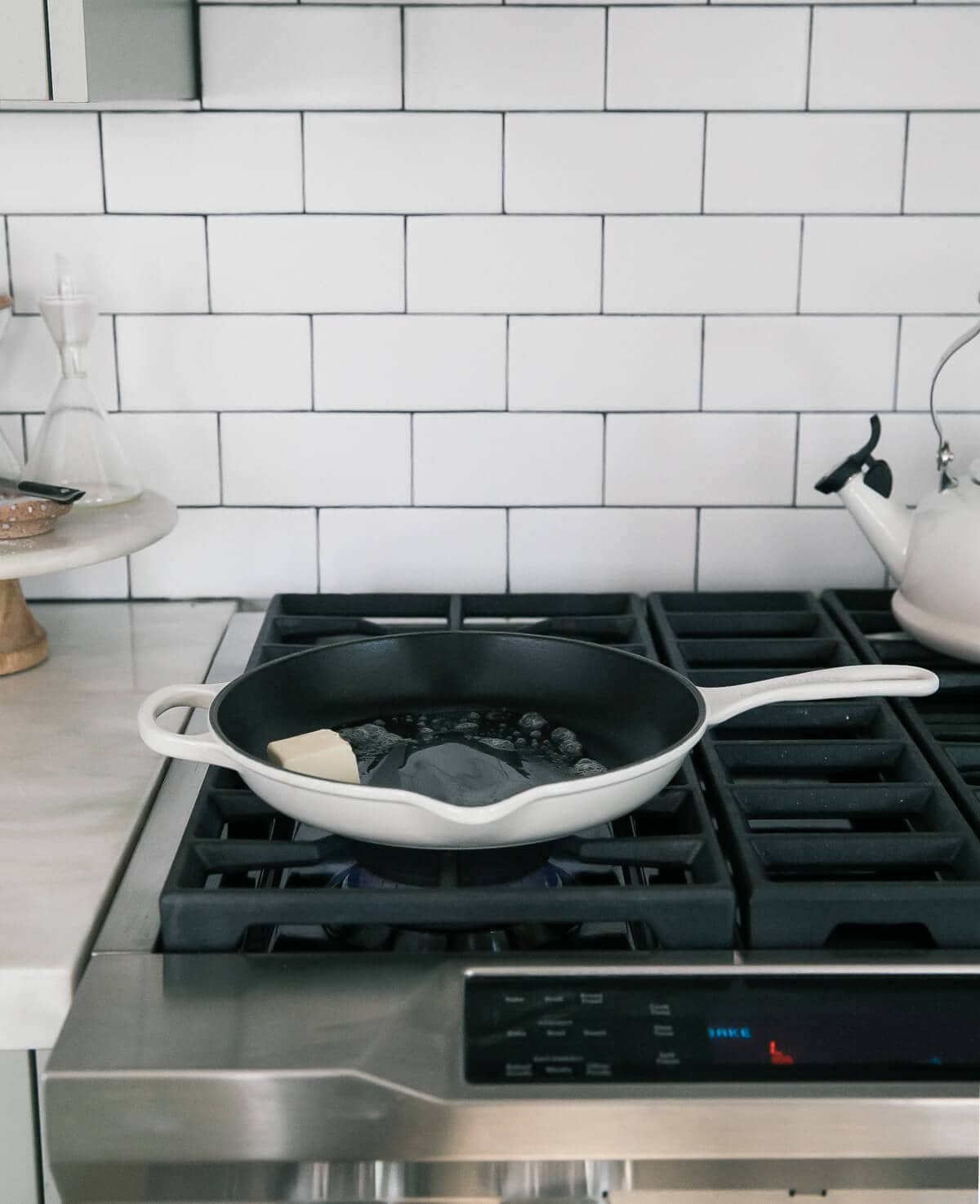 The method, technique and ingredients has varied so much throughout the years. Some argue that sugar should NEVER be added, while others love their cornbread to be super sweet.
As a person who was born in the South but doesn't consider herself a Southerner (with parents from South America), cornbread wasn't exactly something I grew up eating.
I personally like it a bit sweet (this is controversial lol) and if you do, I believe it isn't considered TRUE southern cornbread. I say ok with that!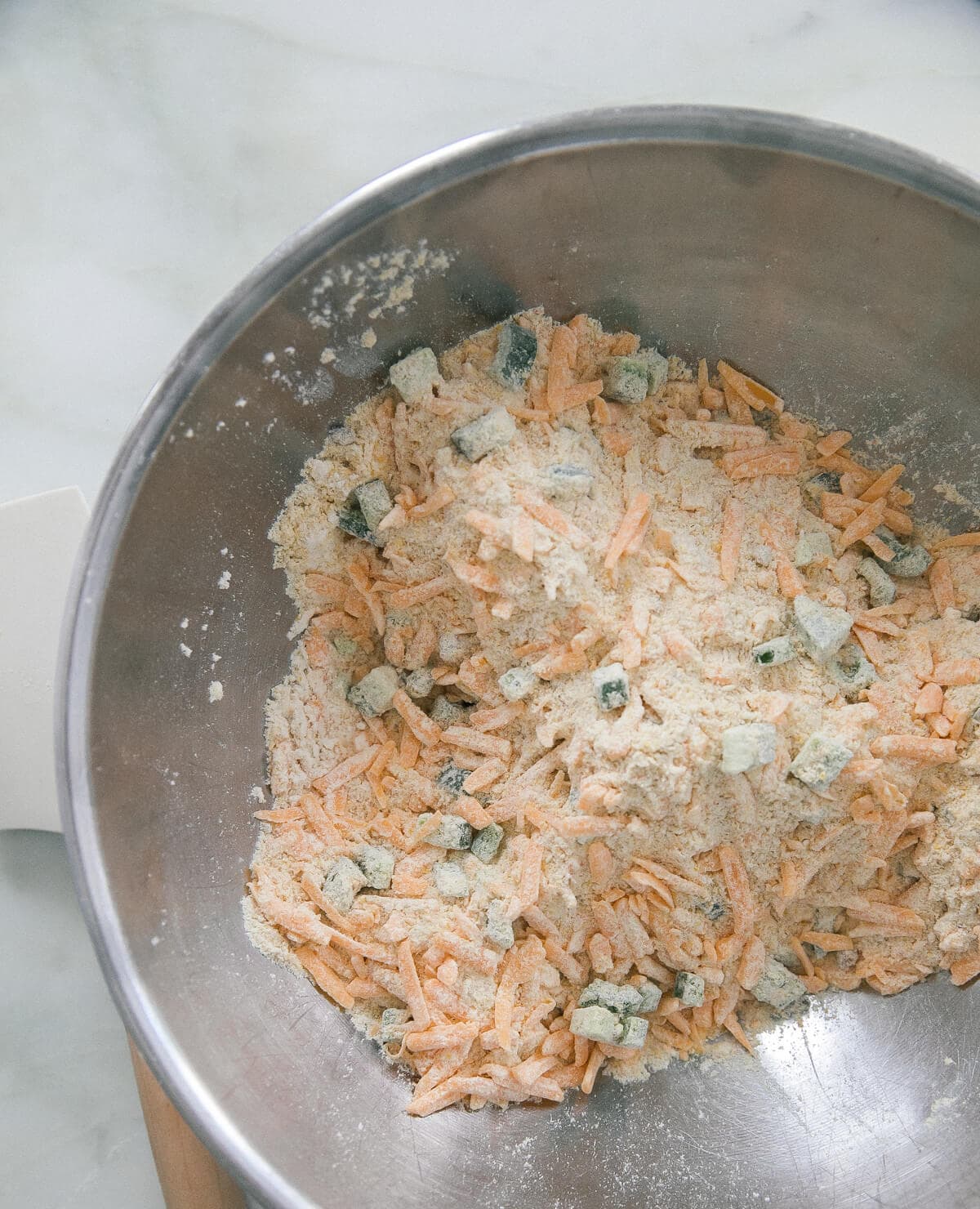 Things that Make Cornbread Delicious!
I took to Twitter and asked the people what they loved in a cornbread. Here were some answers:
"Crispy edges!"
"Sweetened with honey"
"Very moist!"
"Buttermilk gives it tang!"
I happened to agree with all of these notes. I love a cornbread that has a bit of tang, I like it on the sweeter side, I like there to be a balance in the texture. Not too gritty, not too fluffy. I like there to be a moistness to it.
To achieve all of this this is what I went with.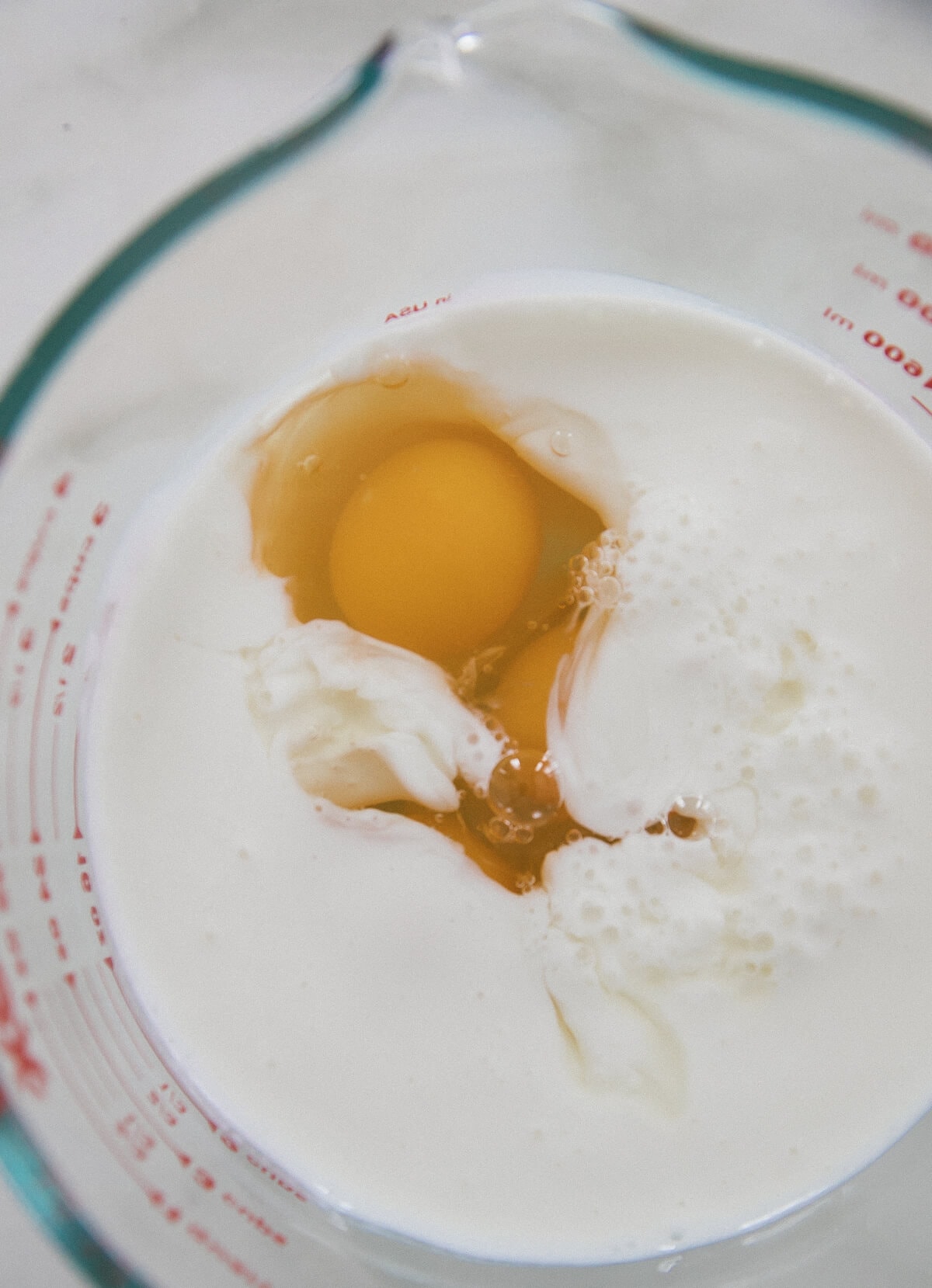 Ingredients You Need for Jalapeño Cheddar Cornbread
Cornmeal – You want to use a medium grain cornmeal. I found that a 1 to 1 ratio of cornmeal with flour was ideal for that perfect crunchiness cornmeal gives you and a moist delicious crumb that you can only get with all-purpose flour.
Brown Sugar – Cornmeal can be a bit drying so you really want to add as much moisture as possible. Brown sugar gives a delicious caramel/molasses flavor to this cornbread and keeps it super moist.
Butter AND Oil – I use this combination in most of my cakes. The butter gives a lot of flavor while the oil gives a lot of moisture. This balance of both makes for an amazing texture and crumb.
Buttermilk – I like buttermilk in this application because it gives a lot of moistness and adds to a great texture.
Eggs – Eggs give a lightness to all baked goods. They also bind the batter together.
Baking Powder and Baking Soda – baking powder gives a good lift to the cornbread, while the baking soda adds lift AND color.
Shredded Cheddar – I used a medium sharp cheddar. I didn't want it too piercing. I'm in favor of using cheese from a block vs. buying already shredded cheddar. I find that it melts much better.
Diced Jalapeño – I used fresh jalapeño and diced it up. But feel free to use canned pickled jalapeños if you like. Both are great.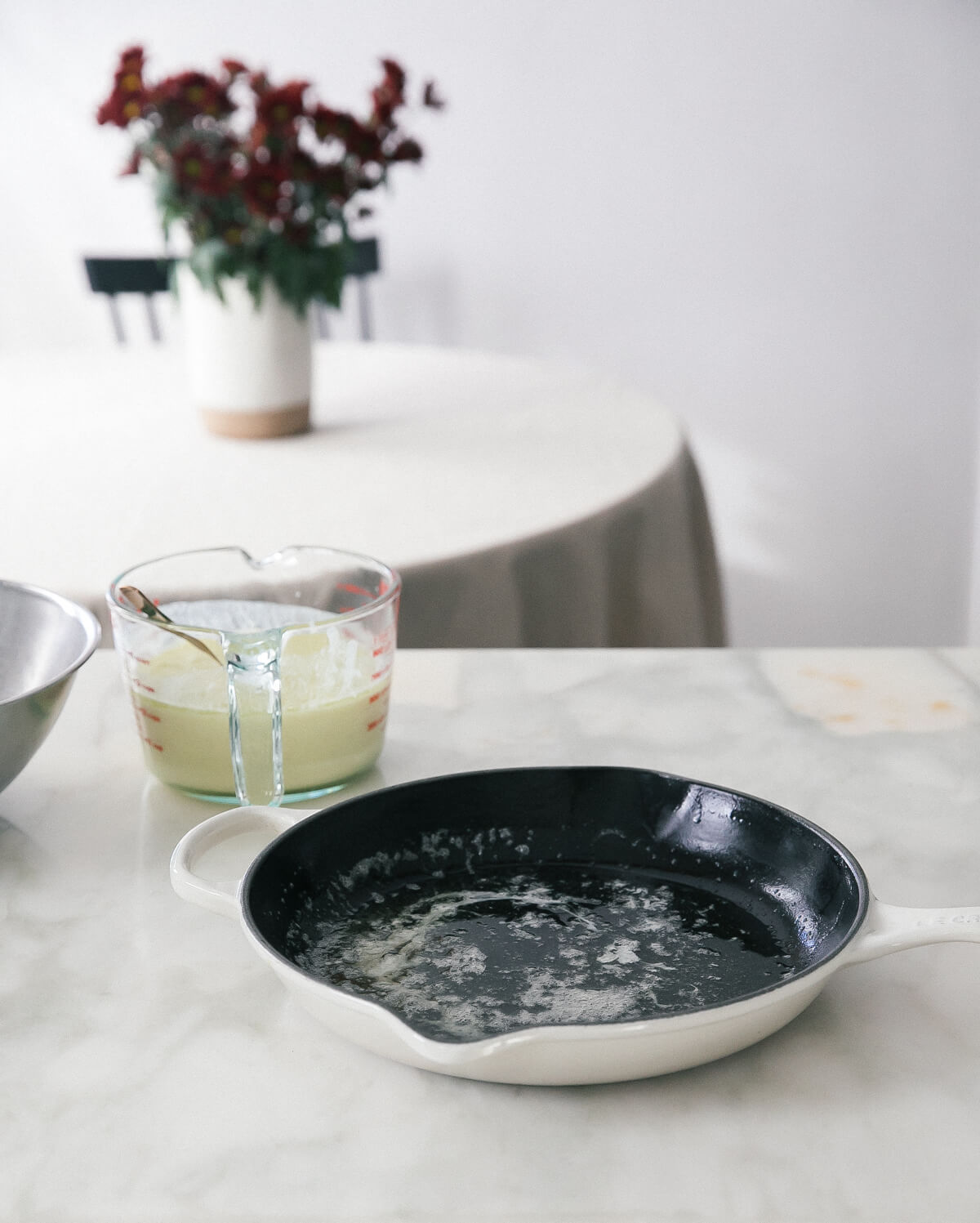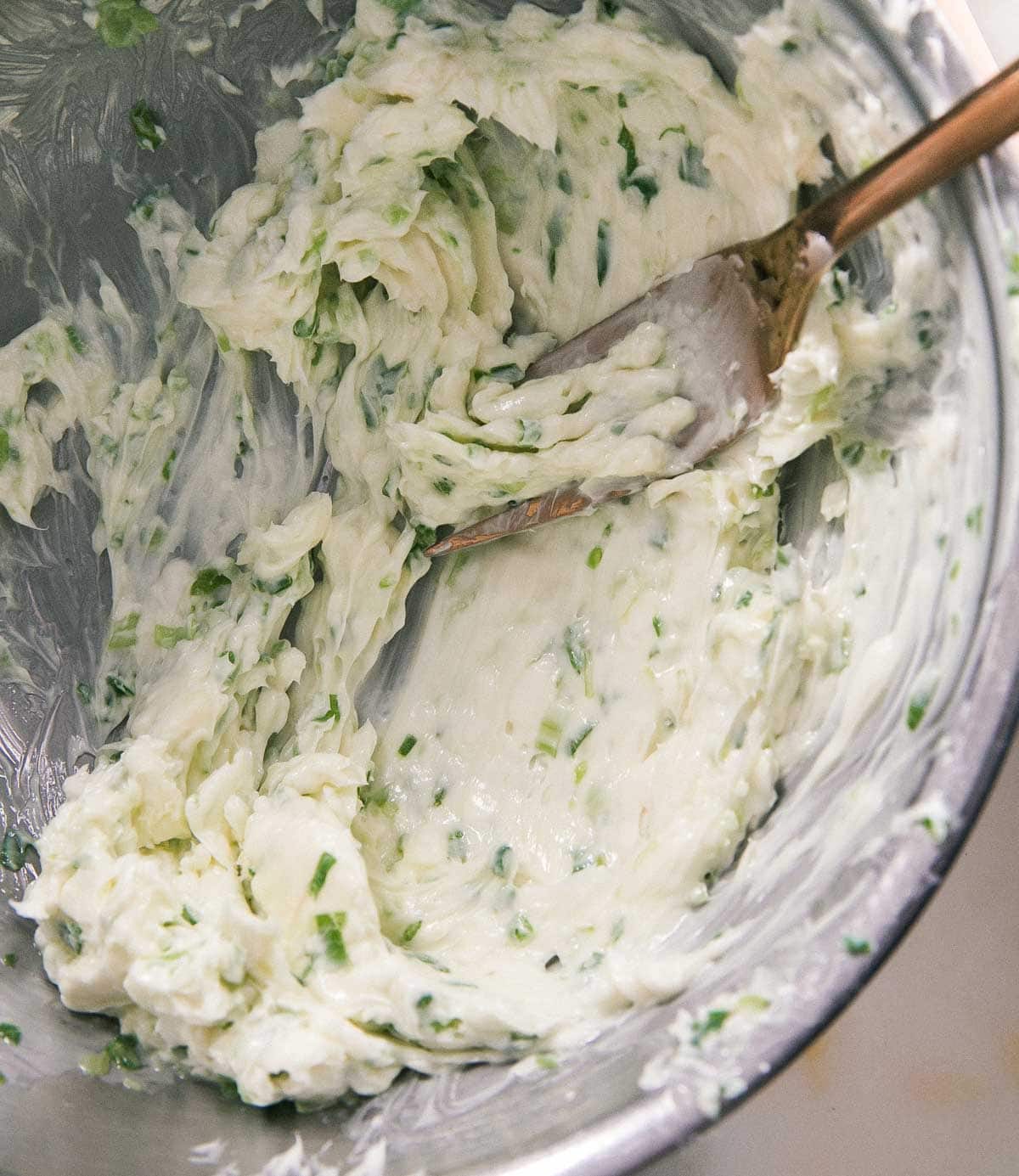 Achieving that Crispy Cornbread Crust!
I always learned that in order to get a super crisp crust on cornbread, preheating the pan in the oven is necessary. So, I did just that, using a bit of oil. I didn't love the flavor and found it a bit cumbersome to remove the very hot pan and add batter to it.
I came up with something better! Since we already have to melt butter for this recipe, I figured why not do it in the cast iron skillet we're cooking the cornbread in. Swirl it around to coat the pan with butter. And then add the batter to it. It'll be preheated and greased with butter.
Doing this resulted in a super crisp crust and flavorful one…thanks to the butter. I was afraid that the butter was going to burn but it absolutely didn't—it was fantastic.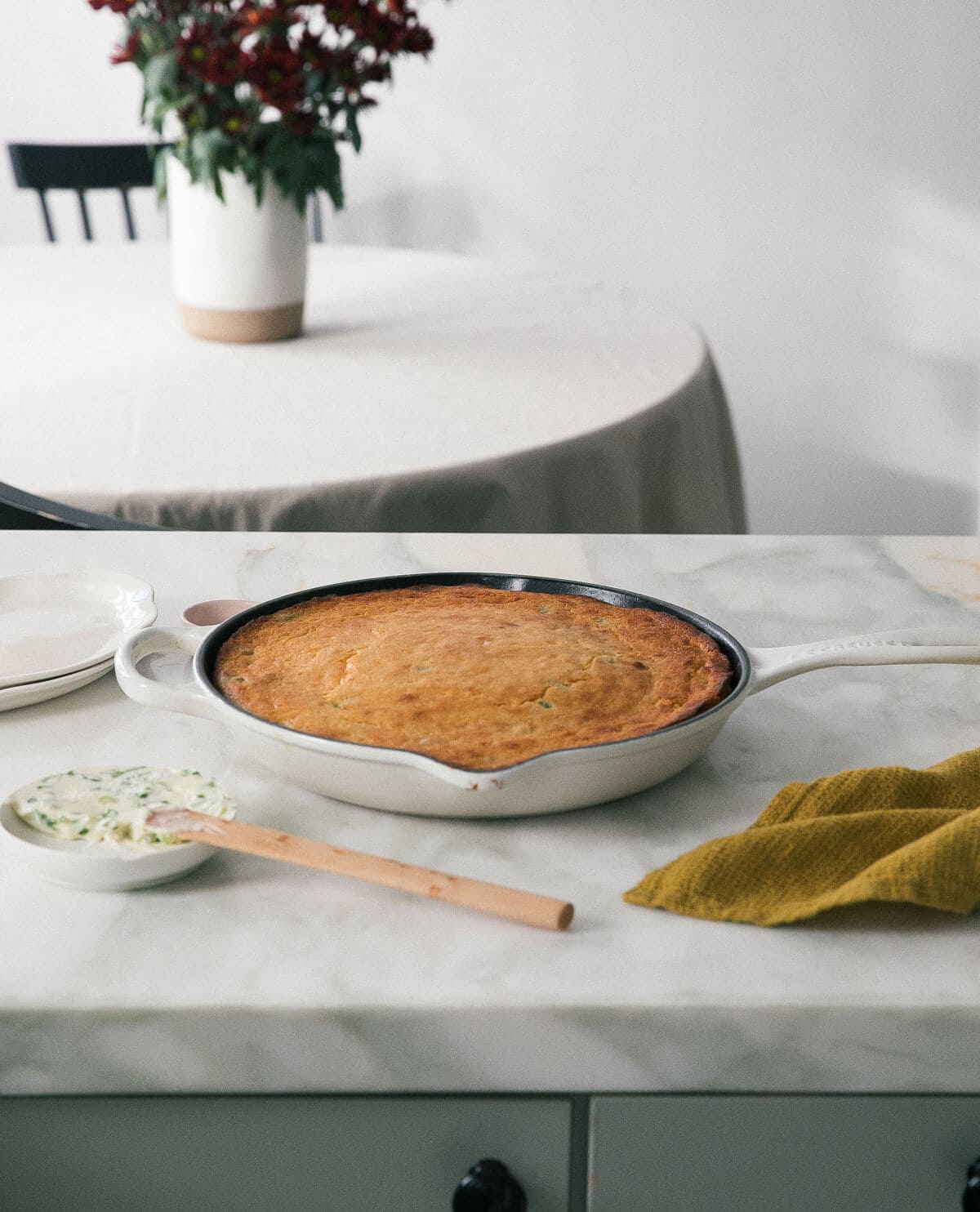 How to Make Jalapeño Cheddar Cornbread
Melt the butter in the pan and let it sit.
Whisk together all of the dry ingredients.
Mix together the buttermilk, neutral oil, eggs and then add the melted butter.
Pour the wet ingredients into the dry and mix well.
Add the batter to the preheated cast iron skillet AND then transfer it to the oven to bake.
After 25 to 30 minutes to bake. As a result, it'll be fluffy and delicious.
Serve it with a scallion butter if you like!
If you make this on Instagram, let me know!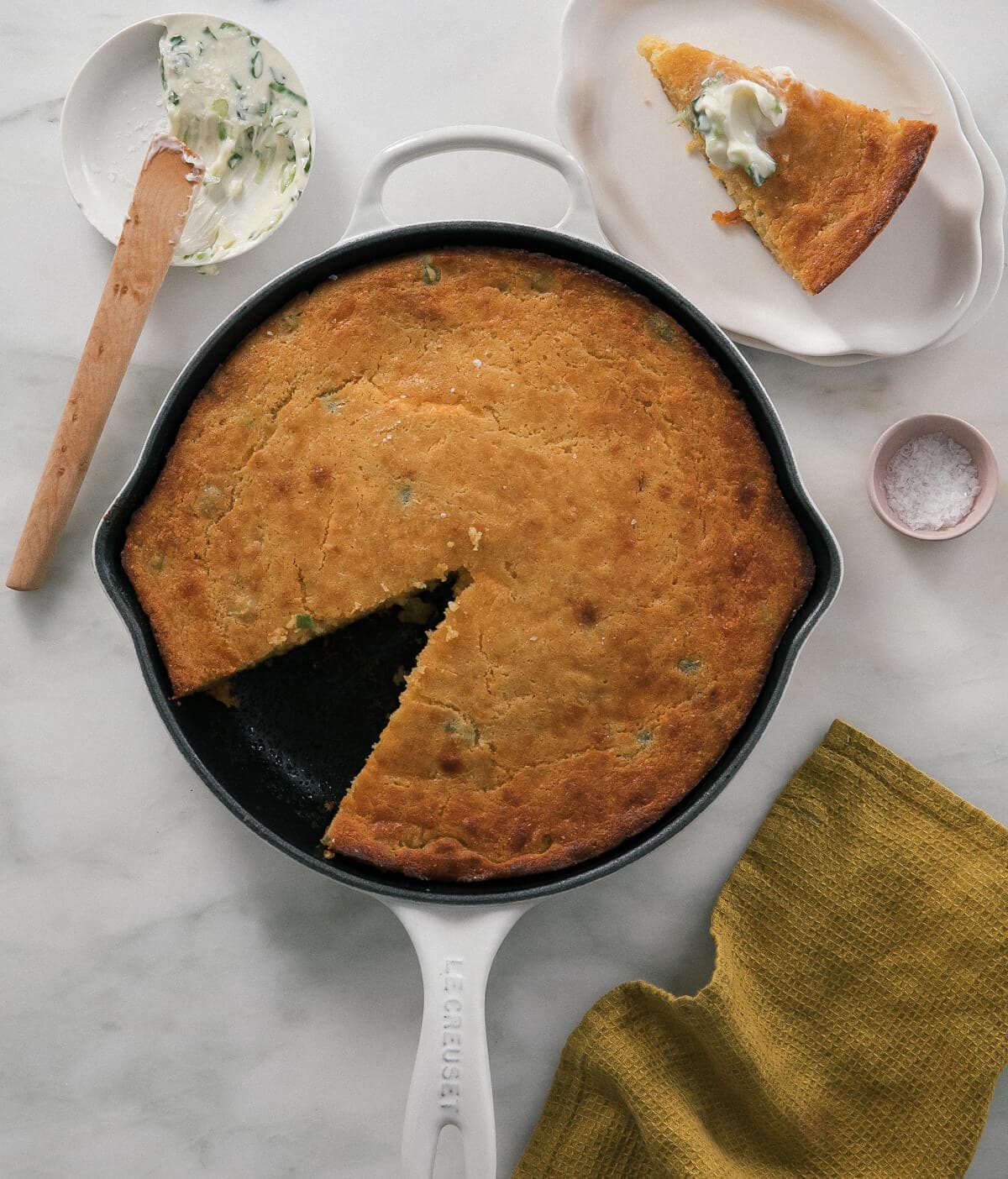 Tips and Tricks
Other Cheese Options: If you wanted to use something besides cheddar, go with something like gouda, fontina, smoked cheddar or pepperjack.
To Freeze Cornbread: You can make ahead and freeze cornbread. Allow to come to room temperature and then wrap tightly with plastic wrap. Transfer to the freezer and keep up to 1 month. Thaw in the fridge overnight and then warm up in a 200 degree oven.
To Reheat Cornbread: I like to cut up the cornbread into slices or squares and then wrap it in foil and place in a preheated 300F oven for 10 to 15 minutes until warm.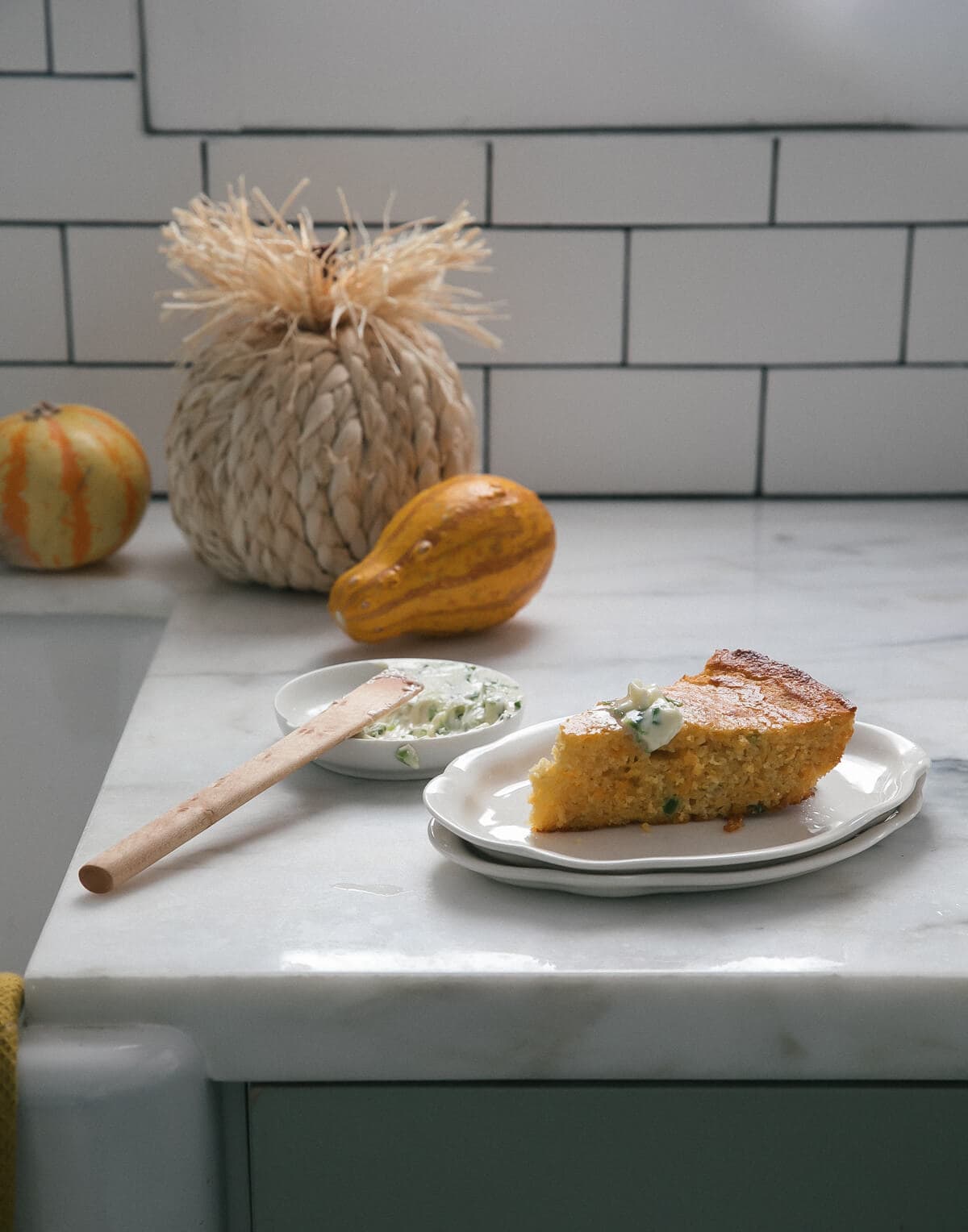 Recipes to Serve with Cornbread
If you tried this Jalapeño Cheddar Cornbread or any other recipe on my website, please leave a 🌟 star rating and let me know how it went in the 📝 comments below. Thanks for visiting!
Jalapeño Cheddar Cornbread Recipe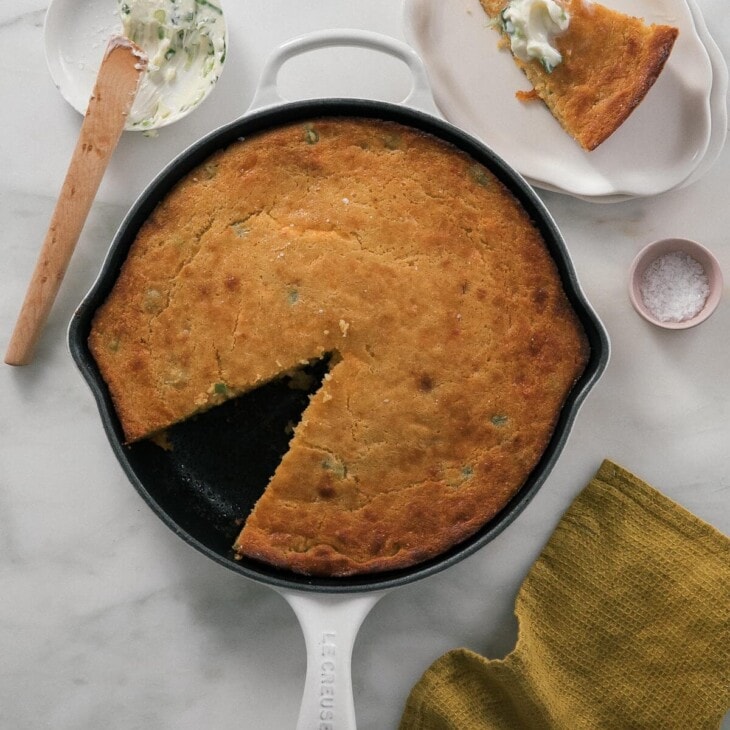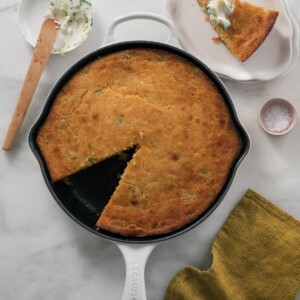 Jalapeño Cheddar Cornbread has that perfect cornbread crust. This classic Southern cornbread is studded with cheesy cheddar and diced jalapeños.
Equipment
1 (10-inch) cast iron skillet

1 silicon spatula
Ingredients
Dry Mix:
1

cup

all-purpose flour

1

cup

cornmeal

1/3

cup

brown sugar

2

teaspoons

baking powder

1/2

teaspoon

baking soda

1

teaspoon

kosher salt

1 1/2

cups

shredded cheddar

2

jalapeños

,

seeded and diced
Wet Mix:
1/4

cup

unsalted butter

,

melted

1 1/3

cup

buttermilk

,

shaken

1/2

cup

neutral oil

,

(such as grapeseed, avocado oil or vegetable oil)

3

large

eggs

,

at room temperature
Scallion Butter:
2

scallions

,

ends trimmed and thinly sliced

1

teaspoon

olive oil

1/2

cup

unsalted butter

,

at room temperature

1/4

teaspoon

flakey sea salt
Instructions
To Make the Cornbread:
Preheat your oven to 400 degrees F. Set your 10-inch cast iron on the stove.

In a large bowl, whisk together the flour, cornmeal, brown sugar, baking powder, baking soda and salt. Add the shredded cheddar and diced jalapeños and toss the dry ingredients together.

Place the skillet over medium-high heat and add the butter. When melted, swirl it around so that it coats the entire bottom of the pan, as well as the sides. Turn the heat off.

In a medium bowl or a large measuring cup, measure out the buttermilk, whisk in the eggs, and neutral oil. Lastly, pour in the melted butter (some butter remaining in the pan is great! don't scrape it clean with a spatula). Whisk until combined. Pour the wet ingredients into the dry and mix no flecks of flour remain, being sure not to overmix the cornbread. Pour the batter into the buttered cast iron skillet and immediately transfer to the oven to bake until golden brown on top and until a skewer inserted into the center comes out clean, about 25 to 30 minutes
To Make the Scallion Butter:
In a small skillet set over medium heat. Add the scallions and cook until bright green and softened, about 1 minute. Add a pinch of salt and mix.

In a small bowl, add the softened butter and scallions. Mix together until combined. Add to a small bowl and sprinkle the top with flaky sea salt.

Serve with warm cornbread.
Notes
Other Cheese Options: 
You could use other types of cheeses like smoked gouda, fontina, smoked cheddar or swiss. 
Equipment: 
10 1/4-inch Le Creuset Cast Iron Skillet | Silicon Spatula | Stainless Steel Bowls | Chef's Knife | 
To Freeze Cornbread: 
You can make ahead and freeze cornbread. Allow to come to room temperature and then wrap tightly with plastic wrap. Transfer to the freezer and keep up to 1 month. Thaw in the fridge overnight and then warm up in a 200 degree oven. 
Nutrition
Serving:
6
g
|
Calories:
200
kcal
|
Carbohydrates:
5
g
|
Protein:
2
g
|
Fat:
5
g
|
Saturated Fat:
23
g
|
Cholesterol:
120
mg
|
Sodium:
20
mg
|
Potassium:
40
mg
|
Fiber:
2
g
|
Sugar:
3
g
|
Vitamin A:
4
IU
|
Calcium:
50
mg
|
Iron:
20
mg
Nutrition information is automatically calculated, so should only be used as an approximation.
Looking for recipes to pair with this Jalapeño Cheddar Cornbread? Here are a few of my favorites: