Creamy Baked Four Cheese Macaroni and Cheese is just that: baked and melty and cheesy with a crunchy bread crumb topping that is very optional but very delicious!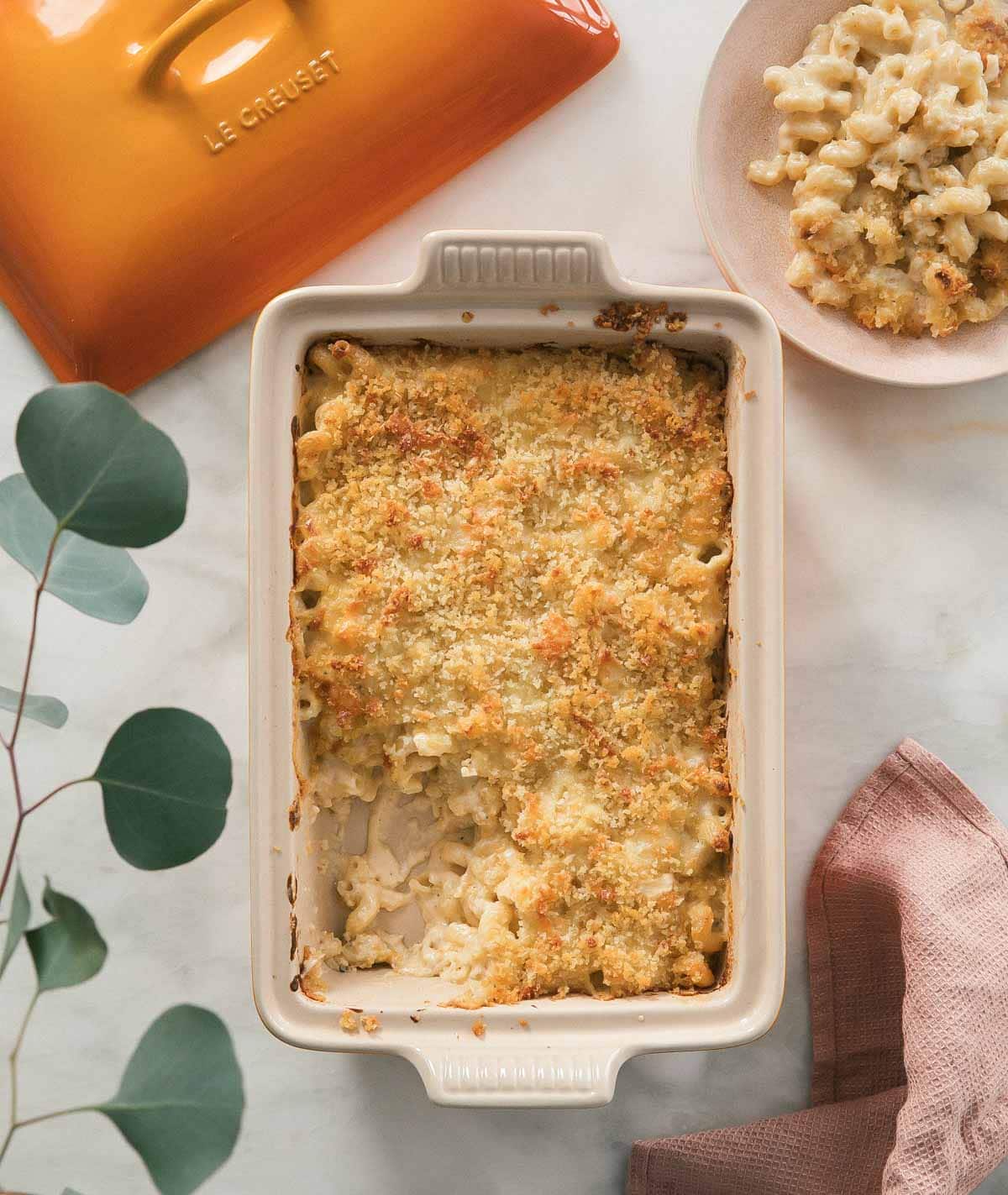 For this post, I teamed up with Le Creuset! I love and use their cookware nearly every single day so this truly is a dream come true.
I was very lucky to have been sent a few pieces from their new fall collection and let me tell, it is all so gorgeous! In this post, for this recipe, I'll be using the 5-quart Dutch Oven in Persimmon and their 6-quart Casserole Dish in Persimmon. As you can see, Persimmon is a beautiful autumnal orange color that is perfect for any Thanksgiving table. Honestly the color, while super fall-like, looks good year around and is perfect for baking in the oven and then going straight to the table.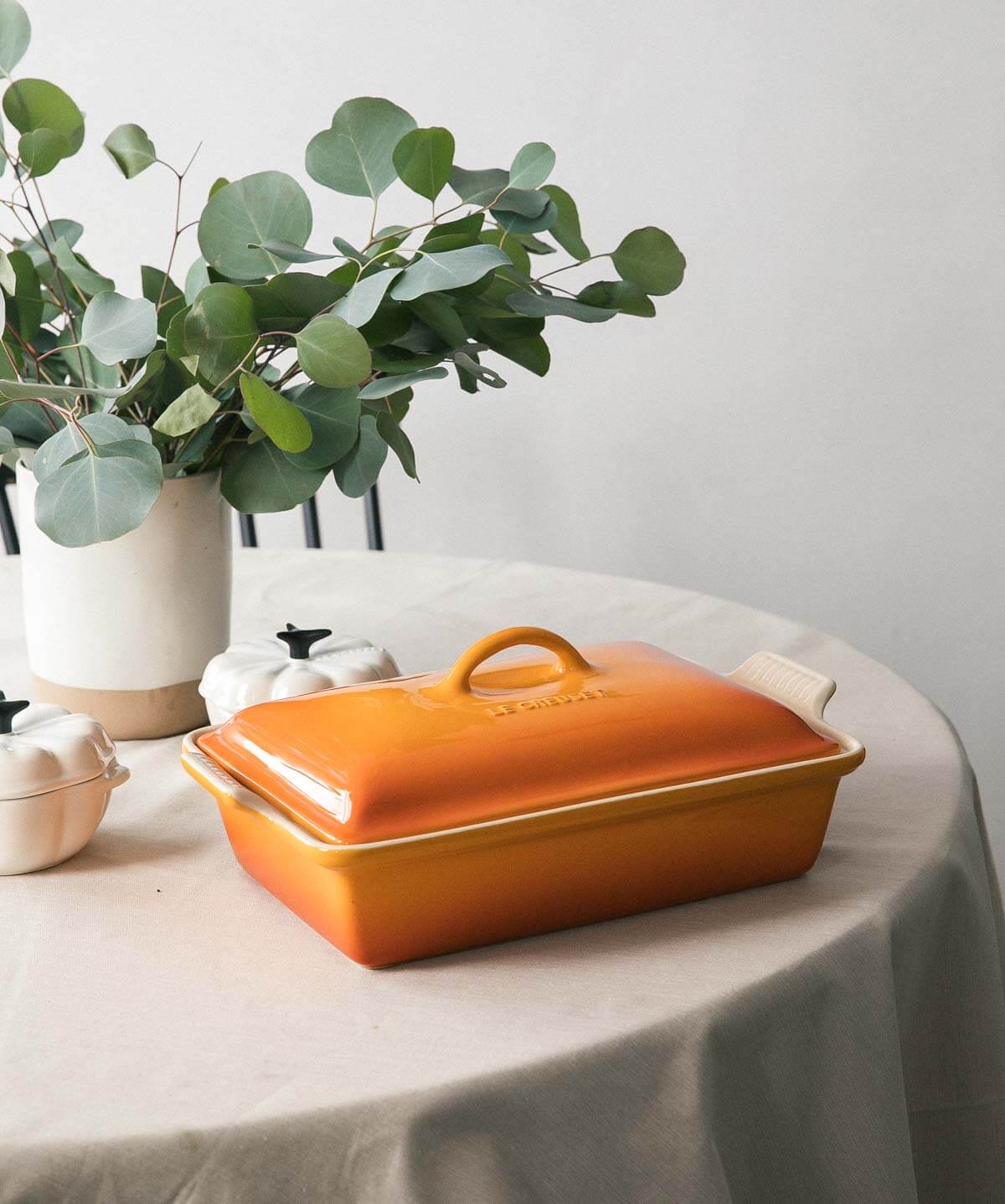 Macaroni and Cheese Basics!
I love stove-top macaroni and cheese. It's creamy and delicious. I've always struggled with baked macaroni and cheese because it can dry out very quickly. I didn't want that for this macaroni and cheese so here are some things that we did in order to achieve creamy while baked.
More sauce. The saucier the macaroni and cheese is, the less likely it'll dry out in the oven. In my opinion, it's a bit too saucy for a stove-top macaroni and cheese, but for a baked version the ratios are perfect.
Rinse off the pasta. I NEVER rinse my pasta but in this case, I want to get rid of any extra starch that will contribute to a thicker sauce. I learned this tip from The Kitchenista!
Liberal amount of cheese! This recipe uses a pound of cheese. More info below on the type of cheeses and breakdown, but you need a good amount of cheese in order to make it, well, cheesy!
Crunchy top! Some people LOVE a crunchy bread-crumb topping. Others want more cheese. I say you do you! I personally think a bread crumb topping is the move.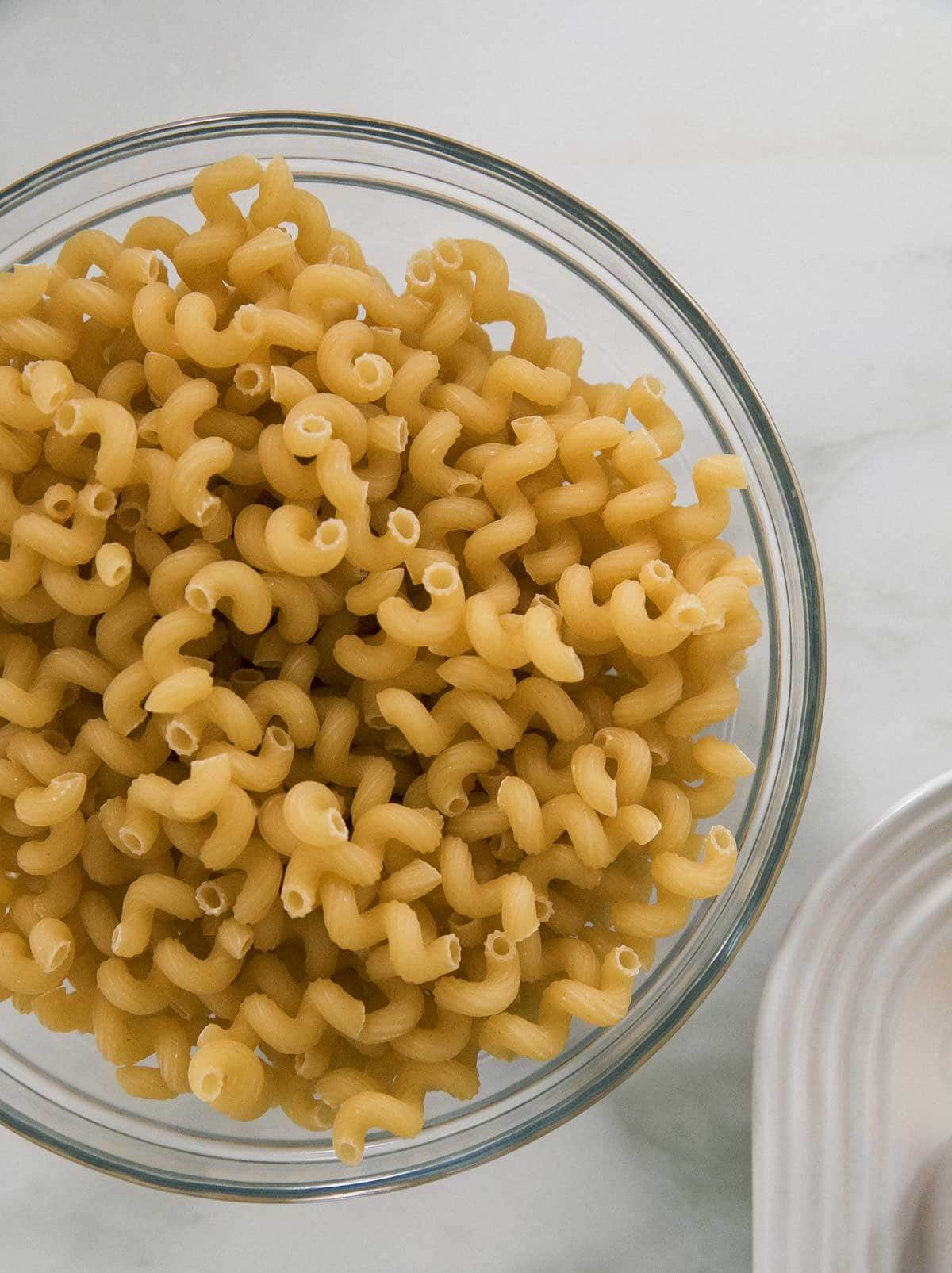 Four Cheese Breakdown for Macaroni and Cheese
I use four different types but feel free to switch it up. Use two different cheese. Use a single type of cheese. Do what is right for your budget/taste buds.
 7 ounces Swiss cheese
1 ounce Comté cheese
5 ounces raclette cheese
3 ounces cheddar
Other cheeses that would be delicious: taleggio, gouda, smoked gouda, fontina, mozzarella, pepper jack and colby jack.
I do think that the base cheese should be very melty, hence the reason why I used swiss as the base. So just keep that in mind. And add others for depth of flavor.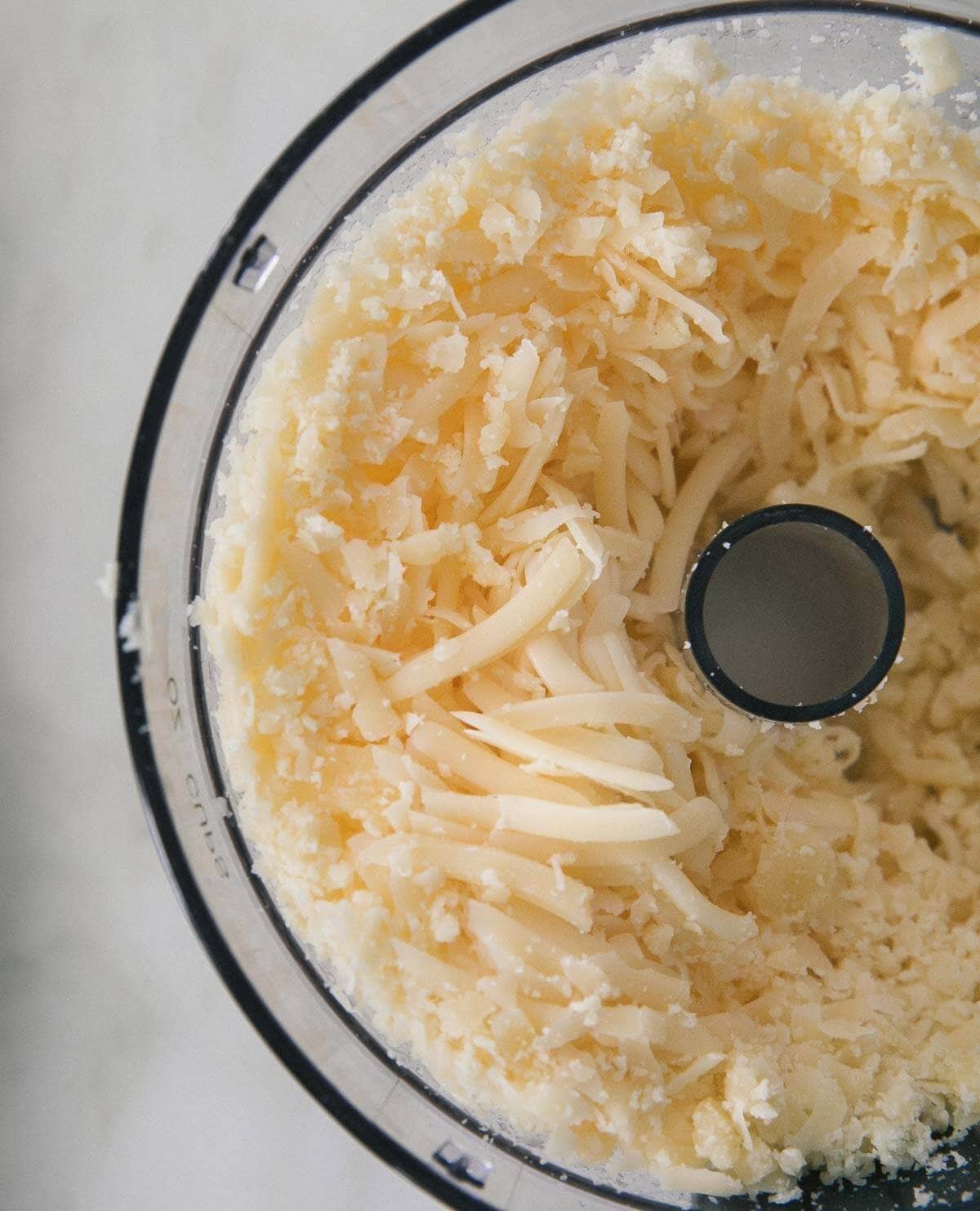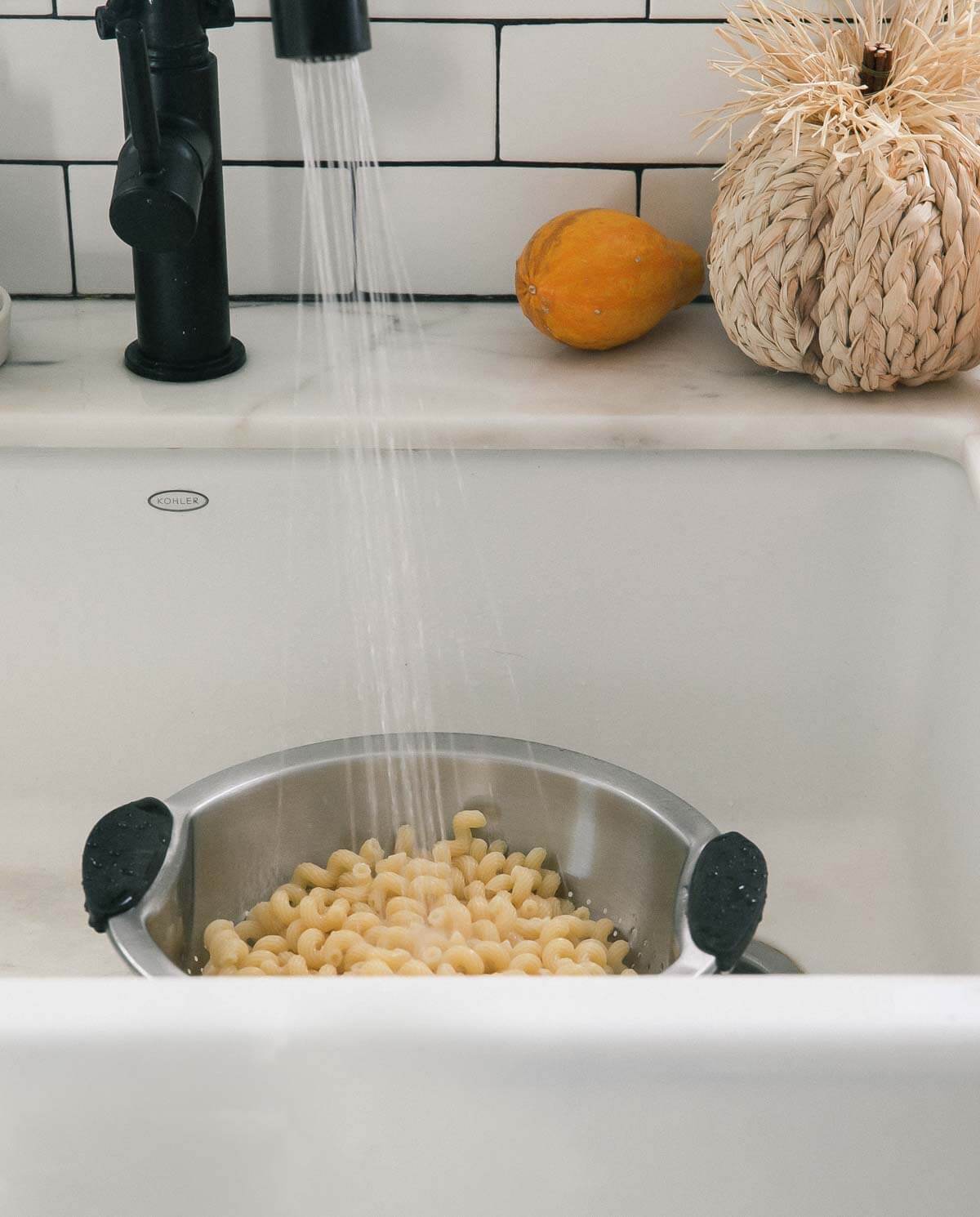 How to Make Creamy Baked Four Cheese Macaroni and Cheese
To make the crunchy bread crumb topping, you want to combine the bread crumbs with melted butter and a pinch of salt. And then set it aside. We're going to use it later.
The first step to making the sauce, is making a roux. A roux is one part butter and one part flour. After the butter and flour are cooked into one another, milk is added.
Cook the milk with the butter and flour mixture until it gets nice and thick. You'll know it's ready when it coats the back of a spoon. This is a good time to get a silicon spatula and scrape the sides of the pot to make sure it's all combined and there are no flour-y lumps.
Turn the flame off and add in the salt and spices. We're going for flavor so I like to add smoked paprika, garlic powder, a bit of Dijon mustard (to cut through the richness) and then black pepper.
After the sauce has cooled slightly, I added the cheese and mix it until it's well combined.
Meanwhile, I boil my pasta. I like to use cavatappi (because it's pretty) but any sort of pasta shape that you're into will work.
I rinse the pasta under cool water to get rid of any of the extra starch. And then I added to the cheesy sauce and mix it all together.
Transfer it to the casserole dish and sprinkle the bread crumbs and extra, reserved cheese on top.
Bake for about 40 to 45 minutes until the top is all nice and golden brown!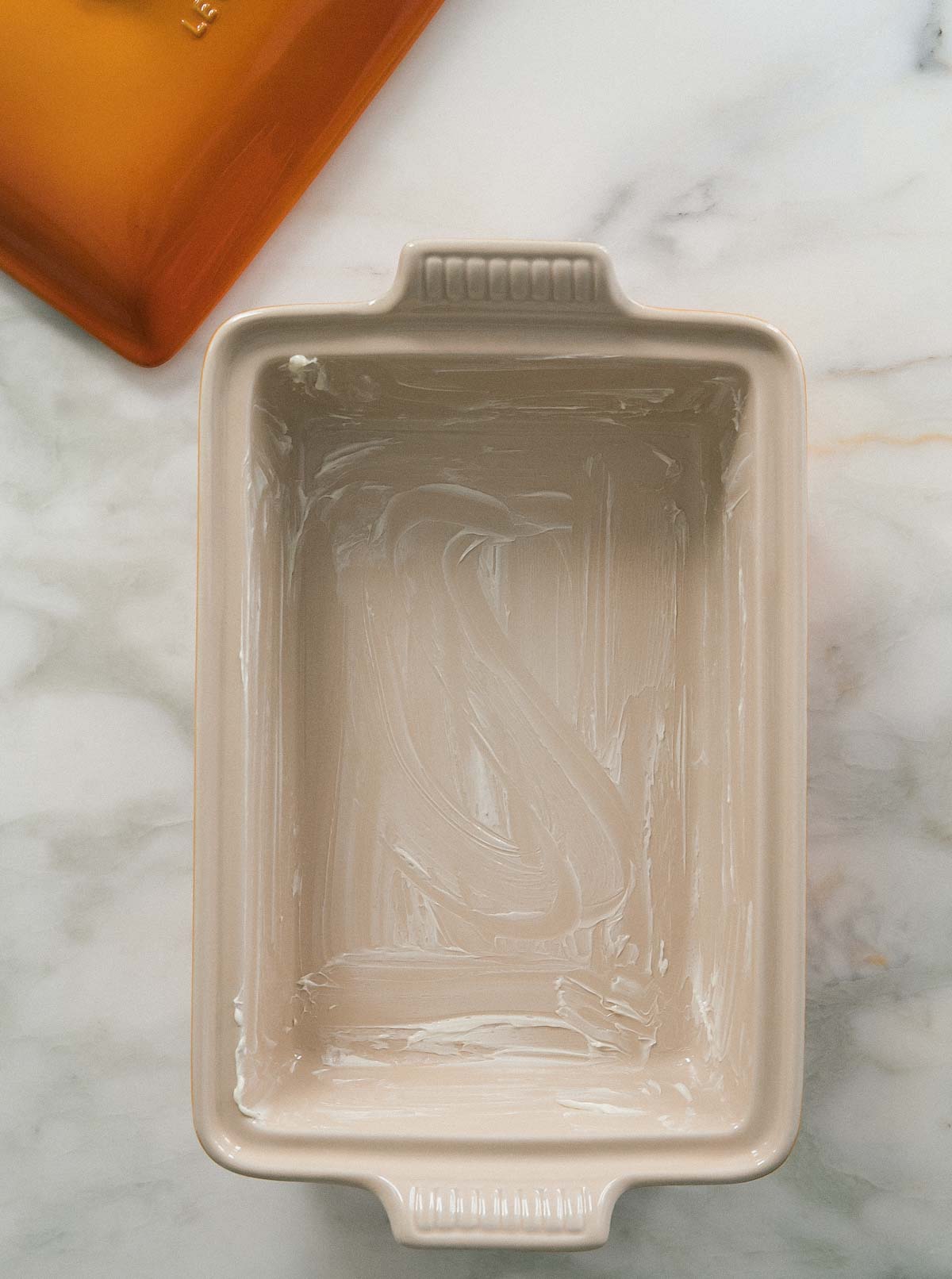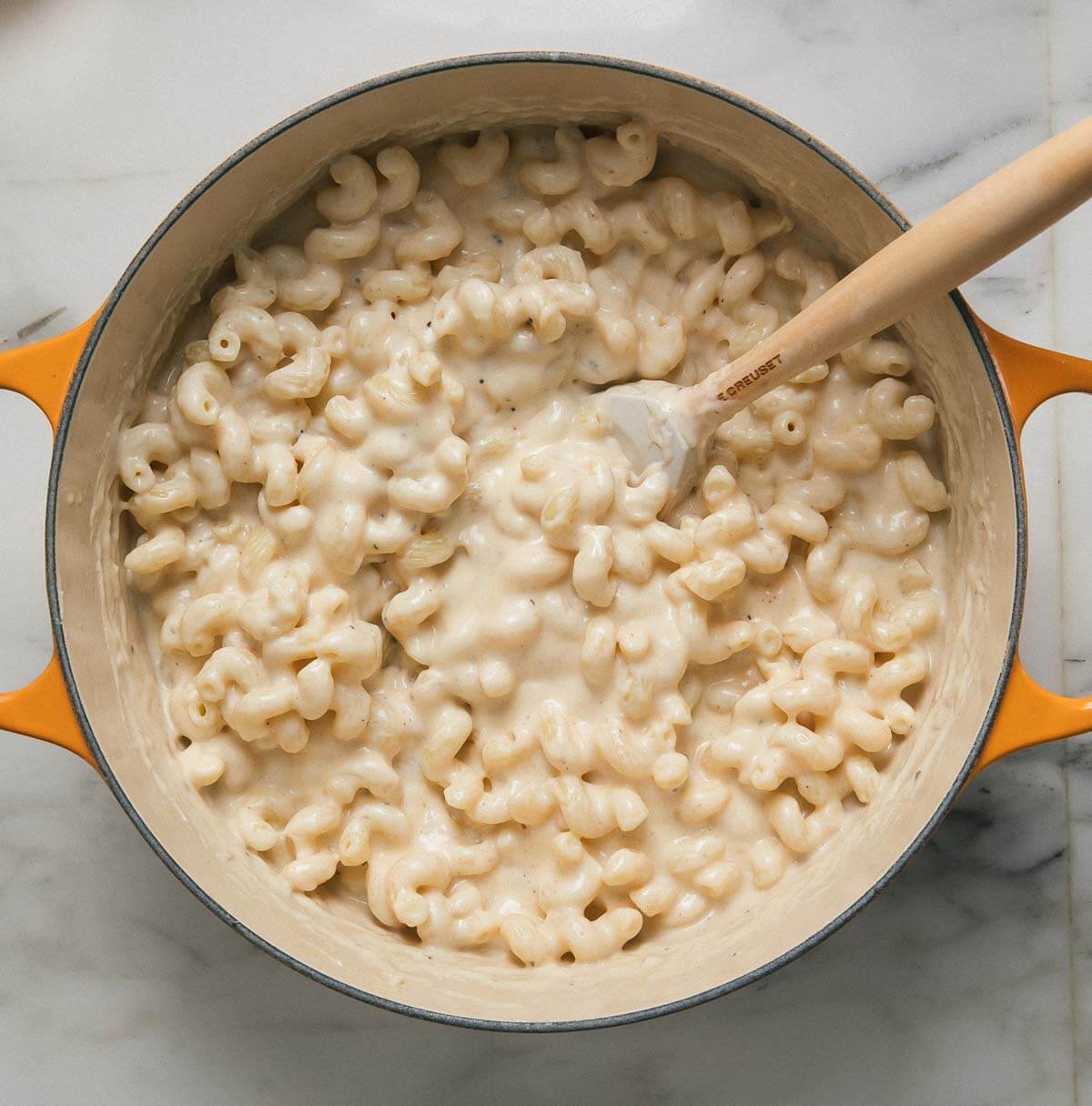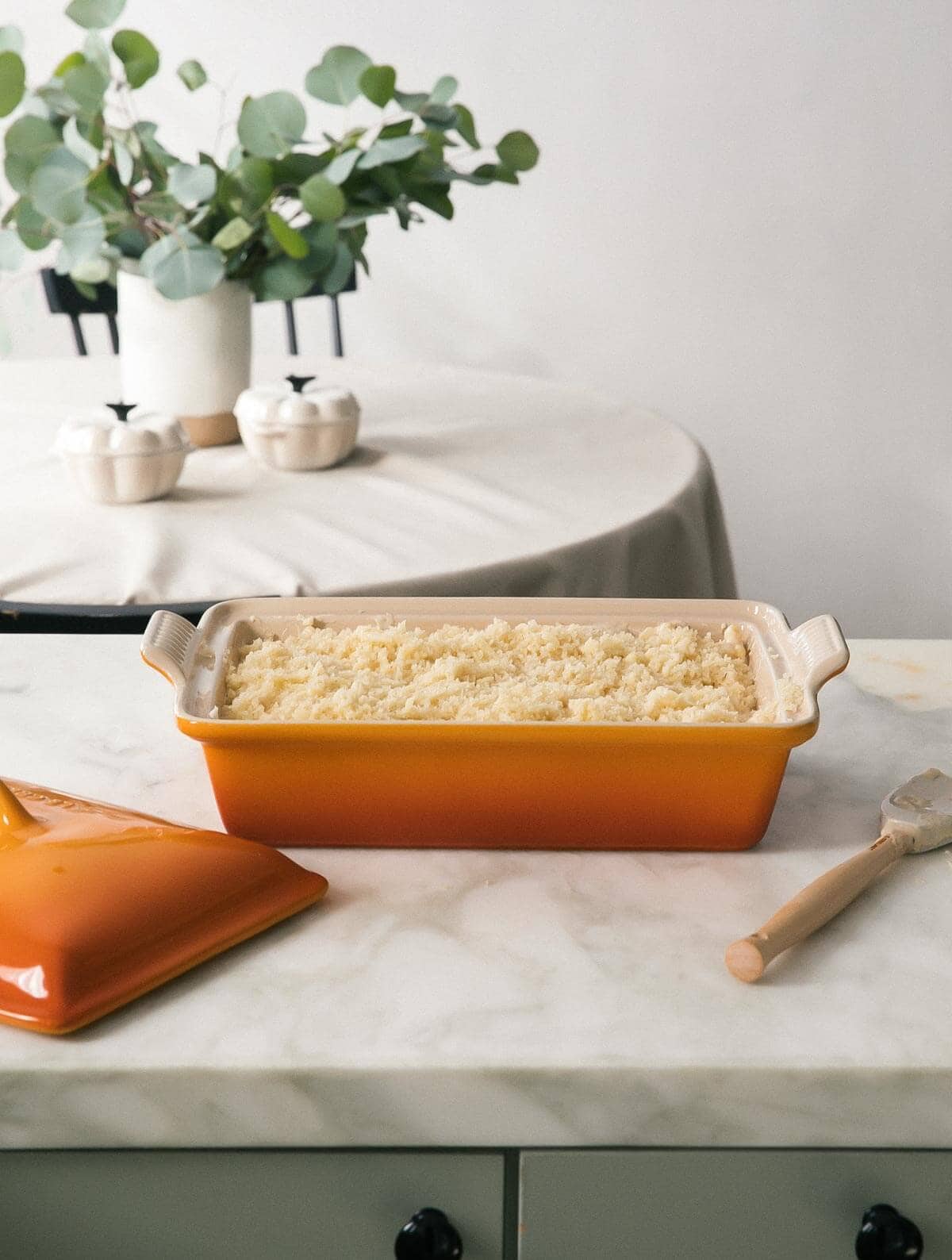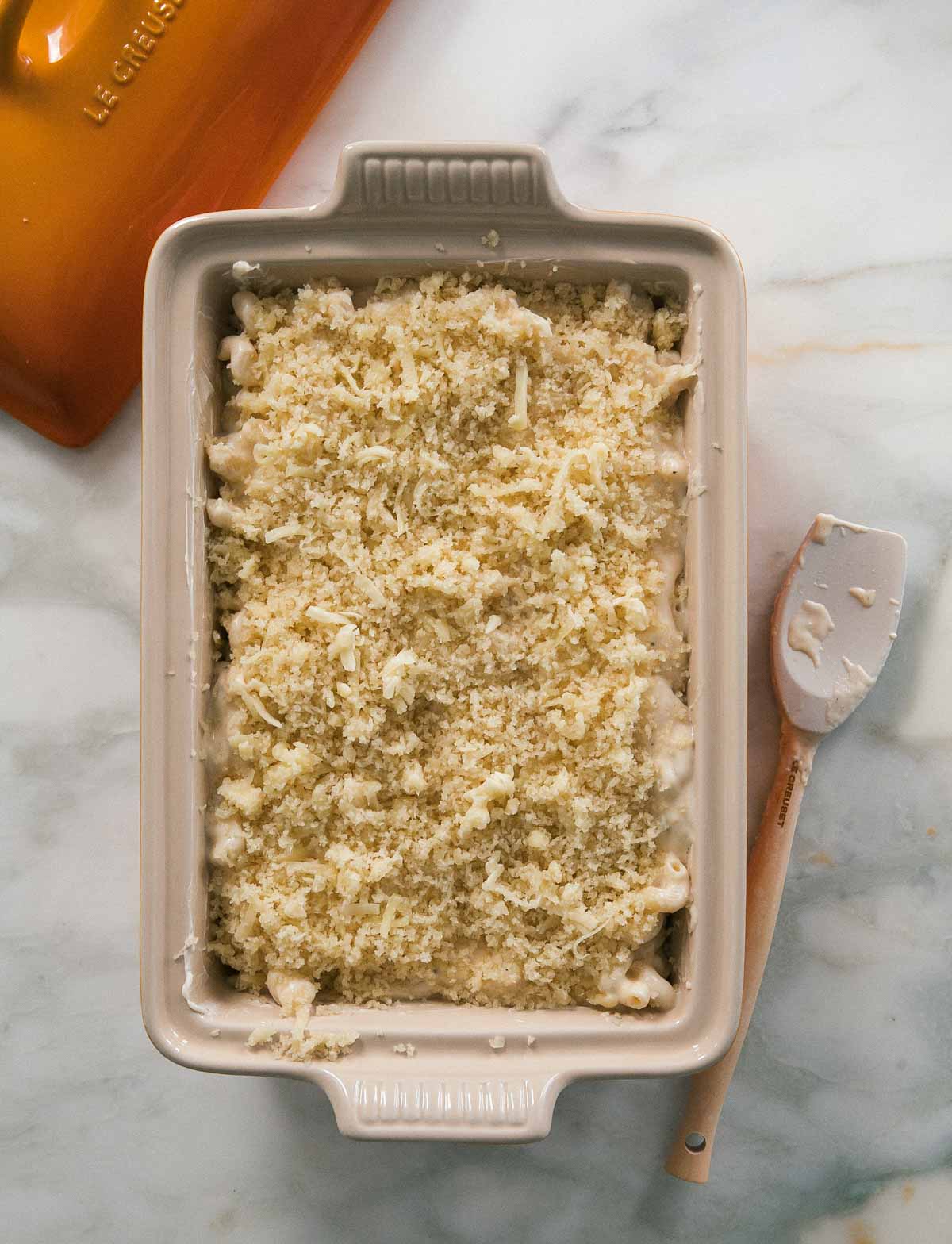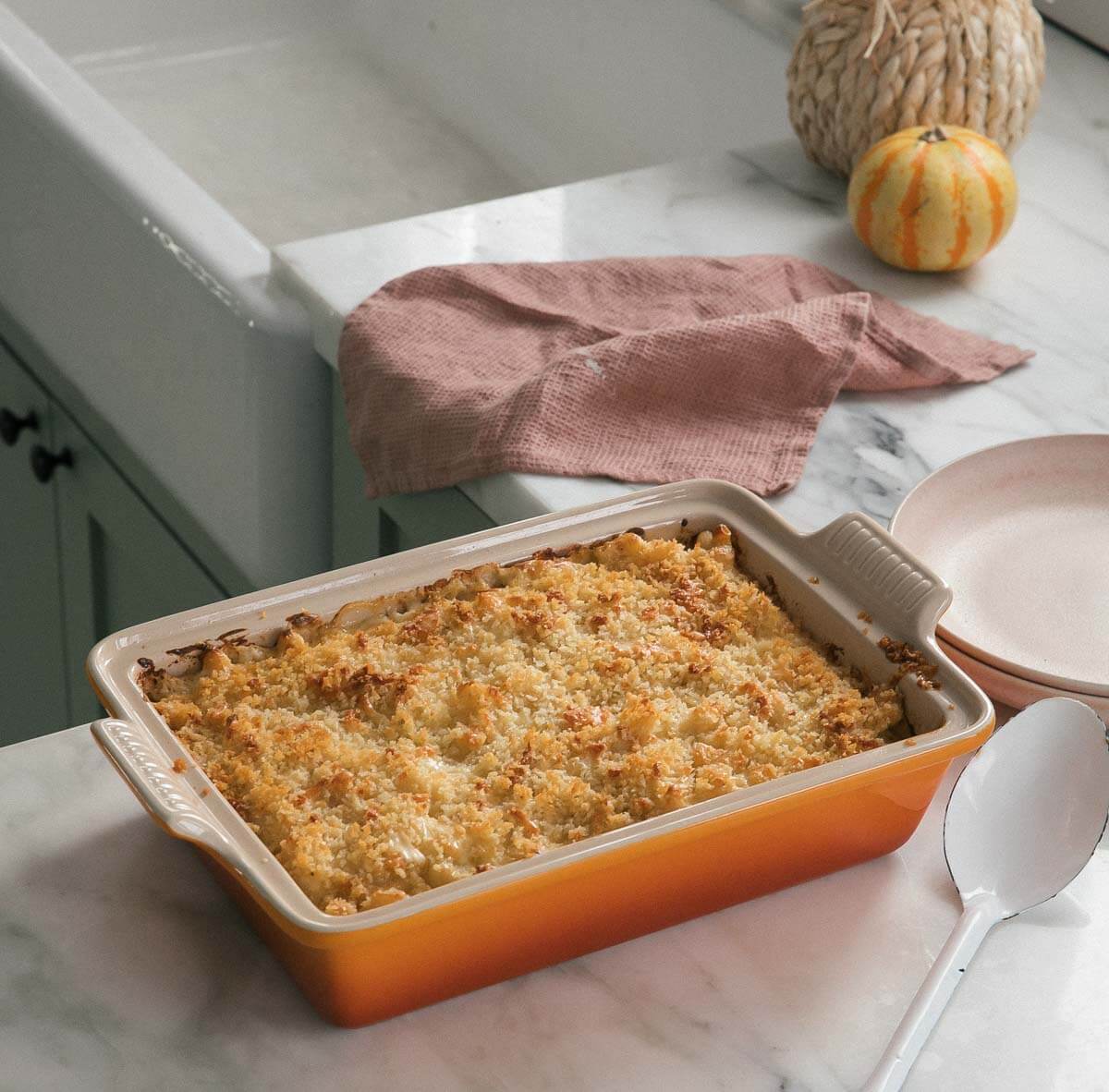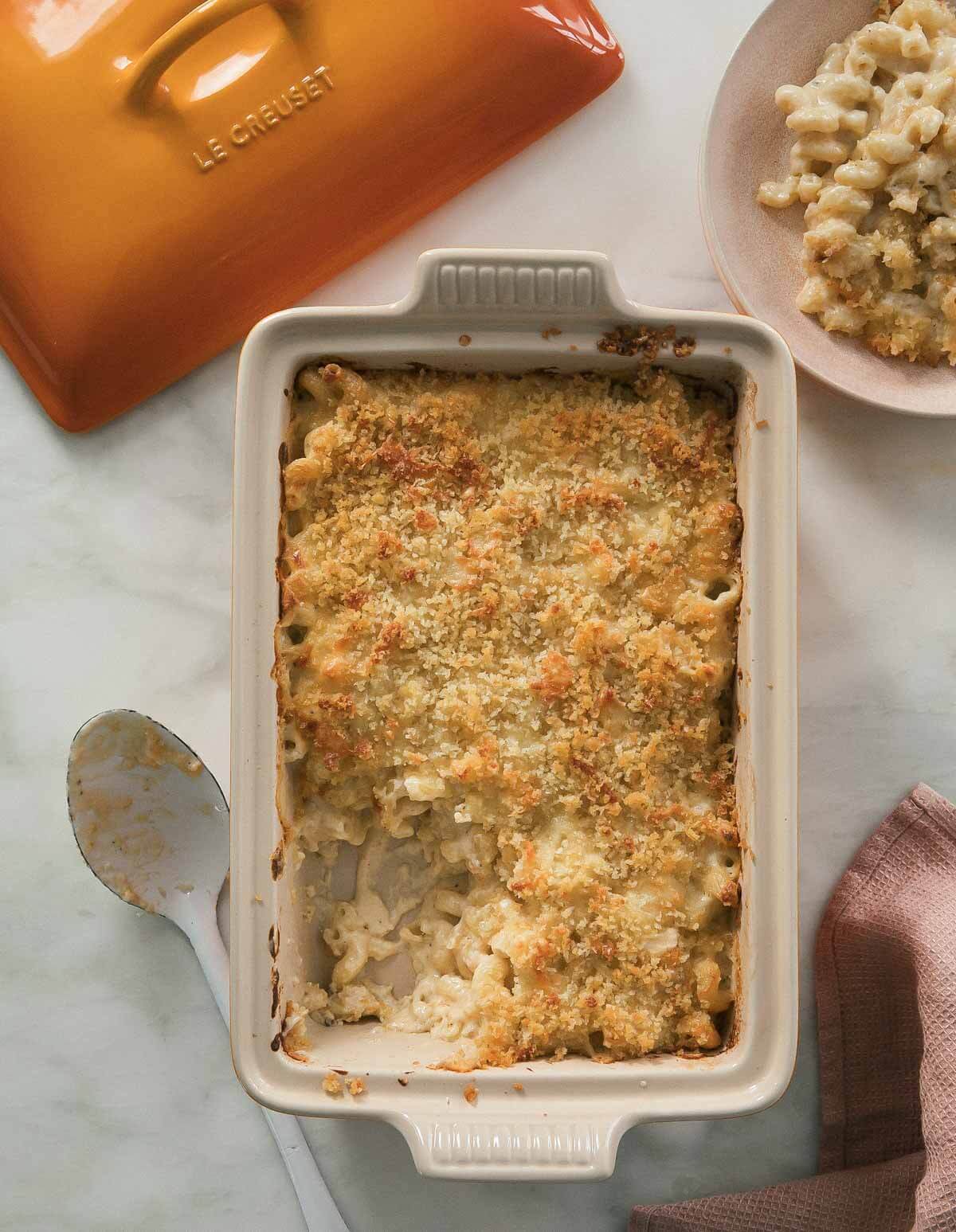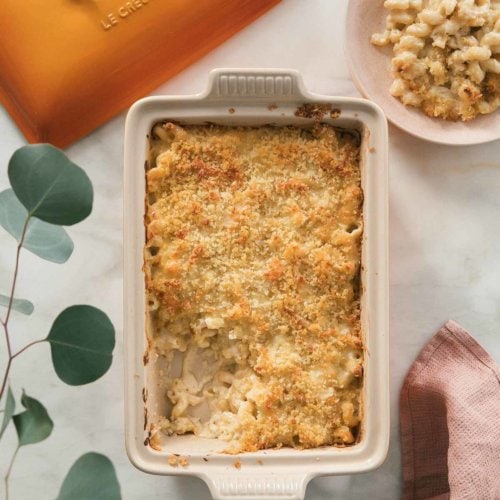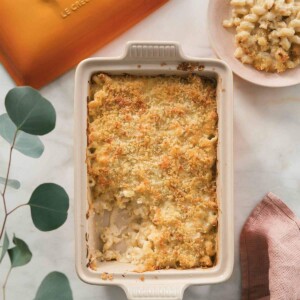 Creamy Baked Macaroni and Cheese Recipe
This creamy baked macaroni and cheese is the best of both worlds: creamy on the inside with a crispy crackily top. This recipe uses four cheeses, but use what you can and like!
Ingredients
Bread Crumb Topping:
1

cup

bread crumbs

1/4

cup

unsalted butter

1/2

teaspoon

kosher salt
Pasta + Sauce:
1/2

cup

unsalted butter

1/2

cup

all-purpose flour

5

cups

milk

,

, divided

1

tablespoon

kosher salt

1

teaspoon

freshly ground pepper

1/2

teaspoon

smoked paprika

1/2

teaspoon

garlic powder

1/2

teaspoon

Dijon mustard

16

ounces

grated cheese

,

(a combo of swiss (7 ounces)/comte (1 ounces)/raclette (5 ounces)/cheddar (3 ounces)

1

pound

of pasta of choice

,

(I used cavatappi)
Directions
To Make the Buttery Bread Crumbs:
To a small saucepan, set over medium heat, melt the butter. When melted, add the breadcrumbs and a pinch of salt. Mix until the bread crumbs are thoroughly coated. Set aside.
To Make the Macaroni and Cheese:
Preheat oven to 350 degrees F. Butter your 6-quart casserole dish and set aside.

To a medium pot, set over medium heat, add the butter. When the butter has melted, add the flour and mix it together and cook the flour butter mixture for about 1 minute. Pour in the milk in two batches, stirring continuously in between additions. Cook until it thickens up, about 2 to 3 minutes. It'll start to bubble up and thicken. Give it a good whisk and be sure to get in those corners of the pan to get any floury bits up and mixed in. It should be thick enough to coat the back of a spoon.

Turn off the heat and whisk in the kosher salt, crushed red pepper, Dijon mustard and a few rounds of pepper. Give it a taste and adjust the salt to taste. Add the grated cheeses and mix them in until they're melted. Cover the pot with a lid and set aside.

Meanwhile, bring a pot of salted water to a boil. Cook the pasta according to the package's instructions, about 6 to 7 minutes, until al dente.

Drain the pasta and then immediately run it under cold water to get rid of some of the starch. Give it a shake in the colander to shake off some of the excess water and then add it to the pot with the cheesy sauce. Mix until thoroughly combined.

Transfer to your prepared baking dish. Smooth it into an even layer and then top it with the reserved bread crumbs.

Transfer it to the oven to bake for about 40 to 45 minutes, until the macaroni and cheese is bubbling and golden brown on top.
Nutrition Facts
Creamy Baked Macaroni and Cheese Recipe
Amount Per Serving
Calories 463
Calories from Fat 198
% Daily Value*
Fat 22g34%
Cholesterol 105mg35%
Sodium 1471mg64%
Potassium 90mg3%
Carbohydrates 16g5%
Protein 17g34%
Vitamin A 1100IU22%
Calcium 439mg44%
Iron 1mg6%
* Percent Daily Values are based on a 2000 calorie diet.