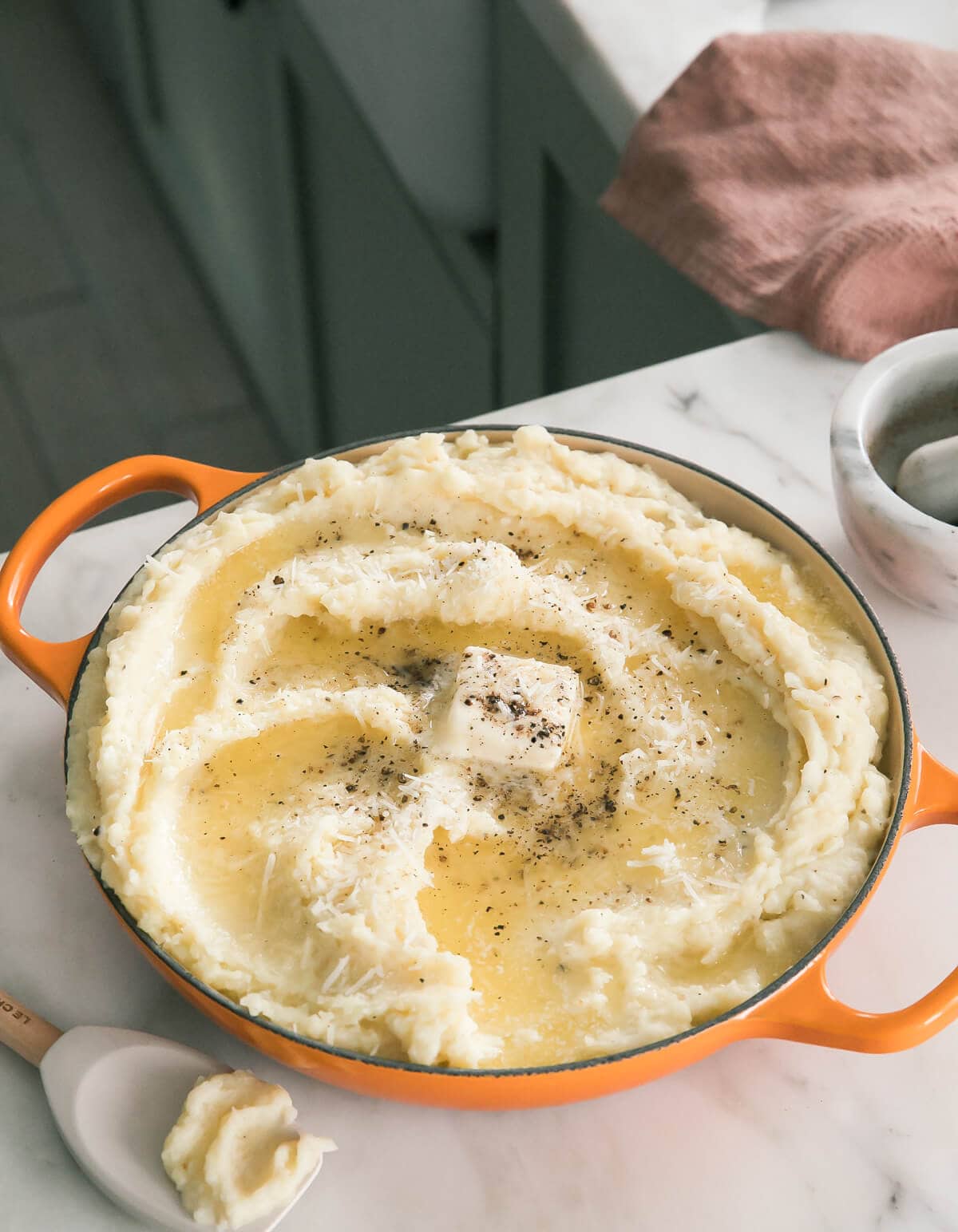 Thanksgiving is merely a few weeks away and we gotta get ready! Today I couldn't be more excited to share these Cacio e Pepe Mashed Potatoes with you all. They're buttery, peppery, slightly tart and utterly perfect.
For this post, I teamed up with Le Creuset!! Woohoo! I have always loved my Le Creuset cookware and have used it all up on this blog over and over and over again. Le Creuset is truly my kitchen ally. I love it for numerous reasons but here are just a few: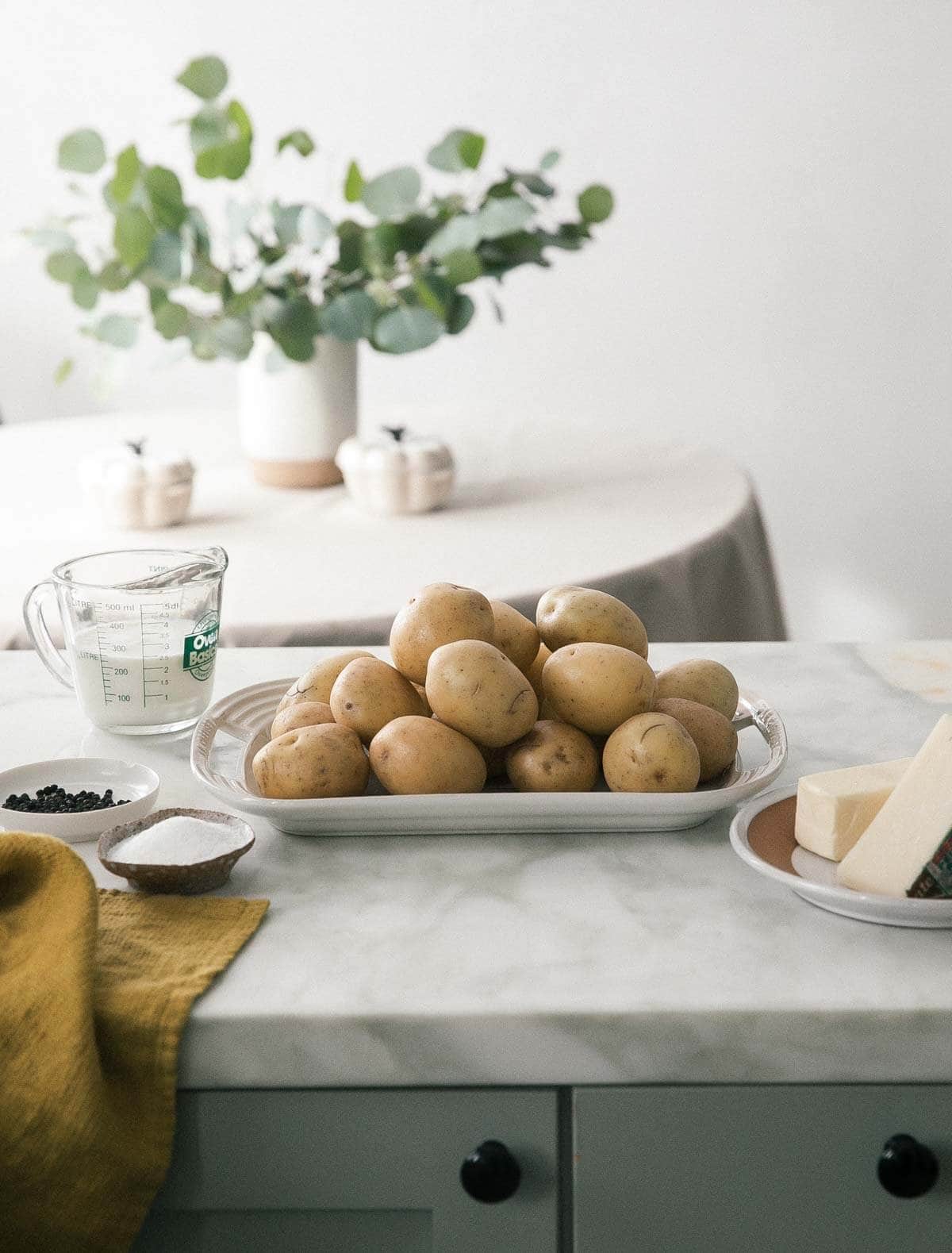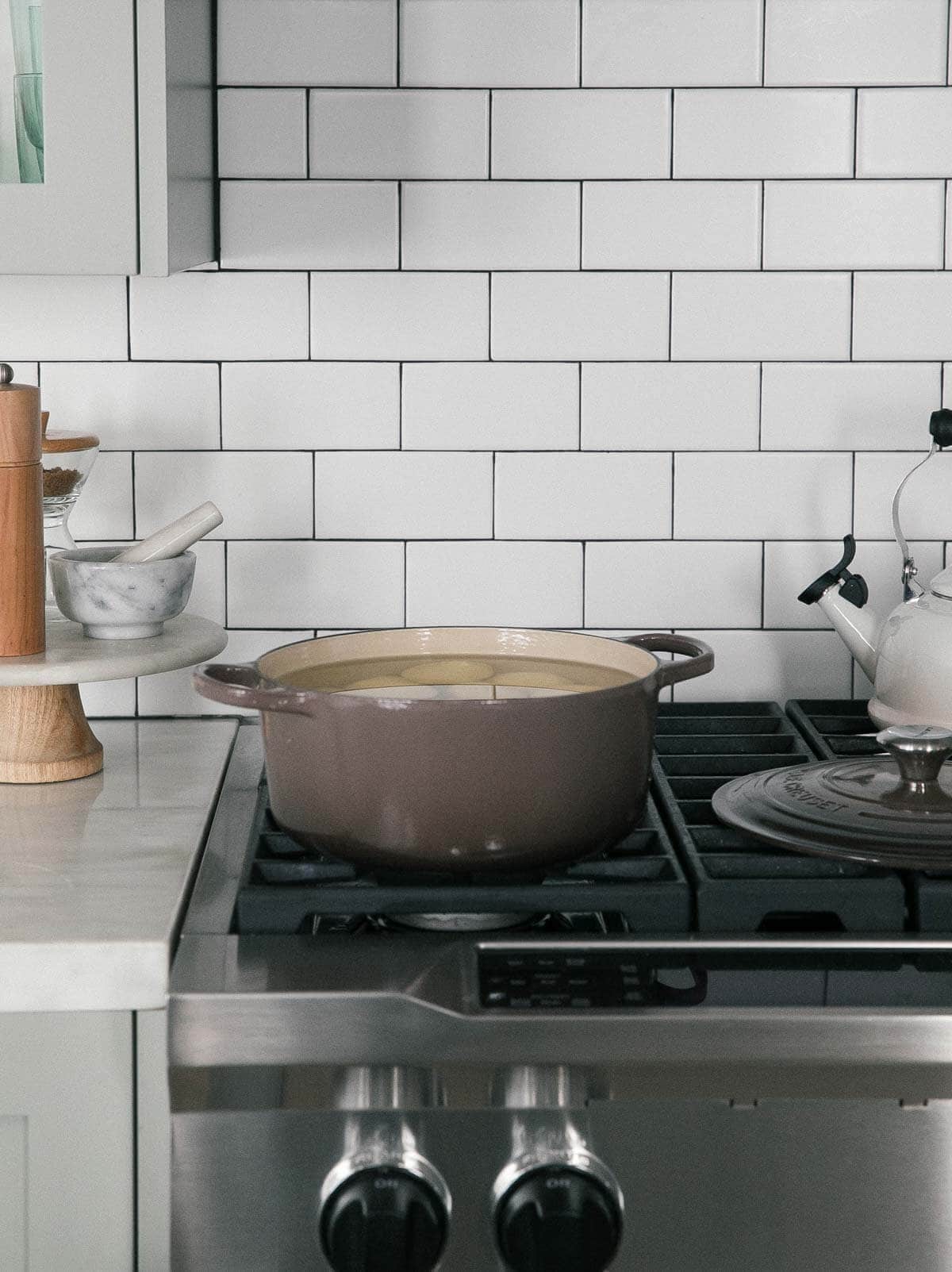 – My Le Creuset cookware is incredibly multi-functional. I use the Dutch ovens to make everything from arroz con pollo to soups to—in this case—boiling potatoes.
– Since Le Creuset is so beautiful, it's easy to take it from oven or stove directly to the table.
– The enamel coating on the inside of their cookware make them super easy to clean. A few light scrubs and BOOM…squeaky clean, looking like new!
In this post, I'm using their gorgeous Dutch oven in the color Truffle. And while I absolutely think it's possible to put the Dutch oven on the table, it was a bit dark inside and wasn't photographing the way I wanted so I transferred it to the 2 1/4-quart braiserin Persimmon.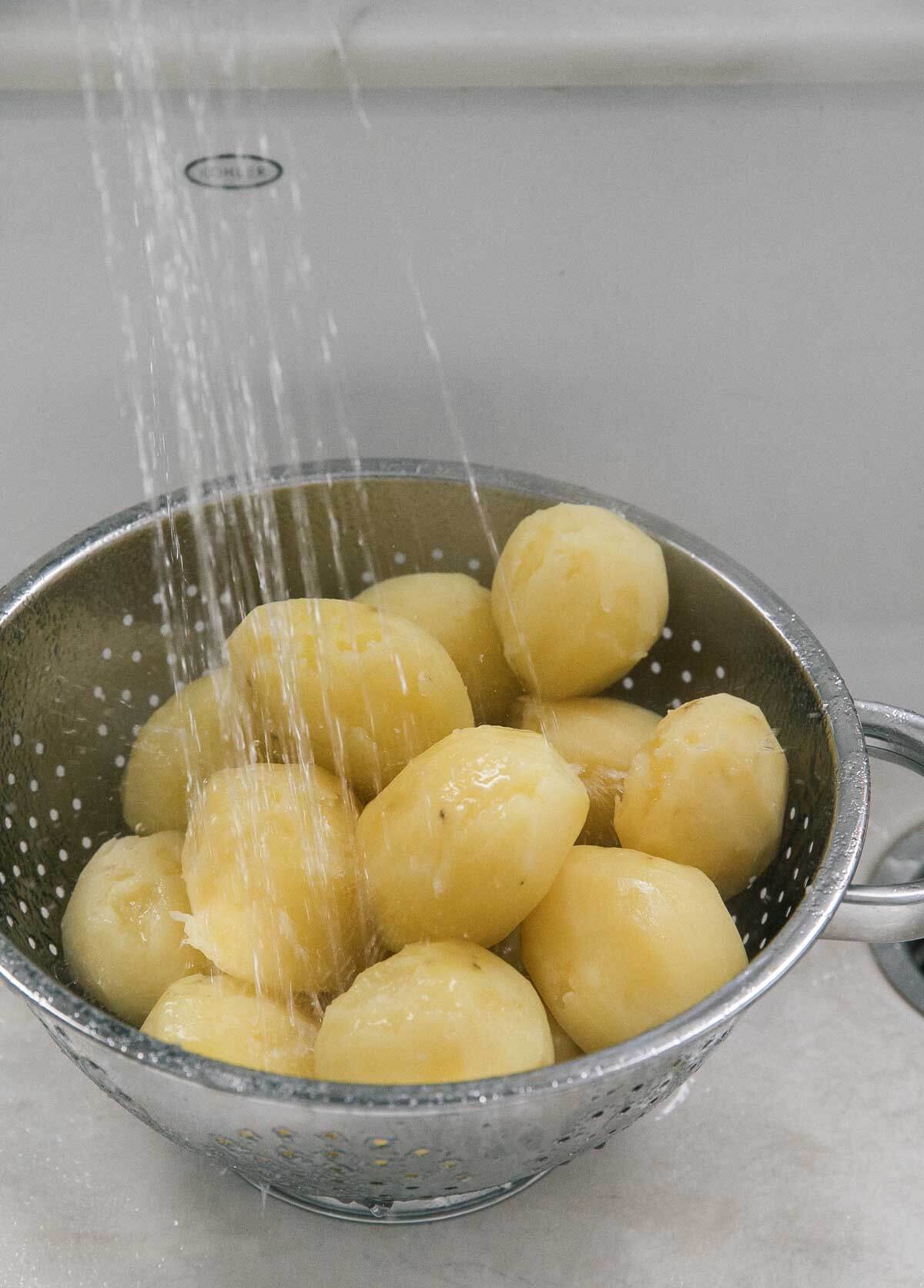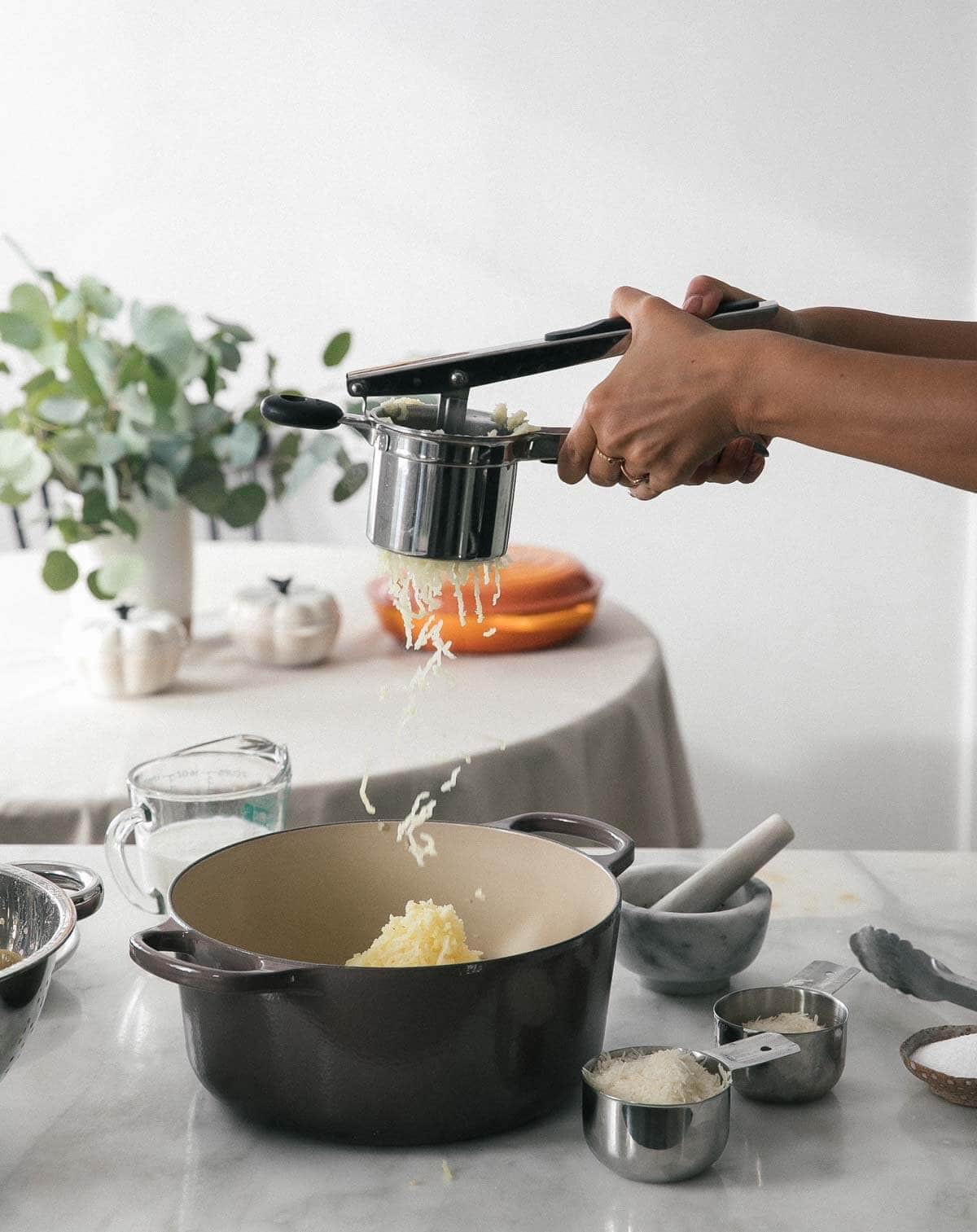 These fall colors are a gorgeous addition to my Thanksgiving autumnal table.
I think it's time to jump into the mood!
What is Cacio e Pepe?
Let's tackle the basics: Cacio e Pepe which literally translates to "cheese and pepper." It's a dish that hails from Rome, italy and it's typically super simple. It involves a bucatini pasta tossed in a simple sauce of Pecorino Romano, black pepper, salt and starch water from boiling the pasta. It's ridiculously simple but like all simple dishes, the technique and precision is everything.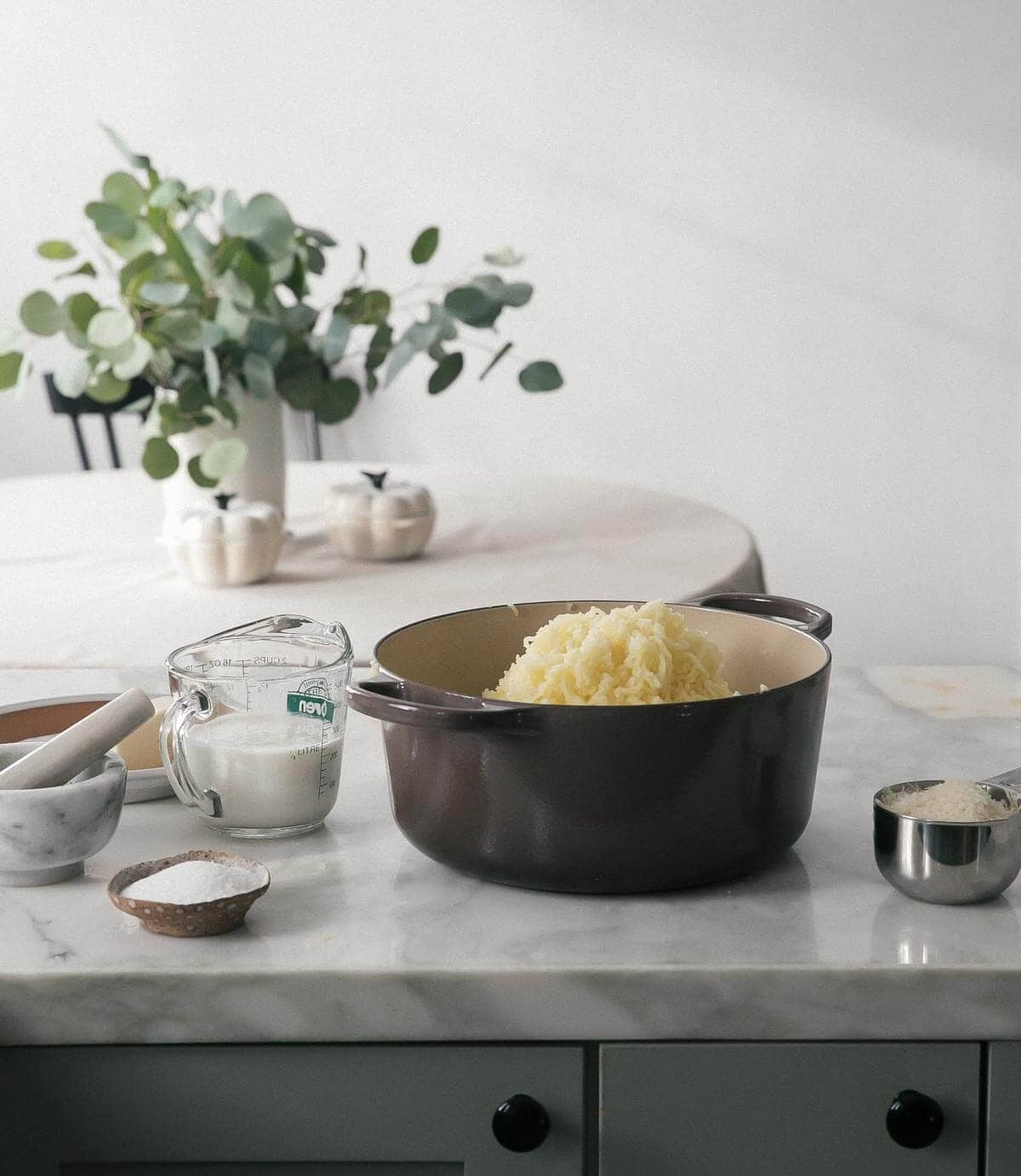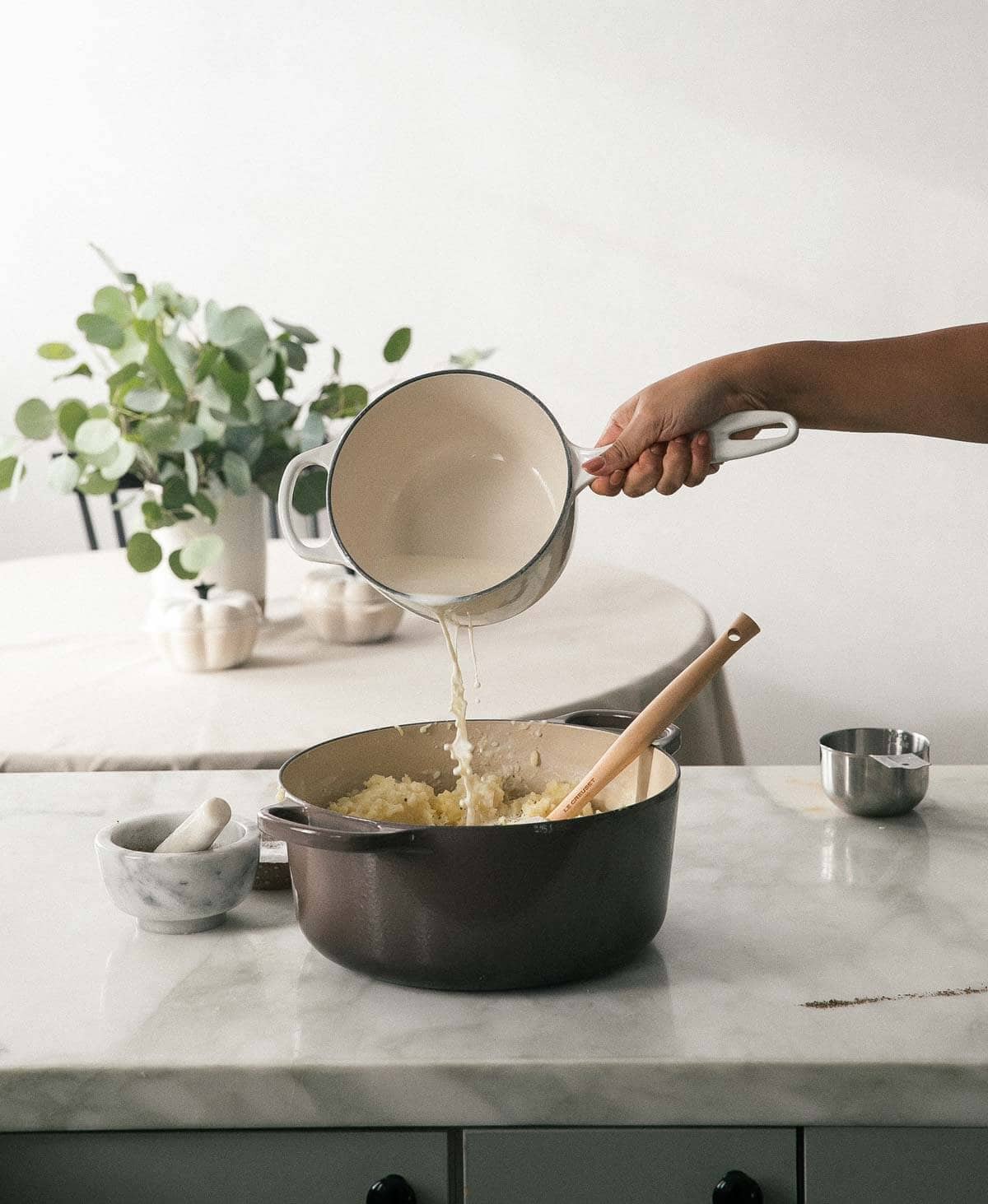 Obviously, this post is about mashed potatoes so there's no pasta involved. We're simply taking those super simple flavors and adding them to Creamy Mashed Potatoes which will result in Cacio e Pepe Mashed Potatoes!
How to Make Creamy Mashed Potatoes?
There are tenets that I believe are super important with making super creamy, delicious mashed potatoes. Here they go!
Start with cold water. And then add the potatoes. This makes ensure even cooking of the potatoes.
Use a ricer. I cannot tell you how important this is. It makes a super fine potato and when you mix it together, it stays so fluffy and vibrant. If you don't own one, then use a masher!
Add something tart. Whether it's creme fraiche, buttermilk, sour cream or cream cheese. You need something to cut through the richness.
Of course, you need the one ingredient that makes everything amazing at Thanksgiving: butter. Yes, I like to add softened butter or melted butter.
And I believe you need a little something else. Whether that's a fresh herb—or in this case, toasted peppercorns and ground up and a good amount of Pecorino Romano.
I added a few spoon swoops with a big spoon, and poured some melted butter on top.
I'll be making it on Insta Stories today, so be sure to check it out over there!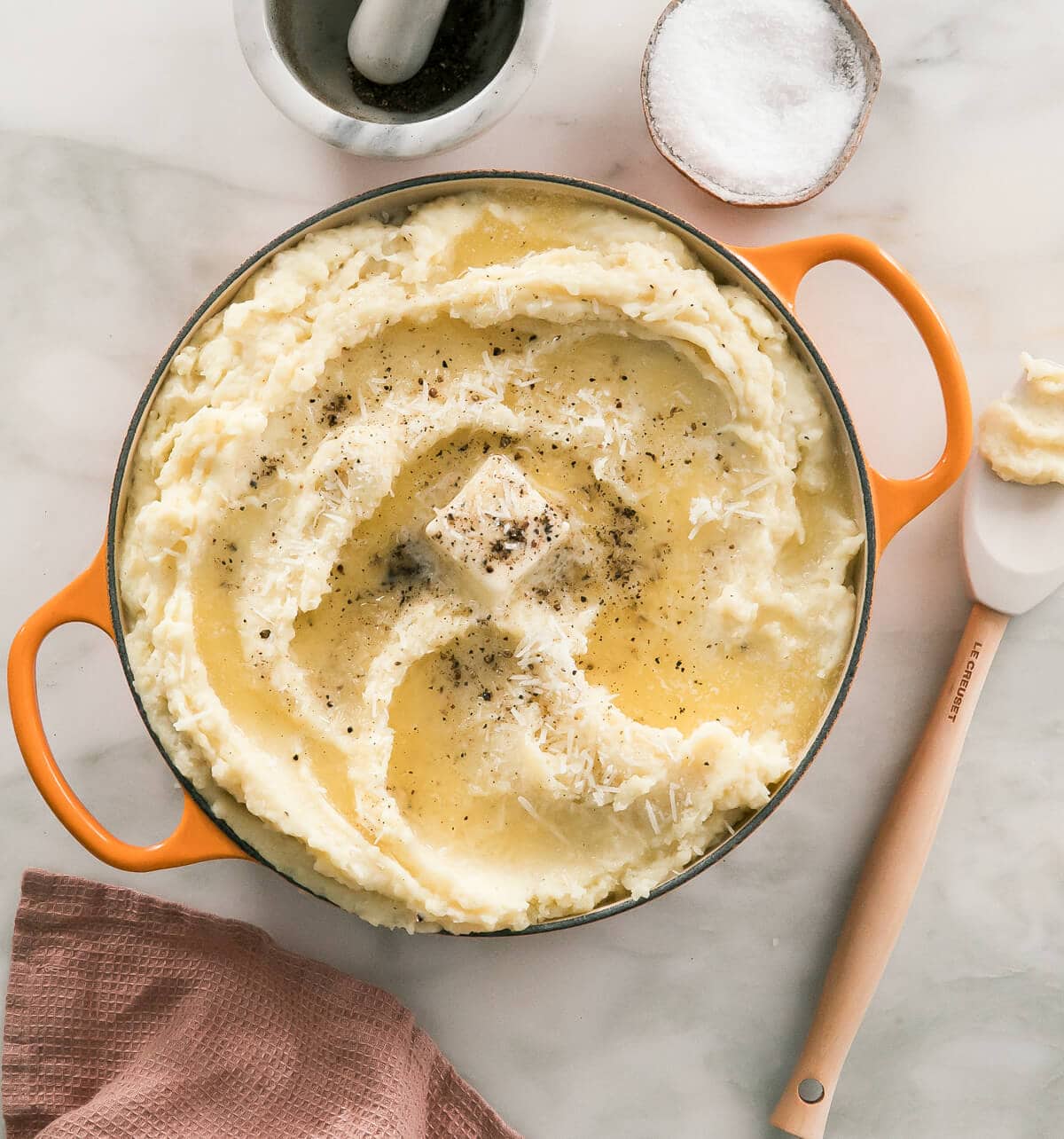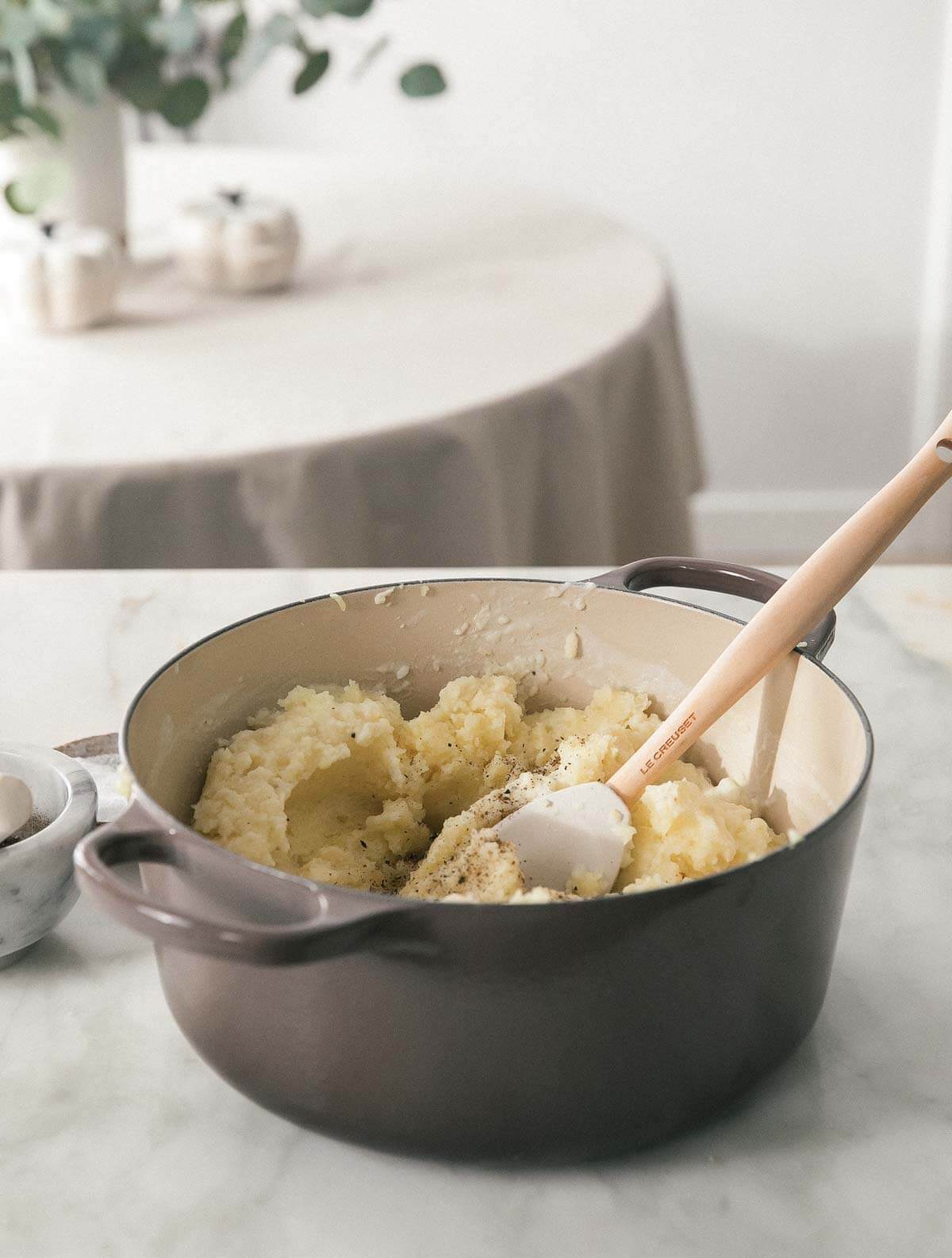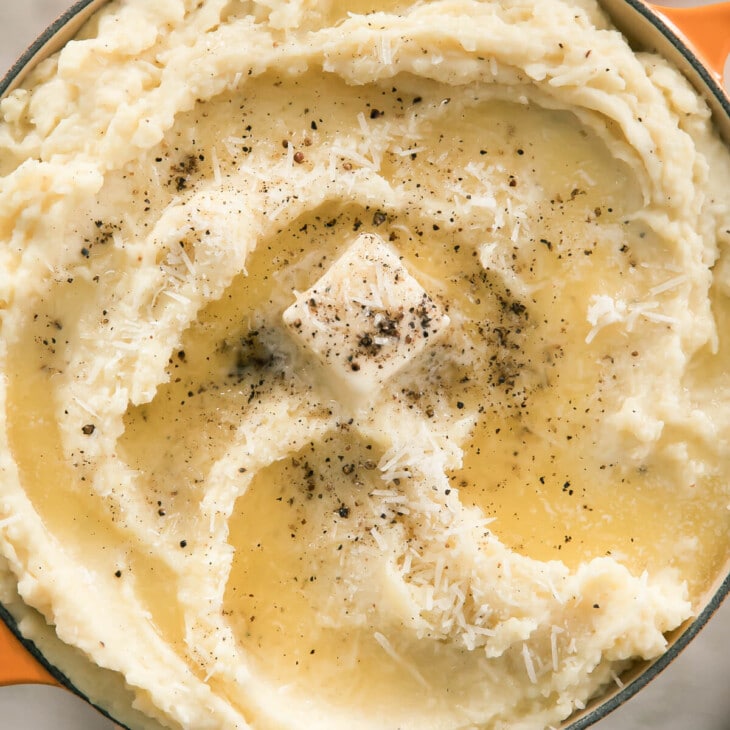 Print Recipe
Cacio e Pepe Mashed Potatoes
Cacio e Pepe Mashed Potatoes is made from Yukon gold potatoes. The freshly toasted cracked freshly black pepper and Pecorino Romano add such delicious depth to these fluffy creamy mashed potatoes.
Ingredients
1

tablespoon

black peppercorns

5

pounds

yukon gold potatoes

1/2

cup

unsalted butter

cut into cubes, at room temperature

1

cup

Pecorino Romano

divided

Kosher salt

1/2

cup

buttermilk

shaken

1/4

cup

heavy cream
Instructions
Toast the Peppercorns:
In a small saucepan, set over medium heat, add the peppercorns. Toast for about 2 to 3 minutes, until fragrant. Pour the peppercorns into mortar and pestle. Alternatively you could add it to a spice grinder or pepper grinder. Mash up the peppercorns until all crushed. Set aside.

To Make the Potatoes:

In a 4-quart Dutch Oven, fill it up about 3/4 of the way with cold water. Peel the potatoes and place them in the Dutch Oven and set it over medium-high heat. Bring the potatoes to a boil and then bring down the heat to medium-low. This should keep them at a nice, steady simmer. Cook until very soft, about 35 minutes. Give them a taste and make sure they're VERY soft. Pour the potatoes into a colander and immediately run them under cool water. Then immediately run the potatoes through a ricer, in batches, into the Dutch Oven. Repeat this step until you've worked your way through all of the potatoes.
To Mix Up the Potatoes:
In the pot with the mashed potatoes, pour in the buttermilk, softened butter, half of the ground up pepper, a few pinches of salt and heavy cream; mix it all together until smooth. Give it a taste and adjust the salt and cheese according to taste. I added about 2 teaspoons of salt in total.

To Serve:

Melt 2 tablespoons of butter in a small saucepan. Make some swoops in the tops of the potatoes. Pour the melted butter on top and then add a few pinches of freshly ground pepper and the remaining 1/4 cup of Pecorino Romano.
How to Make Ahead and Reheat:
Make the recipe straight through and then allow to come to room temperature. Store in an air-tight container in the fridge up to 2 days ahead.

When you're ready to serve: Add a few tablespoons of heavy cream to the bottom of a medium-sized pot and place it over medium-low heat. Add the cold potatoes and cover the pot. Cook for 1 to 2 minutes and then stir them. Cover the pot again and allow to warm up for about 3 to 4 minutes. Repeat until the potatoes are warm.

You can also microwave them lol.
Notes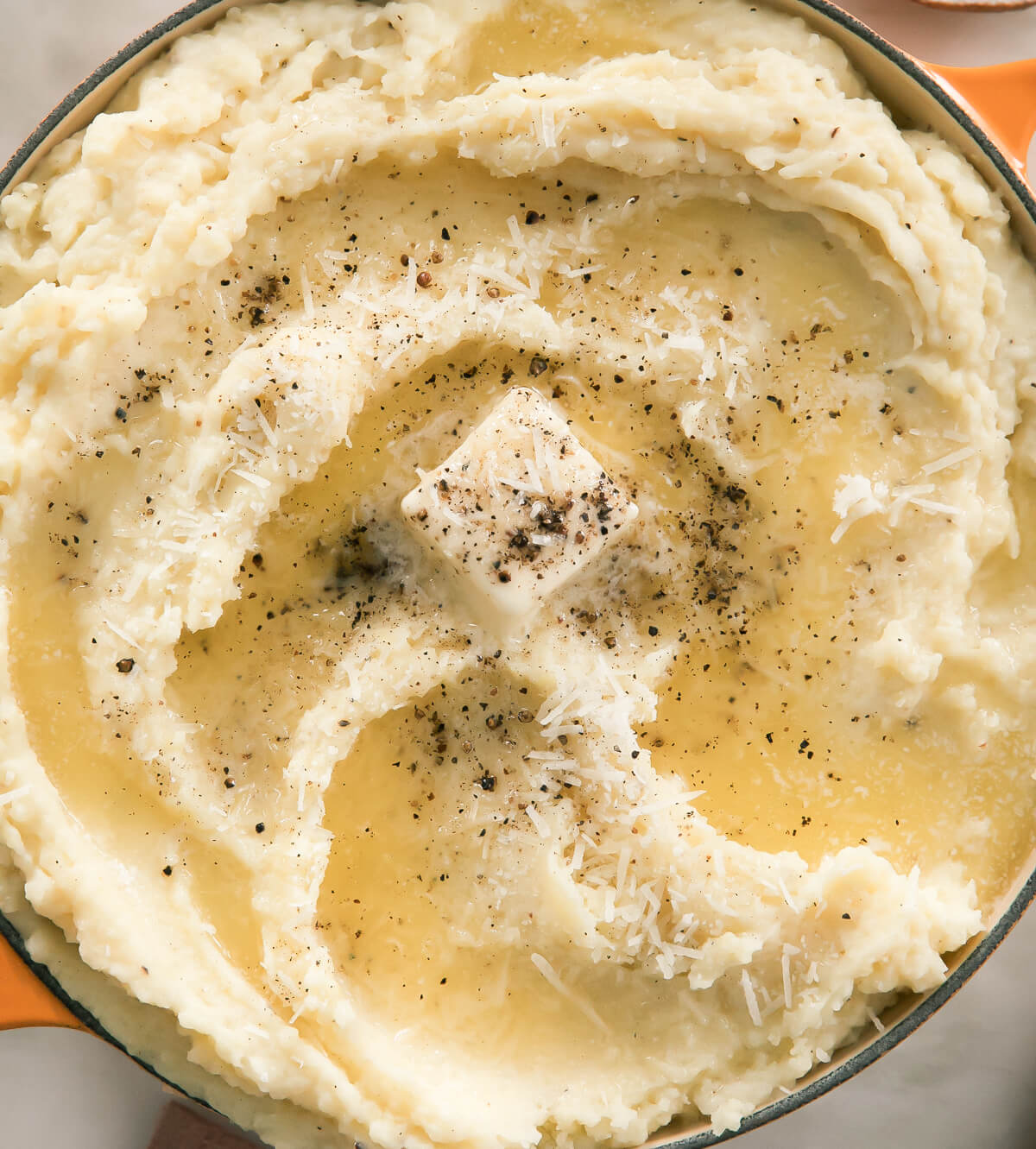 (This post is sponsored by Le Creuset. Thanks for supporting the sponsors that keep A Cozy Kitchen cozy.)