These Brown butter chocolate chip cookies have a nutty, deep flavor. They're made better by adding finely chopped walnuts to the dough. They're chewy, butter, nutty and perfectly chocolate-y.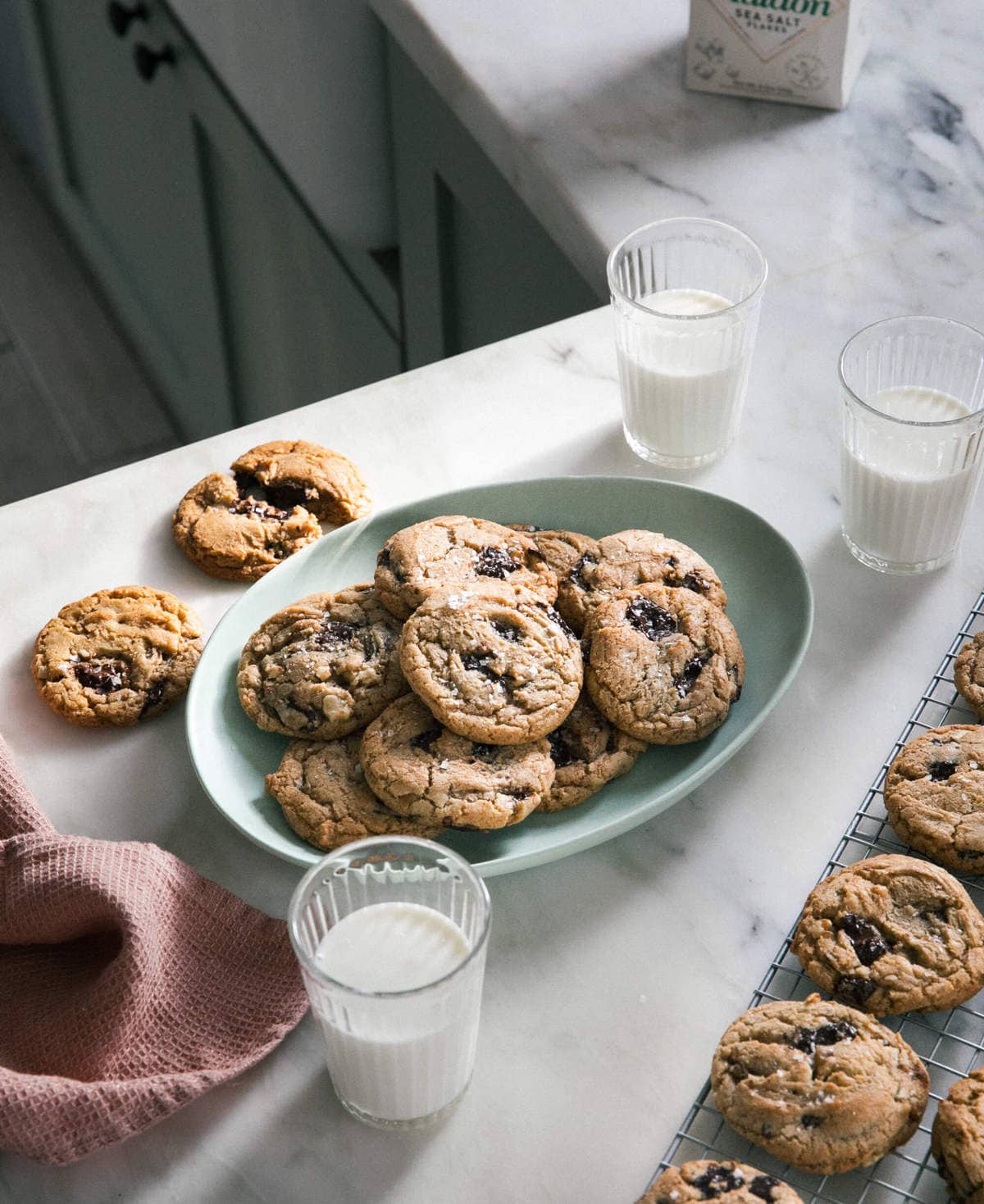 Let's dive into these Brown Butter Chocolate Chip Cookies, shall we?
I put on Instagram a few weeks ago a question, "Do walnuts belong in chocolate chip cookies?!" I knew the question was divisive but I did it anyway! And boy, were the responses aggressive! People are incredibly opinionated about chocolate chip cookies, rightfully so.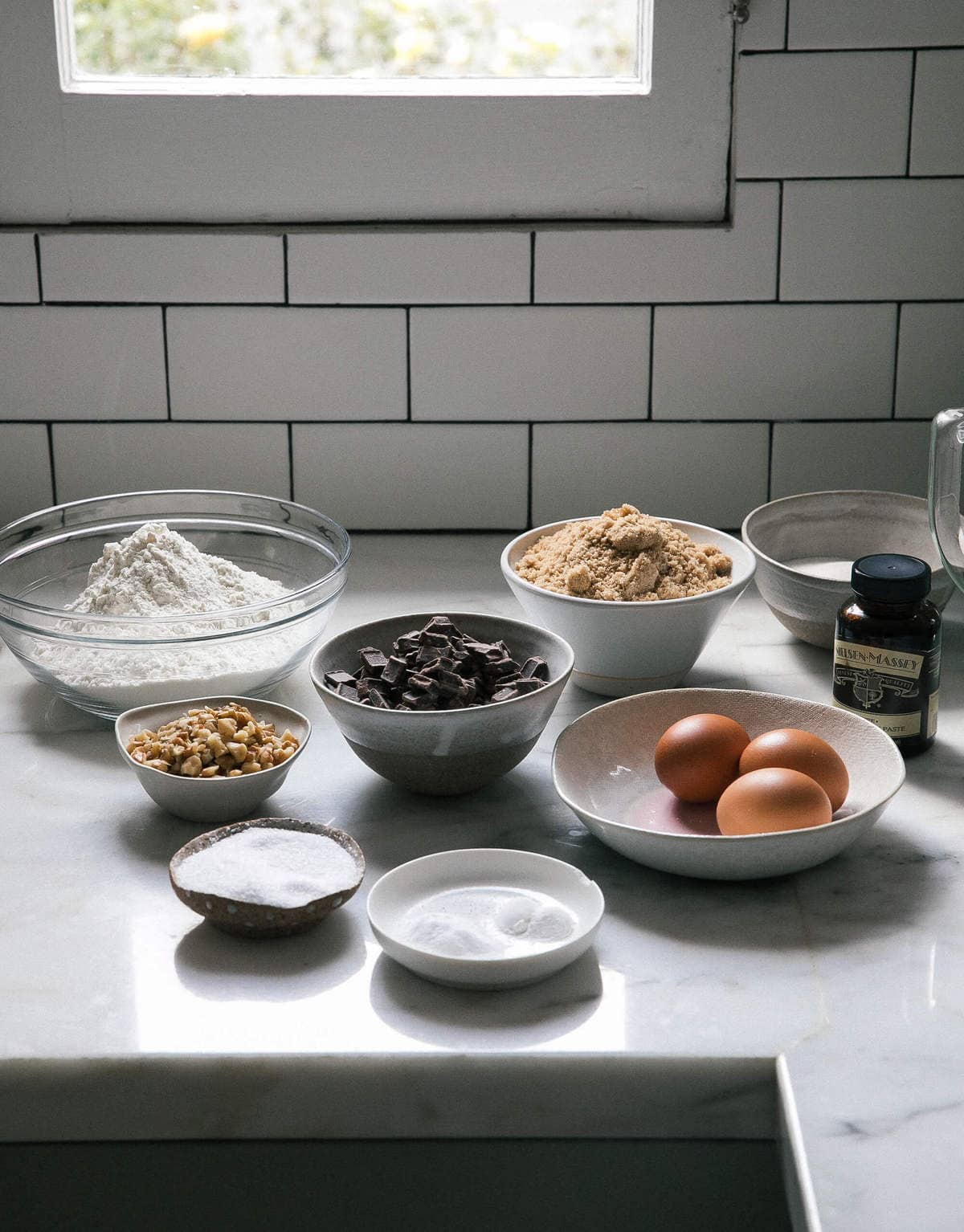 Can I Add Walnuts to My Chocolate Chip Cookies
I did a poll on Instagram and asked readers if walnuts belonged in chocolate chip cookies. 60% of readers voted "Absolutely not!"
I felt attacked.
40% of readers voted "Yes, delicious!"  I say you should add whatever you want! I love walnuts.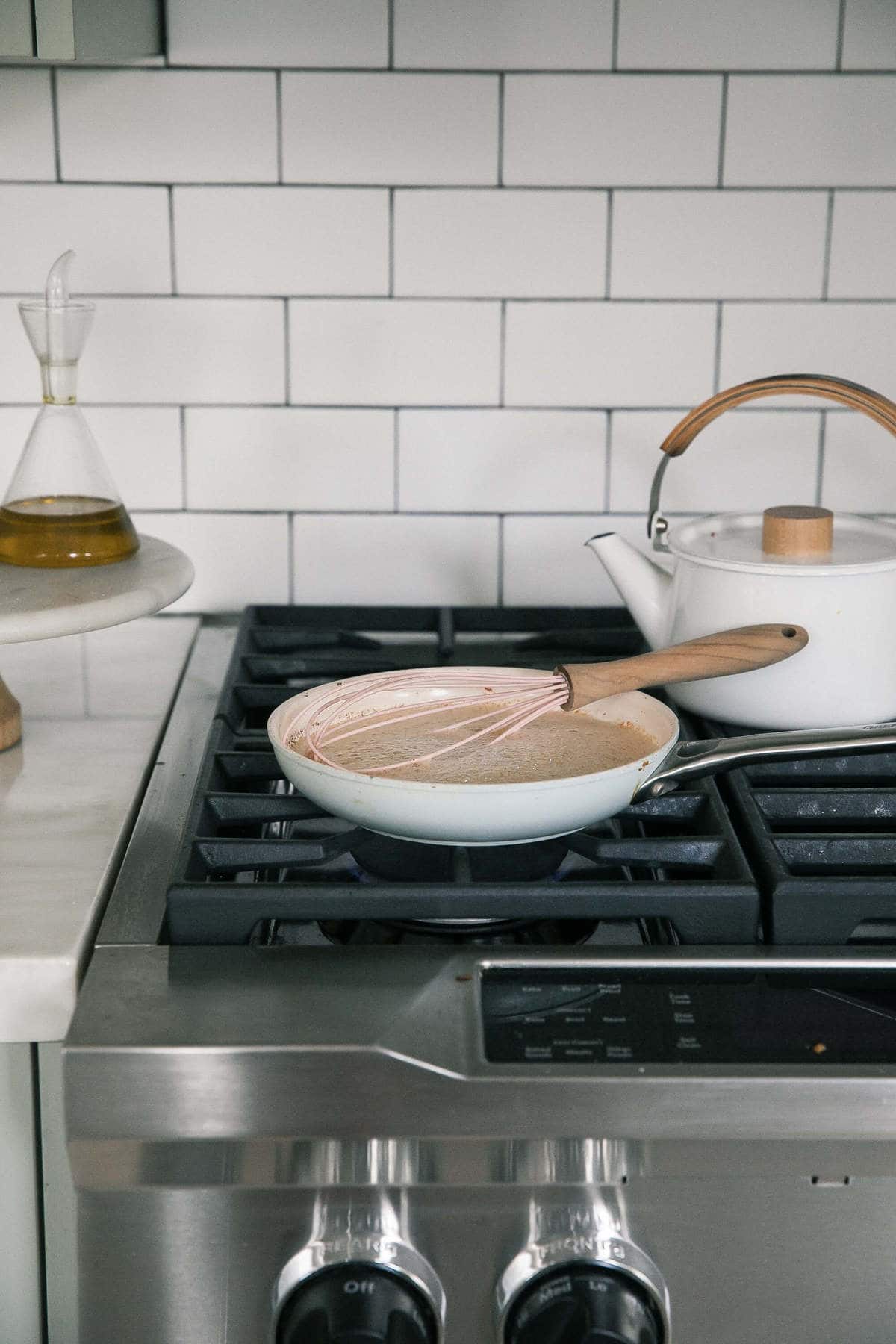 I'm not that precious about my chocolate chip cookies. And walnuts happen to be one of my favorite nut varieties! I like them. They can stay. They can sit with us.
If you're in the "absolutely not" camp, don't worry, this recipe allows you to leave them out completely.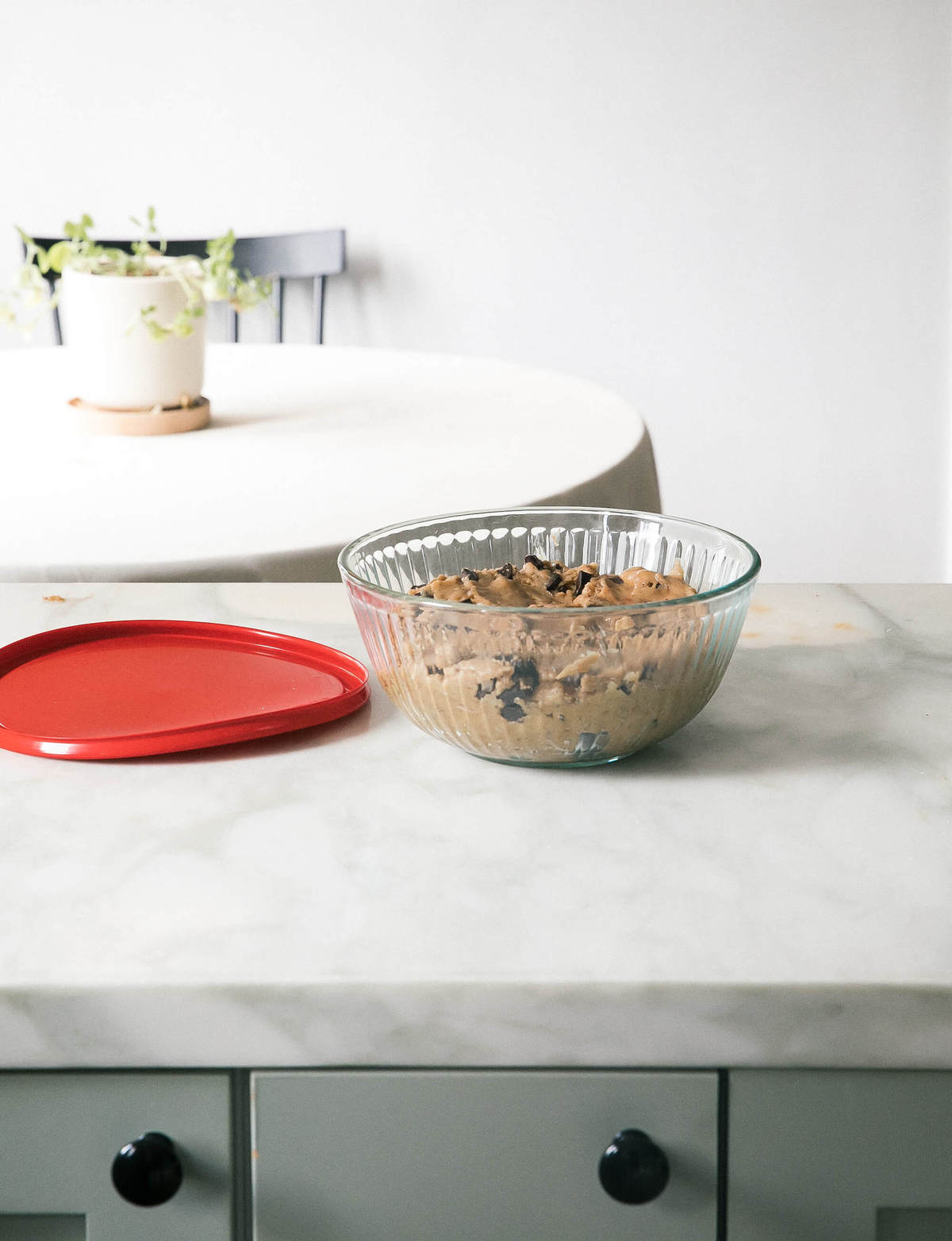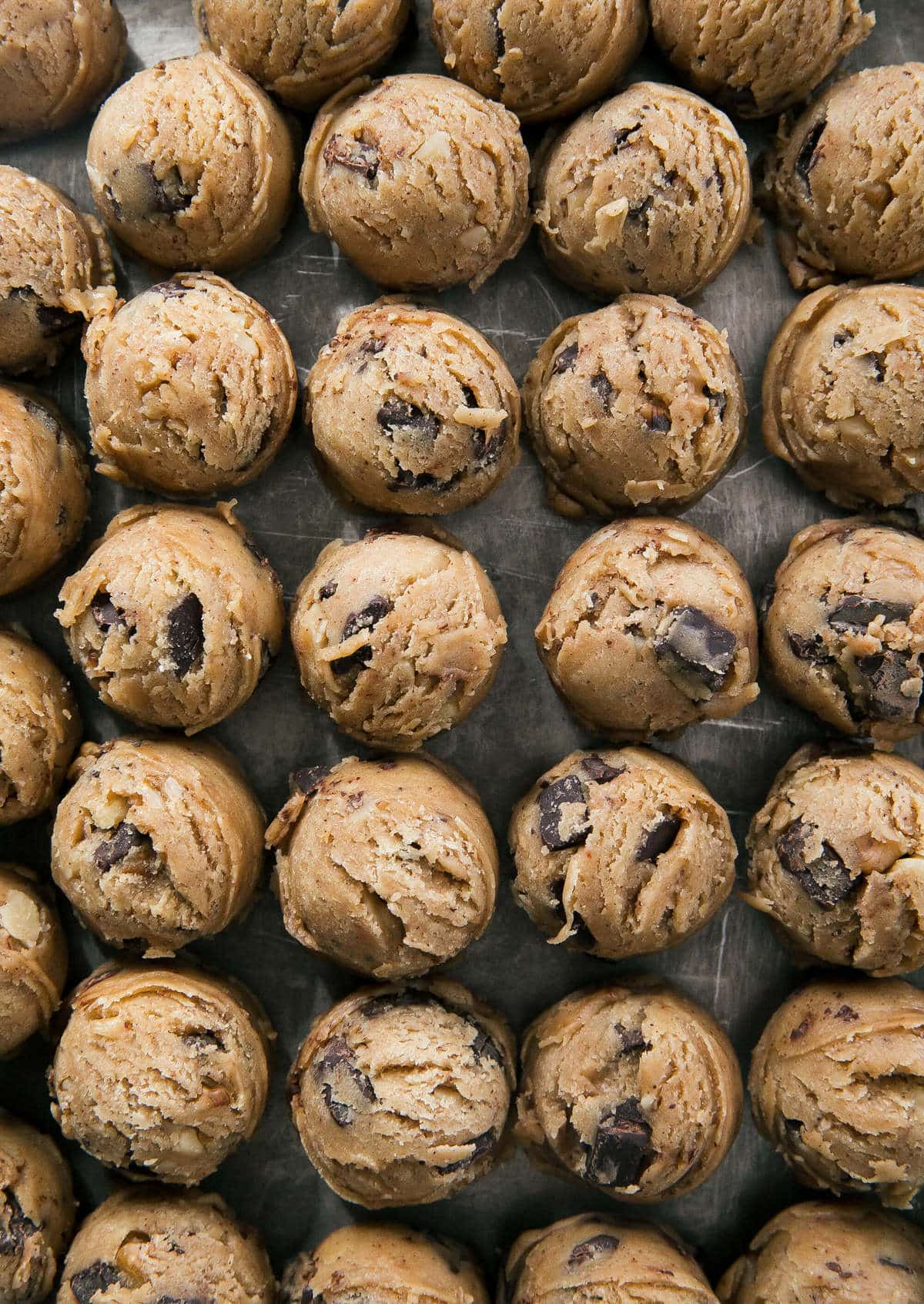 What Does Brown Butter Do for Chocolate Chip Cookies
Browning the butter gives these chocolate chip cookies a nutty quality to them that isn't all that distinguishable. It adds a depth of flavor that is hard to pin point. You don't eat these cookies and think to yourself, "Oh this is brown butter!" Their flavor is more subtle. That caramel-like flavor that lives in these cookies goes SO well with sea salt. Yum.
Should You Brown Butter for Cookies
Let's dive into browning butter for chocolate chip cookies. Unfortunately it's not as simple as browning butter. You see, when you brown butter, you cook the water out of the butter. Water in butter does a lot for baked goods. It adds moisture and steam.
For this recipe for brown butter chocolate chip cookies, we brown the butter and then we add a bit of water to the butter after it's browned.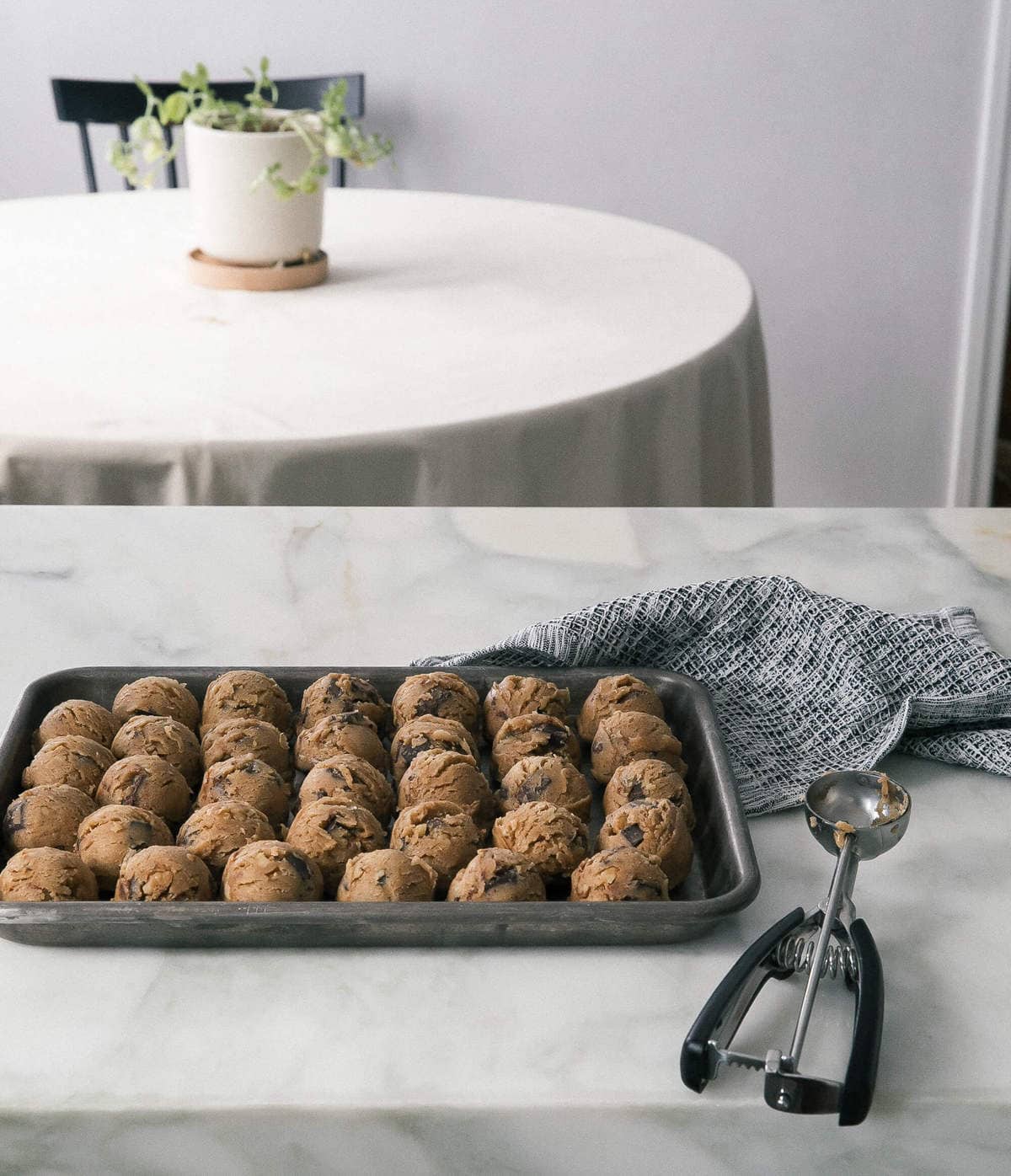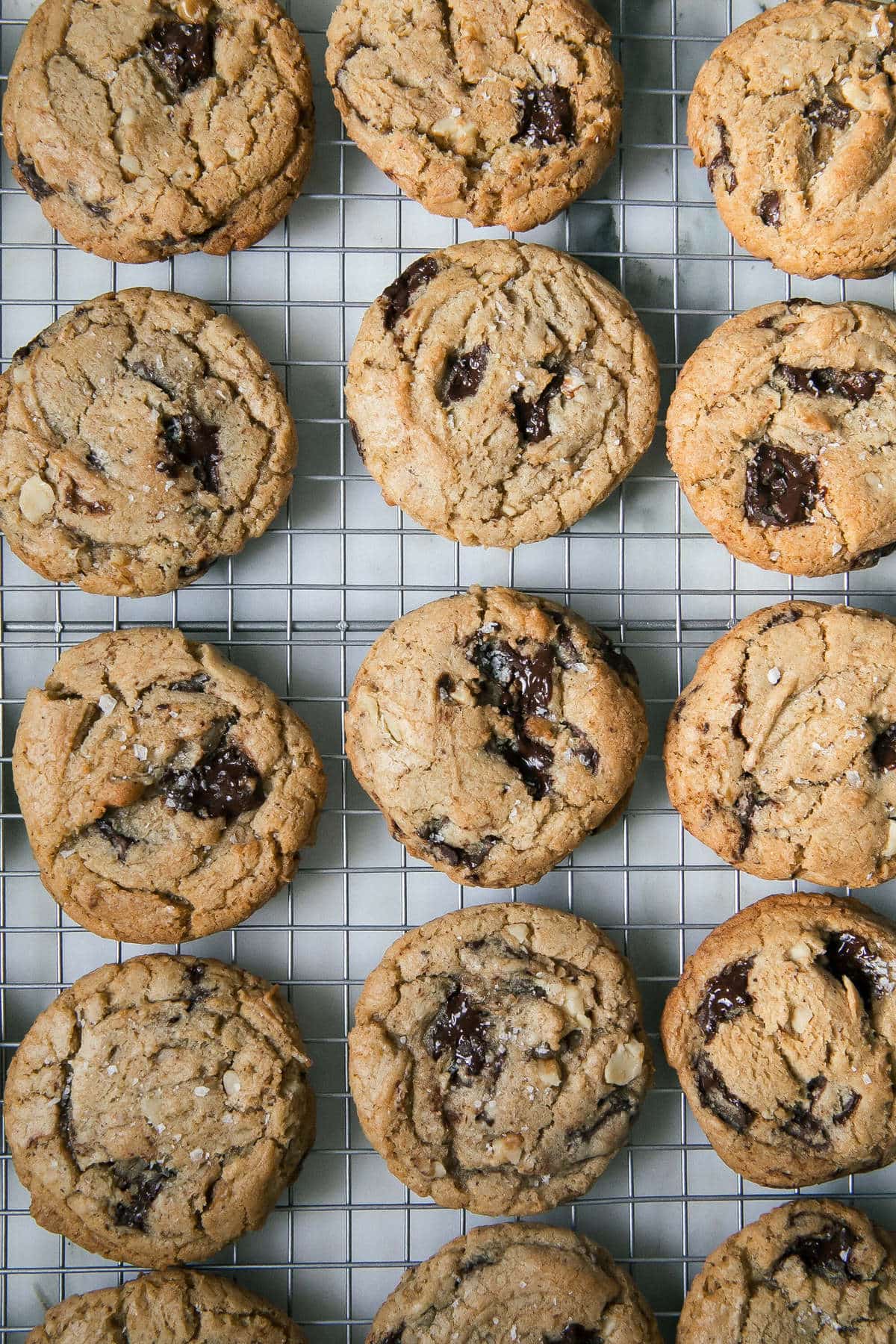 How to Brown Butter
The cozy way to brown butter is to almost burn it. Almost. There are some applications where I just straight burn the butter and it's delicious. The baked good doesn't result in a burned butter flavor but a totally browned butter flavor. It's rich, deep and nutty.
I take my melted butter pretty far. I do not allow lightly browned butter to be a part of my life in any way. So take it until it's dark brown.
Should You Use Light Brown or Dark Brown Sugar for Chocolate Chip Cookies
I always use light brown sugar. The subtle molasses flavor makes for a more balanced cookie. I actually ONLY buy light brown sugar vs. dark brown sugar. Because I personally enjoy the flavor a bit more. In addition to light brown sugar, these cookies of course, also call for granulated sugar.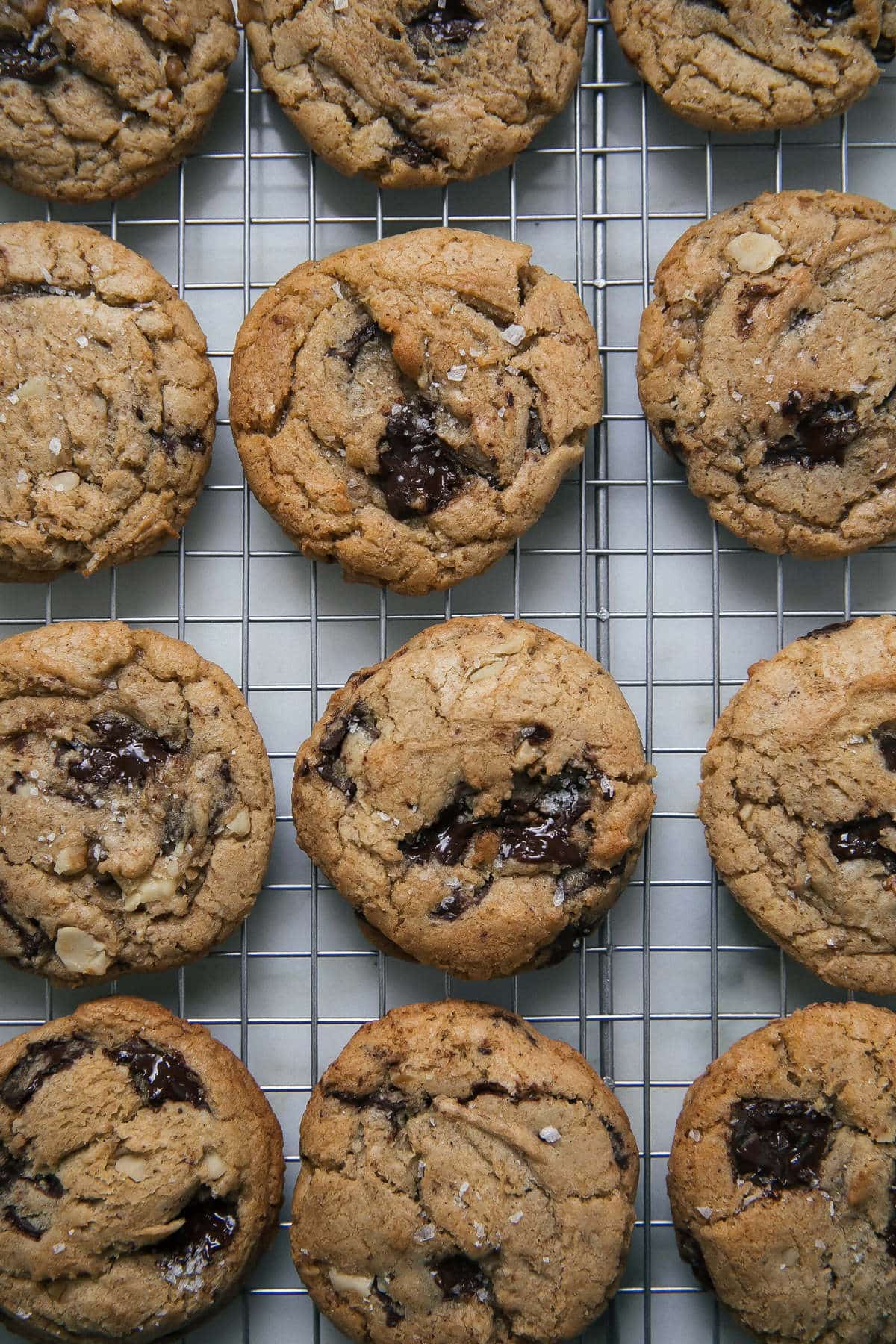 Like all of my chocolate chip cookies, I love making a batch, scoop out dough balls and freeze half of it! If you'd like to learn how to freeze chocolate chip cookies, click right here!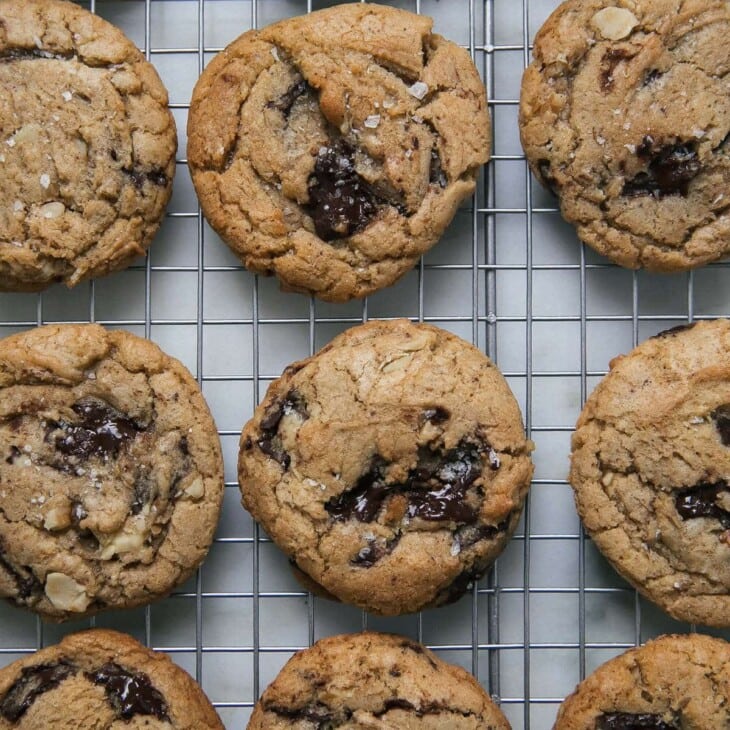 Print Recipe
Brown Butter Chocolate Chip Cookies
Brown butter chocolate chip cookies are so gooey and nutty in flavor. They're made better with walnuts; if you disslike walnuts in your chocolate chip cookies, leave them out!
Ingredients
3

cups

all-purpose flour

(360g)

3/4

teaspoon

baking powder

3/4

teaspoon

baking soda

1

teaspoon

kosher salt

1

cup

unsalted butter

(we're going to melt it so it can be straight from the fridge)

2

teaspoons

water

1 1/2

cups

brown sugar

1/2

cup

white sugar

2

large

whole eggs

1

large

egg yolk

2

teaspoons

vanilla extract or vanilla paste

12

ounces

dark chocolate chunks or chocolate chips

2/3

cup

finely chopped walnuts

(from about 1/2 cup)
Instructions
In a large bowl, mix together flour, baking powder, soda and salt. 

In medium saucepan, set over medium-low heat, melt the butter. Take out a silicon whisk and give the butter a stir. It will begin to foam up and bubble. Stirring frequently, allow it to keep going until it goes from a pale yellow color to a light brown color. Once it hits a light brown color, I like to give it a few more stirs just so I can monitor the color. This process happens quickly so don't walk away! Keep stirring it until it goes from a light brown color to deep golden brown. Remove it from the heat and give it a few more stirs.

I like to let it continue to cook until it's dark brown. Immediately pour it into a large bowl. Whisk in the two teaspoons of water. Allow the brown butter to cool for about 10 minutes. (If you don't do this, when you add the chocolate, it'll melt.) 

Next, whisk in the sugars. And then, add the eggs and vanilla. Pour into the dry ingredients and mix until combined. Lastly, fold in chocolate chips and walnuts (if using). Stick in fridge for 1 hour to chill.  

Preheat oven to 350F. Scoop out 1 1/2-inch balls of dough and roll them between your palms; place them onto a parchment-lined baking sheet spacing them 3 inches apart. Bake for 9 to 12 minutes, until lightly golden brown. Repeat with the remaining cookie dough. These are best eaten warm with milk. 
Notes
To Make Ahead:
The cookie dough can be made, scooped out into dough balls and kept in the fridge for up to 3 days. Bake them straight from the fridge. 
Some people's cookies have come out a bit domed and not as flat as pictured. The biggest trick is be sure to weight your flour. With cakes and other baked goods, a bit more flour won't alter the state of the appearance but with cookies it's really important to weigh out the flour. 
To Freeze Cookie Dough: 
I have this post right here that explains how to do so! 
Equipment and Tools:
OXO Medium Cookie Scoop | Baking Sheets | KitchenAid Stand-Up Mixer | Silicon Spatulas | 
Nutrition
Calories:
124
kcal
(6%)
|
Carbohydrates:
2
g
(1%)
|
Protein:
3
g
(6%)
|
Fat:
3
g
(5%)
|
Saturated Fat:
4
g
(25%)
|
Cholesterol:
32
mg
(11%)
|
Sodium:
21
mg
(1%)
|
Potassium:
23
mg
(1%)
|
Fiber:
5
g
(21%)
|
Sugar:
21
g
(23%)
|
Vitamin A:
5
IU
|
Calcium:
32
mg
(3%)
|
Iron:
1
mg
(6%)
If you make these on Instagram, let me know!
Looking for more chocolate chip cookies? Here are some more favorites: