Dark Chocolate Chunk Walnut Skillet Cookie
31
May 30, 2014, Updated Nov 27, 2023
Disclosure: This post may contain affiliate links, which means I may earn a commission if you click on the link and make a purchase.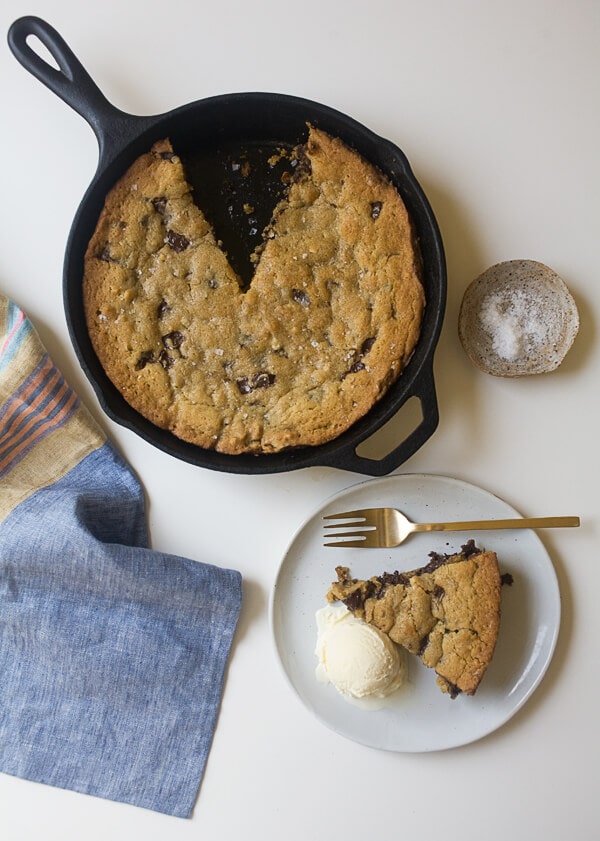 I've learned a few valuable lessons this week:
1. Apparently I can get five hours of sleep and be totally fine the next day, which basically means I'm turning into my dad. I think as you get older, you need less sleep. (I have no idea if this is actually true.)
2. If I follow a dog on Instagram, and then MEET the dog in person, it'll instantly make my week. I was driving down the street, on my way to get a smoovie, when I drove right past Arrow the Corgi. Of course, I spotted him because I spot all corgis, rolled down the window like the psycho that I am and was all like, "Is that Arrow the Corgi?!?!"
3. Lastly, I learned that the only thing better than a cookie is a big ass cookie the size of my face. Also, walnuts. They so belong in a gigantic chocolate chip cookie.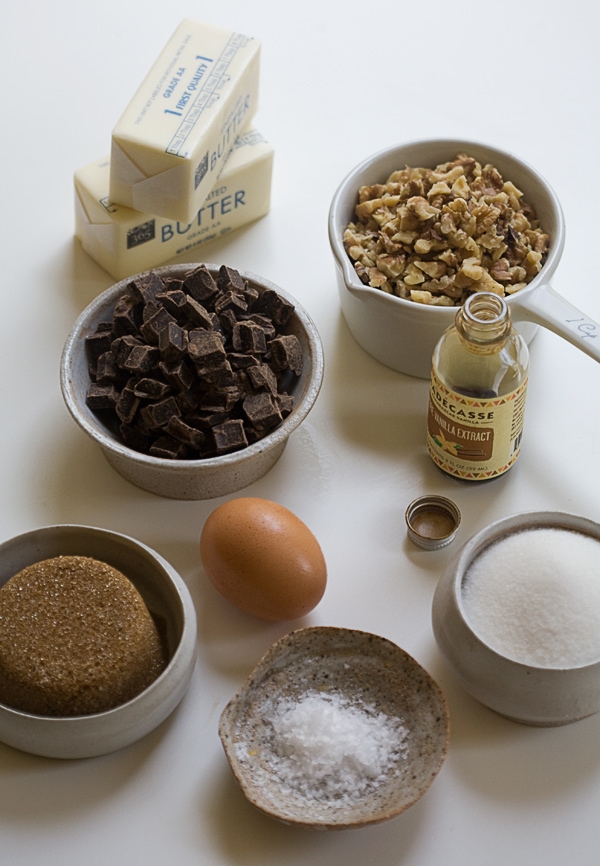 I'd like to tell you the reason why you should make this is because it's easier (no scooping out dough), but let's be honest, scooping out dough isn't the most labor-intensive thing in the world.
I think this cookie is cool because it's gigantic; it's impressive and really it's just kinda fun.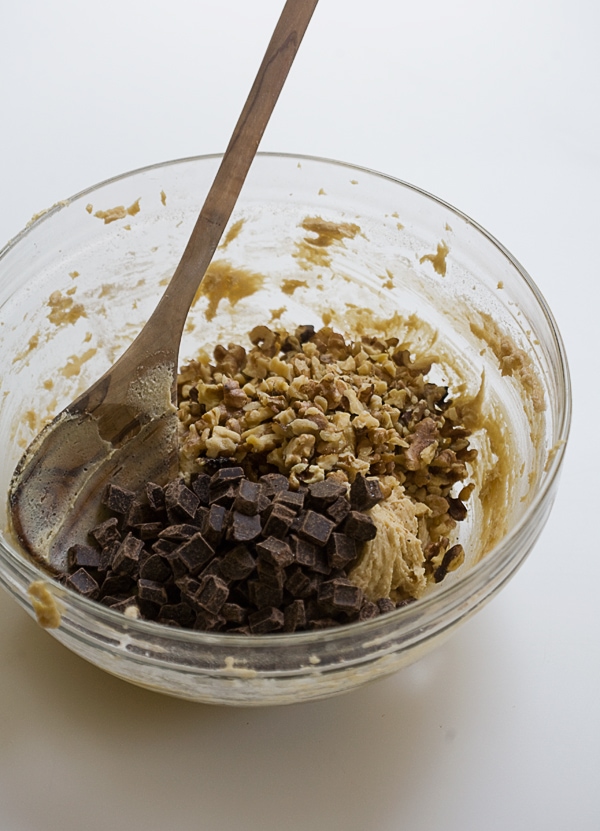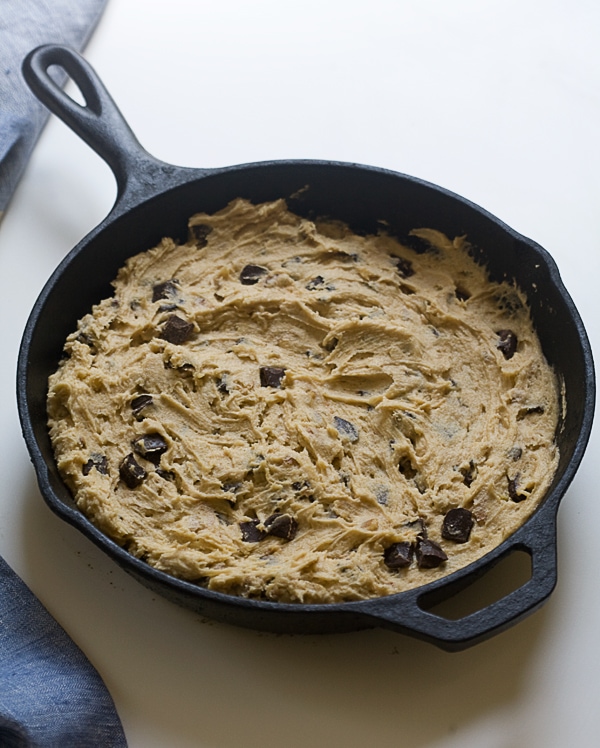 Who doesn't want to see a big cookie?! It reminds me of that place in the mall that would write Happy Birthday on a big ol' cookie. I always thought those kids who requested a big cookie instead of cake were strange but whatever.
Those gigantic cookies remind me of the days when I was twelve and awkward and was obsessed with ordering things from Delia's catalogues.
Another reason this cookie is cool is that you can slice it up like a pizza. Who doesn't want to do that?!
If you made a pizza for dinner and then had this for dessert, your whole night would be full of awesome slices of things. All the sliced things.
It's Friday. This big cookie will hopefully make it onto your weekend to-do list.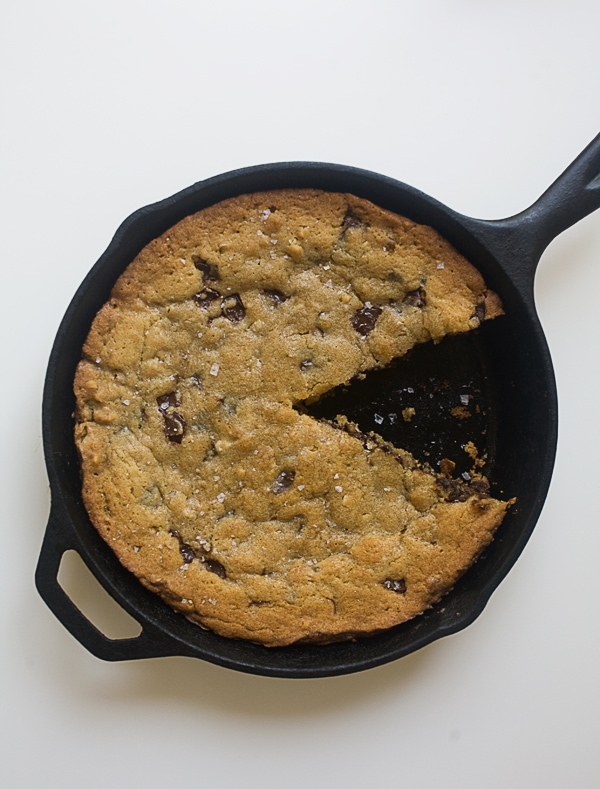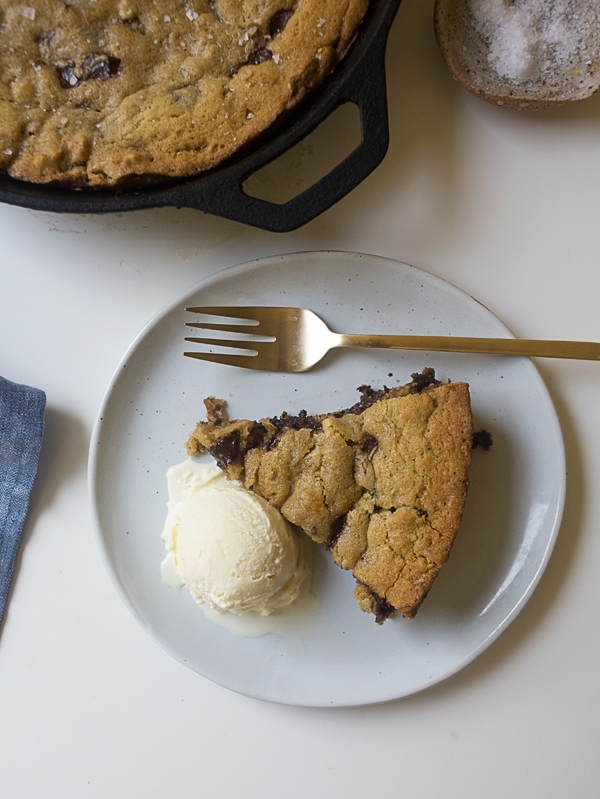 Dark Chocolate Chunk Walnut Skillet Cookie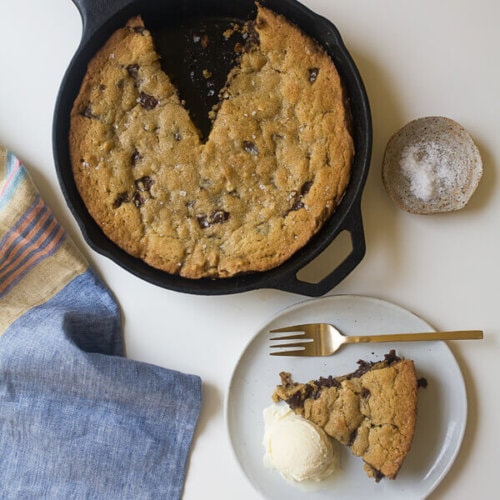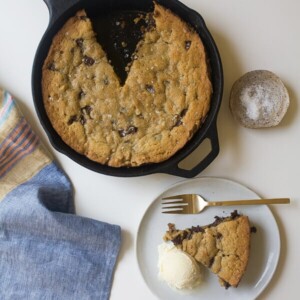 Ingredients
2

cups

all-purpose flour

1

teaspoon

baking soda

1/2

teaspoon

sea salt

,

plus more for topping

1

cup

unsalted butter

,

2 stick, room temperature

1/2

cup

dark brown sugar

1/2

cup

white granulated sugar

1

large egg

1 1/2

tsp

vanilla extract

1 1/2

dark chocolate chunks

1

cup

roughly chopped walnuts
Instructions
Preheat oven to 350 degrees F. In a medium-sized bowl, whisk together the all-purpose flour, baking soda and salt. Set aside.

In a large bowl, add the butter, dark brown sugar and white granulated sugar. Cream the butter and sugar together until it's light and fluffy, about 3 minutes. Add the egg and vanilla extract and mix until thoroughly combined.

In two batches, add the flour mixture to the butter and sugar mixture until flecks of flour are no longer visible, being careful not to over mix the batter. Fold in the dark chocolate chunks and chopped walnuts.

Pour the dough into a well-seasoned, 12-inch cast iron skillet. Transfer the skillet to the oven and bake for 20 minutes. At the 20 minute mark, turn the heat down to 300 degrees and bake for an additional 15 to 20 minutes, or until the edges are golden brown yet the center is still slightly soft. Allow the big cookie to cool completely in the skillet before cutting it into slices.

Serve cookie slices room temperature with a generous scoop of vanilla ice cream.
Nutrition
Nutrition information is automatically calculated, so should only be used as an approximation.