Swedish Chocolate Cake
62
Sep 29, 2014, Updated Oct 16, 2019
Disclosure: This post may contain affiliate links, which means I may earn a commission if you click on the link and make a purchase.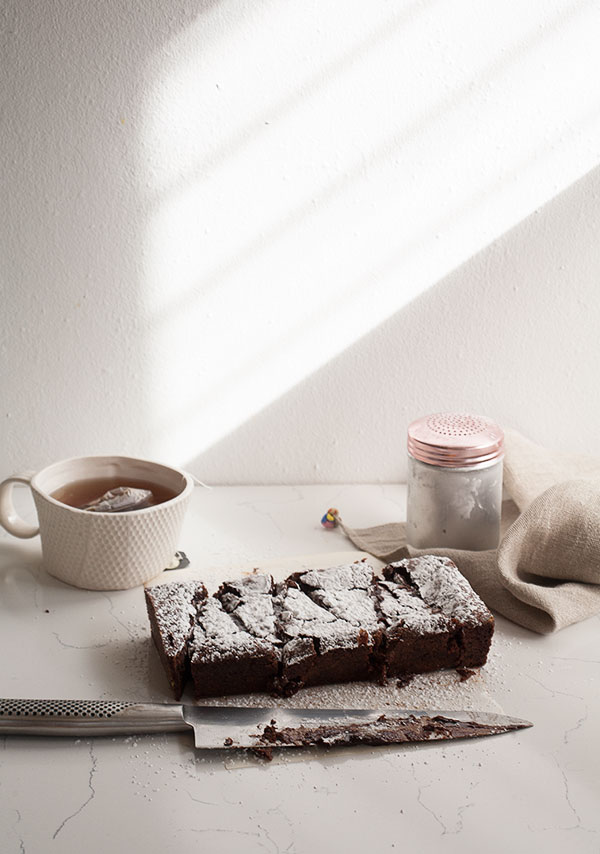 Izy's book arrived in my mailbox a looooong time ago, nearly a month ago. I've been waiting to cook from it because when it showed up on my doorstep, it was only available for purchase in the UK (it's available tomorrow!), and it just so happened to be the opposite of fall in LA. I'm so excited to share this recipe with you all for Swedish Chocolate Cake.
On Saturday, all I wanted to do was bake. The weather was brisk, the light sorta cloudy and moody and I was particularly in a good mood. The kind of mood I'm in is a result of Amelia letting me sleep in, a little.
As I thumbed through her book, deciding amongst all the beautiful baked goods what I should dive into, I was stopped at this Swedish Chocolate Cake. I've been on a weird brownie kick lately, so much so that I'm totally guilty of falling victim to the lure of a box mix at Whole Foods. No shame in that game; though that game often results in a bit of disappointment. There shouldn't be any leavening in brownies, I've decided. I want them to be gooey! and rich! So rich that a glass of water needs to be served along side them.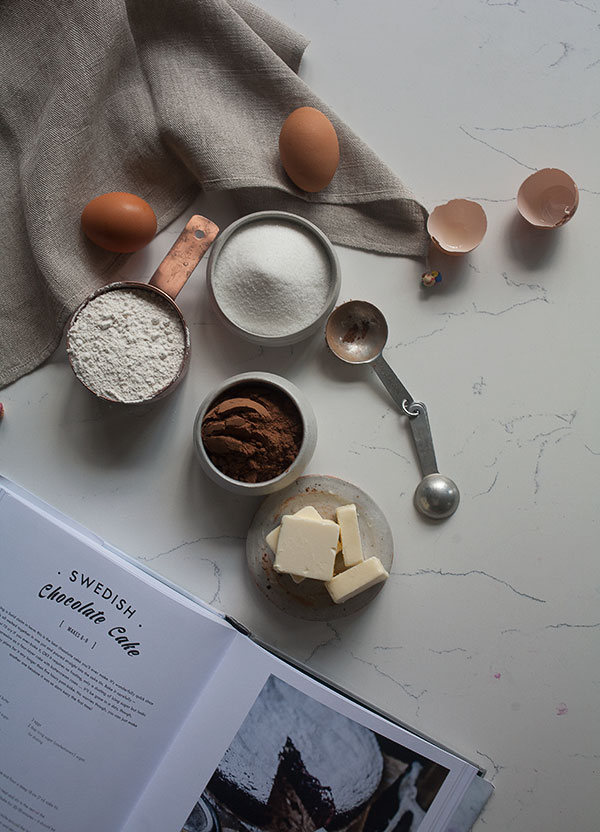 This is Recipe is Fast!
I love that combination: chocolate-y richness with water. It's weird. A glass of milk or coffee or tea would be better, I guess, but OMG water tastes so good after eating loads of chocolate.
Izy's book is much like her blog: beautiful, moody with that friendly young voice I love reading so much. This cake is like half way between a cake and a brownie. She orders you NOT to over bake it so it's still runny in the center. I didn't and I'm glad I didn't. I ended up baking it in a loaf pan because I didn't have a 7-inch cake pan and I figured an 8-inch would make it too skinny and flat. It worked great!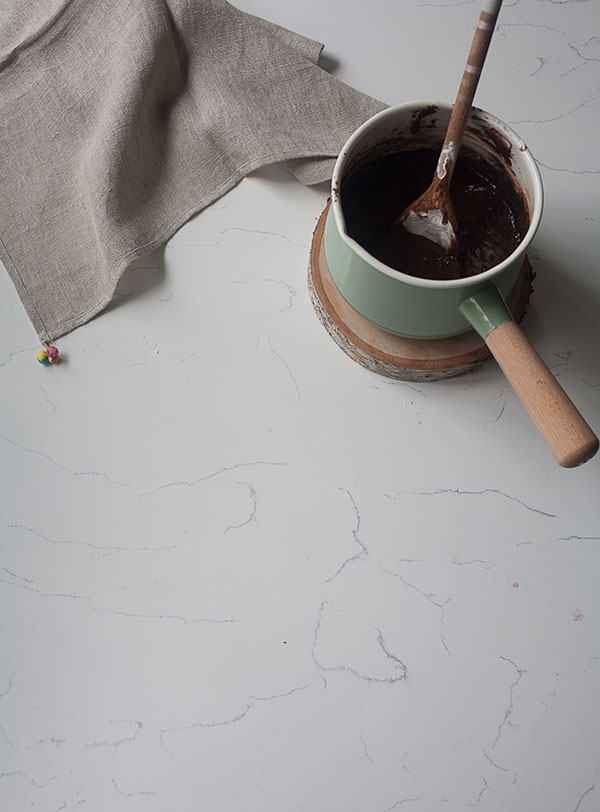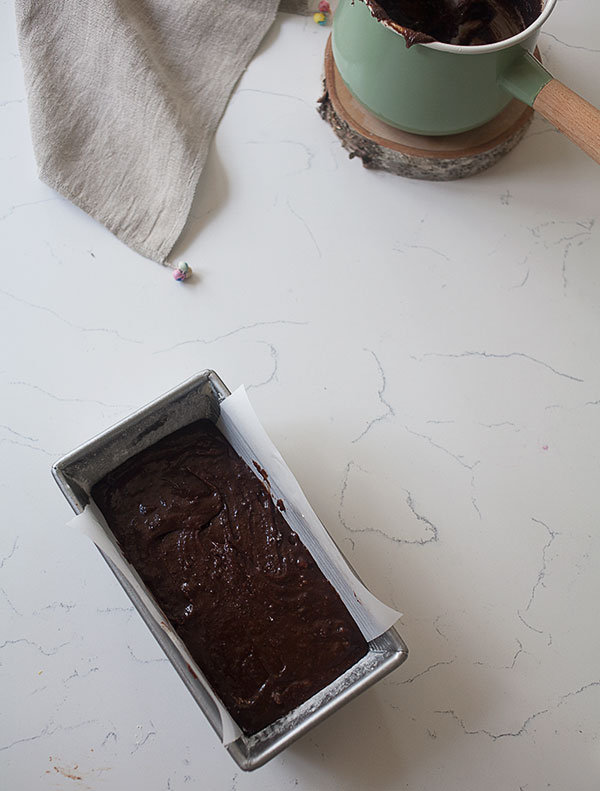 Another thing I love about Izy's book is that it's so pretty, it's become one of my coffee table books. If people come over and I have to leave the room for a bit, I know they'll be entertained while thumbing through it. My favorite kind of cookbooks usually have duel usage like this one does.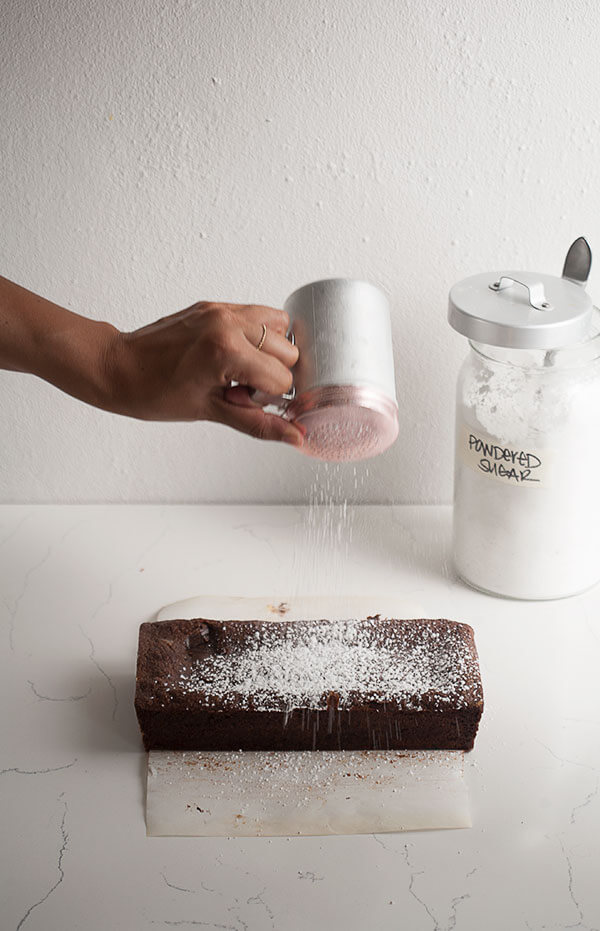 Swedish chocolate cake is a decadent, one-bowl, easy cake recipe that is enjoyable for all.
Ingredients
135

g

4 3/4 oz/10tbsp unsalted butter

1/2

teaspoon

salt

55

g

2 oz/1/2 cup cocoa powder

350

g

12 oz/1 3/4 cups granulated sugar

1

tsp

vanilla extract

110

g

3 3/4 oz/1 cup, minus 2 tbsp all-purpose flour

3

large eggs

2

tbsp

icing sugar

,

confectioners' sugar, for dusting
Instructions
Preheat the oven to 350 degrees. Line (with parchment paper), grease and flour a 7-inch cake tin (or in my case a 8x4-inch loaf pan).

Melt the butter in a medium saucepan. Remove from the heat and stir in the rest of the ingredients. Pour the mixture into the prepared cake tin and bake for 20-30 minutes - it should be set around the edges but still gooey in the middle.

Let the cake cool in its tin for about 20 minutes, then run a blunt knife around the inside edge of the tin to loosen it. Turn out onto a wire rack, dust with icing sugar and serve warm.
Notes
Izy's recipe calls for salted butter, since I never have salted butter in my fridge, I ended up using unsalted and adding 1/2 teaspoon. Feel free to do either!
I ended up taking full advantage of the weight measurements because that turned this cake into a one-pot deal. I melted the butter and then put the saucepan on the scale, added each ingredient per weight. Boom! SO EASY!
Nutrition
Serving:
8
g
|
Calories:
276
kcal
Nutrition information is automatically calculated, so should only be used as an approximation.