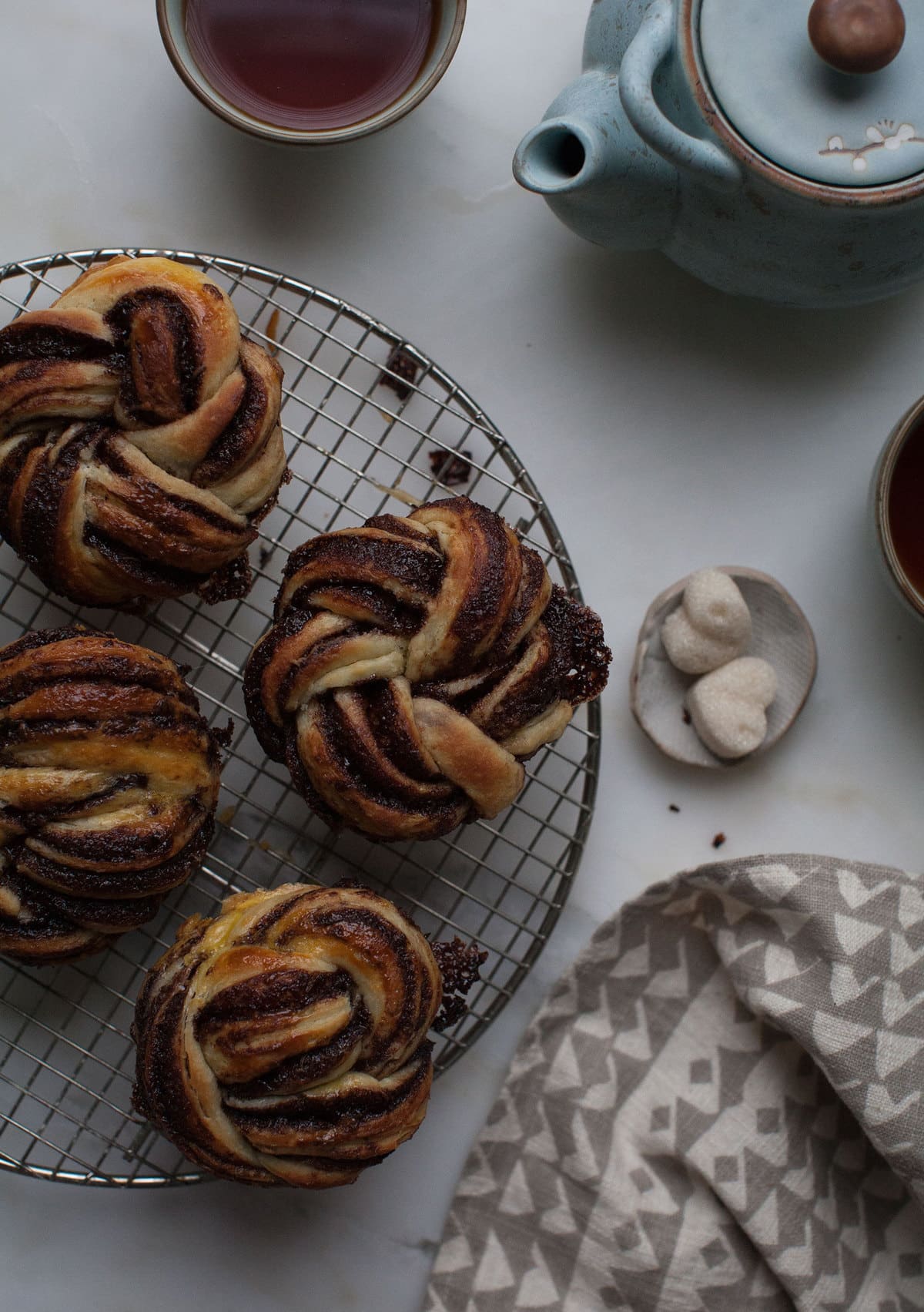 I'm currently eating a cannoli mid-flight, making my way back to Los Angeles where Amelia and Joshua are waiting for me.
The past few months have been filled with lots of traveling and me going from one place to the next. This homebody is V excited to stay put for a while.
I've been wanting to make some form of babka for a long time because the spiral chocolate vibes make me super happy.
Initially I wanted to make something similar to these wreaths (aren't they beautiful?!) but then I tried it and this dough, while delicious, spread (thanks to maybe too much butter). But, they work great when formed into a knot and baked up in a muffin tin! Second (or third time, can't remember) was a success.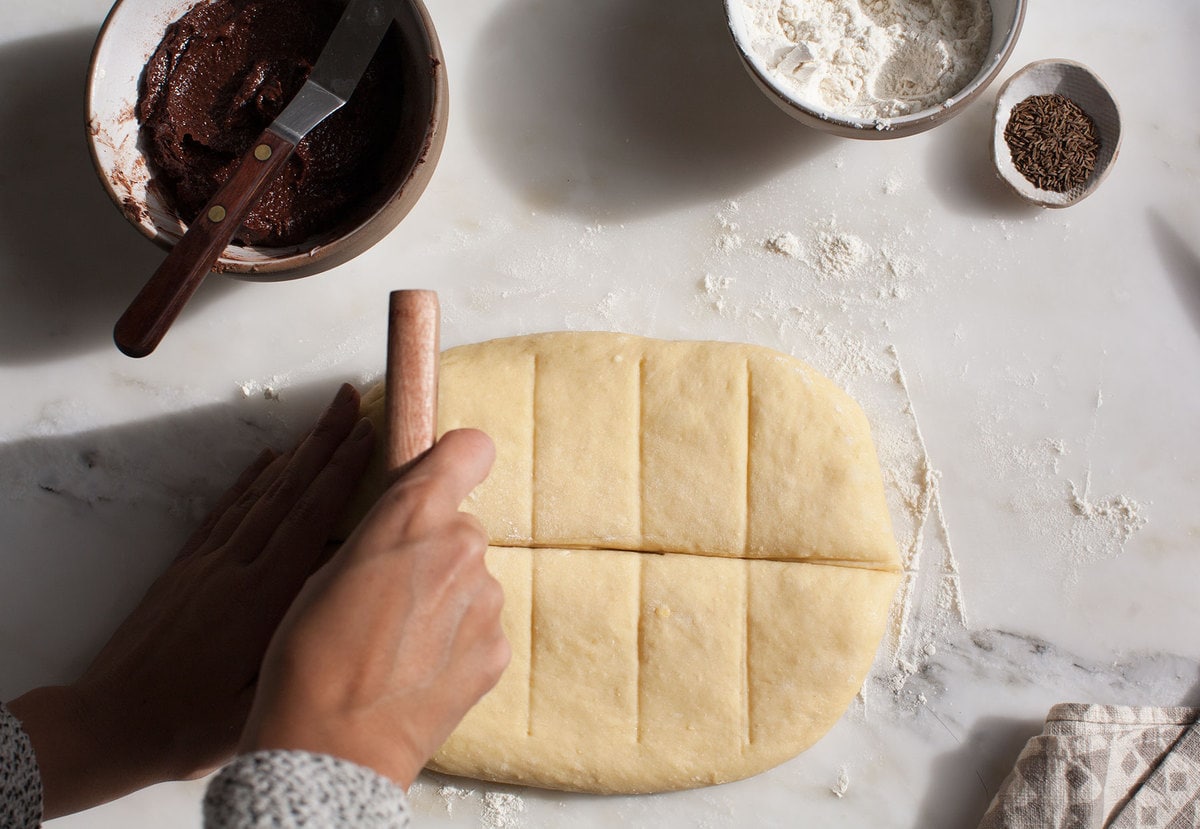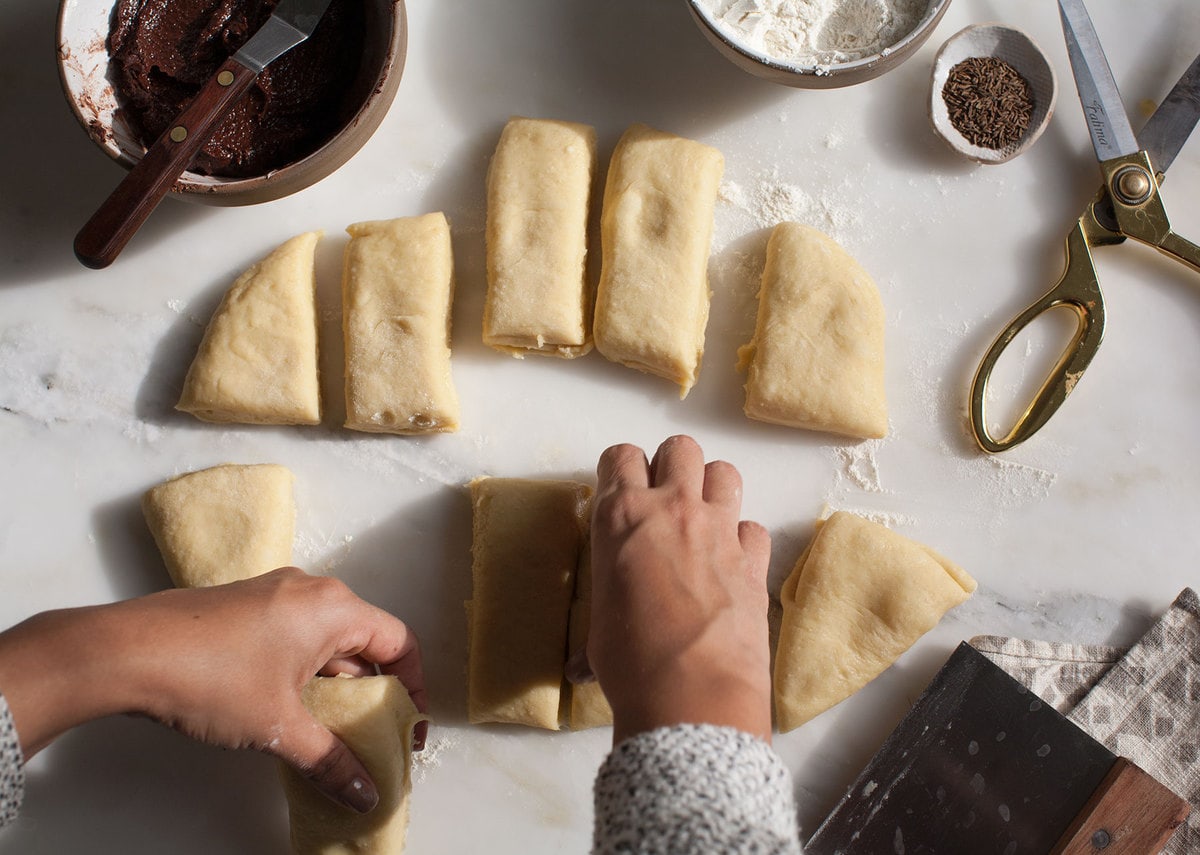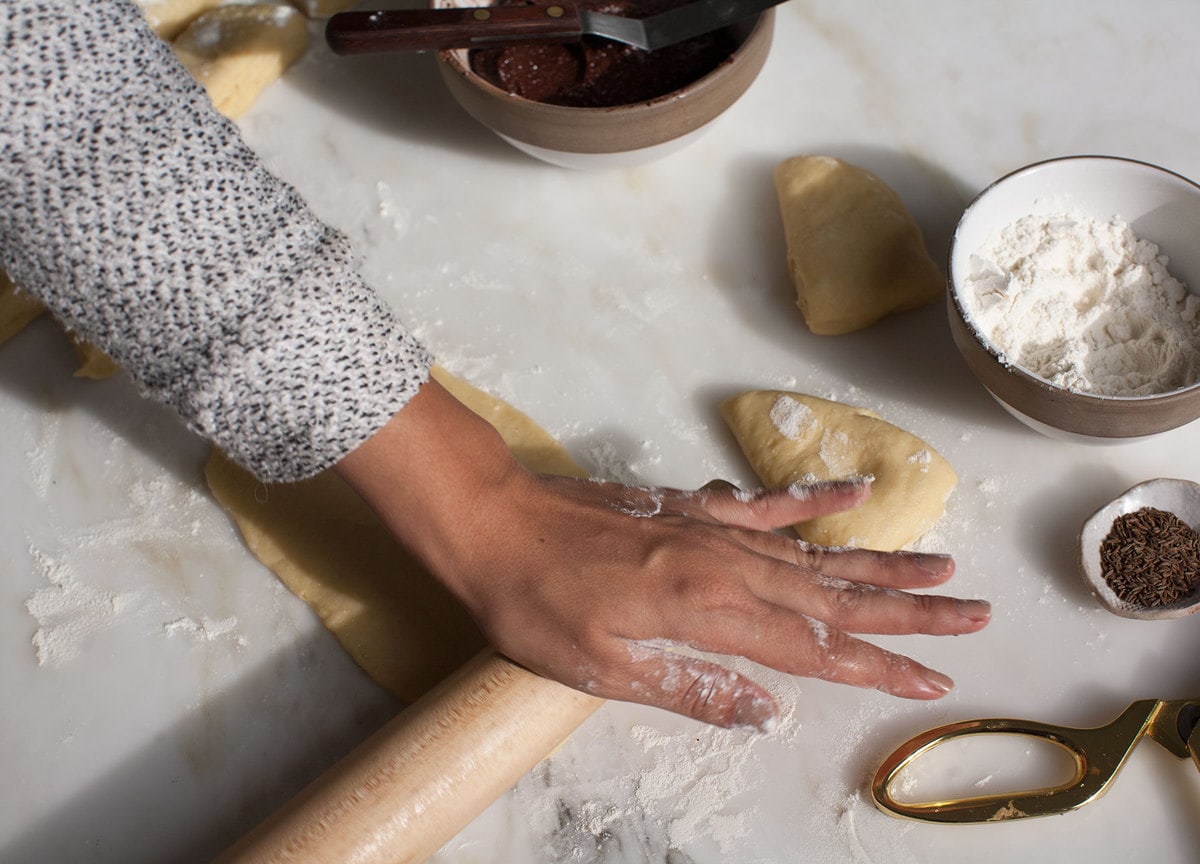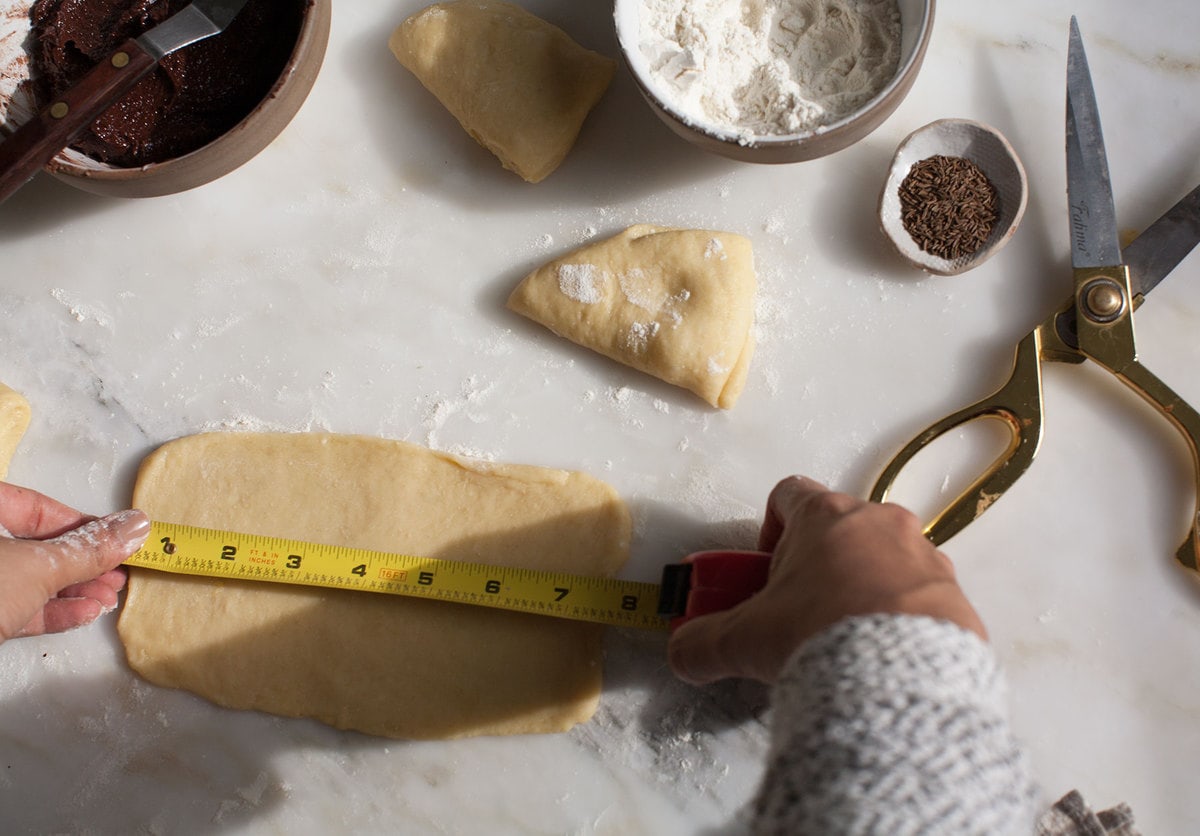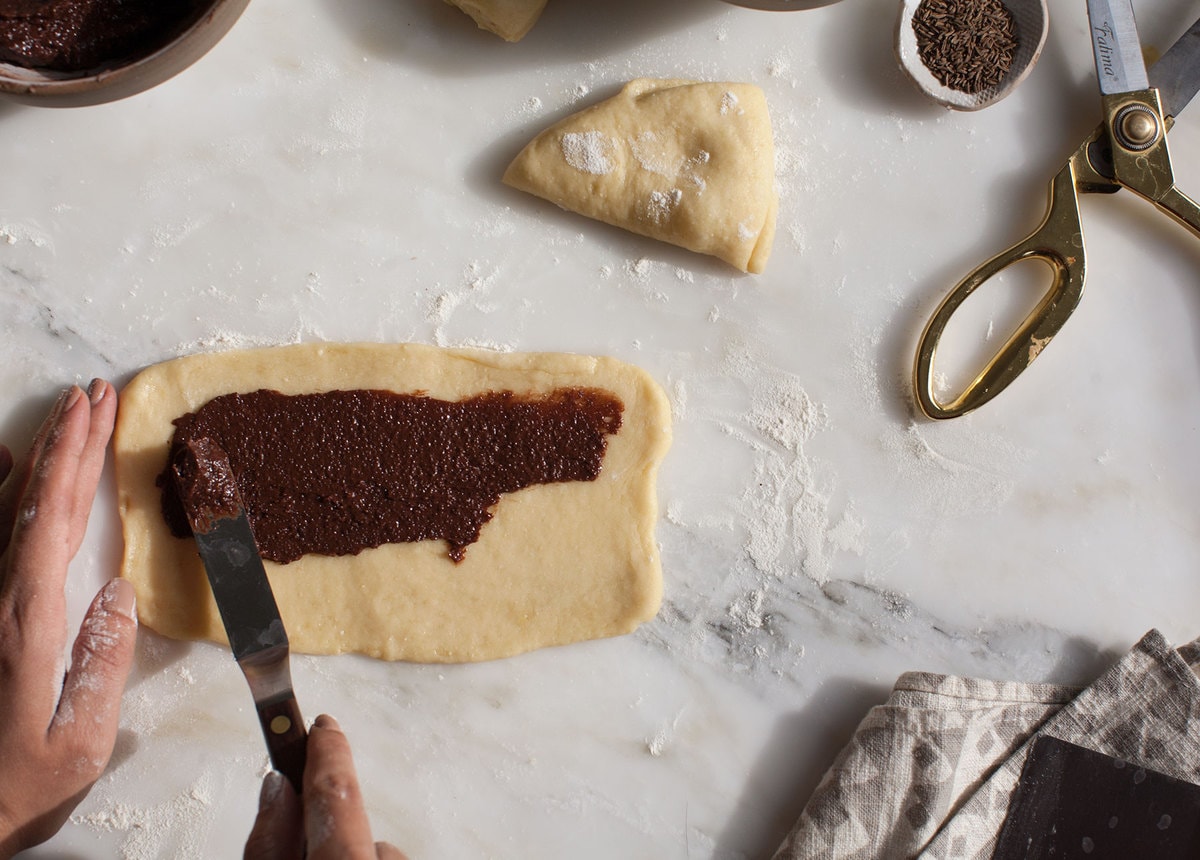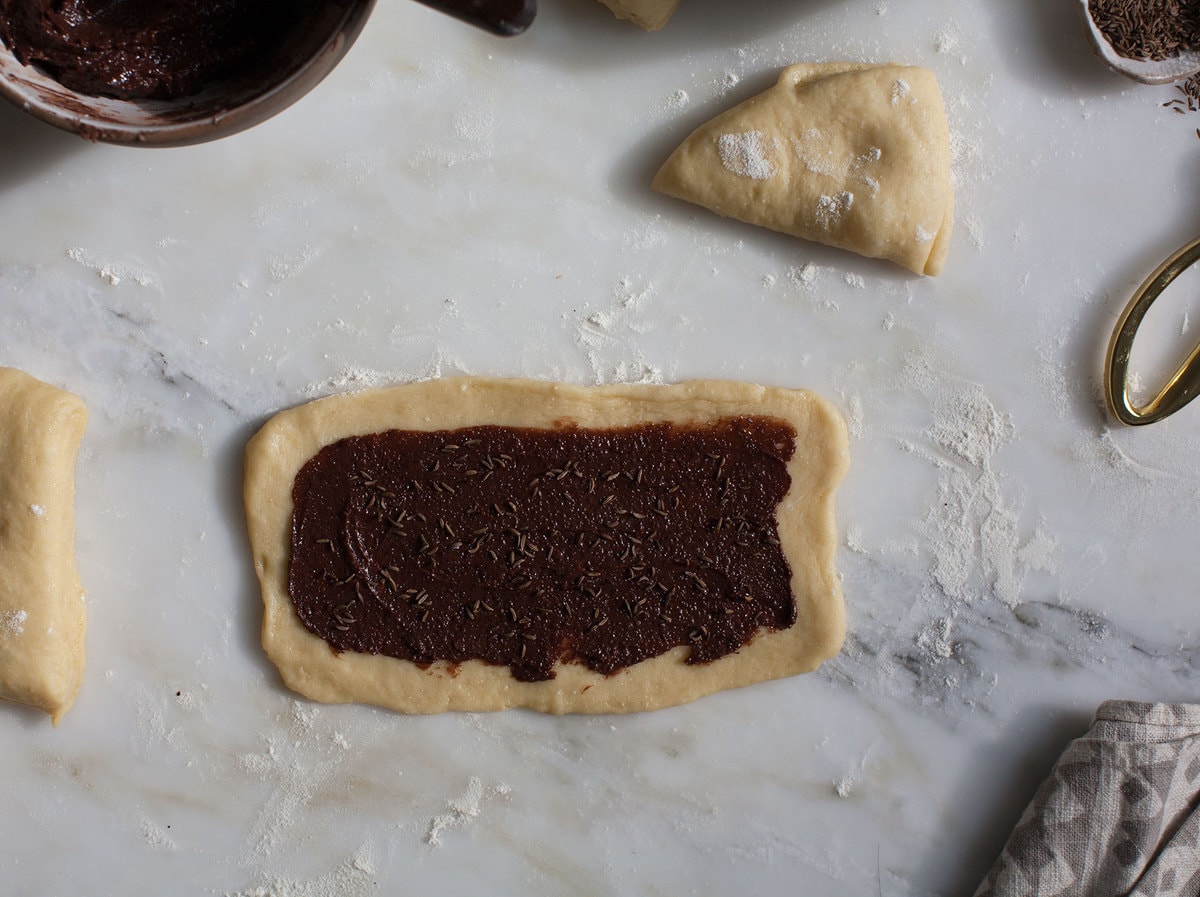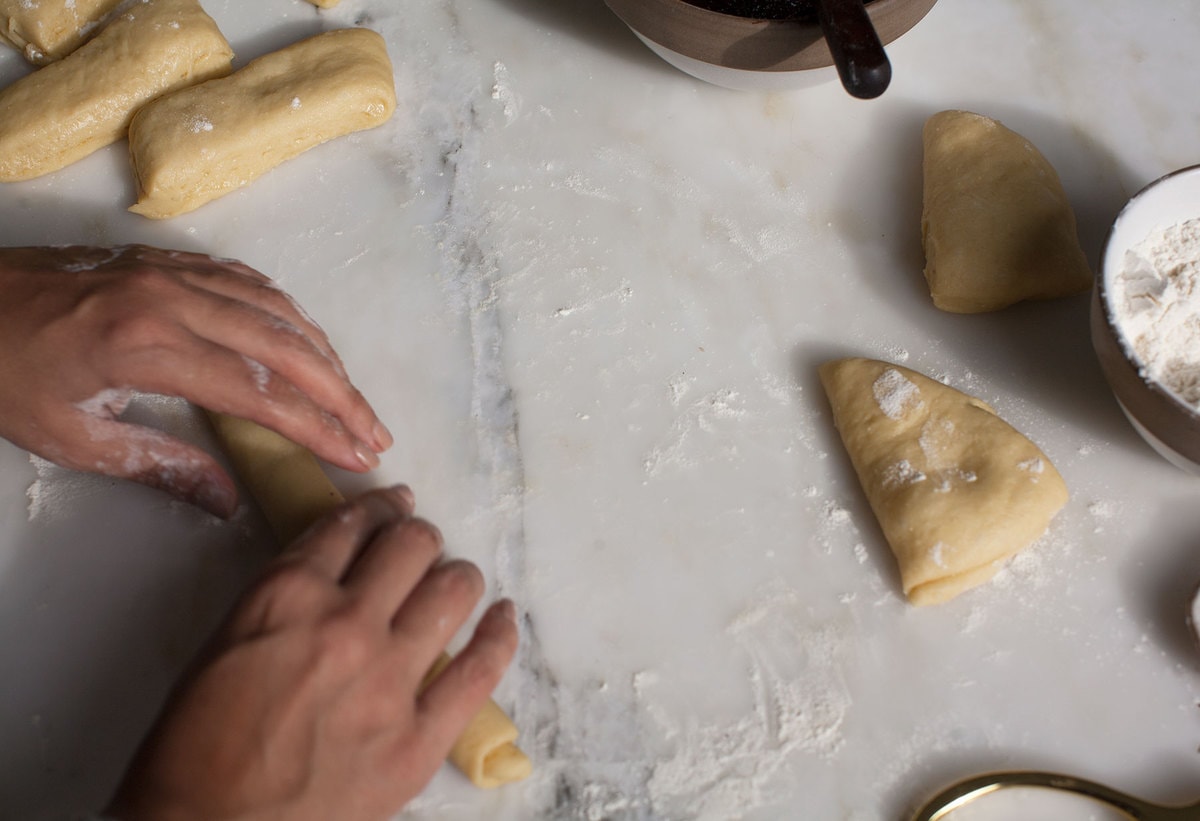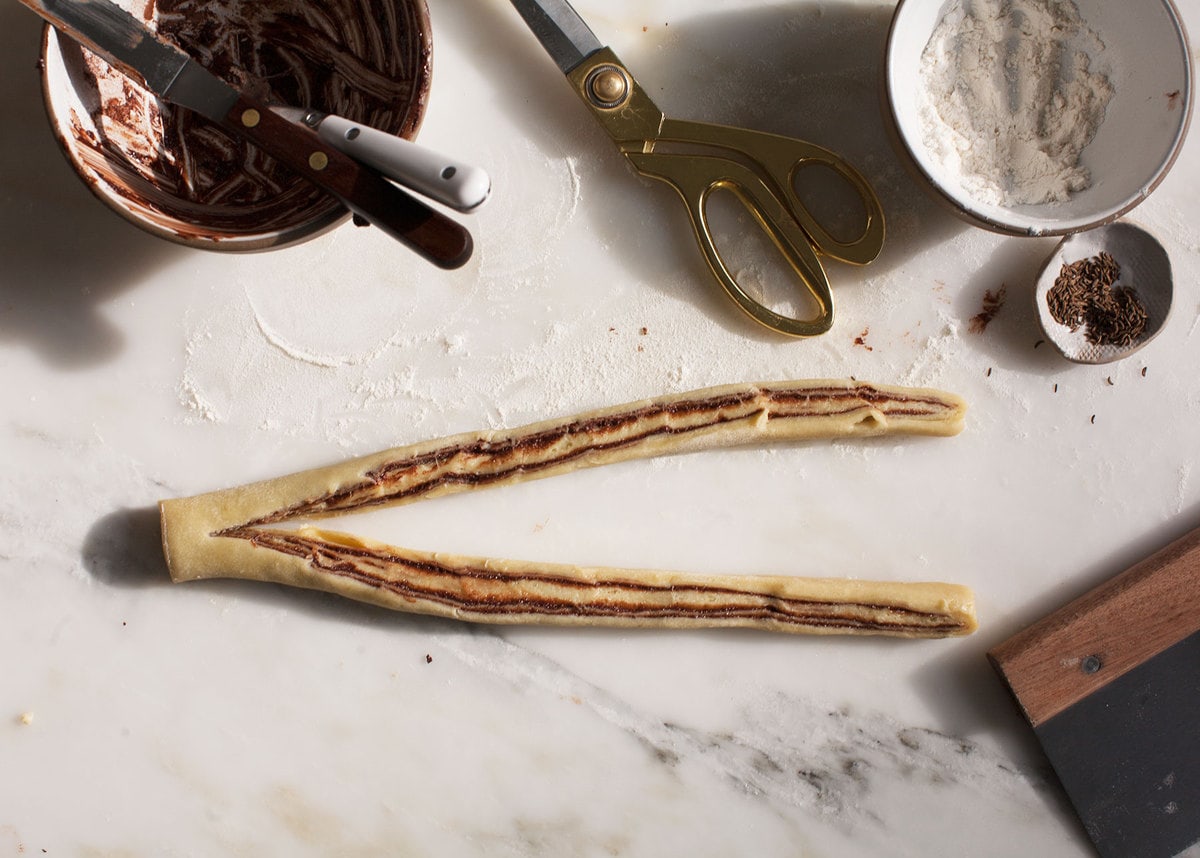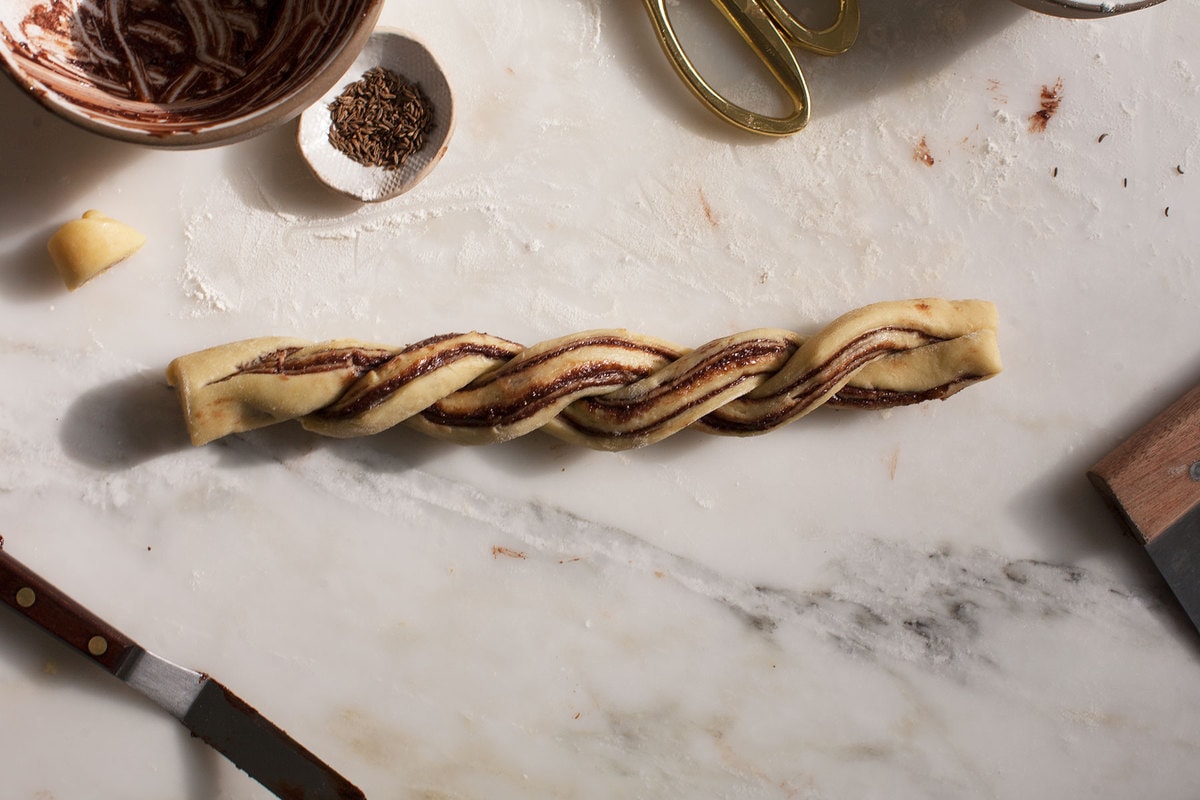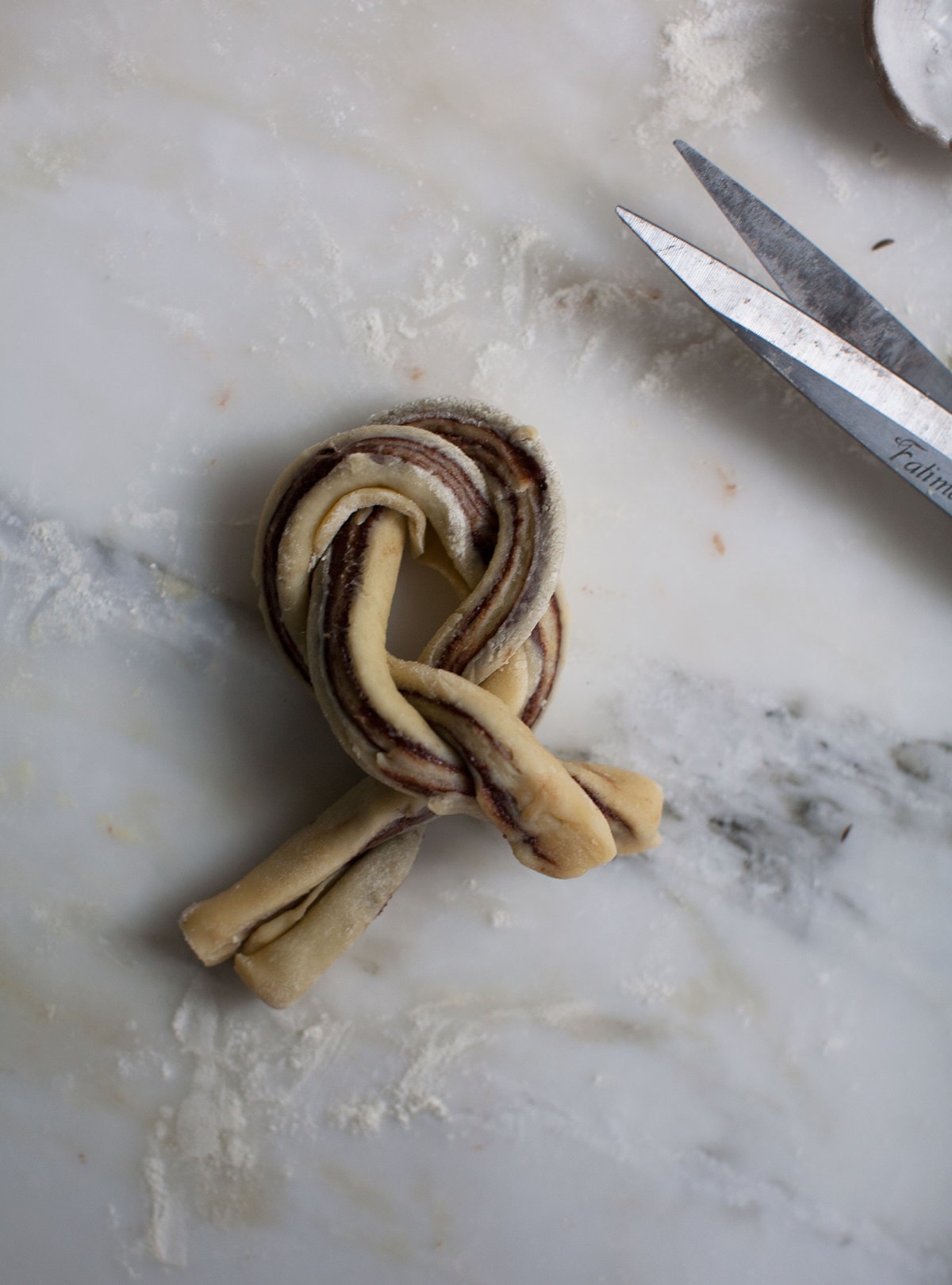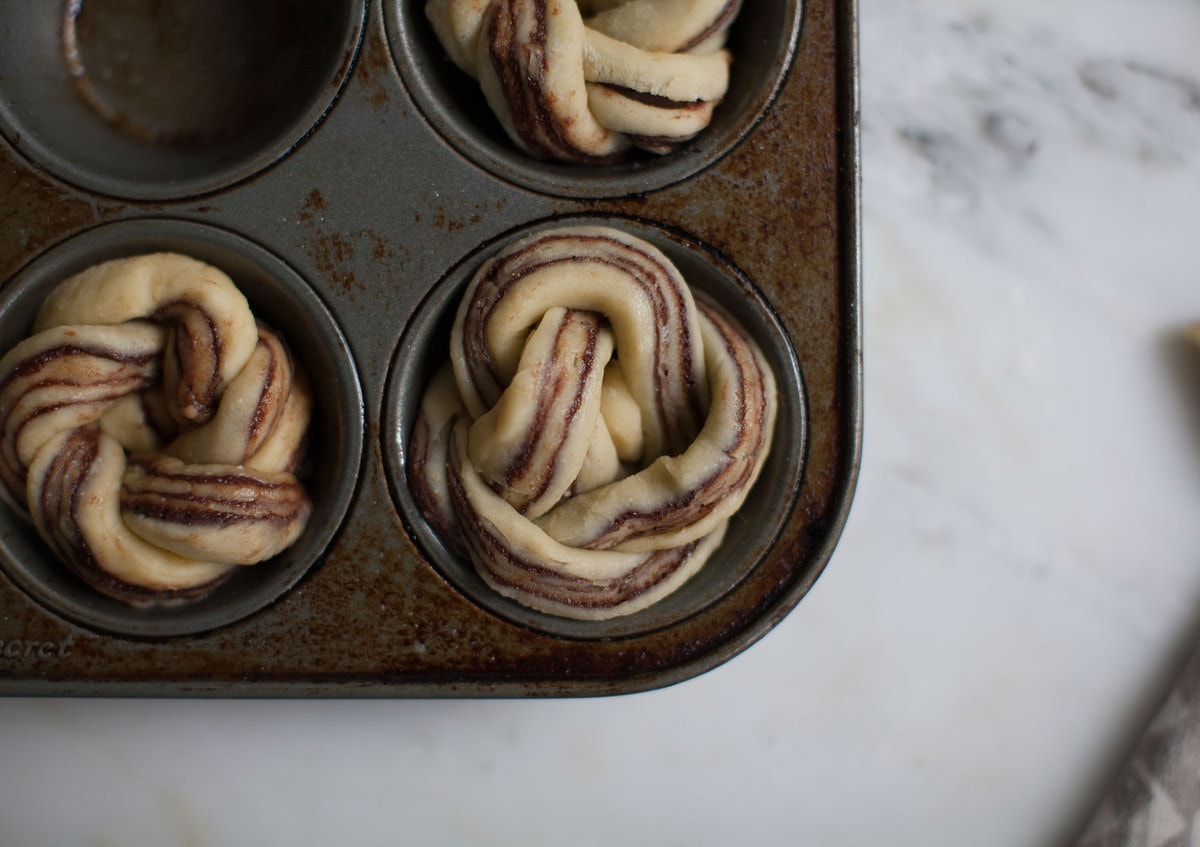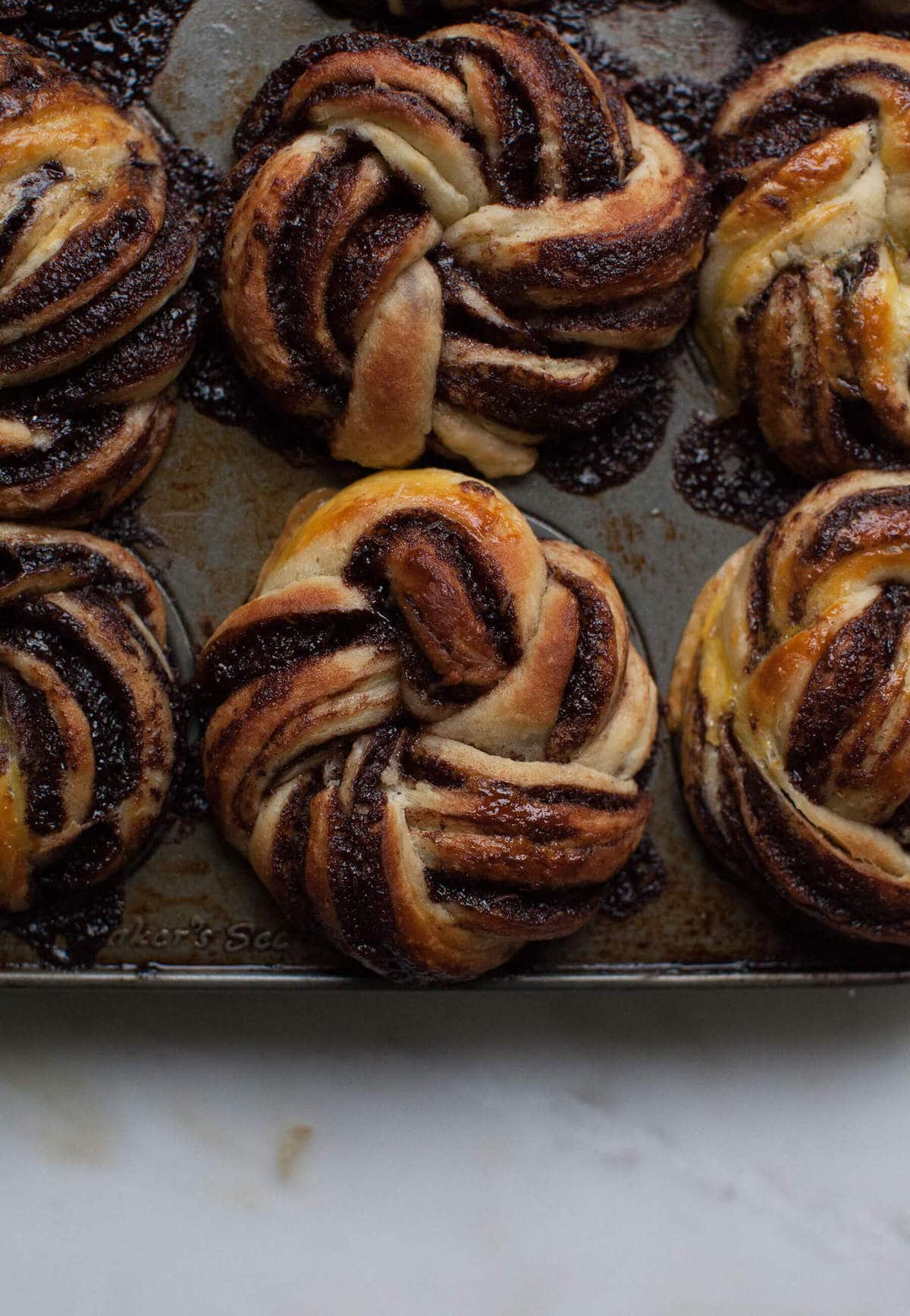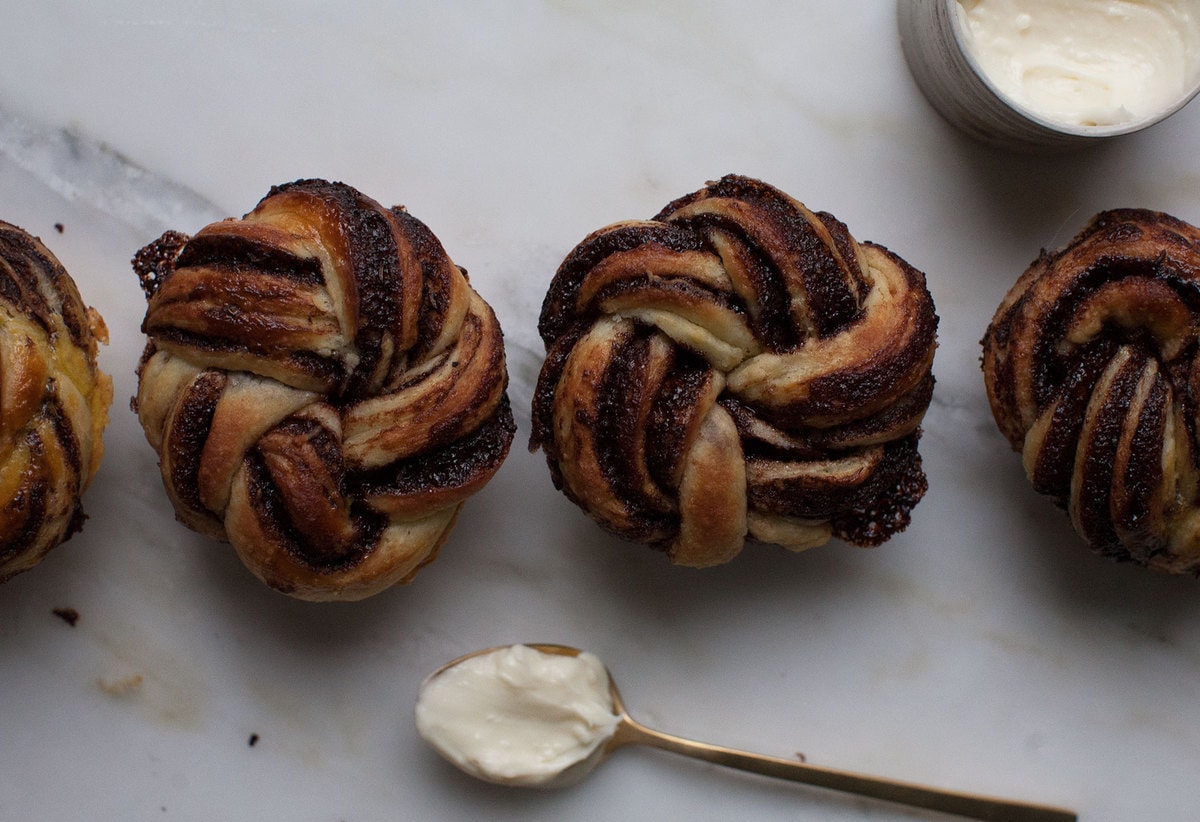 f you think chocolate and caraway is a very random weird combination, you're sort of right. I found out how much I love the two together when I smothered homemade nutella on a piece of rye toast and Billy and I were like OMG CARAWAY + CHOCOLATE = EMOJI HEART EYES.
The caraway seeds are slightly floral with anise flavor vibes. That with chocolate is so so good.
I hope at least a few of you bake this up for xmas morning because I can't think of anything better…except for maybe the recipe I'll be posting later this week.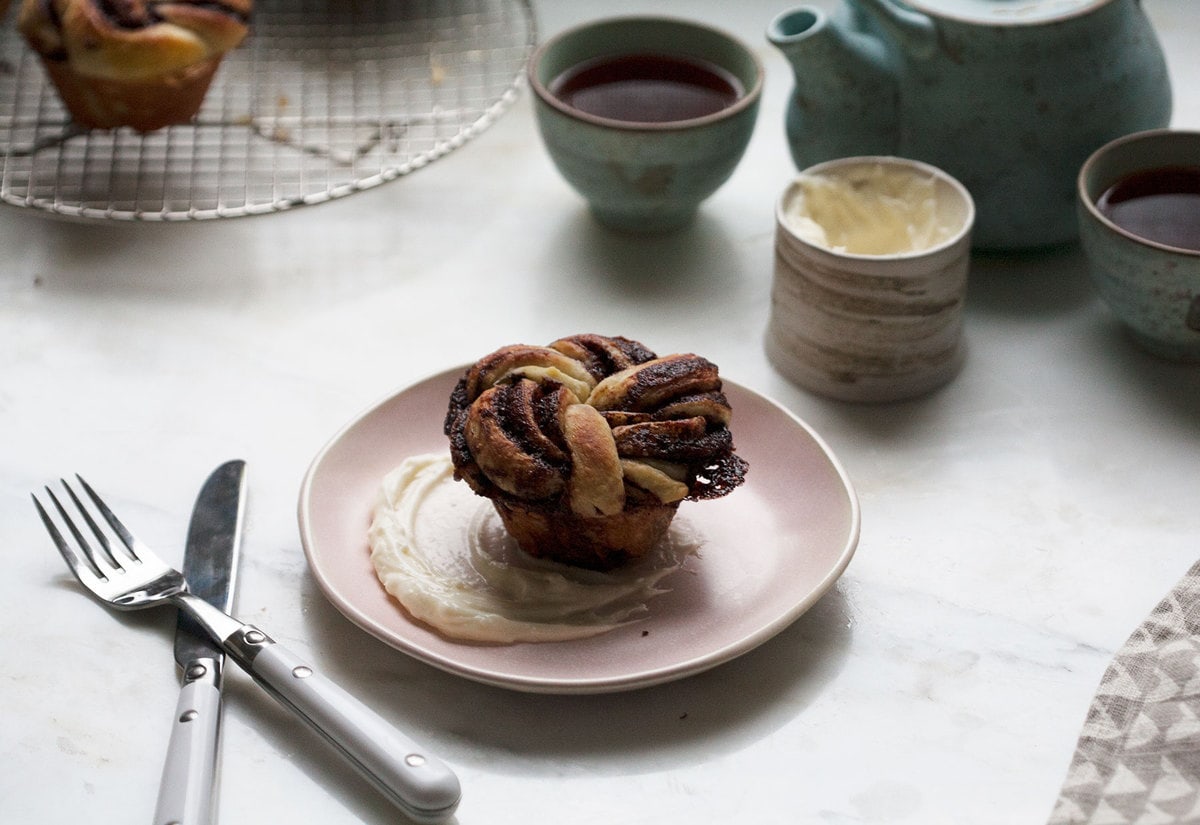 Inspiration from Hint of Vanilla & advice on forming the buns from Vanilla Bean Blog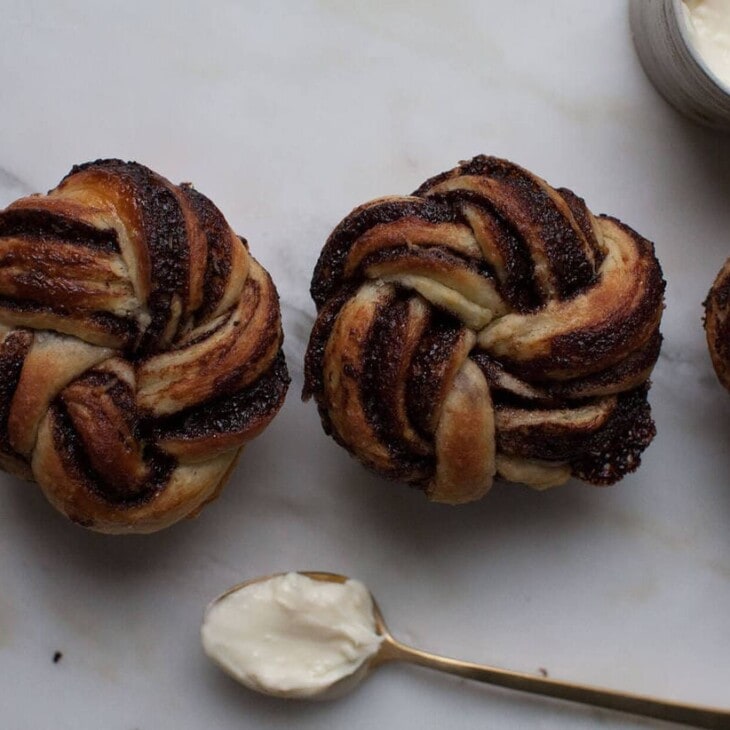 Print Recipe
Chocolate Caraway Babka Buns 
Ingredients
Babka Dough
2 3/4

cups

all-purpose flour

1/4

cup

nonfat powdered/dry milk

*optional, see note

3

tablespoons

sugar

1 1/4

teaspoons

salt

1

tablespoon

instant yeast

3

large eggs

1/4

cup

lukewarm water or warm milk

8

tablespoons

room-temperature unsalted butter
Chocolate Filling:
1/2

cup

unsalted butter

room temperature

1/3

cup

cocoa powder

3

tablespoons

brown sugar

3

tablespoons

white granulated sugar

1

tablespoon

honey or brown rice syrup

1/2

teaspoons

salt

1

tablespoon

caraway seeds
Cream Cheese Frosting:
3

ounces

cream cheese

softened

1/4

cup

powdered sugar

sifted

1/2

teaspoon

pure vanilla extract

3

tablespoons

milk
Instructions
To make the Babka Dough: In a stand mixer, with the dough hook, mix together all of the dough ingredients to form a mostly smooth, shiny dough. Don't worry; what starts out as a sticky mess becomes beautifully satiny as it kneads. Knead this dough on medium speed for about 5 minutes.

Spray a medium bowl with cooking spray. Transfer the dough into the greased bowl, using a spatula because the dough will be a bit sticky. Cover the bowl with a clean kitchen towel and let it rise for 1 1/2 hours. If you want to to make this for Christmas, you can cover the bowl with plastic wrap and transfer it to the fridge and continue with the recipe the next morning. Or, you can continue with it immediately.

To make the Chocolate Filling: Place all of the filling ingredients to the bowl of a stand-up mixer and beat until thoroughly combined.

On a liberally floured surface, dump the dough out and form it into a rectangle. Divide the dough into 8 equal pieces. With the first piece of dough, roll it out into a 4 1/2-inch wide by 7 1/2-inch wide long rectangle. Don't be shy to break out a measuring tape. Spread a few teaspoons of the filling evenly onto the rectangle and stop about 1/4-inch before you reach the edge. Roll the rectangle tightly, in a horizontal fashion, into a log. Transfer the log to a baking sheet. Repeat with the other pieces of dough. Transfer the baking sheet of logs to the freezer (this will help when we cut and form them) for about 5 minutes.

Spray a muffin tin with cooking spray and set aside. Remove from the freezer and trim off just a teeny bit of the edges on both sides of the roll. Cut the roll in half, lengthwise, so the striations of the dough and filling are visible. Kitchen scissors work best! With the cut sides facing up, place the left side of the log over the right and then repeat with the right over the left until you've braided or twisted the two together. (The photos in this post are great reference.)

Shape the braided dough into a circle, making sure the "ends" go past the circle and overlap one another. Tuck the long end under the up through the center hole. Trim off the excess dough.

Transfer to the cavity of a muffin tin. Repeat with the remaining logs. Cover with a clean kitchen towel and allow to rise 1 hour, until the rolls have very much risen out of the muffin tins. Preheat the oven to 375 degrees F. Gently brush the tops of the buns with egg wash and transfer to the oven to bake for 12 to 15 minutes, until lightly golden brown.

Allow to cool in muffin tin for 5 minutes and then carefully move to a cooling rack. You might need the assistance of a butter knife and run it around the bun in order to release it.

If you want to make the cream cheese frosting, add the ingredients to the bowl of a stand-up mixer and mix until combined. Serve alongside the buns.
Notes
*I've made this dough with and without the powdered milk. It is very optional. If you have it, use it; it'll result in a softer bun but if not, no biggie!