This Hawaiian Shoyu Chicken is so flavorful–thanks so lots of fresh ginger, shoyu soy sauce and garlic. A big bonus is that it's super easy to make–it's the perfect weeknight meal!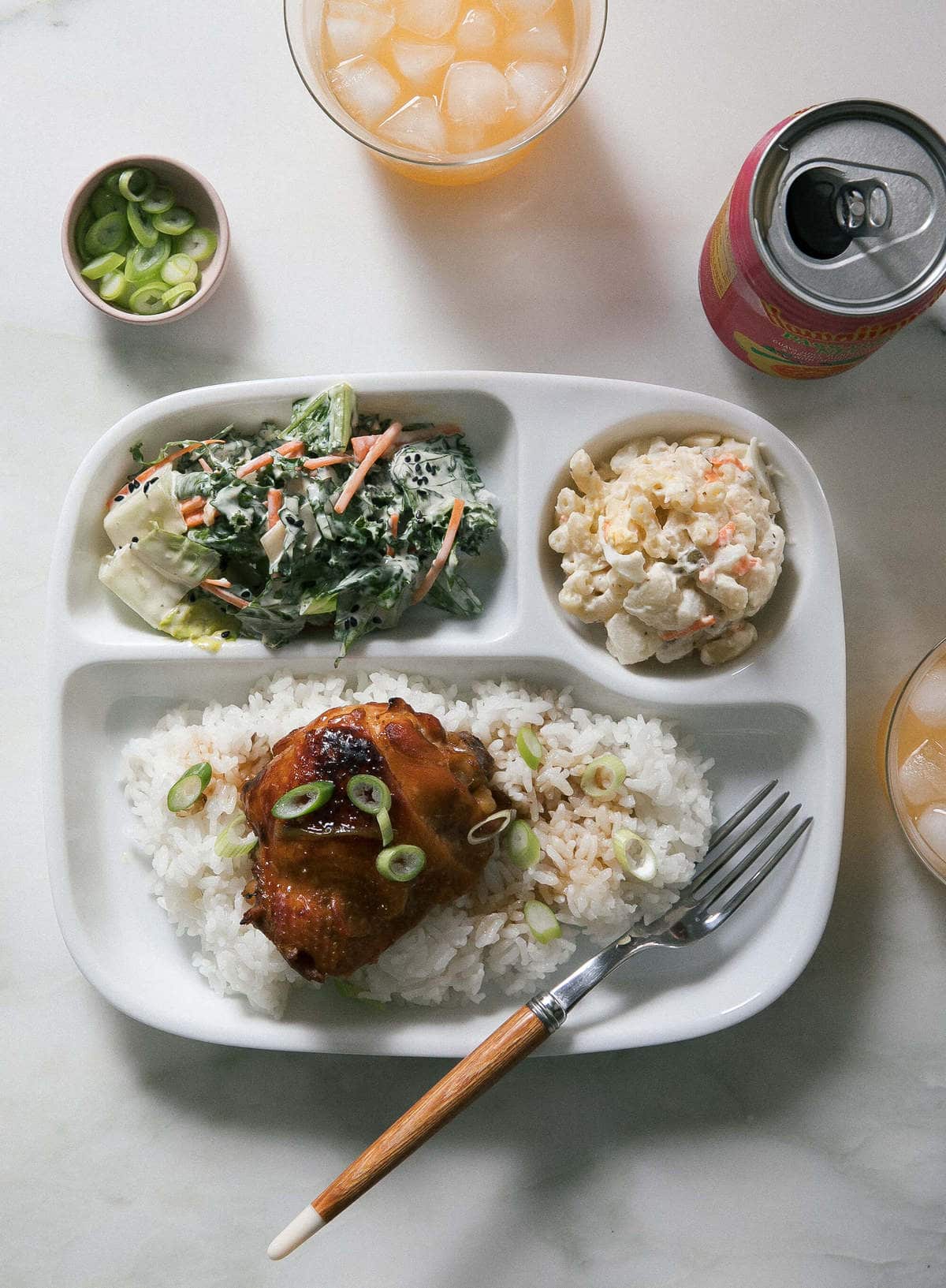 Today we are discussing this gorgeous Shoyu Chicken with Hawaiian Mac Salad! But first, have you ever been to a cookbook pot lucky party? I have to say, I think they're brilliant.
A few weeks ago I was lucky enough to attend a cookbook potluck where each attendee made a dish from a chosen book. I've seen a few on the Instagram and I've always been like, "hmm, that's a good idea!!" What made it even better was all the recipes were supposed to be made from Aloha Kitchen!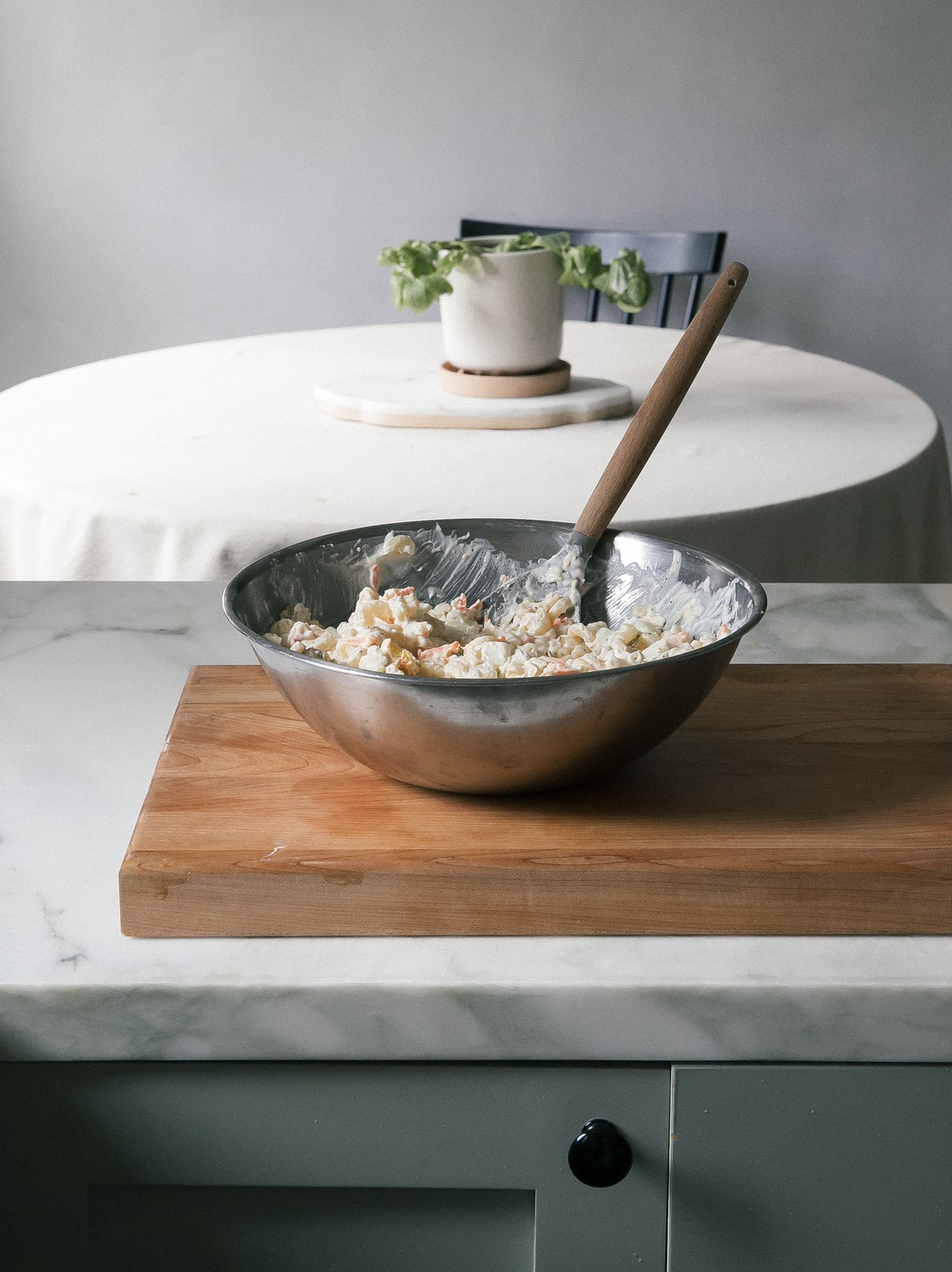 This book is so breathtakingly beautiful, from the photos of beautiful Hawaii to the food and recipes and the history lesson, it's really amazing. Last year was the first time I had ever visited Hawaii and the minute I landed and was told we were having dinner on a former plantation, I had A LOT OF QUESTIONS.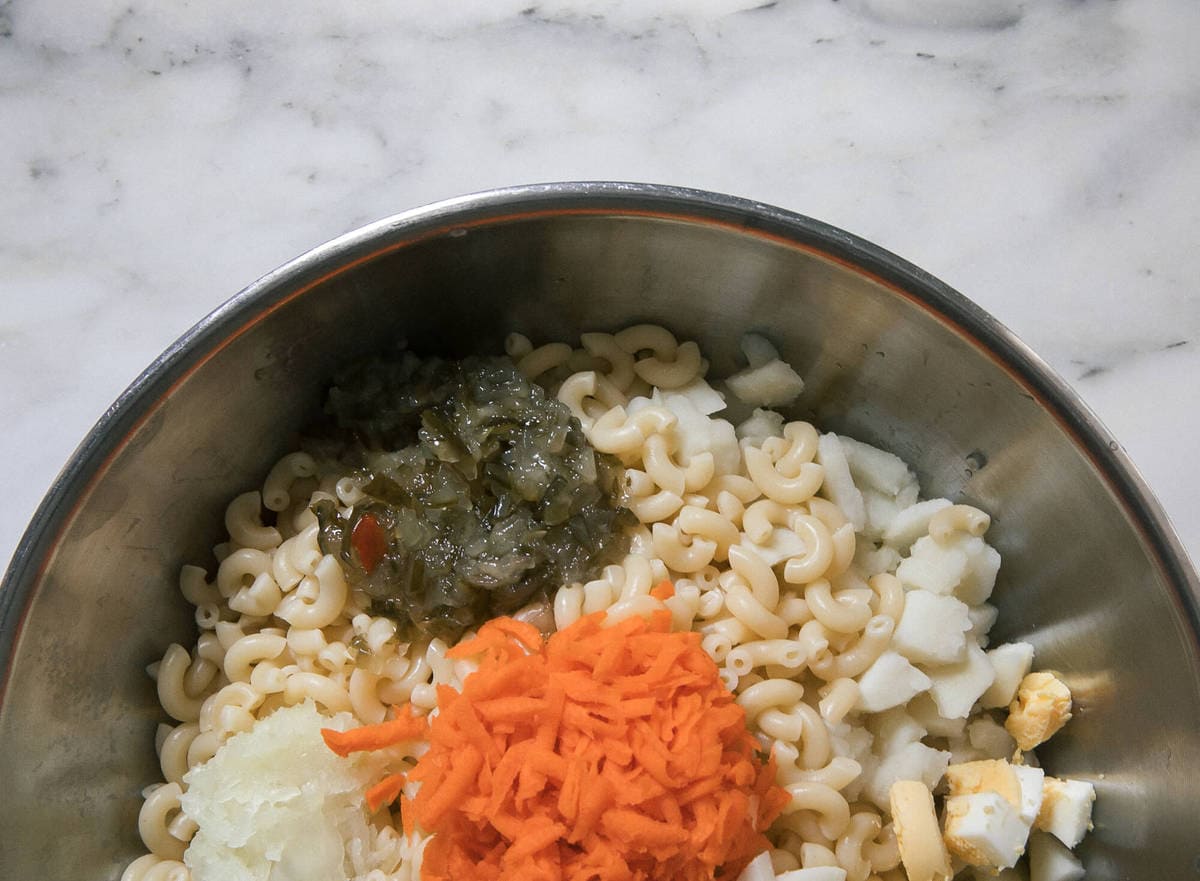 What is Shoyu Chicken?
I honestly knew very little about Hawaii. So I did my usual quick history lesson on the car ride to the hotel and I didn't learn nearly as much as I wanted to.
Alana teaches the history seamlessly, interweaving it with food and how the cuisine and all of its vastness came about. I wanted to try SO many of the recipes, but I settled on this Shoyu Chicken with Hawaiian Mac Salad. And I've made it nearly five times since making it for these photos.
Shoyu Chicken is a dish that came from Japanese settlers. It's made using shoyu soy sauce mixed with brown sugar, ginger and lots of garlic. The sauce is what the chicken is braised in, giving it a delicious depth of flavor.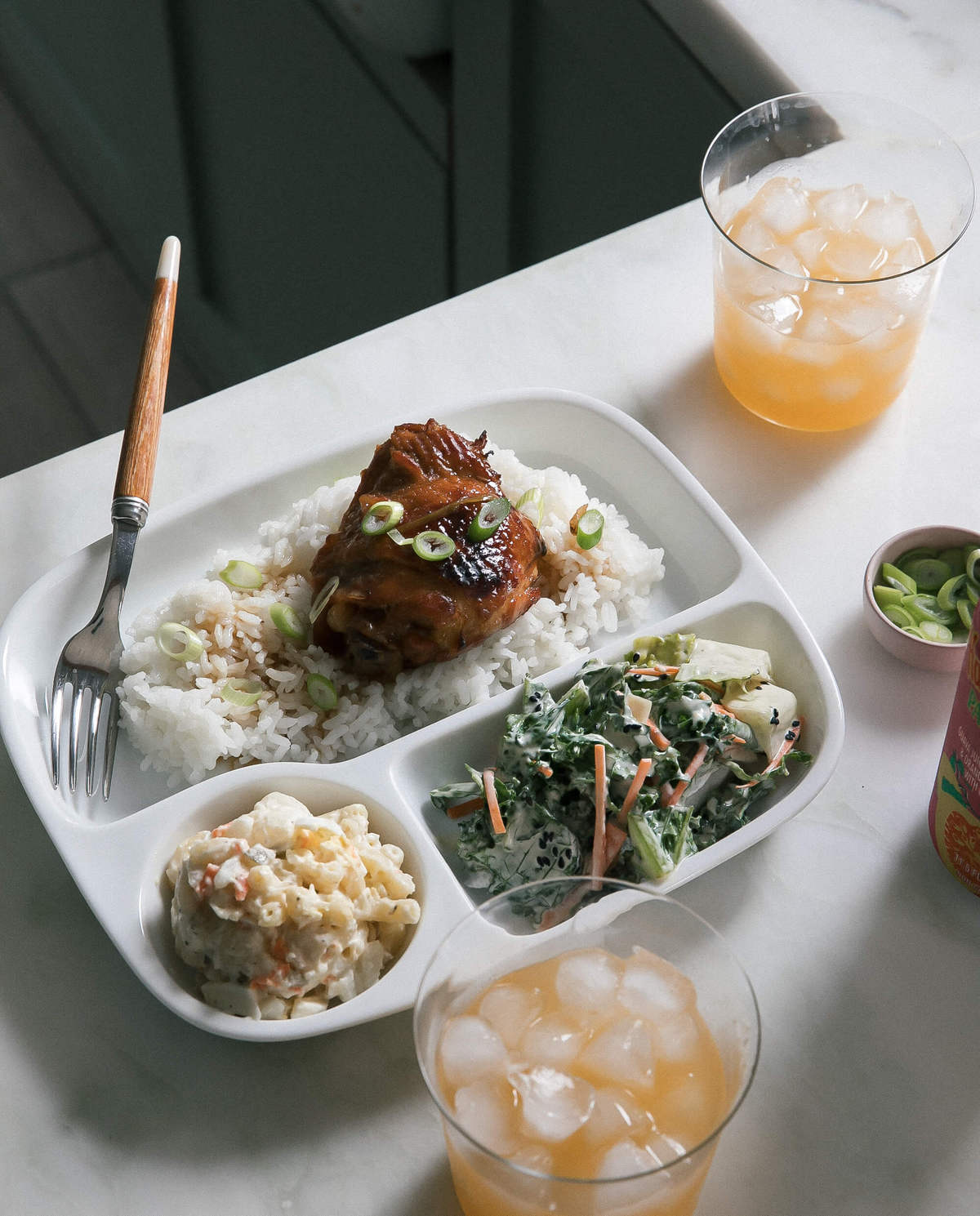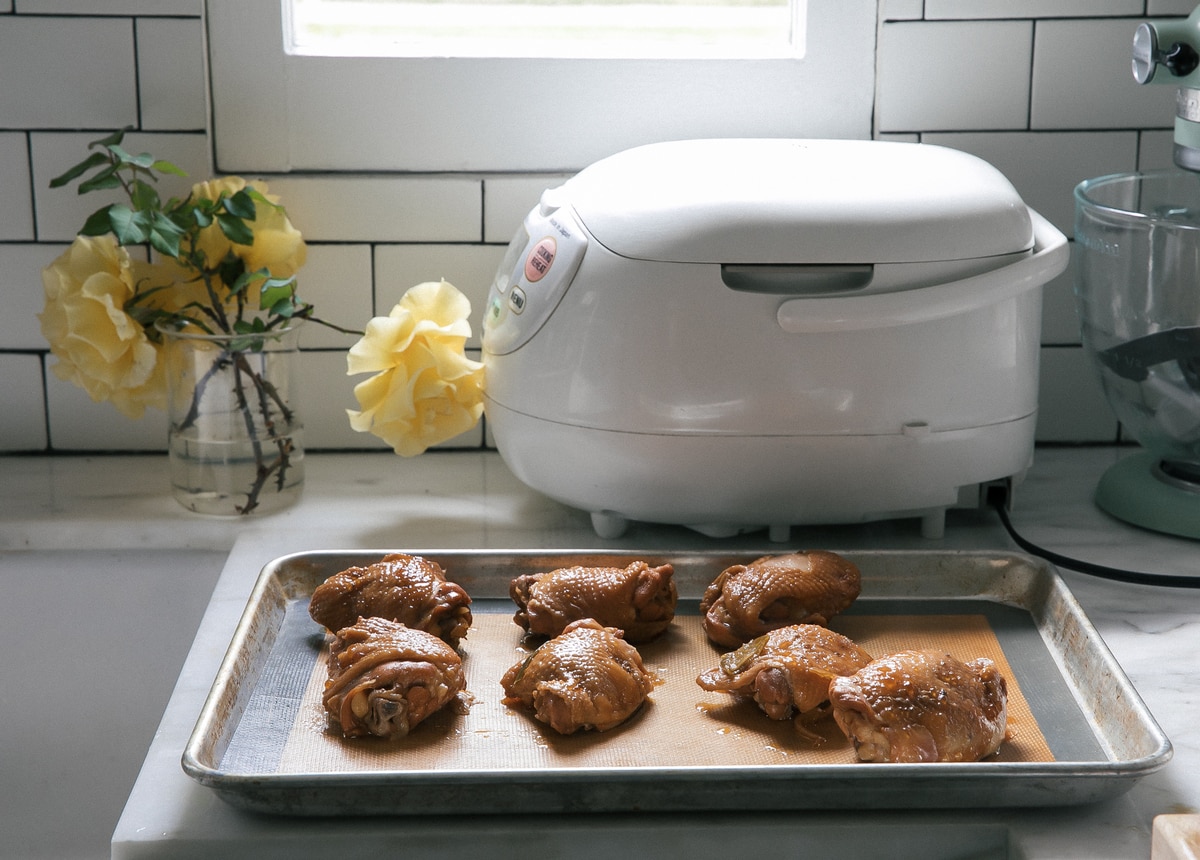 It's super easy and tastes SO delicious over a bed of rice and mac salad (my other favorite). It's dreamy.
Use Your Instant Pot!
I also made it in the Instant Pot and it totally cooks up in about 10 minutes on the high pressure setting—very chill!
Here's a link to Alana's blog!
Looking for another weeknight chicken recipe, click here for my pollo a la brasa thighs!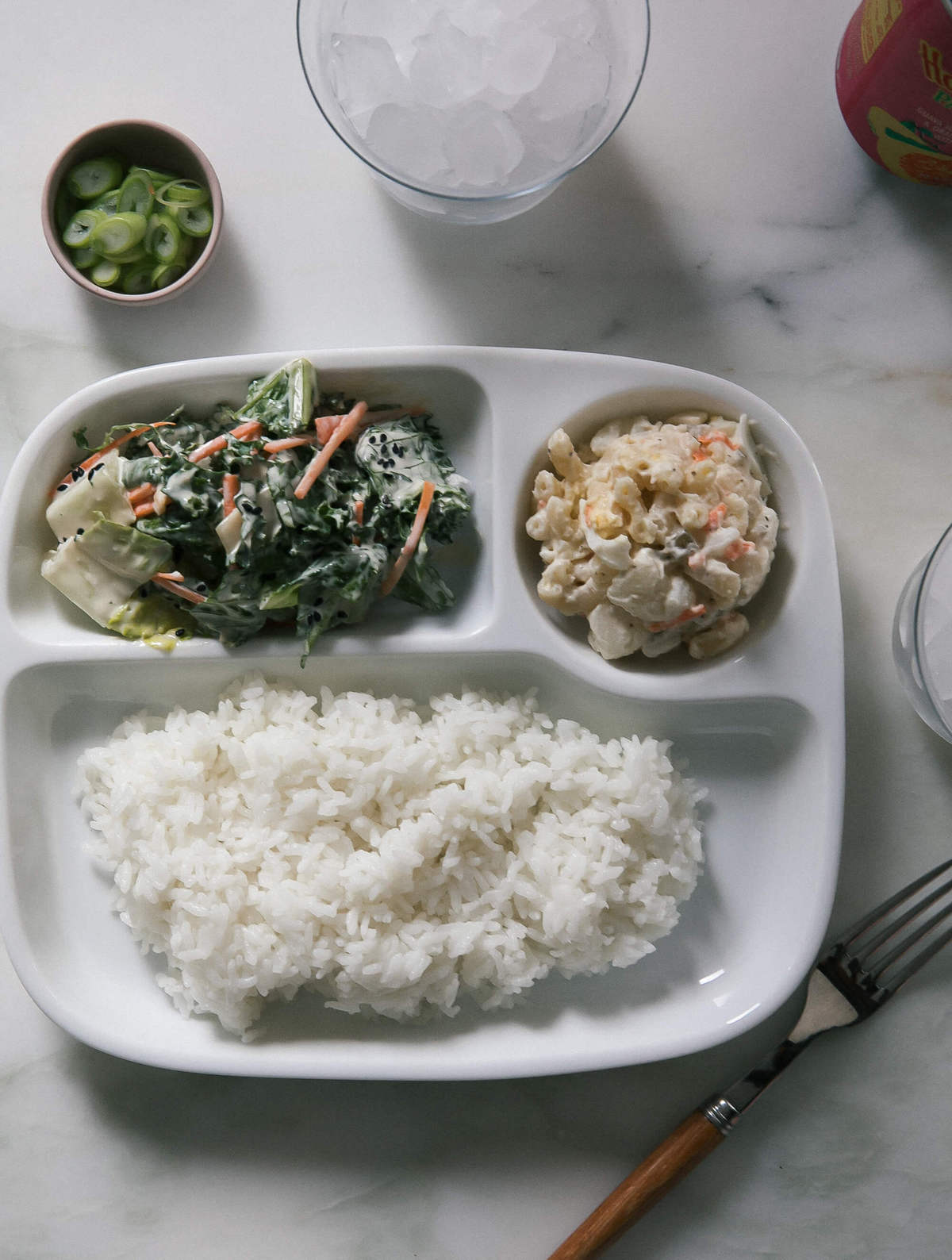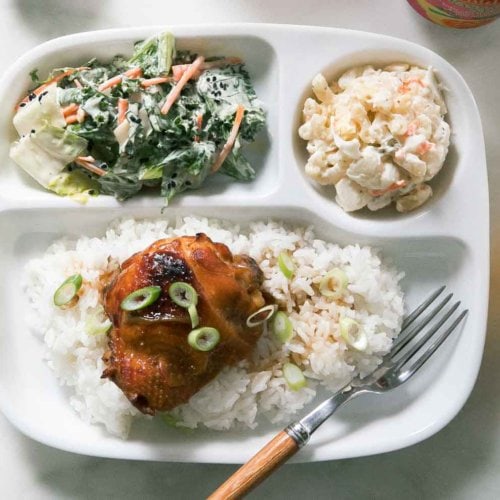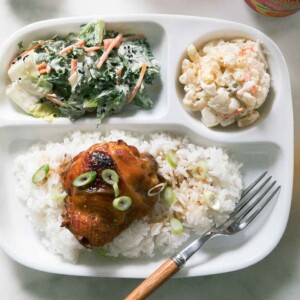 Shoyu Chicken is a chicken dish with shoyu soy sauce, ginger and scallions; served over rice with a side of Hawaiian Mac Salad.
Ingredients
Shoyu Chicken
3/4

cup

soy sauce (shoyu)

1 1/2

cups

water

2

tablespoons

honey

1/2

cup

packed dark brown sugar

1

2-inch knob

fresh ginger

,

peeled and thinly sliced

3

whole

garlic cloves

,

peeled and crushed

2

pounds

bone-in, skin-on chicken thighs

1/2

Maui onion (or yellow onion)

,

peeled and cut into 3/4-inch wedges

3

whole

green onions

,

white and green parts, cut into 2-inch pieces

1 1/2

tablespoons

cornstarch

3

cups

steamed rice, for serving
Directions
In a heavy Dutch oven or pot, mix the soy sauce, water, honey, brown sugar, ginger, and garlic together. Nestle the chicken thighs in the sauce, skin side up, submerging the meat as much as possible. Bring the mixture to a boil over medium-high heat. When the sauce comes to a boil, add the Maui or yellow onion wedges and green onion pieces and turn the heat to medium-low. Cover the pot with a lid and let simmer for 30 minutes. Using a pair of kitchen tongs, gently turn all the chicken pieces over. Cover the pot again and simmer for another 30 minutes.

Check the tenderness of the meat with a fork; if you can easily insert the fork into the meat, the chicken is done. Remove the cooked thighs from the sauce, reserving it, and place them on a rimmed baking sheet.

In a small bowl, whisk the cornstarch with 1/4 cup of the sauce until smooth, then add the cornstarch mixture back to the pot with the remaining sauce and cook over medium-low for 4 to 5 minutes, until the sauce has thickened. Broil the chicken thighs for a minute or two, watching carefully to make sure you do not burn the skin. The goal is to just quickly brown the skin.

Serve the chicken with the thickened sauce and rice.
Notes
Instant Pot Instructions: 
I've made this two times in the Instant Pot and it couldn't be easier. I added all of the sauce ingredients to the Instant Pot, along with the chicken. I sealed the Instant Pot and put it to high pressure and cooked it for 8 minutes. I did a "quick release" and then proceeded with the recipe, creating the thickened sauce and broiling the chicken. 
Nutrition Facts
Shoyu Chicken Recipe
Amount Per Serving (6 g)
Calories 387
Calories from Fat 102
% Daily Value*
Fat 11.3g17%
Cholesterol 135mg45%
Sodium 19544mg850%
Potassium 502mg14%
Carbohydrates 23.6g8%
Protein 46g92%
Calcium 490mg49%
Iron 0.5mg3%
* Percent Daily Values are based on a 2000 calorie diet.