These Vegetarian Carrot Ginger Potstickers are filled with a vegetarian puree of carrot, tofu and sesame oil. They can be steamed or pan-fried and are easy to make ahead and freeze.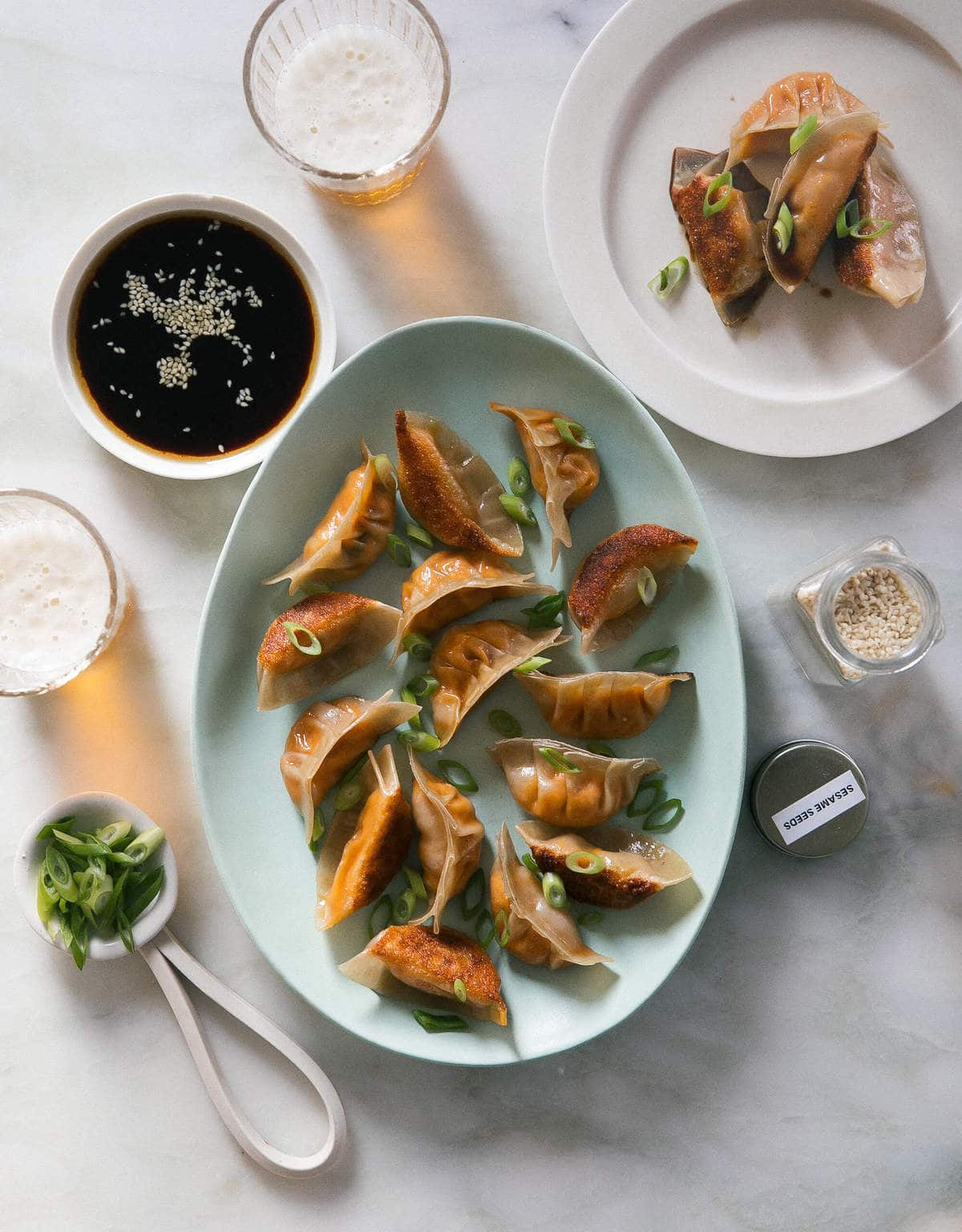 The temperatures have officially risen in El Ley and I now find myself wearing my favorite thing: shorts, denim skirts and sneakers. It's no longer boot season and I love it! When Jeanine's book, Love and Lemons Everyday, showed up on my doorstep, it was like opening a box of sunshine. All the recipes feel so fresh and delicious and healthy.
Whenever I'm figuring out what I should make for dinner, Jeanine's blog is always a go-to for me. I find so much delicious vegetarian inspiration from her. Everything looks so clean and tasty! It makes me wanna put on a workout outfit and cook some dinner that'll make me feel good about myself lol.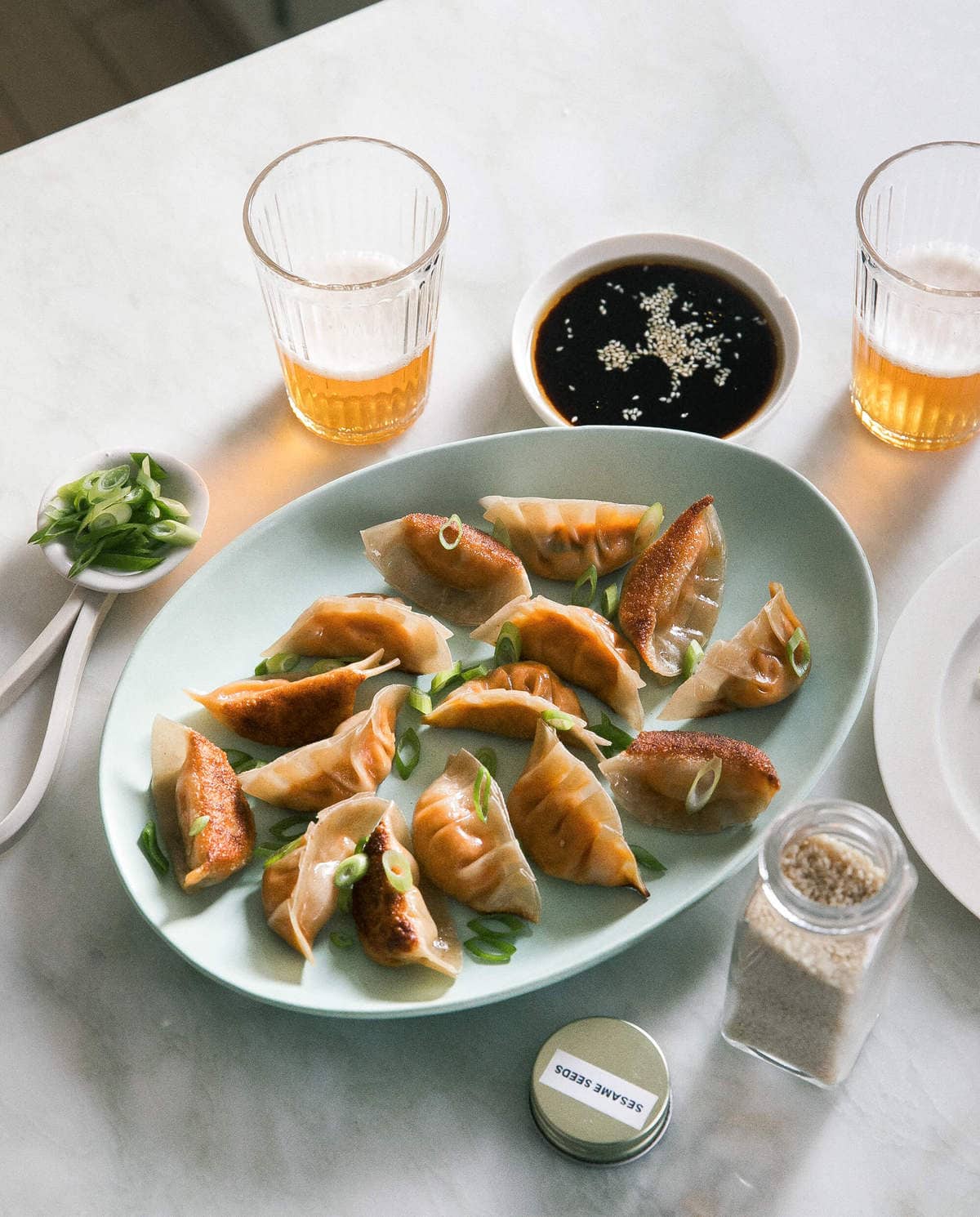 What Are Potstickers
Potstickers are steamed or pan-fried dumplings filled often times with juicy fillings such as ground pork, cabbage and seasonings. In today's post, we're making vegetarian versions filled with roasted carrots, ginger and sesame oil.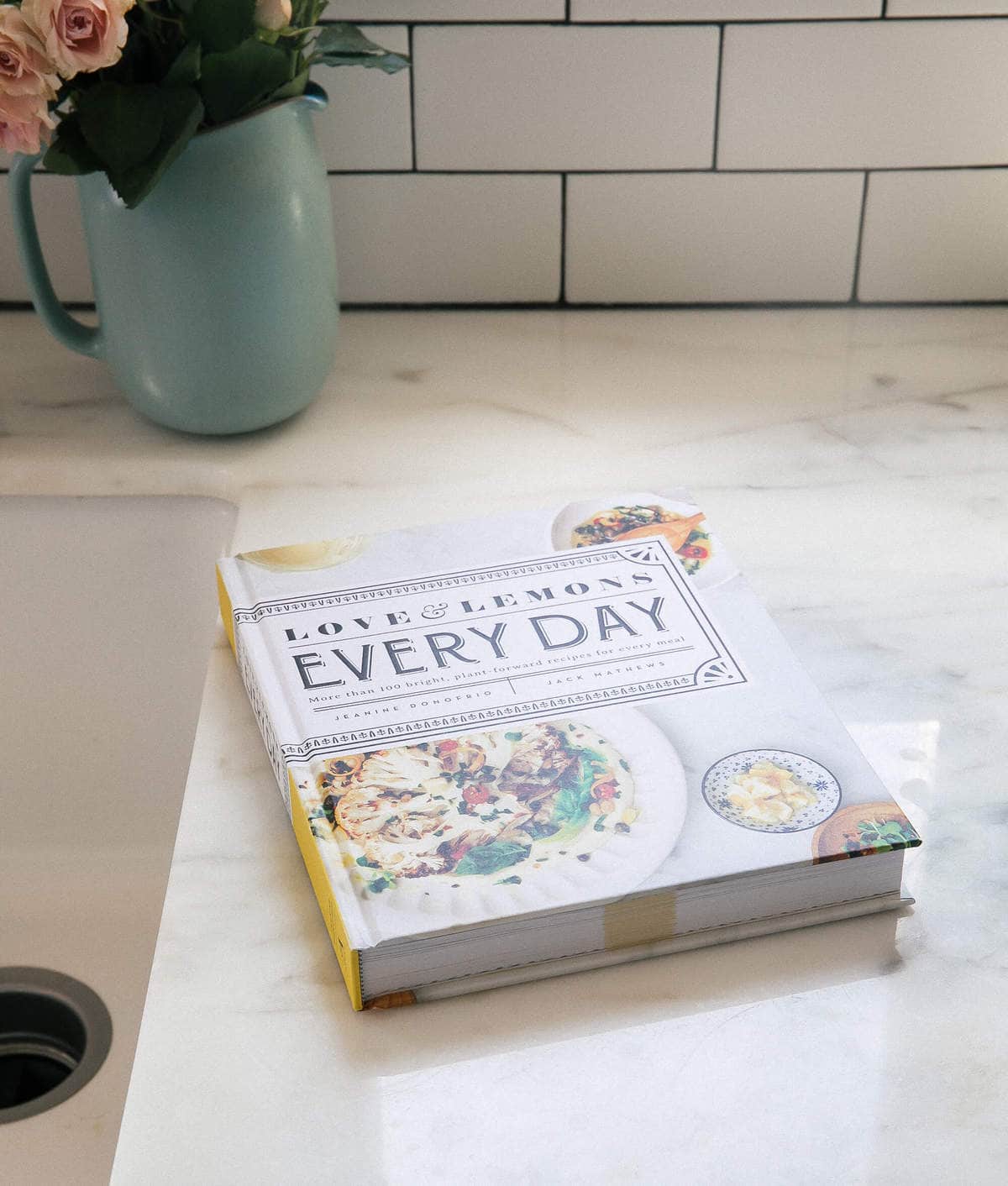 How to Make Vegetarian Carrot Ginger Potstickers
Roast the carrots. On a baking sheet, add the carrots and roast them until they're softened.
Blend the carrots in the food processor. And then I add the rest of the delicious ingredients like tofu, sesame oil, sriracha, scallions, freshly grated ginger, garlic and salt.
Fill the potstickers. I like to use store-bought round wrappers. Rub the outside edges of the wrappers with a bit of water and add a heaping teaspoon of filling to each one.
Then, fold them up! I found this video super helpful. Worse comes to worse, fold them over and press the edges with the tines of a fork. 🙂
At this point, if you'd like to freeze them, see the directions below! 
To cook the potstickers, add some oil to a pot, when it's hot, add the potstickers standing straight up.
And then, add a bit of water and immediately cover the potstickers. This will steam them!
Serve them with dipping sauces.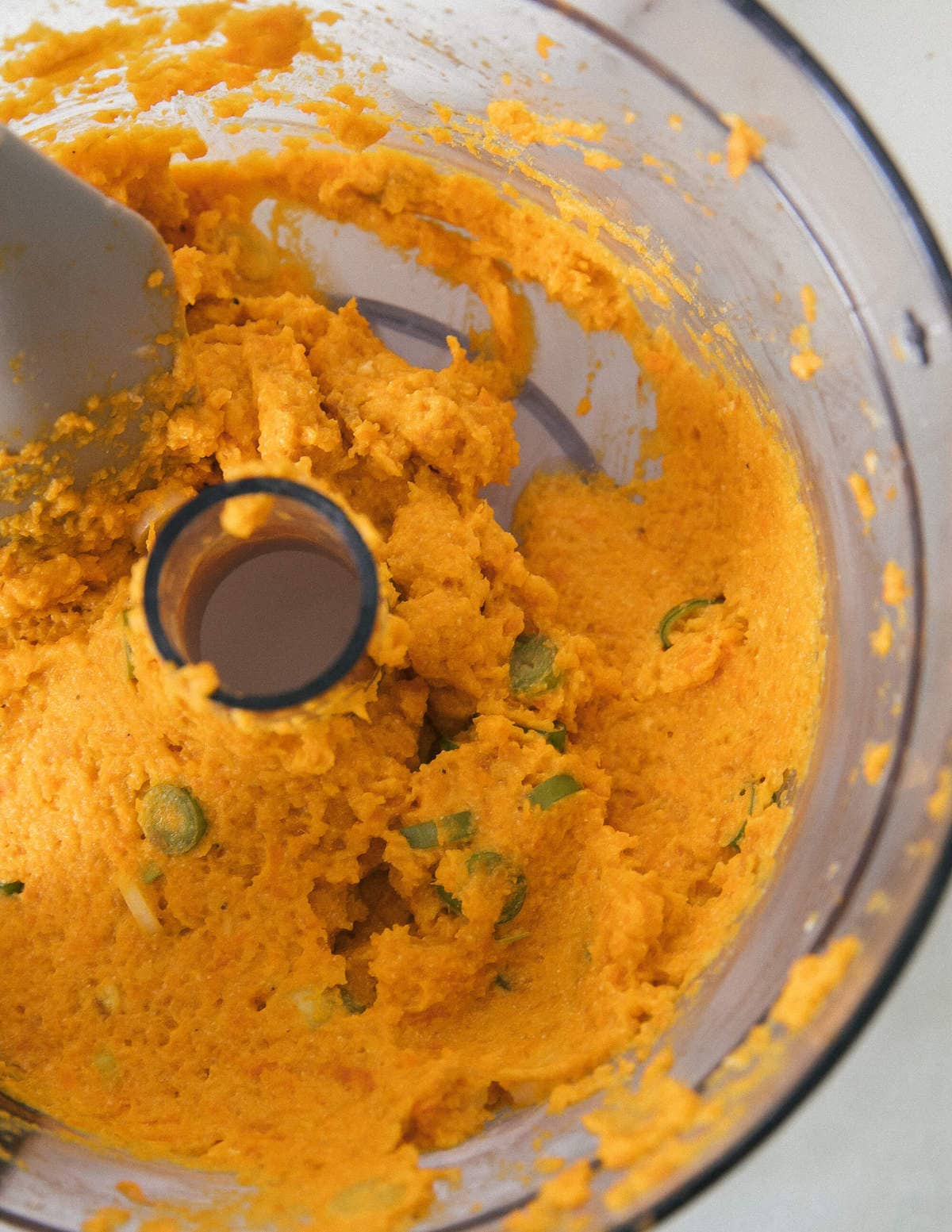 How to Freeze Potstickers
I love freezing potstickers! They're amazing to cook from frozen. So, what I like to do is the following: assemble the potstickers.
Place on a baking sheet and make sure none of them are touching, as a result, they won't freeze into one another.
Freeze them for 1 hour, until they're super frozen to the touch.
Transfer them to a freezer-safe bag or container and freeze for up to 3 months.
Cook from frozen and follow instructions below for pan-frying and steaming.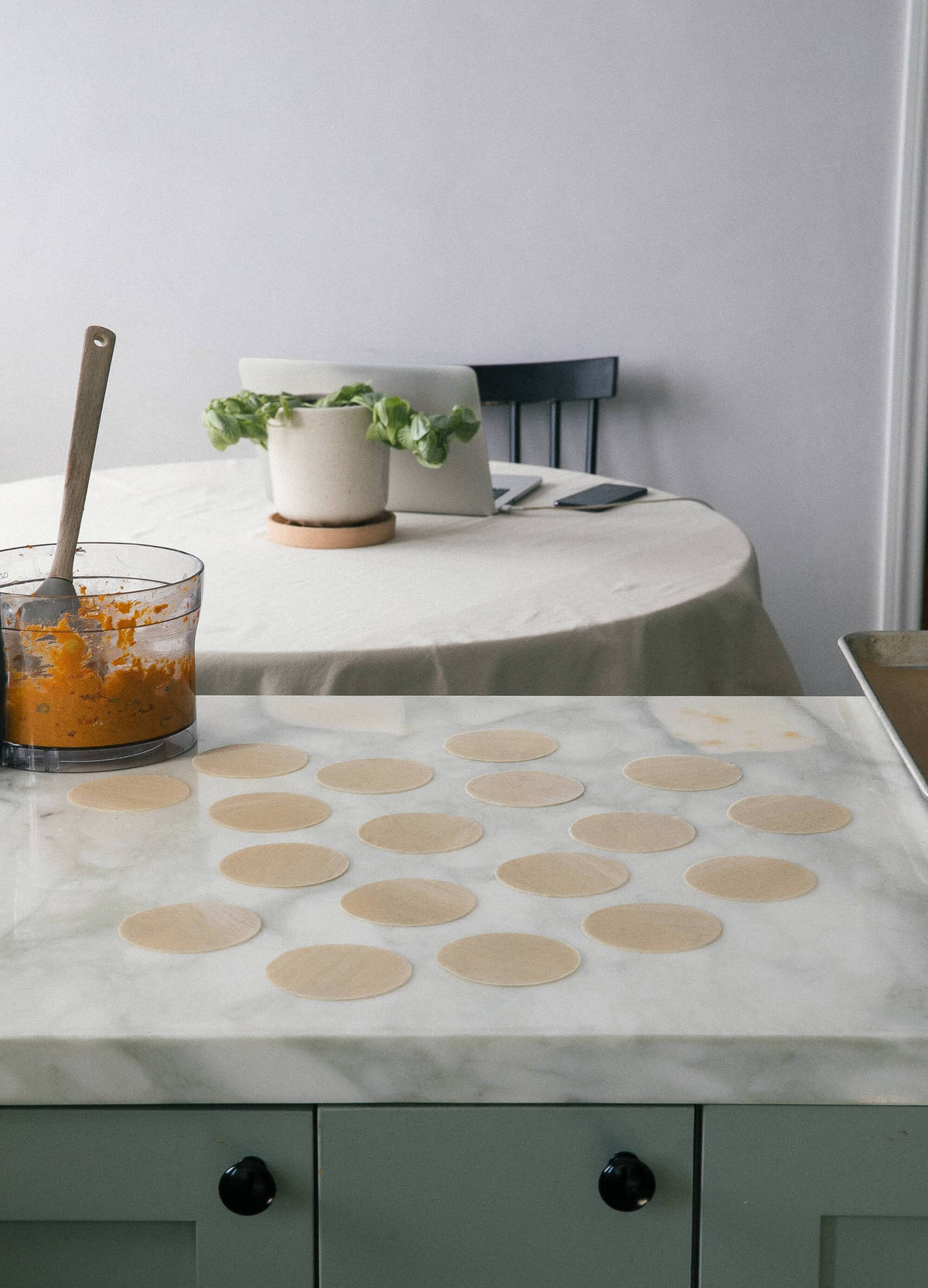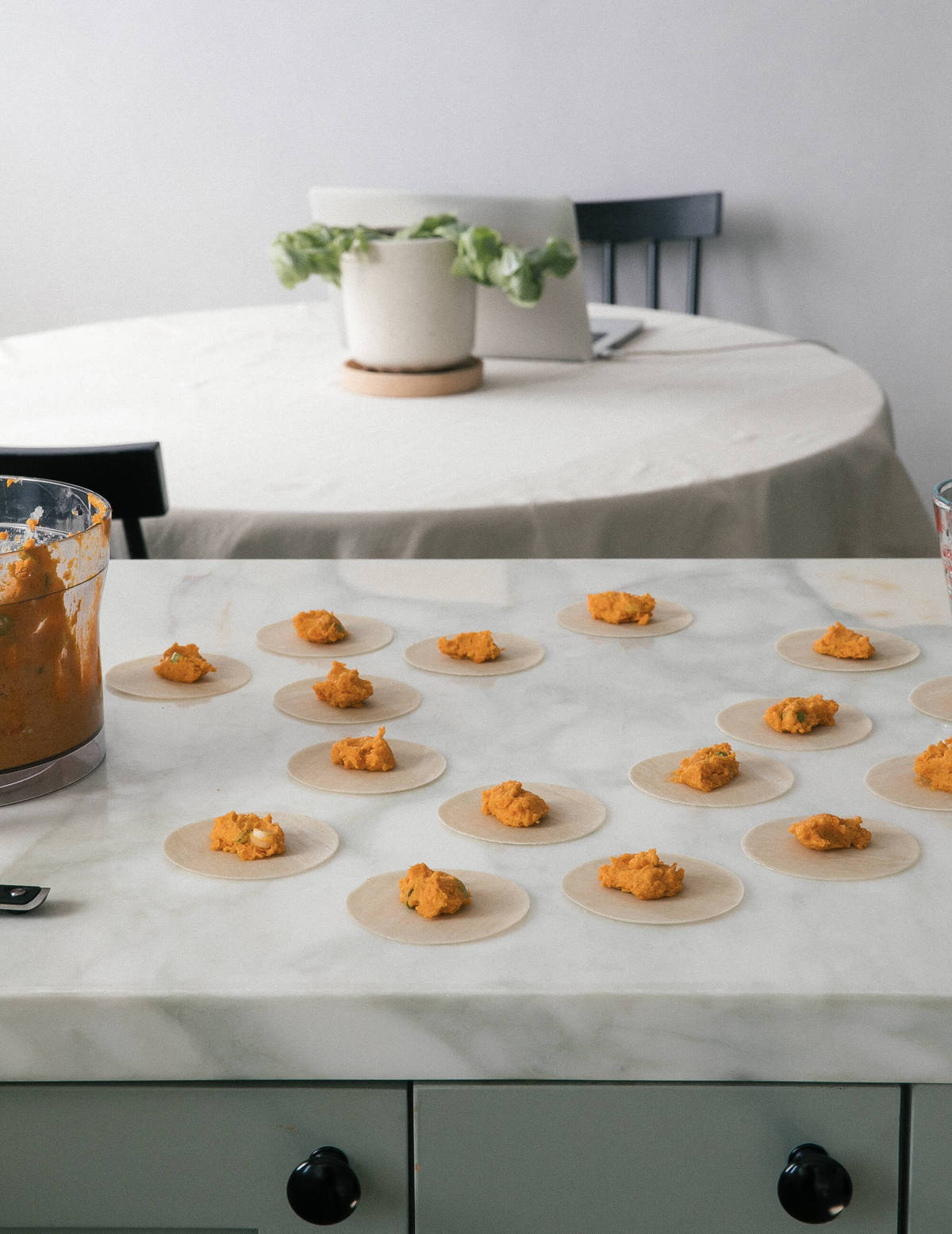 Here's a link to Jeanine's book, Love and Lemons Everyday AND her blog!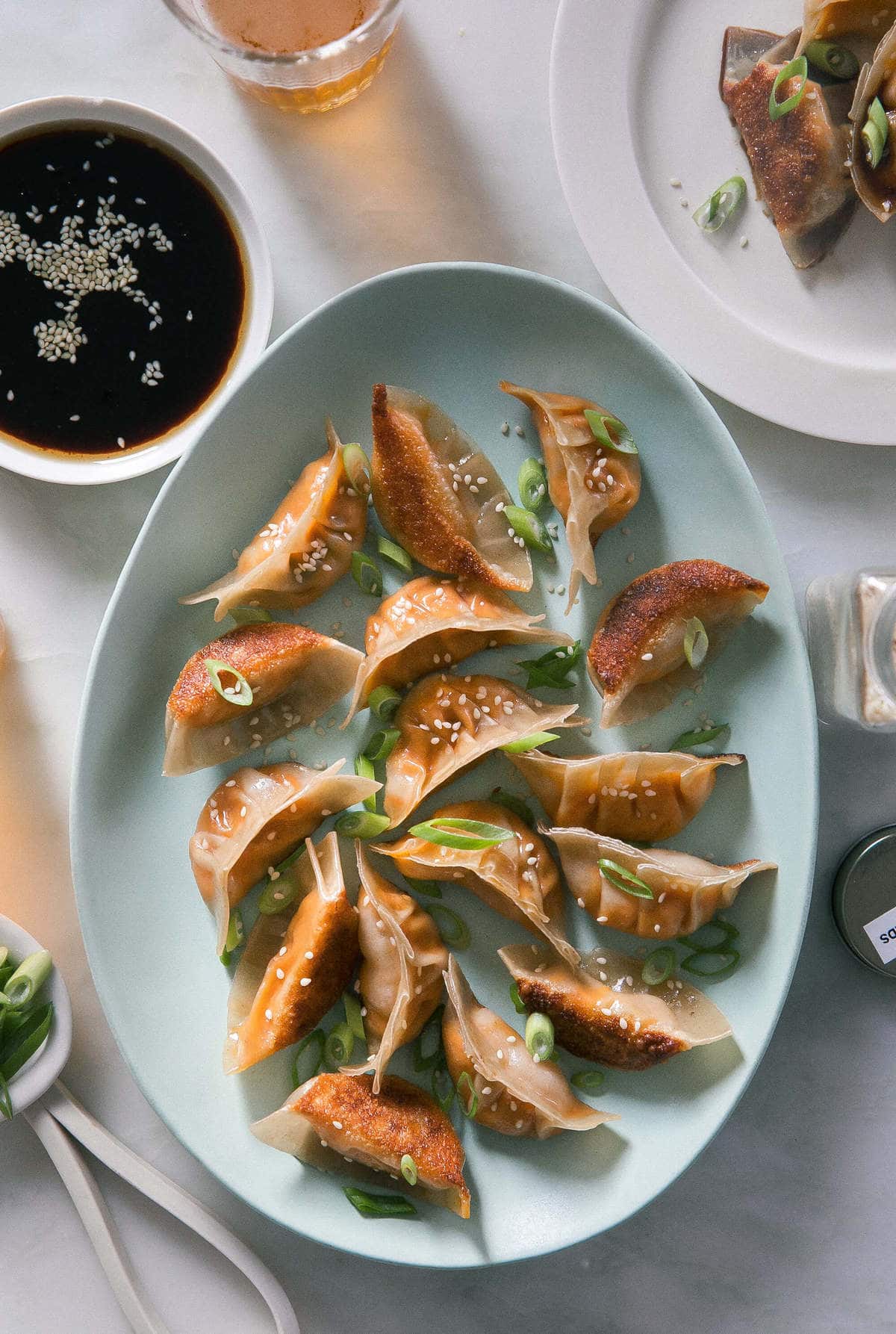 If you make these Vegetarian Carrot Ginger Potstickers, let me know on Instagram!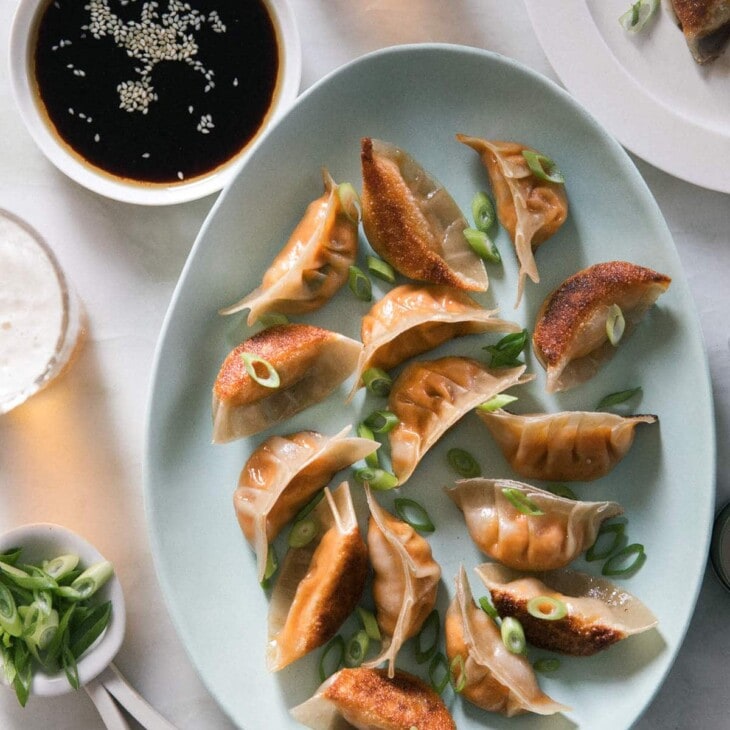 Print Recipe
Vegetarian Carrot Ginger Potstickers
These Vegetarian Carrot Ginger Potstickers are filled with a vegetarian puree of carrot, tofu and sesame oil. They can be steamed or pan-fried and are easy to make ahead and freeze.
Serving Size:
potstickers
Ingredients
Roasted Carrot Ginger Potstickers:
4

medium

carrots

(about 8 ounces)

1

teaspoon

olive oil

plus more for drizzling

3 1/2

ounces

extra-firm tofu

2

teaspoons

white miso paste

2

teaspoons

rice wine vinegar

1

teaspoon

minced ginger

3

garlic cloves

peeled

1

teaspoon

sesame oil

1

teaspoon

sriracha

2

tablespoons

sliced scallions

30

store-bought dumpling wrappers
Dipping Sauce:
1/4

cup

shoyu soy sauce

1

tablespoon

sesame oil

2

teaspoons

Sriracha

1

teaspoon

sesame seeds
Instructions
To Make the Roasted Carrot Ginger Potstickers:
Preheat the oven to 425 degrees F and line a baking sheet with parchment. Place the carrots on the baking sheet, drizzle lightly with olive oil, and sprinkle with salt and pepper. Roast for 15 to 25 minutes, or until browned and soft. The time will depend on the thickness of the carrots.

Remove the carrots from the oven, let cool slightly, then chop and transfer to a small food processor. Add the olive oil, tofu, miso paste, rice vinegar, ginger, garlic, sesame oil, and sriracha and pulse to combine. the carrots should be fairly well pureed, and the mixture will be thick. Stir in the scallions.

Assemble the dumplings by scooping 1 heaping teaspoon of filing onto each wrapper. Using the fingers, dab the edges of the wrapper with cold water, fold in half over the filling, and press to seal. With the wrapper folded in half and while holding the top of the crescent with two fingers, use the other hand to fold pleats.

*NOTE: If you're cooking these in a few hours, transfer them to the freezer. And cook them straight from the freezer.
To Make the Dipping Sauce:
In a measuring cup, measure out the soy sauce and whisk in the sesame oil, sriracha and sesame seeds. Transfer to dipping sauce dish.

Stand the dumpling up on a baking sheet. Repeat with the remaining dumplings.
To Cook the Pot Stickers:
To a 10-inch, non-stick skillet, set over medium heat, add a few teaspoons of oil. When the oil is hot, add the pot stickers so they're standing up right. Cook, uncovered until the bottoms are light golden brown, about 1 to 2 minutes.

Add 2 tablespoons of water and then quickly cover with a lid. Cook until bottom is crispy and dumplings are steamed, about 2 minutes. Remove the lid and cook for an additional 1 to 2 minutes. Remove from the pot and serve alongside the sauce. Garnish with sliced green onion and sesame seeds. Serve immediately.
Notes
To Steam Potstickers:
To cook in a steamer basket, lightly spray the racks of a bamboo steamer with cooking spray. Place the dumplings in the bamboo steamer without touching each other and cover with the lid. Bring 1 inch of water to a simmer in a pot or skillet that can hover over. Place the bamboo steamer on top and steam for 10 minutes. 
Equipment:
Nonstick Pan | Baking Sheet | Food Processor | Silicon Spatula | Steamer Basket |  
Nutrition
Serving:
4
g
|
Calories:
210
kcal
(11%)
|
Carbohydrates:
14.2
g
(5%)
|
Protein:
4.8
g
(10%)
|
Fat:
4.4
g
(7%)
|
Saturated Fat:
0.5
g
(3%)
|
Sodium:
470
mg
(20%)
|
Potassium:
251
mg
(7%)
|
Fiber:
2
g
(8%)
|
Sugar:
3.2
g
(4%)
|
Vitamin A:
100
IU
(2%)
Looking for more vegetarian friendly recipes? Here are some favorites:
Tallarines Verdes
Pupusas con Curtido and Salsa Roja
Cuban Black Bean Soup
Spicy Sambal Mushroom Noodles
Jackfruit Tinga Tacos