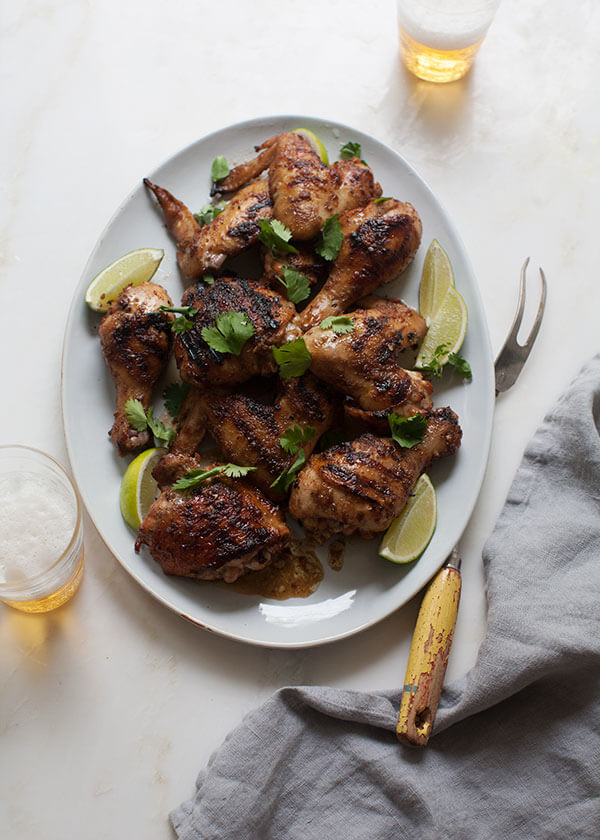 My eyeballs sting and I'm dosing off which means I really wish I could just write this entire blog post in emojis. That'd be easier.
I'd use emoji flames, emoji nail painting, emoji face with sunglasses. I'm thinking those illustrate my feelings properly about this chicken. I'm feeling myself!
I once dated a Jamaican dude who taught me so many things about myself. A good jerk chicken recipe, unfortunately, was not one of them. It was one of those relationships you have when you're young and need to learn what you don't want, what doesn't work for you. At the time nothing felt like a lesson, it just felt like heartbreak and agony and someone stabbing me in my chest. But after that relationship, I went forward in search of the exact opposite…haha. Is this mean? I'm thinking nah, I'm thinking it's just a little real.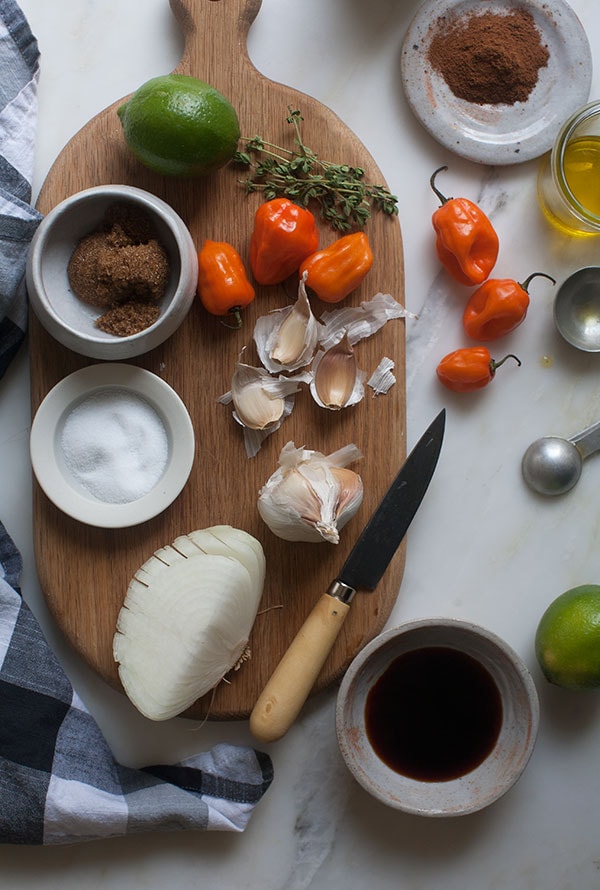 Anywaze, the one positive thing that came from that relationship was our eating adventures. It was high school, early college, so the food I ate during that time was either The Cheesecake Factory or Peruvian or Jamaican hole-in-the-walls. I ate more lomo saltado and jerk chicken in that time than ever in my life.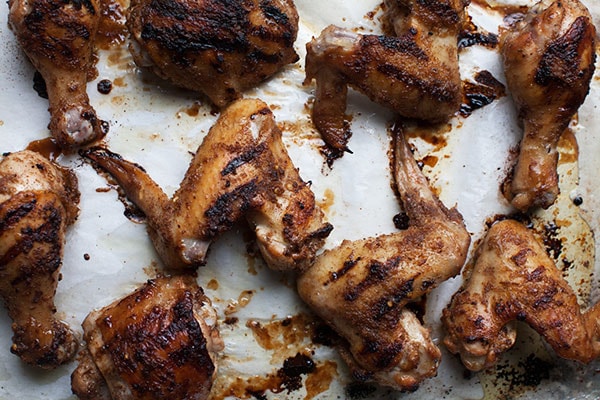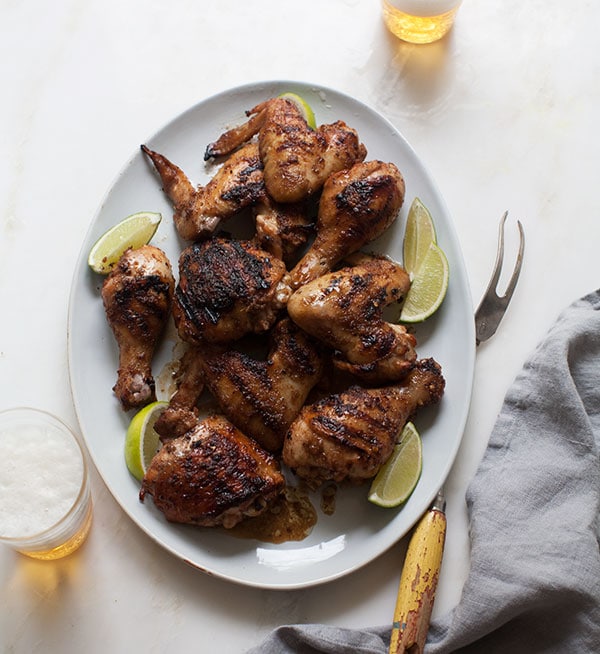 If you've never had a good version of something, it's really hard to duplicate it. I'll warn any Jamaicans, this isn't MELT-UR-FACE-OFF-SPICY. It's more American tongue-friendly. It's hot, there's a kick, it wouldn't be Jerk Chicken without that spice, but it won't send you running for water or bread or a glass of milk.
And if I'm being really real, Jerk Chicken sort of has to grilled over an open flame burning pimento wood but again, I ain't got time to go search for pimento wood. I've included both directions: over the grill and in a grill pan with it being finished in the oven. WE HAVE OPTIONS.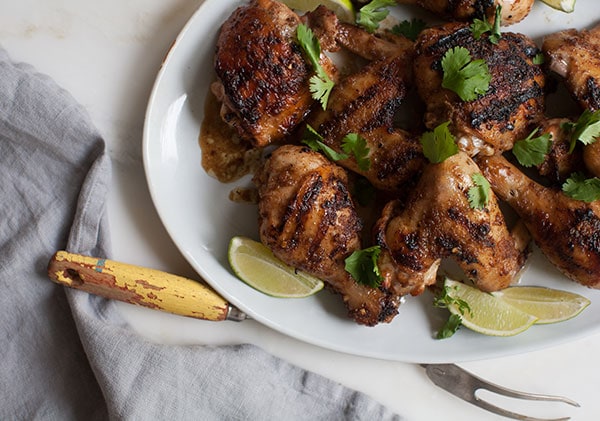 Sure, it's not as authentic that way but sometimes I just want delicious chicken and can't bother with starting a grill. But I stand by the spices and ingredients in this marinade. IT'S LEGIT AF. The allspice and cinnamon are so good and not weird at al. The lime zest? YAS. It all comes together so easily, too. No chopping, just throw it in a blender and pour it over the chicken.
If you're having a BBQ, this is the most perfect thing because you can just marinate it the night before and it'll be ready to cook off the day of.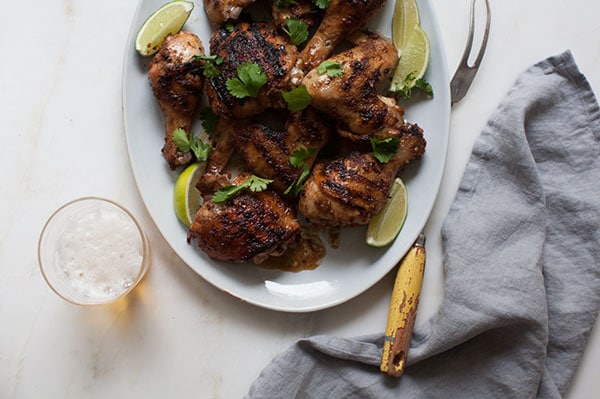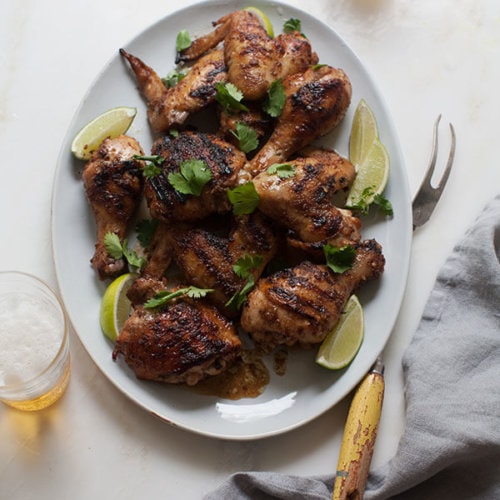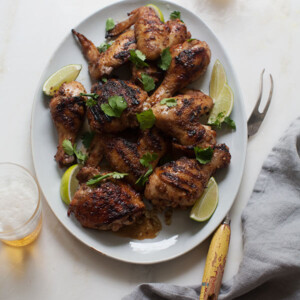 Ingredients
3

tablespoons

olive oil

2

tablespoons

soy sauce

Juice and zest from 2 limes

5 to 8

scotch bonnet peppers or 10 habanero or serrano

,

stems removed

1/2

medium yellow onion

,

roughly chopped

8

garlic cloves

,

peeled

3

scallions

,

pale green and white part only

2

tablespoons

light or dark brown sugar

1

tablespoon

from 5 sprigs fresh thyme leaves

1

2-inch knob fresh ginger, peeled

2

teaspoons

salt

1 1/2

teaspoon

ground cinnamon

1

teaspoon

ground allspice

3

pounds

chicken

,

I had a mix of dark meat: wings, drumsticks and thighs

1

lime

,

for garnish

10

cilantro leaves

,

for garnish
Directions
In a blender, add the olive oil, soy sauce, lime zest and juice, peppers, onion, garlic, scallions, brown sugar, thyme leaves, ginger, salt, cinnamon and allspice. Pulse until smooth, about 30 seconds. Add the chicken to a large bowl. Pour the jerk marinade over the chicken, cover with plastic wrap, and transfer to the fridge to marinate for at least 4 hours, ideally overnight.

Over the grill directions: cook the chicken over a medium flame, about 20 minutes, until cooked, being sure to flip them halfway through and moving them away from the flame if they're getting too high. (This marinade shouldn't be cooked at too high of a temperature or else you'll burn it.)

In a grill pan directions: Open all your windows. You'll need proper ventilation because the cooking of the marinade creates some intense vapors. Preheat the oven to 350 degrees F. Line a baking sheet with parchment paper and set aside. Spray a grill pan, set over medium-high heat, with cooking spray or rub a light coating of canola oil all over. When hot, add the chicken, skin-side down, cooking on each side until browned for about 5 minutes. You may need to do this in batches, depending on how big your pan is. Transfer the chicken to the baking sheet and place in the oven to bake for 25 to 30 minutes, until cooked throughout. Garnish with wedges of lime and cilantro leaves.
Notes
PEPPER TALK:
5 scotch bonnet peppers will give you jerk chicken with a kick (I love spicy food).
8 scotch bonnet peppers will give you super spicy jerk chicken. Heat enthusiasts should 6-8 scotch bonnet peppers.
Nutrition Facts
Jerk Chicken
Amount Per Serving (4 g)
Calories 0
* Percent Daily Values are based on a 2000 calorie diet.