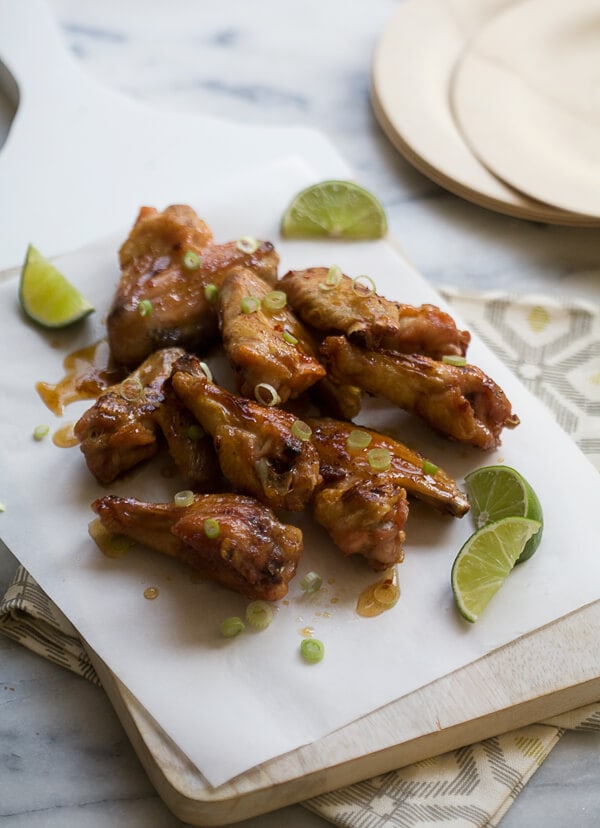 I know I say I'm an enthusiast of lots of things like pie, pancakes and biscuits, and I am…but I'm really a professional when it comes to chicken wings. I'm a chicken wing professional.
If I'm having a bad day, Josh will usually recommend we go bowling and grab a basket of chicken wings. Just the sound of these two events make my terrible day almost an afterthought.
I've been reticent to make chicken wings at home because, well, I hate frying stuff at home. And I know you do too. We're in it together. When I started talking about baking wings, Josh suggested I sprinkle the chicken with a mix of baking powder and salt, which promises super crispy skin, even in the oven. Josh is full of kitchen tricks.
And lo' and behold, I did it! And guys…the skin crisped up soooo nice.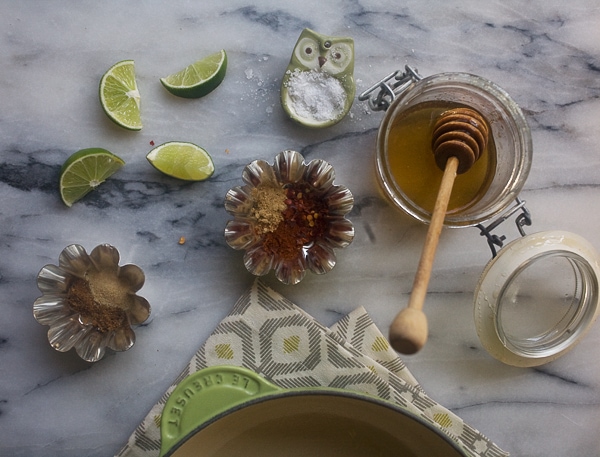 I can't say it was identical to a deep-fry, but I will say the skin was crispy and the chicken was less greasy, which is always a plus in my book.
This process begins with sprinkling the chicken with a mix of baking powder and salt. And then the chicken is air-dried for about 4 hours in the fridge.
From my very weak understanding of chemistry and science, what's happening when you're using baking powder is this: the pH level in the chicken is changing, rising, actually. And as the chicken chills with the baking powder, the juice from the chicken skin is evaporating, resulting in crispier chicken skin. Serious Eats does a really fun experiment testing out some theories. And they also do a much better job at explaining it than me.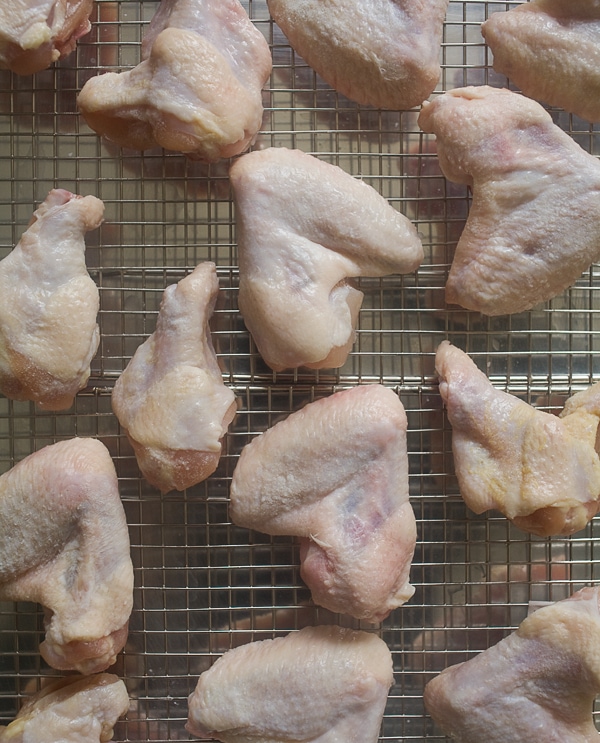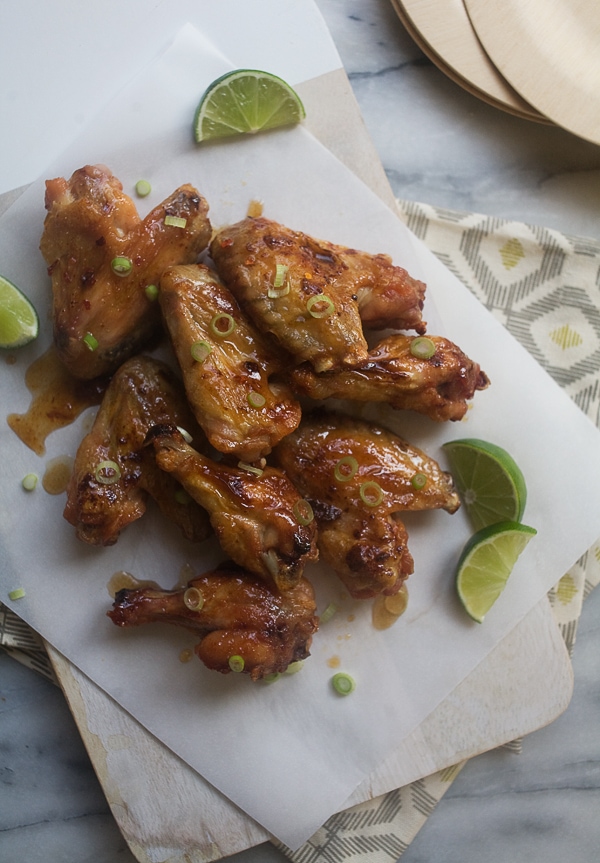 Now that I've bored you with pH this and whatever that, let's talk about the sauce.
I had a lot of high hopes for my the initial sauce I was prepping (I even posted the ingredients on Instagram), but the sauce was awful. It was too sweet (no brown sugar, please) and even though there was loads of minced garlic, there wasn't enough garlic flavor and the savory elements were barely there.
It took a few tries to get the sauce right but I think it's dialed in. Now, there are more spices (hopefully you have most of them in your pantry), it's less sweet and the sauce doesn't need to be warmed up, just add everything to a bowl and whisk away. Super easy!
The wings are sticky and amazing, and only made better if you eat them cold (I love how the honey hardens). These are Game Day-worthy, guys. They are.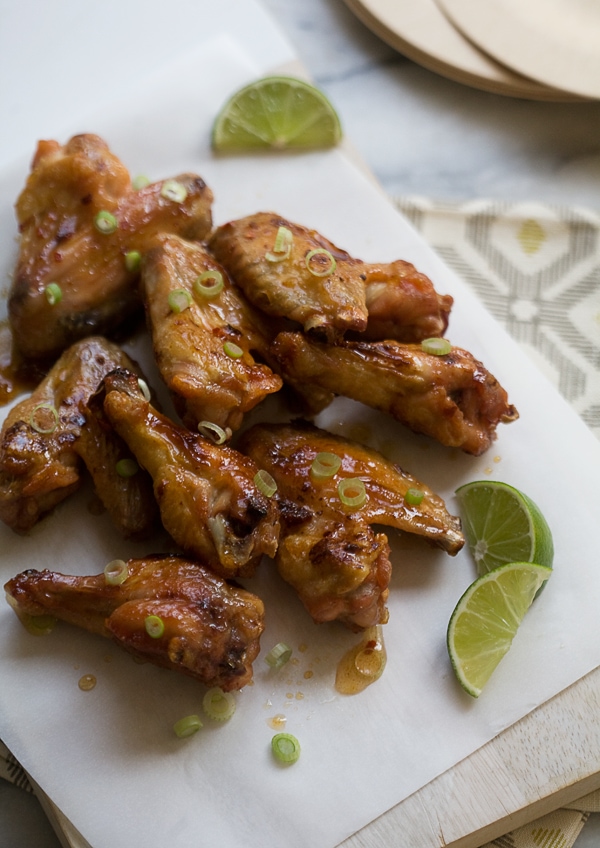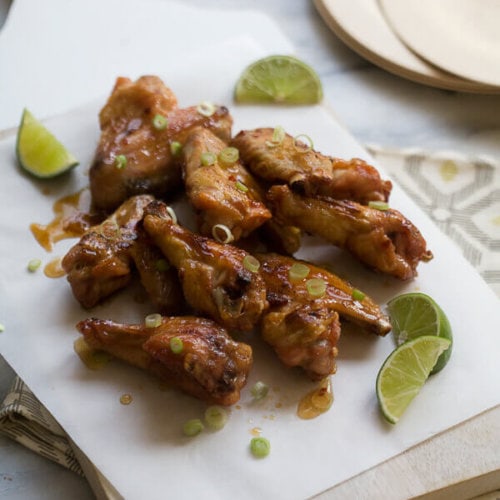 Ingredients
Hot Honey Lime Chicken Wings

Chicken:

1 1/2

teaspoons

baking powder

1 1/2

teaspoons

kosher salt

2

pounds

chicken wings and/or drummets

Sauce:

1/4

cup

honey

Juice from 1 lime

1/4

teaspoon

garlic powder

1/4

teaspoon

red chile flakes

1/8

teaspoon

smoked paprika

1/8

teaspoon

ground cumin

1/8

teaspoon

ground coriander

1/8

teaspoon

ground ginger

1

green onion

,

thinly sliced (for garnish)