How to Make Chilaquiles! Chilaquiles is a traditional Mexican breakfast favorite that consists of fried tortilla chips, a sauce that's usually tossed with red (salsa roja) or green (salsa verde) and topped with fried eggs. They're one of my favorite breakfast dishes that are so flavorful and delicious.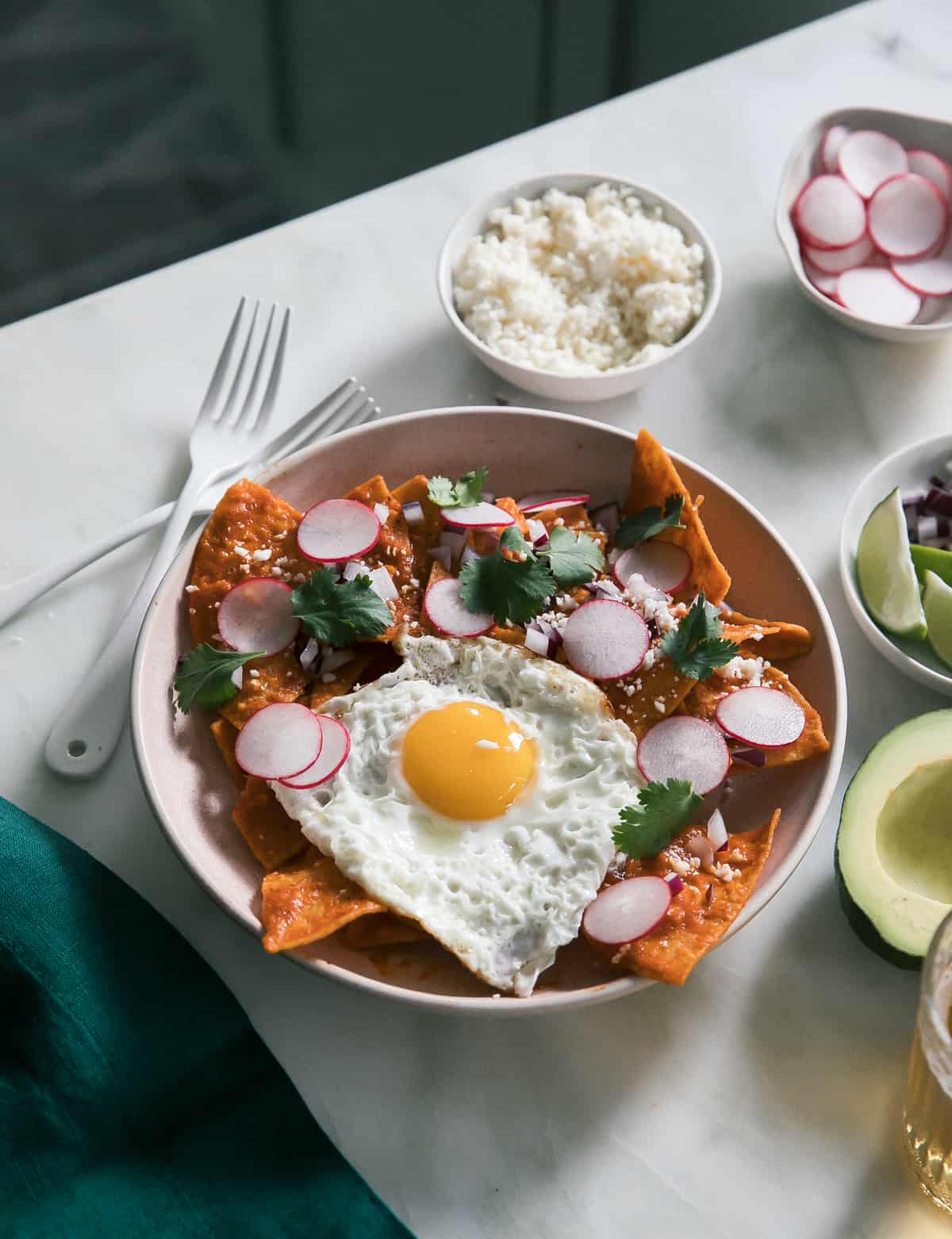 The question of today is: why has it taken me so long to make chilaquiles? Seriously, I'm sort of shocked this is the first time I'm posting about them because they might be one of my favorite breakfast dishes EVER.
I'm pretty sure they fall into my 'favorites' category because they're so nimble; they're great for breakfast, lunch or dinner.
What Are Chilaquiles Made Of?
Chilaquiles (pronounced "chee-lah-keel-ehs") is a Mexican dish made up of fried crispy tortilla chips, a red or green sauce, fried eggs and various toppings and garnishes. I will say that styles of chilaquiles vary from region to region in Mexico. While some may protest and declare that there is a "right way," there is in fact various ways. Lots of ways to make this dish.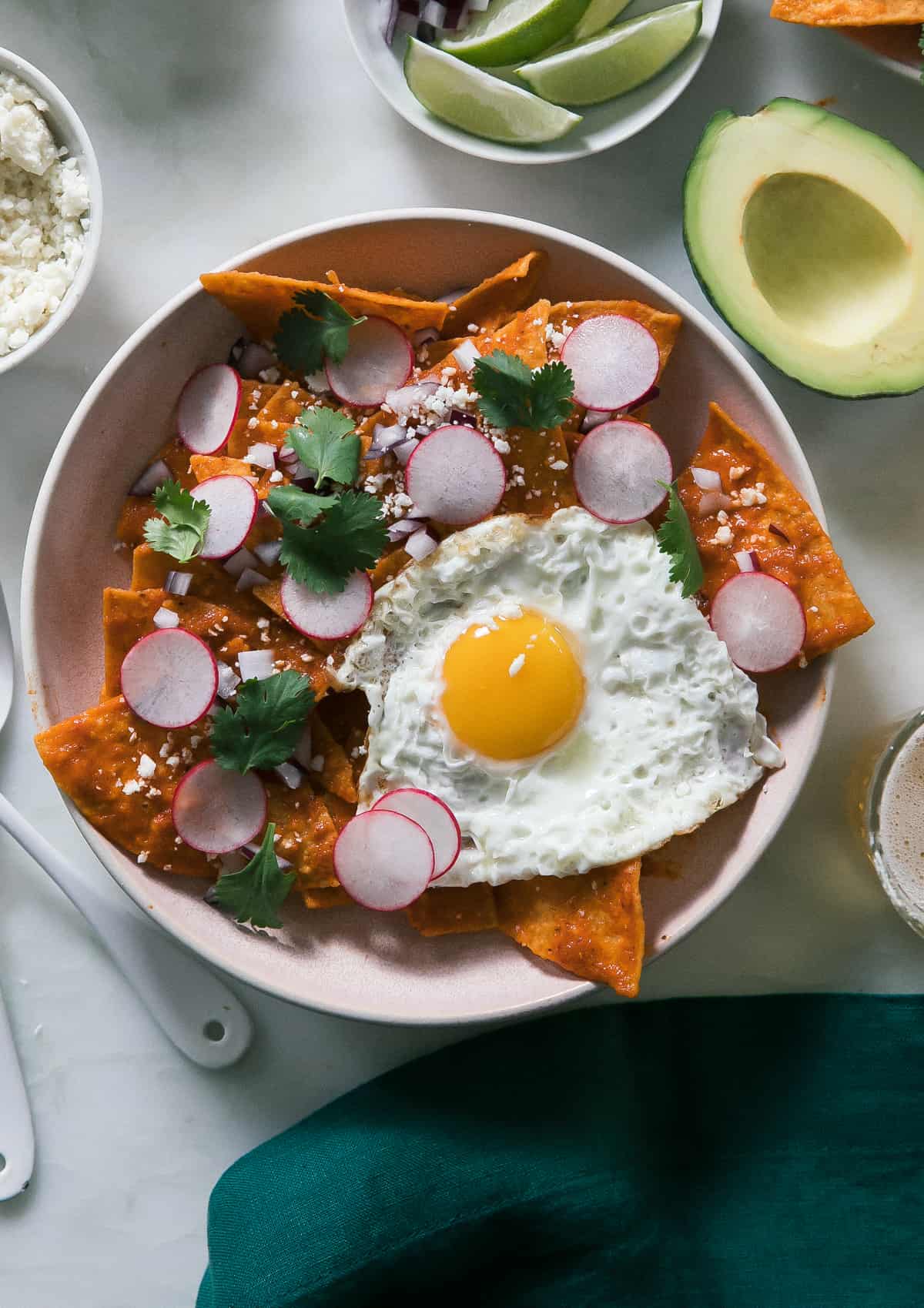 What Is the Difference Between Chilaquiles and Migas?
If you've ever been to Texas you might've had migas for breakfast. Migas means "crumbs" in Spanish and in Texas the migas are usually made with fried tortilla chips, a tomato-based red sauce and scrambled eggs. I will say they're similar to chilaquiles but different. I like to think of them as their cousin.
What's the Difference Between Chilaquiles Verdes and Chilaquiles Rojas
Chilaquiles Verdes is made with a tomatillo salsa that's usually known as salsa verde. It's deliciously tart and tangy. Salsa roja consists of dried chiles, cooked with tomatoes. The one we're talking about today falls into the category of chilaquiles rojas!
Ingredients You'll Need for Chilaquiles
Roma tomatoes. This gives the sauce a good amount of acidity and flavor.
White onion. Of course, you could use yellow or white onion. This gives the sauce a really lovely bite.
Garlic cloves. Another addition of flavor to the sauce. Can we make any sauce without garlic cloves? Probably not.
Dried guajillo chiles. You could use other dried chiles like anchos!
Tortilla chips. You could always fry your own chips or simply buy them from the store.
Eggs. I love to top my chilaquiles with fried eggs!
Garnishes. This can vary but I used thinly sliced radishes, fresh cilantro, diced red onion and avocado.
Homemade Tortilla Chips vs. Store-Bought Tortilla Chips
Listen, I am all about some shortcuts so I buy tortilla chips at the store and feel no qualms about it!
But if you like, you can make them homemade. You can fry them in a few tablespoons of olive oil or neutral oil. Heat to medium high heat and then grab a couple of baking sheets full of corn tortillas cut. Fry them in batches in the shallow oil and transfer them to a paper towel to absorb some of the oil.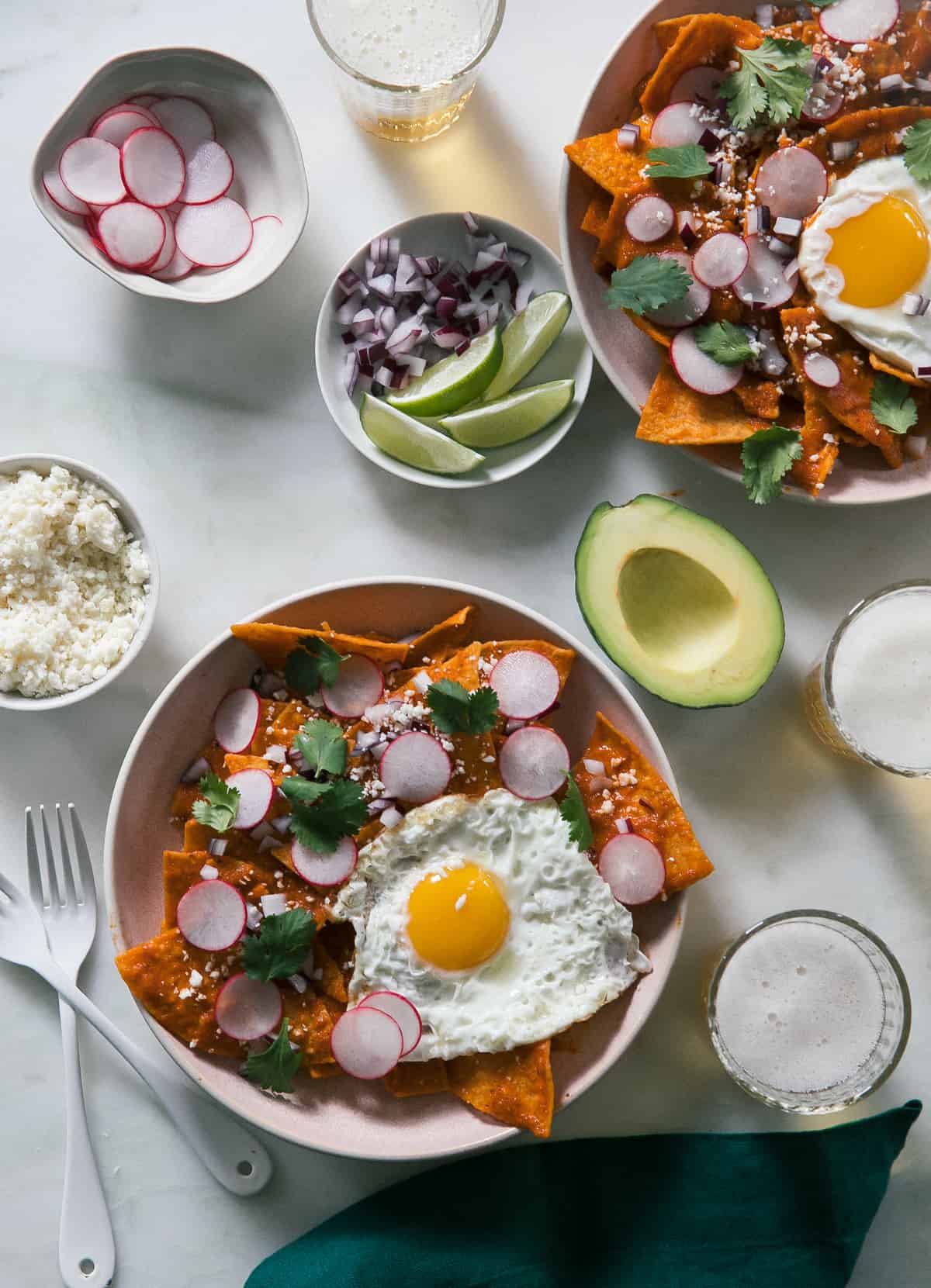 How to Make Chilaquiles
I like to make the sauce for chilaquiles from scratch. It seems harder that it actually is. And of course, if you're in a pinch, feel free to crack open a can of red chile sauce/enchilada sauce from the grocery store.
Here's how to make it:
In a medium pot, you want to heat up some oil and then sear up the tomatoes. As a result, the tomatoes will be a bit softened. Remove the tomatoes and set them aside.
Next, you want to add the dried chiles, onion and garlic and sear those.
Add the tomatoes back to the pot with the dried chiles and then cover them with water or chicken broth.
During this time, the simmering of the water will rehydrate the chiles and soften up the tomatoes even more. In turn, this will make them easy to blend.
Pour everything into the blender and puree until very smooth. Next, return it to the pot and cook it until it reaches a simmer. Turn the heat down and let it cook for a bit.
And then, you want to fry up your eggs and get all of the garnishes ready.
Toss the sauce with the tortilla chips. And then, top the fried eggs on top and garnish with red onion, cilantro, crumbled cotija cheese and limes. As a result, you'll have runny eggs on top. yum!
Tips and Tricks on Making Chilaquiles
Be sure to allow the dried chiles to cook in the water mixture for the full amount of time. You really want them to be softened so they blend up easier.
You can make the sauce up to 3 months in advance. It freezes amazingly well! It also keeps in the fridge for up to 1 week. The sauce is the most labor-intensive part of this recipe so be sure to make it ahead if you like!
Heat up the sauce until it reaches a simmer. You want it to be super hot because when you add the tortilla chips, it brings the temperature down.
Get all of your garnishes ready before you toss everything together. The ending of this recipe comes together very quickly.
If you're really in the mood, I'll sometimes toss the chips with the sauce, sprinkle on jack cheese or Oaxacan cheese and stick them under the broiler. And then proceed with the garnishes.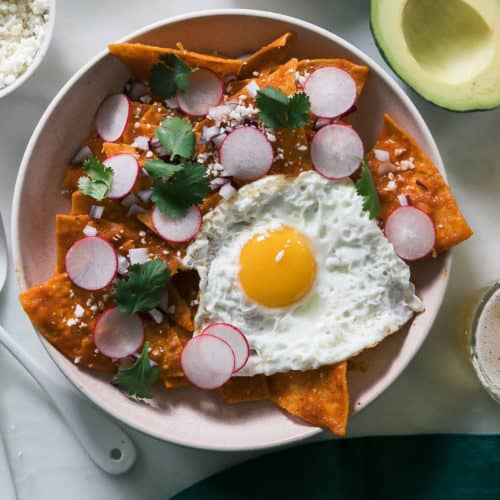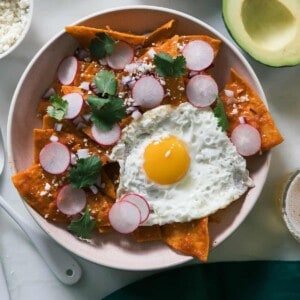 Chilaquiles is a traditional Mexican breakfast dish that is made up of a red sauce tossed with tortilla chips and cooked until softened with eggs on top!
Ingredients
Chilaquiles Sauce:
1

tablespoon

vegetable oil

6

roma tomatoes

1/2

white onion

,

peeled and stem cut off

3

garlic cloves

,

peeled and smashed

2

dried guajillo chiles

2

cups

water

2

teaspoons

kosher salt

,

plus more to taste
Assembly and Toppings
1

(5-ounce) bag of tortilla chips of choice

2-3

large eggs

,

for topping

1

radish

,

thinly sliced

2

ounces

queso fresco or cotija

,

crumbled

1

avocado

,

sliced

Diced red onion

,

for topping

Handful of cilantro leaves

,

for topping
Directions
To Make the Chilaquiles Sauce:
In a big saucepan or Dutch oven, set over high heat, add the vegetable oil. When the oil is hot, add the roma tomatoes and sear on first side for about 3 to 5 minutes, flip, using tongs, and sear on the opposite side for an additional 2 minutes. You may need to do this in batches. Remove the tomatoes and set them aside in a bowl or on a cutting board.

Next, add the onion, garlic cloves and guajillo chiles, searing and toasting them for about 2 to 3 minutes. Take a peek at the onion and if it needs more time, leave it for an additional minute or two. Remove the onion and garlic cloves and set them aside. Add the tomatoes back to the pot with the chiles and add 2 cups of water. Cover the pot and cook for about 10 minutes. This will soften the tomatoes quite a bit and soften the chiles too.

To a blender, add the mixture from the pot (the chiles, garlic cloves, onion and water). You may need to blend this sauce in batches, depending on how big your blender is (I had to do in batches). While you blend it, make sure you allow a bit of steam out of the blender, about about 1 minute, until super smooth.

Add back to the pot and cook, uncovered, for 10 minutes. Bring to a simmer. Give it a taste and adjust the salt to your liking. I needed about 1 teaspoon.
To Assemble the Chilaquiles:
Get your garnishes ready because the end of the dish happens quickly. Bring the sauce to a rapid simmer (you want it hot!). And fry up your eggs.

Add the tortilla chips to the pot with the sauce and toss until they're evenly coated. It may be easier to do this in a large bowl (you can add the tortillas to a large bowl and ladle the sauce over it).

Divide the chips amongst plates and top with the a fried egg, a handful of sliced radishes, crumbled queso fresco, cilantro leaves and avocado, if you like.
Notes
To Make Ahead: 
This sauce can be made up to a week ahead and kept in the fridge. 
This sauce also freezes well. Keep in a freezer-safe container or bag for up to 3 months. Thaw in the fridge. 
Equipment:
Substitutions: 
*If you can't find queso fresco and cotija, feta cheese is a reasonable substitution! 
*If you're feeling super lazy (it's ok I won't judge you), you can buy a can of enchilada sauce. I would warm it and bring it to a gentle simmer; cook for about 10 minutes. This will get rid of the can-flavor that can sometimes be present. Proceed with tossing the chips and top with eggs and garnishes. 
Nutrition Facts
Chilaquiles Recipe
Amount Per Serving (2 g)
Calories 179
Calories from Fat 126
% Daily Value*
Fat 14g22%
Cholesterol 10mg3%
Sodium 1285mg56%
Potassium 512mg15%
Carbohydrates 10g3%
Protein 5g10%
Vitamin A 962IU19%
Vitamin C 19mg23%
Calcium 107mg11%
Iron 1mg6%
* Percent Daily Values are based on a 2000 calorie diet.
If you end up making these Chilaquiles, let me know on Instagram!
Looking for more Mexican-inspired Recipes? Because I have a few you might enjoy!