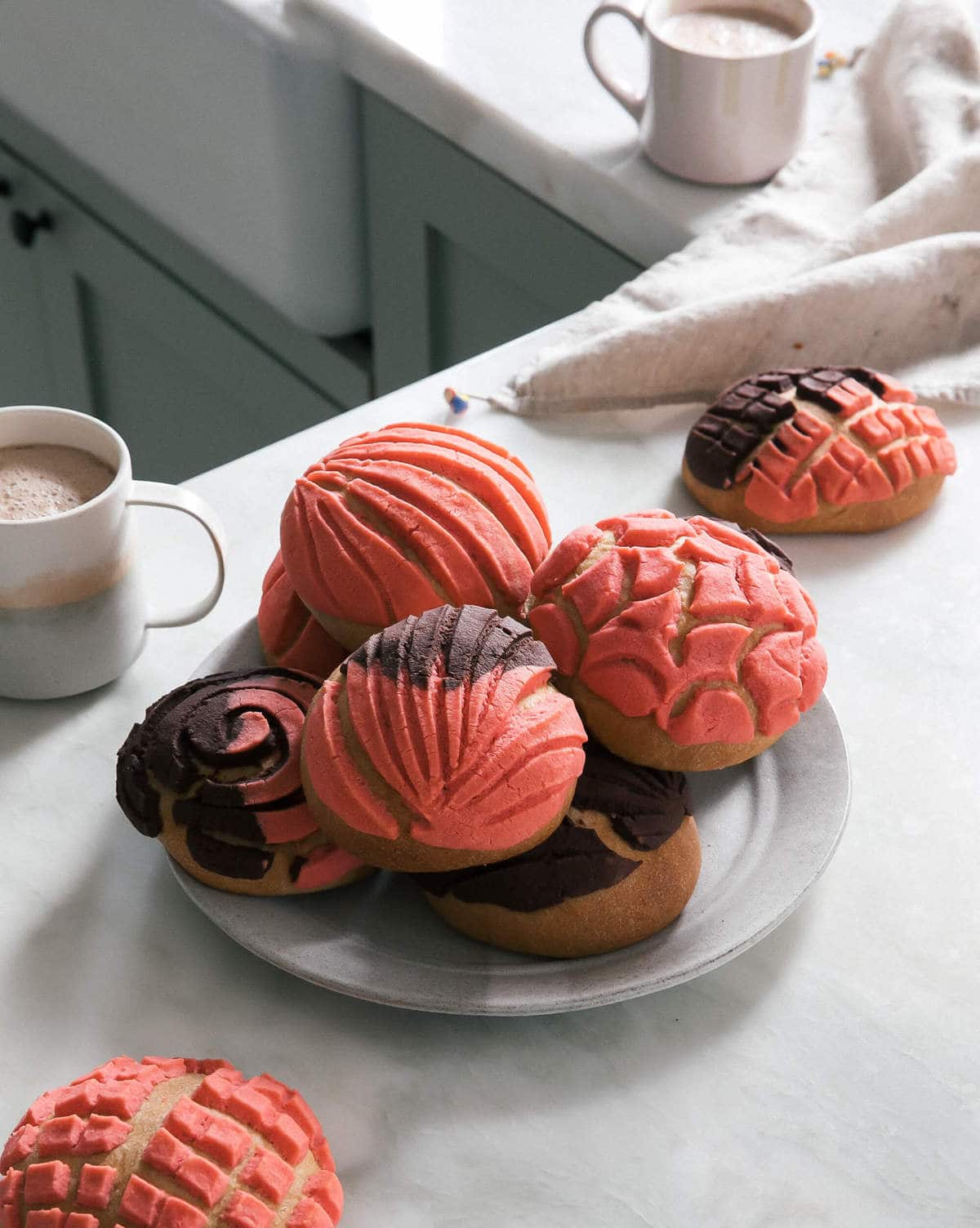 Let's talk about Mexican conchas which are also known as pan dulce!
Sweet Bread literally translates to pan dulce in Spanish. While conchas translates to seashell. Makes sense given that conchas look like seashells!
When I moved back to California after I graduated college, I realized I literally knew nothing about Mexican food. I, of course, had eaten a good amount of Mexican food when I lived in the OC as a little kid. But I don't think I understood what I was eating. I also don't think we ate a huge variety of Mexican food. And to be honest, my mom cooked most of the meals we ate. We weren't a super "go-out-to-eat" type of family. That woman was on a budget!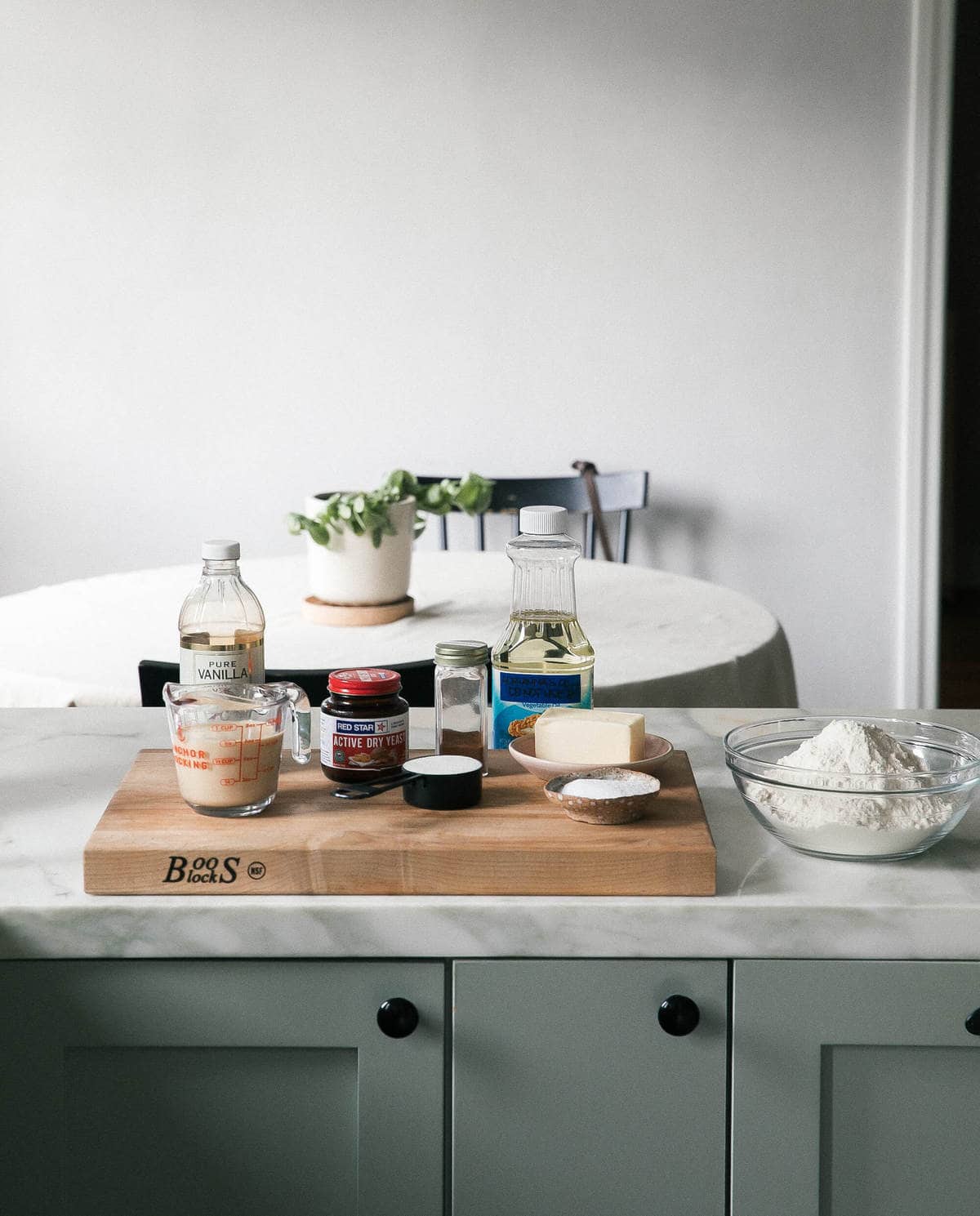 When I finally moved back to Los Angeles, after college, I started to really understand and learn the different varieties of Mexican food and it was cool. I learned the differences between food from Baja, Mexico City, Colima, the Yucatan and Oaxaca. And my actual trips to Mexico have been even more educational.
One of my favorite places I went to in Mexico City was a panadería where they served the warmest, freshest conchas with the crispiest tops.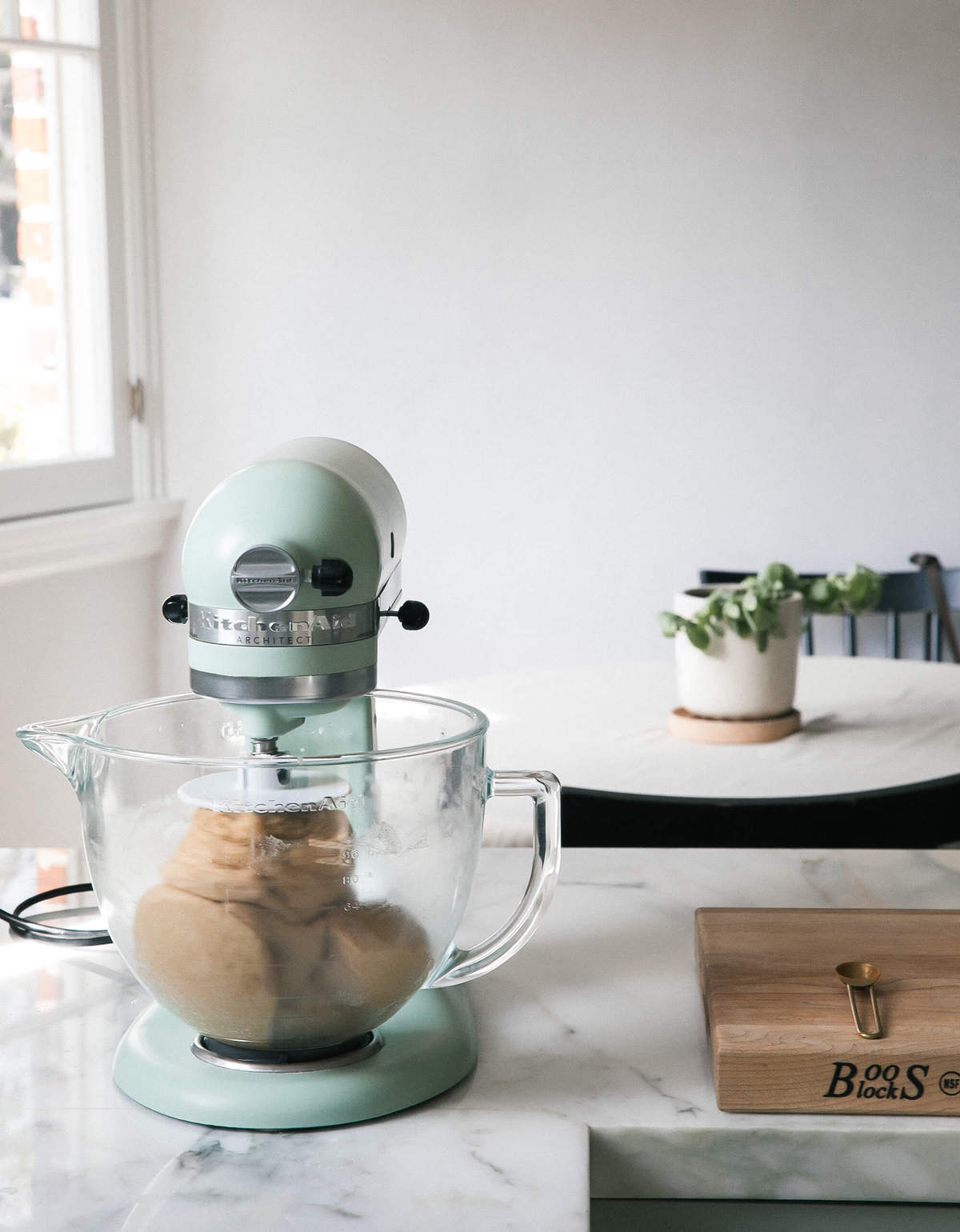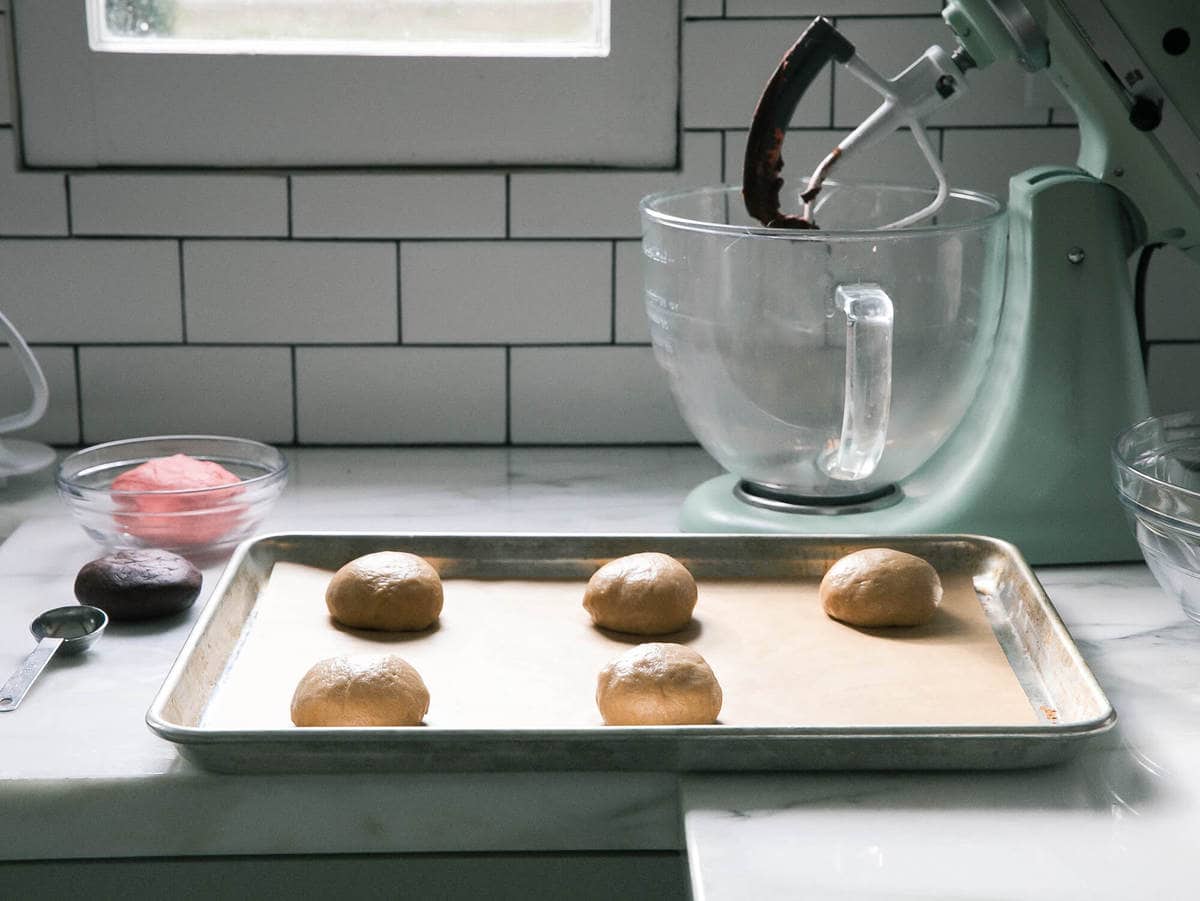 The Anatomy of Conchas/Pan Dulce
If you've never had a concha/pan dulce, they consist of this: on the bottom there is a brioche-like dough that's rolled into rounds. The top is a streusel-like shell that is mixed until it's super smooth, and then patted into a thin round and draped over the dough. Next, a concha-shaped cutter is pressed into the top. Since I don't own one, I used a knife to score it. The slats won't be perfect but  once the concha/pan dulce is baked up, you won't be able to notice. Then, the dough is baked after a quick rise.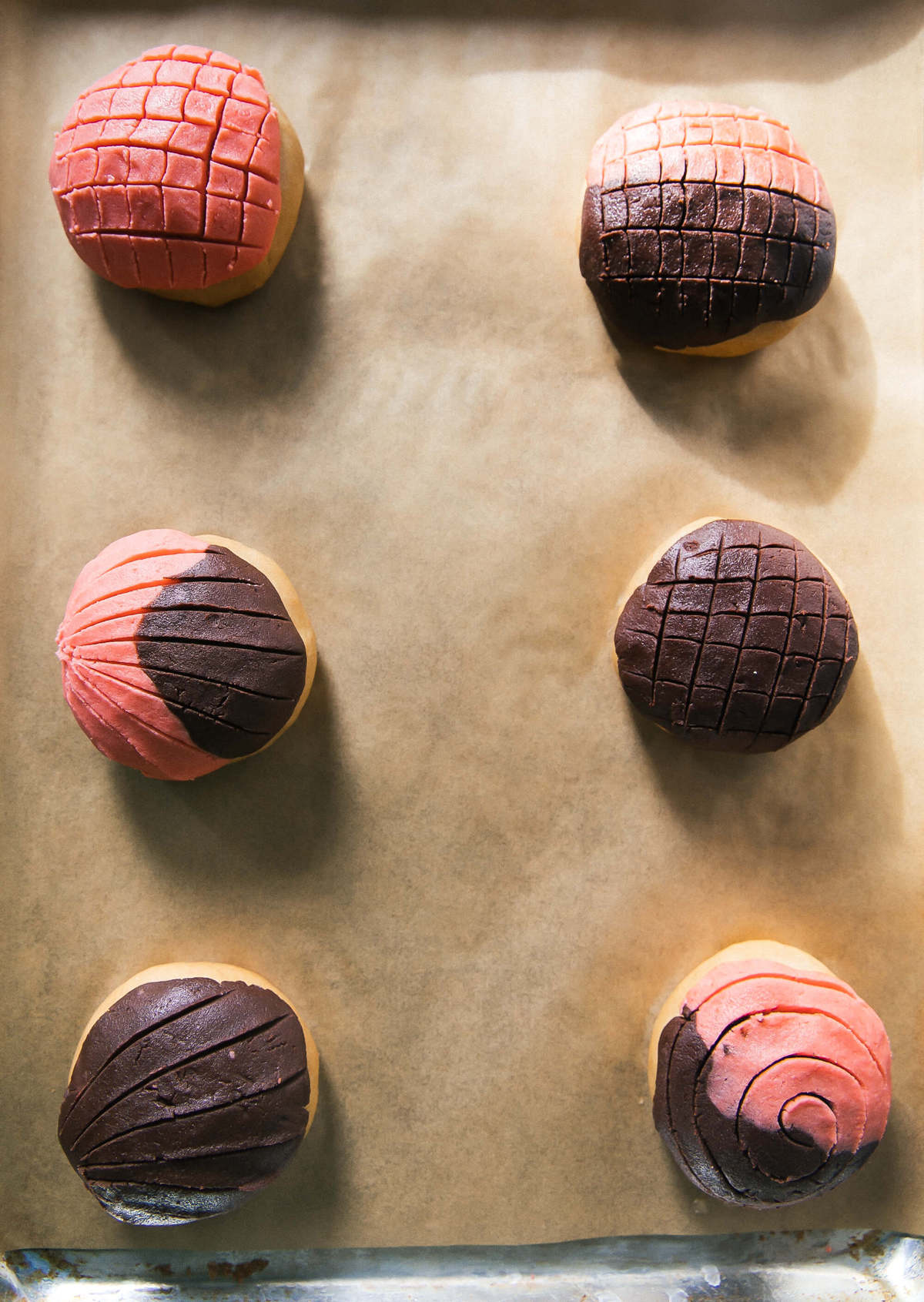 The top is crunchy and crisp, the bottom half, fluffy and soft. They're typically eaten at breakfast time with a mug of hot chocolate or coffee.
The Origins of Conchas/Pan Dulce
While conchas/pan dulce are for sure Mexican, their origins go back to Europe. Many panaderias were influenced by the French, who migrated there for who knows why, bringing their doughs and techniques to Mexico. Mexican chefs adapted these doughs and created many of the goods you see in panaderias today.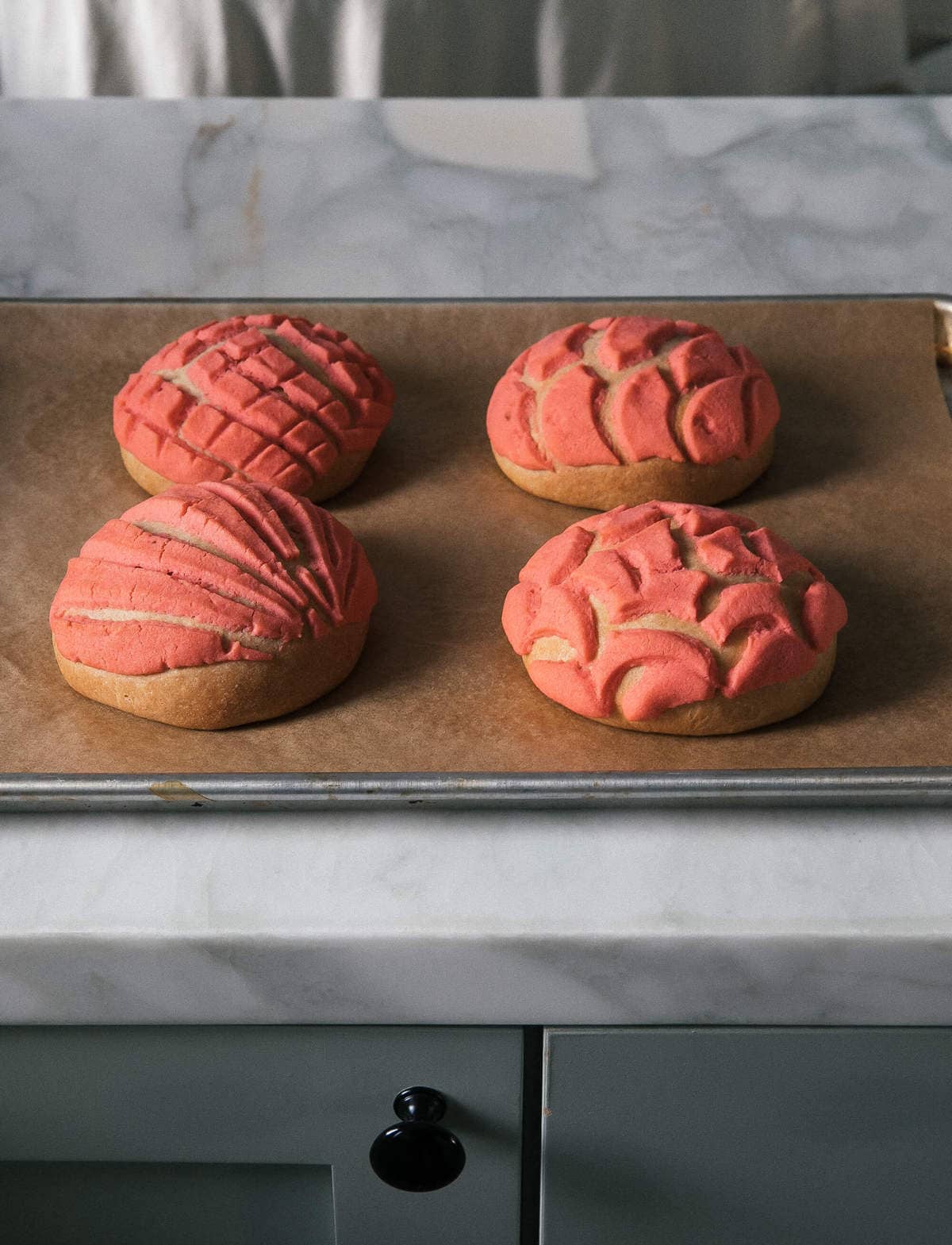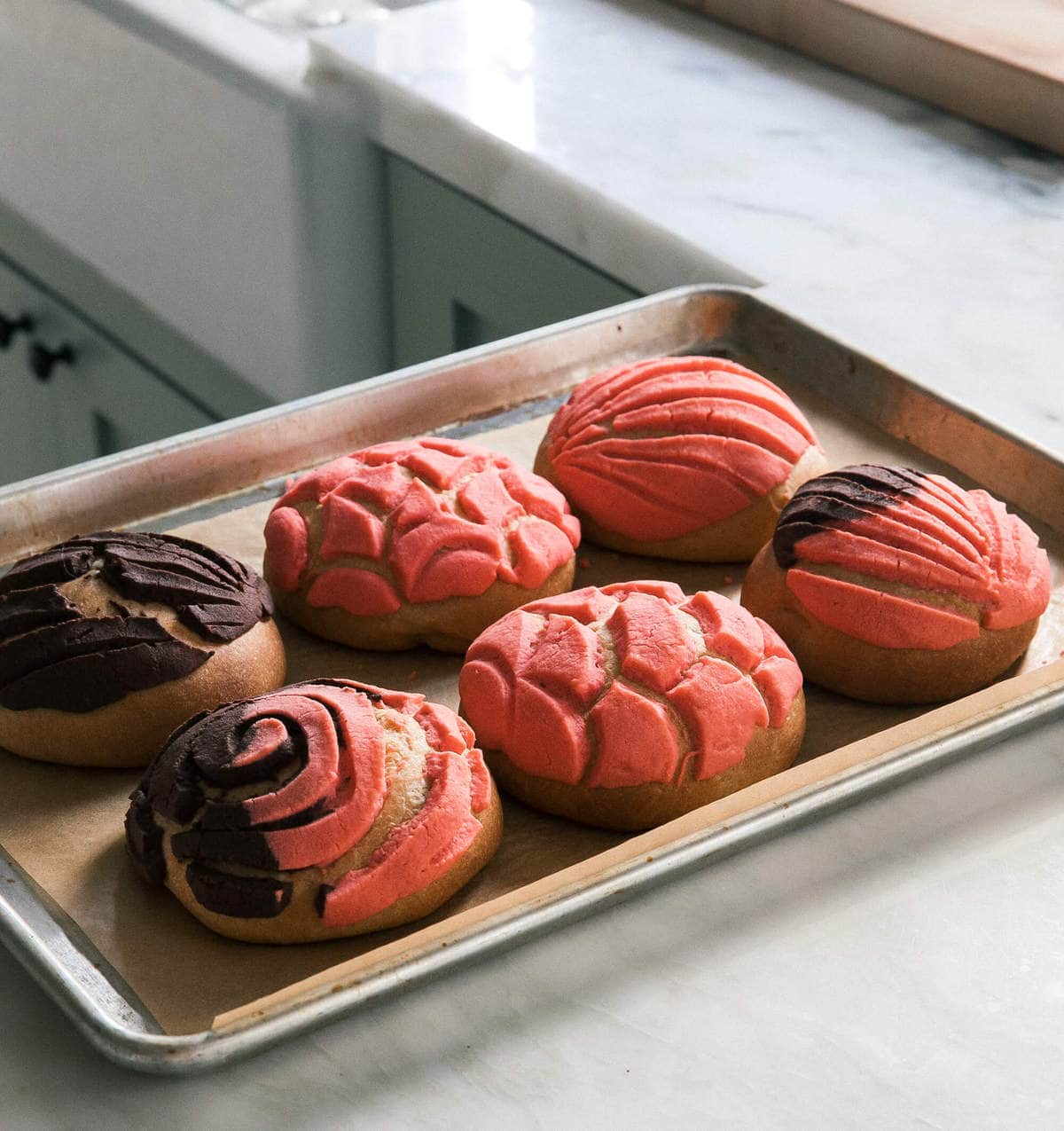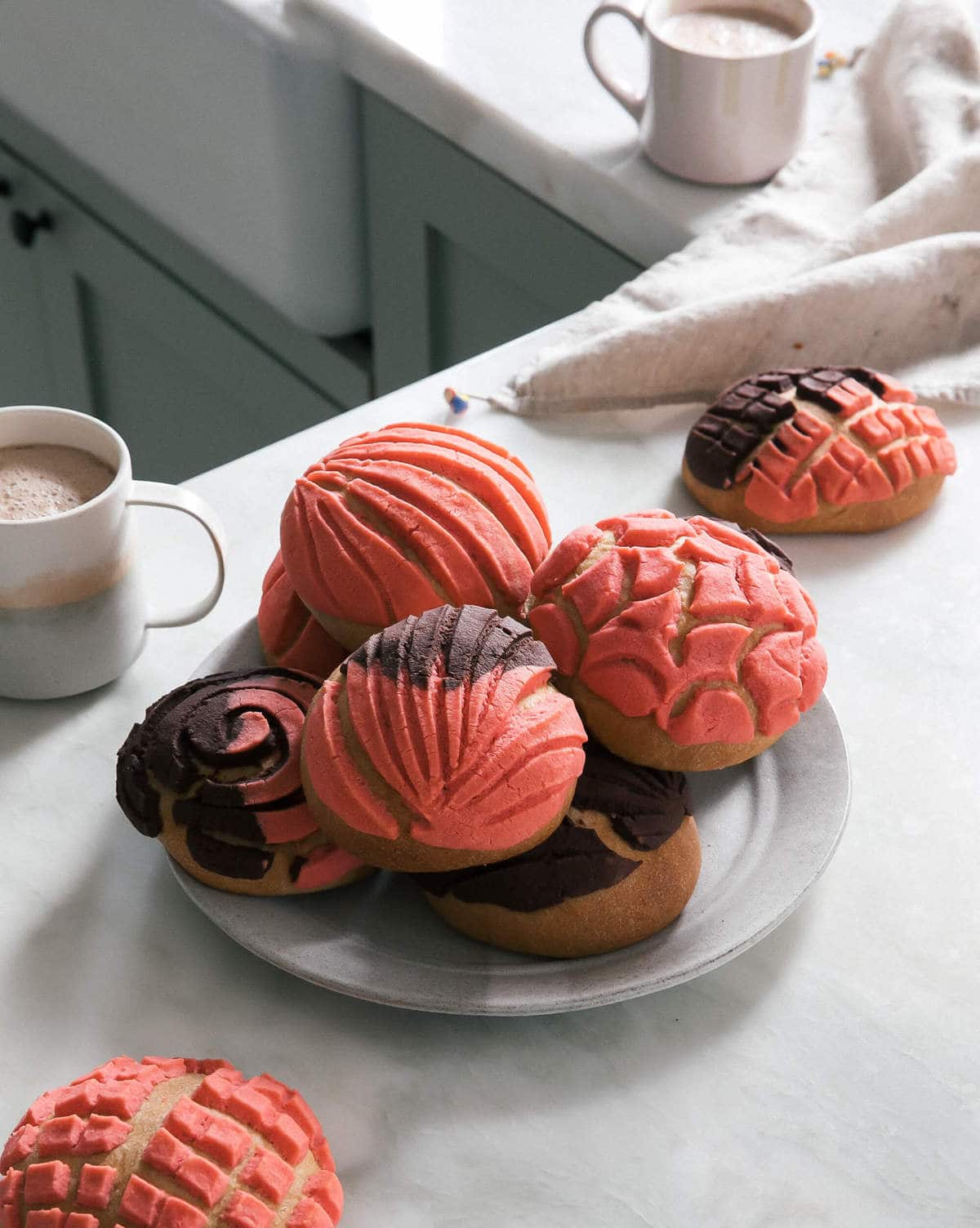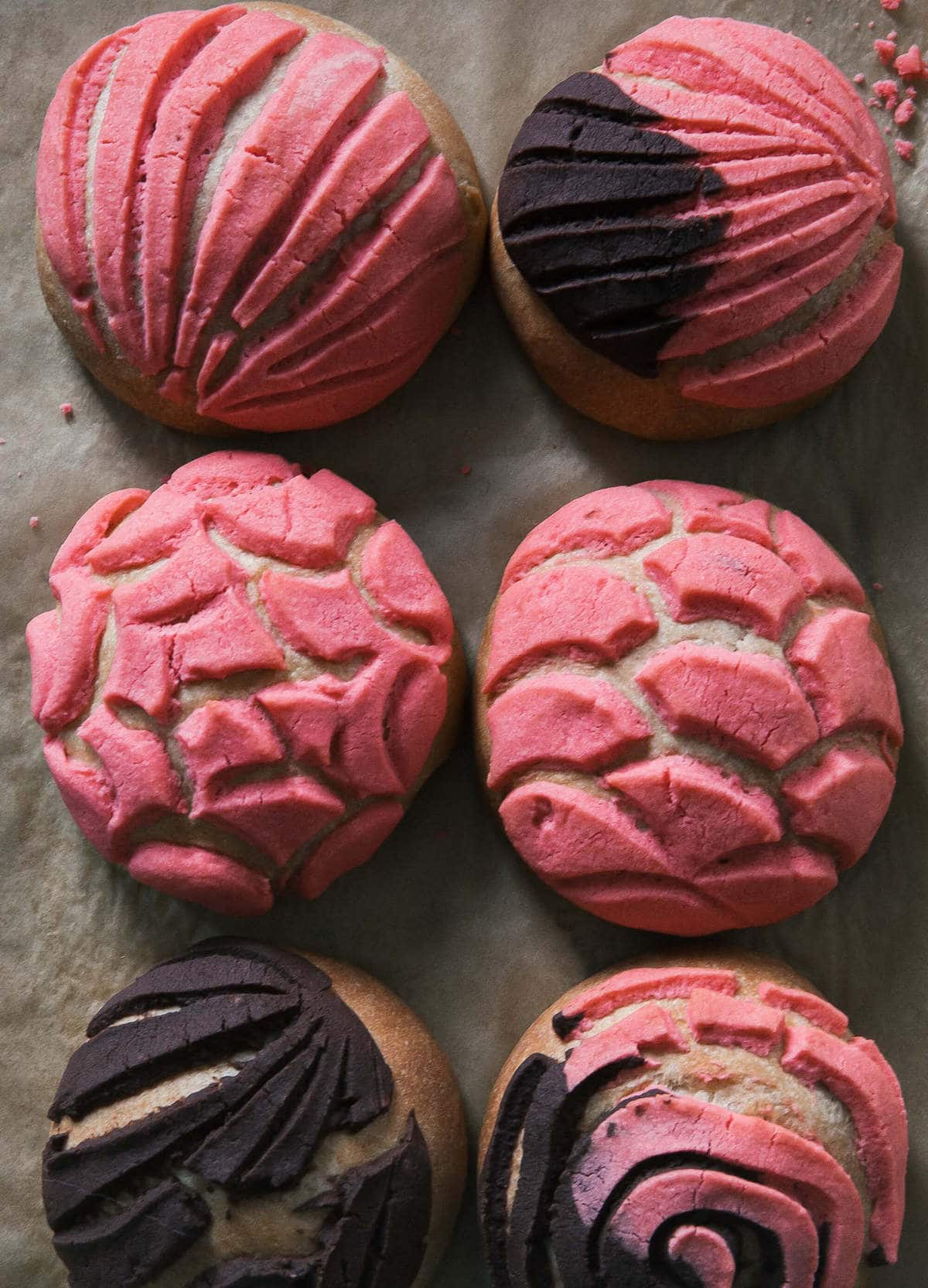 I love learning about history in food. It's truly fascinating, especially in Latin America. A few weeks ago, I bought a few books (they're on their way to me), that will teach me a thing or two about our food history.
I'll share more info when I learn it! In the mean time, let's make some Mexican pan dulce/conchas!
And of course, pair it with a few cups of fancy hot chocolate!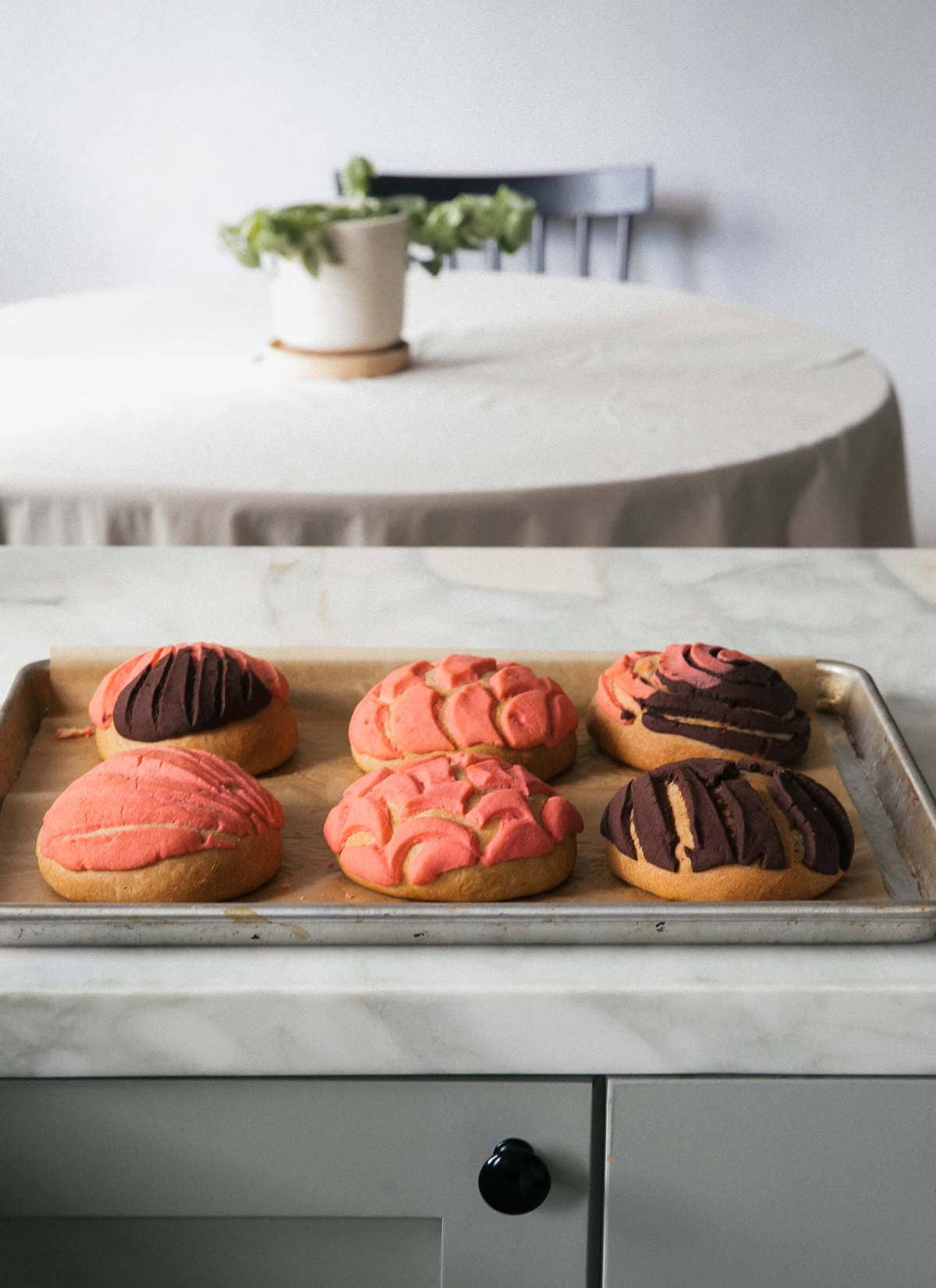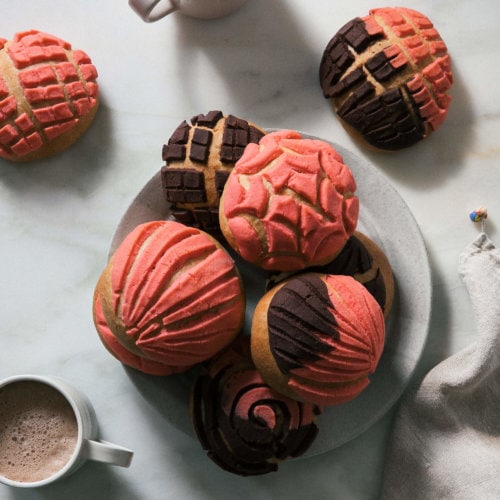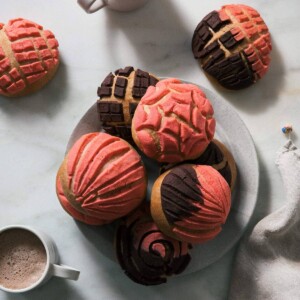 Conchas are also known as Pan Dulce and Sweet Bread. This Mexican breakfast item is made of a fluffy, butter brioche-like dough topped with a streusel topping that is scored. These colorful Mexican breakfast item is a crowd favorite.
Ingredients
Concha Dough:
3

tablespoons

warm water

2 1/2

teaspoons

active dry yeast

1/2

cup

melted butter

1

tablespoons

vegetable oil

1/3

cup

white granulated sugar

3/4

cup

evaporated milk (you can also use regular whole milk)

2

teaspoons

kosher salt

2

teaspoons

pure vanilla extract

2

teaspoons

ground cinnamon

2

large

eggs, at room temperature

4

cups

all-purpose flour
Streusel Topping:
1/2

cup

unsalted butter, at room temperature

2/3

cup

white granulated sugar

1

cup

all-purpose flour

1

teaspoons

pure vanilla extract

2

tablespoons

cocoa powder
Directions
To Make the Concha Dough:
To the bowl of a stand-up mixer with the hook attachment (you can also do this in a large bowl and knead it by hand!), add the warm water. Pour the active dry yeast on top and mix in into the water. Allow to stand until foamy, about 5 to 7 minutes. If it doesn't get foamy then you'll need to do it again.

When the active dry yeast is foamy, pour in the vegetable oil, melted butter, granulated sugar, evaporated milk, salt, vanilla, ground cinnamon and eggs. Break up the eggs with the back of a spatula and allow the dough hook to mix it up a bit, about 30 seconds.

Next, pour the flour in all at once and run the machine for about 5 minutes on medium speed, until the dough is soft and smooth. If you're doing this by hand, once the dough comes together, you'll want to dump it out onto your floured counter and knead it for about 10 minutes, until it's nice and smooth.

Rub a large bowl with oil or spray it with cooking spray and place the dough in the center of the bowl. Cover it with a clean kitchen towel and allow it to rise for about 1 hour, until doubled in size.
To Make the Streusel-Topping:
In the bowl of stand-up mixer with the paddle attachment (you could also mix this by hand if you don't have a mixer), add the butter, sugar, flour and vanilla extract. Mix until smooth, about 1 minute.

Divide the dough in two. To one part of the topping, add a drop of food coloring gel. To the other topping, add the cocoa powder and knead until it's cohesive.
To Assemble the Conchas:
Once the dough has risen, divide the dough into 12 equal parts. Or better yet, weigh them into balls of 100g. Form the balls of dough into rounds.

Repeat until you've worked through all of the dough.

Take about 2 tablespoons of the topping and rollout using our palms, flatting it into a thin round. Drape it over the round of dough, patting down lightly. Using a knife, cut grooves in the topping like a clam shell. You can also do other types of cuts like criss cross, circles, etc. Cover and let rise until nearly doubled, about 30 minutes.

Preheat oven to 350 degrees. Bake for about 18 to 20 minutes, or until lightly golden brown. Allow to cool. Serve with hot chocolate or coffee.
Nutrition Facts
Conchas (Pan Dulce - Sweet Bread)
Amount Per Serving (12 g)
Calories 289
Calories from Fat 101
% Daily Value*
Fat 11.2g17%
Cholesterol 56mg19%
Sodium 472mg21%
Potassium 125mg4%
Carbohydrates 39.7g13%
Protein 6.8g14%
Vitamin A 100IU2%
Vitamin C 0.1mg0%
Calcium 20mg2%
Iron 0.2mg1%
* Percent Daily Values are based on a 2000 calorie diet.