This Tres Leches Cake is absolute perfection. It's airy, light, decadent and delicious. This Latin American dessert consists a sponge cake topped with a three milk mixture. After the milk is absorbed it's topped with fluffy whipped cream and a sprinkling of cinnamon!
I've made this cake for years, YEARS and I only recently realized that I haven't shared it on this blog. So here we are. Let's dive into it, shall we! The basics:
What is Tres Leches Cake?
Tres Leches literally translates in english as "three milks." This cake consists of a single cake layer. A lot of times the sponge is airy and light, other times it's heavy and dense. People have different styles of this same cake so there is no "right way." Depending on what country you're from or even what region you're from within said country, the styles and texture of the sponge may vary.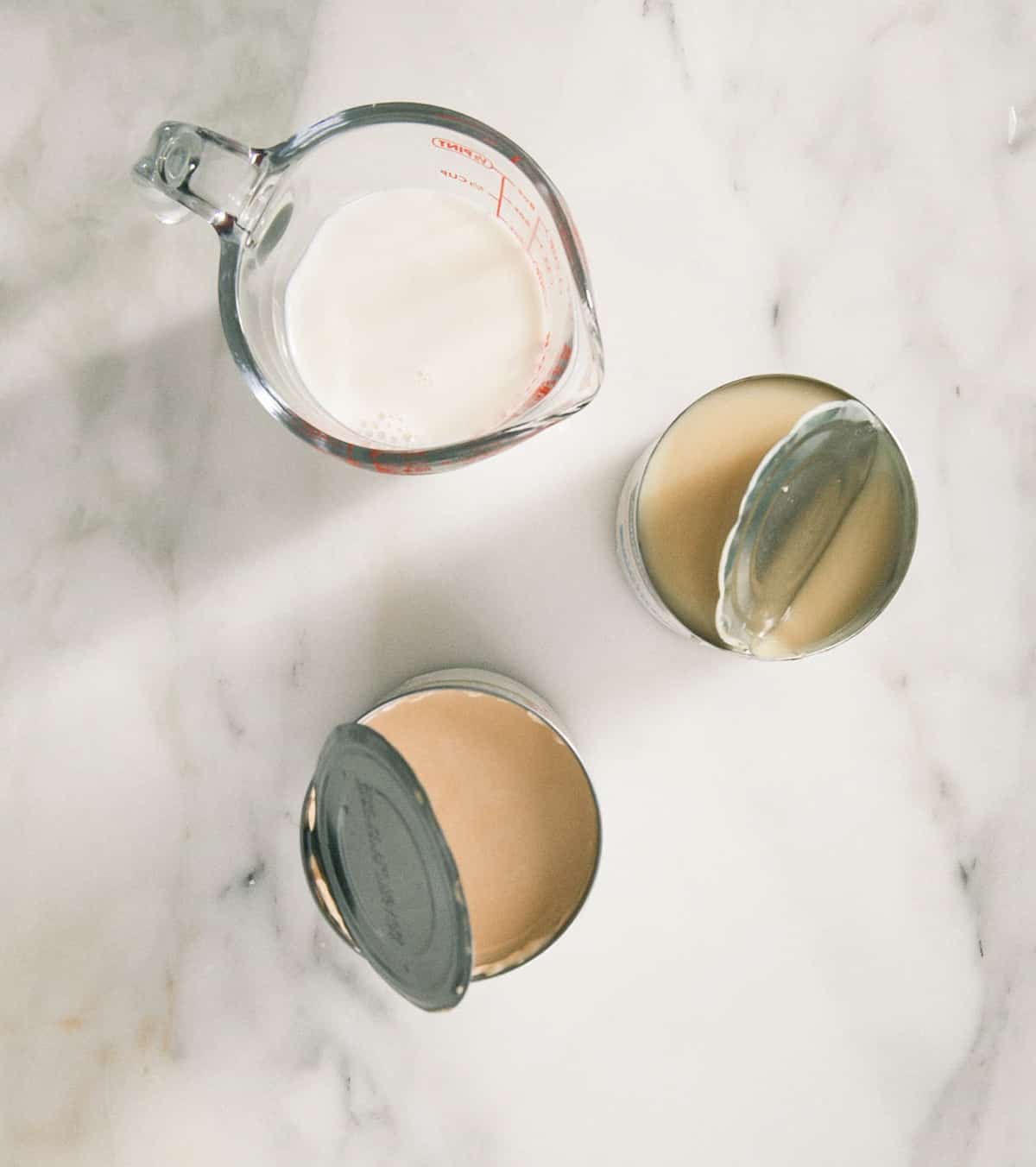 My favorite iteration is a super light and airy sponge. Though I've tried other super rich and buttery cake versions that are delicious too.
After the cake layer is baked, the sponge cools on the kitchen counter. Next, you poke small holes in the top of the sponge. The three milks are mixed together and then poured over cake.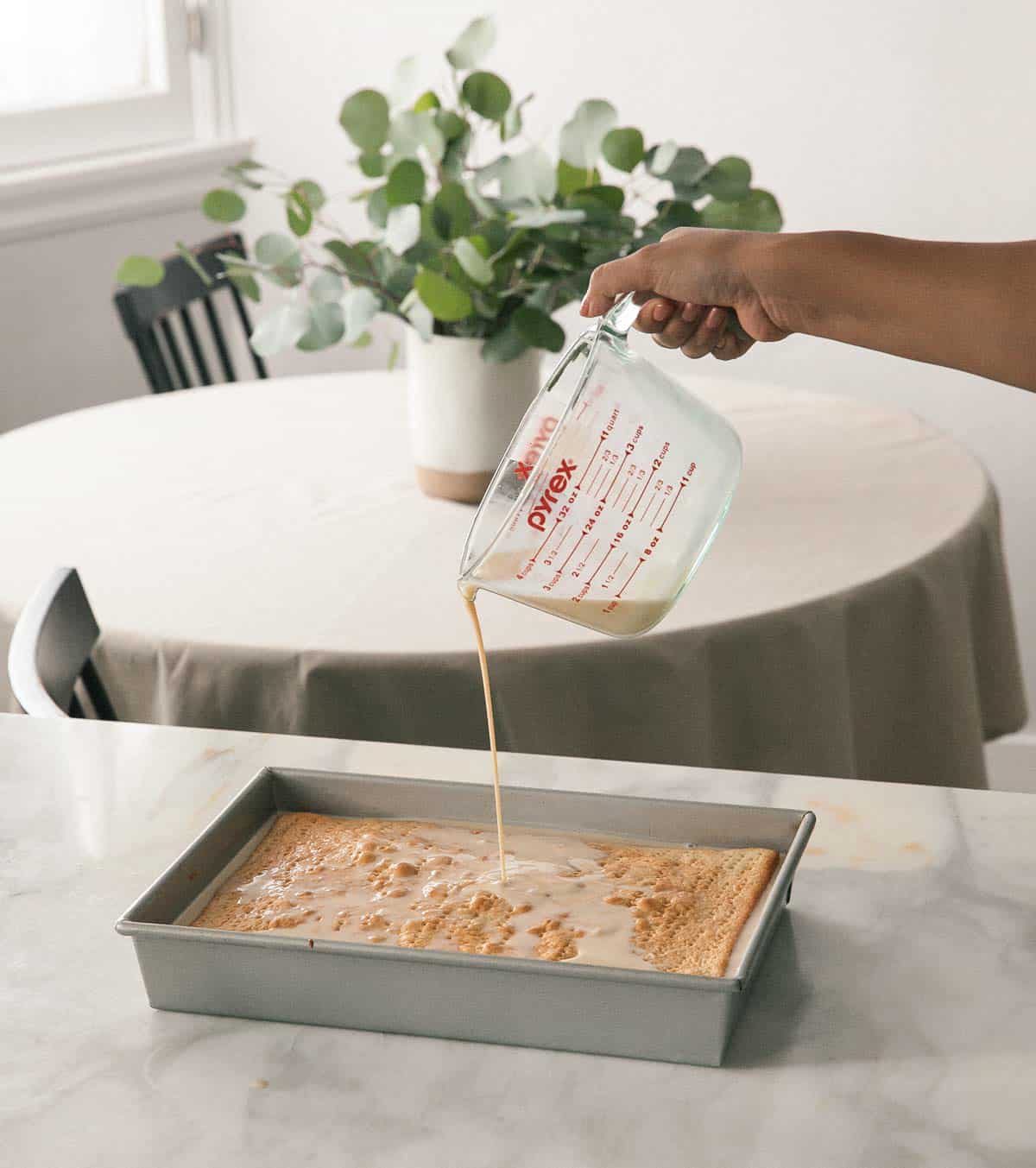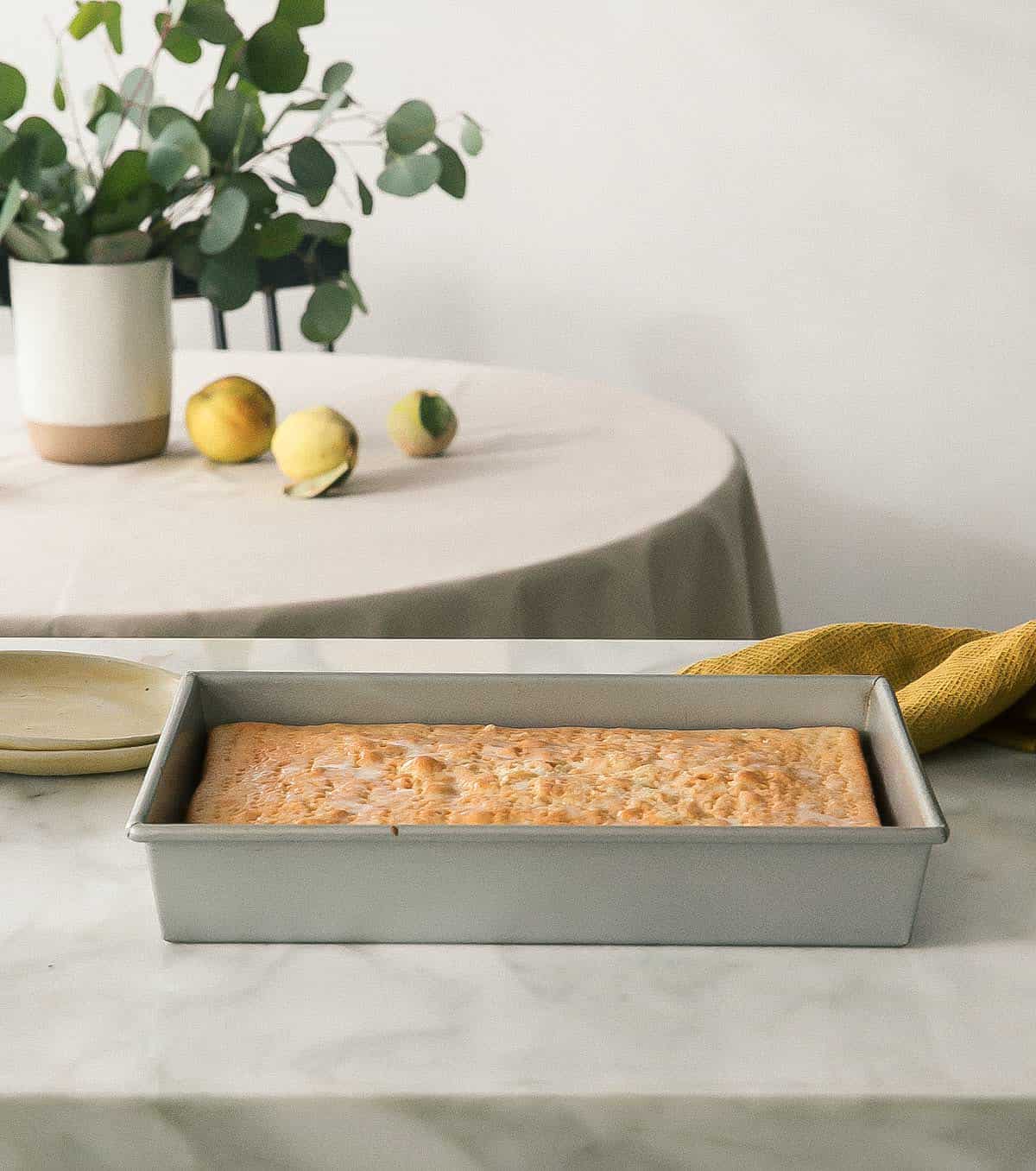 Where is Tres Leches Cake From?
Tres Leches is a cake that derives from Nicaragua.  A lot of different countries have slightly different iterations and takes on this cake. This is my version!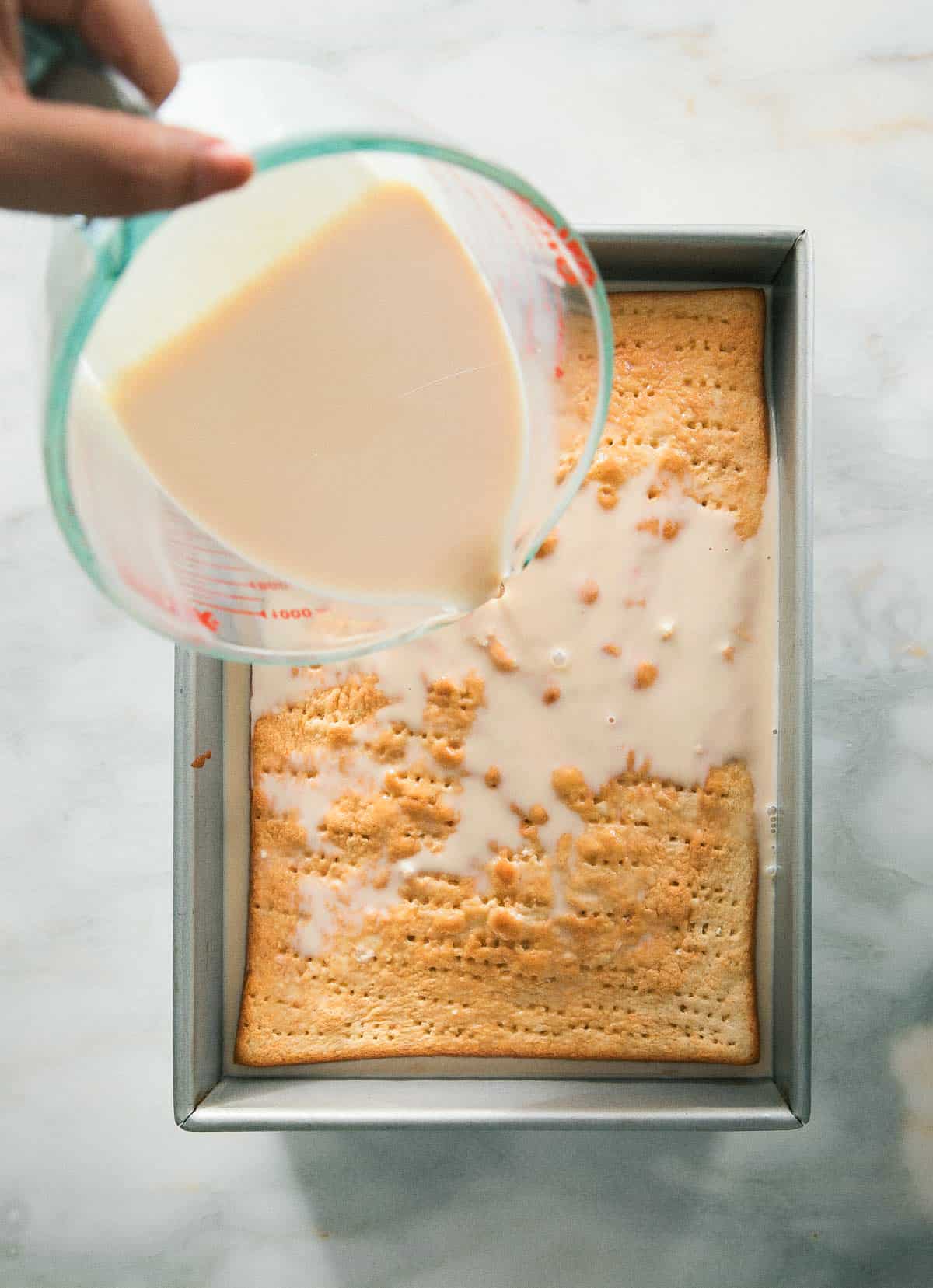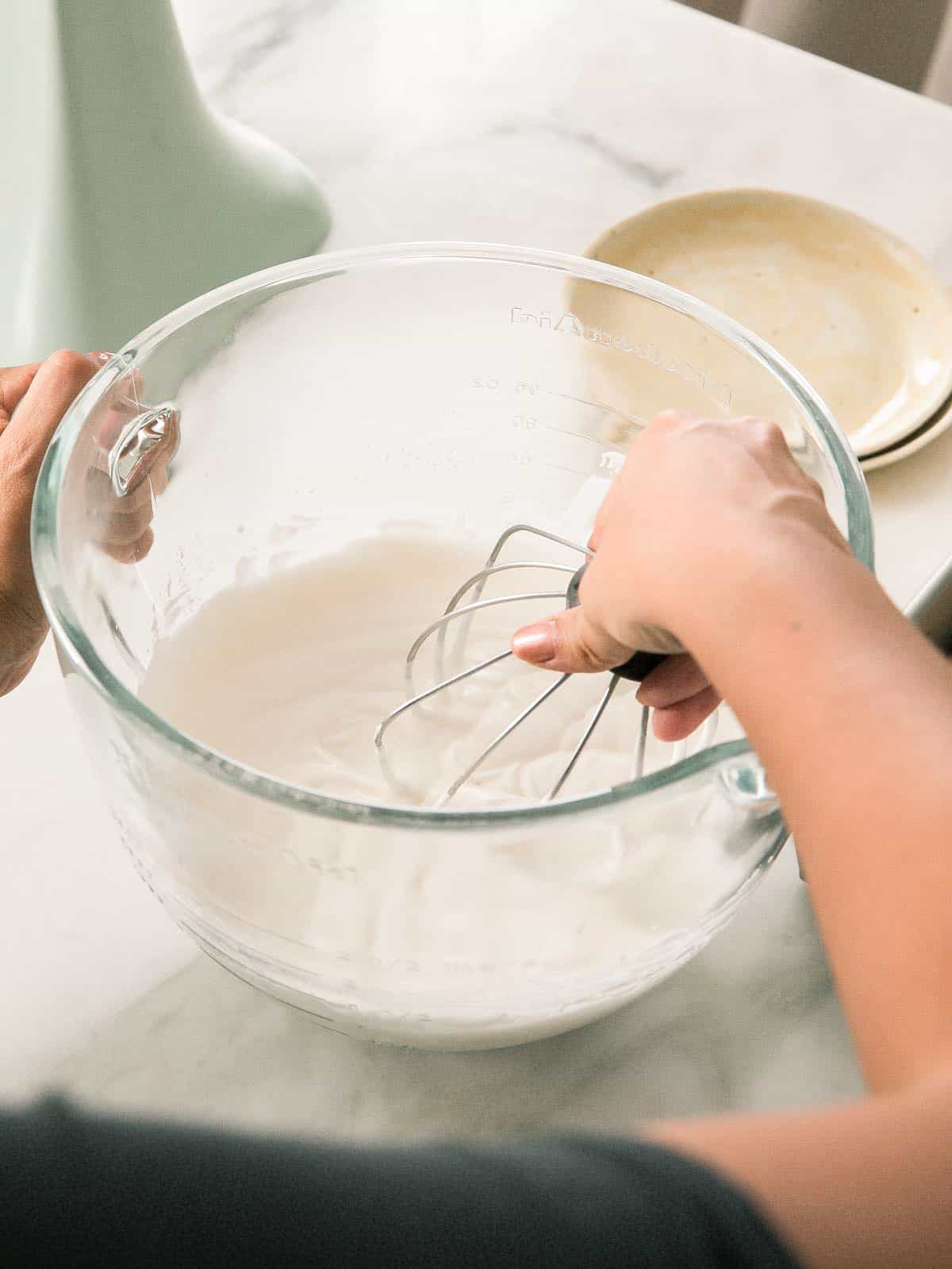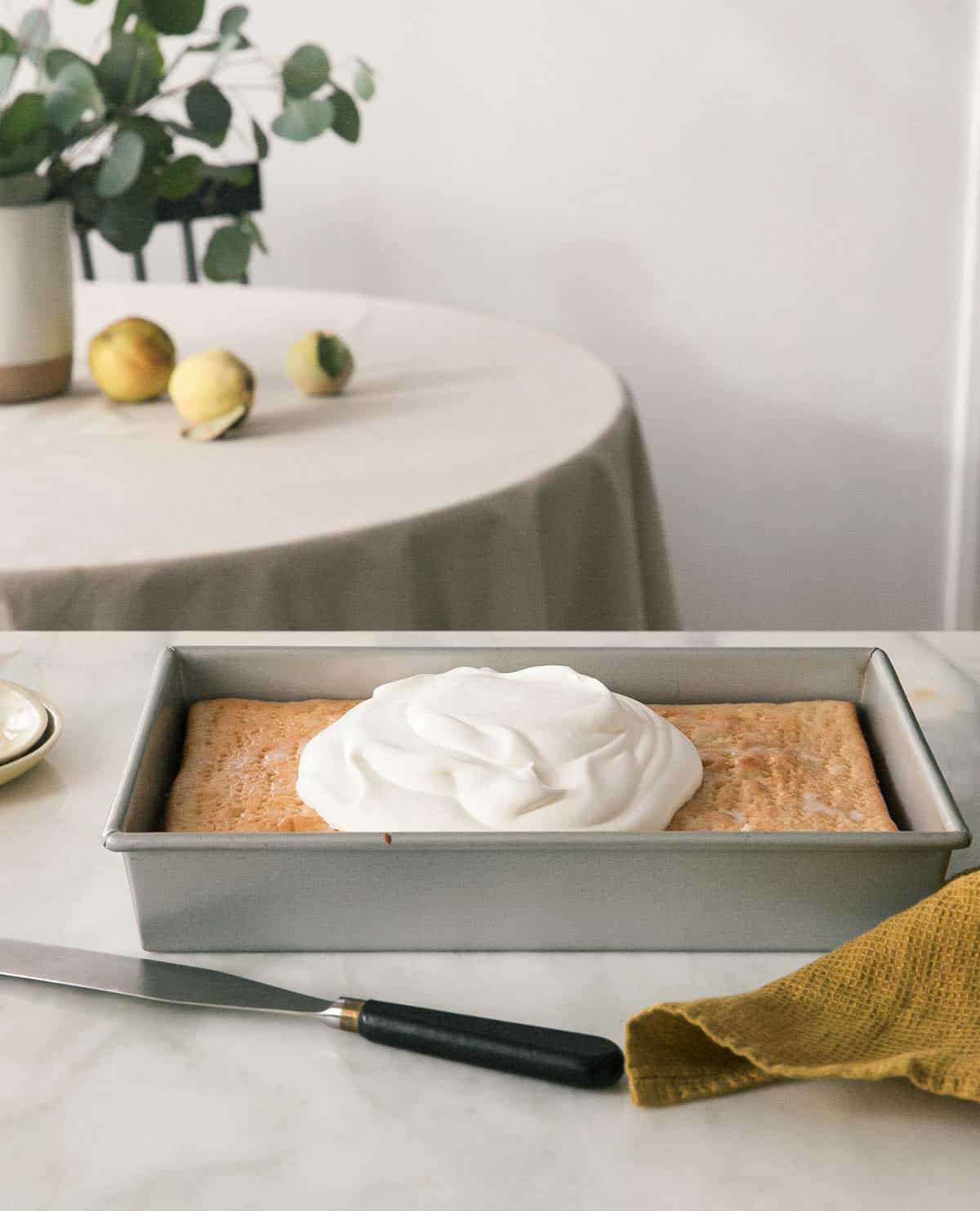 How to Make Tres Leches Cake?
The best part about tres leches is that it can be made ahead. It truly does need some time to cool and soak. If you don't soak the cake long enough, the cake will be a bit dry and a lot of the milk will be at the bottom or top of the cake.
Whisk together the dry ingredients – for this cake it's pretty standard: all-purpose flour, baking powder and salt.
Beat the egg yolks with the sugar – you really want to emulsify the egg yolks with the sugar and beat the two together until ribbons form and the color of the egg yolks turns to pale yellow.
Mix in the vanilla extract and milk – You then want to add the milk and vanilla extract to the egg yolks and whisk until they're smooth.
Pour the wet ingredients into the dry ingredients – You want to use a bit of a folding technique to combine the wet ingredients into the dry ingredients.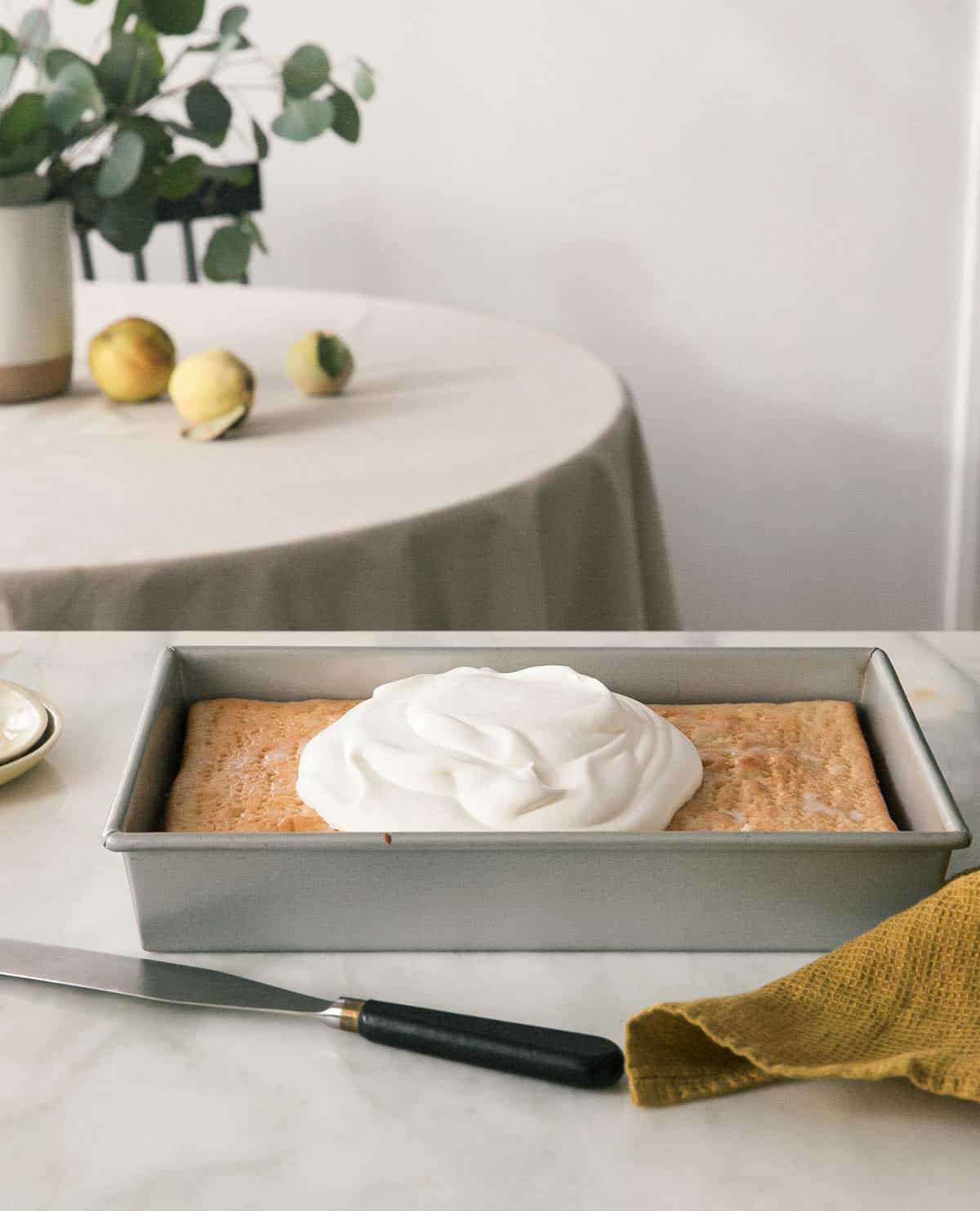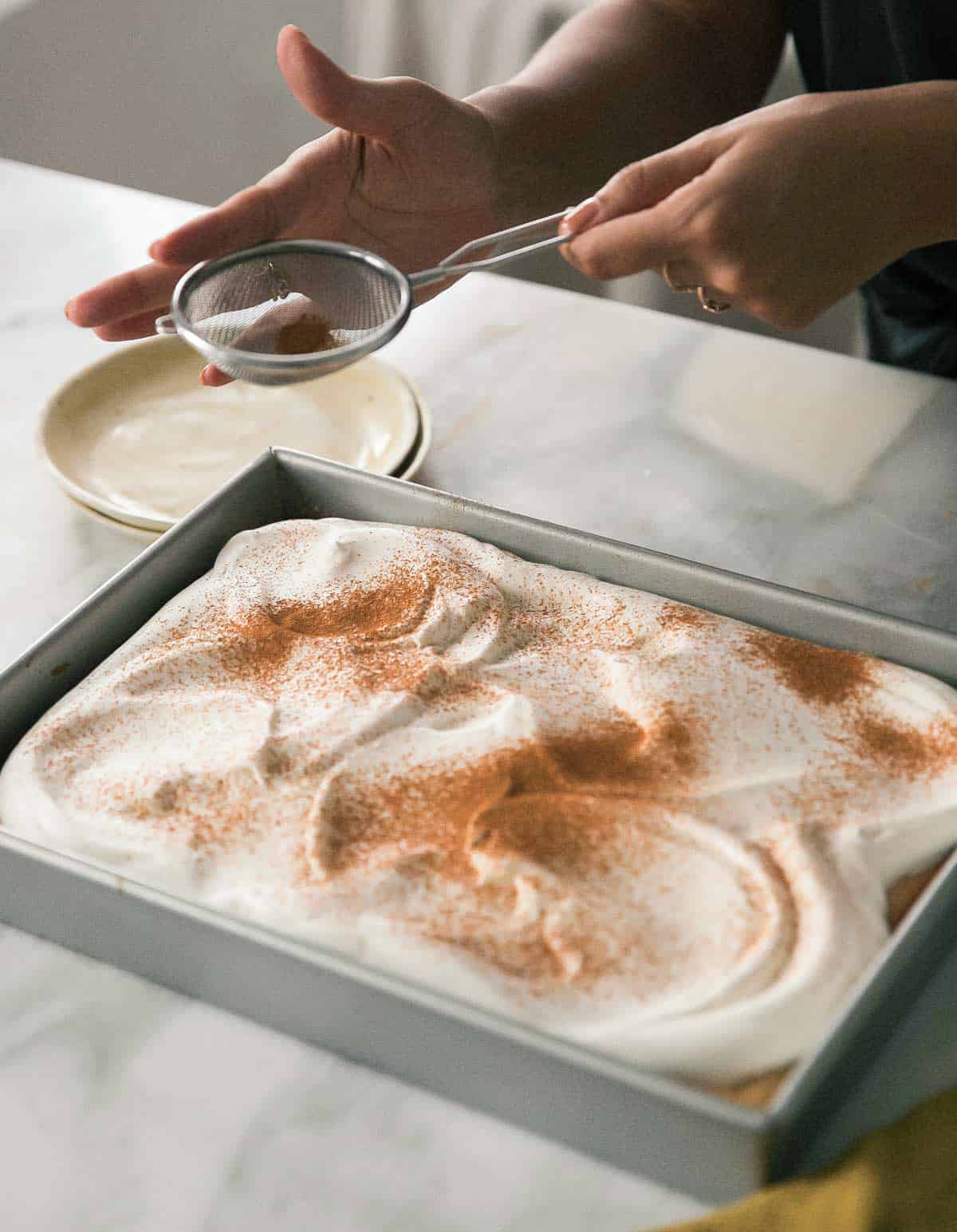 Beat the egg whites – You want to clean your mixing bowl thoroughly. And dry it. If there's any water, it may not beat until light and fluffy.
Fold the egg whites in – Lastly, you want to fold the fluffy egg whites into the batter until you no longer see any egg white bits. You really want to be gentle with this step as to not deflate the egg whites.
Bake it! – Next comes baking. This cake will shrink when it cools. That's a-ok.
Mix the milks – Add all of the milks to a large measuring cup, and whisk them al together.
Poke holes in the cake – Using a fork or a skewer, poke a bunch of holes in the cake.
Pour the milk mixture over the cake – It will seem like A LOT of milk, but don't worry, it will eventually be all soaked up by the cake.
How to Decorate Tres Leches Cake
While I love to add all sorts of buttercream flowers and such to random cakes, I keep this authentic tres leches cake recipe as simple ass possible. So this means, whipping heavy cream with a teeny bit of powdered sugar and smoothing it on top. And then I'll dust a bit of ground cinnamon on top.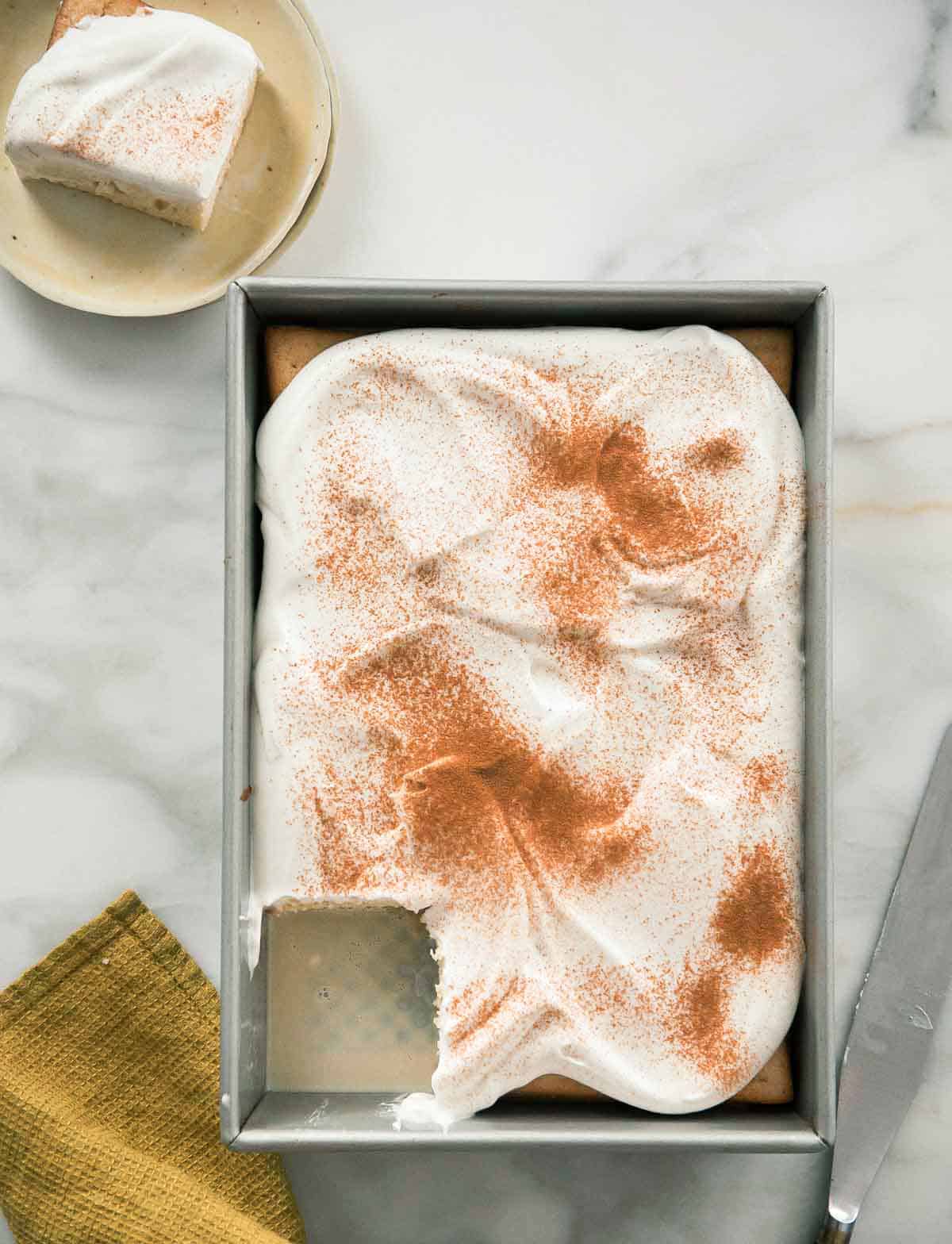 Tips and Tricks
Can you freeze tres leches cake? Yes! That's the best part. I would suggest baking the cake, allowing it to cool completely and then wrapping it tightly in plastic wrap. You can freeze it for up to 3 months.
To thaw the cake, I would transfer it to the fridge until it comes up to temperature. And then proceed with the soaking with the milks. You can actually place the cake back into the 9×13 pan to do this to avoid messes.
Other Versions of Tres Leches: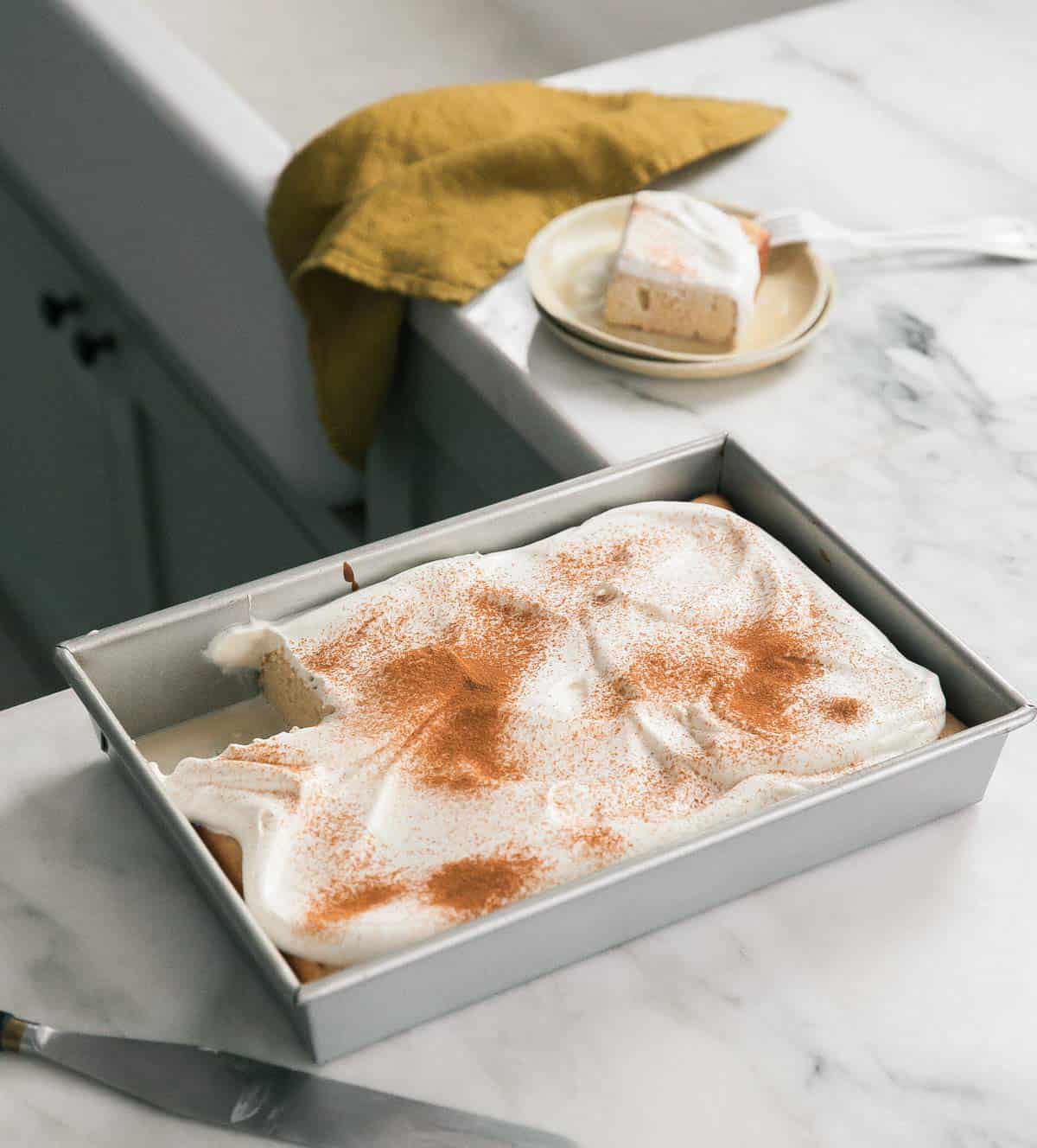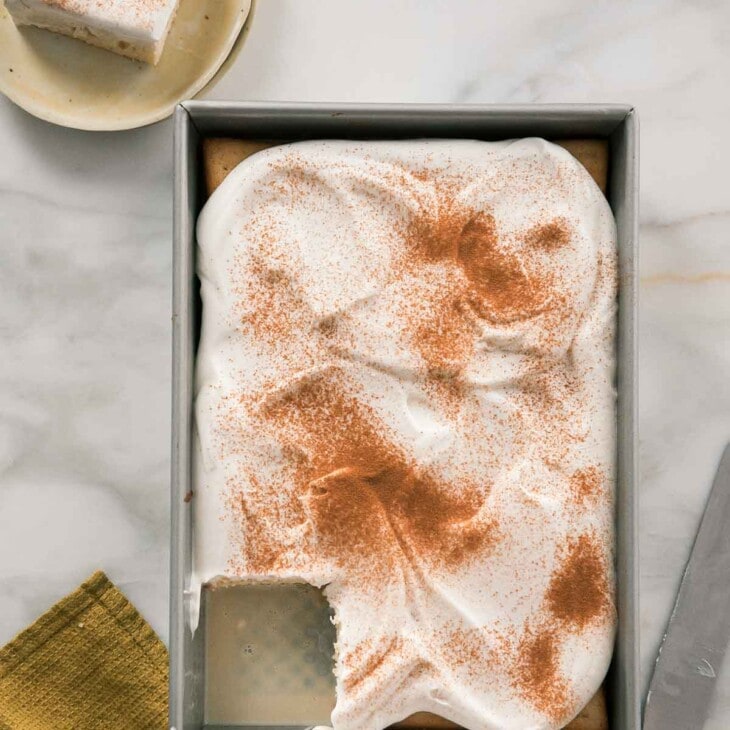 Print Recipe
Tres Leches Cake Recipe
This Tres Leches cake recipe is a Latin American classic. A sponge cake that is soaked in a mix of three milks and then topped with whipped cream and a dusting of cinnamon.
Ingredients
Cake:
1 1/2

cup

all-purpose flour

1 1/2

teaspoon

baking powder

1/2

teaspoon

kosher salt

6

large eggs

separated

1

cup

white granulated sugar

1 1/2

teaspoons

pure vanilla extract

1/2

cup

whole milk
Tres Leches:
1

(14-ounce) can of sweetened condensed milk

1

(12-ounce) can of evaporated milk

1/2

cup

whole milk
Topping:
1

cup

heavy cream

2

tablespoons

powdered sugar

sifted

Pinch of kosher salt
Instructions
To Make the Tres Leches Sponge Cake:
Preheat the oven to 350 degrees F. Grease a 9x13-inch pan and set aside.

In a large bowl, whisk together flour, baking powder and salt. Set aside.

In a stand-up mixer with paddle attachment, beat egg yolks and sugar until pale yellow and double in volume. Mix in the vanilla and the milk on low speed just until combined, then fold the egg yolk mixture into the flour mixture.

Clean and dry the egg yolk bowl. We're doing this because the egg whites won't have height if the bowl has any remnants of egg yolk and/or water. Add the egg whites and beat with the whisk attachment on high until stiff peaks about 3 to 4 minutes.

In two batches, fold the egg white mixture into egg yolk and flour mixture until you no longer see any bits of egg white.

Pour the batter into the cake pan and bake for 18 to 20 minutes. Cool the cake in the pan for about 30 minutes.
To Assemble + Topping:
In a large serving bowl or measuring cup, whisk together the sweetened condensed milk, evaporated milk and whole milk.

When the cake is cool, using a fork, poke holes in the top of the cake. I did it about 20 times, you really want to give a way for the milks to be absorbed by the cake. Pour the milk mixture over the cake (it may seem like a lot but it will absorb!). Transfer to the fridge to 2 to 3 hours, ideally overnight.

Just before serving, make the whipped cream! To a bowl, using an electric mixer, mix the heavy cream, sifted powdered sugar and salt until soft peaks form. Top the cake with the fluffy whipped cream. Garnish with a bit of ground cinnamon, if you like.

This cake stays good for about 3 days when stored in the fridge.
Equipment
Stand-up electric mixer or electric hand mixer
Nutrition
Calories:
209
kcal
(10%)
|
Carbohydrates:
32
g
(11%)
|
Protein:
3
g
(6%)
|
Fat:
8
g
(12%)
|
Saturated Fat:
5
g
(31%)
|
Cholesterol:
29
mg
(10%)
|
Sodium:
114
mg
(5%)
|
Potassium:
109
mg
(3%)
|
Fiber:
1
g
(4%)
|
Sugar:
19
g
(21%)
|
Vitamin A:
324
IU
(6%)
|
Vitamin C:
1
mg
(1%)
|
Calcium:
60
mg
(6%)
|
Iron:
1
mg
(6%)
If you make this on Instagram, let me know!
Looking for more Latin-inspired recipes? Here are some other favorites: