Black Sesame Coconut Popsicles
39
Jun 22, 2016, Updated Nov 27, 2023
Disclosure: This post may contain affiliate links, which means I may earn a commission if you click on the link and make a purchase.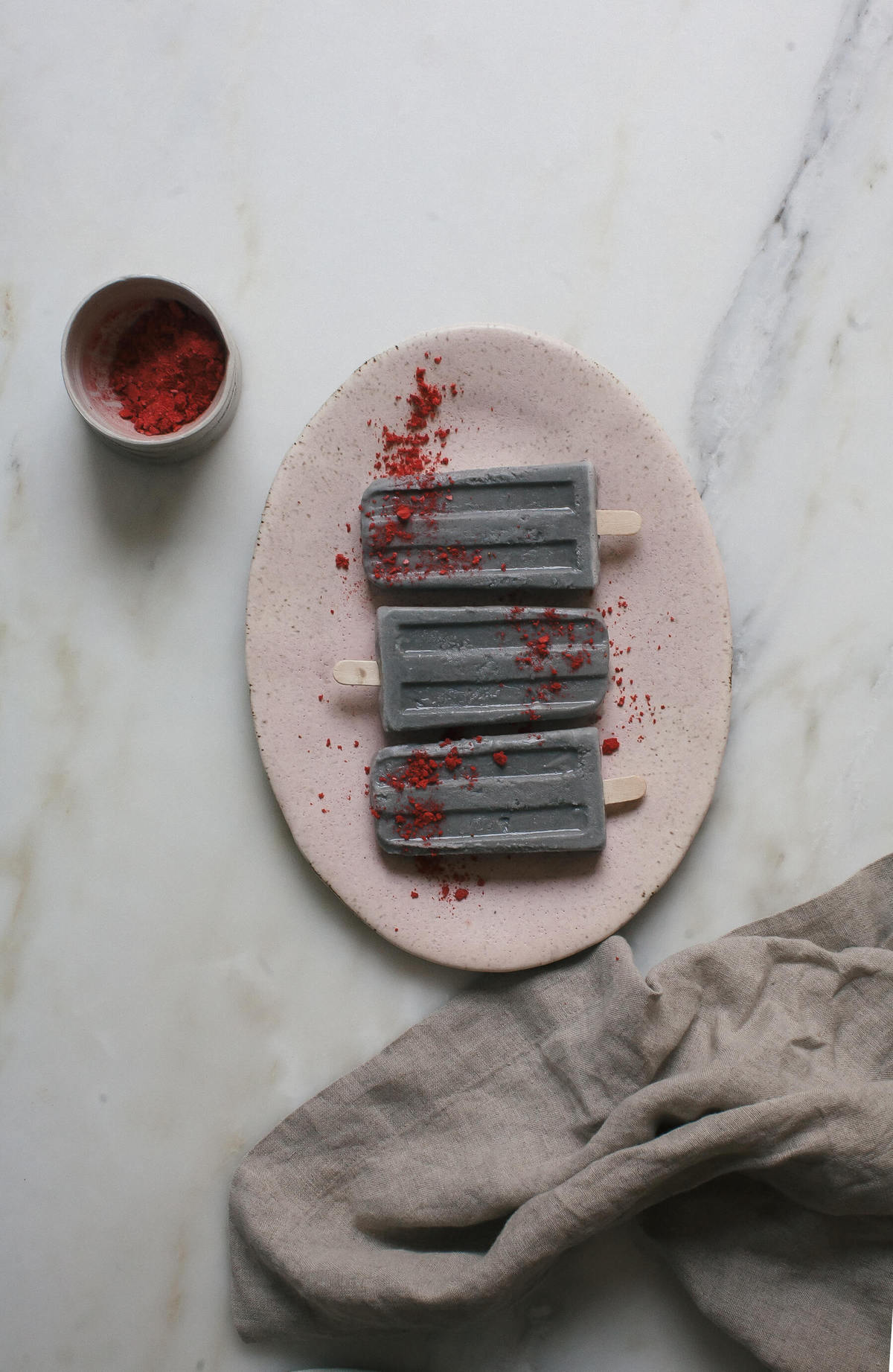 It's Popsicle Week!!!
I LOVE popsicle week. If you're unfamiliar, let me give you the low-down. Amelia's uncle and one of my favorite humans alive, Billy Green of Wit and Vinegar, hosts it every year. This year over 100 bloggers are participating!! WHAA!!! Amazing. You might've noticed this in your Instagram or blog reader this week and it's all bc of his passion for all things popsicles.
Last year I made these very fun and festive Funfetti Cake Batter Popsicles. This year I wanted to get a little bit more grown-up, a little more sophisticated. Enter: black sesame paste. It's one of my favorite ingredients (remember these cookies?). Think black tahini. That's basically what it is and tastes like. If you're having trouble finding black sesame paste, then just use tahini—it'll taste EXACTLY the same.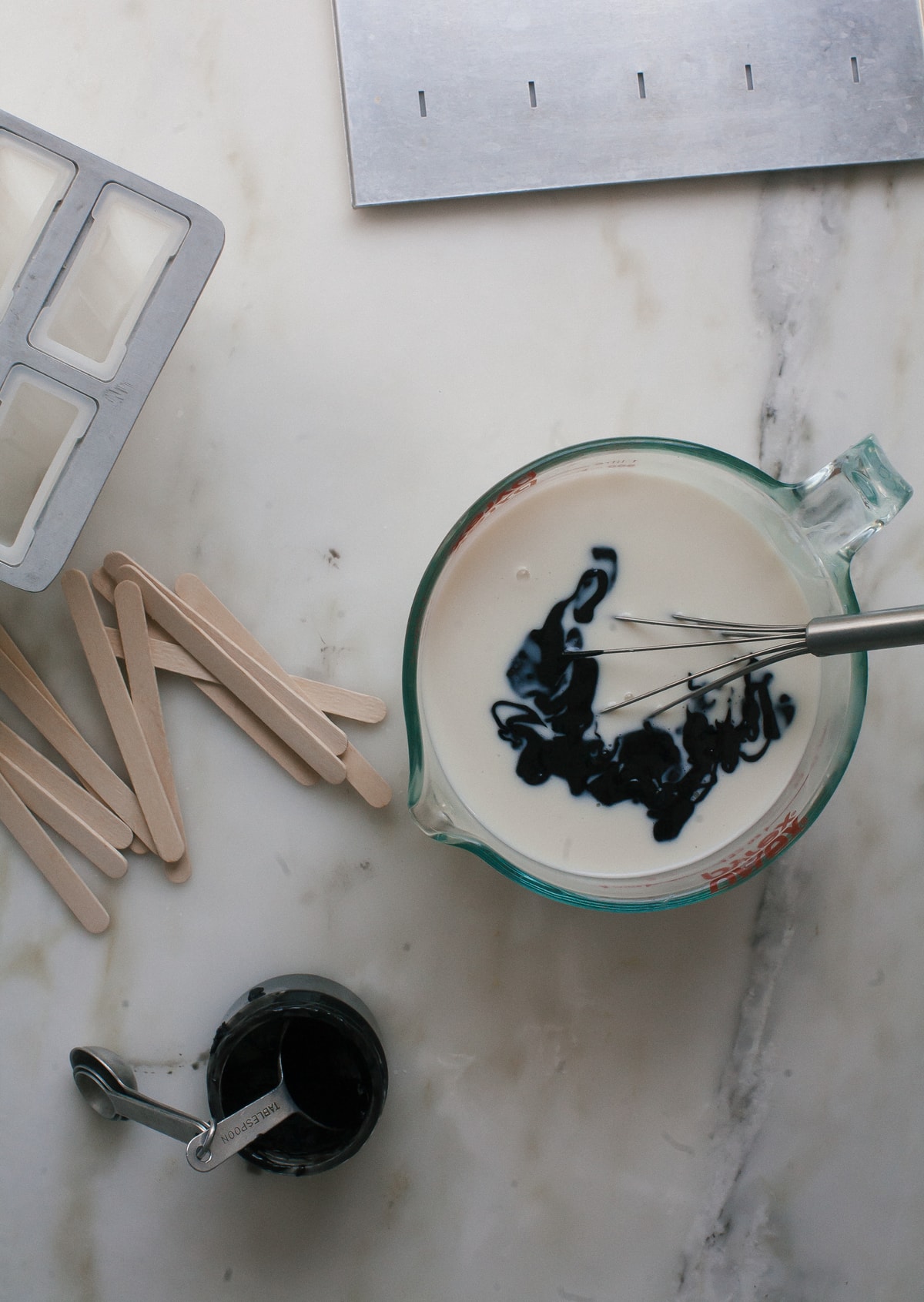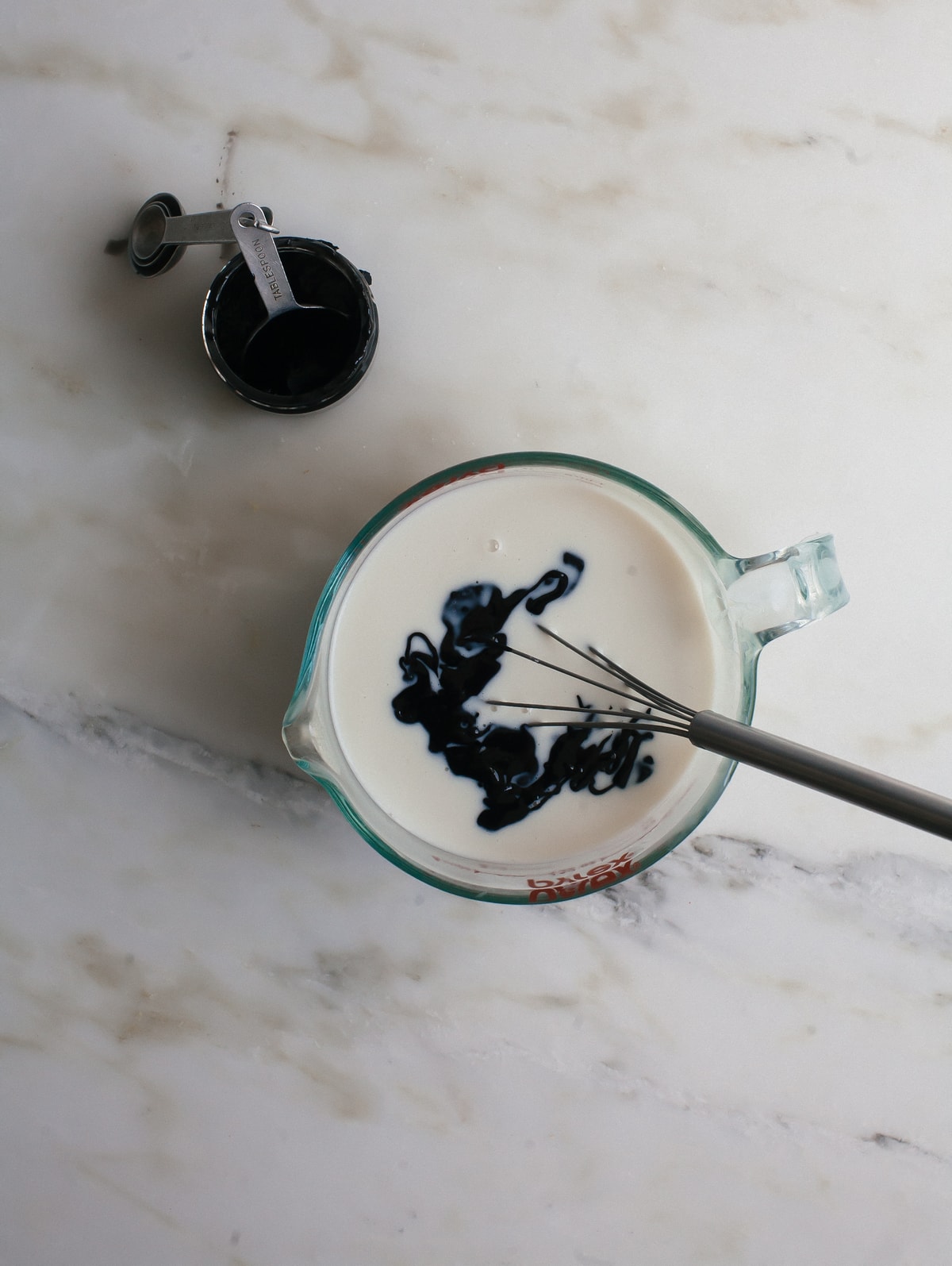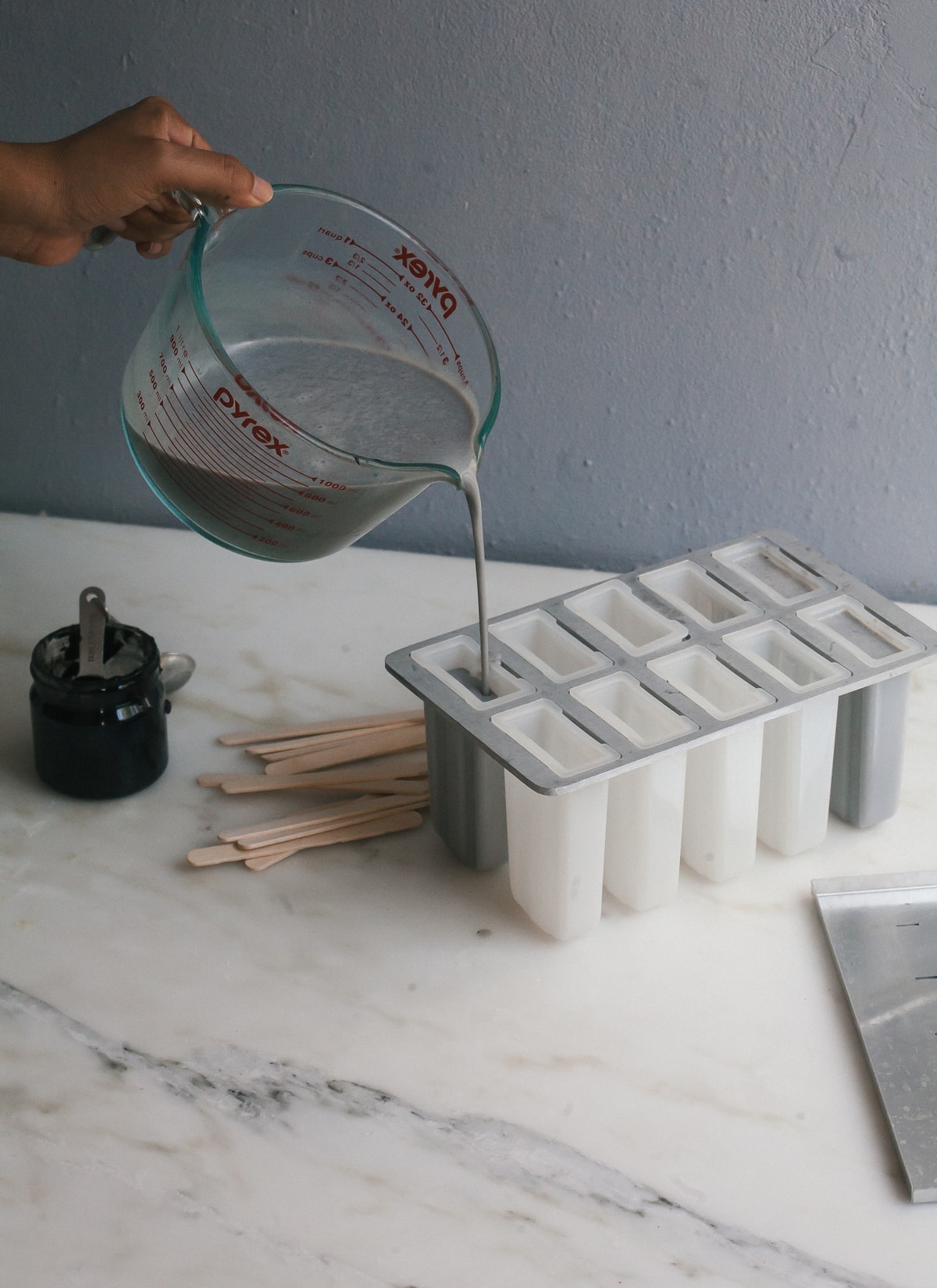 Another cool thing I found out when making these, sesame paste/tahini and strawberry go REALLY well together. I sprinkled crushed up freeze-dried strawberries on these and wasn't really sure how they were gonna taste but MAN OH MAN SO GOOD.
I shot these a day when my weather app on my phone was reading 105 degrees F outside. Well, as soon as we took them out of the mold and placed them on the marble to shoot them they turned into a huge puddle of mess. It was the saddest thing ever. They were REMADE and shot again on a 90 degree F day.
If you're needing to shoot popsicles on a hot day, these things help:
1. Make sure you freeze them overnight. Those suckers need to be FROZEN.
2. Place a plate or baking sheet or whatever you're going to use to serve them in the freezer for at least 30 minutes.
3. Then, remove the popsicles from their mold and place them on the frozen baking sheet or plate AND return them to the freezer for at least 30 minutes.
4. Set up the shot, even set your camera to the proper ISO/f-stop, etc. AND then quickly remove them from the freezer and snap away.
I did this on shoot day #2 and my popsicle-shooting was much more enjoyable.
Tomorrow I leave for MEXICO!!! YASS. I'll be there for 6 glorious days of sunshine and my best fweindz wedding. More on that soon, but for now, POPSICLES.
OH and P.S. this is the popsicle mold I use. I bought it a few years ago and it's really good quality.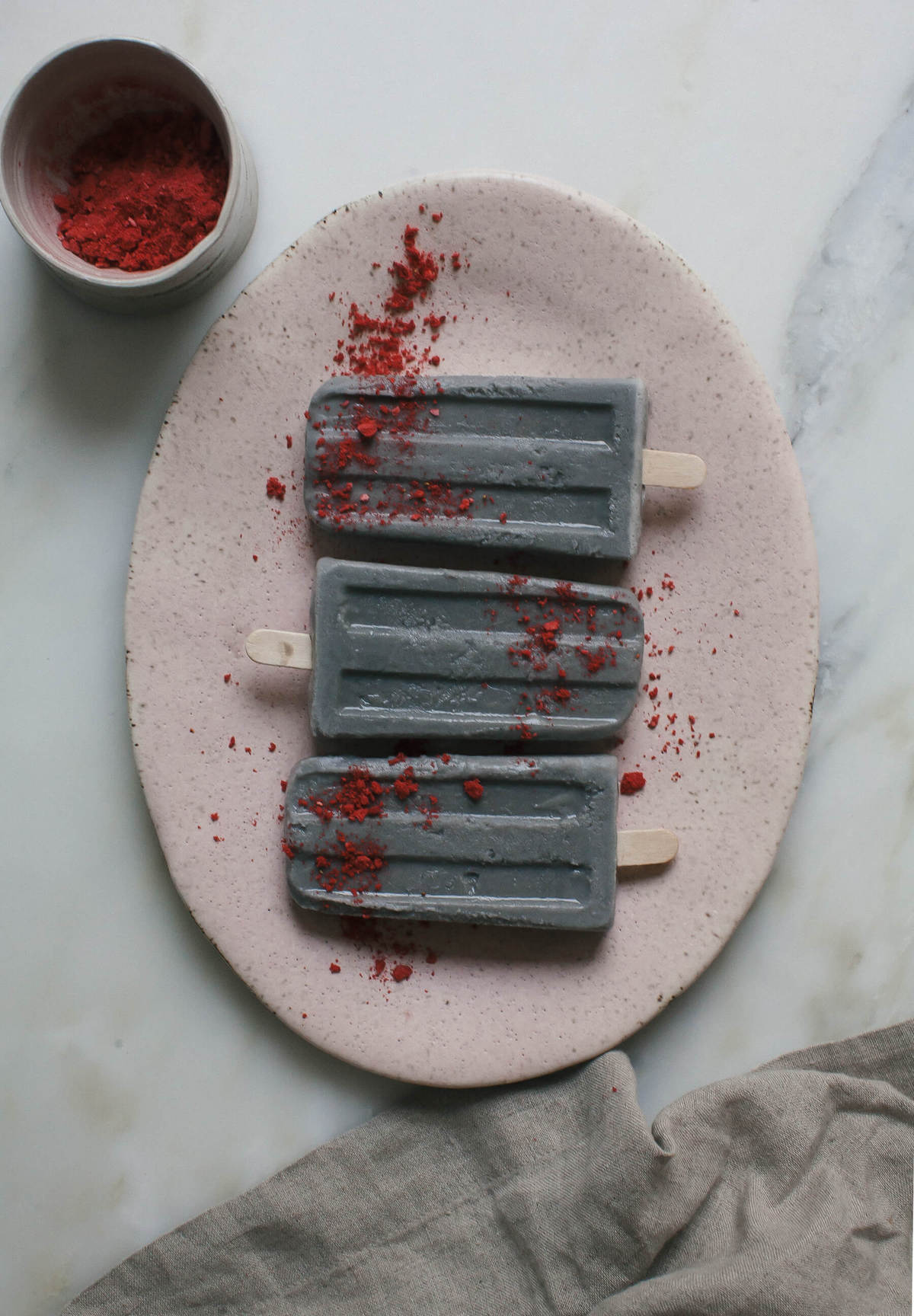 Black Sesame Coconut Popsicles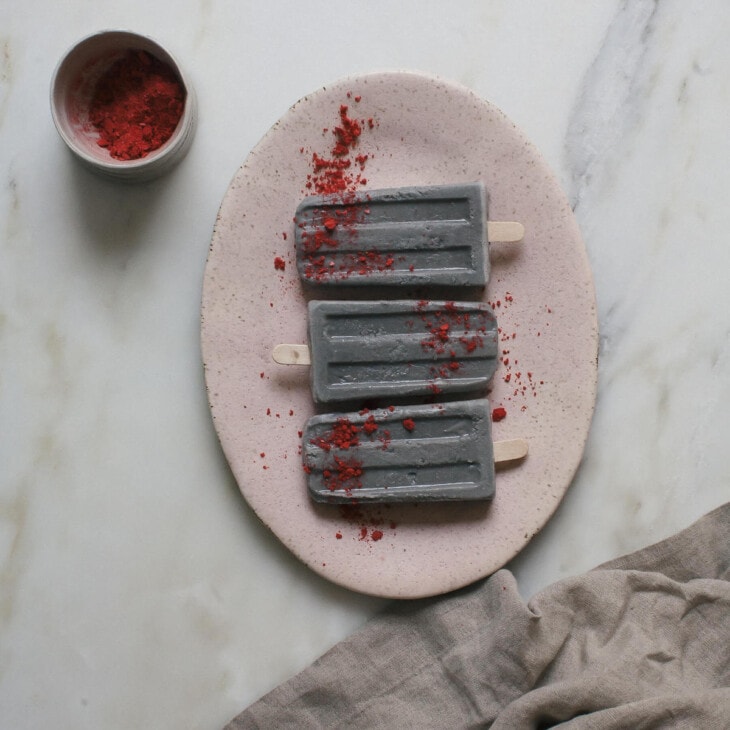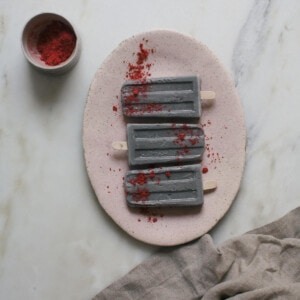 Ingredients
1

14-ounce can condensed milk

1

15-ounce can light coconut milk

1/2

cup

water

4

teaspoons

black sesame paste

1/4

cup

freeze-dried strawberries

,

as garnish, optional
Instructions
Add the condensed milk, coconut milk, water and black sesame paste to a blender, pulse until combined. Pour the mixture into popsicles molds. At the 2 hour mark, add the popsicle sticks. Freeze for at least 5 hours, ideally overnight.

When you're almost ready to eat, place a parchment-lined baking sheet in the freezer for 30 minutes. Remove the popsicles from their mold and place on the baking sheet in the freezer. Freeze for an additional 30 minutes. Top the popsicles with the freeze-dried strawberries and serve.
Notes
*I found my black sesame paste at an Asian grocery store.
*If you can't find black sesame paste, substitute the black sesame paste for tahini.
*If the black sesame paste is separated (oil and paste), add the entire thing to the blender and pulse until emulsified.
Nutrition
Nutrition information is automatically calculated, so should only be used as an approximation.