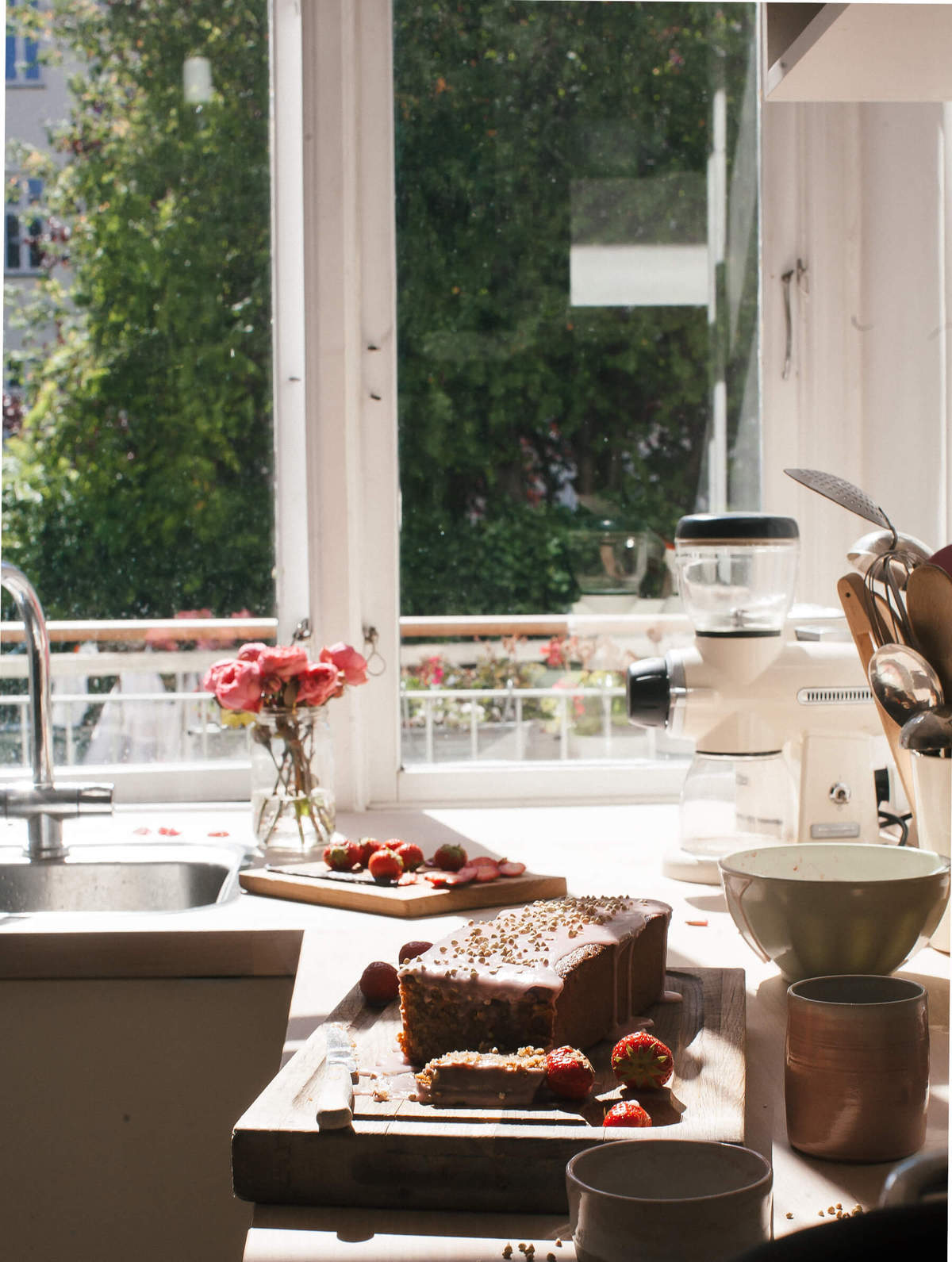 This wasn't supposed to be a rye loaf, but it just happened because when I walked into IRMA (like a mini, Danish Whole Foods), I was mesmerized by how pretty everything was designed.
The cereal boxes and flours were like impeccable, everything was just SO beautiful. I couldn't stop staring.
When I finally got it together and it was time to buy flour, I was like a little scared at all the flour options, and especially scared because they weren't in English. I reached for my Google Translate app but I didn't have any service in the damn market so I took a gamble. I went for a big bag, figuring it was most likely all-purpose.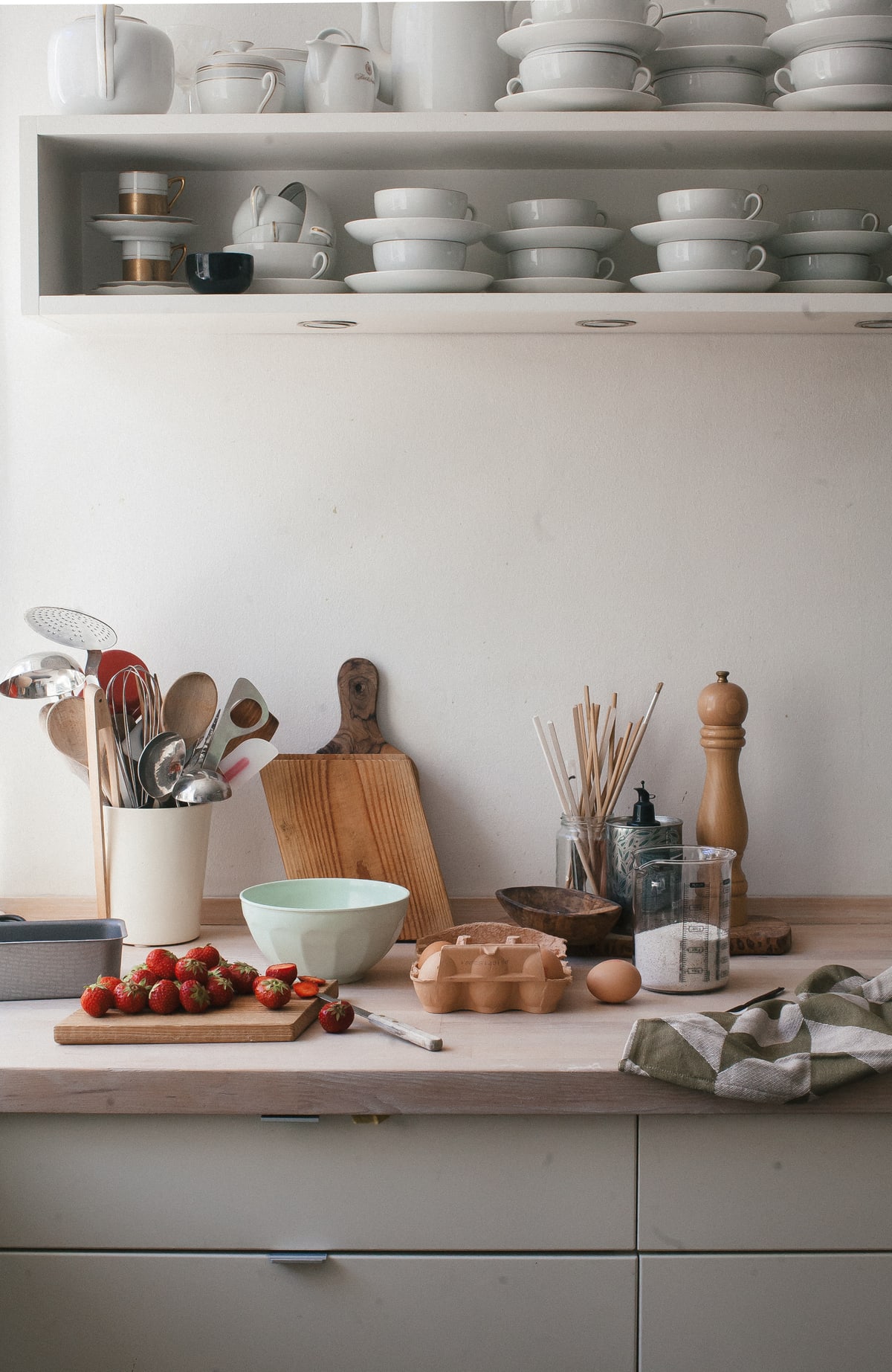 The rest of the grocery shopping was interesting. Baking powder is "bagepulver". I sorta figured it out. My milk purchased was assisted by an older woman who thought it was kinda funny that I was almost buying kefir. LAWD.
When I got home and started putting all the labels in google translate, I was like OH I BOUGHT RYE FLOUR OK.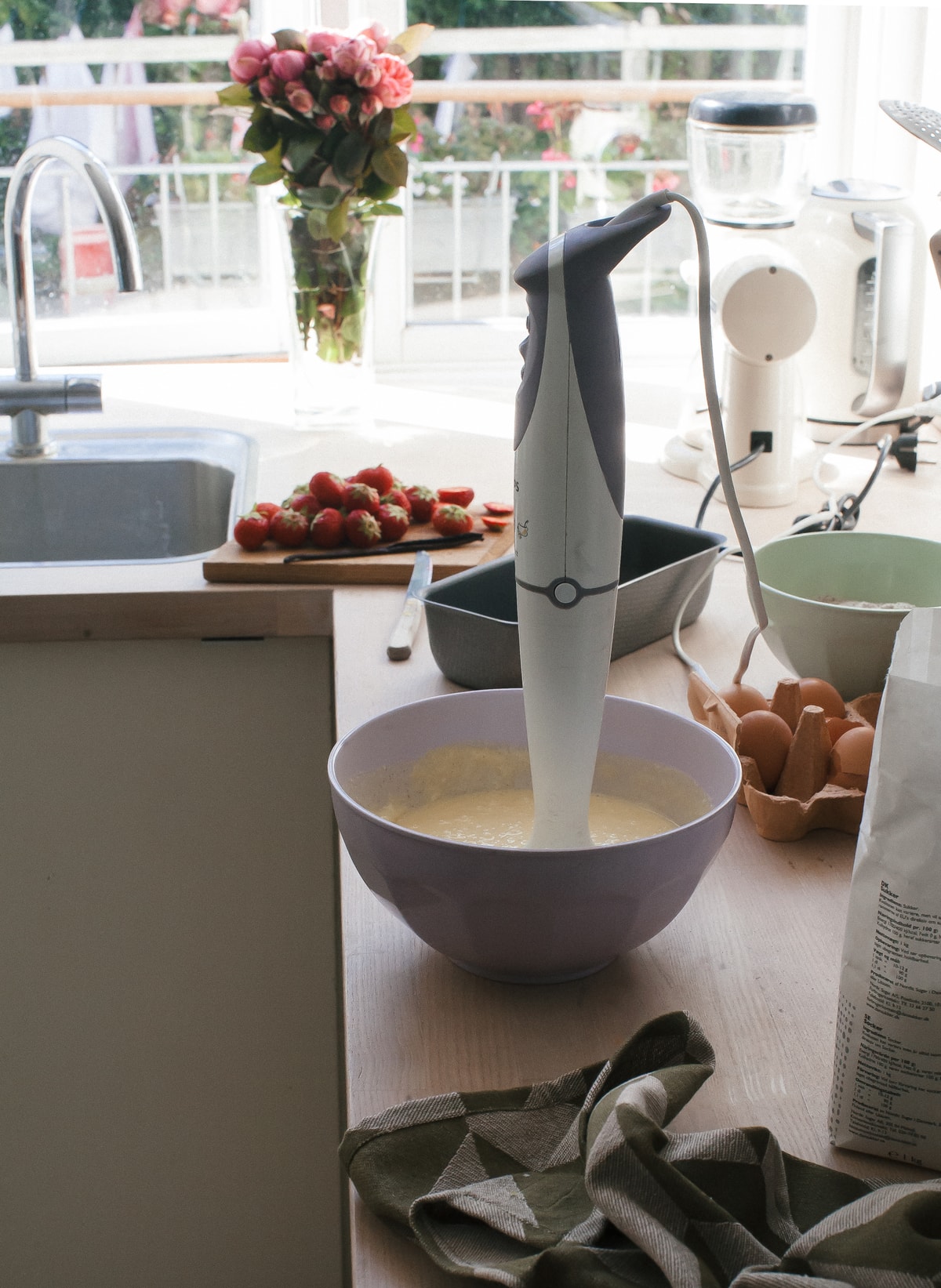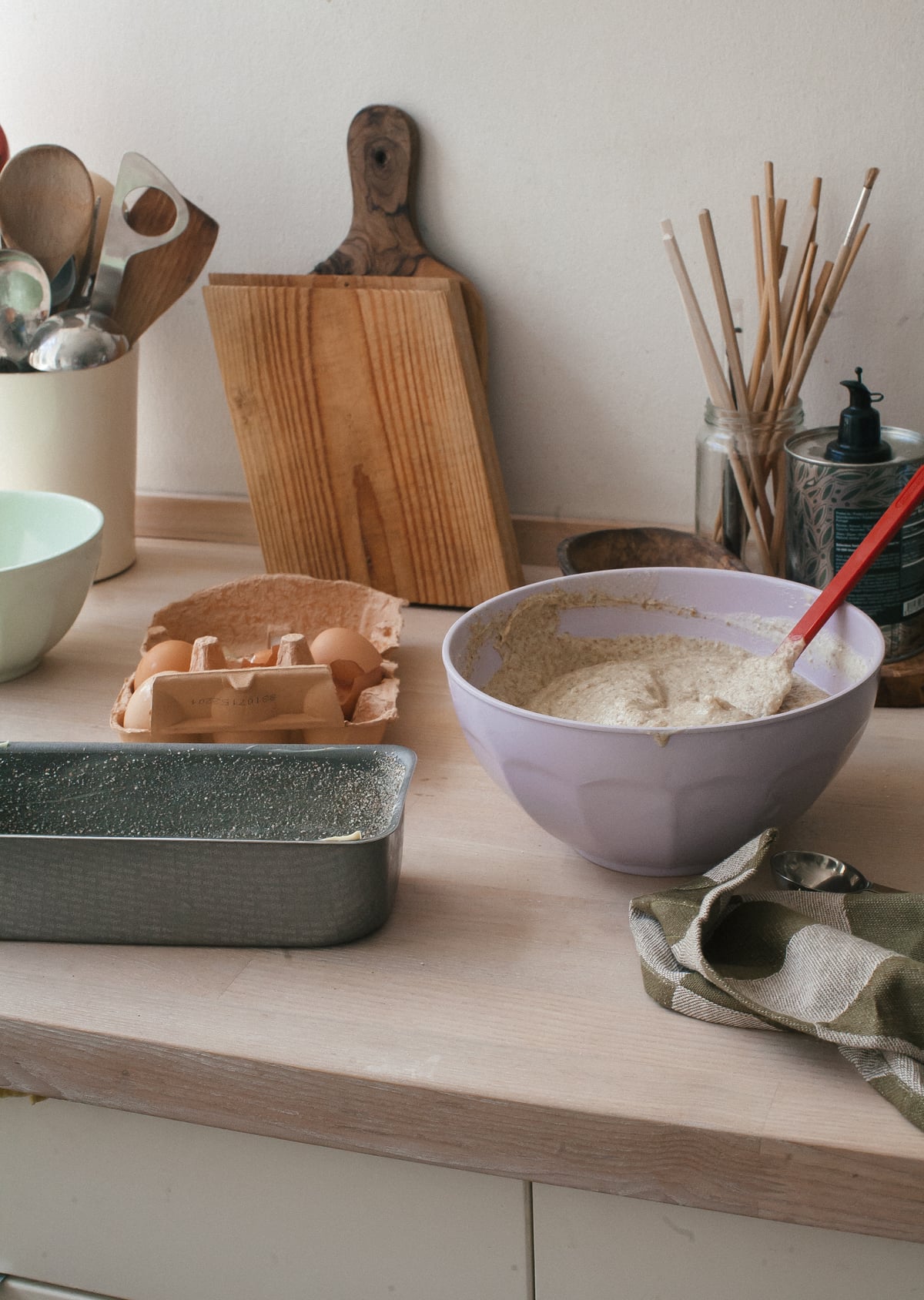 But it turned out great because Danes make everything with rye flour so it was meant to be.
It was the most perfect summer day in Copenhagen. It was 75 degrees F, a summer breeze was blowing through the kitchen and I was blasting Frank Ocean's new album. Some people hate it but whatever, "Nikes" is my jam.
Everything was going splendidly until I got to the oven part. After a quick conversion to celsius, no biggie, the oven options were confusing AF. There was an E symbol, one with two lines, one with one line. LIKE WHAT.
I vote that all of us get in a room and get on the same page with appliances, meters vs. miles, celcius vs. fahrenheit, etc. etc. Like you're making our lives more difficult. I don't even care if we go to grams vs. cups. I'm cool with it, let's just GET ON THE SAME PAGE.
One thing that is v v trendy in Copenhagen is buckwheat groats. I mean, I've seen them here, too, but not like there. EVERYTHING has got it on top. I decided to added to the top of the loaf and the little crispy bits were so good.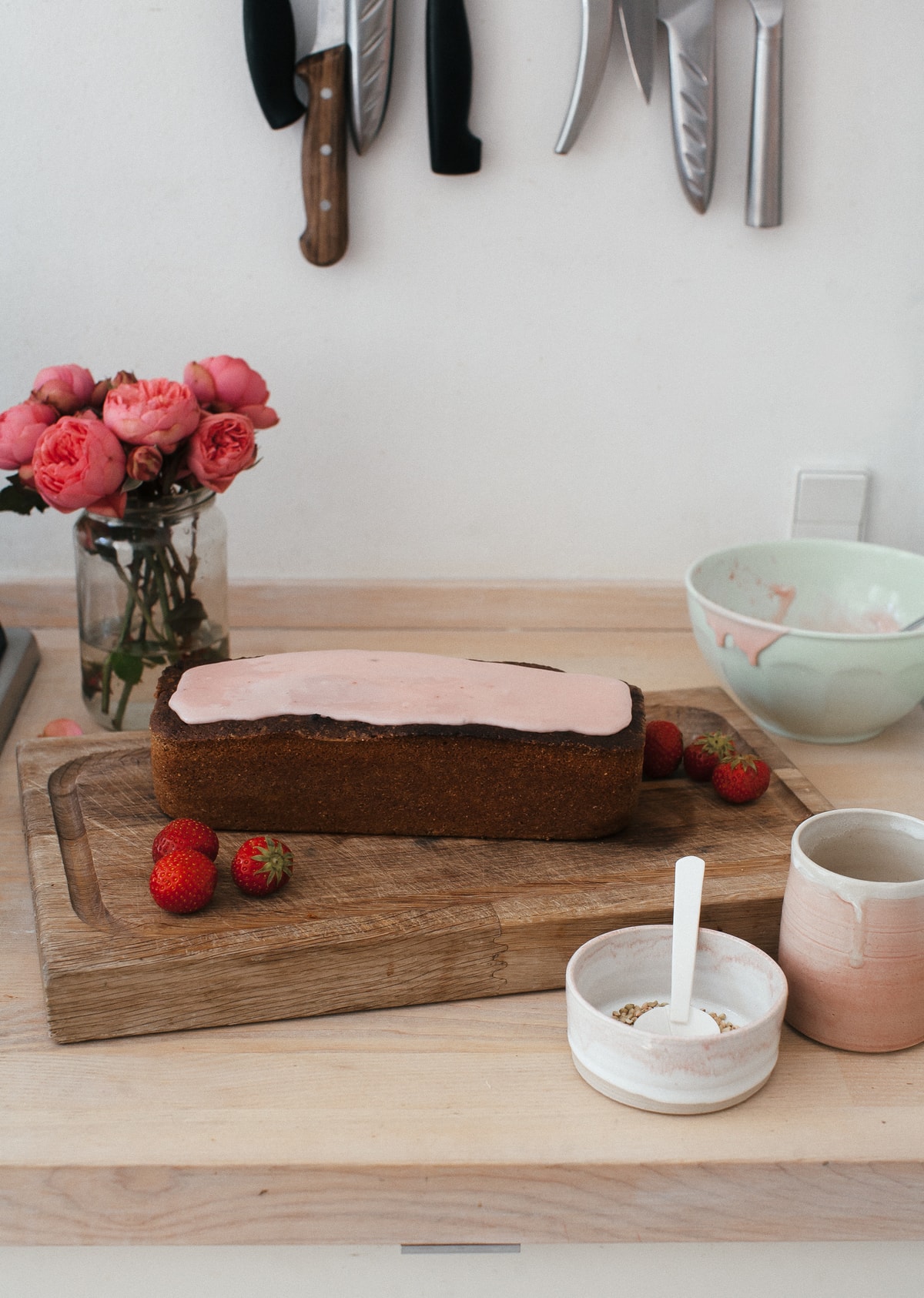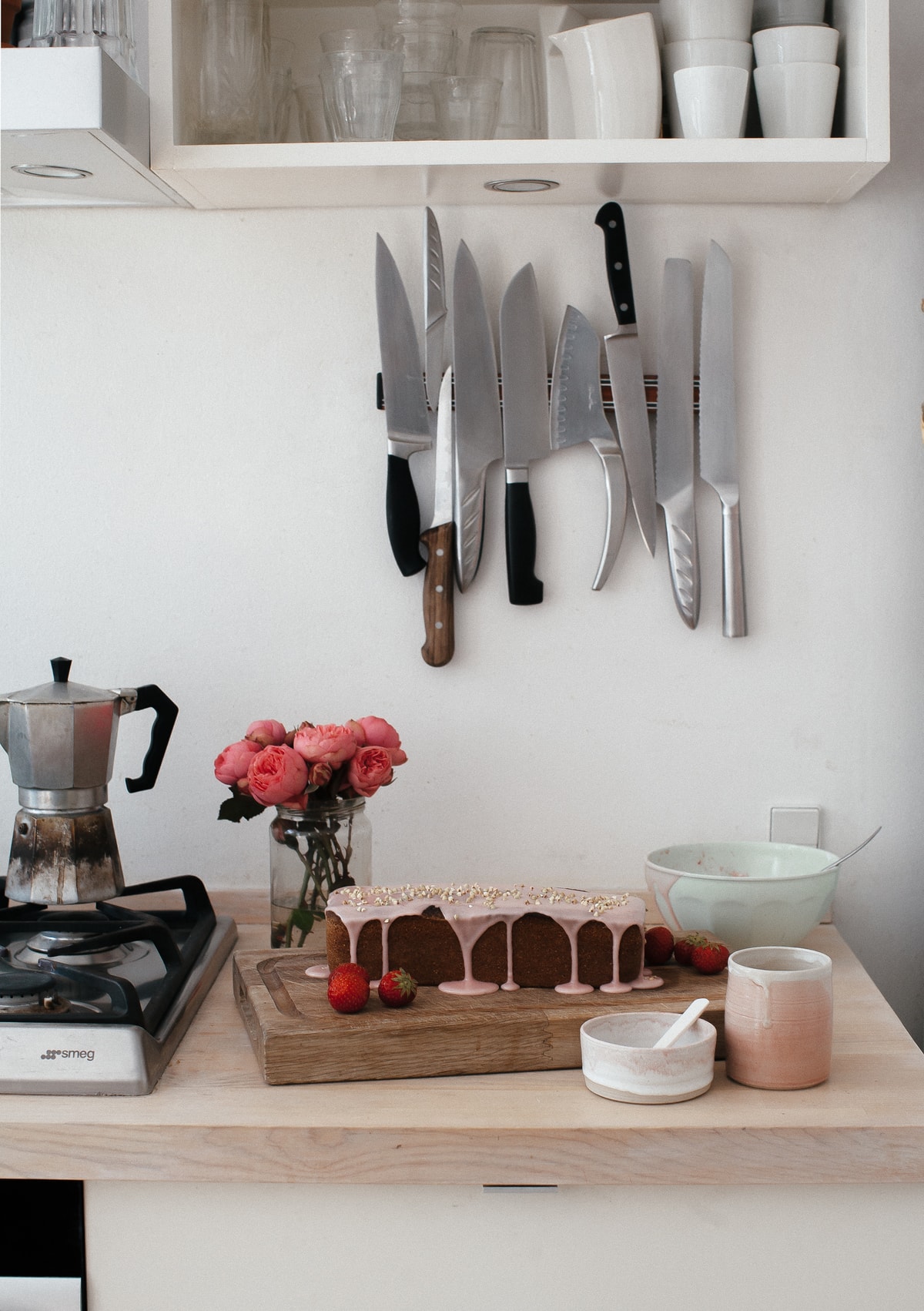 Another thing because this is a super long blog post, way longer than they usually are (if you have read this far, God bless you), the strawberries in Copenhagen are 100. They are beautiful right now. And so are the peas.
I know a good bunch of youse don't live in the US and I have a question for you: Is it hard to follow American recipes (like mine) because of the conversion/differences? If so, what can I do to make it easier?
xoxo
Adrianna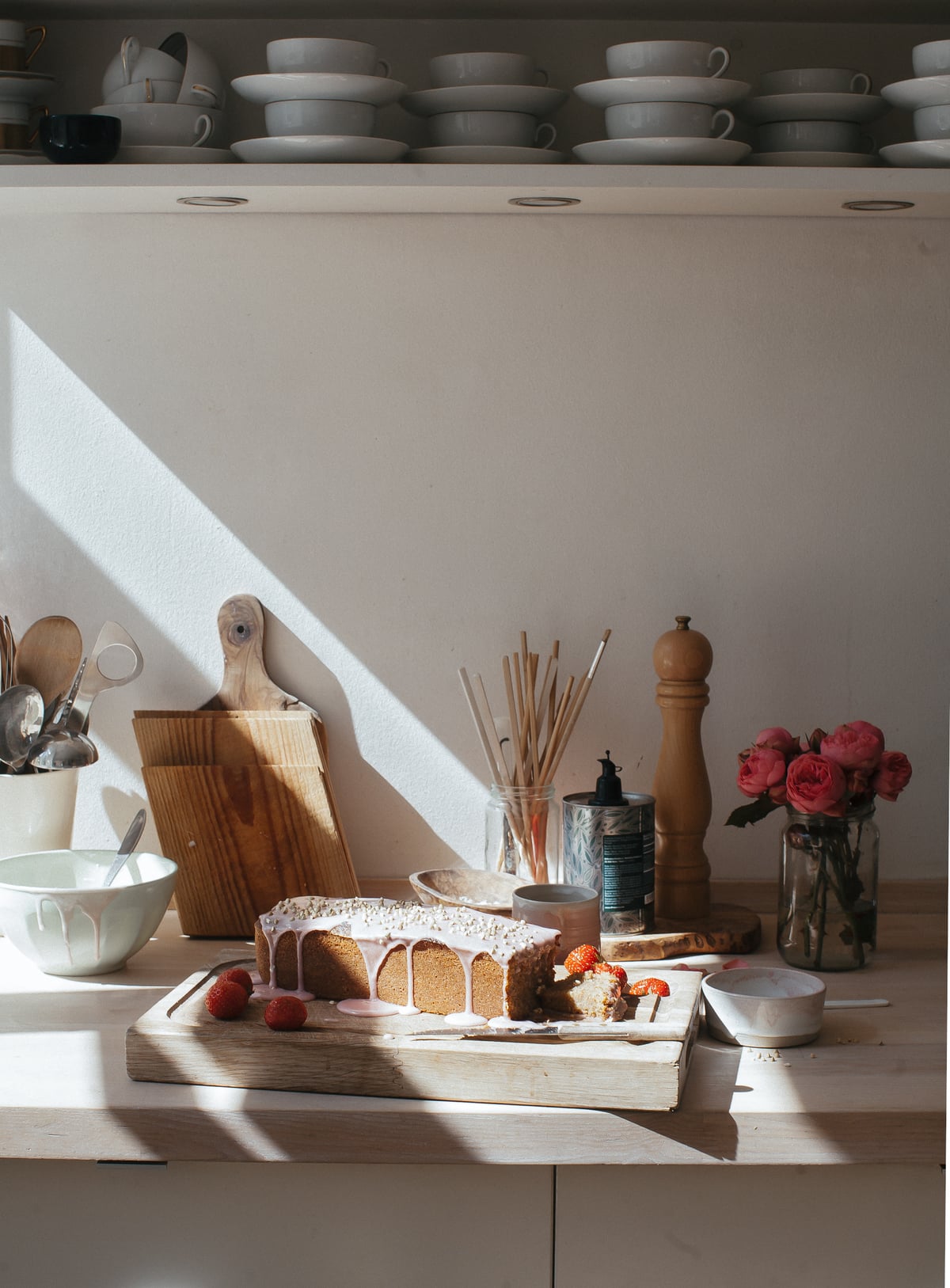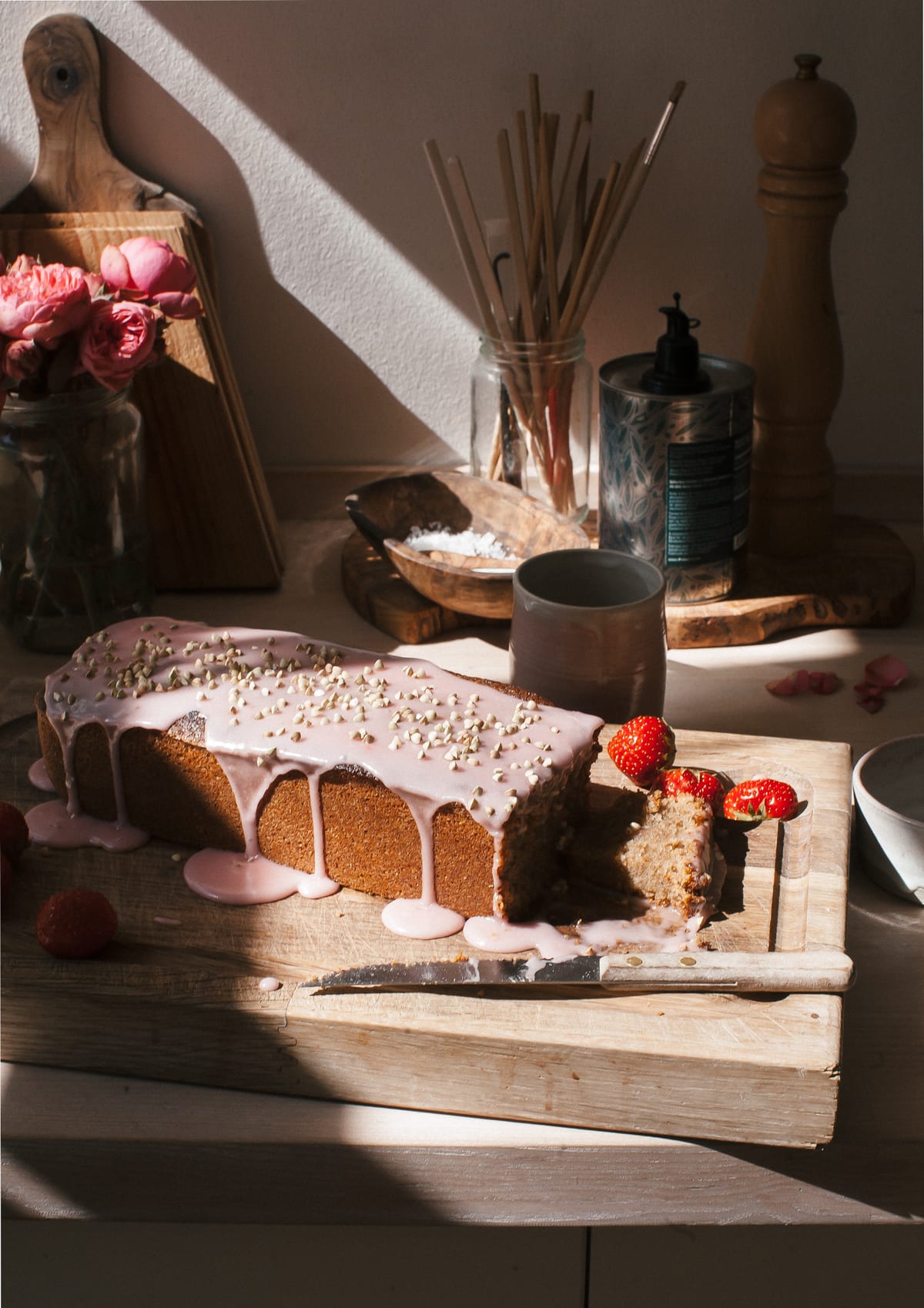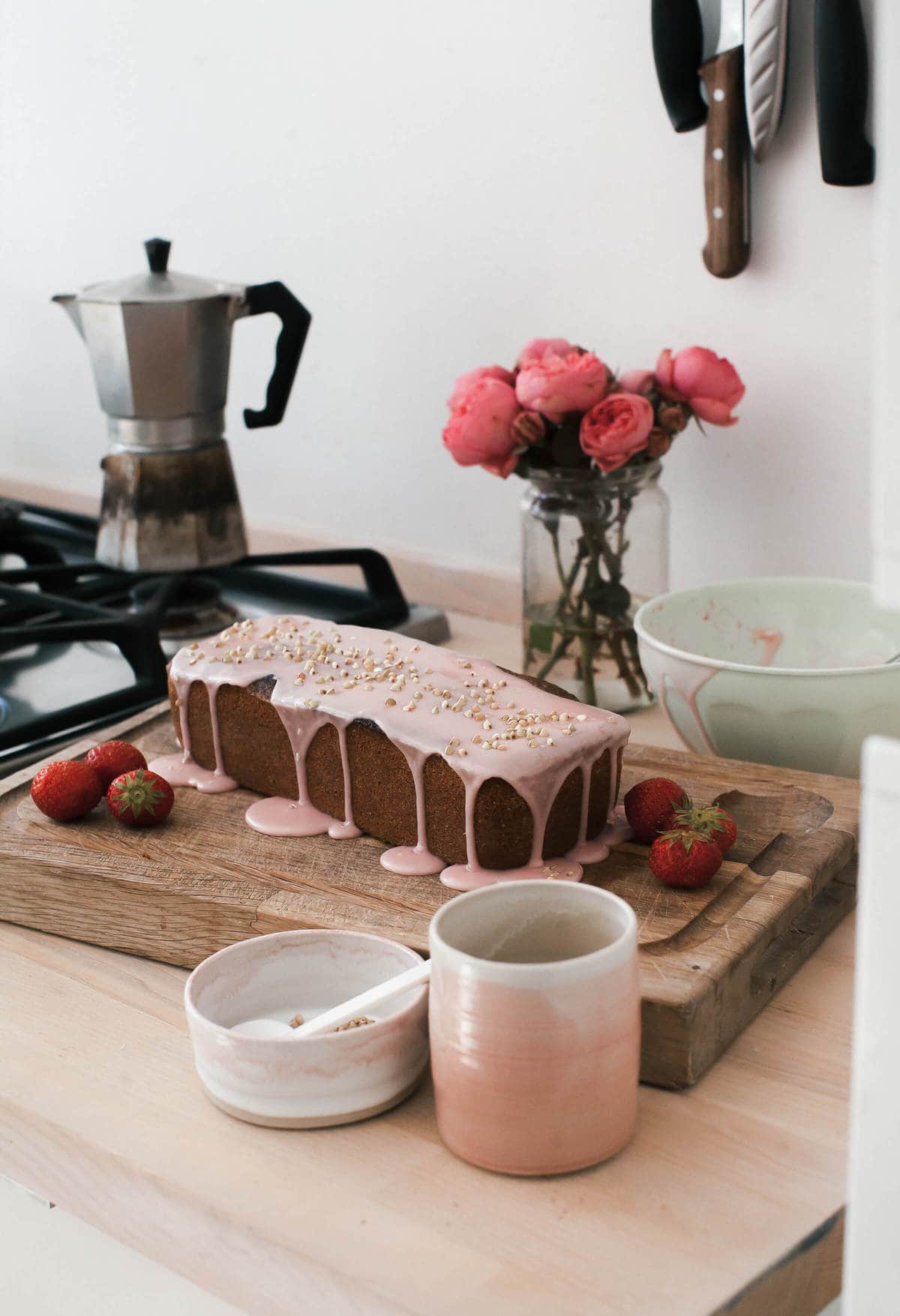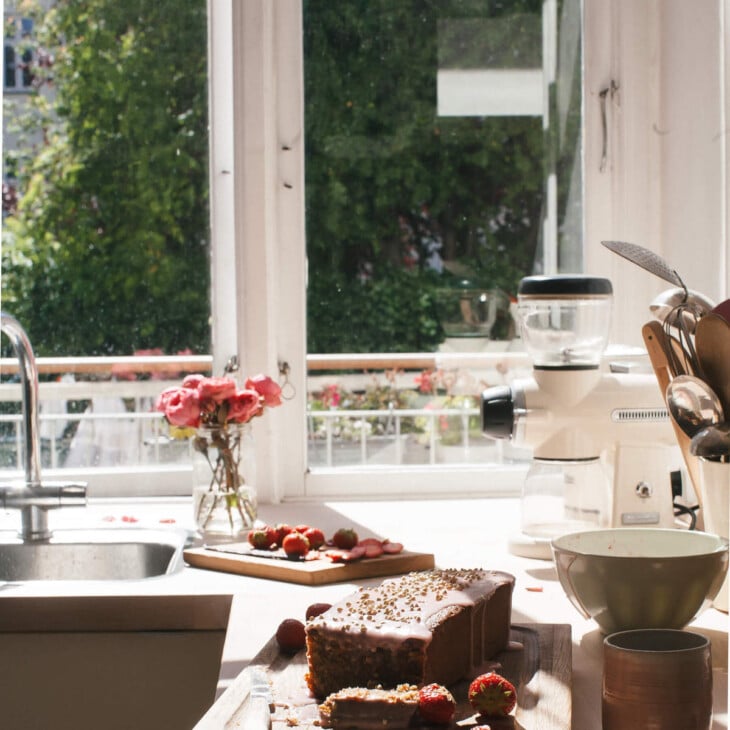 Print Recipe
Strawberry Rye Loaf with Buckwheat Groats
Serving Size:
(8x4-inch or 9x5-inch) loaf
Ingredients
Loaf:
2

cups

rye flour

1

teaspoon

salt

1/4

teaspoon

baking powder

1

cup

white granulated sugar

1/2

vanilla bean

scraped

1

cup

unsalted butter

at room temperature

3

large eggs

1/3

cup

milk
Glaze and Topping:
1/2

cup

strawberries

2

teaspoons

white granulated sugar

Pinch

of salt

1 1/4

cup

powdered sugar

sifted

2

tablespoons

buckwheat groats
Instructions
To make the loaf: Preheat oven to 325 degrees F. Butter and flour a 9x5-inch or 8x4-inch loaf pan. As you can see I used a super strange like 11x2-inch pan (found in the local Danish store that was like a Sur La Table). Set aside.

In a medium bowl, mix together the rye flour, salt and baking powder. In another medium bowl, add the sugar and vanilla bean caviar. Mix with your hands until the vanilla bean is evenly distributed throughout the flour. Add the softened butter and using a hand mixer (or in my case an immersion blender!) mix until pale in color, about 3 minutes. Add one egg at a time, being sure each egg is incorporated before adding another.

Add the flour mixture in a few batches, alternating with the milk, beginning and ending with the flour, until you no longer see any speckles of flour. Pour the pound cake batter into the prepared loaf pan and transfer it to the oven to bake for 50 to 60 minutes, until a skewer inserted into the center comes out clean. Allow the cake to cool for 5 minutes in the pan and then invert onto a cooling rack.

To make the glaze: While the rye loaf is cooling, add the strawberries, sugar and pinch of salt to a small saucepan, set over medium low heat. Cook until the strawberries are completely softened and juicy, about 7 to 10 minutes. You may need to add a splash of water if your strawberries aren't super juicy. Run the strawberry puree through a sieve. You should end up with about 2-4 tablespoons of strawberry juice.

To a bowl, add the powdered sugar and 2 tablespoons strawberry juice; whisk until smooth. If you need it to be thinner, add more strawberry juice, a teaspoon at a time. If you run out of strawberry juice, you can also add a little bit of milk or water—but no matter how juicy your strawberries are, you should have enough!

Pour the glaze over the rye loaf and top with a sprinkling of buckwheat groats. Slice up and serve.
Notes
*Buckwheat groats can be found in the bulk bin section at Whole Foods or any healthy-ish grocery store.
*If you don't have rye flour, whole wheat or even all-purpose would also work just fine.