This Mixed Berry Pie is a great way to celebrate summer. It's full of ripe berries layered between an all butter pie crust. This blog post will show you how to make a mixed berry pie, assemble it and freeze a mixed berry pie.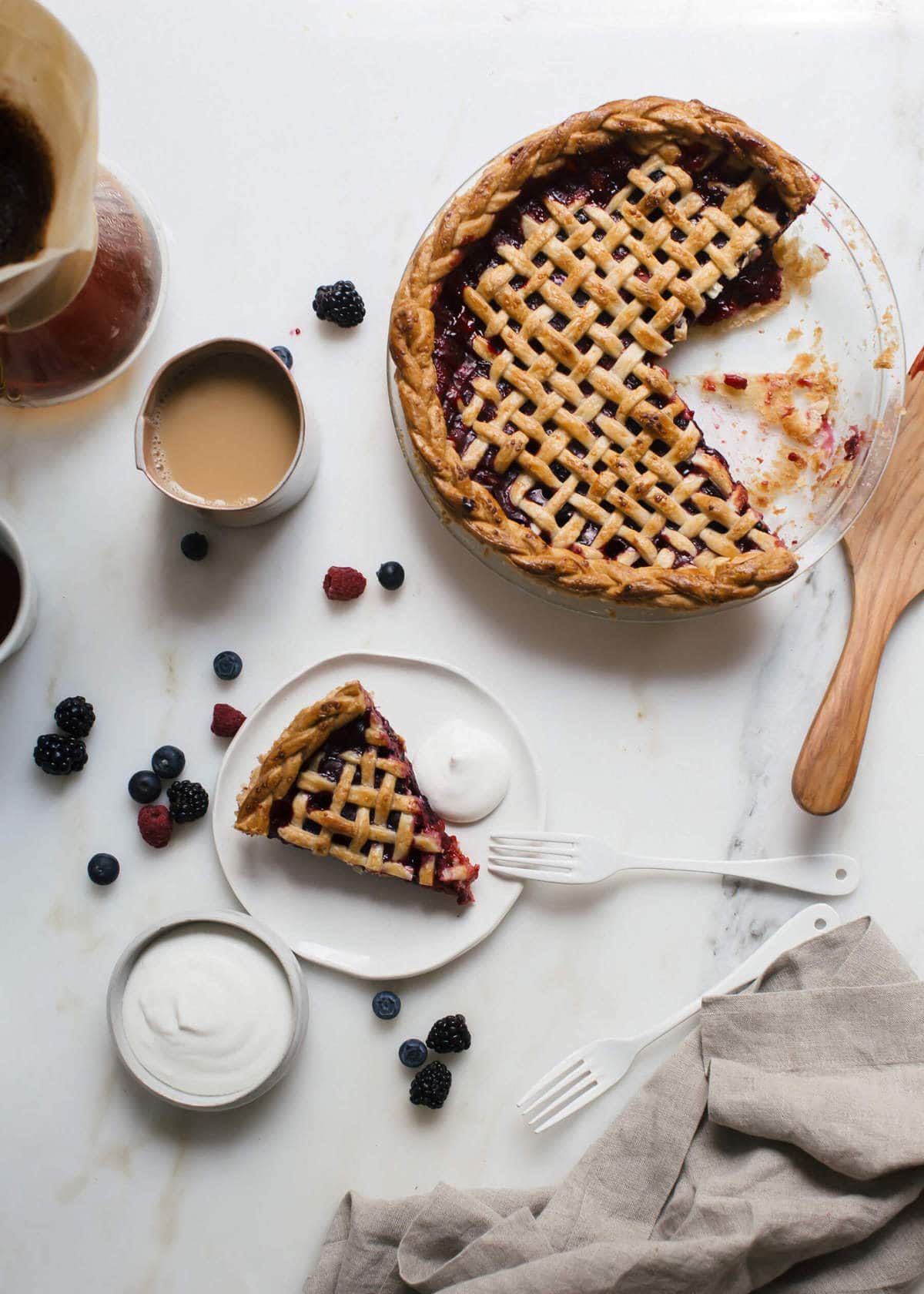 Summer is riiiiight around the corner. As in, it's officially kicking off in a few weeks. At the start of summer, I'm headed to Mexico for my best friend's wedding. I cannot wait. Josh and I are actually staying a few days after the wedding to just live a little and have a bit of a vacation on our own (more on this soon!).
In anticipation of summah being so very close, I teamed up with ALDI to bring you this very summer-y berry pie.
If you've been around here for a while, you know that I love pie. And I love pie crust even more. I've been wanting to do a very tightly wound lattice crust for a long time, so when I was strolling through ALDI the other day and saw their array of beautiful berries, I knew instantly what I was going to bake up.
The berries were bright and fresh. I bought a few containers and immediately went home to start working on this pie.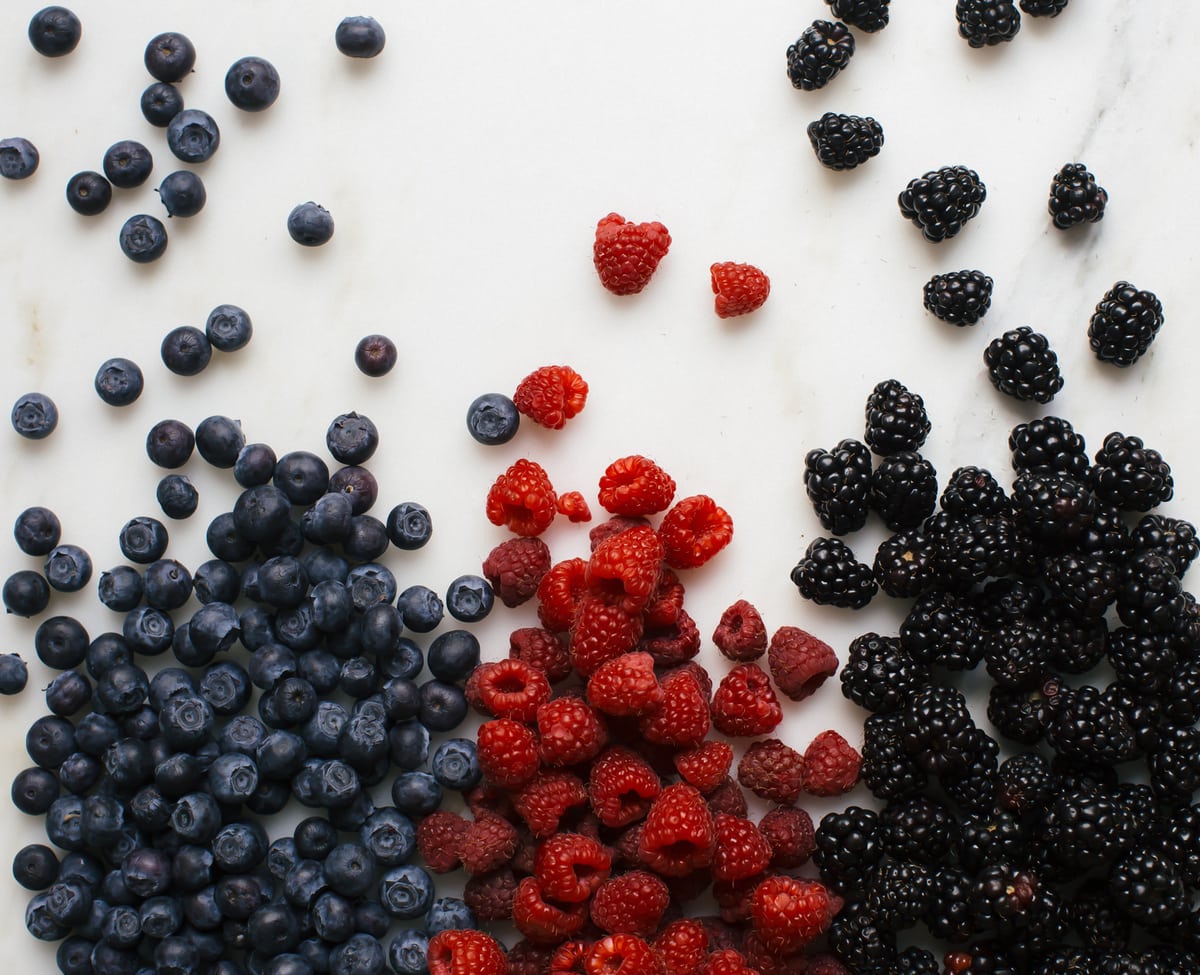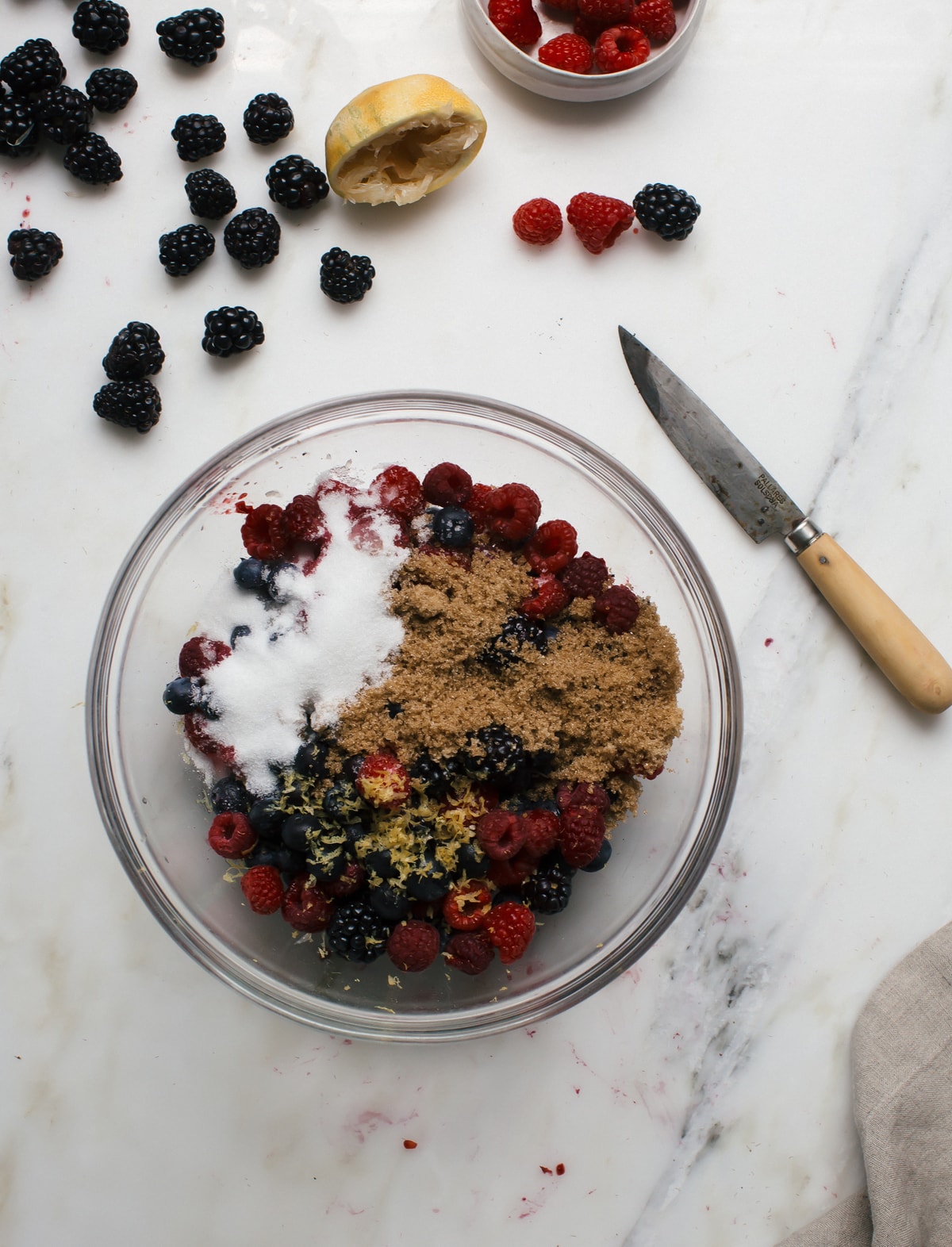 How to Make a Mixed Berry Pie:
Make the pie crust. This is always the first step, preferably the day before, to let all the liquids hydrate and evenly disperse in the dough.
Make the filling. Just toss together all the berries with the sugar and lemon zest/juice. Easy! Smaller berries like these mean no prep or cutting time. Set this aside while you prep the dough.
Roll out pie dough. Roll out the dough on a nicely floured surface. and place into your pie dish.
Put the filling into the pie dish. Then roll out the second half of dough and do as you like with it! A simple option is just placing the rolled out dough on top and crimping or you could be extra like me an do this tiny lattice.
Freeze to firm up the dough! You could just go bake this pie as is, however, your dough is probably very soft at this point which would make the dough just met in the oven. Letting it firm up for even just 15 minutes will help a lot. Do it while the oven preheats!
Bake. When your pie crust has firmed up brush it with egg wash and bake until golden brown and the juices are bubbling.
Cool before serving. This is very important! Let the pie cool completely so the juices have time to set, then serve with vanilla ice cream.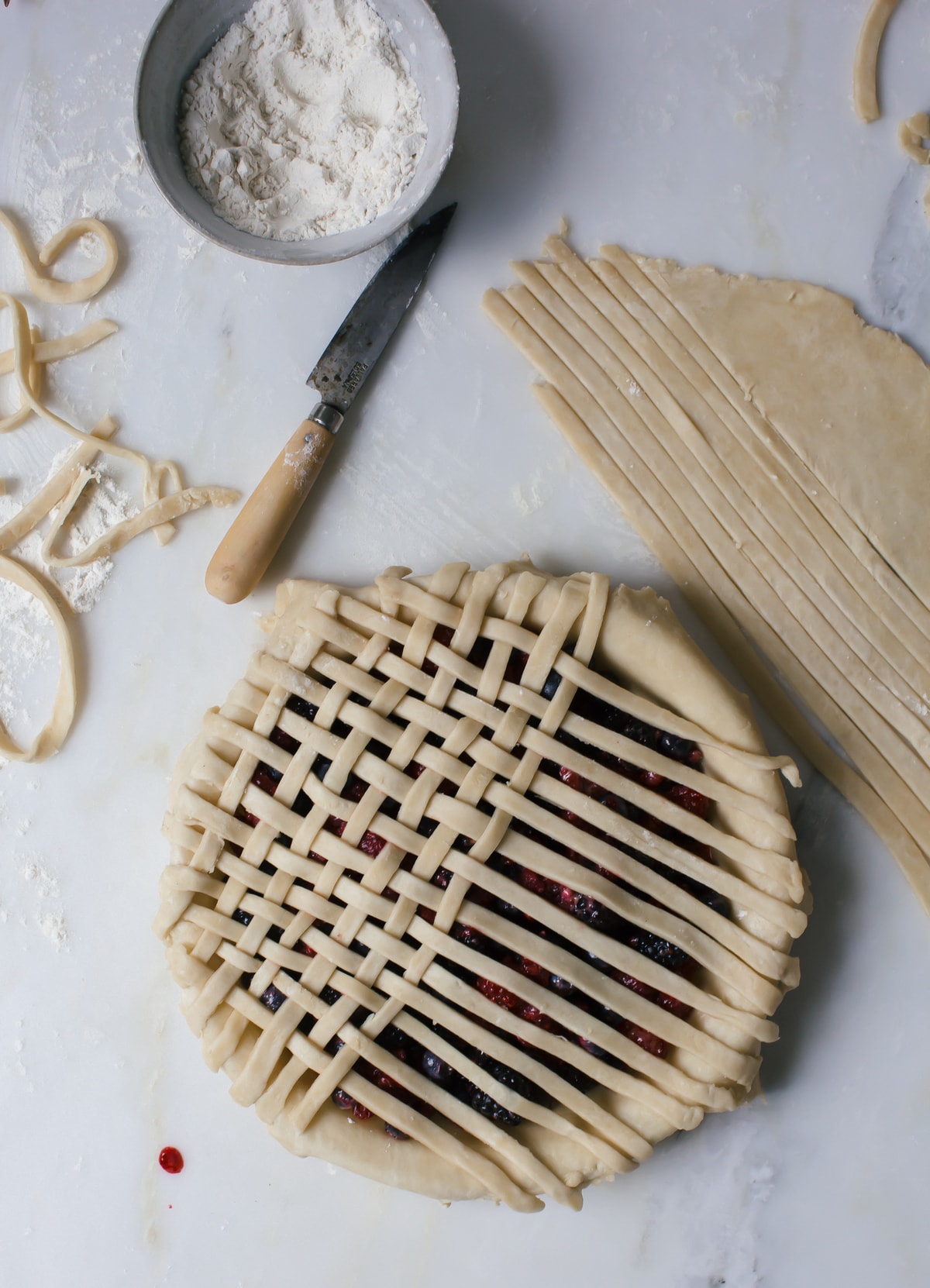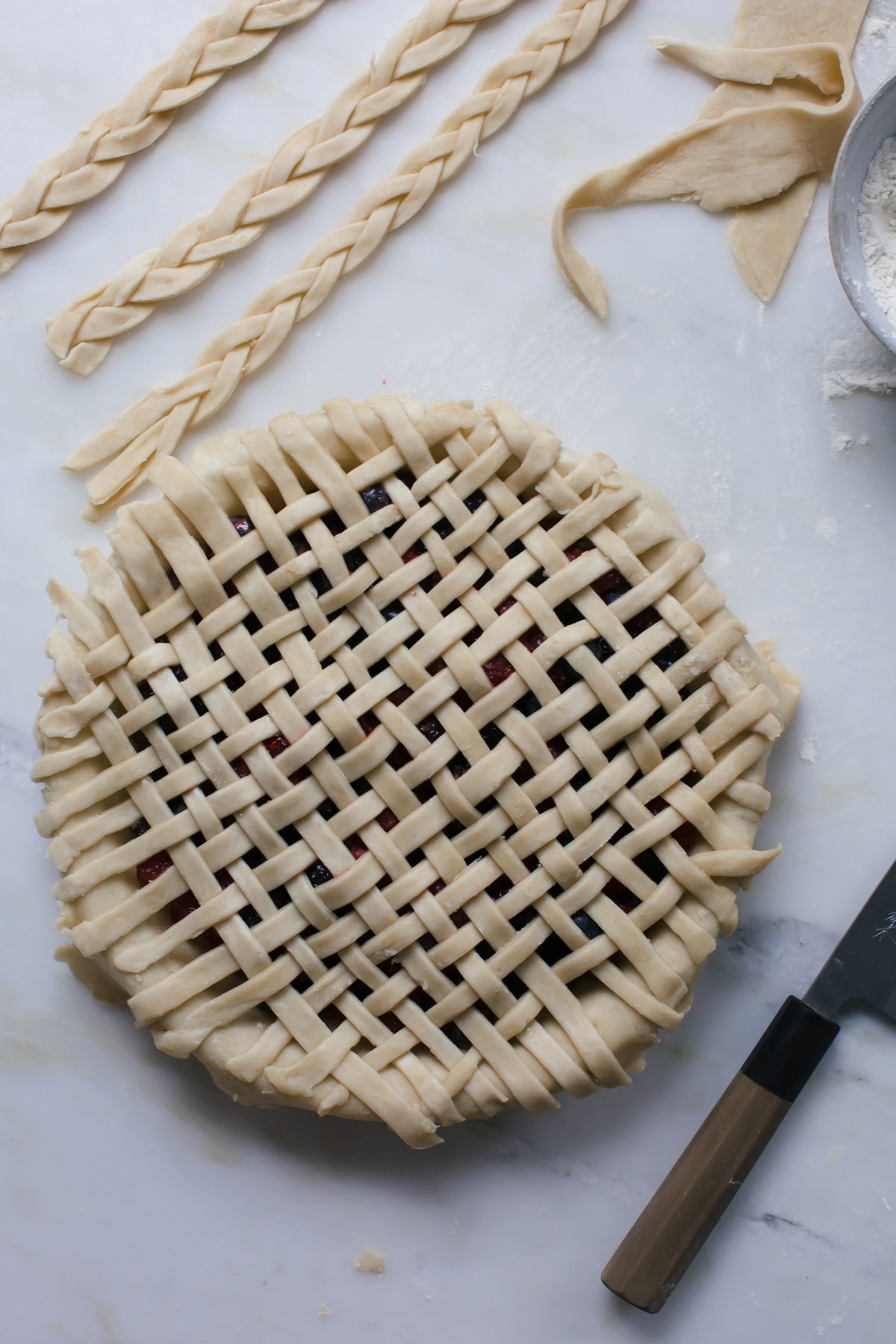 Can you Freeze Berry Pie?
Yes! It's just a little tricky with the pan: you don't want to use a glass pan to freeze, the immediate heat when you go to bake could cause the pan to shatter so I always use a metal pie dish if I'm freezing completely.
To freeze: Make the pie up until the egg wash then flash freeze until solid and cover with a couple layers of plastic wrap. When you're ready to bake just brush with egg wash and add an extra 15 minutes or so to the bake time.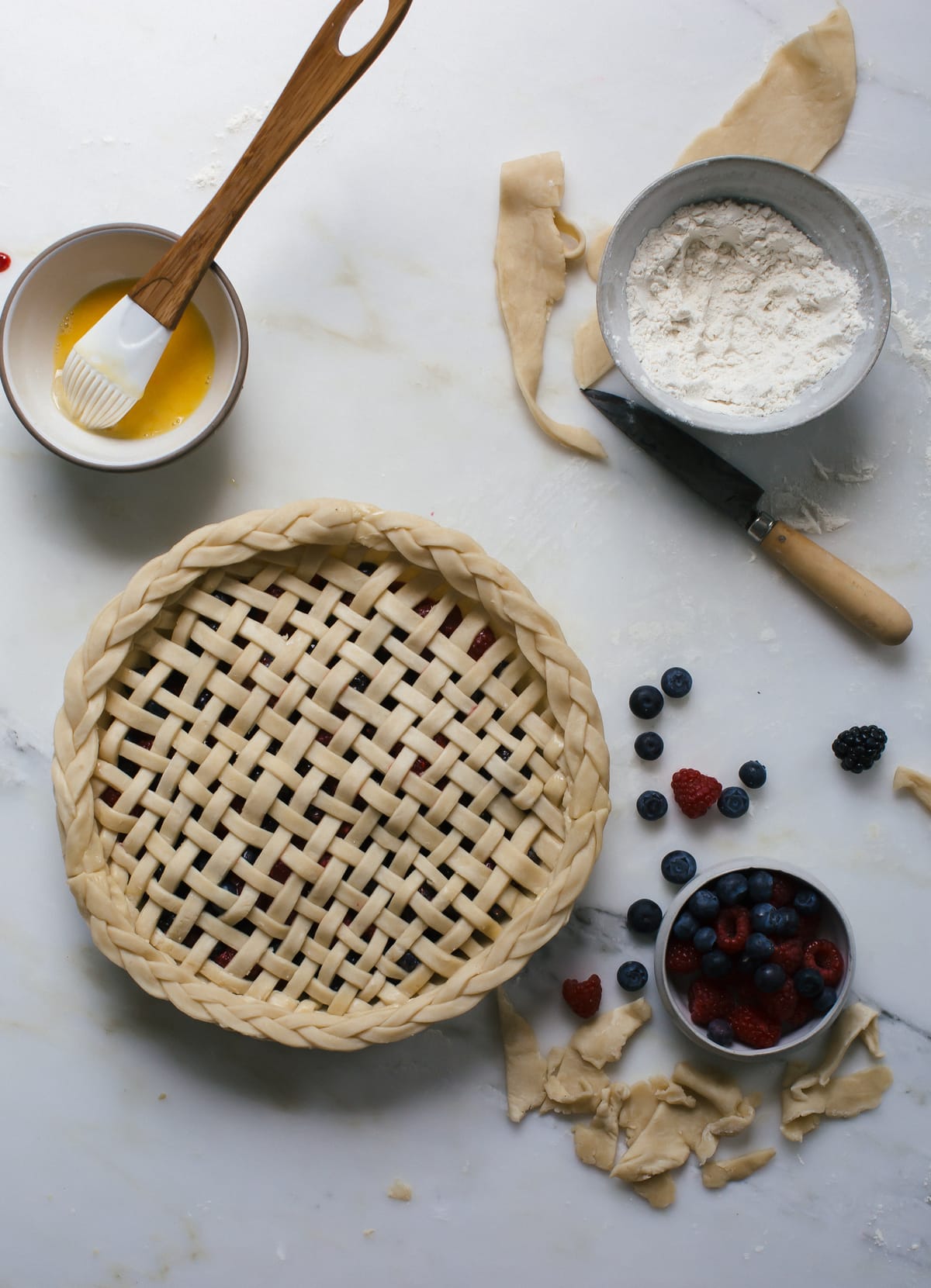 Tips and Tricks:
It doesn't have to be a mixed berry pie! I love the mixed berry combo but if there's one that's on sale or you've got extra you need to use up you can use all of one or a combo of two.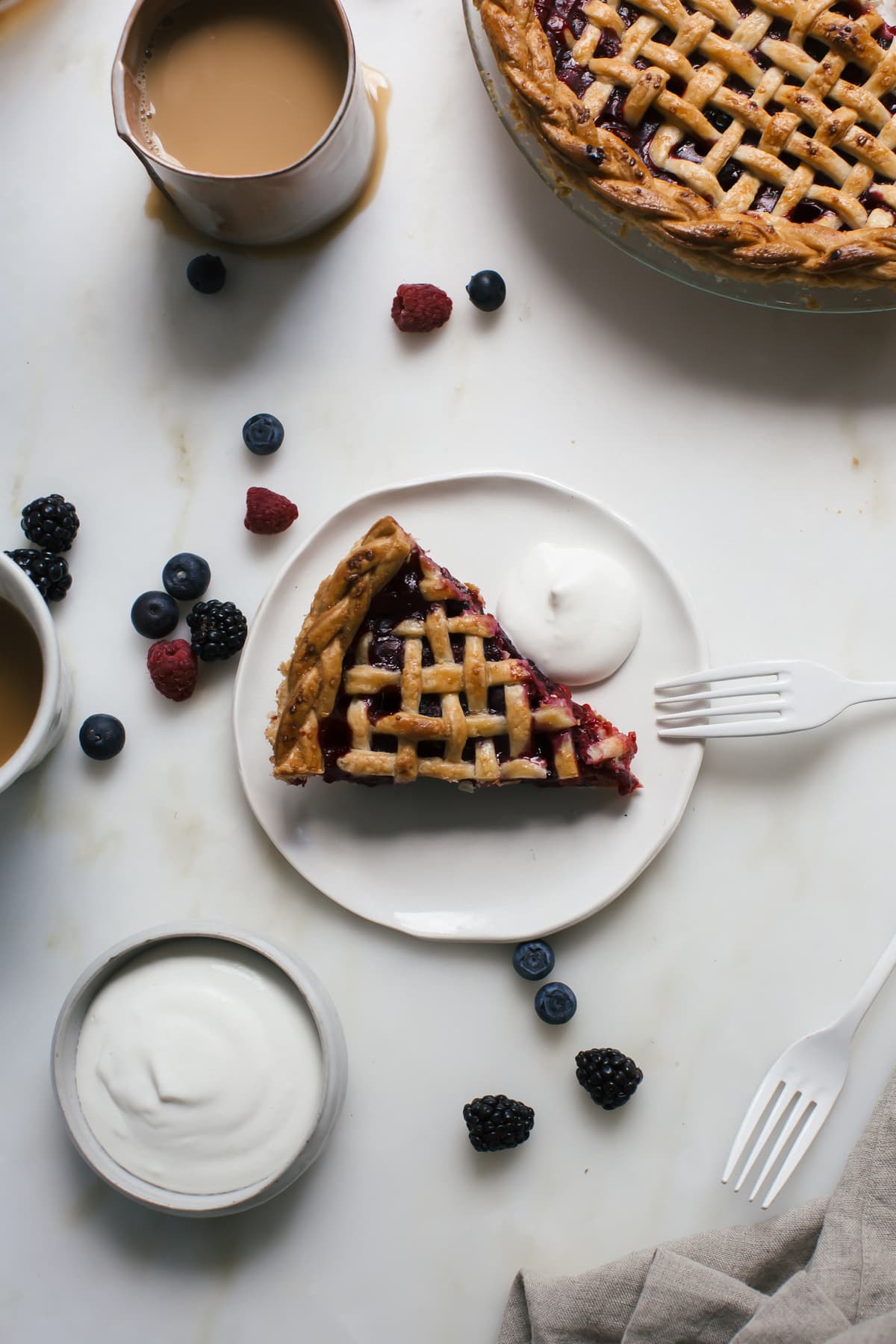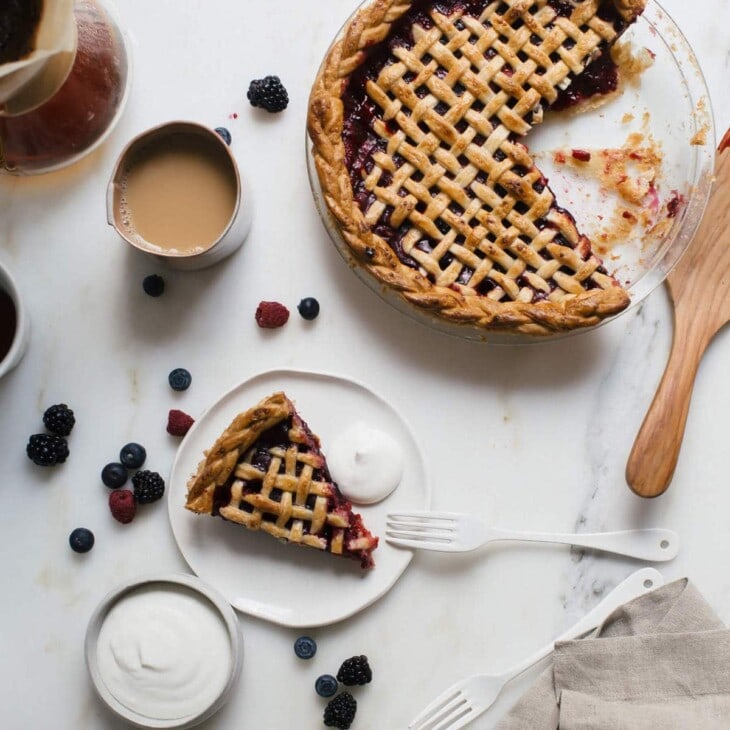 Print Recipe
Mixed Berry Pie Recipe
This mixed berry pie is a great way to celebrate summer. It's full of ripe berries layered between an all butter pie crust.
Serving Size:
(nine-inch) berry pie
Ingredients
1 1/2

cups

blueberries

1 1/2

cups

blackberries

1 1/2

cups

raspberries 

1/4

cup

Baker's Corner Brown Sugar

1/4

cup

Baker's Corner Granulated Sugar 

1/2

vanilla bean

scraped 

3

tablespoons

Baker's Corner Corn Starch

Zest and juice from 1/2 lemon

1/2

teaspoon

salt

1

double pie crust

store-bought like *Bake House Creations Pie Crust from ALDI or homemade 
Instructions
Remove the two pie disks from the fridge and set on the kitchen counter.

In a large mixing bowl, add the blueberries, blackberries, raspberries, brown sugar, white sugar, vanilla bean, corn starch, lemon zest, lemon juice and salt. Set aside.

Roll out the first pie crust to fit your 9-inch pie pan. (If you need help, check out my

Pie Crust 101 post

)

Toss the filling together, and then pour the filling into the pie crust; set aside. I made a tightly woven lattice top, but you definitely don't have to do this. For something quick and easy, roll out the second pie disk, lay it on top of the filling and trim the pie crust all the way around, leaving a 1/2-inch. Fold over the edges and crimp the pie dough all the way around. Cut a few slits in the top! Or, you could stamp out shapes using a cookie cutter like hearts, stars, etc. and place them on top of the filling.

Or, you can do as I did, which is create a lattice! To do so, cut the rolled out pie dough into 1/2-inch wide to 1/4-inch wide strips. Lay the strips side by side, and weave them under and over each other, creating a lattice. You'll definitely have to re-roll the scraps to create more strips. I re-rolled the scraps, cut strips and braided them to create a braided edge. I couldn't do one big continuous braid so it ended up being three braided pieces. Trim the pie crust all the way around, leaving 1/4-inch. Tuck the edges of the pie crust over and gently press it down. Brush the edge of the pie crust with egg wash and place the braided pieces on top. Attach the braided pieces by brushing them with egg wash and pressing them together. This will ensure they're bound to one another. Transfer the pie to the freezer to chill for 30 minutes.

Preheat the oven to 400 degrees F. Brush the pie with the egg wash and sprinkle with demerara (totally optional!). Transfer to the oven to bake for 20 to 25 minutes. If at any time the pie crust edge gets too brown, you can place a few strips of foil over it to create a tent. Turn the oven down to 300 degrees F and bake for an additional 30 minutes. 
Nutrition
Calories:
319
kcal
(16%)
|
Carbohydrates:
75
g
(25%)
|
Protein:
7
g
(14%)
|
Fat:
3
g
(5%)
|
Saturated Fat:
1
g
(6%)
|
Sodium:
1169
mg
(51%)
|
Potassium:
793
mg
(23%)
|
Fiber:
28
g
(117%)
|
Sugar:
41
g
(46%)
|
Vitamin A:
642
IU
(13%)
|
Vitamin C:
114
mg
(138%)
|
Calcium:
121
mg
(12%)
|
Iron:
3
mg
(17%)
Did you make this recipe? let me know on Instagram!
Looking for more pie recipes? Here are some of my favorites:
(This post is sponsored by ALDI. Thanks for supporting the sponsor that keeps A Cozy Kitchen cozy. You can find them on the internets: Facebook, Twitter, Instagram, and Pinterest.)