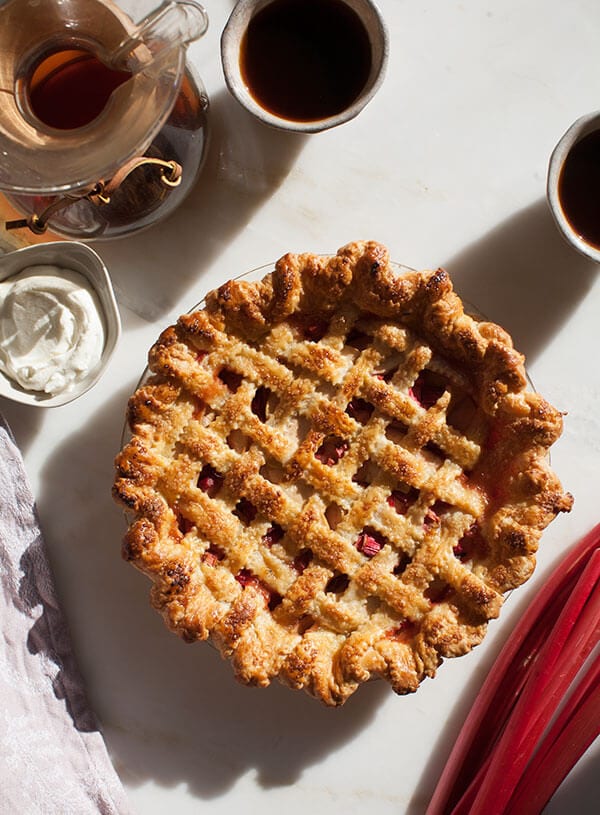 Hello you sweet gorgeous lil' pie, you. I want to squish your cheeks like a grandma does a baby; I want to slap you on the ass like boys do in the locker room (I never understood this); I want to hug you so tightly that you get mad at me (I do this to Amelia daily). That's how I feel about this pie.
This has Easter brunch situation written all over it. It's the thing you bring to a brunch party and just wait for people to compliment you like crazy. And you can respond all NBD-like, Oh this pie, I just threw it together in like no time flat. Act casual.
If you're not a rhubarb fan it's probably because it was way too tart. It's like tart celery.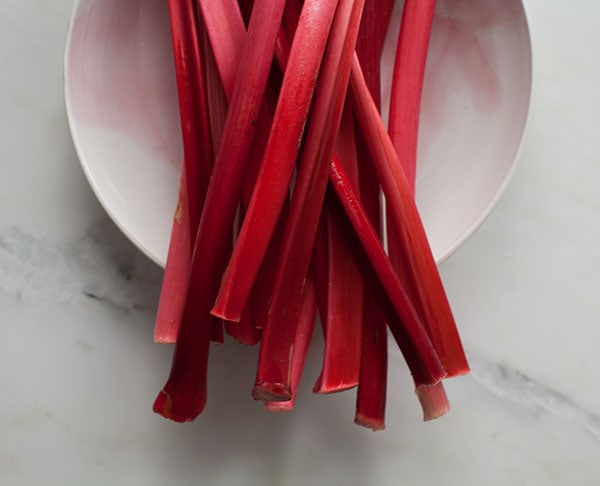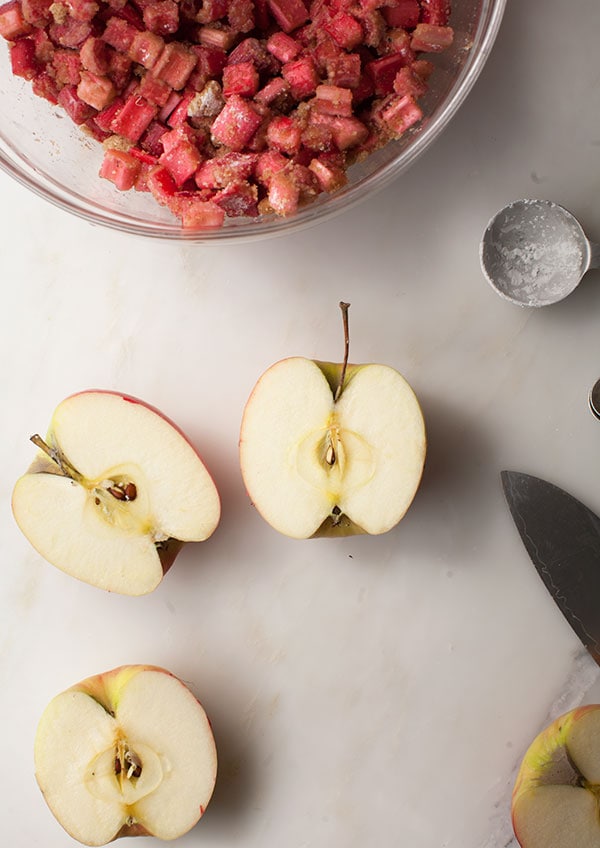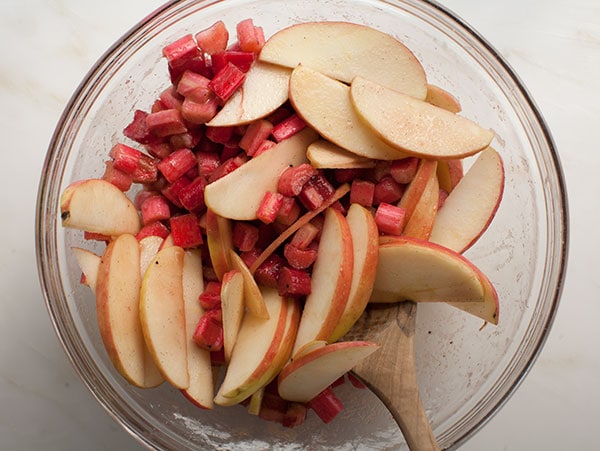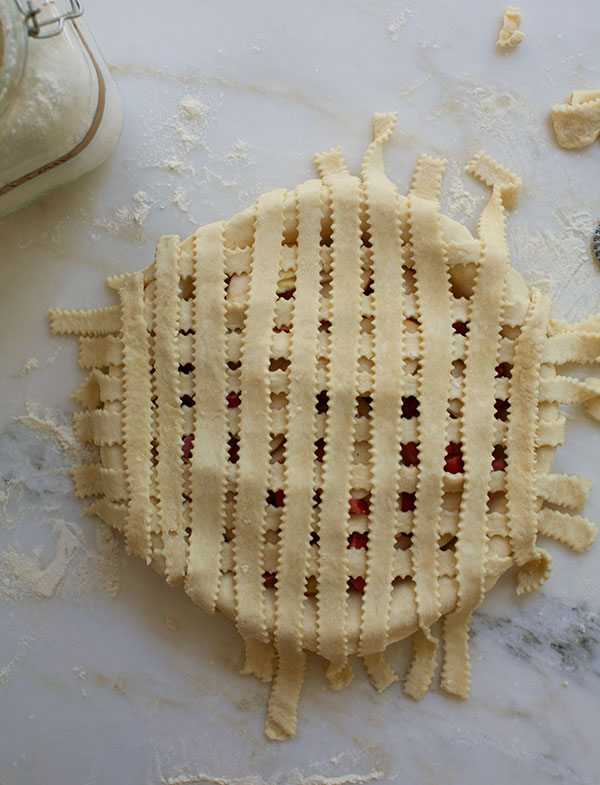 Rhubarb has to be balanced out with the right amount of sugar; very important. I'm usually pretty shy with the sugar content in my pies. I lean toward the less sweet side, allowing the fruit to shine, but rhubarb it's a little different.
I loooove, LOVE the addition of brown sugar instead of white granulated in this recipe. It gives it a deeper flavor that I'm super into. Other than that, it's pretty simple. Pretty straightforward.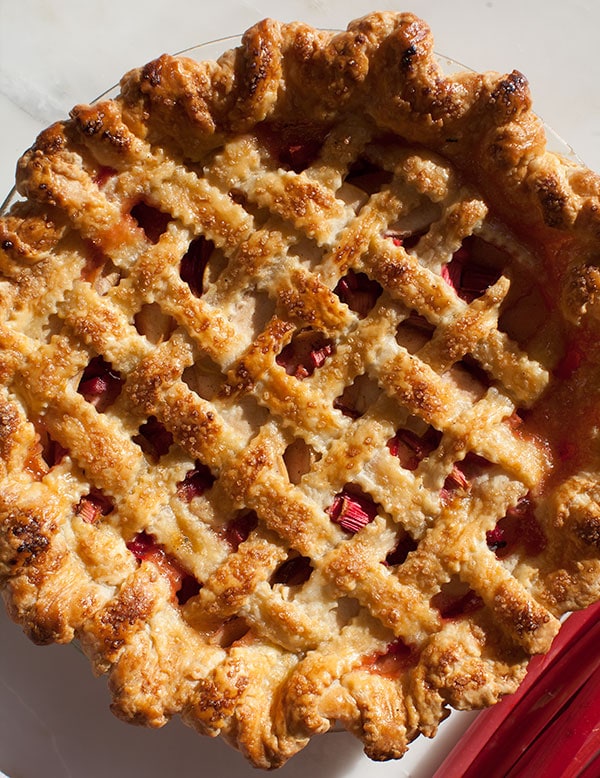 I say make the crust the night before so you won't have any shrinkage issues. I actually made the crust the day of for this post and I regretted it. The crust didn't turn out exactly how I had hoped. I wanted a bit more definition in the crust crimps but you know, after I ate it, I was like whatever, it's good.
I'm going to an Easter brunch of Sunday. There's gonna be an Easter egg hunt. There's gonna be quiche. And of course, there's gonna be pie. That's how I roll, yo!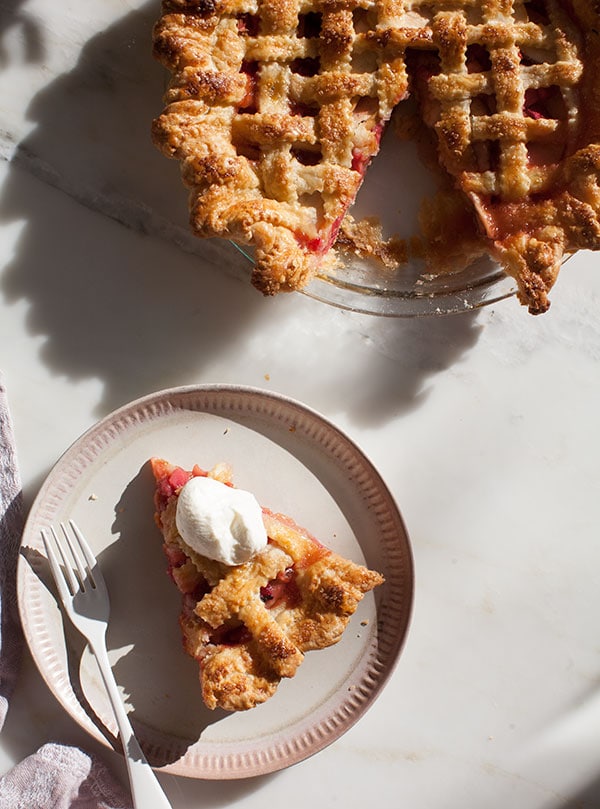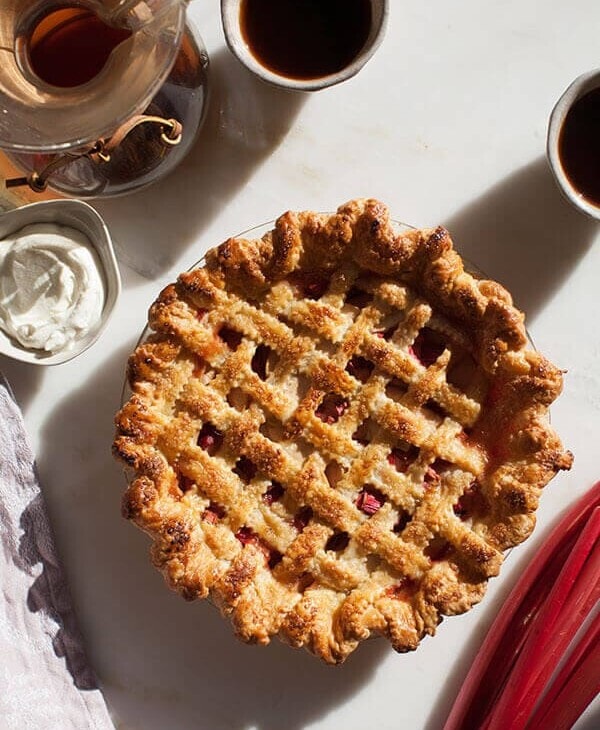 Print Recipe
Rhubarb Apple Pie
Serving Size:
(nine-inch) pie
Ingredients
Filling:
1

pound

rhubarb

ends trimmed and stalks cut into 1/4 inch pieces

1

apple

cored and sliced (I used a Pink Lady apple)

3/4

cup

light or dark brown sugar

1/2

vanilla bean

scraped

2

tablespoons

corn starch

1/4

teaspoon

fine-grain sea salt
Additions:
1

large egg + 2 tablespoons milk

whisked together in a small bowl for egg wash

1

tablespoon

turbinado sugar or demarrara

Ice cream or whipped cream

for serving
Instructions
In a medium bowl, mix together the rhubarb, apple, brown sugar, vanilla bean, corn starch and salt. Allow to stand, about 10 to 15 minutes, while you assemble the pie crust.

Pour the filling into the prepared pie crust (see above for assembling instructions). Roll the second half of dough and make any sort of design that you like. I chose a very tightly weaved lattice. For this, I cut the dough into 1/2-inch strips using a ravioli cutter. I weaved a lattice, tucked the pie edge under itself all the way around and then crimped the dough all the way around.

Brush the tops of the pie with a generous amount of egg wash and sprinkle with about a teaspoon of turbinado sugar. Transfer to the freezer to chill for 15 to 20 minutes. Meanwhile, preheat the oven to 400 degrees F.

Place the pie on a baking sheet and transfer to the oven to bake for about 20 minutes, until the crust is lightly golden brown. Turn the oven's heat down to 350 degrees F and bake for an additional 20 to 30 minutes, until the crust is golden brown and the filling is bubbling. Transfer to a cooling rack and allow to cool to room temperature, about 3 hours. If you cut into it before cooling it down, the filling will spill out, but is that the worst thing in the world? No. Serve with ice cream or whipped cream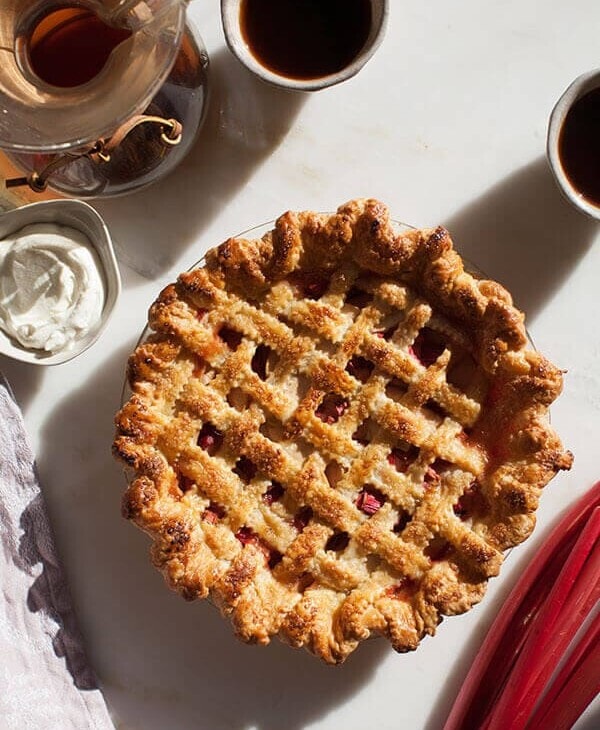 Print Recipe
Rhubarb Apple Pie
Serving Size:
(nine-inch) pie
Ingredients
Filling:
1

pound

rhubarb

ends trimmed and stalks cut into 1/4 inch pieces

1

apple

cored and sliced (I used a Pink Lady apple)

3/4

cup

light or dark brown sugar

1/2

vanilla bean

scraped

2

tablespoons

corn starch

1/4

teaspoon

fine-grain sea salt
Additions:
1

large egg + 2 tablespoons milk

whisked together in a small bowl for egg wash

1

tablespoon

turbinado sugar or demarrara

Ice cream or whipped cream

for serving
Instructions
In a medium bowl, mix together the rhubarb, apple, brown sugar, vanilla bean, corn starch and salt. Allow to stand, about 10 to 15 minutes, while you assemble the pie crust.

Pour the filling into the prepared pie crust (see above for assembling instructions). Roll the second half of dough and make any sort of design that you like. I chose a very tightly weaved lattice. For this, I cut the dough into 1/2-inch strips using a ravioli cutter. I weaved a lattice, tucked the pie edge under itself all the way around and then crimped the dough all the way around.

Brush the tops of the pie with a generous amount of egg wash and sprinkle with about a teaspoon of turbinado sugar. Transfer to the freezer to chill for 15 to 20 minutes. Meanwhile, preheat the oven to 400 degrees F.

Place the pie on a baking sheet and transfer to the oven to bake for about 20 minutes, until the crust is lightly golden brown. Turn the oven's heat down to 350 degrees F and bake for an additional 20 to 30 minutes, until the crust is golden brown and the filling is bubbling. Transfer to a cooling rack and allow to cool to room temperature, about 3 hours. If you cut into it before cooling it down, the filling will spill out, but is that the worst thing in the world? No. Serve with ice cream or whipped cream