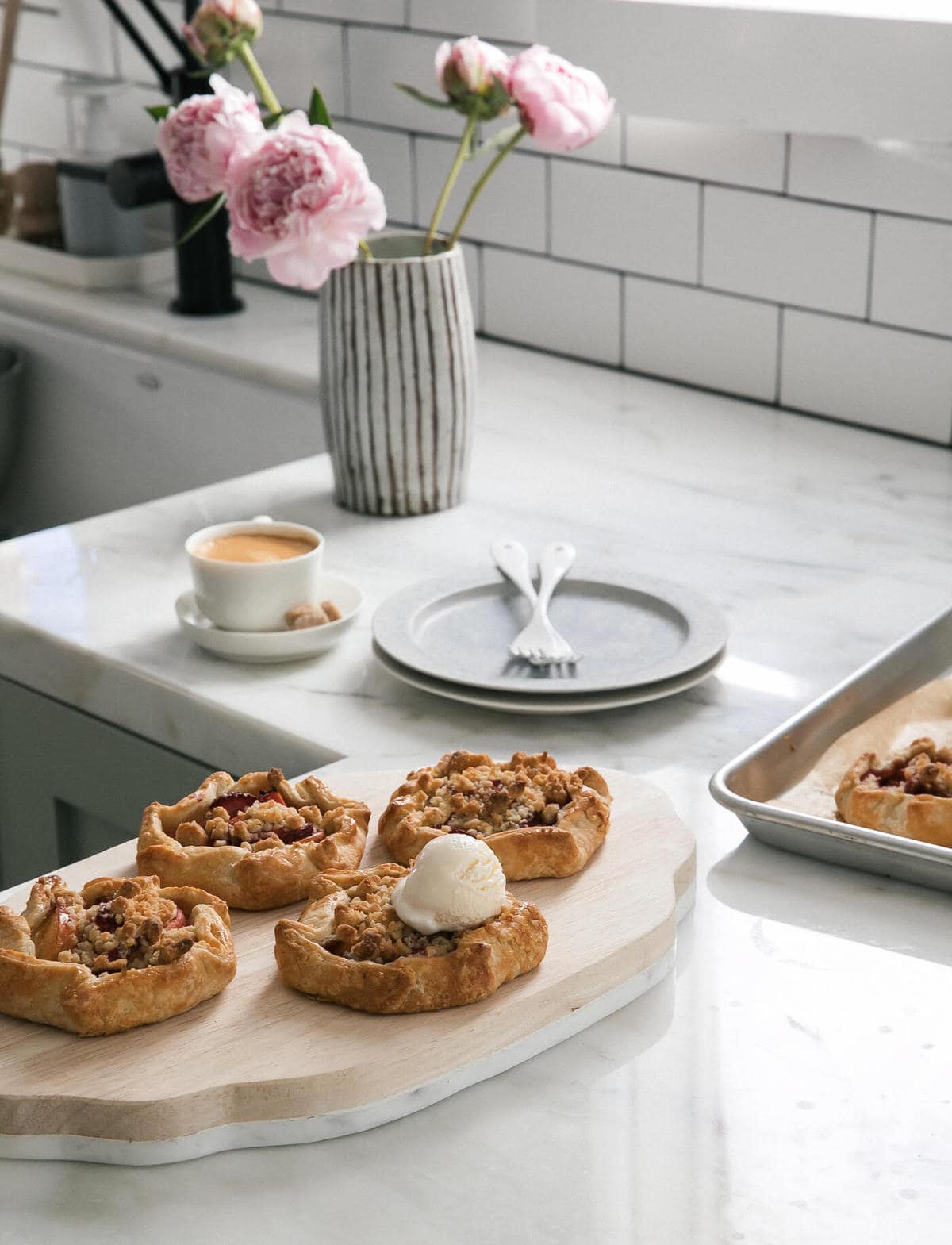 As a self-employed person, weekends aren't always weekends. I actually like it this way. I know it may sound strange but I love doing work on the weekends because it means peace and quiet and zero emails! WOOHOO! This weekend was a combo of work and relaxation and it felt really nice.
I've been put on Queer Eye Season 2 and started to edit all the photos that exist on this computer. Josh was like, "why are you putting on that show because you're gonna cry?" I was like, NO I'M NOT. And then literally seven minutes into the show, I started crying. Lol. It's emotional!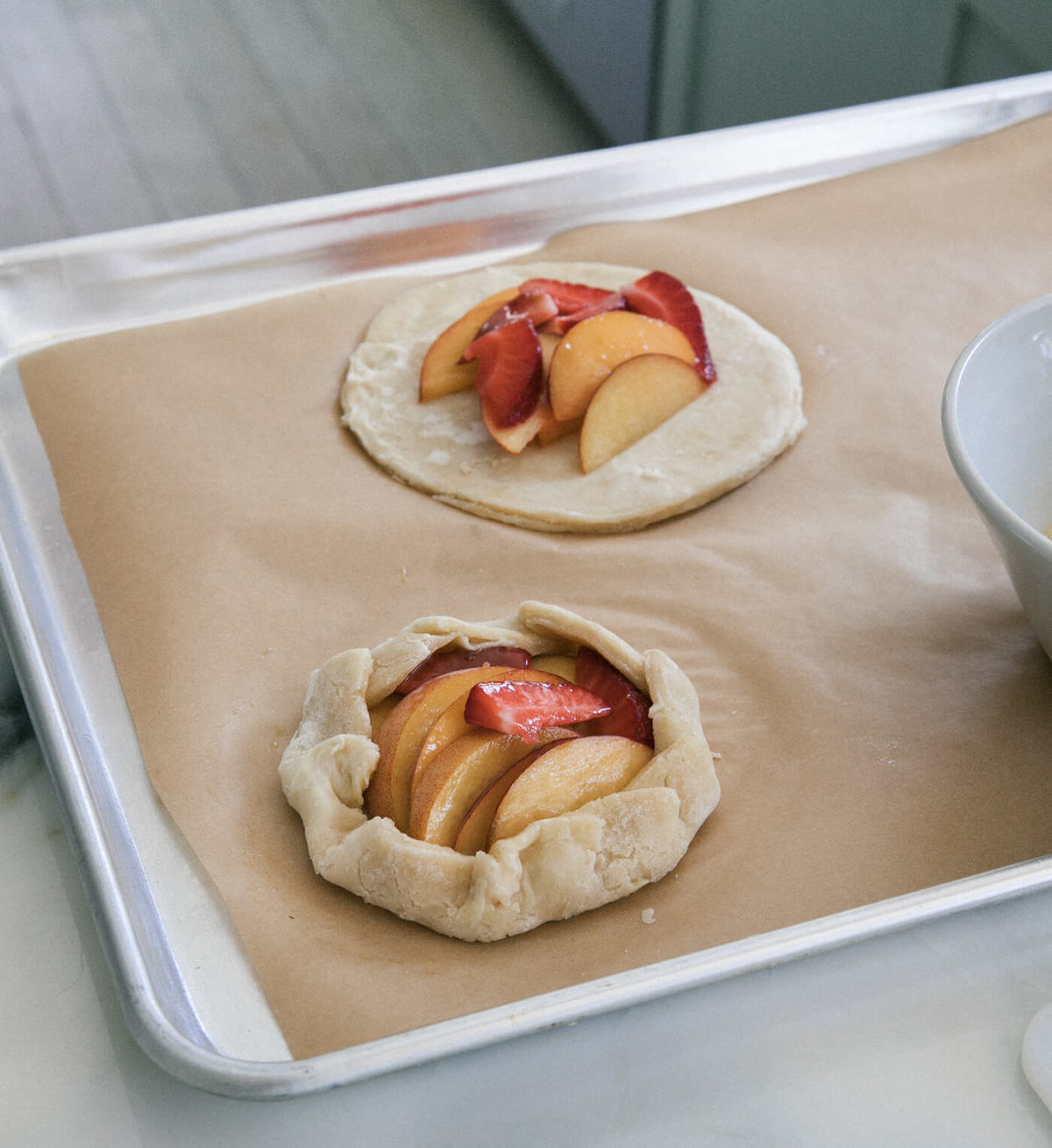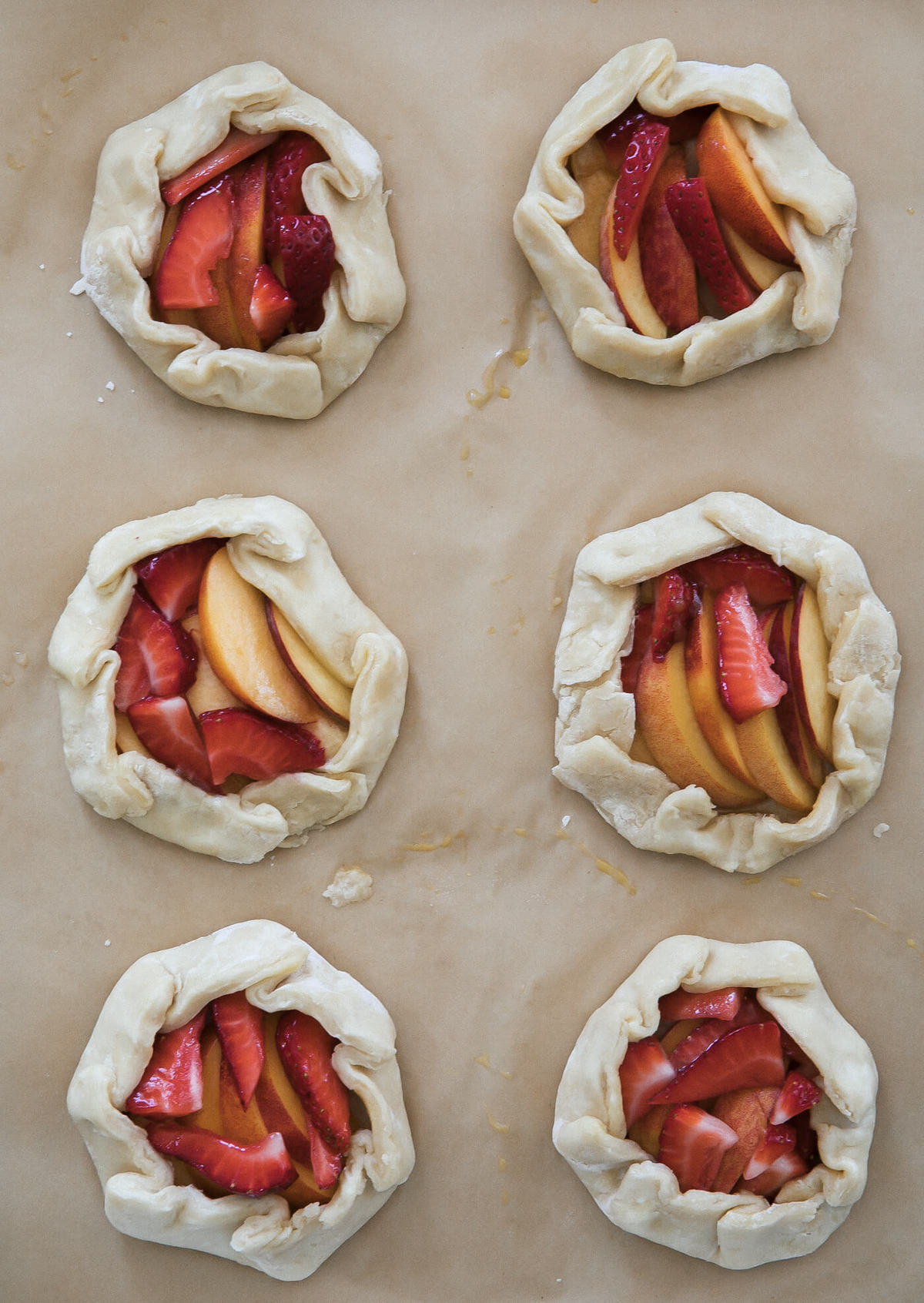 Let's talk about the recipe. I haven't alway been a big fan of galettes. I kinda always thought they looked a little sloppy and I preferred and perfect-looking pie. And then I just embraced that them looking kinda sloppy is exactly what galettes are all about!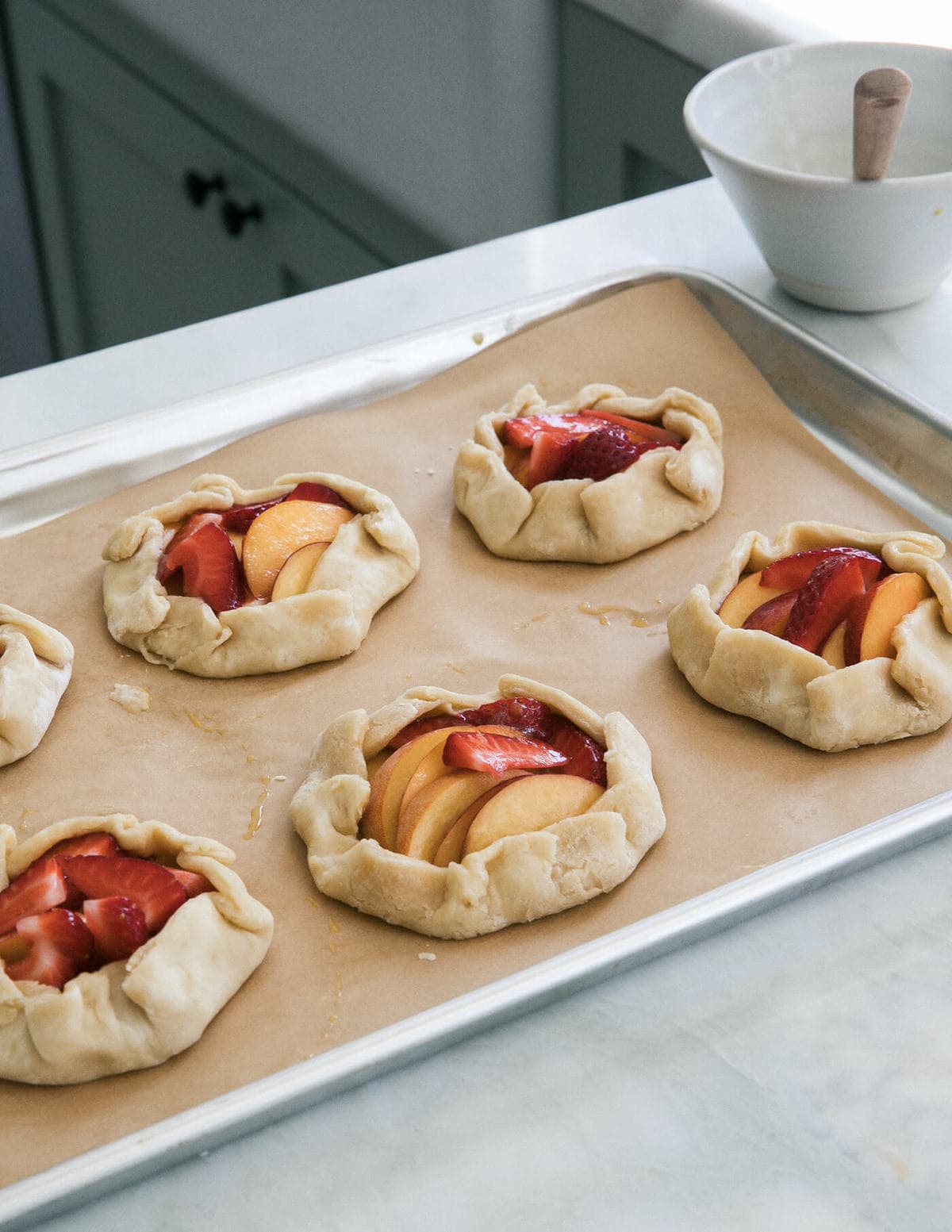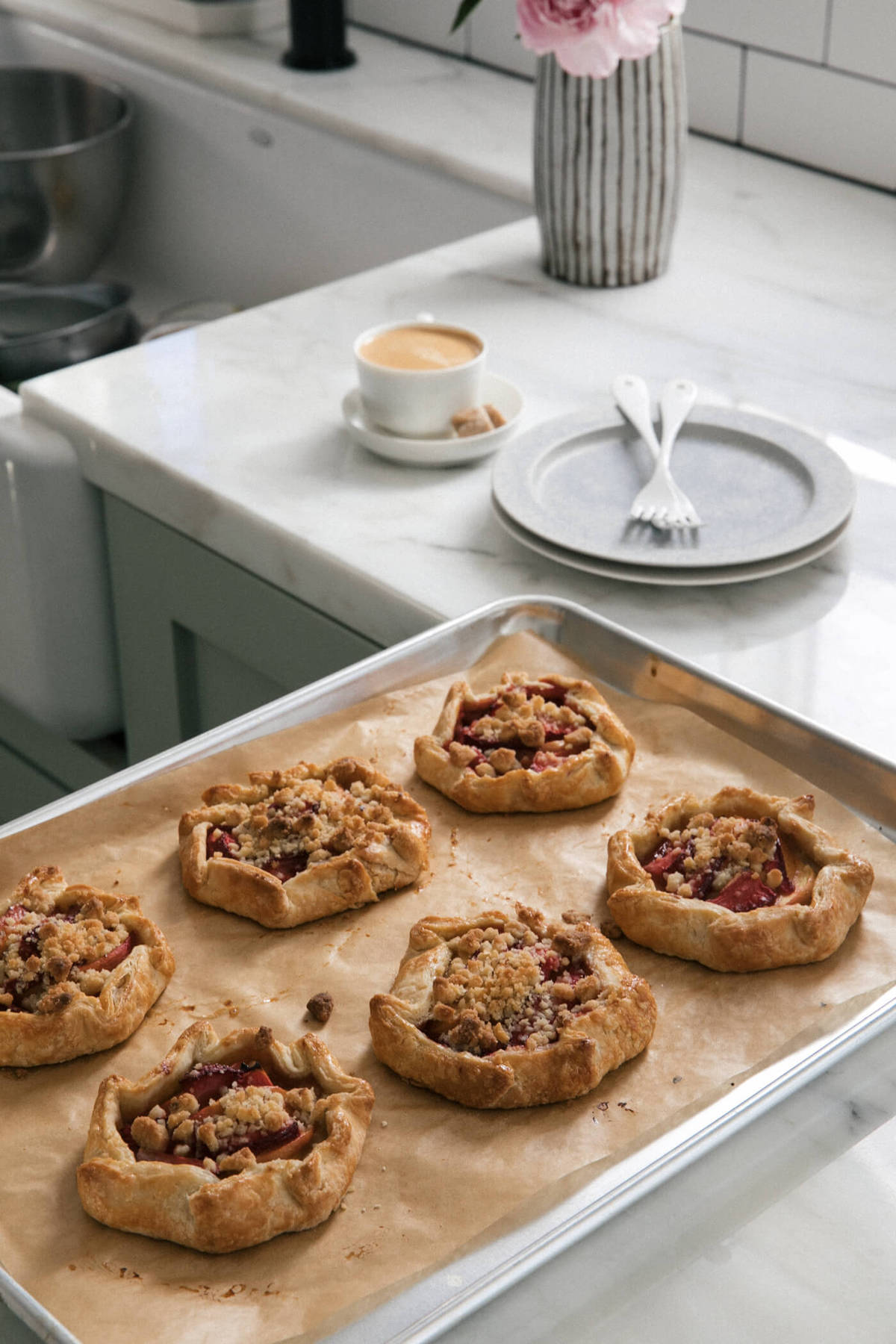 I wanted to spruce these up a bit and a walnut streusel does just that. It adds a bit of snazziness without a ton of work. And galettes are supposed to be on the easier side. These are personal-sized so I think they're a great thing to bake for 4th of July or any sort of summer get-together.
Coming up! Japan post. I can't wait to share my trip with all of you.
xoxo,
Adrianna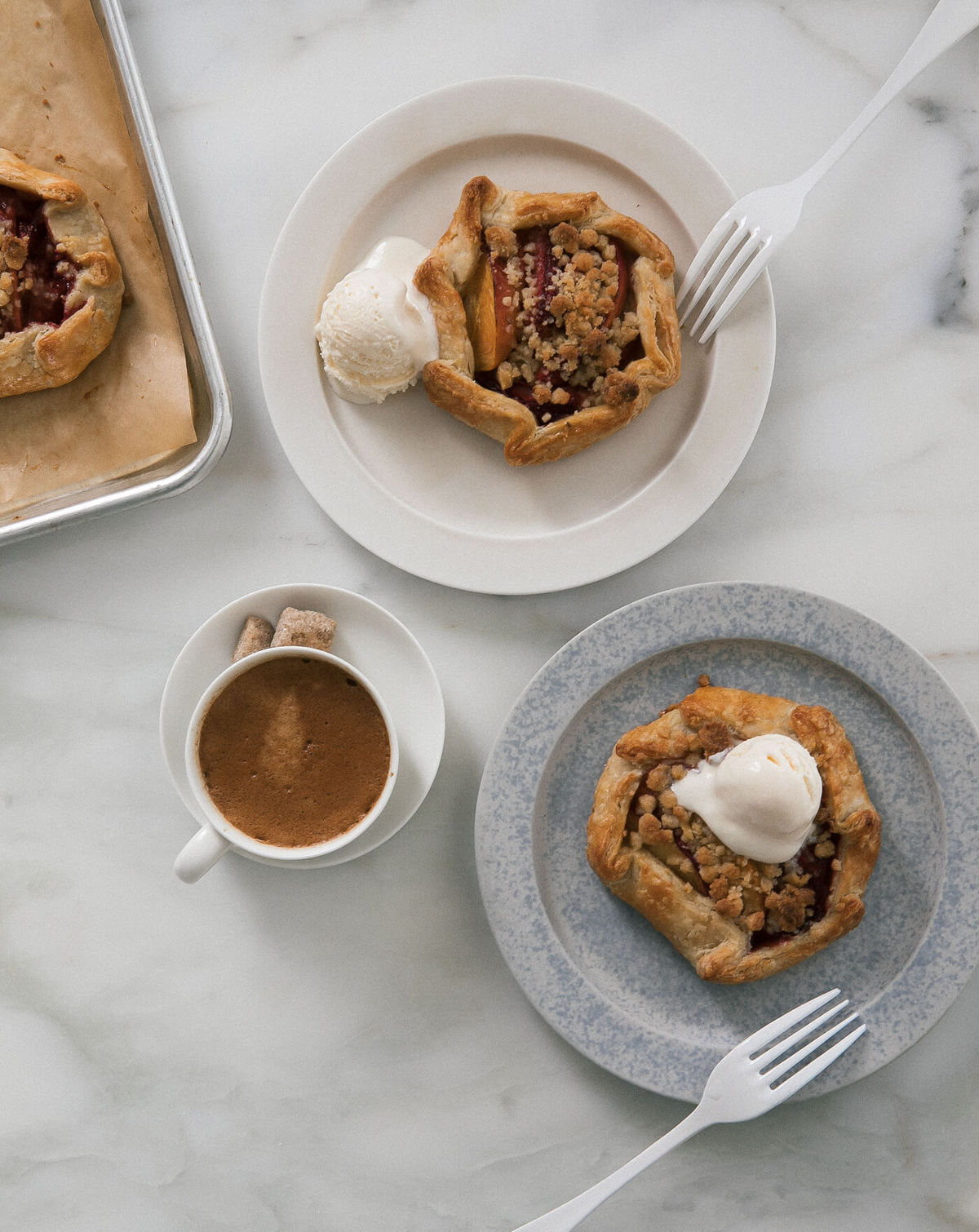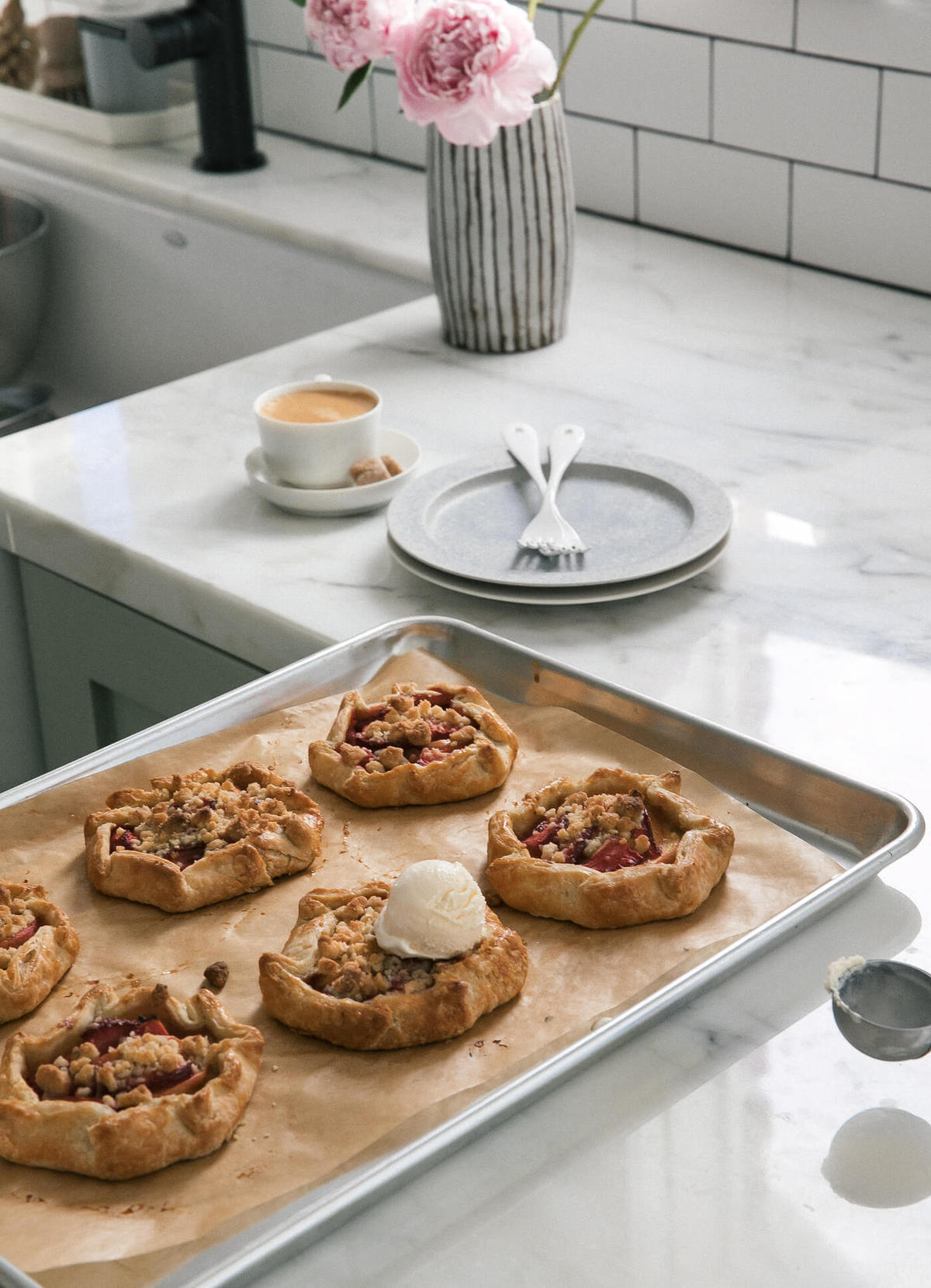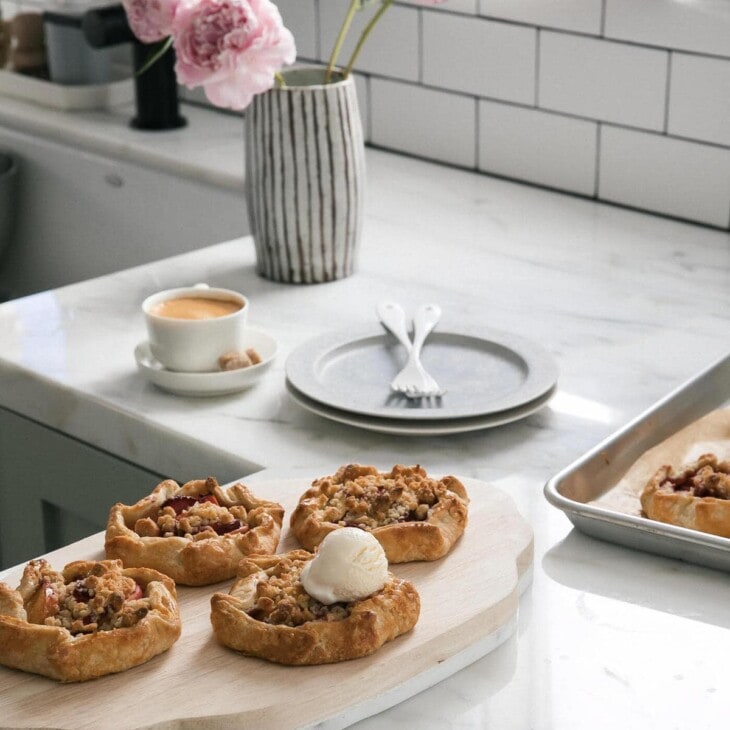 Print Recipe
Mini Summer Galettes with
Ingredients
Fruit Filling:
2

peaches

pitted and sliced

1

nectarine

pitted and sliced

4 to 5

strawberries

stems removed and sliced

2

tablespoons

brown sugar

1

teaspoon

pure vanilla extract

Pinch

of salt
Streusel Topping:
1

tablespoons

sugar

1

tablespoon

brown sugar

3

tablespoons

unsalted butter

melted

1/2

cup

tablespoons all-purpose flour

Pinch

of salt

1/4

cup

walnuts

chopped
Instructions
Line a baking sheet with parchment and set aside.
To Make the Fruit Filling:
To a bowl, add the slices of fruit, brown sugar, vanilla and pinch of salt; mix until combined.
To Make the Streusel:
To a medium bowl, combine the sugars, butter, flour, salt and walnuts. The mixture will be clumpy and moist. Set it aside.
To Assemble the Galettes:
Sprinkle your work surface with a bit of flour. Using a floured rolling pin, roll out the first disc of pie crust so it's about 1/4-inch thick. Using a bowl that's about 6-inches in diameter, cut 3 rounds in each pie crust, running a knife around the bowl. Repeat with the second pie crust disc.

Transfer the round of pie dough to the baking sheet. I like to assemble them on the baking sheet so there's no need to move them. Brush the tops lightly with egg wash.

Spoon about 1 to tablespoons of the fruit mixture to the center of the pie crust round. I definitely fiddled with the placement of the fruit a bit so the slices laid on top of each other properly. Fold the dough sides over the filling—this doesn't have to be perfect. Galettes are imperfect that's why they're awesome. Repeat with the remaining pie crust rounds. Sprinkle the top of the fruit with the streusel. I used a lot on top because I really wanted that flavor!

Transfer to the freezer to chill for about 10 minutes. Meanwhile, preheat your oven to 400 degrees.

When the oven is preheated and the galettes are a bit firm, brush the pie crust top with egg wash and transfer to the oven to bake for about 20 to 22 minutes, until the tops of the pie crust and streusel are golden brown and the fruit is bubbling.

Serve galettes with vanilla ice cream or whipped cream.