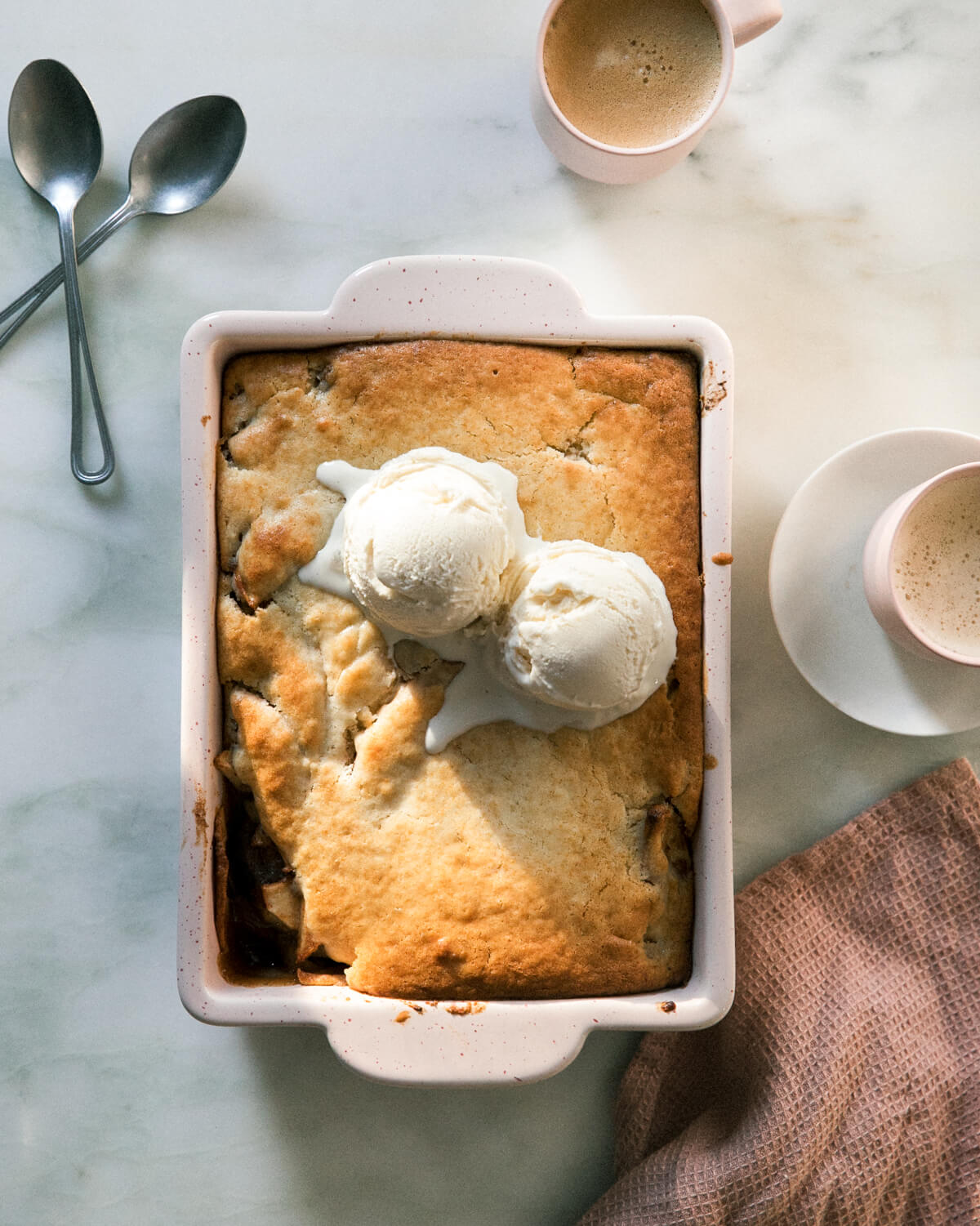 I'm going to scream this from the rooftops but this is an Easy Apple Cobbler …that's also fluffy and perfectly spiced and WAY easier than any apple pie you might not have time to make.
This season is all about pie, I will admit that. And of course, I have my favorite apple pie recipe that I think is a sure-fire winner. But let's be honest, there's not alway time for pie crust-making, rolling out, crimping, etc. This is where this Easy Apple Cobbler comes into play.
I love a cobbler. But before we dive in. Let's discuss semantics: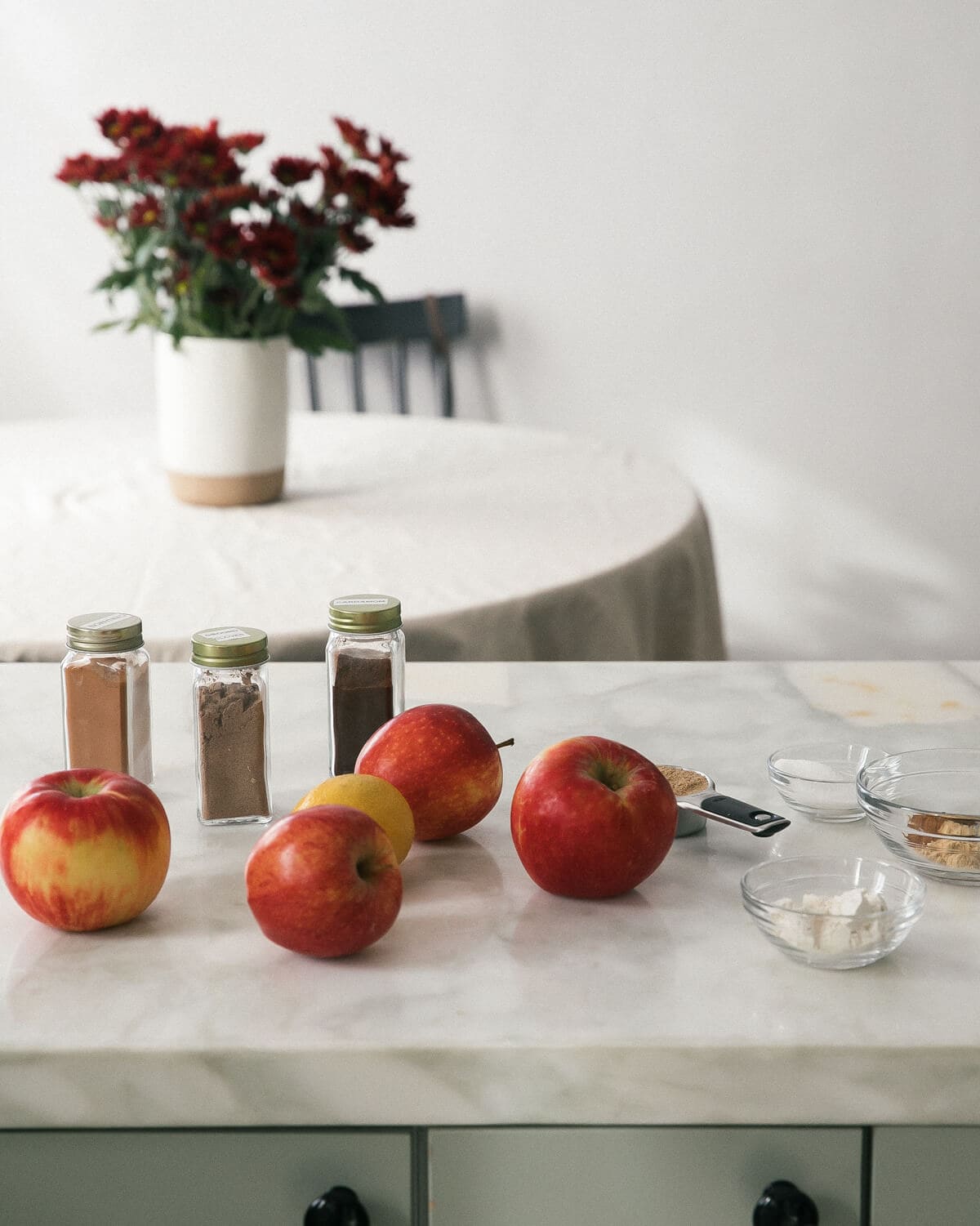 What's the difference between Crisp vs. Cobbler?
They're incredibly similar. Basically they're sliced, diced or whole fruit at the base of a baking dish. Usually tossed with a thickener (either flour or corn starch or tapioca starch), sugar, lemon juice and other flavorings. And then they're topped with something and then baked.
Crisps – typically have something that makes it—yep—crisp on top. Think rolled oats, diced nuts, butter, and flour. Crisps are usually topped with a streusel like topping.
Cobbler – some cobblers are topped with drop biscuits, other times they're topped with more of a looser batter.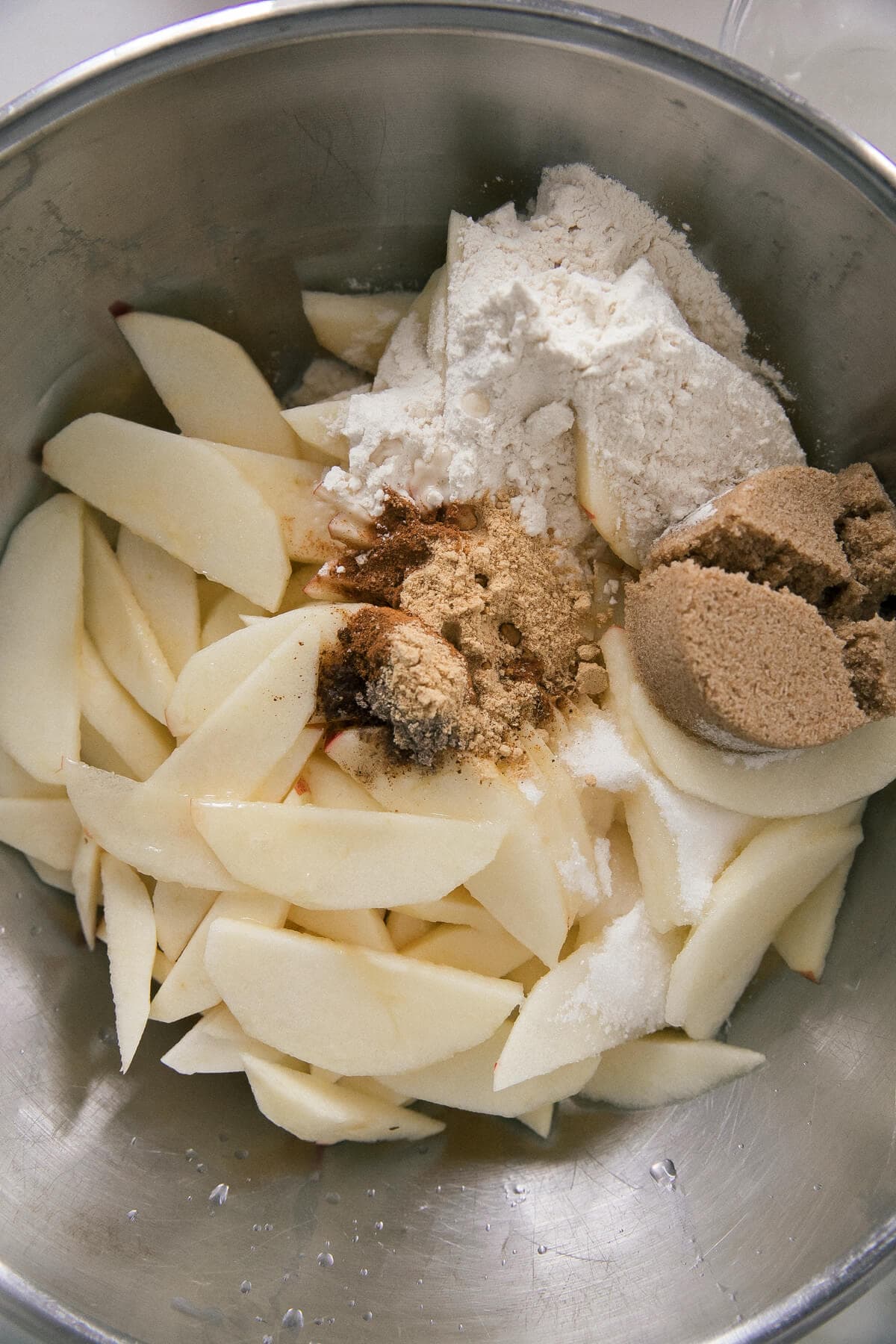 This is obviously a cobbler. And we're not making drop biscuits, instead we're making a looser-type batter that resembles more of a pancake batter. But with a strong butter flavor. Lol.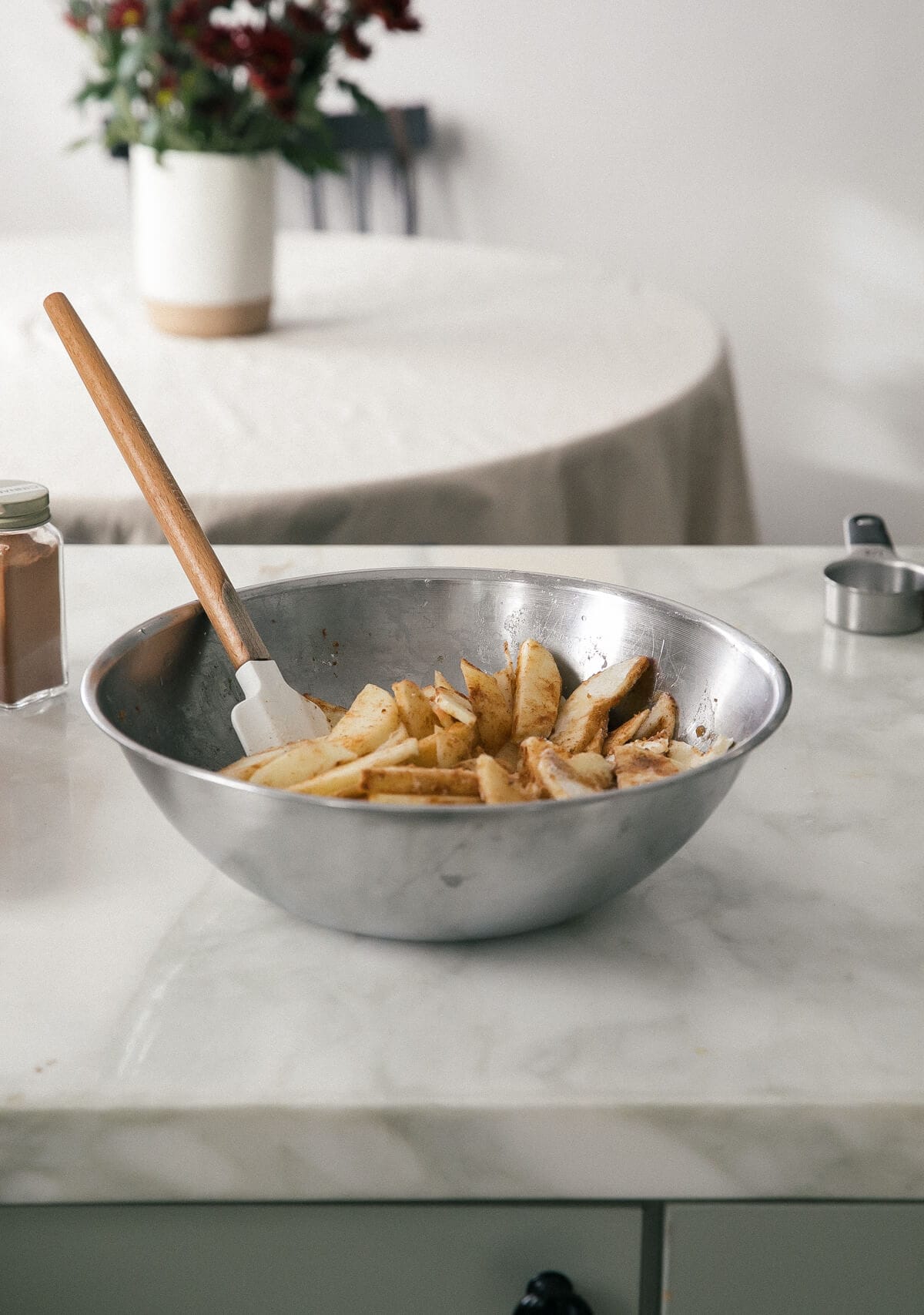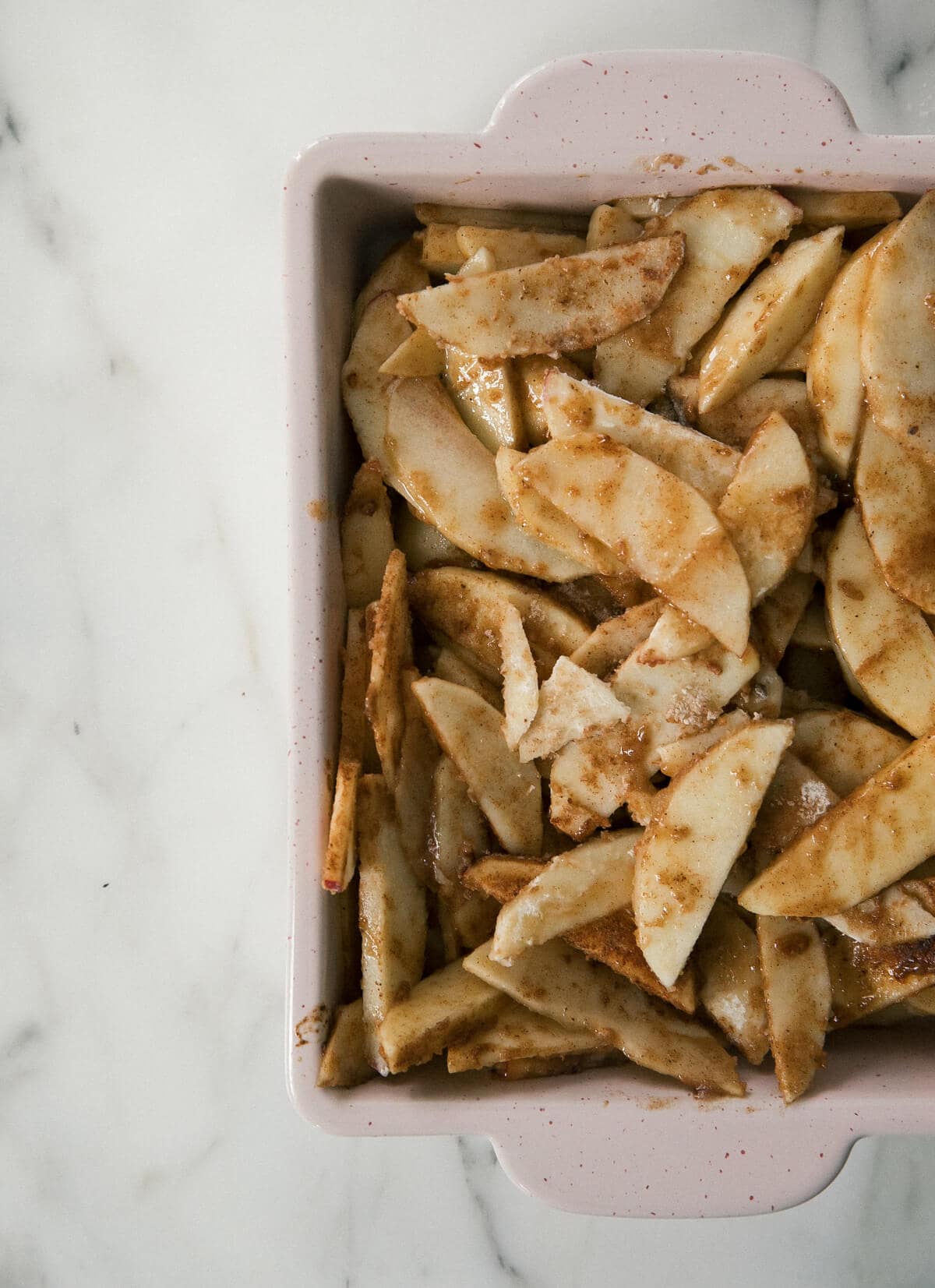 How to Make this Easy Apple Cobbler
What I love about this cobbler is how simple it is to come together. Here's how to make it:
Mix the filling together. I used a mix of honey crisp and gala apples. Other apple combinations will totally work. And then add the brown sugar, sugar, flour, lemon juice, vanilla and spices.
The topping couldn't be simpler: In a medium bowl goes the flour, baking powder, salt, sugar, milk, melted butter and vanilla.
And then the topping goes on top of the filling in a baking dish.
In the oven and boom! done!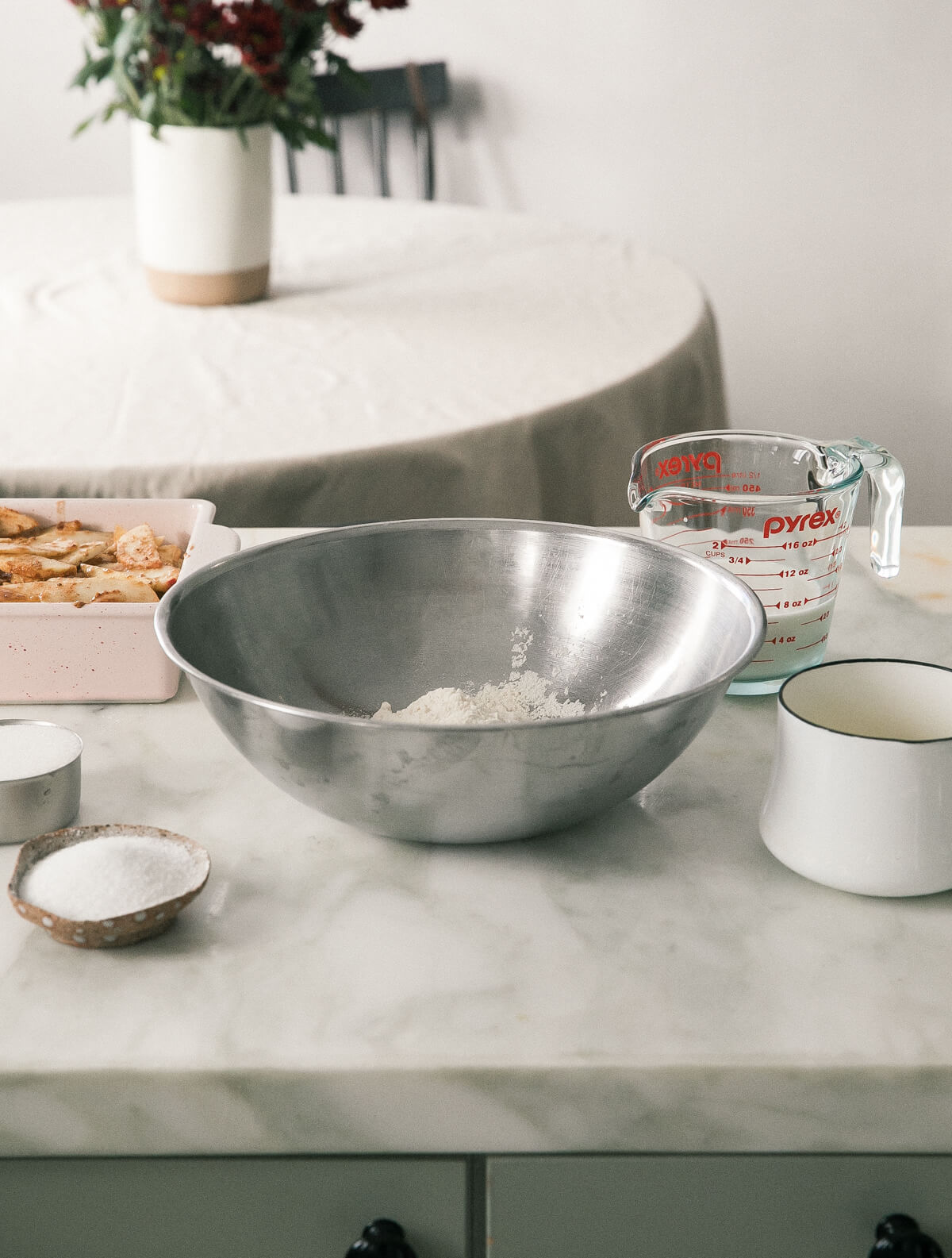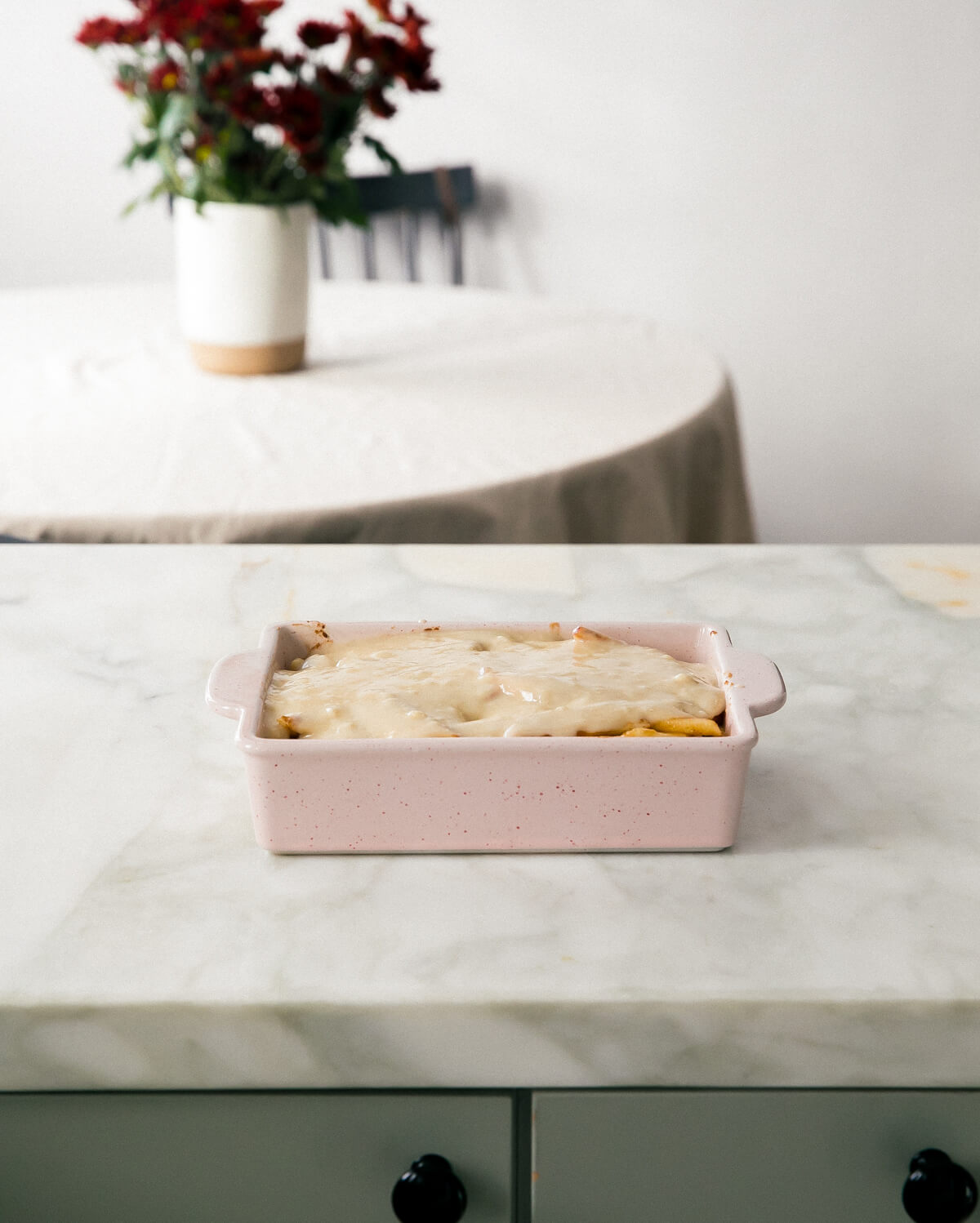 As much as I wish this was a one-bowl recipe, it's a two-bowl recipe. But it's simple, simple!
And of course, I put up a step-by-step of this recipe over up on my Instagram Stories.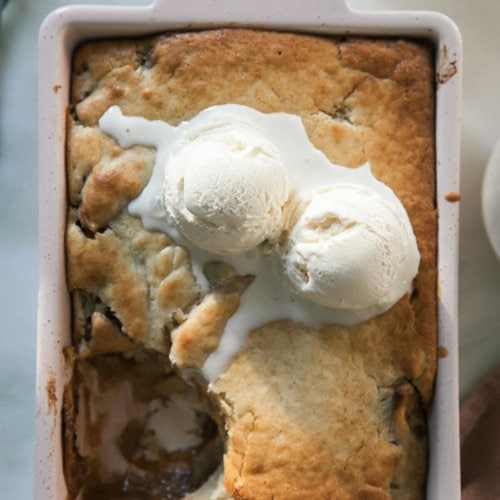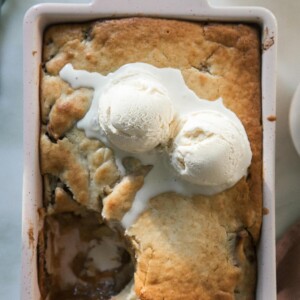 This Easy Apple Cobbler has a super fluffy, deliciously sweet topping. The apples are perfectly sweet and spiced. This is a simple, easy fall dessert.
Ingredients
Filling:
2

honey crisp apples

,

peeled, cored and cut into 1/4-inch slices

2

gala apples

,

peeled, cored and cut into 1/4-inch slices

1/4

cup

brown sugar

2

tablespoons

granulated sugar

3

tablespoons

all-purpose flour

Juice from 1 small lemon

,

about 1 tablespoon juice

1

teaspoon

vanilla paste or 2 teaspoons vanilla extract

1

teaspoon

ground cinnamon

1

teaspoon

ground ginger

Teeny pinch of ground cardamom

Teeny pinch of ground cloves
Topping:
1

cup

all-purpose flour

2

teaspoons

baking powder

1/4

teaspoon

kosher salt

1/2

cup

granulated sugar

3/4

cup

whole milk

6

tablespoons

unsalted butter

,

melted

1

teaspoon

vanilla paste or 2 teaspoons vanilla extract
Directions
Prep:
Preheat the oven to 350 degrees F. Grease or butter a baking casserole dish that's 9x6 or something comparable. Use what you have! And then set it aside.
To Make the Filling:
In a large bowl, add the sliced honey crisp apples, gala apples, brown sugar, sugar, flour, juice from 1 lemon, vanilla and spices (cinnamon, ginger, cardamom and cloves). Toss it all together until combined. Add the filling to your prepared baking dish.
To Make the Topping:
In a medium bowl, whisk together the flour, baking powder, salt and sugar. Add the milk, butter and vanilla; mix until combined. Pour the topping on top of the filling. It's ok if some of the filling is peaking through or it's not a totally perfect on top. I like it when some of the filling shows through. And then transfer to the oven to bake for about 40 to 45 minutes, until the filling is bubbling and the top is golden brown.

Remove from the oven and serve warm with cold vanilla ice cream.
Notes
Perfect Apples for Baking: 
I used a combination of these first two, but here is a list of apples that are great for baking: Gala Apples, Honey Crisp Apples, Granny Smith, Northern Spy, Braeburn, Fuji. 
Individual Cobblers: 
This recipe can be adapted to more of a personal-serving size. Feel free to divide the fruit amongst 6 to 8 ramekins and then top it with the batter topping. If doing this in ramekins, you might want to dice the apples, vs. slices since they might not fit. Bake them on a sheet pan for about 15 to 20 minutes, until golden brown on top. 
Nutrition Facts
Easy Apple Cobbler
Amount Per Serving
Calories 235
* Percent Daily Values are based on a 2000 calorie diet.
For more apple recipes:
Chai Spiced Skillet Cake
Homemade Apple Pie
Cheddar Rye Apple Hand Pies
Cranberry Apple Pie
Apple Butterscotch Pandowdy