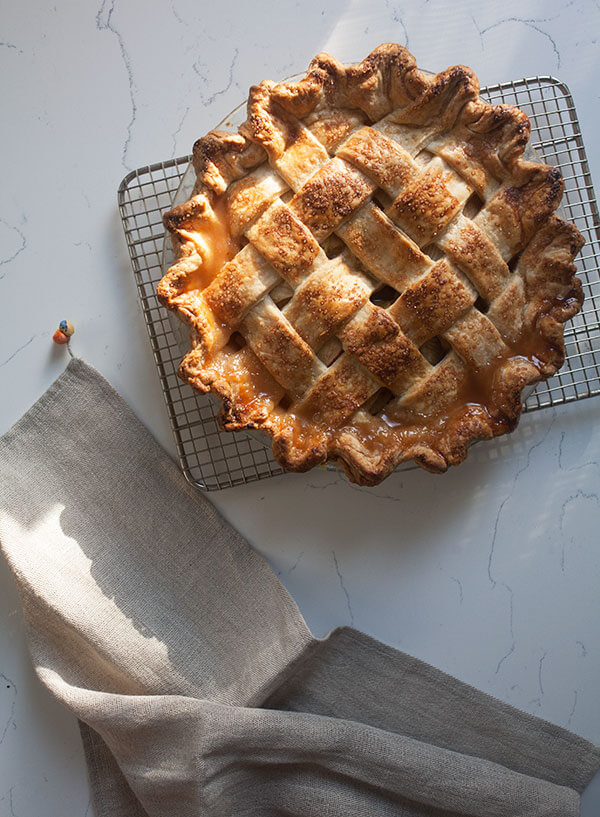 Do you ever wonder what your legacy will be?
I probably won't be the richest grandma so I doubt I'll leave copious amounts of money to a school or hospital; I won't end up buying a ton of jewelery in my lifetime so there will be no diamonds (sorry, grandchildren); and there's a good chance I won't be leaving behind large amounts of land in the hills of Wisconsin (are there hills in Wisconsin?…you get what I mean).
My hope is that my grandkids will tell their friends about how their grandma looked so sweet and small yet she was strong, told sarcastic jokes and had a foul mouth. I hope they tell their friends that whenever I visited, I made them the most elaborate ridiculous lunches and wrote them the sweetest notes for them to find at lunch time. And I hope they tell their friends about how their grandma, with her super veiny hands, made the best pies ever.
My future legacy is what I'm sharing today.
(I'm feeling very emo this week, can you tell?)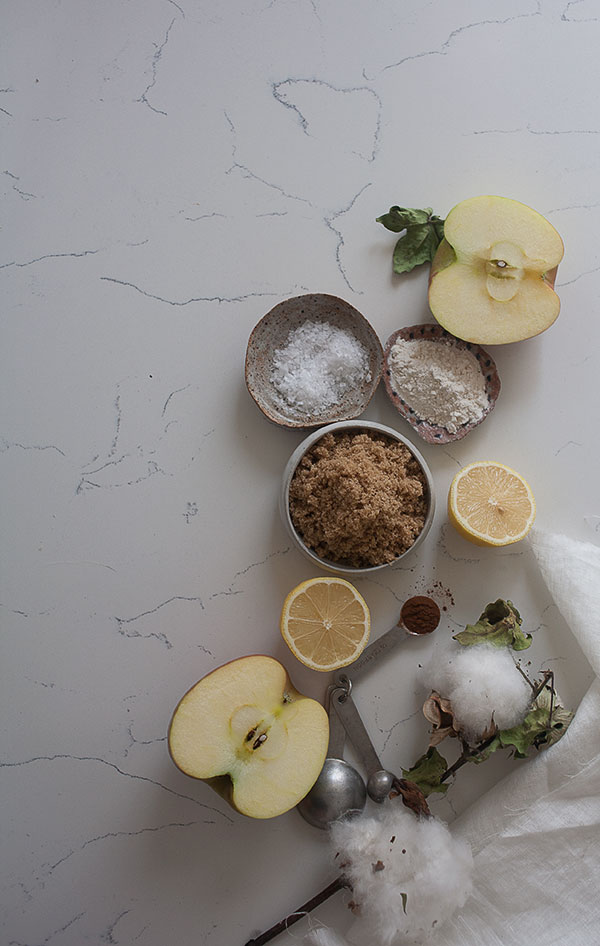 This week has been lots of feelings. If you sent me a text with a bit of attitude, I think you hate me. If you were nice to me, I hear it as you love me and I start to cry. Just all the feelings! I have 'em.
Maybe it's the weather, maybe it's my impending manuscript due date, either way, making pie helps me to work it all out.
Can we talk about apples?
Here are my favorites for apple pies:
1. First place: Honey Crisp.
2. Second place: Pink Lady
3. Third place: Granny Smith.
My all-time favorite combination is: Honey Crisp AND Granny Smith.
I like to mix a bit of sweetness and tartness. That's my vote, folks.
And I like to be psychotic and mandolin them into nice even slices. But this isn't completely necessary and a lot of times I don't do this. IT'S AN OPTIONAL MOVE.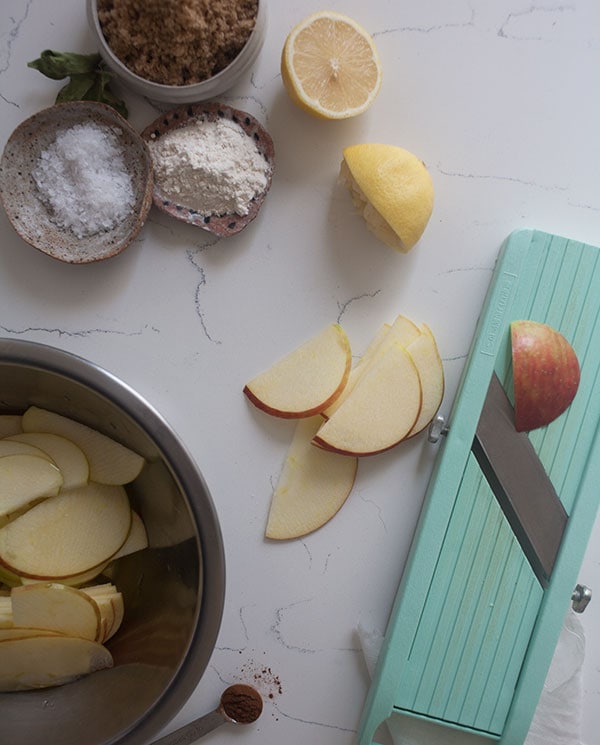 I like my apples to be tossed in a bit of lemon juice, brown sugar, flour, cinnamon and salt. Nothing weird. No twists. Just good ol' AMERICA!
And then I layer them. It doesn't have to be perfect but you'll end up with the most beautiful layered interior EVER. Of course, you don't have to do this. You could slice them up, and just throw them into the pie. I will not judge you, I swear, I would never do that to you, do you believe me?
And again, this is OPTIONAL.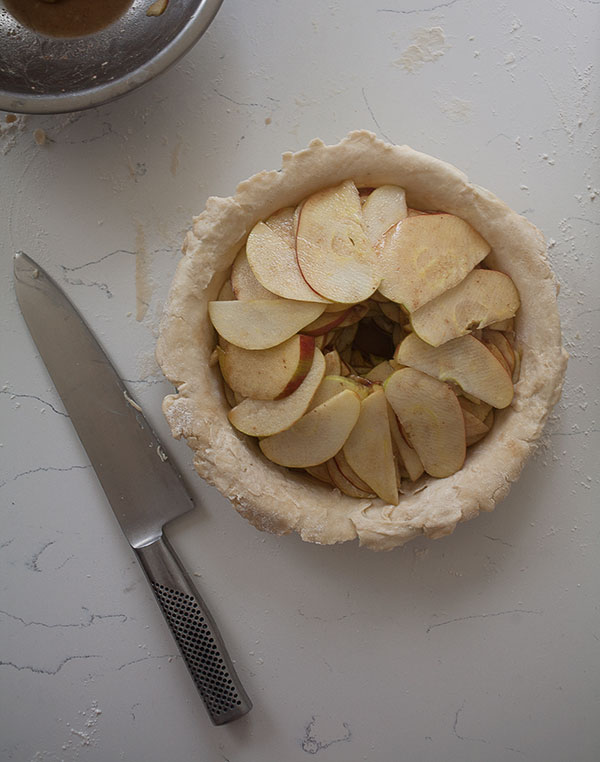 And then I roll out the second half of dough and slice it up into thicker pieces so I can make a lattice.
You know how everyone always tells you not to re-roll the scraps? I say that's absurd. I say butter, sugar and flour should be re-roll, Depression-era style.
And plus, you'll need all if to make a lattice. It's a win-win.
I like to prep my lattice so I know I have enough slices. Do you see that boo-boo on one of the strips? That's me severing two pieces of dough together. A bit of water helps. When this is baked you won't be able to tell.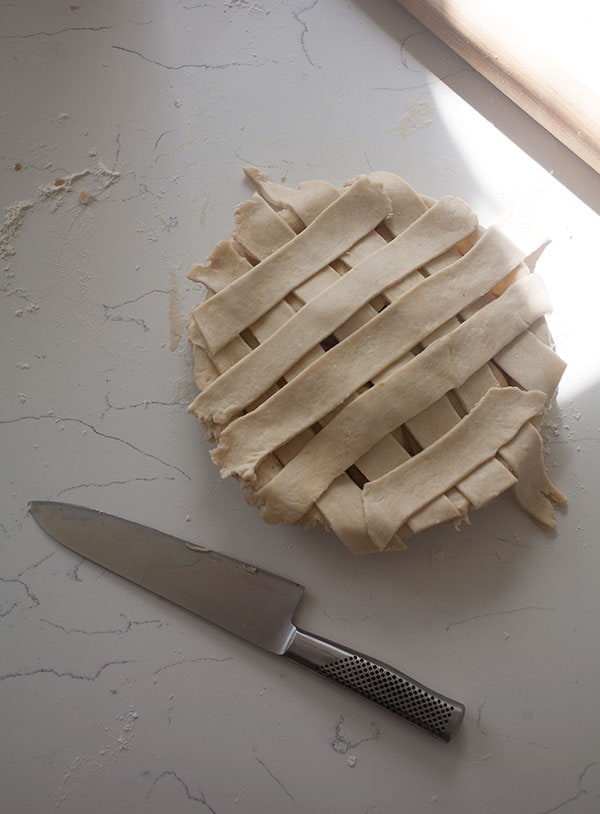 I lattice. I trim the edges, making sure to leave about 1/2-inch all the way around, this way I can tuck it all under and have a good amount of dough to crimp.
Also, there will be shrinkage! Having that extra bit of dough helps prepare for that.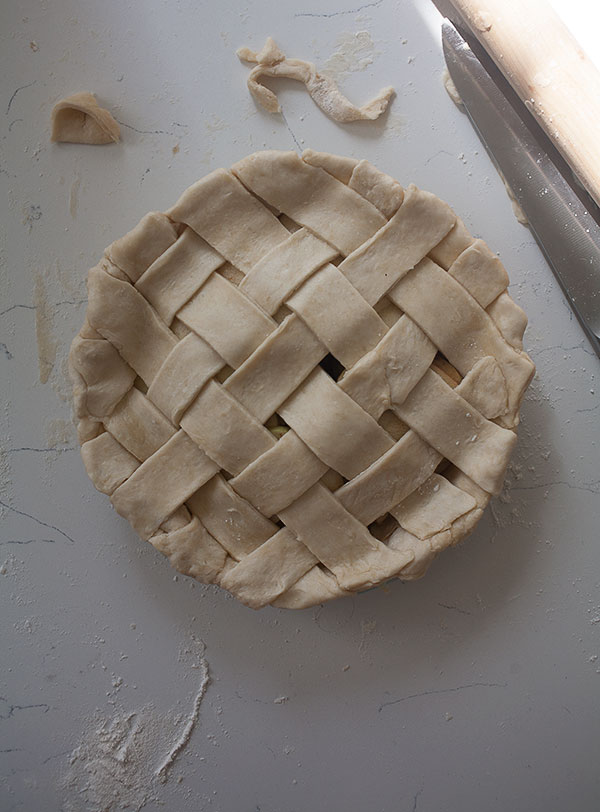 I brush it with egg wash. So important. The egg is what gives it that beautiful color. Really nothing else can replace it. No milk. No water. No buttermilk. Nothing. You need egg.
And then I sprinkle the entire pie with turbinado sugar. If you don't want to buy a whole bag, steal those little packets of SUGAR IN THE RAW from Starbucks. I won't tell.
It gives it that sparkle. That "shine bright like a diamond" quality.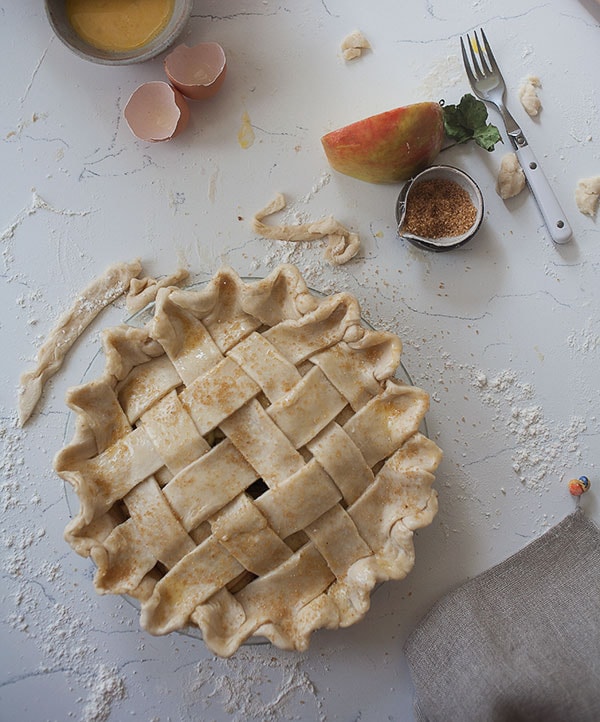 And then, I stick it in the freezer for a good 30 minutes. While it's chilling out, I preheat the oven to 400F.
After it's baked, I allow it to cool completely. If you have shitty self-discipline then go ahead and slice it, but it will be gooey.
There are worse things in the world than pie that doesn't hold up, so I say go for it!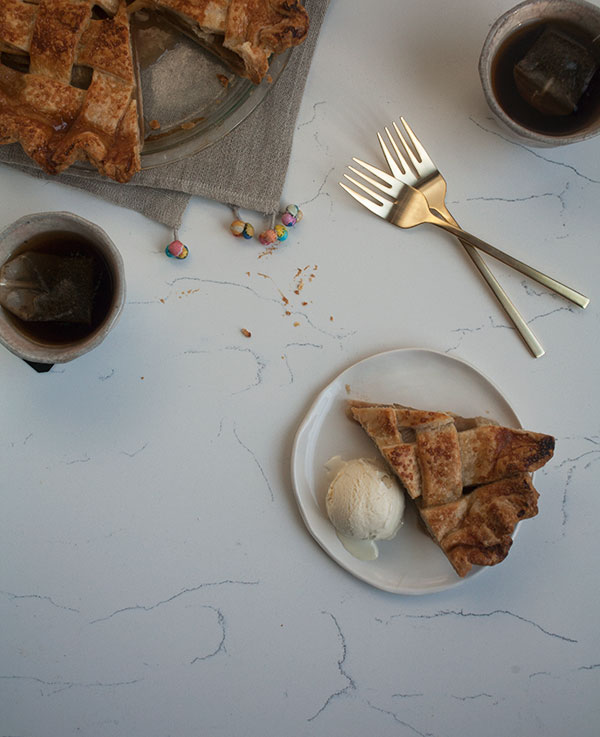 Oh and I almost forgot, if you need a visual guide for the pie crust, here is Pie Crust 101.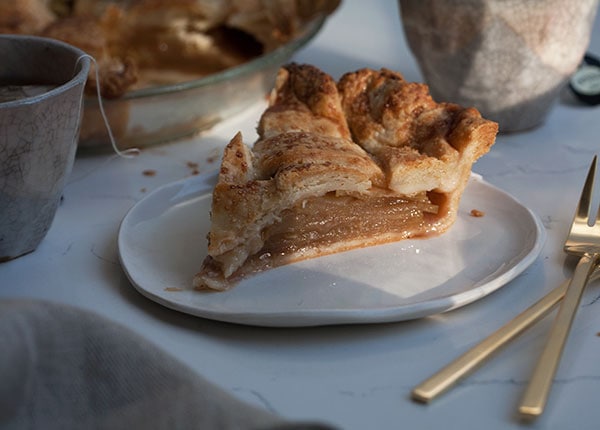 Prep Time:
1
hour
30
minutes
Ingredients
Double Pie Crust:
2 1/2

cups

312.5g all-purpose flour

1

tablespoon

15g white granulated sugar

1 1/2

teaspoon

7g fine-grain sea salt

2

sticks

,

226g cold unsalted butter (straight from the fridge)

3/4

cups

very cold water

,

divided
Apple Pie Filling:
Juice from 1 lemon

2

small honey crisp apples

,

halved and cored (you could also use ALL honey crisp or pink lady)

1

Granny Smith apple

,

halved and cored

3

tablespoons

all-purpose flour

1/2

cup

light brown sugar

1

teaspoon

ground cinnamon

1/2

teaspoon

salt

1

large egg

,

beaten (for egg wash)

1

tablespoon

turbinado sugar

,

for topping (optional)
Directions
To Make the Pie Crust:
In a large bowl, mix together the flour, sugar and salt. Using a box grater, grate the cold butter atop the flour mixture. Working quickly, and using your hands, break the butter bits into the flour until they're evenly distributed and resemble the size of small peas. Add a 50% of the recommended water and mix. The mixture will be shaggy at this point. From here, add 1 tablespoon of water at a time until the dough comes together. I like to knead it a few times in the bowl so it comes together a bit.

Flour your counter and dump the dough onto it. Knead a few times more until it comes together. Slice the dough into two, forming two discs. Wrap the discs in plastic wrap and transfer to the refrigerator to chill for at least 1 hour, ideally overnight.
To Make the Apple Pie Filling:
You're welcome to peel your apples. This is optional. Sometimes I do and sometimes I don't. You choose! Core and slice your apples into 1/4-inch pieces. OR, you can use a mandolin and slice them very thinly. Squeeze in the lemon juice, being sure to catch any seeds.

Add the flour, brown sugar, cinnamon and salt; toss until the apples are evenly coated.
To Assemble the Apple Pie:
Remove the first disc of dough from the refrigerator and allow to come to room temperature for 5 to 10 minutes. Liberally flour your work surface and rolling pin. Begin to roll the dough, being sure to rotate it every so often to avoid sticking, to a 13-inch round. Wrap the dough around the rolling pin and unroll it over the pie tin. Gently fit the dough into the bottom and up the sides of the pie tin. Trim the dough around the pie tin, leaving about a 1-inch overhang. Recombine the scraps and set them aside. We'll use them for the lattice. Transfer the pie shell to the refrigerator while you roll out the second disc.

Remove the second disc from the fridge and repeat the rolling process. Using a knife, cut the dough into 1 to 2 inch strips, depending on how thick you want the lattice to be. I usually cut as many 1 1/2-inch strips as I can. Reroll the scraps you have set aside, too, you'll need all of the pie dough. (If at any time your pie dough becomes too soft, transfer to a cutting board and put in the fridge to chill so it's easier to work with.)

I work slowly when making a pie so often times I'll need to transfer these pie dough strips to a cutting board and stick them in the freezer to firm up a bit. The freezer is your friend!

Fill your pie shell with the apple filling. If you cut the apples in 1/4-inch slices, you can pour them into the pie crust. If you've used your mandolin, then you can layer them in a circular pattern. You'll notice in the picture above that there was a gap in the center - fill that gap with the few odds and end pieces of apple you saved.

Lay out 5 to 7 strips of pie dough on top of the filling, leaving about 1/2-inch of space in between them. Lay the remainder of your strips running perpendicular. This will give you a good idea of how it will go. Next, fold back every strip. Start one at the top, running horizontally. and weave it under and over, rotating, each strip running vertically. Repeat this process until you've worked your way through every strip. If my directions are confusing, go to Youtube. The videos on there are super easy to follow. Much easier than written instructions!

Trim the edges of the strips, being sure to leave about 1-inch overhand. Going all the way around, tuck the edges under. To make a pronounced crimp, like you see pictured, set your thumb on the outside edge of the crust. With your opposite pointer and thumb fingers, create a v, and push the two together. Repeat this process all the way around the pie crust.

Transfer to the freezer to chill for 30 minutes. Meanwhile, preheat the oven to 400 degrees F.

Brush the entire pie, liberally, with egg wash and sprinkle with turbinado sugar. Transfer the pie to a baking sheet and place in the oven to for 25 to 30 minutes, until the edges are just lightly brown. Turn the heat down to 325 degrees F and bake for another 30-40 minutes, until the edges and are golden brown.

Be sure to check on it intermittently, if at any time the pie crust begins to turn too dark, use foil to cover those areas to stop browning. Allow to stand for at least an hour so it can firm up before slicing--it'll still be slightly warm. Serve with whipped cream and/or ice cream.
Notes
*You can make your pie dough ahead of time and freeze it for up to 1 year.
*You can assemble this entire pie and stick it in the freezer to chill and then bake it off the next day. It'll work very well.
*This pie is good for up to 3 days held at room temperature.