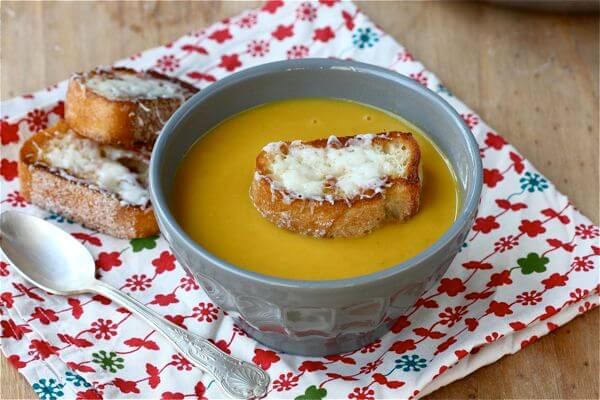 I'm freezing. Are you freezing?! I know I'm being sort of a child when I say I'm freezing. And yes, I do realize that 50˙F is amateur freezing weather. But it's cold. I'm cold.
I got the sniffles this past weekend. I ran into Jeff Goldblum (my childhood crush) as I was sniffling…with no make-up…in sweats…as I was walking through Whole Foods. This happens in Los Angeles from time to time. It's usually famous people I could care less about. But this time…whoa. It was Jeff Goldblum. As I walked past him, he said hello to me (!!!), probably because I couldn't stop smiling. I tried. I just couldn't. So I said hi back and then promptly did one of those run-walks to hide in the flour aisle.
And then I just imagined him getting eaten by that T-Rex as he was sitting on the toilet…chanting. I've had a crush on him ever since. I do realize that I'm now on an official tangent..and I do understand that my "crushes" are confusing and random. But…back to being cold!!
So yeah, when we're cold…soup is in order.
I've been making renditions of this soup for years. It comes from one of my favorite Ina Garten books, Barefoot In Paris. It's full of beautiful simple, French recipes that are perfect for the cold chilly weather.
Wrap a blanket around yourself, put on some cute socks and let's make some soup!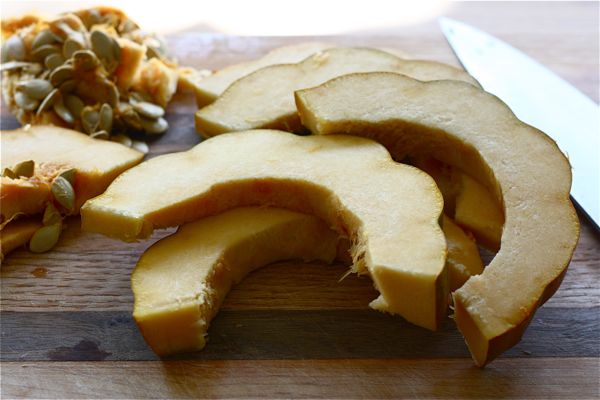 I've made this soup a million times…a million different ways. I've made it with all pumpkin…making it pumpkin soup.
I've made it with all butternut squash…and all acorn squash.
My favorite combo–hands down–is the combo of acorn squash and pumpkin. The flavors don't compete one bit.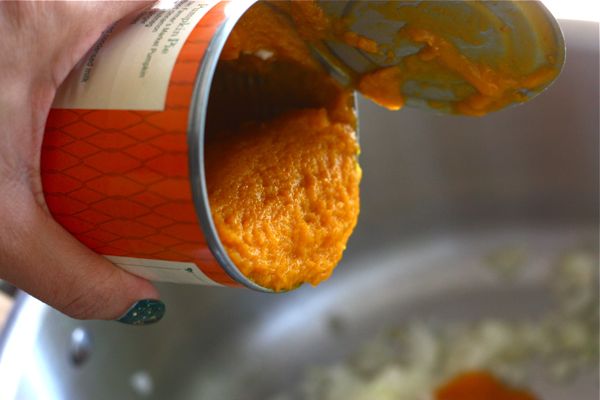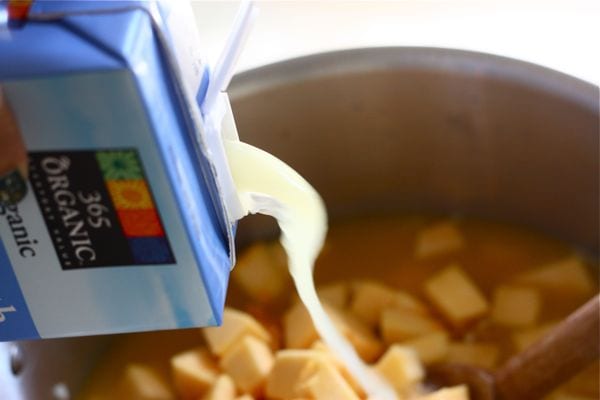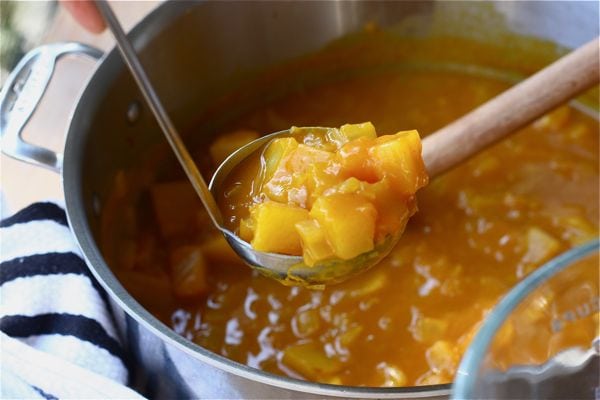 And while I love creamy soups, I don't like ones that make me feel like I'm eating a bowl of warm milk with a spoon. Just no. No. This has just the perfect amount.
The second best part about this soup is the cheesy croutons. I sliced up a French baguette, toasted them with butter in a pan, topped them with a bit of cheese and then finished them up in the oven.
A perfect bowl of soup for when you're kinda chilly with the sniffles.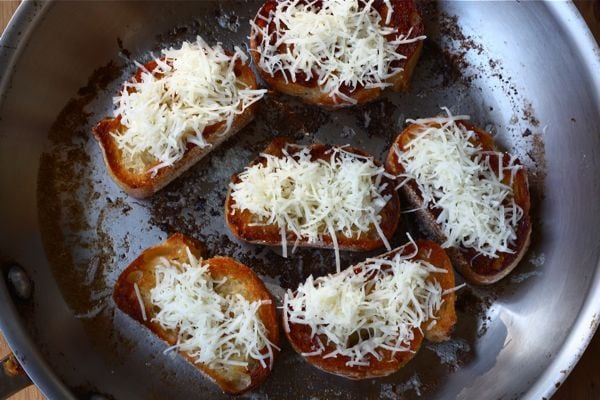 Acorn Squash Soup with Cheesy Croutons
Soup:
2 tablespoons unsalted butter
1 tablespoon good olive oil
1 cup diced yellow onion (1 onion)
2 cloves garlic, minced
1 (15-ounce) can pumpkin purée
1 1/2 pounds acorn squash, peeled and cut into chunks
3 cups chicken stock
2 teaspoons kosher salt
1/2 teaspoon freshly ground black pepper
1 cup half-and-half
Croutons:
1 tablespoon unsalted butter
1/2 French baguette, sliced into 1-inch pieces
3 ounces Gruyére, grated
1. Heat the butter and oil in a heavy-bottomed stockpot, add the onions, and cook over medium-low heat for 10 minutes, or until onions are translucent. Add minced garlic to the top of the onions and cook until fragrant, about 1 minute.
2. Add the pumpkin purée, acorn squash, chicken stock, 1 teaspoon of the salt, and pepper. Cover and simmer over medium-low heat for about 20 minutes, until the acorn squash is very tender. Process the mixture, in batches, using a blender. Be sure to let the hot air to escape so you don't have an explosions on your hands. Return to the pot, add the half-and-half, and heat slowly.
3. Salt to taste. The soup might need the remaining teaspoon of salt, or it might not, depending on the chicken stock you've used.
4. For croutons, pre-heat oven to 350F. Melt the butter in a medium-skillet over medium heat. Add sliced bread to skillet. When toasted on one side, flip and toast for a minute or two, or until golden brown. Take off the heat, top pieces of bread with cheese and transfer to oven for 3-5 minutes, or until cheese is melted. Serve soup hot with melty, cheesy croutons.
Recipe adapted from Barefoot In Paris