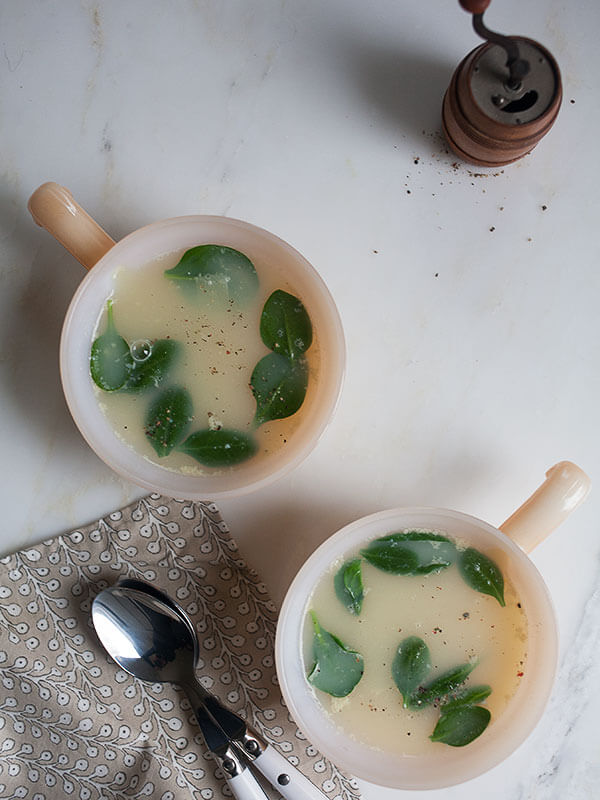 You know when you're hungry but the idea of cooking and actually having to deal with yourself and said hunger seems like SO much work that you feel like you might die? Not actually die, but being super hungry makes everyone melodramatic. You know what I mean. You feel me!
This dish is perfect for the moment I'm describing. It is the simplest of simple dishes. It's cheap, CHEAP to make. Every poor college student should have this recipe in their repertoire. And it's COZY. It's sweater-weather soup.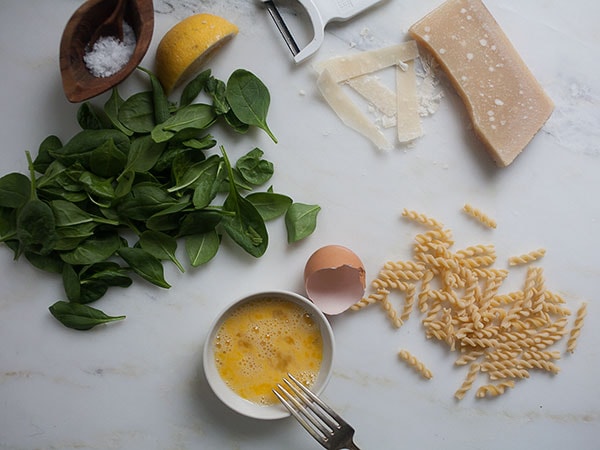 If you've never heard of this soup, let's discuss. Let's gossip about this soup.
It's an Italian egg-drop soup. Stracciatella is what you'd consider peasant food, only requiring a few ingredients in its purest form: water, Parmesan, spinach and egg. Of course, I think adding a bit of chicken broth, lemon juice and a teeny bit of pasta make it a bit more interesting and filling.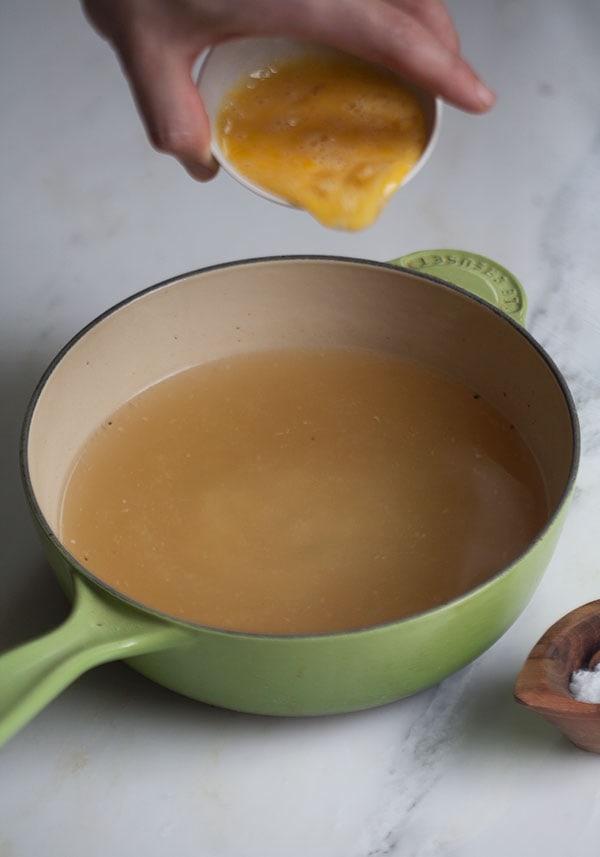 But really even this version you see is only slightly more complicated than the original. There's nothing fussy about this soup, which is exactly what you want when you feel like you're on your 'hangry deathbed'.
I like to make this when nothing else exists in my kitchen. I usually always have pasta, eggs and water. Oh and black pepper–very important!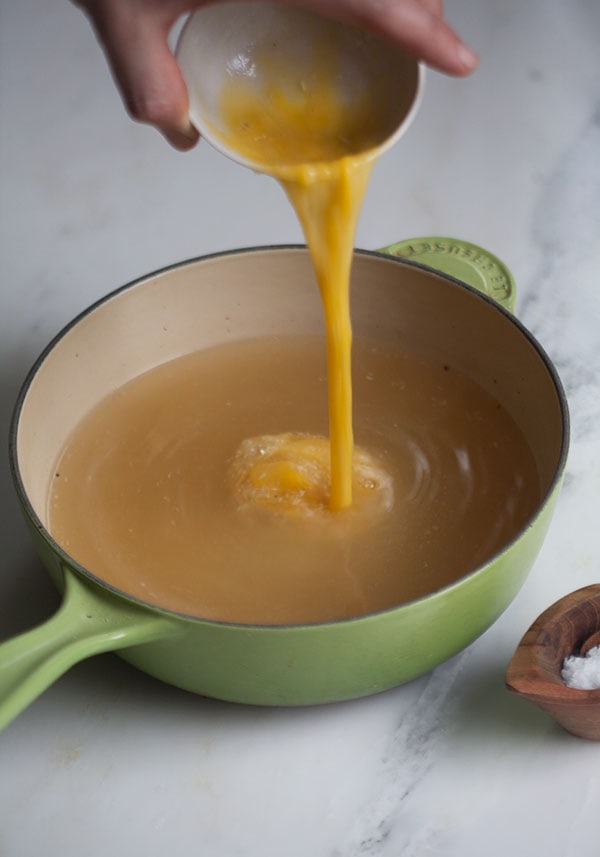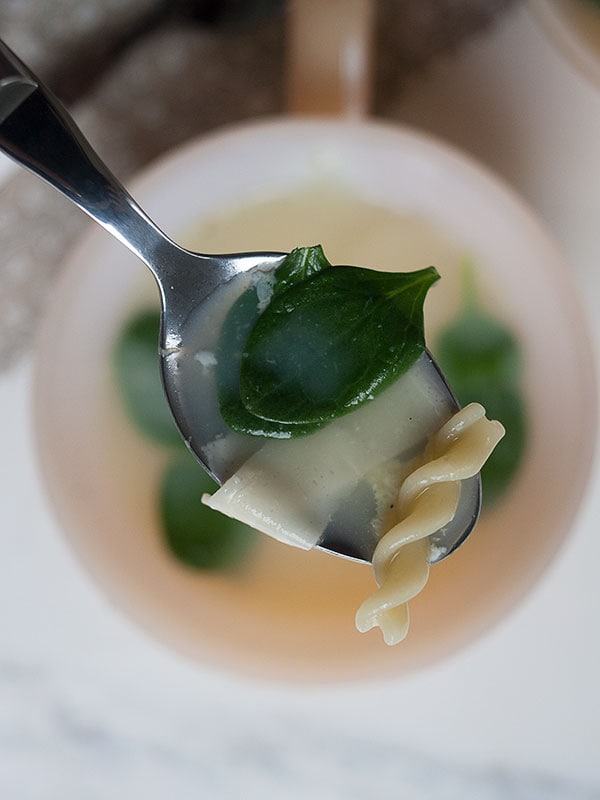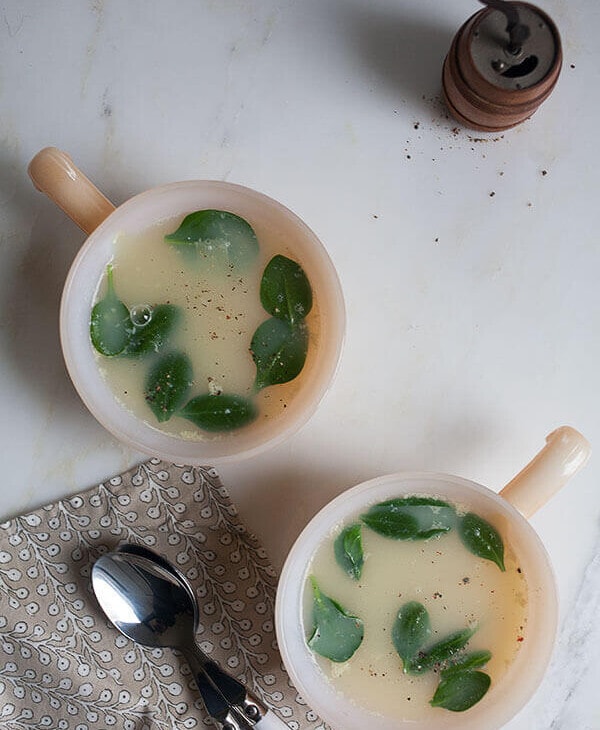 Print Recipe
Stracciatella Soup
Ingredients
*1/2 cup mini fussili pasta

1

cup

water

2

cups

low-sodium chicken broth

Juice from 1/4 lemon

Salt

to taste

Pepper

to taste

1/3

cup

finely grated Parmesan-Reggiano

plus more for garnish

1

large egg

beaten

1/2

cup

fresh baby spinach
Instructions
Bring a medium saucepan filled with salted water to a boil. Add the fussilli and cook until very al dente, about 5-7 minutes. Drain the pasta and set it aside.

To the same (empty) saucepan (no need to clean it out), set over medium heat, combine the water, chicken broth and lemon juice. Bring the broth mixture to a simmer. Salt and pepper the broth to taste. I used very low-sodium broth so I had to add a pretty generous amount. Also, take note that Parmesan is salty so keep that in mind.

Turn the heat to low. Just a heads up: the next few steps go very quickly so be sure to get ready. Mix in the finely grated Parmesan. Next, create whirlpool with a spoon in the broth. In one slow and steady stream, pour in the beaten egg. Mix in the fresh baby spinach and give it a good mix. You should see the eggs in little cooked bits. Add the reserved fussili pasta. Give it one last taste and adjust the salt according to taste.

Divide amongst bowls. Garnish each serving with more black pepper and additional strips of Parmesan.
Notes
*Use whatever pasta you like! For this dish, I prefer pasta that's small in size. Just a personal preference.
*Use other greens besides baby spinach, if you like. I've thought about playing around with dandelion greens, mustard greens and kale. I bet they'd all be amazing!