As I thrust this only half indulgent recipe toward you, I'm currently on Class Pass (I'm a new joiner) scheduling out all of my workouts for the next week. This is an attempt to balance out my grilled cheese crouton eating with cycling, kicking and boxing and dance moves in this West African dance class I'm contemplating on trying.
These grilled cheese croutons are straight out of Pinterest 2012. It's not an idea that I invented by any means but when I saw it loooong ago on Pinterest, I thought: GENIUS! It took me forever to actually do it but I finally did; I think it's best I waited so long. The idea is so old, it's almost new again.
Just like recycled fashions.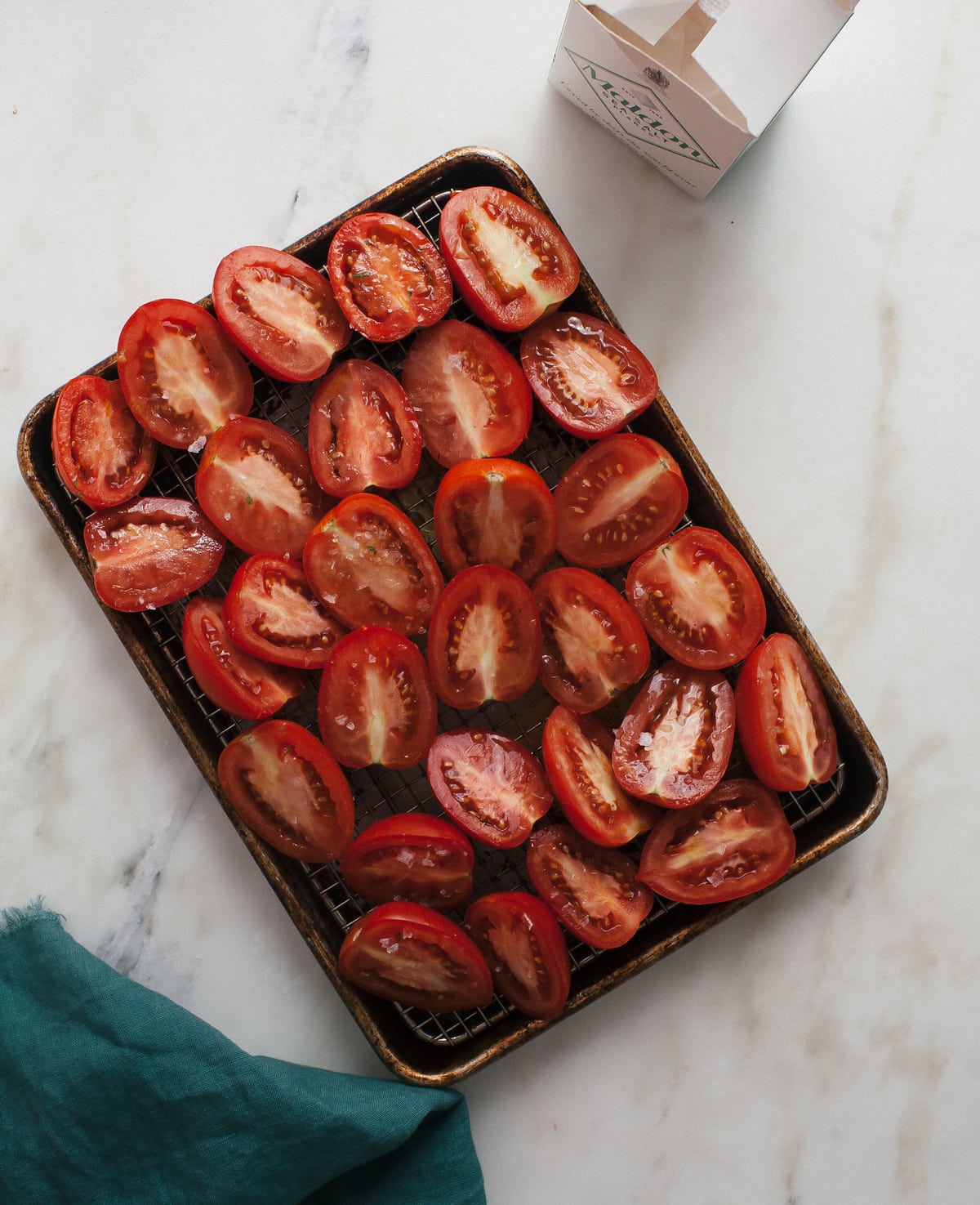 Everyone and their mom is saying that summer is over. And I suppose it is but it's still tomato season. Actually, September is when tomatoes are at their best (I think).
I used roma tomatoes for this but you can use any that you like. Heirloom would be nice, though I discourage you from mixing too many colors because heirlooms are super pretty on their own but if mix all those colors together for a soup, it just looks a little grey and gross.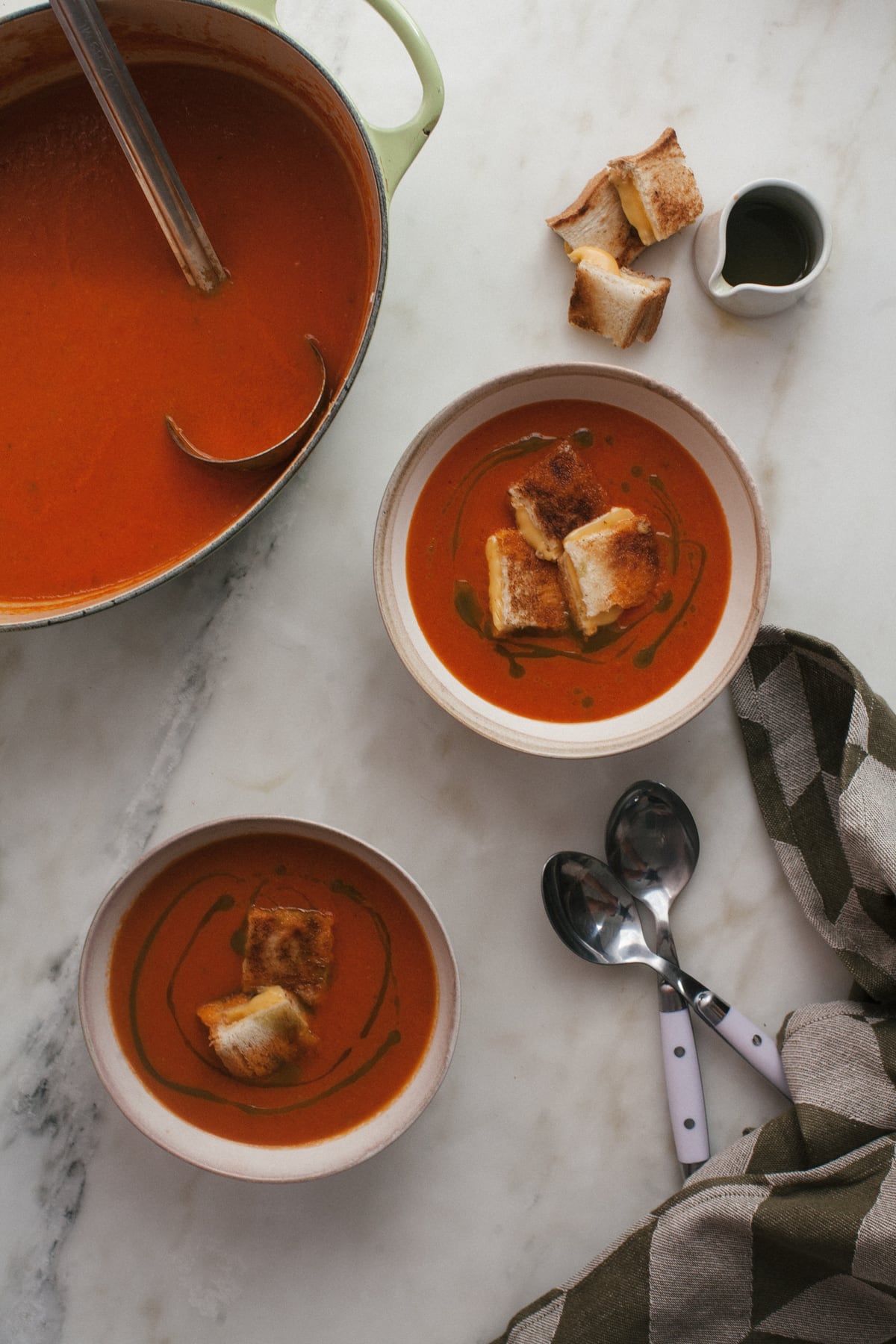 This soup couldn't be simpler; it's not complicated or fussy. It's all about the tomatoes. I tried this soup and crouton thingy without the basil oil and was like oh that's good, but then I added the basil oil AND EVERYTHING CHANGED.
It made it a million times better so this is me pushing you to definitely make the basil oil too. It's worth the minimal effort that even me, admittedly, am too lazy to do.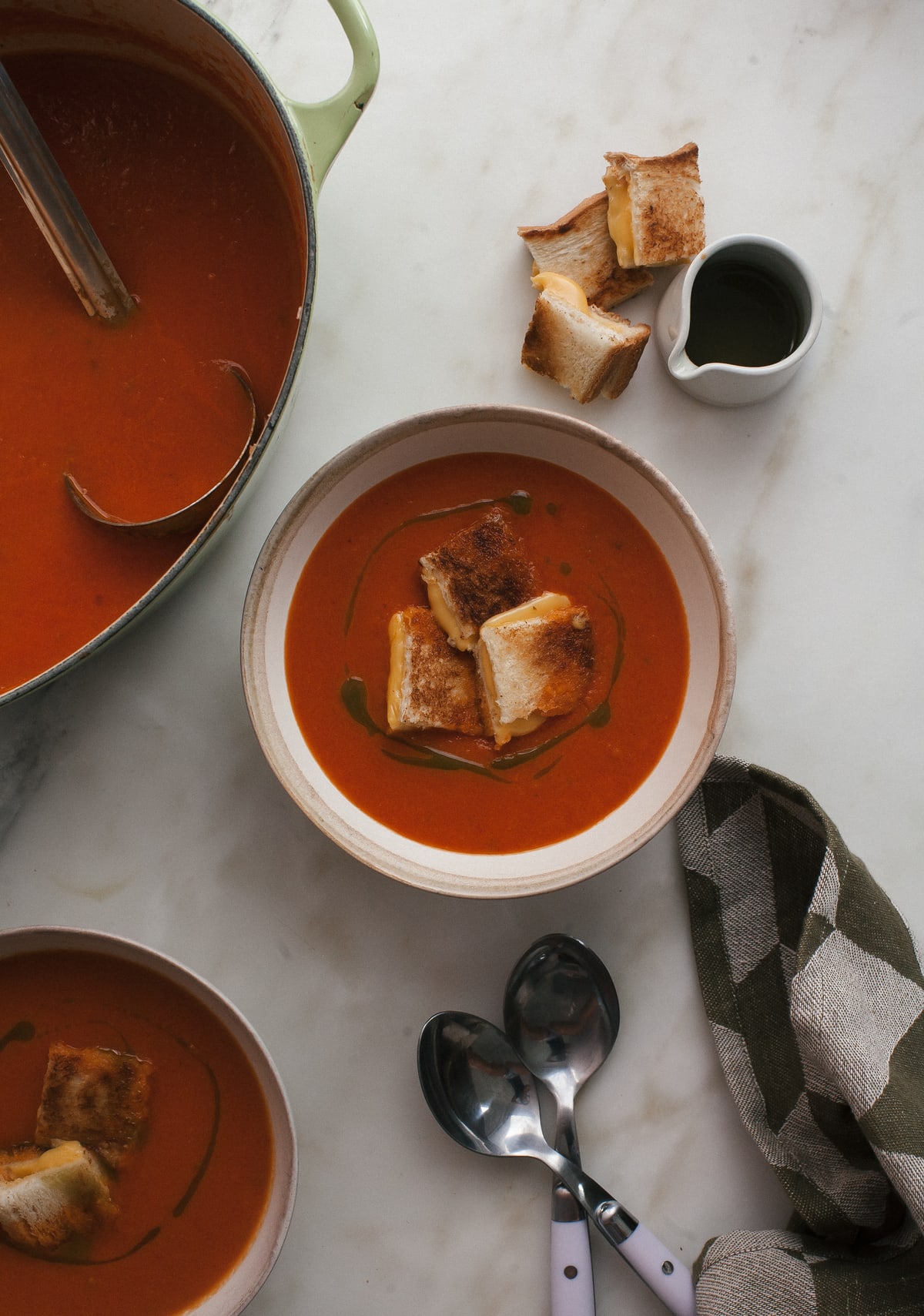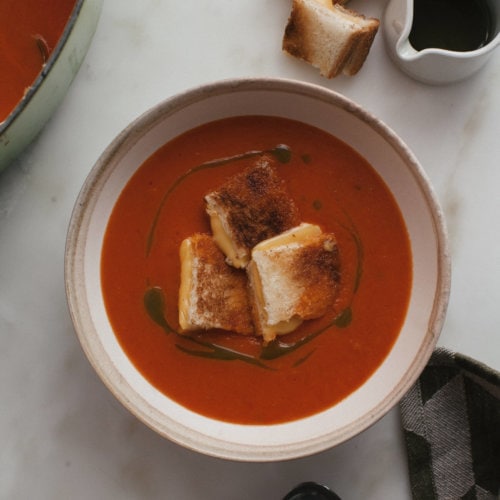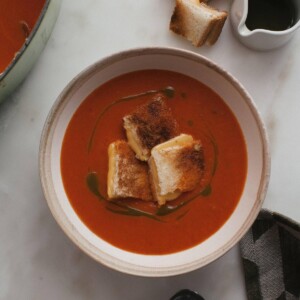 Roasted Tomato Soup with Grilled Cheese Croutons
Ingredients
Roasted Tomato Soup:
3

pounds

roma tomatoes

,

halved

1

tablespoon

olive oil

Sea salt

2

shallots

,

peeled and minced

3

garlic cloves

,

peeled and minced

Crushed red pepper flakes

1

14-ounce can San Marzano crushed or diced tomatoes

3

cups

chicken stock

2

sprigs of thyme

,

leaves removed
Basil Oil:
6

large leaves of fresh basil

1/4

cup

olive oil
Grilled Cheese Croutons:
1 to 2

tablespoon

unsalted butter

4

slices

of bread

2 to 3

slices

of American cheese
Directions
To make the soup: Preheat oven 425 F. Place tomato halves on a parchment-lined baking sheet and drizzle them with the olive oil and a few pinches of salt. Transfer them to the oven to roast for 25 to 30 minutes.

In a pot, over medium-high heat, add 1 tablespoon olive oil. When the oil glistens, add the shallots. Cook the shallots until they're soft and translucent, about 2 to 3 minutes. Next, roasted tomatoes, garlic, 2 pinches of crushed red pepper flakes, can of tomatoes, chicken stock and thyme leaves. Bring to a simmer, cook for 10 minutes. Using an immersion blender, pulse until smooth. (You can also transfer the soup, in batches, to a blender and pulse until smooth. Just be careful blending hot liquids, make sure you allow some steam to escape.) Salt to taste (I added about 1 to 2 teaspoons).

To make the basil oil: To a blender, add basil and olive oil. Blend until pureed. Pour the oil through sieve, discarding any of the basil bits. The oil should be bright and green. Set aside.

To make the grilled cheese croutons: Well, you know how to make a grilled cheese, but I'll tell you anyway! Set a saute pan over medium-low heat. Melt 1 tablespoon of butter in the pan. Assemble the grilled cheese sandwiches. Add the sandwiches (you may need to cook them in batches or one by one) to the pan. Cook until golden brown on one side and then flip. Cover the pan with a lid to ensure maximum meltiness. Remove from the pan and set aside. Repeat with the remaining grilled cheese sandwiches. To make the croutons, cut them into squares.

To assemble: Divide the soup amongst bowls. Add a few croutons to the center of the bowl and drizzle with basil oil. Serve with the croutons on the side because one or two is not enough!
Nutrition Facts
Roasted Tomato Soup with Grilled Cheese Croutons
Amount Per Serving (4 g)
Calories 0
* Percent Daily Values are based on a 2000 calorie diet.