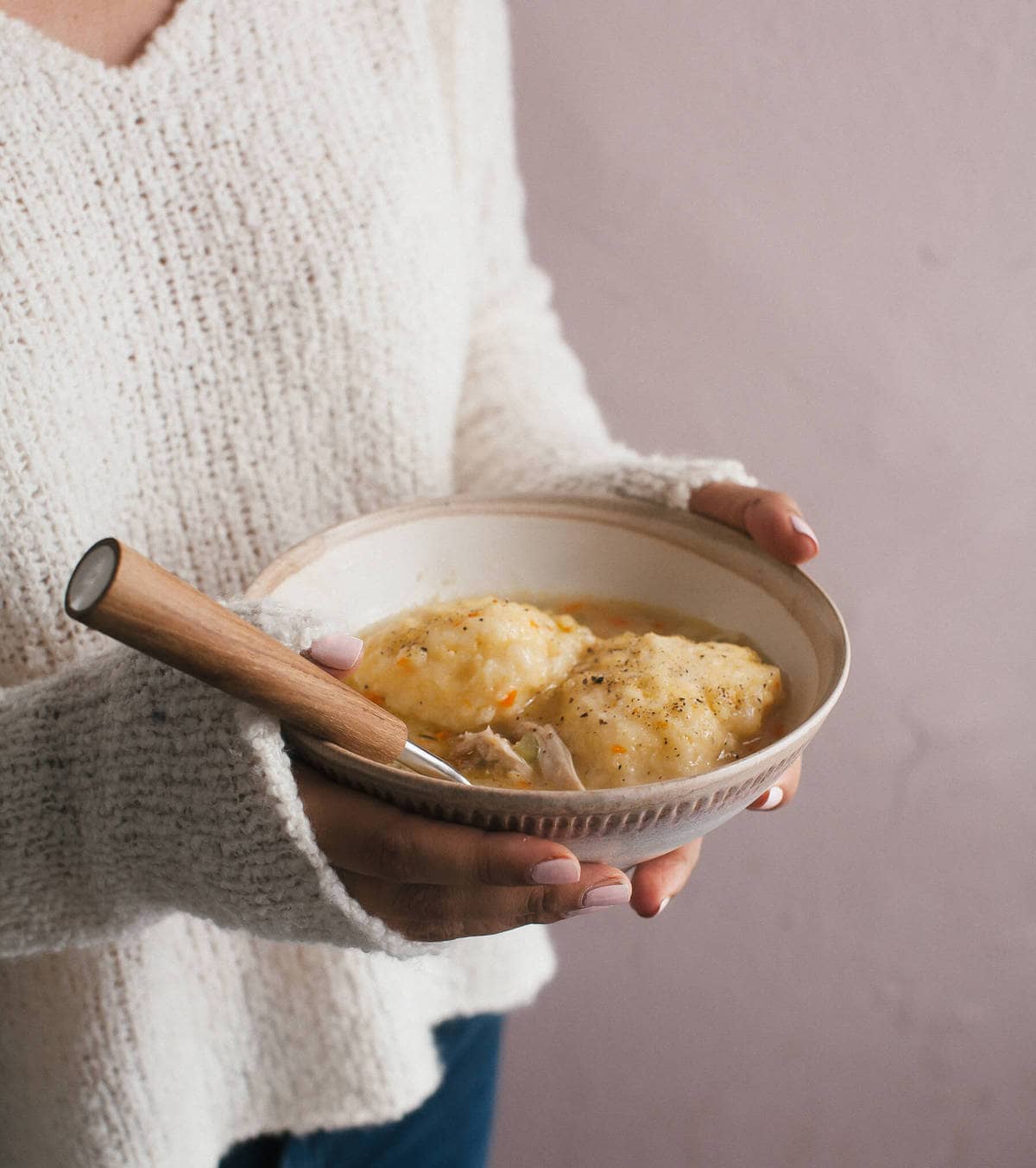 (DISCLAIMER: This post was written in 2016 BEFORE Kayne had all of his meltdowns lol. I figured I'd keep the blog post up given recent events to pay tribute to his past self. Consider this a relic of sorts haha. RIP Kayne. I will miss him)
I have been on the verge of almost getting sick for almost a month. And I have this strange pain in my neck. I have no idea what's wrong with me but I think it's a combo of maybe overworking myself and just being too scared to go to the chiropractor to get it fixed. I'm probably the absolute worst at going to the doctor because I hate it. It's time-consuming and it's scary all wrapped into one. So instead I've been subsisting off of wellness shots and wellness formula pills every single day. Let's hope it works! My neck is another story. I've been thinking of getting this fancy pillow to help with my neck pain. Is this stuff interesting?
It's not, I'm sorry. In other news, I went to Yeezy last night and IT WAS AMAZING.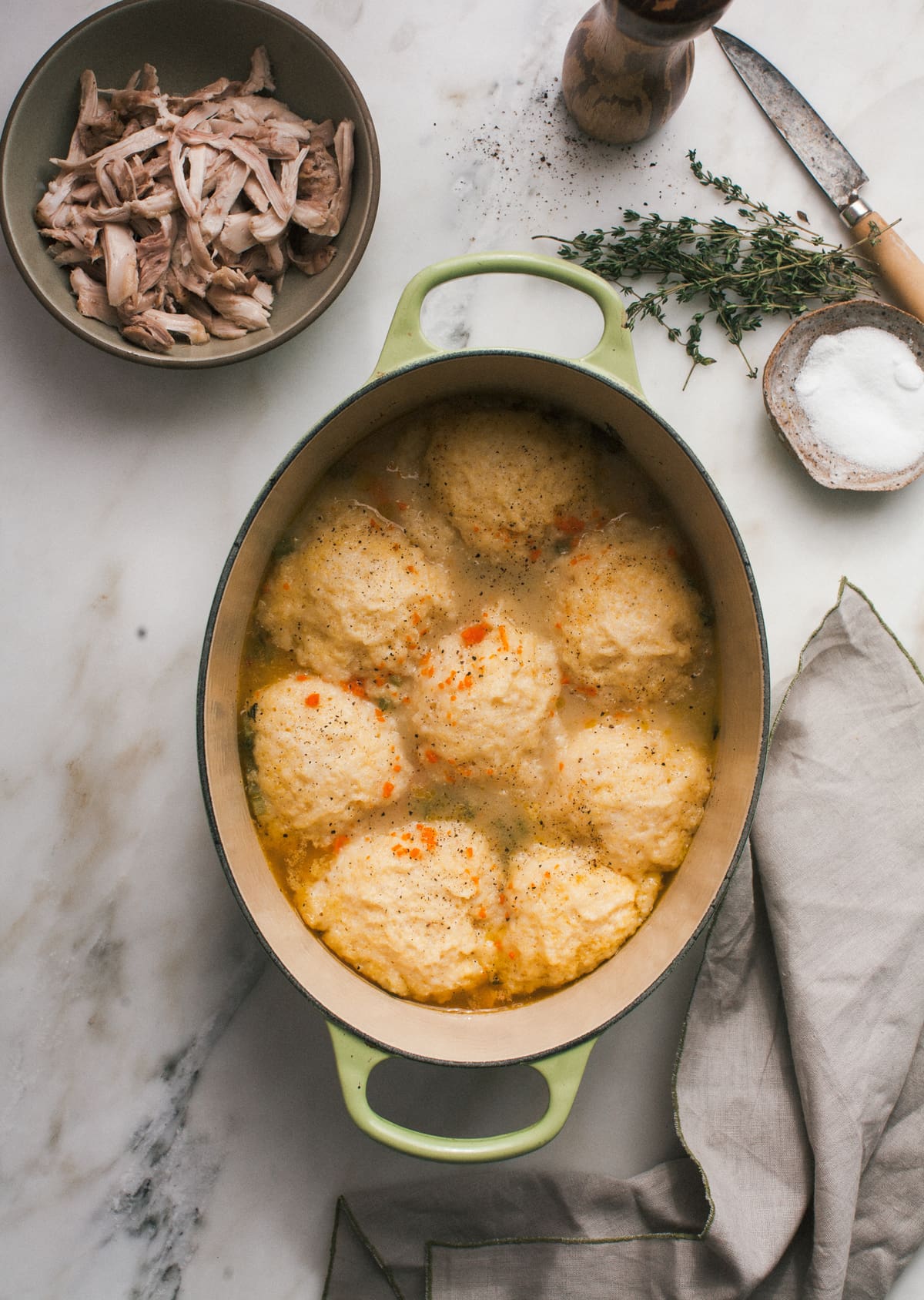 Kayne reminds me of childhood but instead of childhood like as a little kid, it reminds me of being in my teenage years and early twenties when I had no idea what the fuck I was doing. It's nostalgic in a whole other way. Kanye reminds me of my navy blue Jetta that always smelled a delicious combo of fast food and weed.
It took me a while to warm up to Saint Pablo but once I did I was hooked on that too.
I was hoping to get a glimpse of Kim but she was a no show. 🙁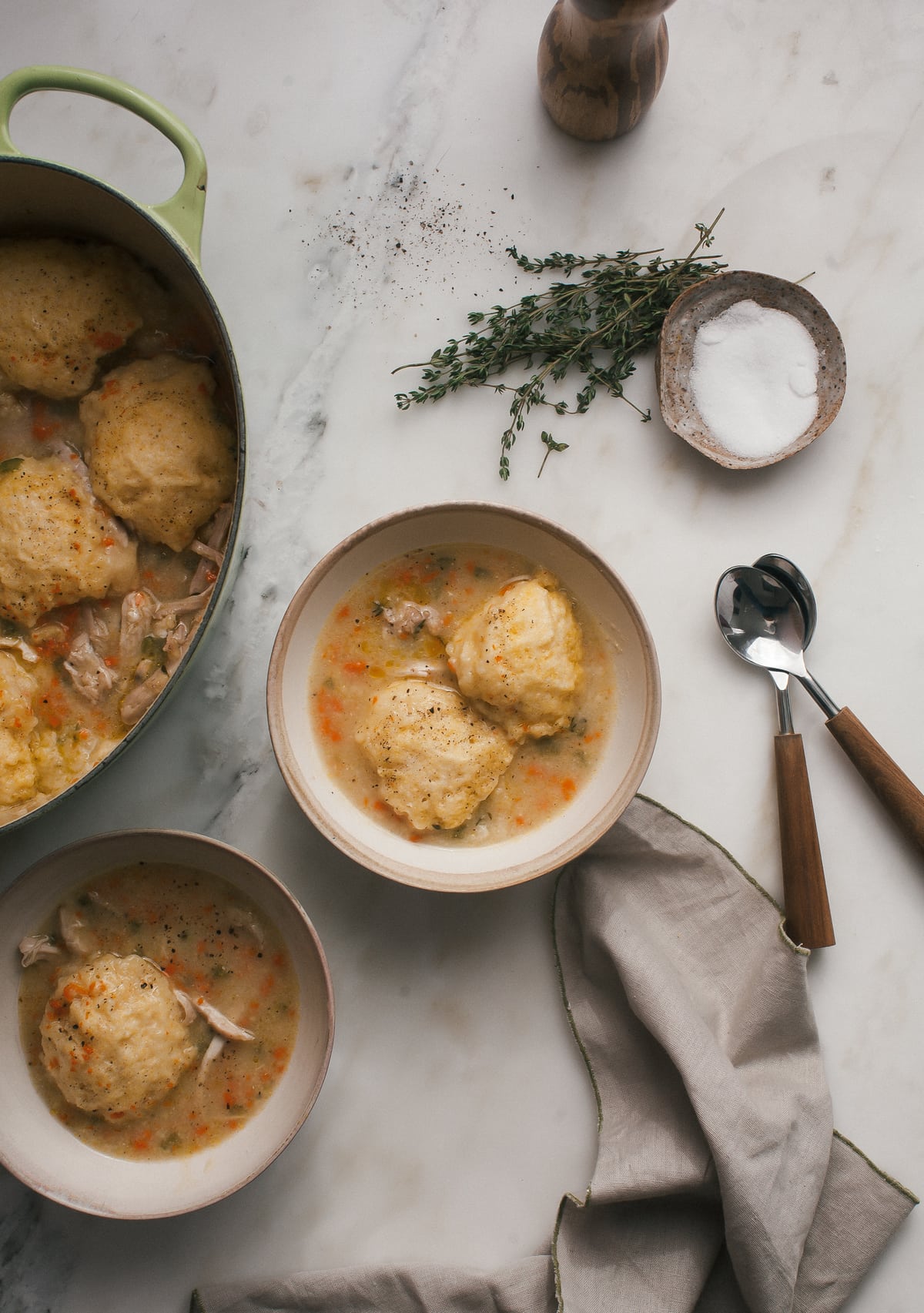 Let's talk chicken and dumplings!
This is my new favorite iteration of them because it combines cornbread into the mix and who doesn't love cornbread?
If I were to make this again, which I will soon, I might fold some diced jalapeño into the dumplings so they're a little spicy and sassy. If you want to be crazy, you can mix in some cheese, too.
This bowl situation is all for Cynthia's (from Two Red Bowls) virtual baby shower. Everyone's recipes are made in a bowl! Cynthia's lil' baby Samuel was born last week! Welcome into the world, little angel! He is so ridiculously cute. Congrats, Cynthia and family!
And a big hug to my homies Alana and Steph for organizing it (you can also see everyone else's posts under #threeredbowls on the Instagram.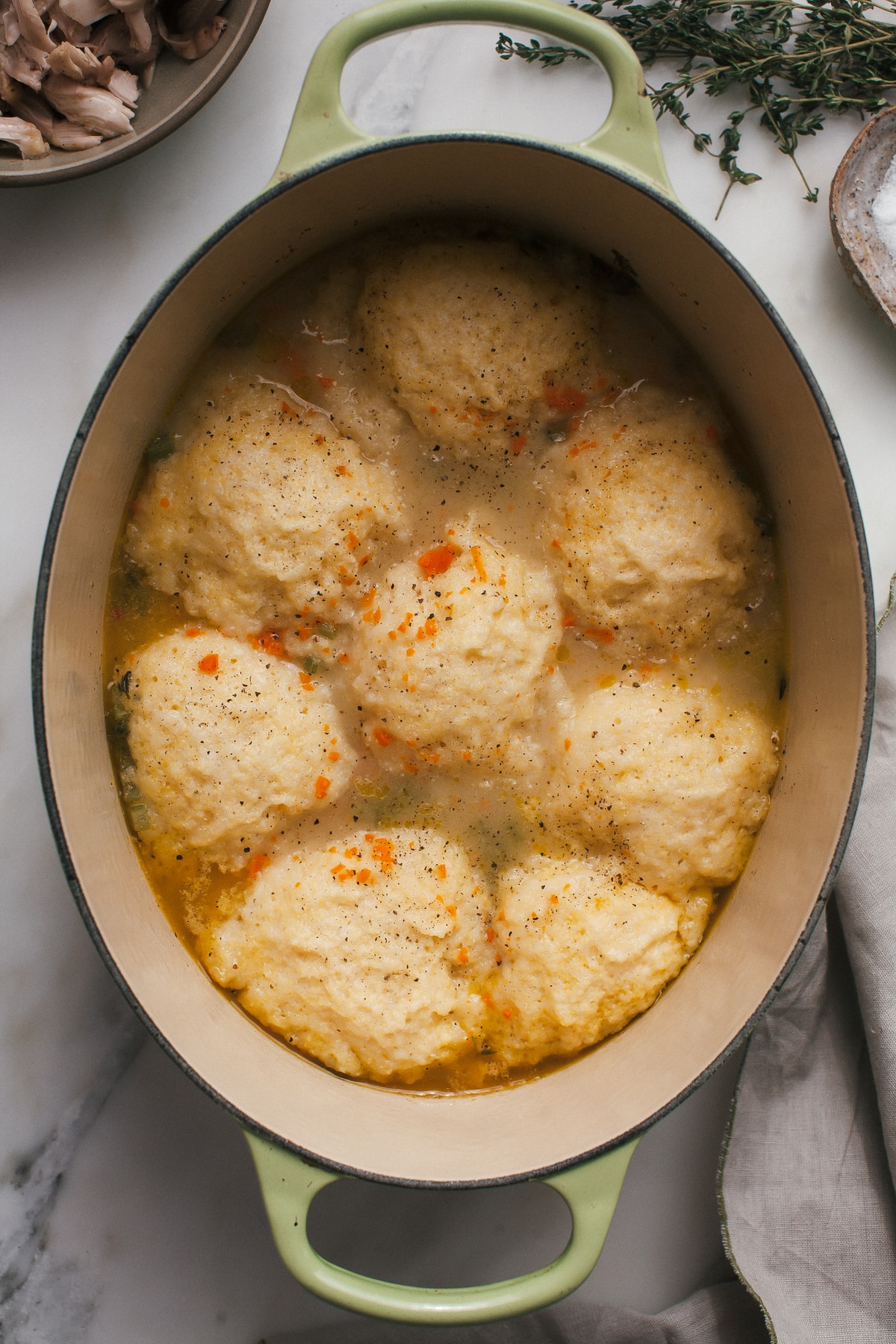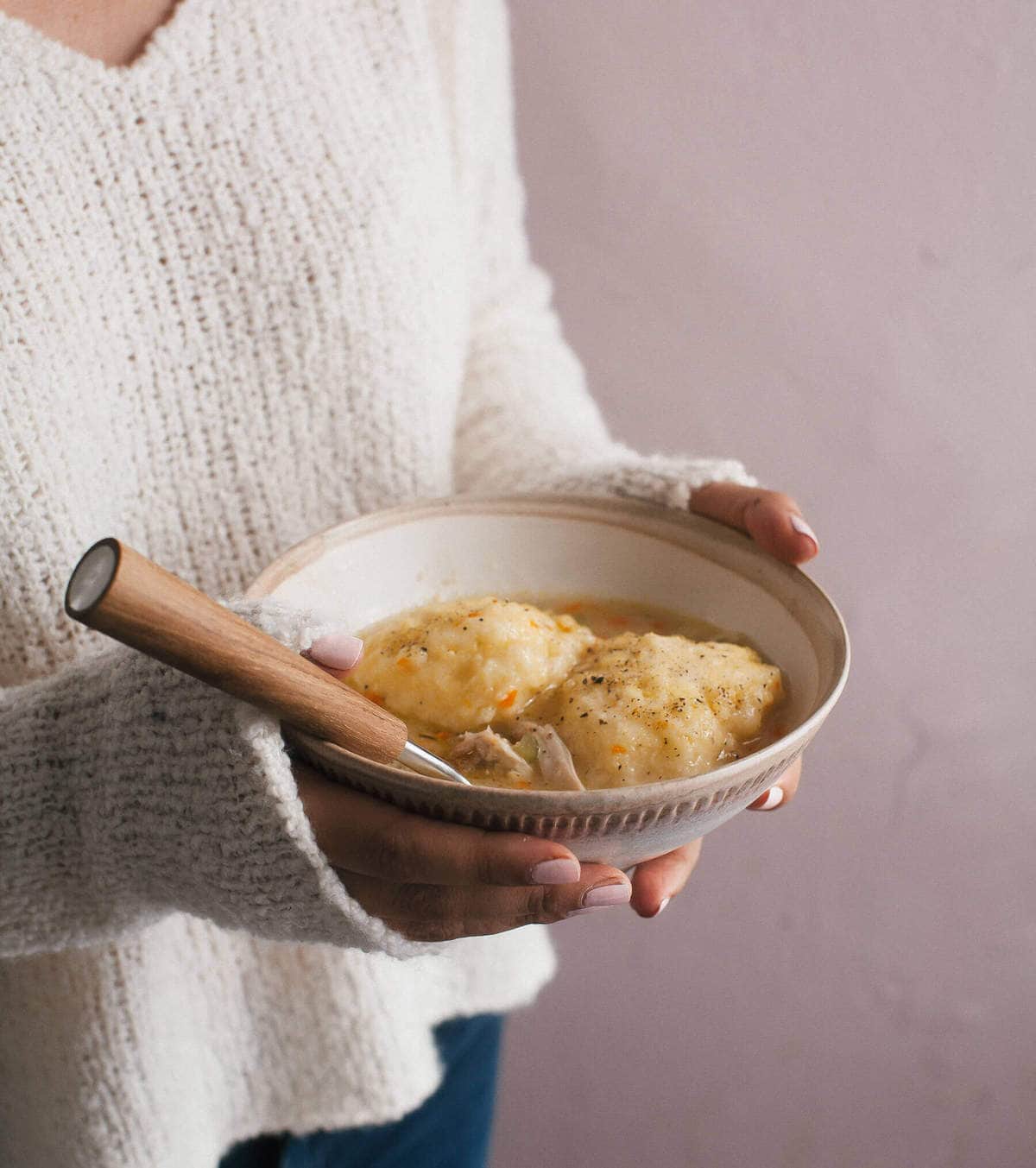 Cornbread Chicken + Dumplings
Print
Ingredients
Filling:
2

chicken bone-in chicken thighs

1

tablespoon

olive oil

Salt

Pepper

2

tablespoons

unsalted butter

2

ribs celery

,

diced

2

small carrots

,

finely chopped

3

sprigs thyme

,

leaves removed

1

tablespoon

flour

10

turns of freshly-cracked pepper

4

cups

low-sodium chicken stock
Dumplings:
3/4

cups

all-purpose flour

1/2

cup

cornmeal

2

teaspoons

baking powder

1/2

teaspoon

salt

1

cup

+ 1 tablespoon shaken buttermilk
Directions
Preheat oven to 400 degrees F. Line a baking sheet with foil or parchment. Place the chicken side-by-side and drizzle with about a tablespoon of olive oil. Sprinkle both thighs with a few pinches of salt and pepper. Transfer to the oven to roast for 20 to 25 minutes, until the tops are golden brown and the juices run clear. Remove from the oven and set aside to cool. When they reach closer to room temperature, use two forks to shred the chicken. Discard any scraps and set the shredded chicken aside.

In a dutch oven or medium pot, set over medium heat, add the butter. When melted, add the celery, carrot and thyme. Cook until slightly softened, about 2 to 3 minutes. Mix in the flour and cook for about 1 minute. Next pour in the chicken stock. Bring the mixture to a simmer and then immediately bring it down to medium low; cook for about 6 to 7 minutes, until slightly thickened.

While the soup is cooking, let's make the dumplings! In a medium bowl, whisk together the flour, cornmeal, baking powder and salt. Pour in the buttermilk and mix until combined.

Give the soup a taste and adjust the salt to your liking and add a bunch of black pepper. I added about 10 turns. Bring the soup up to a gentle simmer and drop tablespoons or ice cream scoops of dumpling dough right onto the boiling point (this will make super fluffy dumplings) and then repeat with the remaining dumpling dough. Cover and cook for about 5 minutes until the dumplings are fluffy and cooked through. Move a dumpling aside and slide the reserved shredded chicken into the pot. Divide amongst bowls and serve!
Notes
If you're looking to save some steps, you can skip making the chicken and use a store-bought rotisserie chicken!
OR, you can put some leftover turkey in it! HINT HINT!
Adapted from The Year of Cozy