Disclosure: This post may contain affiliate links, which means I may earn a commission if you click on the link and make a purchase.
Embark on a culinary adventure into the heart of Southern-style comfort food with Cornbread Chicken Dumplings, a dish where savory cornmeal embraces tender chicken in a harmony of flavors that'll have you hankering for seconds.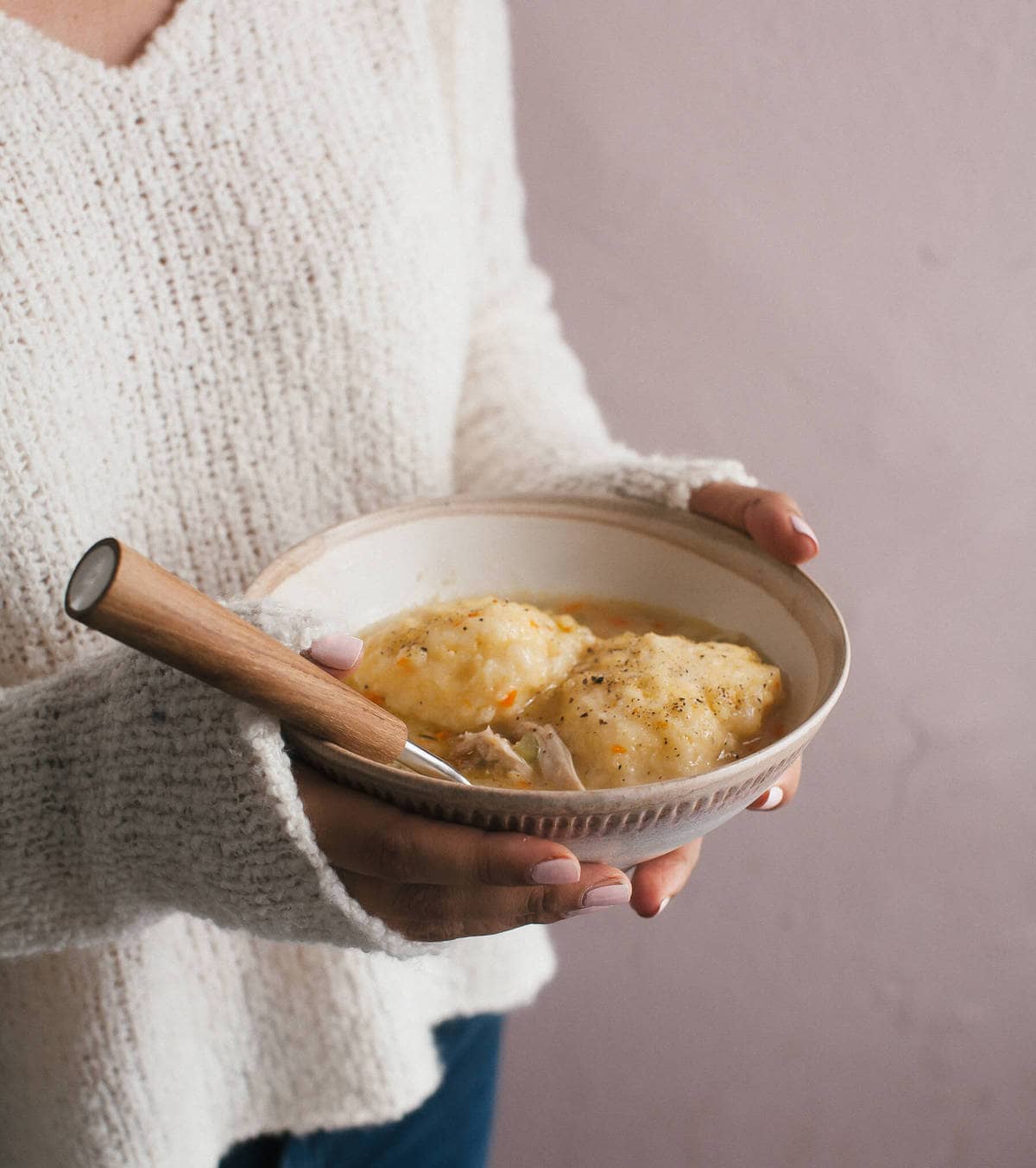 Homemade Comfort Food Cornbread Chicken Dumplings: A Taste of Home
Isn't it just the best when you whip up something that tastes like a warm hug? That's what you get with homemade comfort food cornbread chicken dumplings. It's the kind of dish that has you reminiscing about the good ol' days, even if you're only just tucking into it now. And if you're hankering for a side that complements without overpowering, why not whisk your taste buds to a snazzy side with Savor Endive Prosciutto Gratin? The smooth, subtle bitterness of the endive wrapped in a warm blanket of prosciutto and gratin's crispy topping? Now that's what we call a match made in kitchen heaven!
Easy One-Pot Cornbread Chicken Dumplings Meal: Comfort in a Pinch
What's better than a dish that brings all the comfort with none of the fuss? An easy one-pot Cornbread Chicken Dumplings meal, that's what. It's everything you need on a night when the weather's got more mood swings than a teenager and you're needing a bellyful of 'everything's gonna be alright.' And if your soul's still singing for more, grace your table with Master the Caesar Salad. Its crisp greens and creamy dressing will surely add a refreshing zing to your meal.
Cornbread Chicken Dumplings from Scratch: Worth the Elbow Grease
There's nothing quite like the pride that comes from crafting Cornbread Chicken Dumplings from scratch. When you're in the kitchen, ankle-deep in homemade dumpling dough, you're not just cooking; you're creating art. And isn't it just the cherry on top when you can follow up a hearty meal with a dessert that's a little salty, a little sweet, and all kinds of wonderful? That's where Salty Chocolate Chip Oatmeal Cookies come into play, offering a delectable finale to your culinary symphony.
Best Sides to Serve with Cornbread Chicken Dumplings: The Supporting Cast
Choosing the best sides to serve with Cornbread Chicken Dumplings is like picking the right accessories for your favorite outfit – it's essential. Whether you're in the mood for something leafy and light or a hearty companion that stands up to the rich, savory flavors, there's a side dish out there just waiting to complete your meal.
Ingredients for Chicken and Dumplings
Onion, carrot and celery – This is an iconic trifecta for soup.
Fresh thyme – When we think of that quintessential chicken soup flavor, it's from thyme! It's so necessary for delicious chicken soup.
Flour – You can surely skip this if you like. It is added to a the butter to make a mini-roux. This will help thicken the soup; not too much but just enough.
Shredded chicken – You can use roasted chicken or a store-bought rotisserie chicken.
For the full list of ingredients, please refer to the recipe index card below!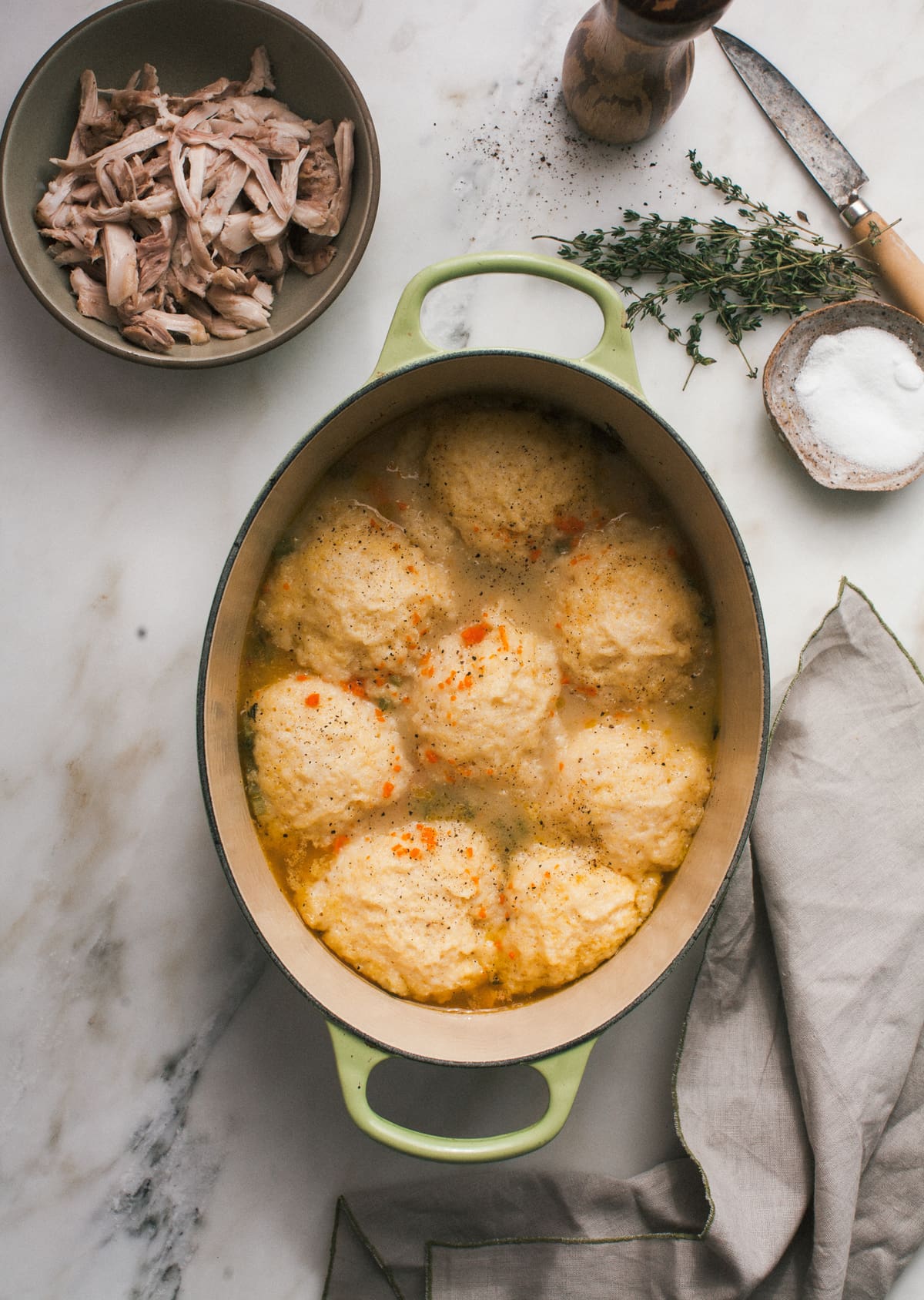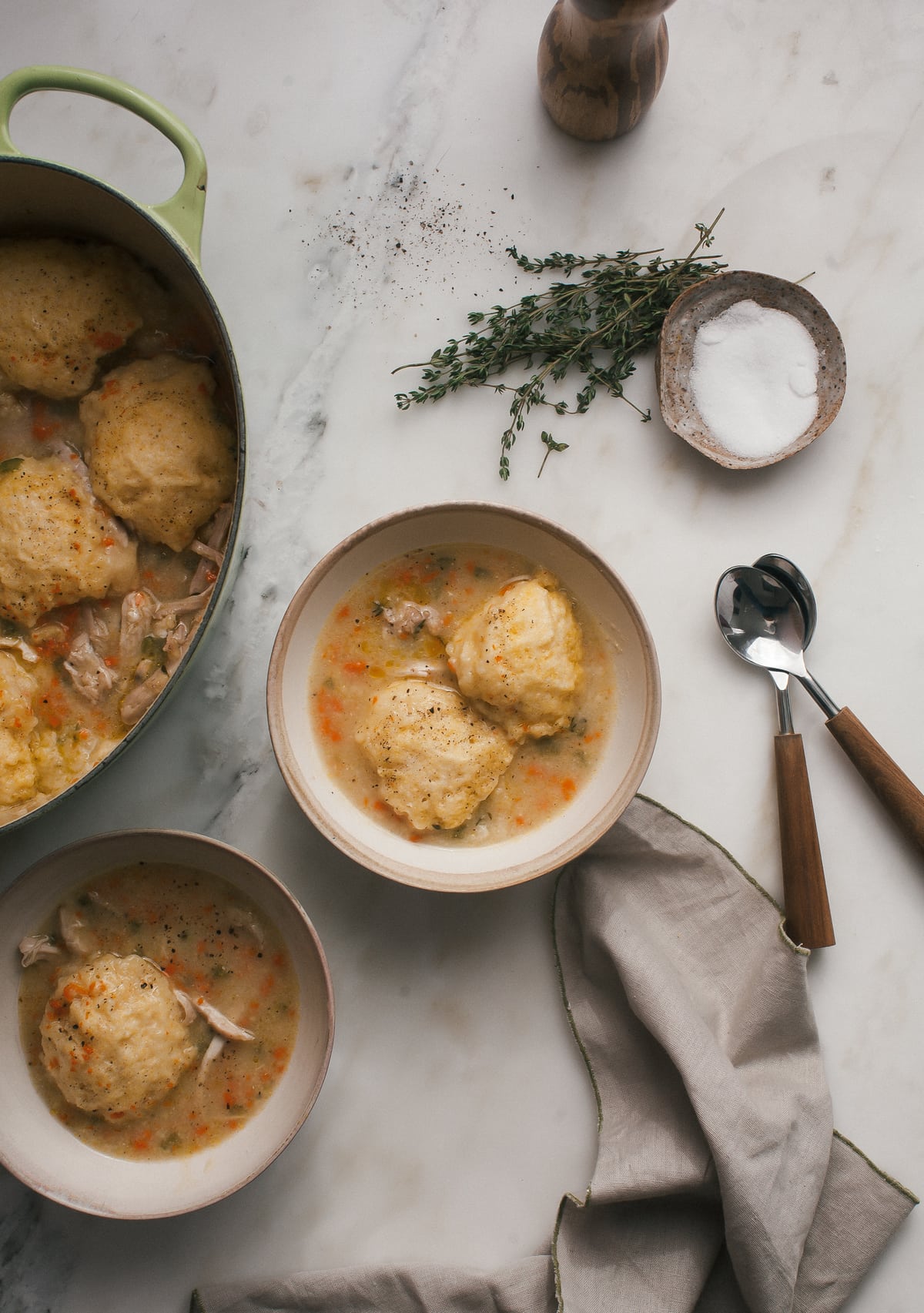 How to Make Chicken and Dumplings
This recipe couldn't be simpler because it relies on a store-bought chicken broth. Of course, if you have some homemade chicken broth in the fridge, by all means use it!
Sauté the onion, carrot and celery together.
Add the butter and when it's melted, add the flour.
The flour will dissolve into the melted butter, creating a bit of a roux. This will help thicken the soup broth.
Next, add the thyme. Thyme is a key ingredient in making any chicken soup absolutely delicious. It's a MUST!
After the thyme comes the chicken broth. Again, store-bought or homemade! Whichever one you have–both will work.
Bring it to a simmer and cook for about 15 minutes, you really want the flavors married. Add in the shredded chicken.
While that's going, mix up the dumpling batter. It's super simple: buttermilk, a bit of leavening, salt, flour and corn meal. It tastes SO much like cornbread, it's amazing.
In the boiling points of the broth, you drop in the batter using a cookie scoop. Dropping it in the boiling point, creates a super fluffy cornbread.
Cover the pot and that's it! The dumplings will cook in about 5 minutes.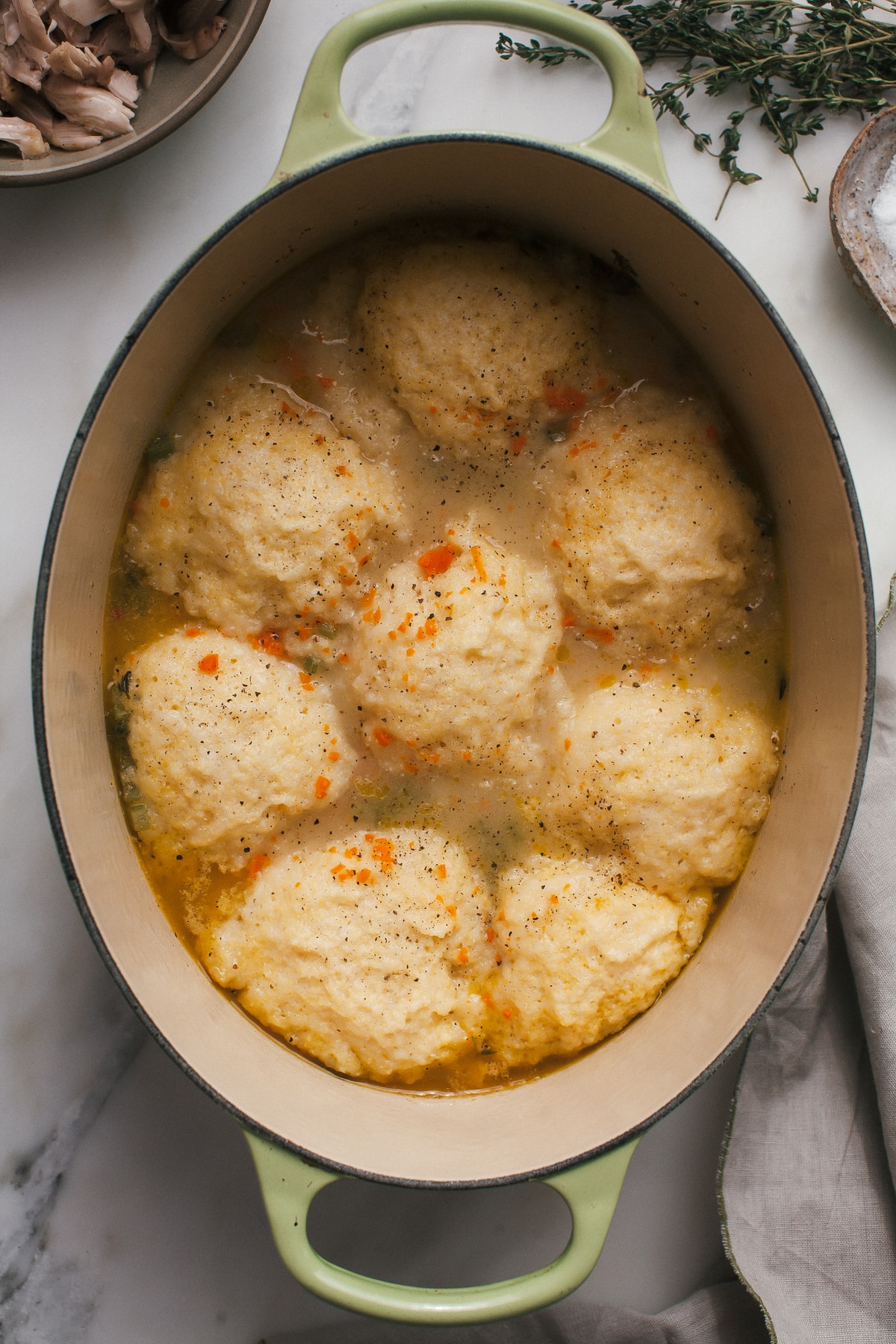 Tips and Tricks
The fluffiest dumplings are made when you drop the scoop of dumpling batter into the bubbling points. This helps the dumplings rise and become super fluffy.
You can use store-bought or homemade chicken broth for this recipe.
If you want a thicker soup, feel free to add two tablespoons of flour vs. one tablespoon of flour.
This soup re-heats very well. I find simmering it in a pan over low heat works best. 
RECIPE FAQs
What's the trick to the perfect dumpling texture?
Ah, it's all in the dough – don't overwork it, and you'll have dumplings soft as a cloud.
Can I make Cornbread Chicken Dumplings ahead of time?
Prep 'em ahead and just reheat when you're ready to eat.
Are Cornbread Chicken Dumplings gluten-free?
Not typically, sugar. But don't worry, you can swap in your favorite gluten-free flour to make a batch that you'll love.
What to serve with Chicken and Dumplings
If you tried this Chicken and Dumplings or any other recipe on my website, please leave a 🌟 star rating and let me know how it went in the 📝 comments below. Thanks for visiting!
Join our cozy community by following us on social media.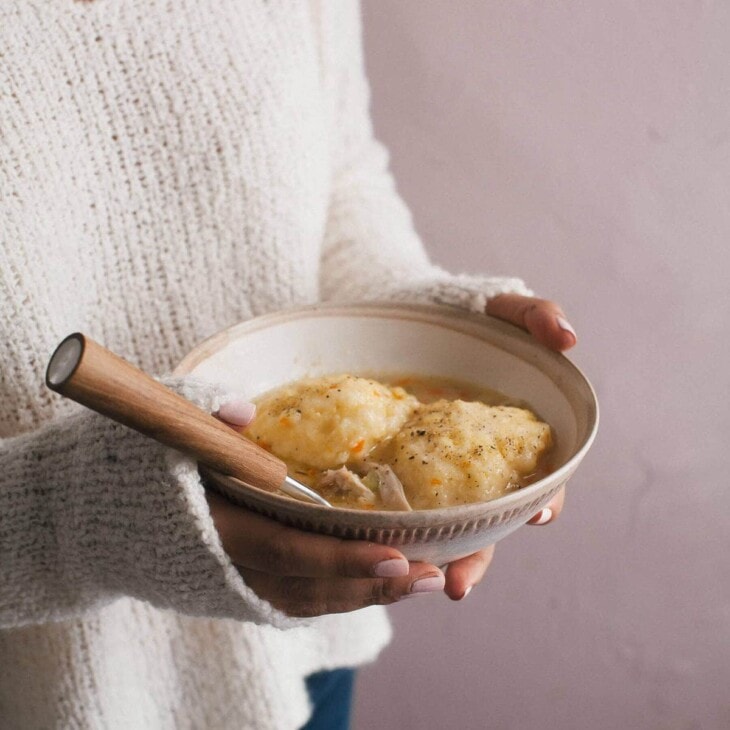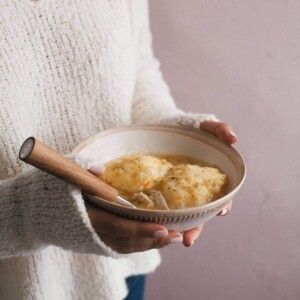 Chicken and Dumplings is a comforting winter or fall meal. A classic chicken soup is the base and on top are fluffy cornbread dumplings!
Equipment
1 (5-quart) Dutch oven or pot
Ingredients
Filling:
2

chicken bone-in chicken thighs

1

tablespoon

olive oil

Kosher salt

Freshly ground pepper

2

tablespoons

unsalted butter

1/4

yellow onion

,

diced

2

ribs celery

,

diced

2

small carrots

,

finely chopped

3

sprigs thyme

,

leaves removed

Kosher salt

1

tablespoon

all-purpose flour

Freshly cracked black pepper

8

cups

low-sodium chicken stock
Dumplings:
3/4

cups

all-purpose flour

1/2

cup

cornmeal

2

teaspoons

baking powder

1/2

teaspoon

kosher salt

1

cup

+ 1 tablespoon shaken buttermilk
Instructions
To Make the Chicken:
Preheat oven to 400 degrees F. Line a baking sheet with foil or parchment. Place the chicken side-by-side and drizzle with about a tablespoon of olive oil. Sprinkle both thighs with a few pinches of salt and pepper. Transfer to the oven to roast for 20 to 25 minutes, until the tops are golden brown and the juices run clear.

Remove from the oven and set aside to cool. When they reach closer to room temperature, use two forks to shred the chicken. Discard any scraps and set the shredded chicken aside.
To Make the Chicken and Dumplings:
In a dutch oven or medium pot, set over medium heat, add the butter. When melted, add the onion, celery, carrot, thyme, along wiht a few pinches of salt. Cook until slightly softened, about 2 to 3 minutes. Mix in the flour and cook for about 1 minute. Next pour in the chicken stock. Bring the mixture to a simmer and then immediately bring it down to medium low; cook for about 6 to 7 minutes, until slightly thickened.

While the soup is cooking, let's make the dumplings! In a medium bowl, whisk together the flour, cornmeal, baking powder and salt. Pour in the buttermilk and mix until combined.

Give the soup a taste and adjust the salt to your liking and add a bunch of black pepper. I added about 10 turns.

Bring the soup up to a gentle simmer and drop tablespoons or ice cream scoops of dumpling dough right onto the boiling point (this will make super fluffy dumplings) and then repeat with the remaining dumpling dough. Cover and cook for about 5 minutes until the dumplings are fluffy and cooked through. Move a dumpling aside and slide the reserved shredded chicken into the pot. Divide amongst bowls and serve!
Notes
Tips and Tricks: 
The fluffiest dumplings are made when you drop the scoop of dumpling batter into the bubbling points. This helps the dumplings rise and become super fluffy. 
Use a store-bought rotisserie chicken if you like! 
You can use store-bought or homemade chicken broth for this recipe. 
If you want a thicker soup, feel free to add two tablespoons of flour vs. one tablespoon of flour. 
This soup re-heats very well. I find simmering it in a pan over low heat works best. 
Nutrition
Nutrition information is automatically calculated, so should only be used as an approximation.
Adapted from The Year of Cozy