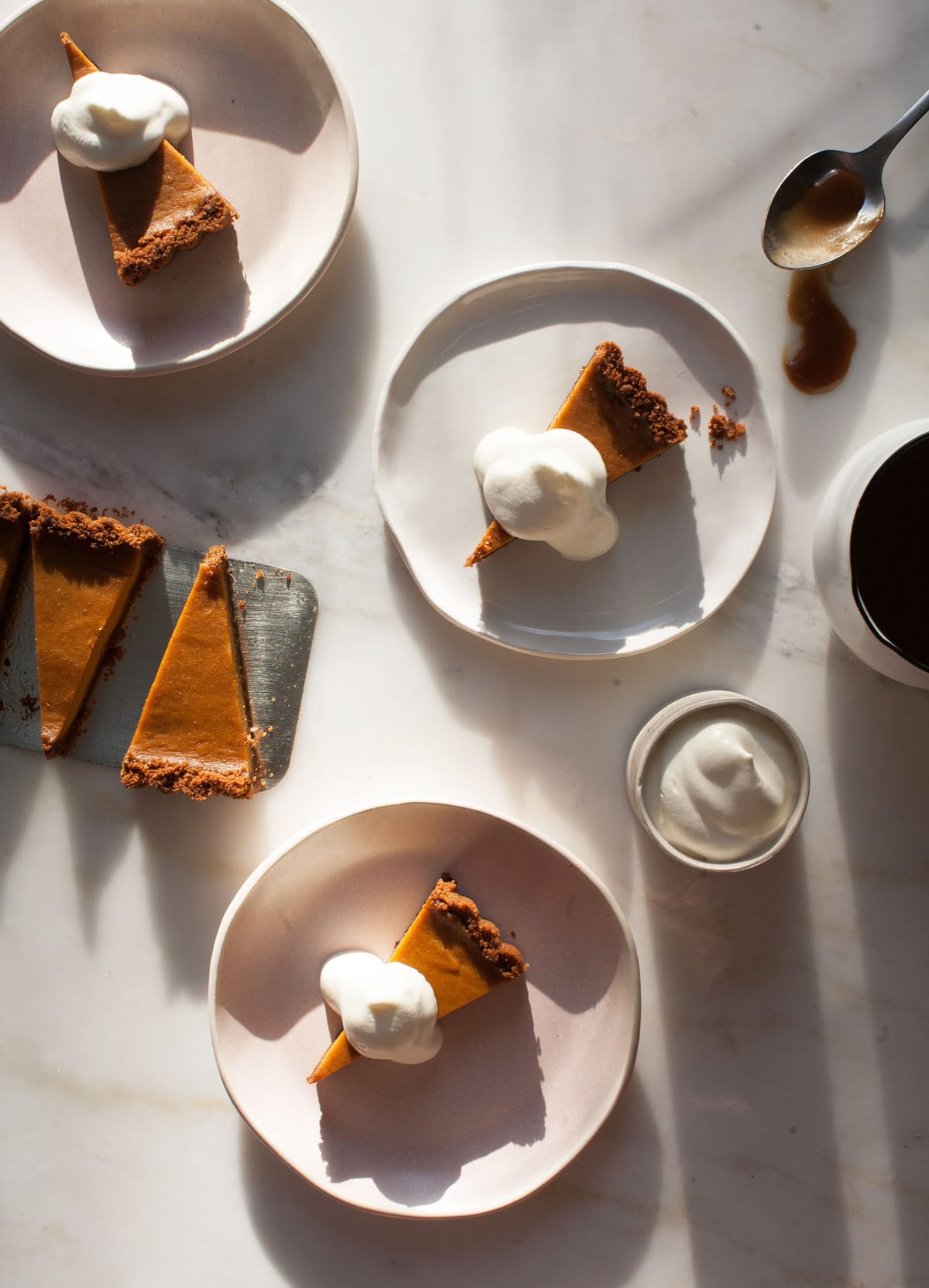 Hello, you pie-loving humans. I'm here with another pie. This one is slightly different.
A: Because you make it in a tart pan (I used a circle one would do just fine or if you're like this is annoying just use a regular 9-inch pie dish, you can do that, too!)
B: There aren't a ton of spices in this. Like, barely at all.
C: Hello, butterscotch. It's all about pumpkin and butterscotch and their sweet and caramel-y-like union.
This recipe starts with sweet butterscotch. A few years ago I was very confused as to what the difference was between butterscotch vs. caramel.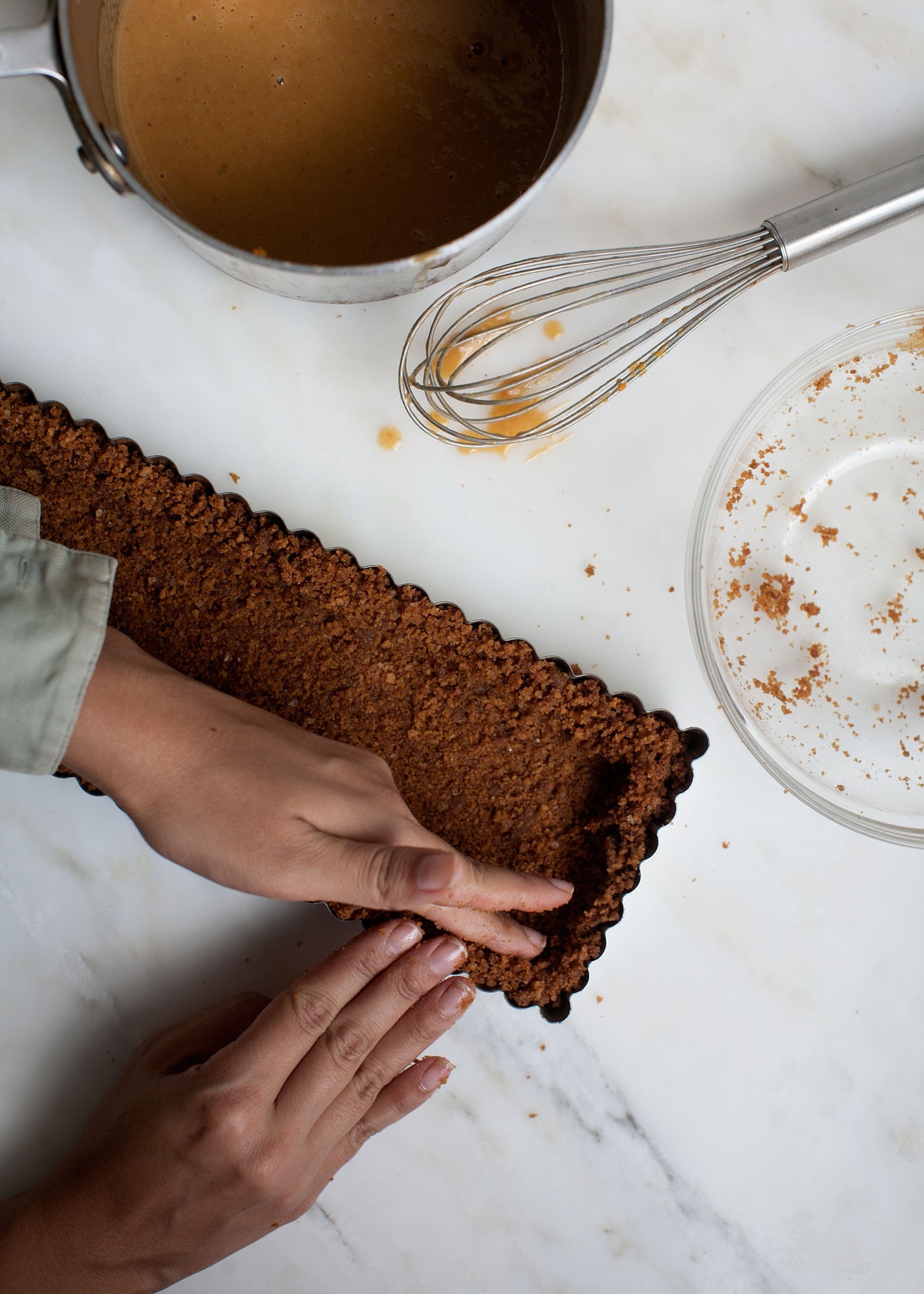 It's this easy: butterscotch is made with brown sugar, where caramel is made with white sugar.
That's it. I like my butterscotch not burnt or taken too far but just right.
If you hate making pie crust, this is super easy. It's a gingersnap crust taken from the No-Bake Pumpkin Pie from The Year of Cozy. I steal from myself!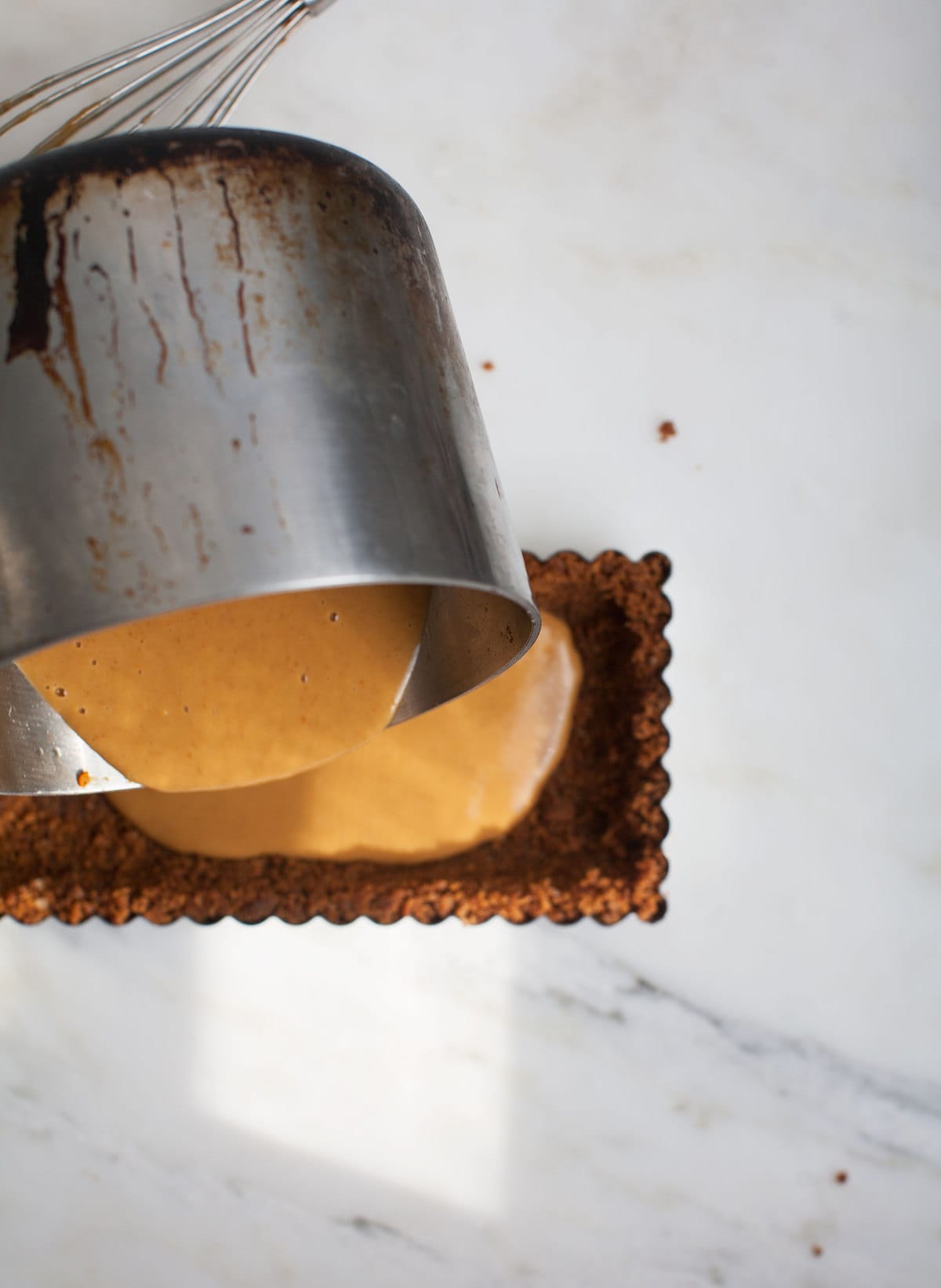 If I had to choose between this one and that one. Dang dang dang. It'd be tough. I think they're both ridiculously delicious. It sort of depends just on how much oven space you have, if you love a custard-based type pumpkin pie, or if you want something more silky smooth vs. light and airy.
This is the silky smooth one. The pumpkin is not loaded with spices so the butterscotch flavor really sings.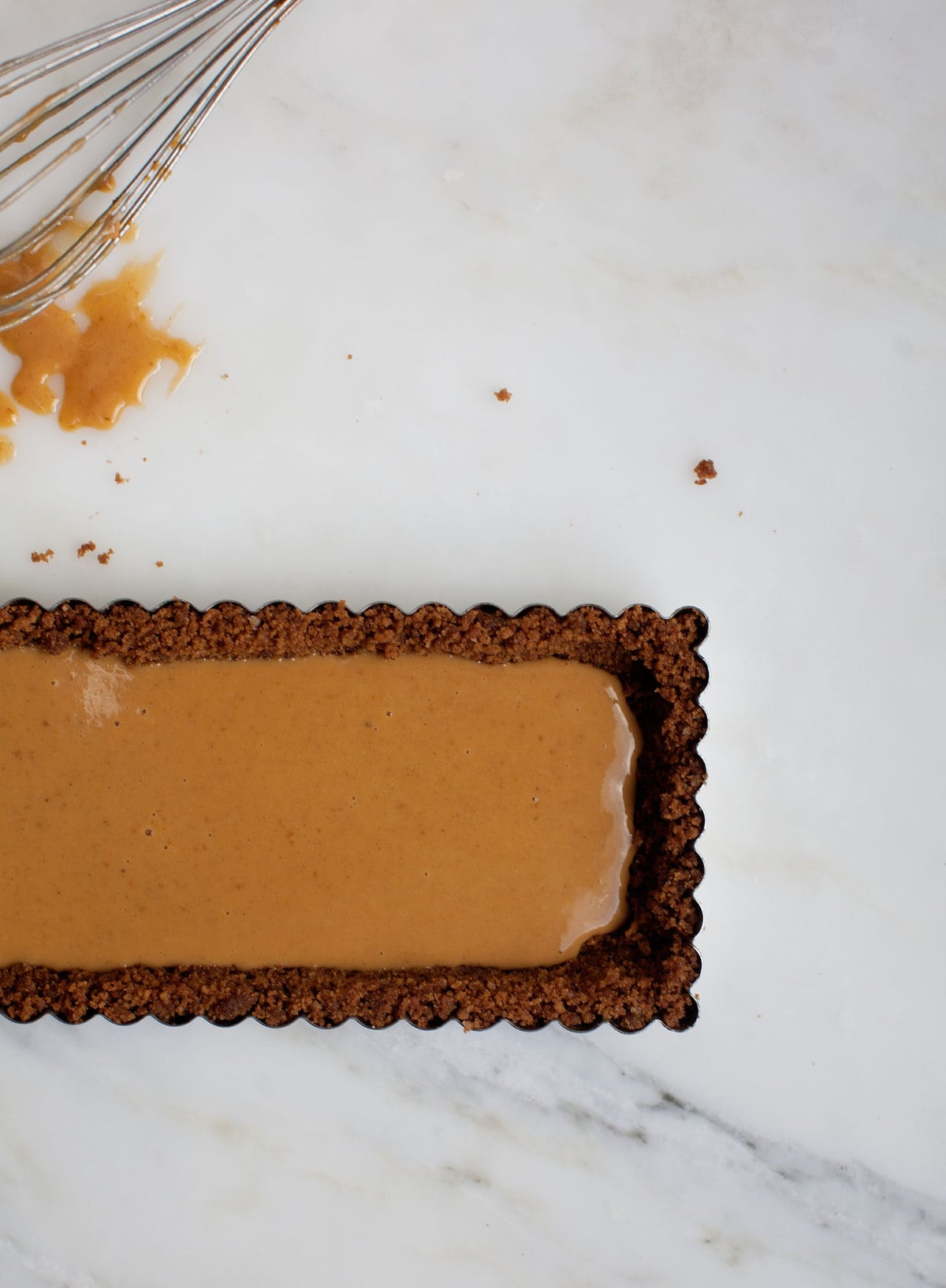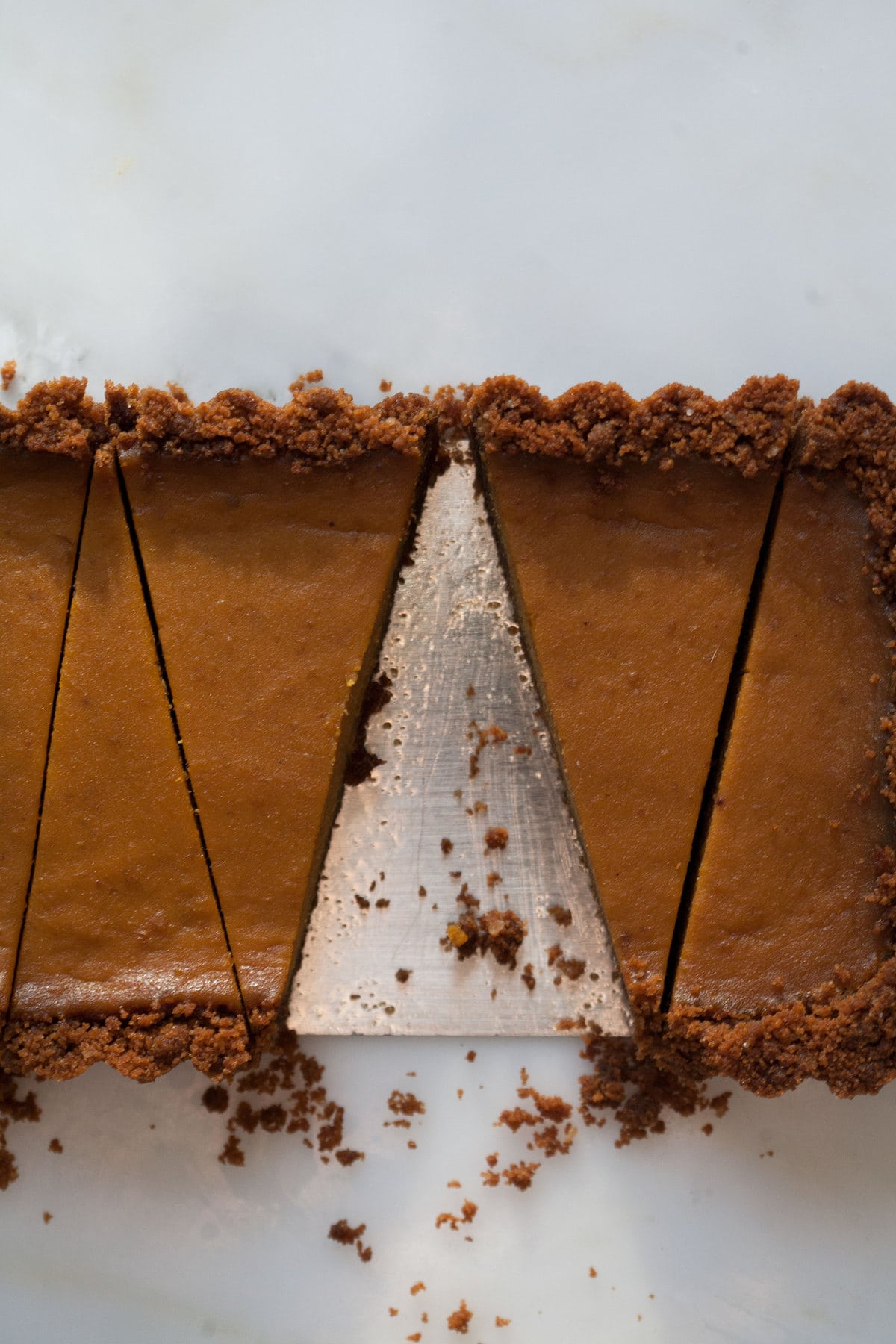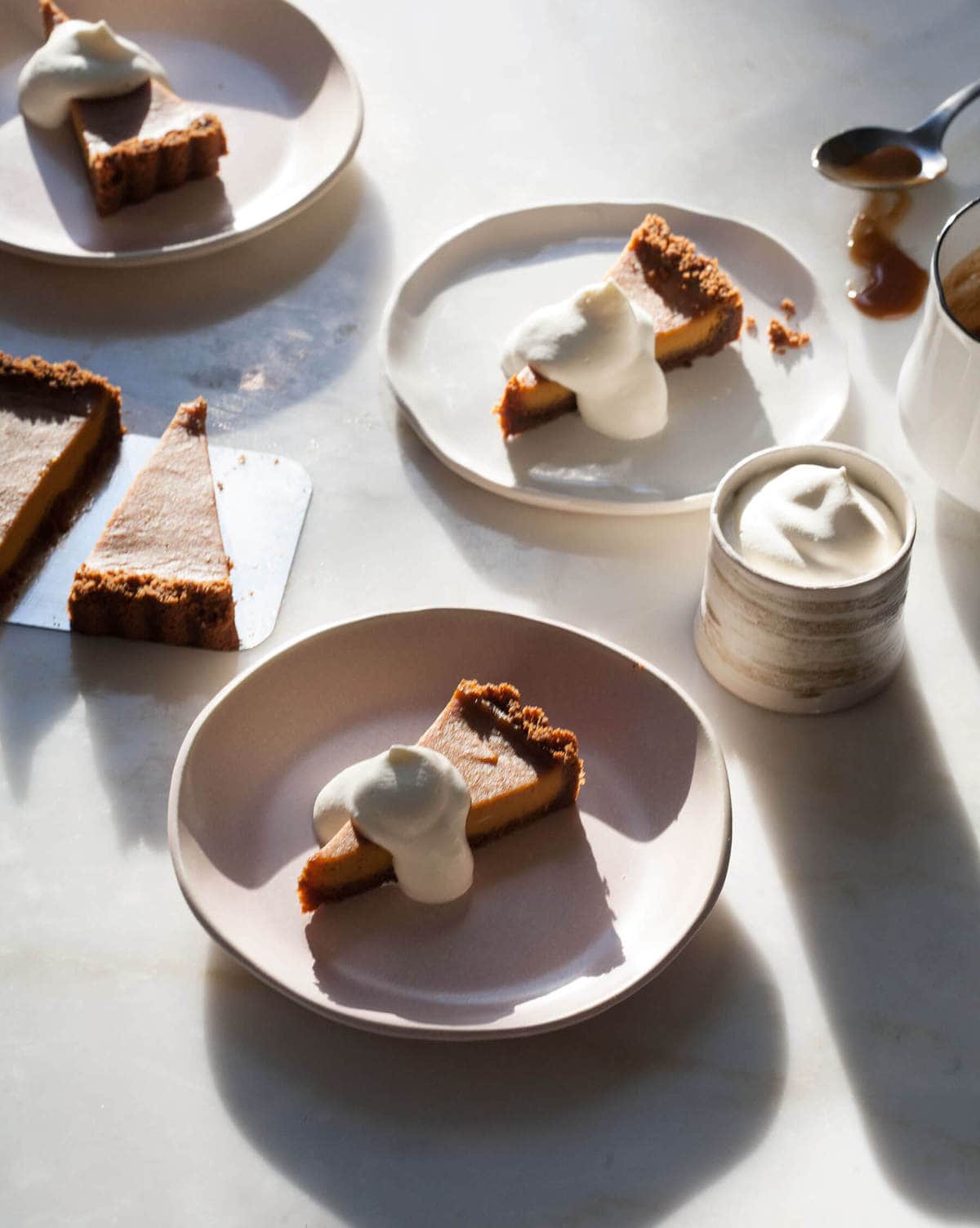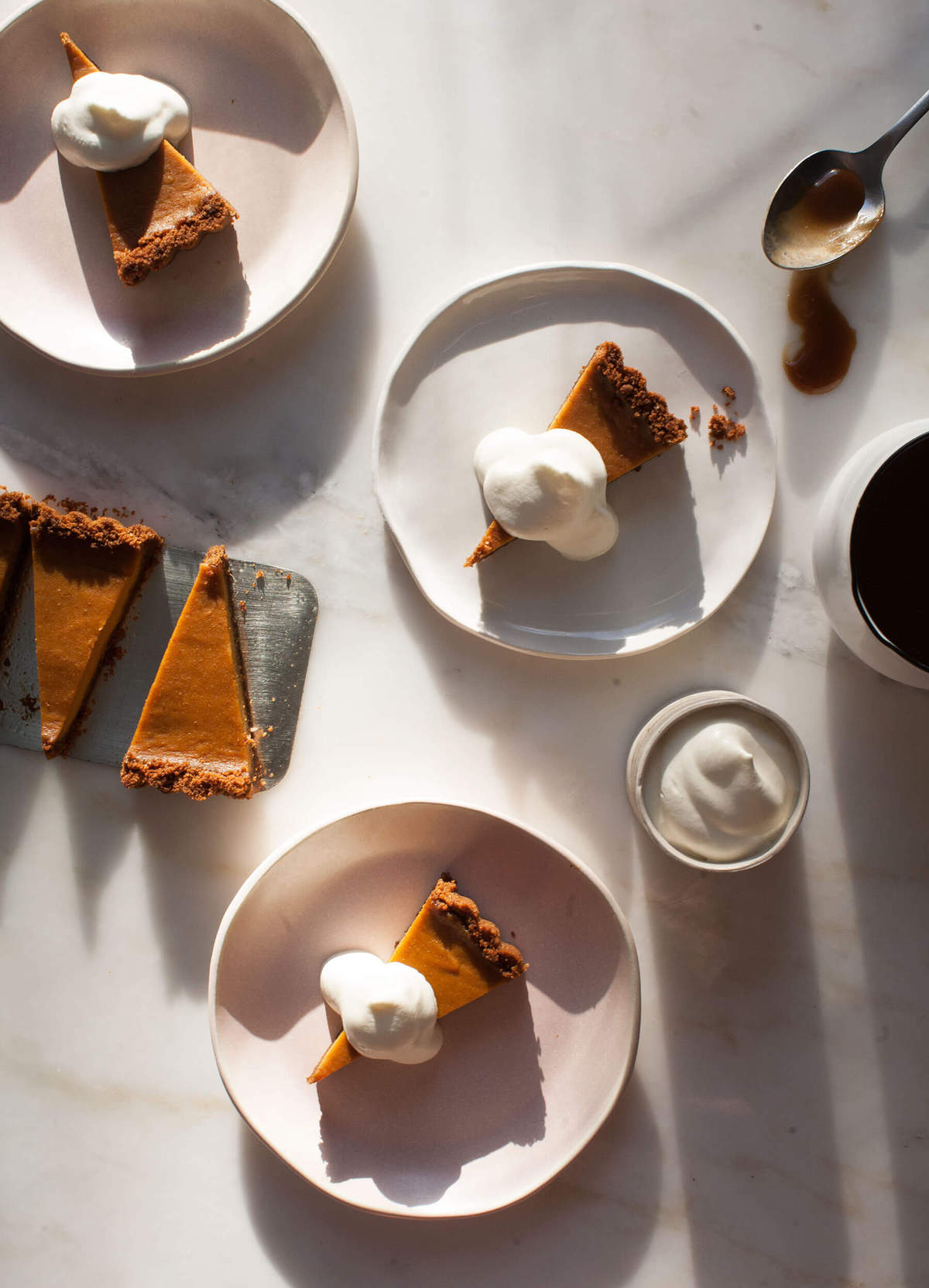 Butterscotch Pumpkin Pie
Print
Total Time:
1
hour
15
minutes
Serving Size:
6
TO 8 - (14x5-inch tart or a 9-inch tart or a 9-inch pie)
Ingredients
Crust:
2

cups

gingersnap crumbs

,

(from about 40 cookies)

1/4

teaspoon

salt

1/4

cup

unsalted butter, melted
Filling:
1/4

cup

+ 2 tablespoons light brown sugar

2

tablespoons

unsalted butter

1/4

teaspoon

salt

1

tablespoon

bourbon

1/2

cup

heavy whipping cream

1

cup

canned pure pumpkin

1

large whole egg

1

large egg yolk

Large pinch ground cinnamon

Pinch

ground cloves
Directions
To Make the Crust:
Preheat oven to 350 degrees F. Place the crumbs and salt in a medium bowl. Pour in the butter and mix until the gingersnap crumbs are moist. Transfer to 14-inch x 5-inch tart pan, 9-inch tart pan or 9-inch pie dish. Press the crumbs firmly and evenly until they line the bottom and sides of the pan or dish. Bake until slightly darker in color and mostly firm to the touch, about 5 minutes. Allow the crust to cool completely before adding the filling.
To Make the Pie Filling:
In a medium saucepan, set over medium heat, add the brown sugar, butter and salt. Bring the mixture to a gentle boil over medium heat, stirring to dissolve the sugar. Continuing boiling until it turns a dark brown color, about 2 minutes. Take off the heat and stir in the bourbon and heavy whipping cream. Most likely it'll bubble up, continue stirring until dissolved. (If the sugar hasn't dissolved, you can warm it on low heat, stirring constantly, until it dissolves.) Whisk in the pumpkin puree and stir. Let it cool for about 2 minutes and then add the whole egg, egg yolk, cinnamon and cloves. Mix until very smooth.

Preheat oven to 350°F. Pour filling into the crust. Bake until just set, about 35 to 40 minutes. Turn the oven off and open the oven door. I do this to avoid the top from cracking. Keep the pie in there for an additional 10 minutes and then remove it from the oven. I like to let it cool in a warm place, so near the oven is good!

Cool the pie until room temperature, about 3 hours. Serve with whipped cream.
To make ahead:
Make up to two days ahead, and keep in the fridge until you're ready to serve. I cover this lightly with plastic wrap when I keep it in the fridge.
Notes
Does your pumpkin pie always crack?! Here's a solution that might help with this pie:
When the pie is done baking, turn the oven off and prop open the oven door to about half way. Keep the pie in the oven. This will allow for the pie to cool slowly rather than experience the sudden temperature change, which often times results in cracks.
To make the crumbs, I add them to a food processor OR a high-powered blender.