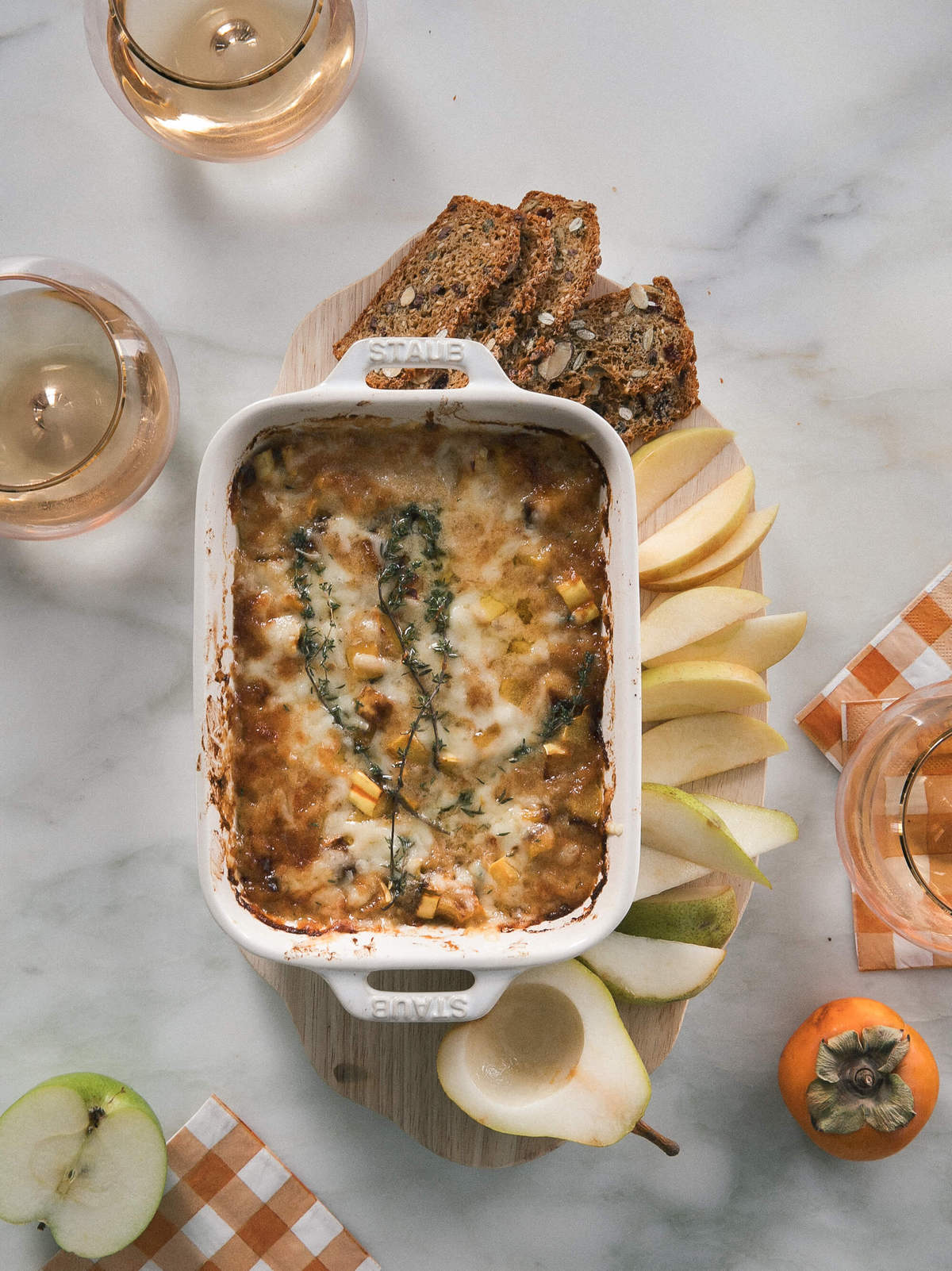 Before I head up north to spend Thanksgiving with Josh's family, I have some aggressive plans to relax:
1.I'm visiting my friend Nicole's new bakery if you live in LA, GOO!!!)
2.I'm getting a facial, which I haven't done in like a year or so.
3.I also have a laundry list of things to do like make cranberry sauce, edit photos, and pack up Amelia's bones so she lets us eat Thanksgiving dinner in peace!
Do you ever do a menial task and then write it on your to-do list only so you can then immediately cross it off? It's one of my favorite things to do, tbh. If you haven't done it, try it, it makes you believe you're more productive than you are! T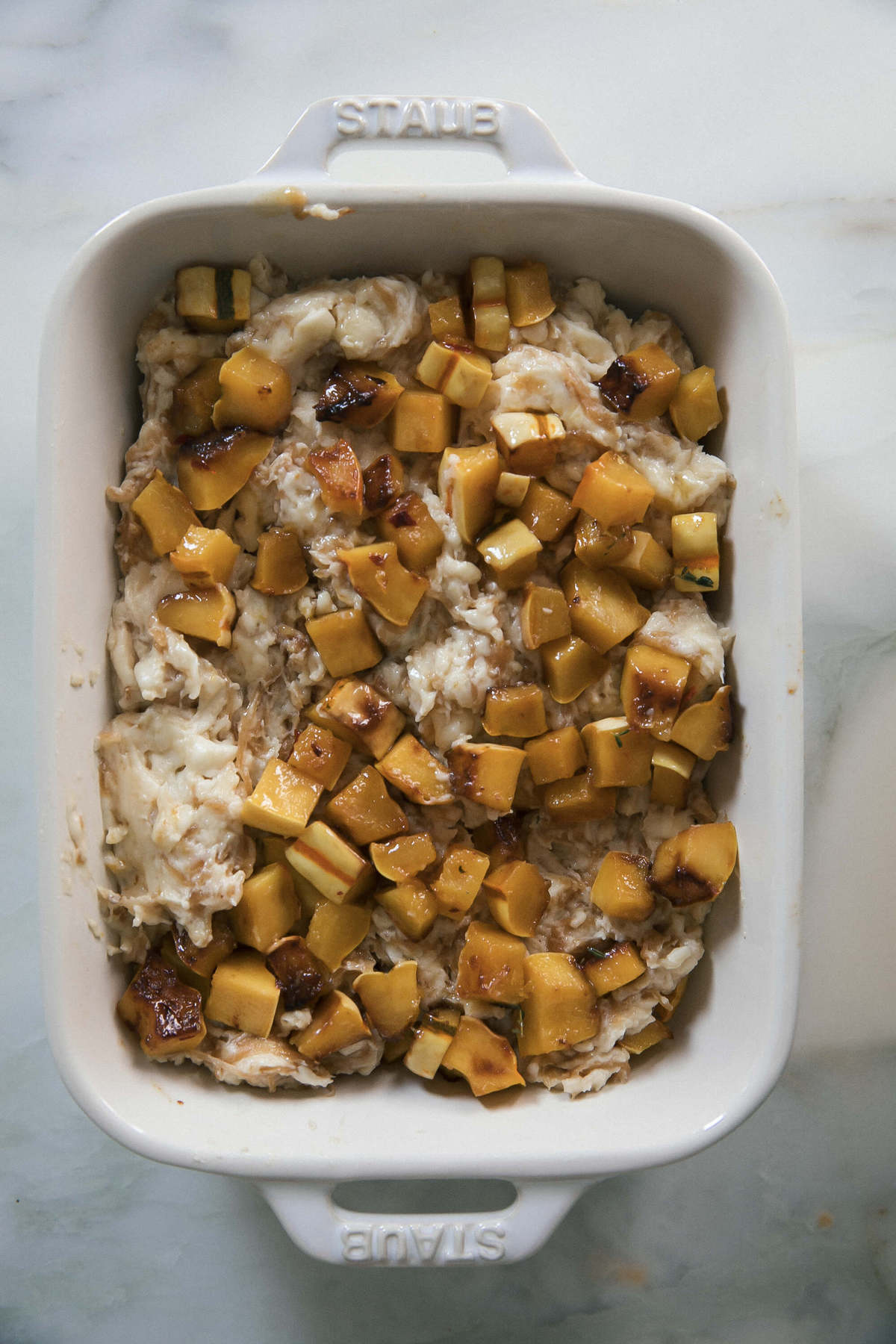 This is one of two last-minute recipes I have coming for you real quick. It's a dip that is soooooo easy to come together. It's one part brie, one part mozzarella. And it's delicious. It includes my favorite squash of all-time: delicata.
I will reiterate over and over that my favorite part about Delicata squash is that you don't have to peel the squash. EASY!
I like to think that you probably have melty mozzarella in your fridge that you can throw into this dish. I also think other melty cheeses would work like gouda or havarti.
I paired it with brie cheese but feel free to use something else, if that's your vibe.
Ok! I'm off to make cranberry sauce. Happy-almost-Thanksgiving
xox
Adrianna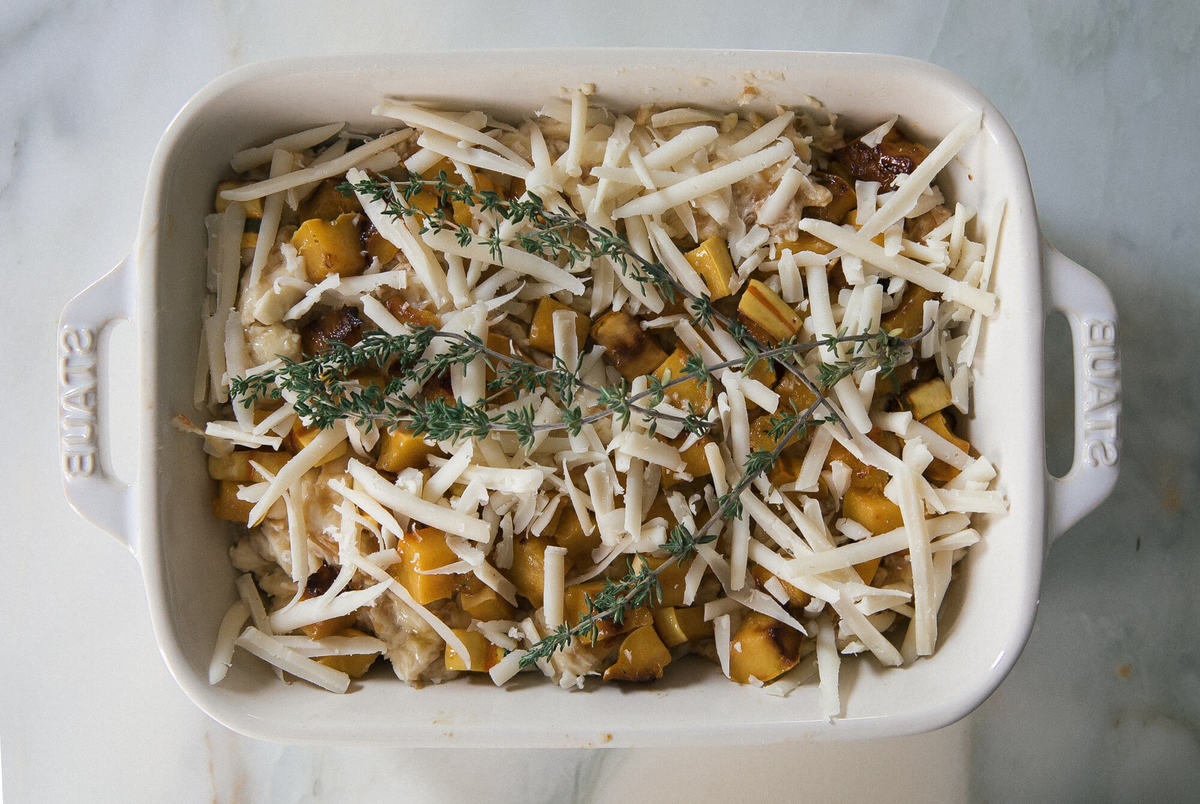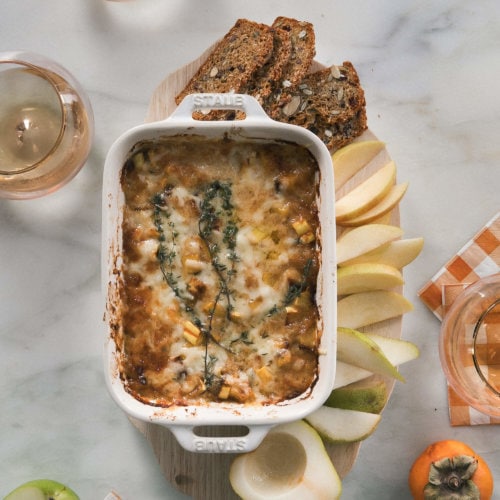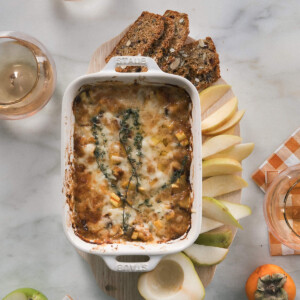 Baked Brie Dip with Caramelized Onions and Delicata Squash
Ingredients
Caramelized onions:
1

tablespoon

olive oil

,

plus more as needed

Kosher Salt

1

large onion

,

peeled and sliced

1

tablespoon

unsalted butter
Dip:
1

delicata squash

1

tablespoon

olive oil

Salt

Fresh thyme leaves

Red Pepper Flakes

8

ounces

brie cheese

4

ounces

mozzarella cheese

,

about 1 1/2 cups of shredded cheese, divided
Directions
To Make the Caramelized Onions:

To a medium pot, set over medium heat, add the olive oil. When hot, add the sliced onions and a few pinches of salt. Stir until they're coated in olive oil. Cover the pot and allow to cook for about 10 minutes, checking on them every so often and giving them a stir. This will help steam and sweat the onions down. Cook for an additional 5 minutes.

At the 15 minutes mark, turn the heat down to low. Uncover the pot and cook on low, stirring frequently, about 15 more minutes. At the 25 minute mark, add the butter and cook for an additional 10 minutes or so, until they're lightly golden brown. (I didn't take these too too dark because of time.) Remove from the heat and transfer them to a bowl.
To Make the Dip:
Half the delicata squash, lengthwise, and scrape out the seeds and stringy stuff. Dice the squash and set aside.

Preheat the oven to 400 degrees F.

In a small sauté pan, set over medium heat, pour in the olive oil. when warm, add the onion and delicata squash, along with a few pinches of salt. Add the leaves of one sprig of thyme and a few turns of freshly cracked pepper, along with a pinch of red pepper flakes. Cook for 5 to 6 minutes, until the squash is cooked all the way through. Give it a taste and cook for a few minutes longer.

Meanwhile, to the bowl with the caramelized onions, add the brie, 1 cup of mozzarella, the creme fraiche, leaves from a sprig of thyme, a pinch of crushed red peppers, a pinch of salt and a few rounds of freshly ground pepper. Mix and mash it together until combined.

Transfer half of it to a 6 x 6-inch casserole dish or something comparable, and then top it with a handful of mozzarella and a few spoonfuls of squash. Repeat until you've worked your way through all of the cheese and squash. Top with a generous handful of cheese.