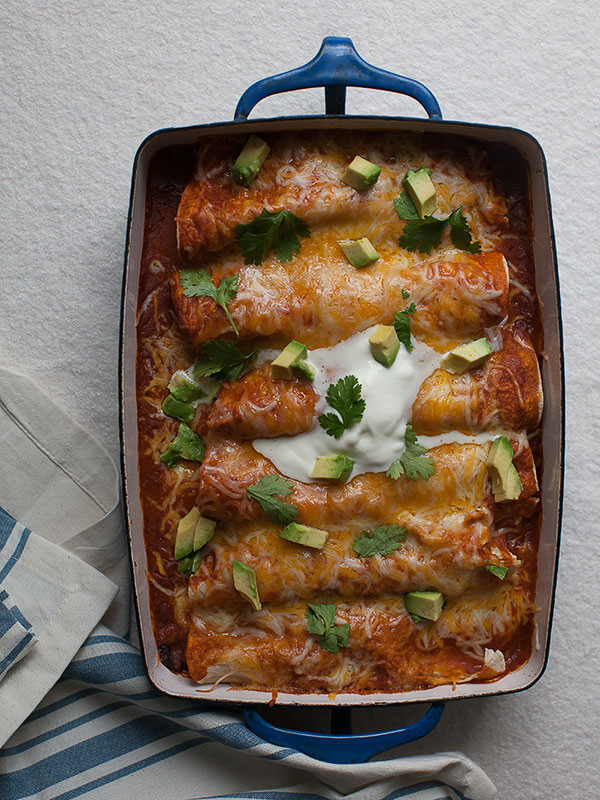 Do you have a food blog? I feel like many of you do. Or at the very least, you like to take photos of your food. We're all weird, aren't we?!
Last Friday, when I made this recipe, it was rainy and windy and a little cold. I was excited to cook and have the oven going, but I wasn't in the mood to set things up, arrange forks on plates, pour a fake beer or style anything, even in a small way. I just wanted to cook and then eat. JUST LIKE A NORMAL PERSON.
So, I didn't. At all. And this is what we get. No plates that match, no perfectly diced avocado, no homemade enchilada sauce and I even…wait for it, bought the cheese pre-shredded. I always, ALWAYS buy the blocks and grate it myself. Not last Friday!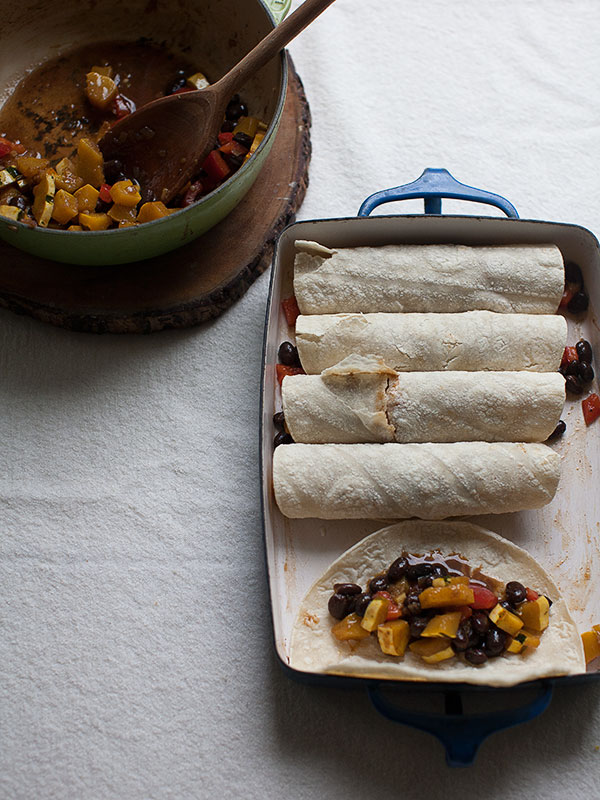 This recipe proves that I was being lazy. But I'm convinced it's a good lazy. It's the kind of lazy that proves we're trying in the world and we need to be rewarded by something easy and simple.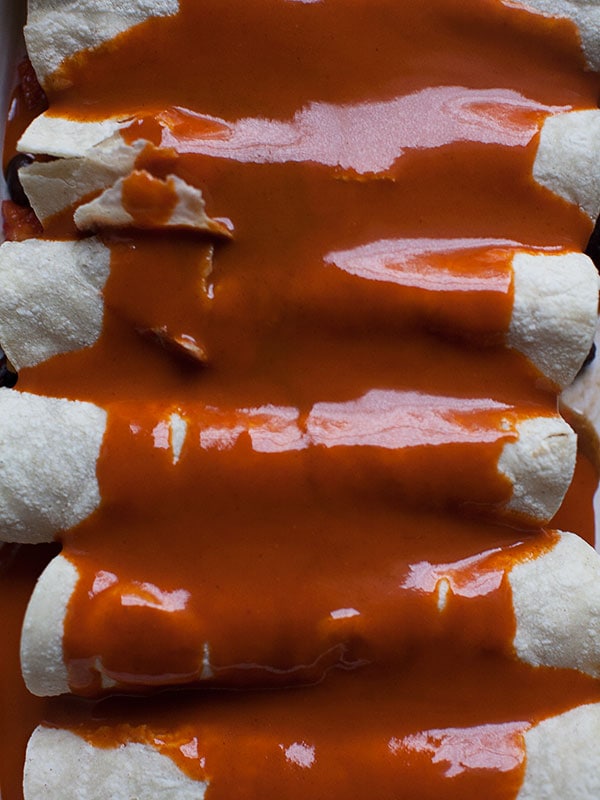 The best part about this whole thing is that it didn't taste like it lacked hard work. It was still warm and cheesy and delicious. The squash and black beans make it feel hearty and satisfying but still light so it doesn't feel like you need to lay down after consuming. You know those meals? Ones that make you want to take a nap? Not this.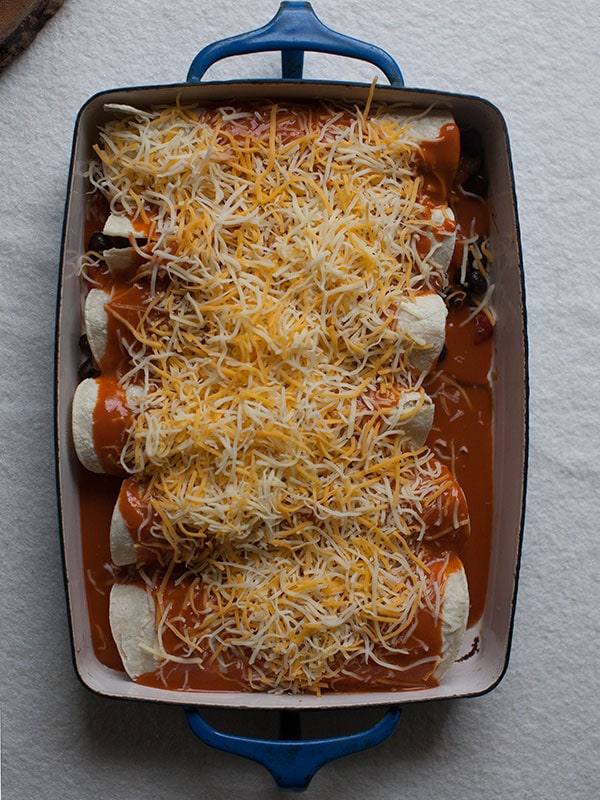 I even bought delicata so I wouldn't have to peel the squash. Also, I had a feeling butternut squash might be a tad too sugary for this dish. I favor the more neutral, nutty flavor of delicata. The squash is cooked in Ancho chile powder, cumin, lime juice and lots of garlic and shallots. The enchiladas are stuffed, coated in enchilada sauce and topped with tons of cheese.
It was everything my lazy lil' soul wanted.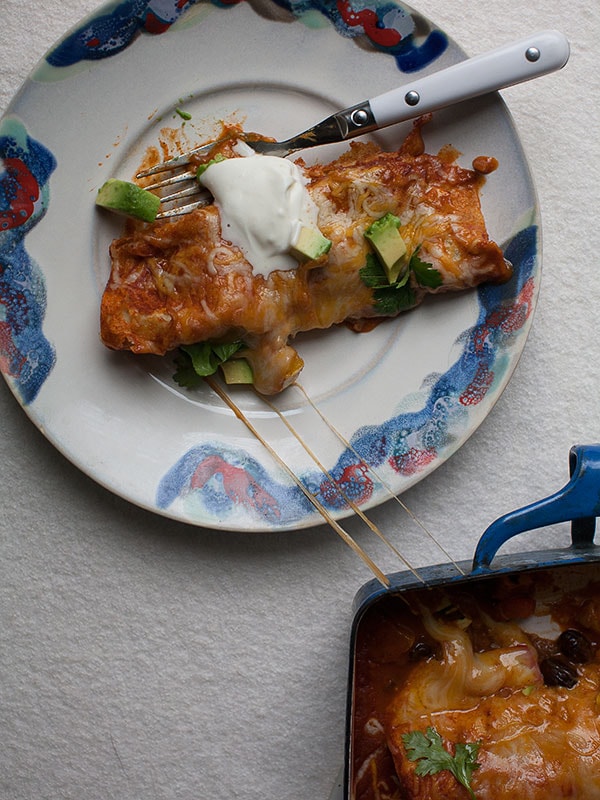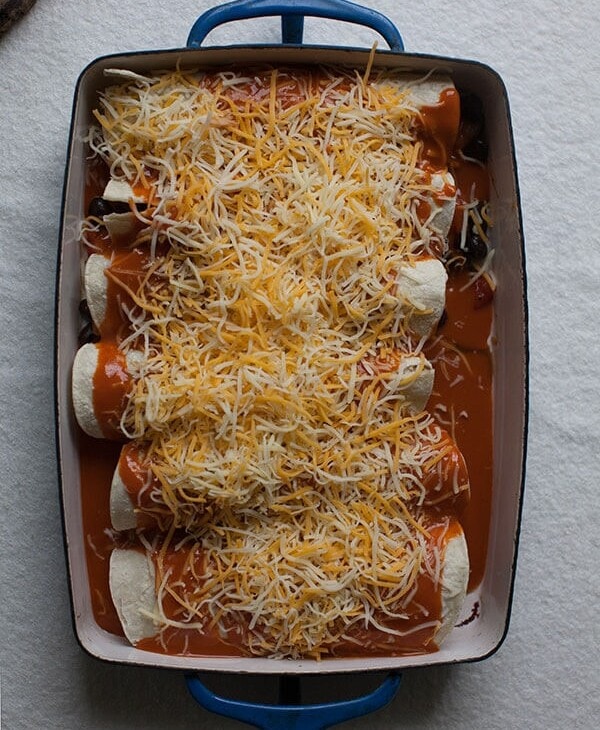 Print Recipe
Delicata Squash and Black Bean Enchiladas
Ingredients
2

tablespoons

olive oil

1

large shallot

2

garlic cloves

minced

1 1/2

teaspoons

Ancho chile powder

3/4

teaspoon

salt

1/2

teaspoon

ground cumin

1

delicata squash

seeds discarded and diced

Juice from 1 lime

2

tablespoons

water

1/2

red bell pepper

diced

3/4

cup

canned black beans

6 to 8

corn or flour tortillas

1

cup

red enchilada sauce

I used store-bought from Trader Joe's

1

cup

shredded cheese

I used a mix that was Monterey Jack and cheddar

1/4

cup

creme fraiche

Juice from 1/2 lime

1/2

avocado

cut into a small dice for garnish

Handful of cilantro leaves

for garnish
Instructions
In a medium saucepan or skillet, set over medium heat, warm the olive oil. When the oil glistens and glides swiftly when you tilt the pan, add the shallot; cook until soft and translucent, about 2 minutes. Add the diced garlic, Ancho chile powder, salt, ground cumin, diced delicata squash, juice from 1 lime and water. Mix everything together so the squash is coated in the spices. Cover the pot and cook for about 5 to 10 minutes; during this time the squash will steam a bit. Uncover the pot and give it a good stir, making sure the squash isn't sticking to the bottom of the pot. Check for doneness by piercing it with a knife - if soft it's done. If not, then cook for additional 5 minutes or so, adding a splash or two of water, if needed. When the squash is done, add the diced red bell pepper and black beans. Toss everything together.

Preheat the oven to 325 degrees F. If the corn or flour tortillas aren't very pliable, wrap them in damp paper towels and put them in the microwave for about 30 seconds. (If you don't own a microwave, stick them in a 300 degree oven until warm.) In your baking dish (mine was about 13 x 9-inches but this can vary), add a few spoonfuls of enchilada sauce to the bottom. Spoon two to three tablespoons of the squash mixture to each tortilla. Fold over the filling and place the enchiladas in the pan, seam side down. Fill as many tortillas that will fit (I was able to fit about 8). Pour the remaining enchilada sauce over the tortillas. Top with the cheese. Transfer to the oven to bake for about 15 to 20 minutes, until the cheese is melty and the sauce looks a lil' bubbly.

While the enchiladas are baking, make the lime creme fraiche. In a small bowl, whisk together the creme fraiche, lime juice and a few pinches of salt. When the enchiladas come out of the oven, top with lime creme fraiche, diced avocado and cilantro leaves.