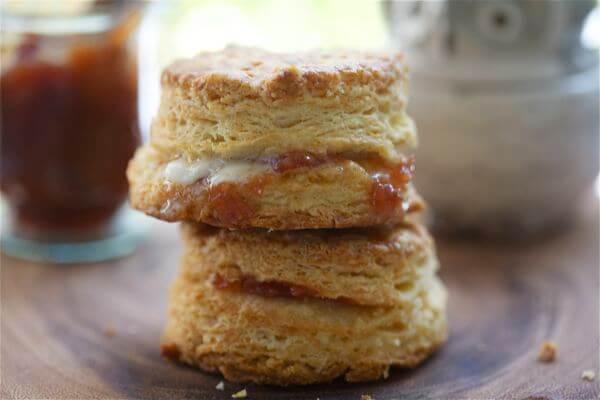 In the first season of Felicity (yes, I'm re-watching it right now AND loving it), Ben Covington (Scott Speedman) says that everyone is good at three things. Three things! So, I asked myself: What three things am I good at?! I thought long and hard about these answers; here they are:
1. I'm a good daughter. I call my parents, include them in my life (despite us living across the country from one another), I listen to them, and make time them. Because, as I've learned over the years, all parents really want is time.
2. I'm a really good girlfriend. And a really really bad ex-girlfriend. Like, I might throw out your clothes/DVDs/electronic equipment that you leave at my house. Might. Whatevs!
3. I'm a very good biscuit creator/dreamer/taster/eater. I wasn't born this way. No. My talent for making biscuits comes from just straight obsession. No talent needed, just facts and a few tips and tricks.
My love for biscuits is well documented on this here corner of the internet that is A Cozy Kitchen, but I wasn't always good at making them. I actually remember making my first batch of biscuits in college and remember them being flat, sort of bland and dry. Now, they're tall, flaky, buttery and kind of amazing.
(Take the jump, let's rock out with some biscuits.)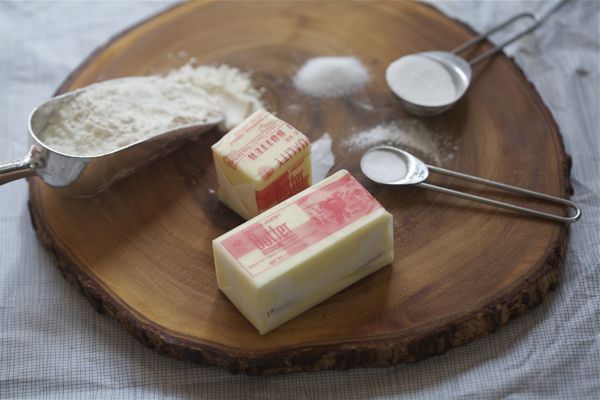 Step 1: Get your dry ingredients together. Get your butter together. Biggest thing with this step: make sure your baking powder and baking soda are fresh.
Look at the expiration date. If they're old and expired, they won't work, which will result in biscuits that are flat and not so cute.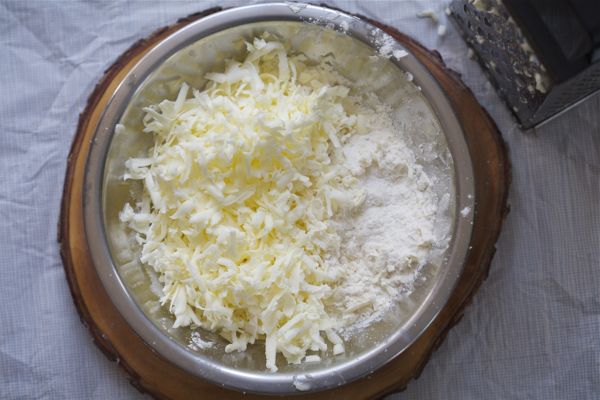 Step 2: Grate the butter into the flour mixture and place it in the freezer to chill. The key to tender and delicious biscuits is to handle the dough as little as possible.
Grating the butter into the flour mixture helps with this. Think about it. There's no need to break up large chunks of butter. The grater makes it so the butter is practically already at an ideal size: pea-sized.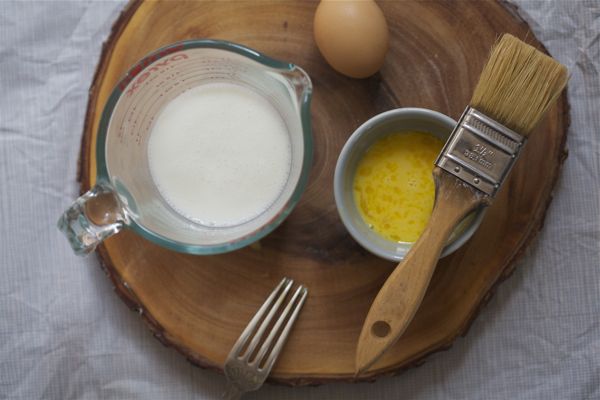 Step 3: While the flour and butter are chilling out in the freezer, combine the wet ingredients. And make your egg wash.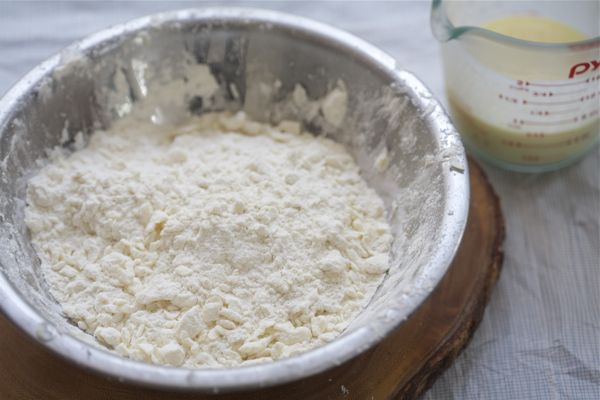 Step 4: Take the flour and butter bowl out of the freezer. Break up the butter, gently, until it's combined into the flour mixture.
All at once, pour in the cold buttermilk and egg mixture.
Grab a spoon and mix it all together. It should come together pretty quickly. Knead it in the bowl a few times and dump it out onto your kitchen counter…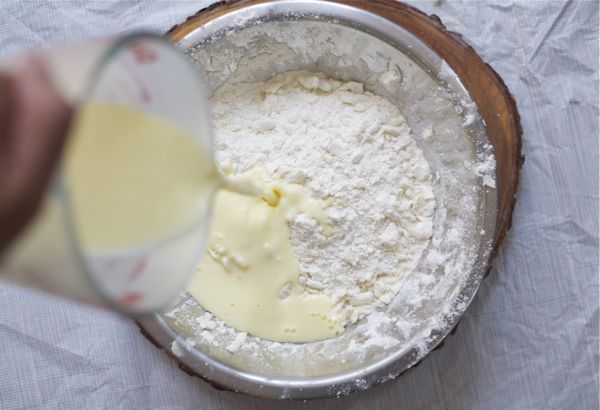 Step 5: I don't use a rolling pin for biscuits, usually. I find it something sort of unnecessary and just another thing I need to clean. Instead I just pat the dough into a sort-of circle and cut the biscuits out.
If you twist your cutter, the biscuits may have a tendency not to rise as much. So don't do that. Just straight down and firm.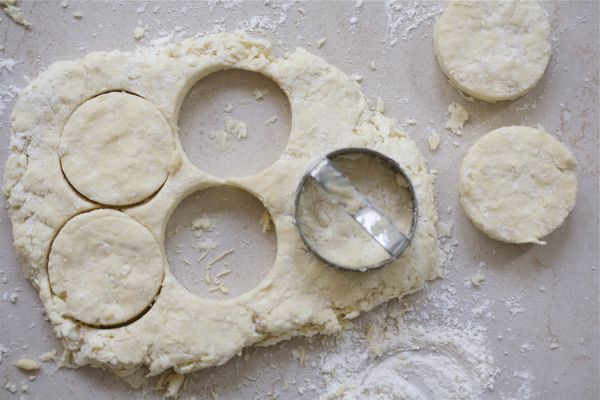 Step 6: Egg wash. And into a very well preheated oven is super important. These biscuits have a good amount of baking powder and a little bit of baking soda, which will make them rise. But height is also created from those bits of butter throughout the biscuit hitting the heat and creating steam. This steam pushes the biscuit upward, resulting in a tall, good-looking biscuit.
Also, since this blog here is a nice little community, and not a dictatorship, if you happen to know other tricks or tips I didn't mention above, feel free to leave them in the comments. Most likely other people reading will benefit, and I will too.
All week I've been going around and asking all my friends what three things they're good at.
So, YOUR TURN…!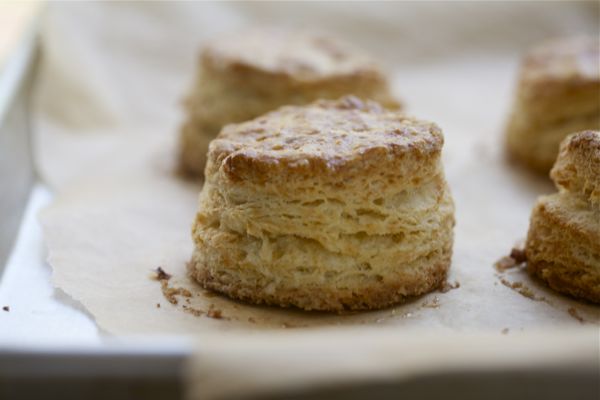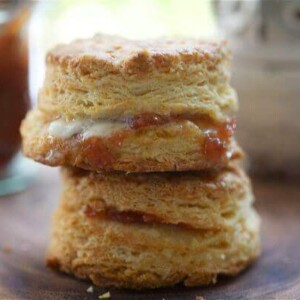 Ingredients
Dry:
2

cups

all-purpose flour

1

tablespoon

baking powder

1/2

teaspoon

baking soda

1

teaspoon

salt

3/4

cup

unsalted butter
Wet:
1/2

cup

buttermilk

,

cold and shaken

1

large egg

,

cold
Egg Wash:
1

large egg

1

tablespoon

milk

,

or 1 tablespoon water
Directions
Preheat oven to 400F. Line a baking sheet with parchment paper and set aside.

In a large bowl, mix together the dry ingredients: all-purpose flour, baking powder, baking soda and salt. Using a box grater, grate the butter into the flour mixture. Transfer the bowl to the freezer while you gather the wet ingredients, about 5-7 minutes.

Measure out the buttermilk and add the egg; whisk until combined. In a small bowl, make the egg wash, whisking together the egg and milk. Transfer both to the refrigerator.

Grab the bowl out of the freezer, and gently break up the butter and combine with the flour, using your hands, until it resembles small peas. Add the buttermilk mixture all at once to the flour mixture. Mix until barely combined; and lightly knead the dough. until it forms one solid mass. Sprinkle your kitchen counter with flour and dump the dough onto it. Press the dough into a 3/4-inch thickness.

Cut out the biscuits using a 2 1/2-inch biscuit cutter, ending up with about 6 biscuits. You can recombine the scraps and get 2 more biscuits. Transfer them to the baking sheet.

If you think you've been moving a little slow (like I was because I was..ahem..taking pictures), stick the baking sheet in the freezer for 5 minutes. This will get the bits of butter nice and cold again.

After the biscuits are cold, brush the tops of with egg wash and bake in oven or 10 to 15 minutes, until tall and medium golden brown. Serve biscuits warm with honey and jam. YUM.