These flaky, buttery buttermilk biscuits are the perfect vehicle for everything from softened butter and strawberry jam to sausage gravy or even fried chicken. Biscuits that are so soft that they melt in your mouth, come together easily with minimal ingredients. 
Buttermilk Biscuits remind me of high school because I'd always order two biscuits with a side of butter and honey after tennis practice. They were the perfect way to recharge but not too heavy as to ruin dinner. 
WHAT ARE BUTTERMILK BISCUITS
While biscuits can sometimes refer to cookies or scones in other parts of the world, here in the United States, buttermilk biscuits are akin to dinner rolls, in the sense that they are served in a similar manner. They are the flakier, more buttery, and slightly denser version and are typically made with baking powder, baking soda, or both. A buttermilk biscuit is considered to be a quick bread because of the leavening agent(s) used, but I  believe they can stand alone in their own unique buttermilk biscuit category
INGREDIENTS YOU'LL NEED
When you only have a few ingredients in a recipe, every ingredient counts. For maximum success, make sure all of your ingredients are as cold as possible. 
All-purpose Flour: I mostly use King Arthur or Bob's Red Mill All-Purpose Flour

Baking Powder: Always check the expiration date on your Baking Powder and use Aluminum Free if you are worried about a metallic taste.

Baking Soda: Always check the expiration date on your Baking Soda and sift it through a fine mesh sieve if it looks clumpy. There's nothing worse than biting into a clump of baking soda.

Kosher Salt: I find the finer the better with salt and recommend avoiding Iodized Salt when baking.

Unsalted Butter: I like to use Frozen Unsalted Butter when making biscuits. Just take it out of the freezer and let it sit on the counter for a few minutes before grating.

Buttermilk: Cold and Shaken Real Buttermilk is the key for these biscuits. While some may say you can substitute whole milk and vinegar, I recommend using real buttermilk for these. 

Large Egg: Size matters here, as an extra-large egg will alter the amount of liquid in your dough. Make sure you're using a Large Egg.
HOW TO MAKE BUTTERMILK BISCUITS
Start by preheating your oven to 400F and lining a baking sheet with parchment paper. Set the baking sheet aside. 

Mix together the all-purpose flour, baking powder, baking soda, and salt in a large bowl. Grate in your butter and transfer the bowl to the freezer for a few minutes. 

Whisk together your buttermilk and an egg and chill in the fridge. Whisk together your eggwash using an egg and some milk. 

Remove your bowl from the freezer and mix the butter into the flour with your hands, quickly but gently. Then add the buttermilk mixture and mix until *just* combined. On a clean countertop, sprinkled with flour, dump your dough out and form it into a 3/4-inch thick square. 

Use a  2 1/2-inch biscuit cutter to stamp out biscuits, being sure to press straight down and not twist. Transfer the biscuits to your banking sheet and stick the sheet in the freezer for 5 to 10 minutes.  

Remove from the freezer and brush with egg wash. Bake it in the oven for 15 minutes or until the tops are golden brown. Serve warm with softened butter and jam. 
TIPS AND TRICKS
Cold Ingredients are Key: For flaky layers and pockets, use cold butter, and cold buttermilk, basically, everything should be as cold as possible. When your butter melts as your biscuits are baking, it releases steam which in turn creates little pockets of air. This is what makes your biscuits flaky and airy on the inside. 

Put Your Flour Bowl in the Fridge: If your house is really warm, put your flour mixture bowl in the fridge for five to ten minutes before grating your butter. This gives your dry mixture time to cool down before adding the cold butter.

Freeze Your Butter: Frozen butter is the easiest butter to grate. I like to take my butter out and rest it on the counter for a few minutes before grating.

Grate Your Butter: Using a box grater to grate your cold butter is the move. It gives you the perfect-sized pieces of butter to ensure you have even butter distribution. 

Be Gentle with the Dough: Overworking your biscuit dough amounts to tough biscuits. Dough that is slightly crumbly and *just* combined is what you're looking for. 

Don't Twist Your Biscuit Cutter: It's so important to press your cutter down firmly, never twisting. If you twist your cutter, what you're doing is essentially sealing the edges of your biscuits which will prevent them from rising. 

Always egg wash: Egg washing the tops of your biscuits is the key to perfect golden brown and shiny tops. Don't skip this step. 

Oven Temperature is Important: If your oven runs cool make sure to adjust your temperature accordingly. It's important to have a hot oven to ensure a good rise and golden bake.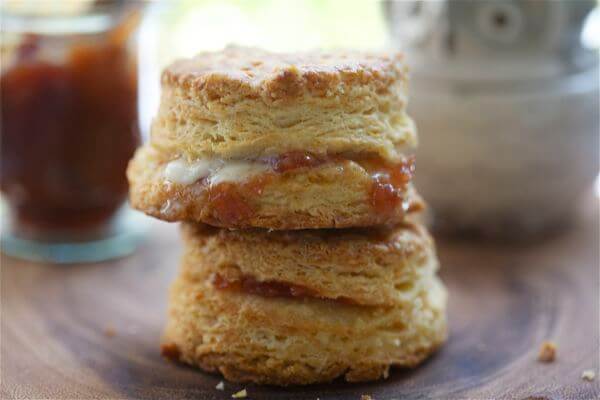 Print Recipe
Buttermilk Biscuits
Serving Size:
to 8 biscuits
Ingredients
Dry:
2

cups

all-purpose flour

1

tablespoon

baking powder

1/2

teaspoon

baking soda

1

teaspoon

salt

3/4

cup

unsalted butter
Wet:
1/2

cup

buttermilk

cold and shaken

1

large egg

cold
Egg Wash:
1

large egg

1

tablespoon

milk

or 1 tablespoon water
Instructions
Preheat oven to 400F. Line a baking sheet with parchment paper and set aside.

In a large bowl, mix together the dry ingredients: all-purpose flour, baking powder, baking soda and salt. Using a box grater, grate the butter into the flour mixture. Transfer the bowl to the freezer while you gather the wet ingredients, about 5-7 minutes.

Measure out the buttermilk and add the egg; whisk until combined. In a small bowl, make the egg wash, whisking together the egg and milk. Transfer both to the refrigerator.

Grab the bowl out of the freezer, and gently break up the butter and combine with the flour, using your hands, until it resembles small peas. Add the buttermilk mixture all at once to the flour mixture. Mix until barely combined; and lightly knead the dough. until it forms one solid mass. Sprinkle your kitchen counter with flour and dump the dough onto it. Press the dough into a 3/4-inch thickness.

Cut out the biscuits using a 2 1/2-inch biscuit cutter, ending up with about 6 biscuits. You can recombine the scraps and get 2 more biscuits. Transfer them to the baking sheet.

If you think you've been moving a little slow (like I was because I was..ahem..taking pictures), stick the baking sheet in the freezer for 5 minutes. This will get the bits of butter nice and cold again.

After the biscuits are cold, brush the tops of with egg wash and bake in oven or 10 to 15 minutes, until tall and medium golden brown. Serve biscuits warm with honey and jam. YUM.