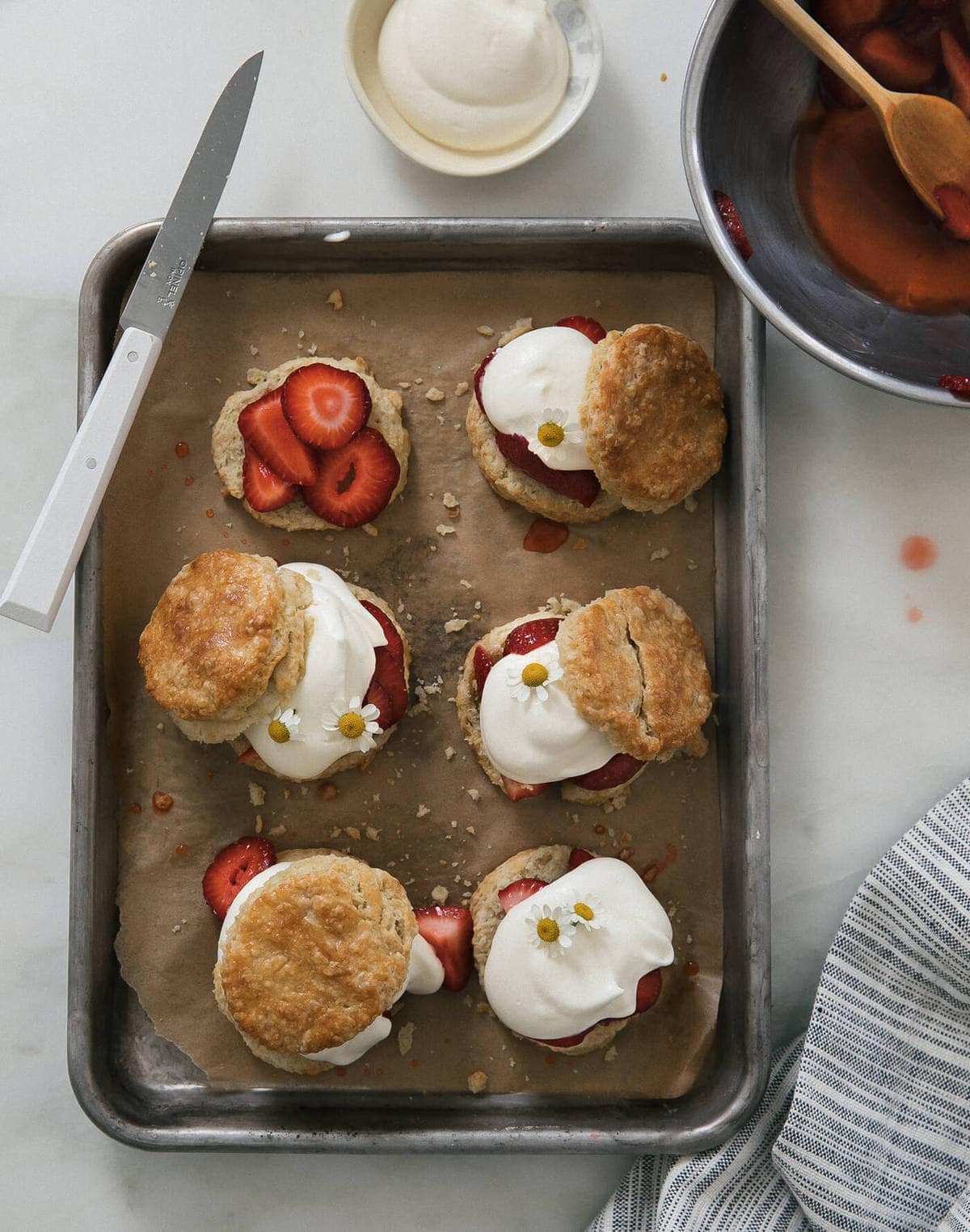 Someone slid into my DMs the other day and asked me…what's an easy-ish dessert to make in the summer?!
I immediately responded with STRAWBERRY SHORTCAKES. But then I realized I don't really have a thorough recipe on the blog for this. Which is weird since it's my absolute go-to because everyone loves them.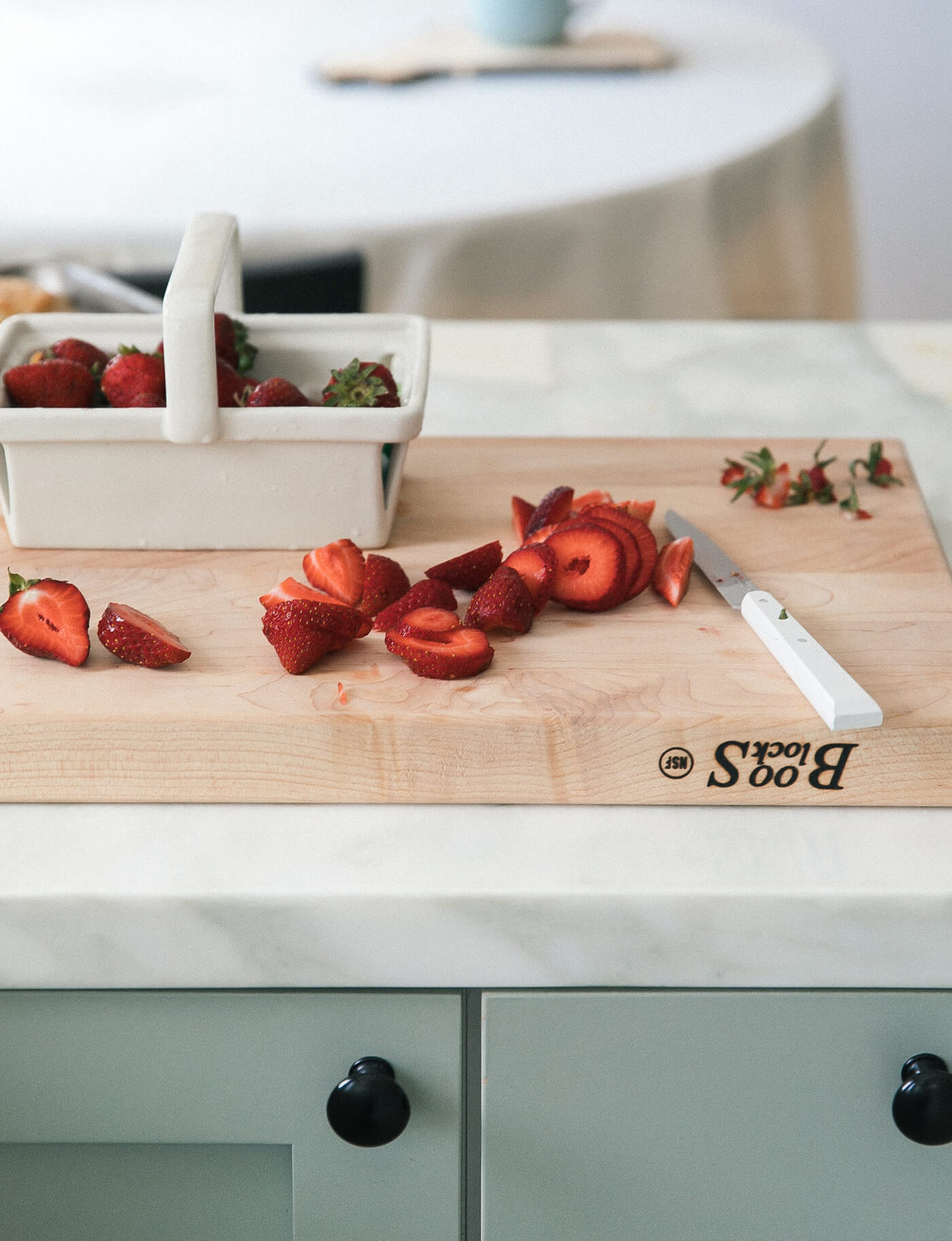 It's also great for a party because you can bake off the biscuits the morning of and assemble them in, like, 5 minutes.
Every summer during my wondrous childhood, my mom would buy these mini sponge cakes that they would sell in cellophane packaging. Next to it was always this strawberry fake-tasting syrup. She would buy them, along with a huge flat of strawberries. This grocery shopping day would make me joyful, truly.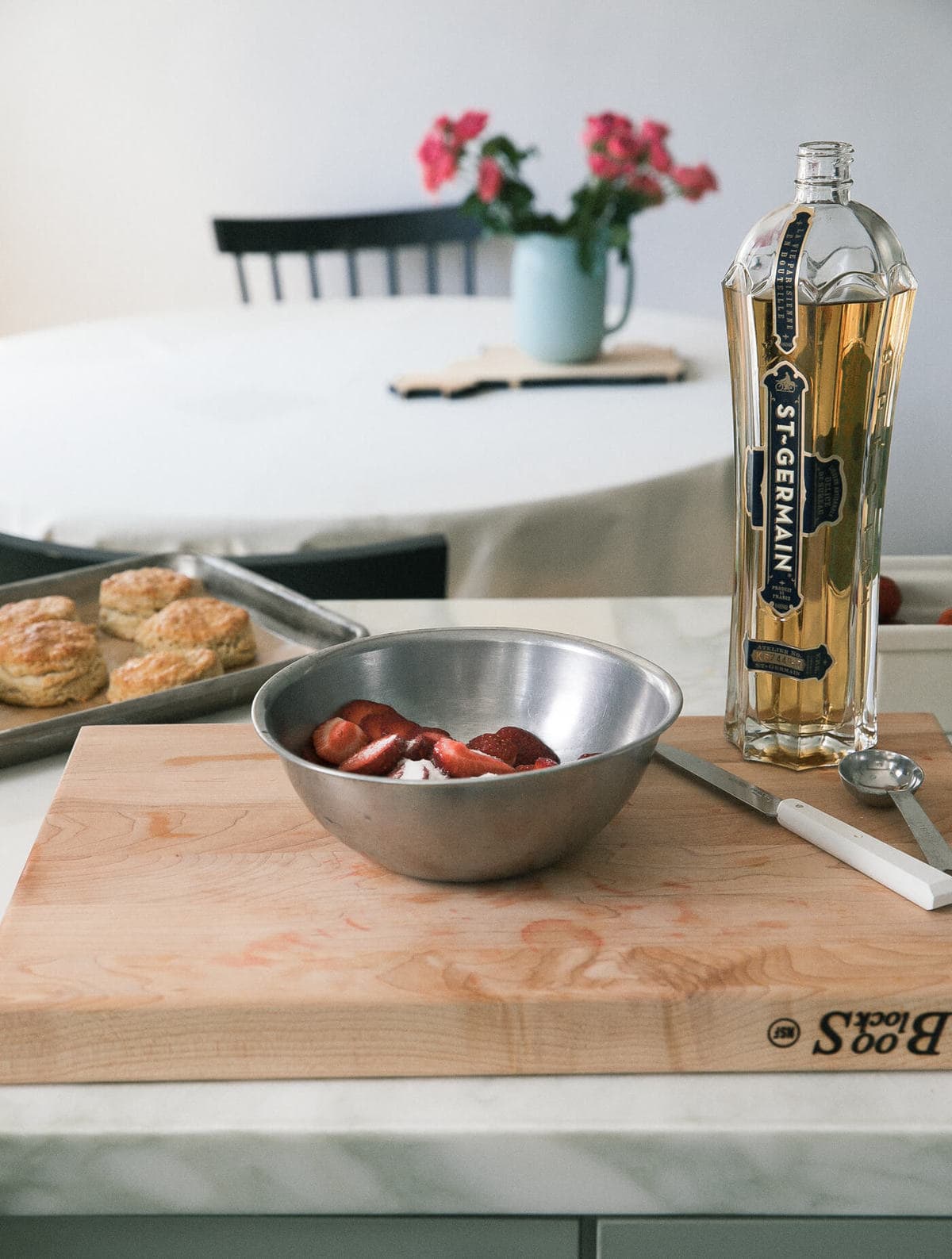 That syrup was probably awful, filled with lots of corn syrup and other garbage but I didn't care. I loved the strawberry combo with cake and syrup and whipped cream.
I like to this of this as more of a real foods version! (Even tho there's obviously sugar and flour lol.)
True story: one of the most popular recipes on this blog is How to Make Perfect Flaky Biscuits. I would go as so far to say that I figured out what goes into a really good biscuit but it took me a long time to get it right.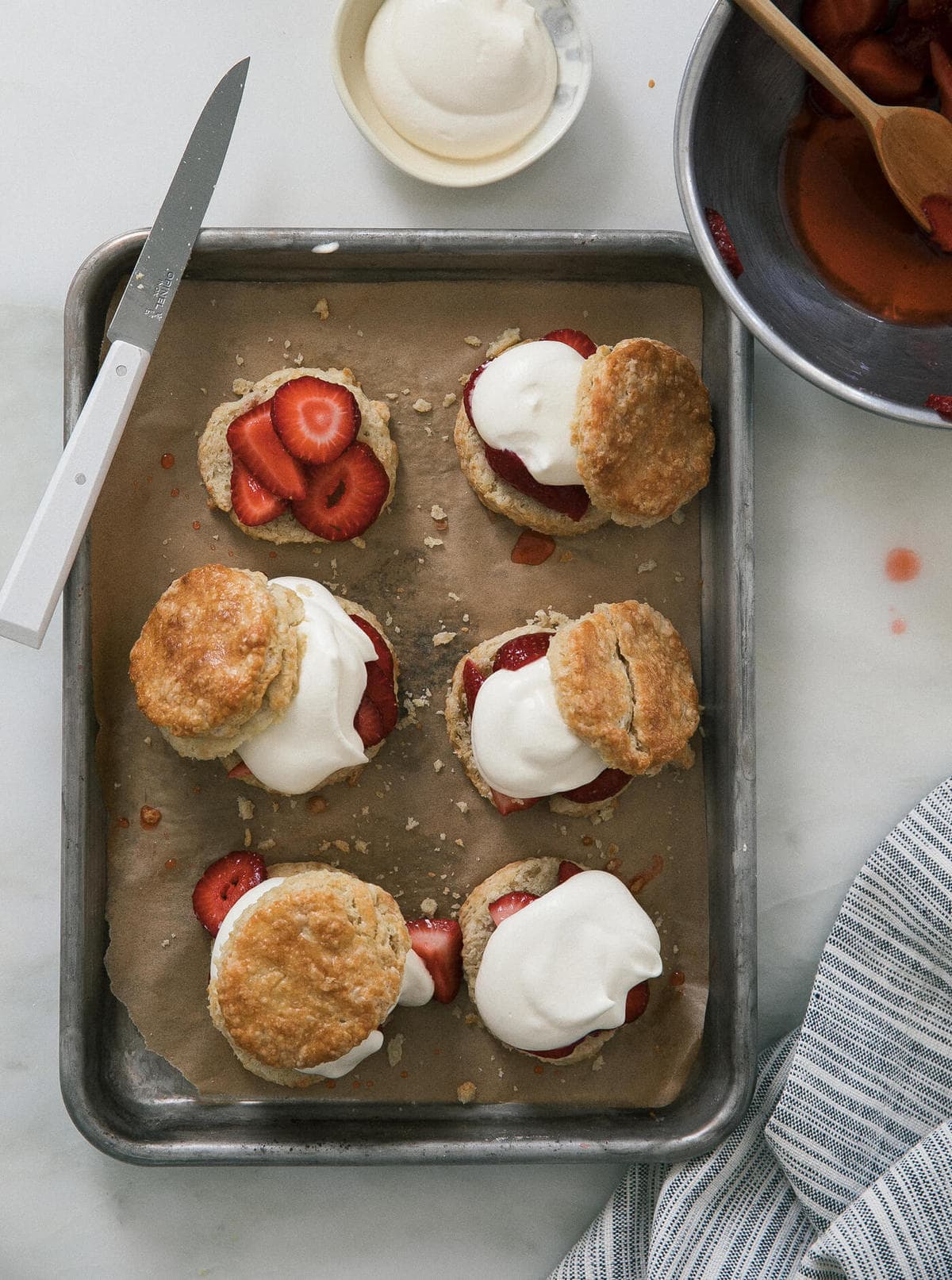 I love these biscuits and they are the first step in achieving these short cakes. What's awesome about this combo of a recipe is the following:
1. You can make the biscuits up to two weeks before but don't bake them. Make the dough, roll them out, stamp them out and then freeze them.
2. You can bake them off the day when you're serving them.
3. The rest comes together in a breeze. All you'll have to do is mix together the strawberries and the sugar an make the whipped cream.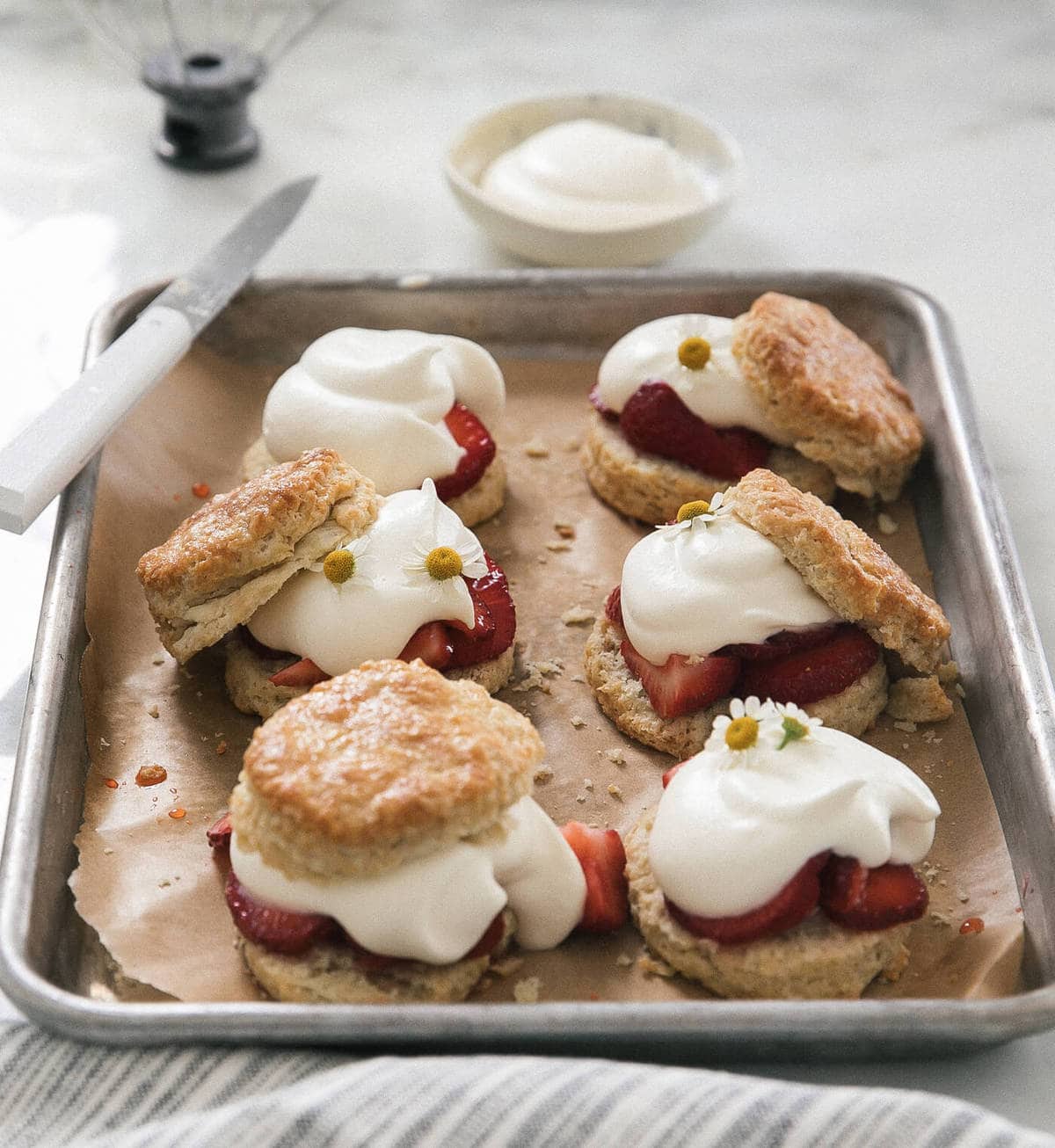 Of course, you don't HAVE to add the elderflower liqueur. I bought a big bottle for a cocktail a while ago and since I'm not a huge drinker, I just sort of had it around. I wanted to put it in something and it's glorious with strawberries. It's not overly floral at all…just a hint.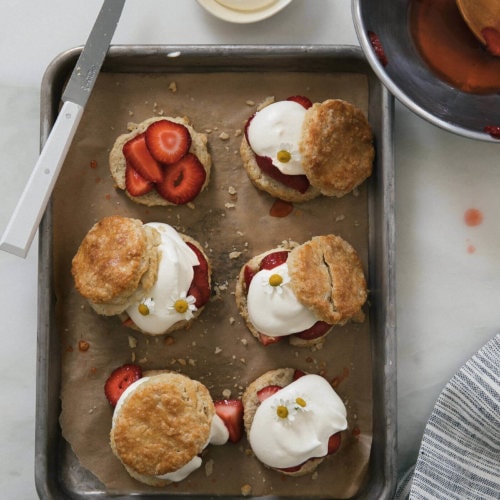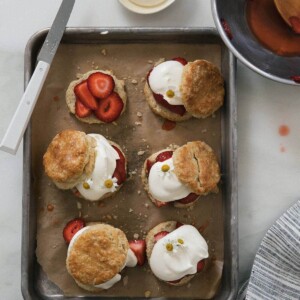 Elderflower Strawberry Shortcake
Ingredients
Biscuits:
2

cups

all-purpose flour

1

tablespoon

baking powder

1/2

teaspoon

baking soda

1

teaspoon

alt

3/4

cup

unsalted butter

1/2

cup

buttermilk

,

cold and shaken

1

large egg

1

tablespoon

egg + 1 tablespoon water

,

for egg wash
Strawberries:
1

pound

strawberries

,

stems removed (hulled) and quartered and sliced

3

tablespoons

white granulated sugar

2

tablespoons

Elderflower liqueur

Pinch

of salt

2

tablespoons

powdered sugar

1/2

cup

heavy cream
Directions
To Make the Biscuits:
Preheat oven to 400F. Line a baking sheet with parchment paper and set aside.

In a large bowl, mix together the dry ingredients: all-purpose flour, baking powder, baking soda and salt. Using a box grater, grate the butter into the flour mixture. Transfer the bowl to the freezer while you gather the wet ingredients, about 5-7 minutes.

Measure out the buttermilk and add the egg; whisk until combined. In a small bowl, make the egg wash, whisking together the egg and milk. Transfer both to the refrigerator.

Grab the bowl out of the freezer, and gently break up the butter and combine with the flour, using your hands, until it resembles small peas. Add the buttermilk mixture all at once to the flour mixture. Mix until barely combined; and lightly knead the dough. until it forms one solid mass. Sprinkle your kitchen counter with flour and dump the dough onto it. Press the dough into a 3/4-inch thickness.

Cut out the biscuits using a 2 1/2-inch biscuit cutter, ending up with about 6 biscuits. You can recombine the scraps and get 2 more biscuits. Transfer them to the baking sheet.

If you think you've been moving a little slow (like I was because I was..ahem..taking pictures), stick the baking sheet in the freezer for 5 minutes. This will get the bits of butter nice and cold again.

After the biscuits are cold, whisk the egg and a tablespoon of water together to create the egg wash and bake in oven or 10 to 15 minutes, until tall and medium golden brown.
To Make the Strawberries:
In a small bowl, mix together the strawberries, sugar, liqueur and pinch of salt. Allow to stand and macerate for 10 minutes.

Meanwhile, add sift the powdered sugar into a medium bowl. Pour in the heavy cream and beat using a hand-held electric mixer or a stand-up mixer for about 1 to 2 minutes, until soft and pillowy.

Assemble the shortcakes by slicing the biscuits in half. Add a spoonful of strawberries and top with a big dollop of whipped cream. Repeat until you've worked your way through all of the biscuits.
Nutrition Facts
Elderflower Strawberry Shortcake
Amount Per Serving (6 g)
Calories 0
* Percent Daily Values are based on a 2000 calorie diet.