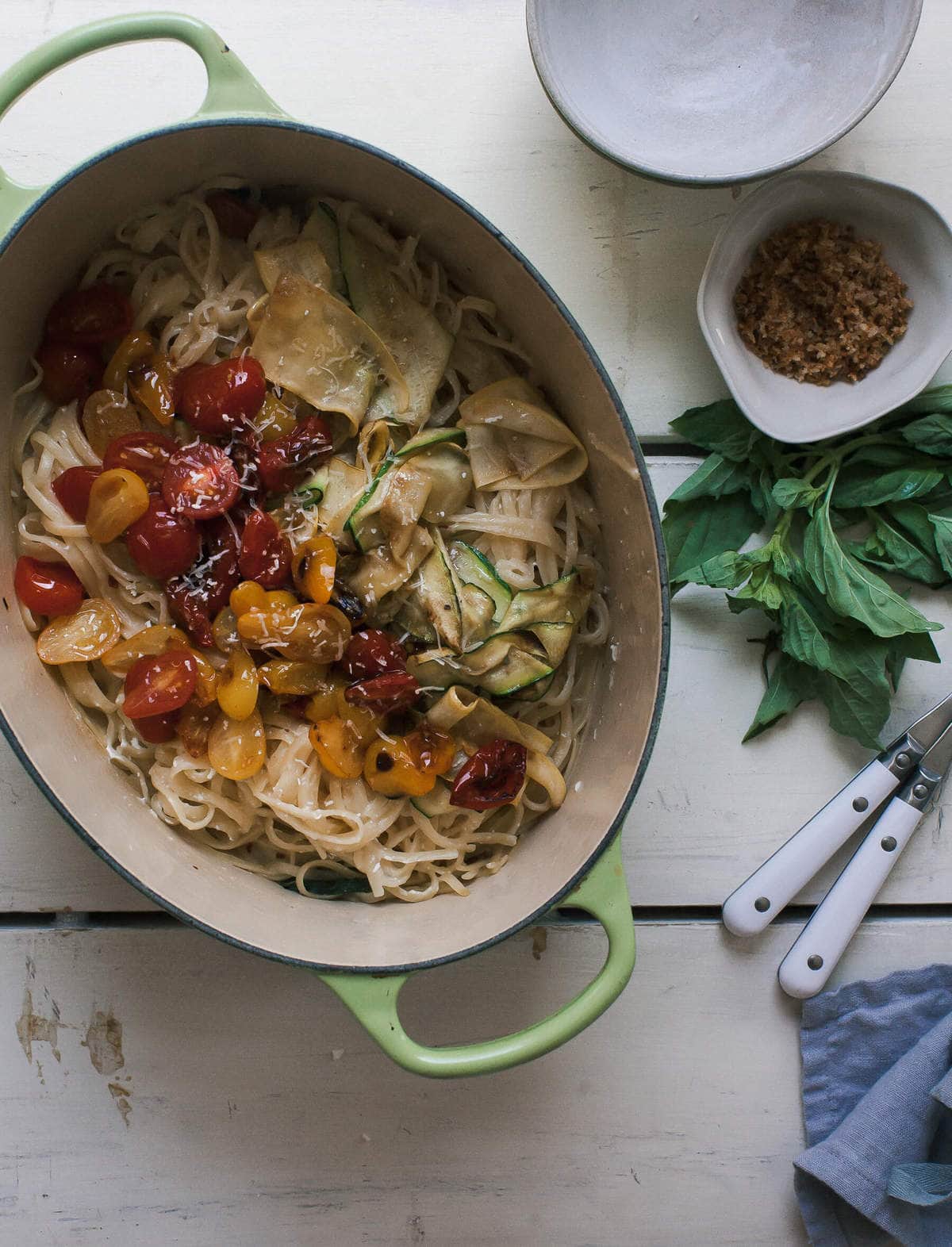 This past weekend I listened to lots of Sade, thought about baking a cake but didn't, took Amelia to the groomer's and helped Josh cook a dinner for 20 people in an artsy loft that does Virtual Reality. I put on one of those face masks and "interacted" with this girl in this green screen room and it was interesting and a little weird!
As Monday approached I got one that itchy, Sunday-blues-y feeling but then I remembered I had this one-pot summer pasta to share with you all and got excited! I made this a few weeks ago for lunch and it was THE EASIEST THING TO MAKE.
Not sure if you remember, but a few months back I posted another one-pot pasta and it was SO GOOD.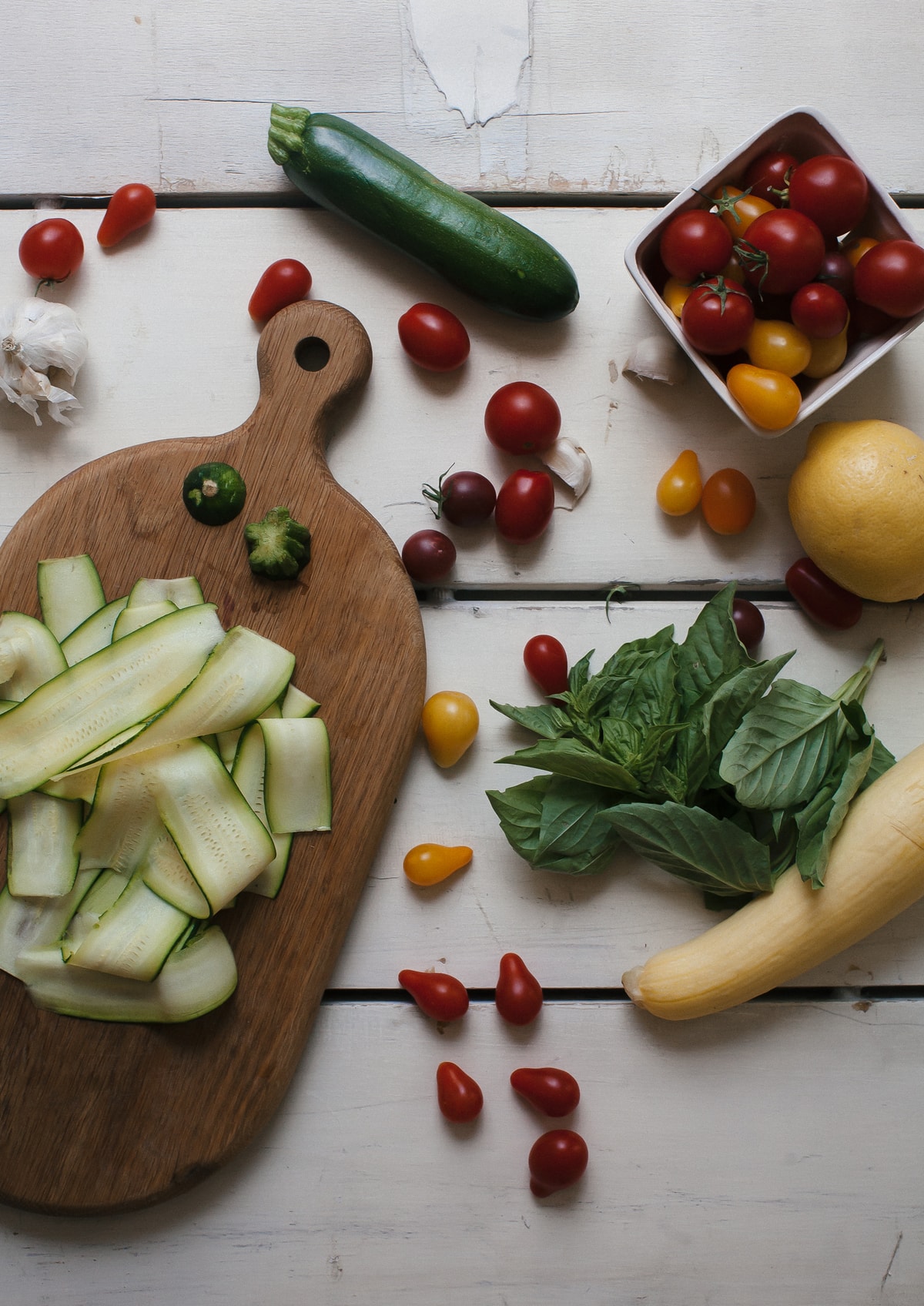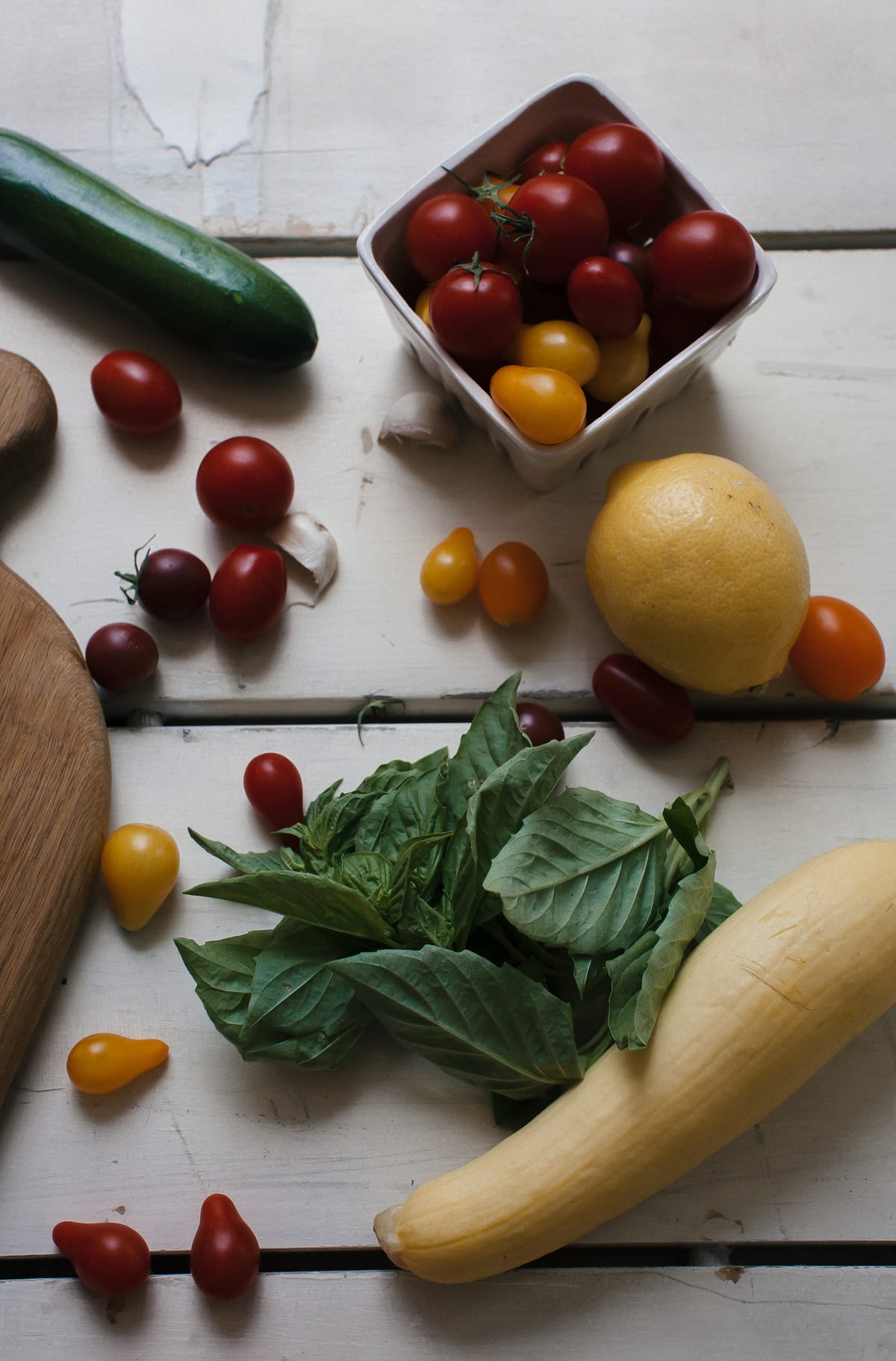 In case you're unfamiliar with one-pot pasta, it came on the scene a few years ago. I believe this is the first post. I tried this and wasn't a gigantic fan, if I'm being honest. (LOVE U MARTHA, U MY GIRL!) The idea is that you put everything in one pot, including the liquid you'd typically cook the pasta in and by the time the liquid has evaporated, all the pasta will be cooked.
This version is a little different. It's perfectly al dente. The extra liquid at the end is mixed with a few tablespoons of yogurt for a sauce that is so tasty.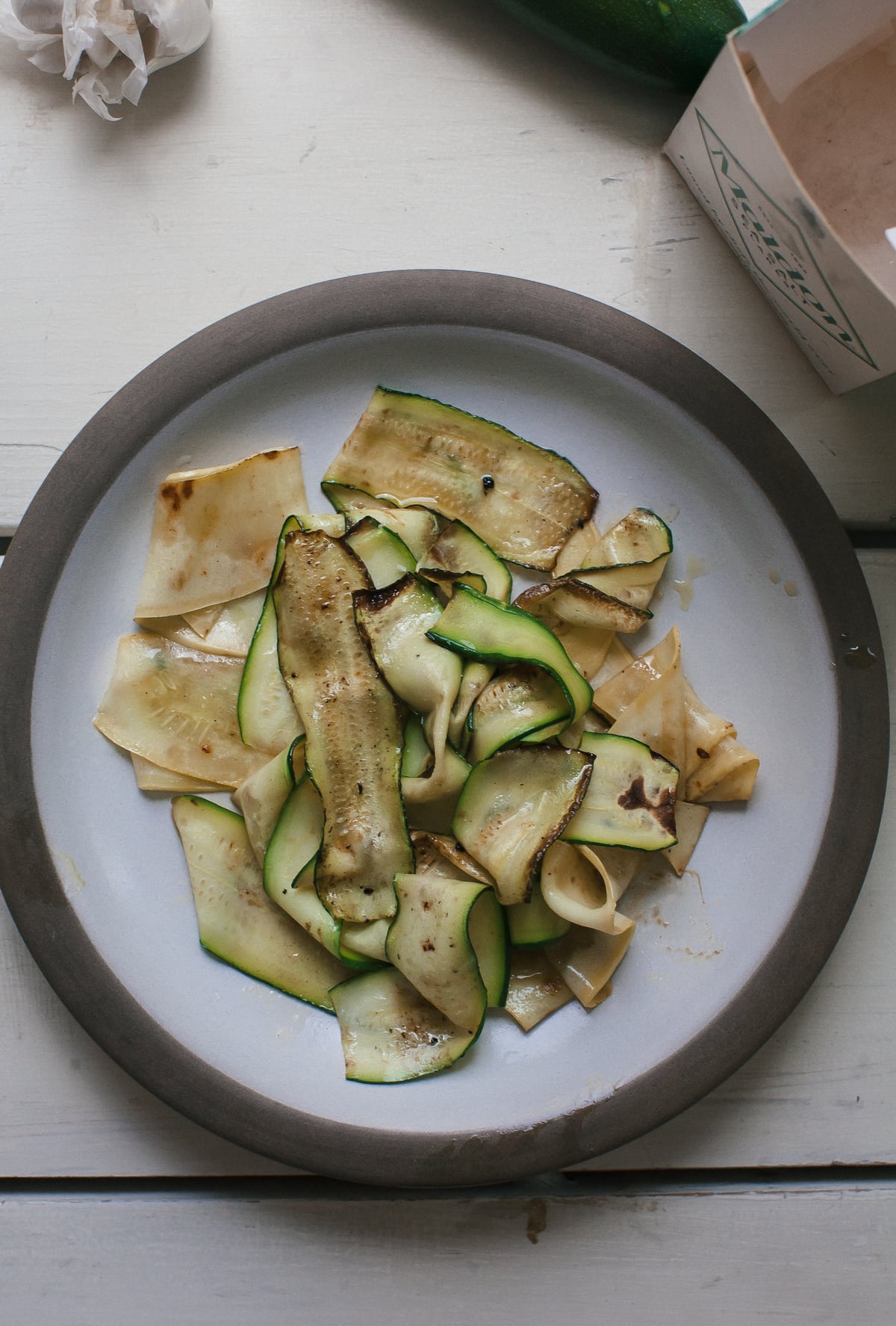 This recipe is in celebration of late-summer veggies like zucchini and little baby cherry tomatoes. I used the same pot to pan sauté them before I added the pasta.
More late-summer recipes coming soon because I'm gonna go tomato-picking and am determined to eat all the tomatoes in the entire world. BRB.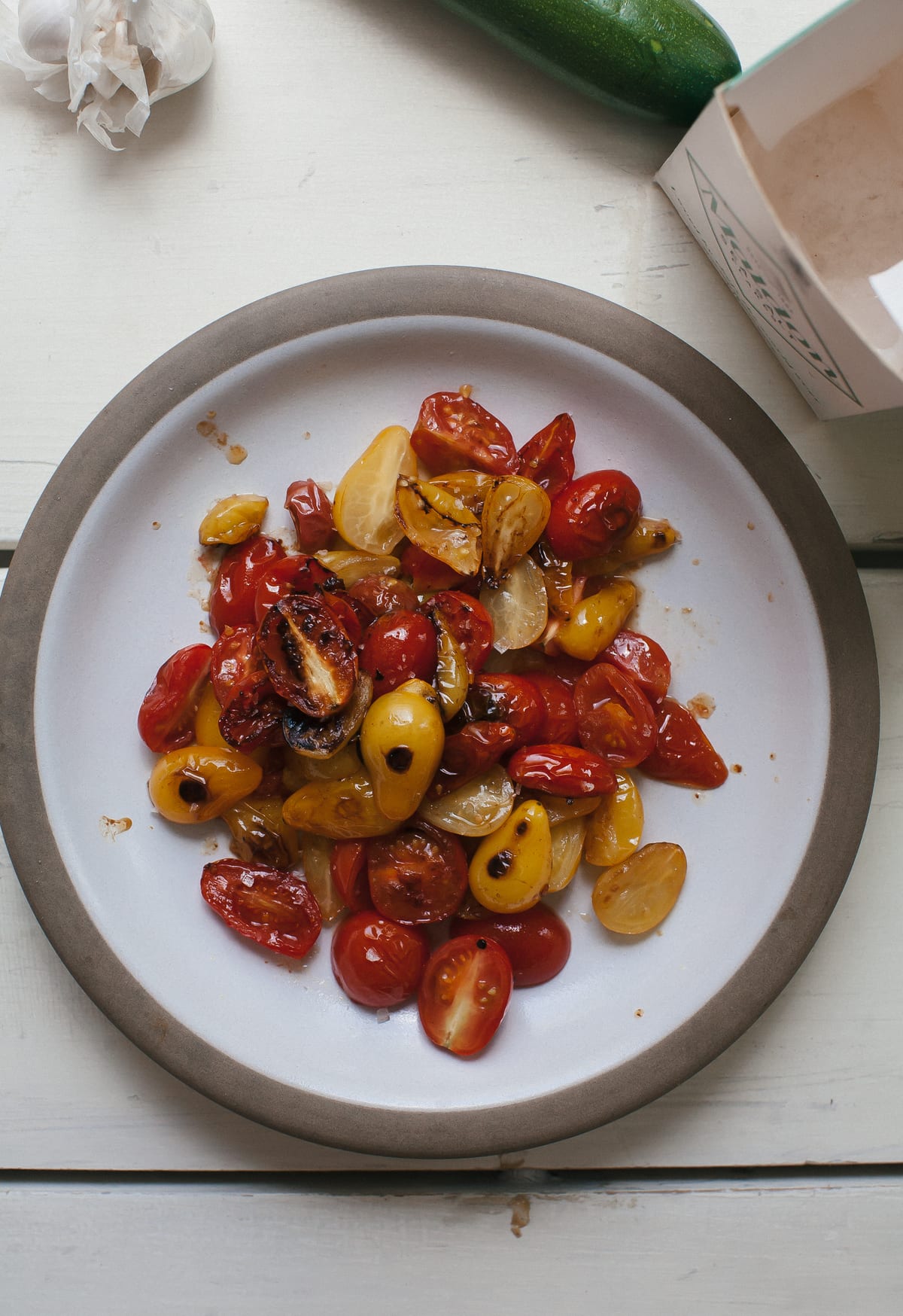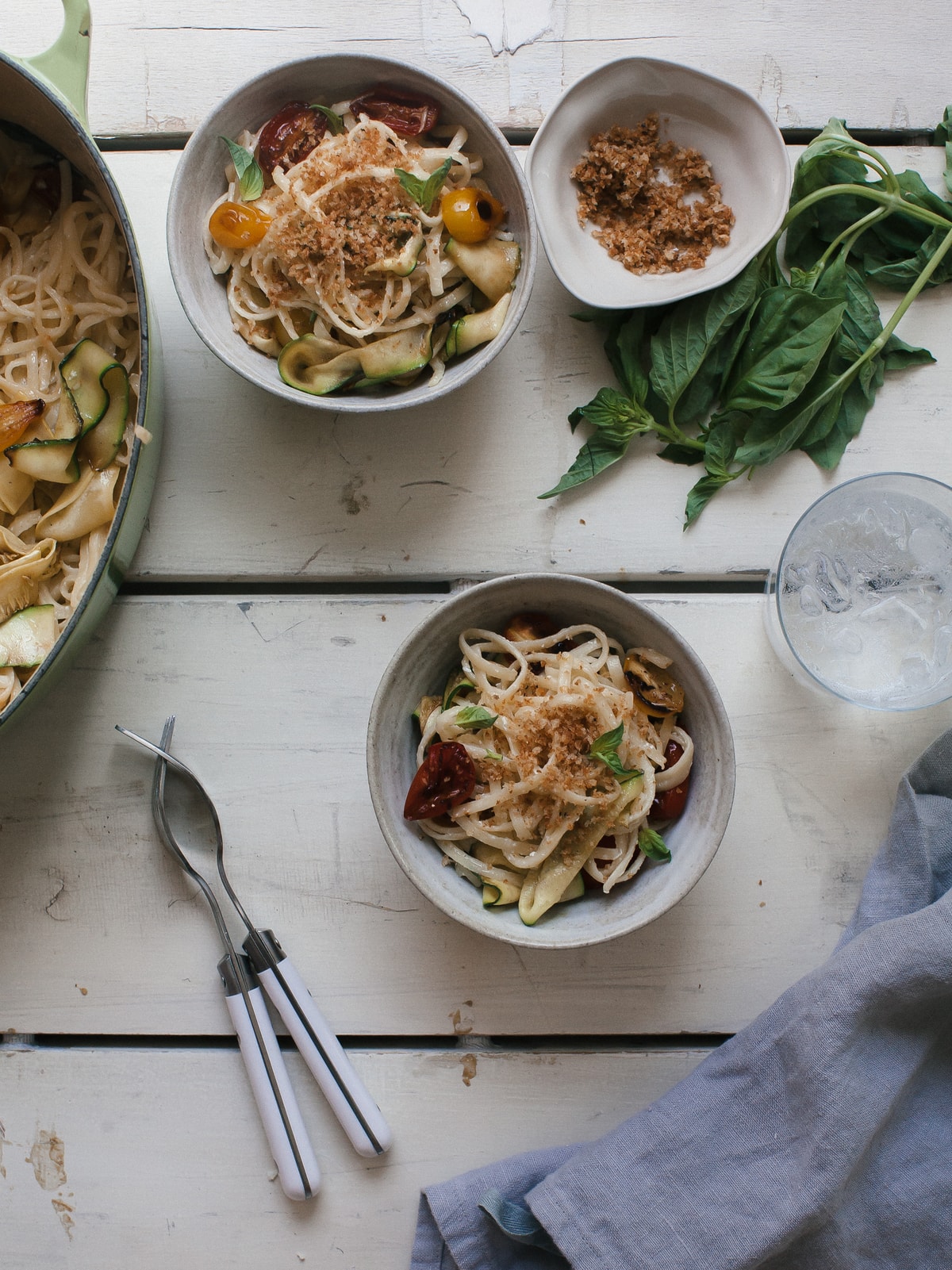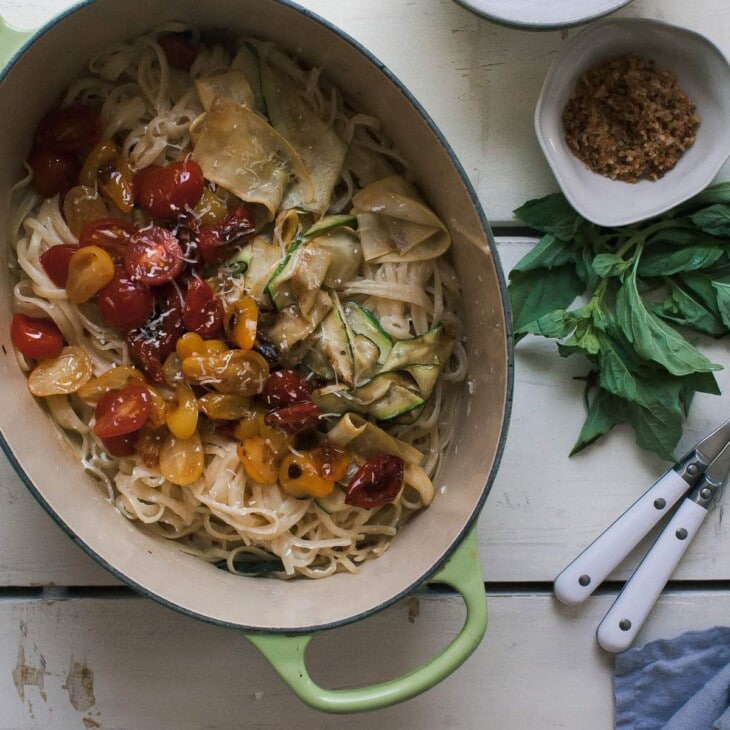 Print Recipe
One-Pot Summer Pasta
Ingredients
Olive oil

2

zucchini or yellow squash, sliced into ribbons with a vegetable peeler

1/2

pint

cherry tomatoes

halved

16

ounces

dried linguine

3

cups

water

1 1/2

cups

chicken broth

1

shallot

peeled and minced

2

garlic cloves

1 1/2

salt

1/2

teaspoon

crushed red pepper

2

tablespoons

Greek yogurt

Zest of lemon

1/4

cup

shaved ricotta salata

1/4

cup

Italian bread crumbs mixed with 1/2 teaspoon salt

for topping
Instructions
To a large dutch oven or medium saucepan, heat a tablespoon of olive oil over medium-high heat. When the oil shimmers, add the ribbons of zucchini and cook until lightly browned, flipping halfway through, about 2 to 3 minutes. Remove and set aside. Add more oil if needed (I added about a teaspoon more) and when hot, add the cherry tomatoes. Cook until slightly softened, about 2 minutes. Remove and salt both the zucchini and the tomatoes. (If the bottom of the pan is super browned, feel free to give it a rinse!)

To the same dutch oven or medium saucepan, add the pasta (if it doesn't lay flat, then break it in half), water, chicken broth, shallot, garlic, salt and crushed red pepper

Turn the heat to high and leave it uncovered. When the water comes to a boil, set your timer to 6 minutes. While it's cooking, stir it with a pair of tongs often. This will ensure even cooking with the noodles.

At the 6 minute mark, taste the pasta. If it needs a bit more time, set a timer for a minute or so more. Then turn the heat off. Stir in the yogurt, 1 teaspoon olive oil, lemon zest and ricotta salata; allow it to rest for about a minute. This allows the pasta to soak up any of the residual liquid. Give it a taste and adjust the salt according to taste (I added about a teaspoon more). Lastly, add the cooked zucchini and cherry tomatoes and toss one last time. Divide amongst bowls and top with the bread crumbs.