These are the Best Blueberry Muffins. They have perfectly domed tops with a crunchy texture. These muffins are delicious moist and the best part is that they can be made a day ahead!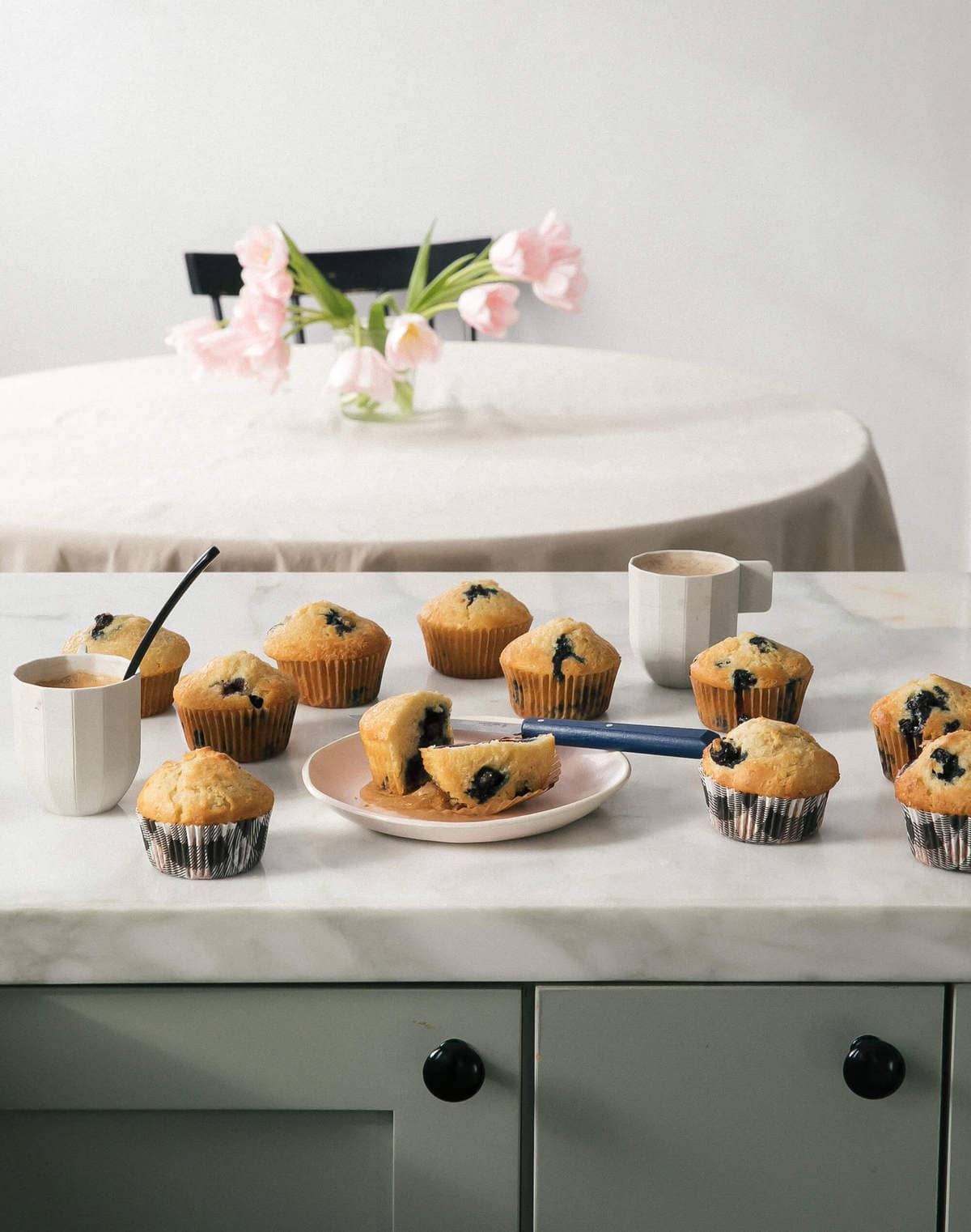 Does the internet need another blueberry muffin? Absolutely not. But this is my story and my blog and I make what I want. Lol. So I present you: my Best Blueberry Muffins.
All kidding aside, I wanted a blueberry muffin recipe that I could whip up when people came over. I wanted a very good blueberry muffin recipe!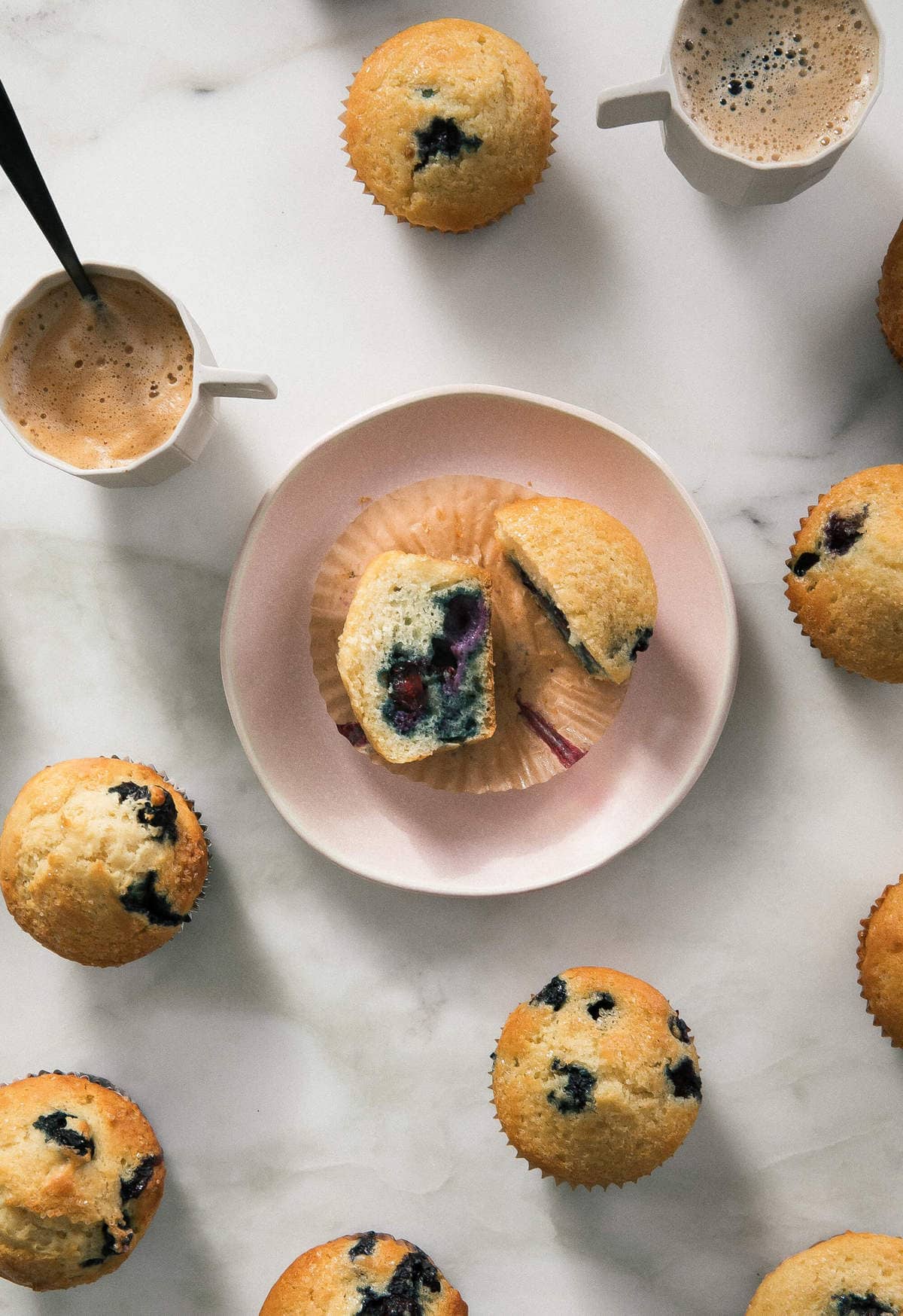 What Makes A Good Blueberry Muffin?
I'll speak for all of us when I say that we've all eaten a lot of blueberry muffins in our lives. From random coffee shops to airport kiosks, blueberry muffins are everywhere. Problem is, most of them are incredibly mediocre. They're bland and chewy and gross–most of the time!
A good blueberry muffin is warm, cozy, comforting.
I wanted it to be moist, not dry and gross. The top needed to be crispy and delicious. And I wanted that bakery-style domed top that is so hard to achieve but looks so beautiful. And I wanted it to be easy, easy!
Well, good news is that most muffins are super easy to make. This one is super simple: wet ingredients are poured into dry ingredients. And using both butter and oil mean good flavor (hello butter!) and oil means they're super moist.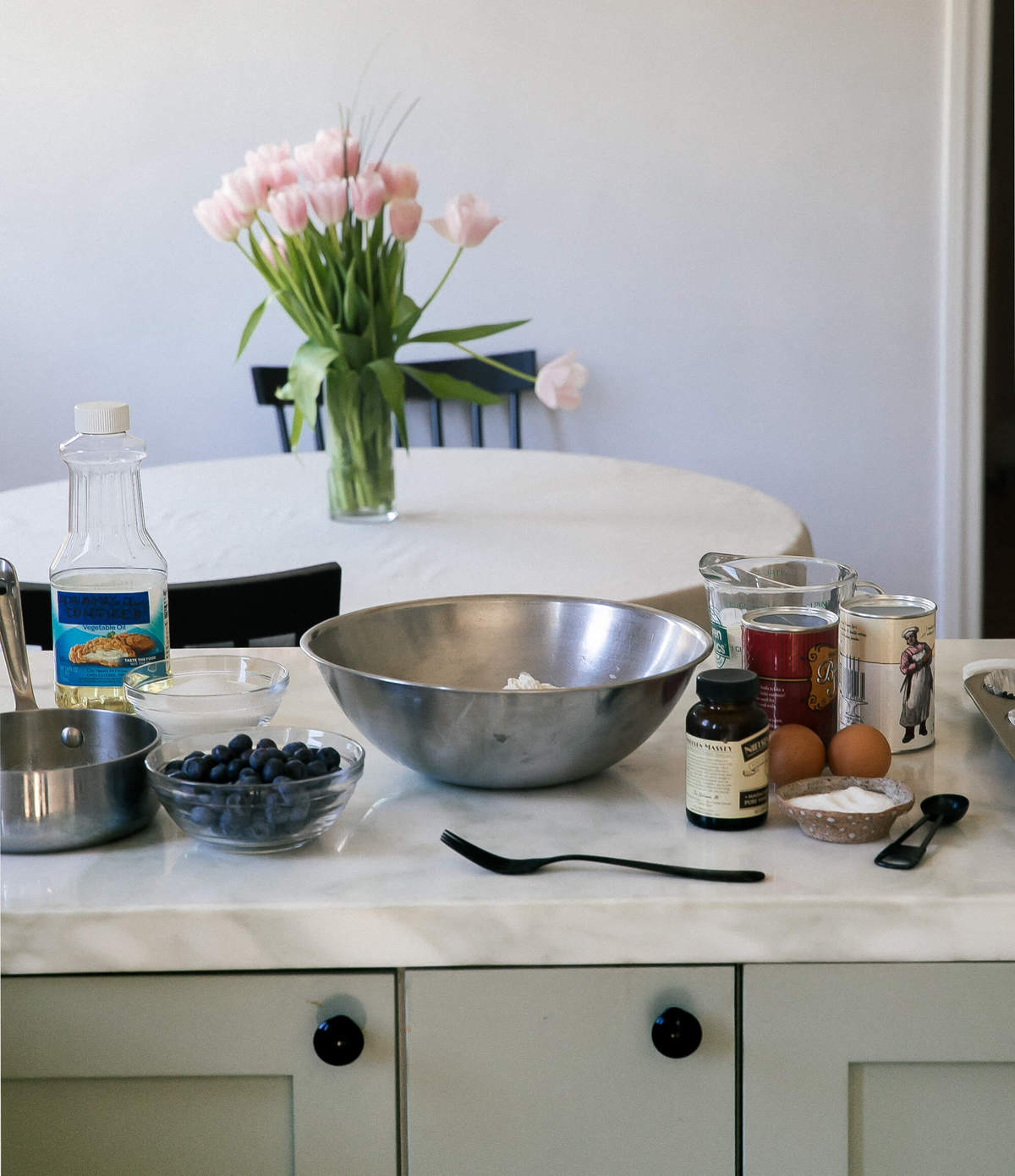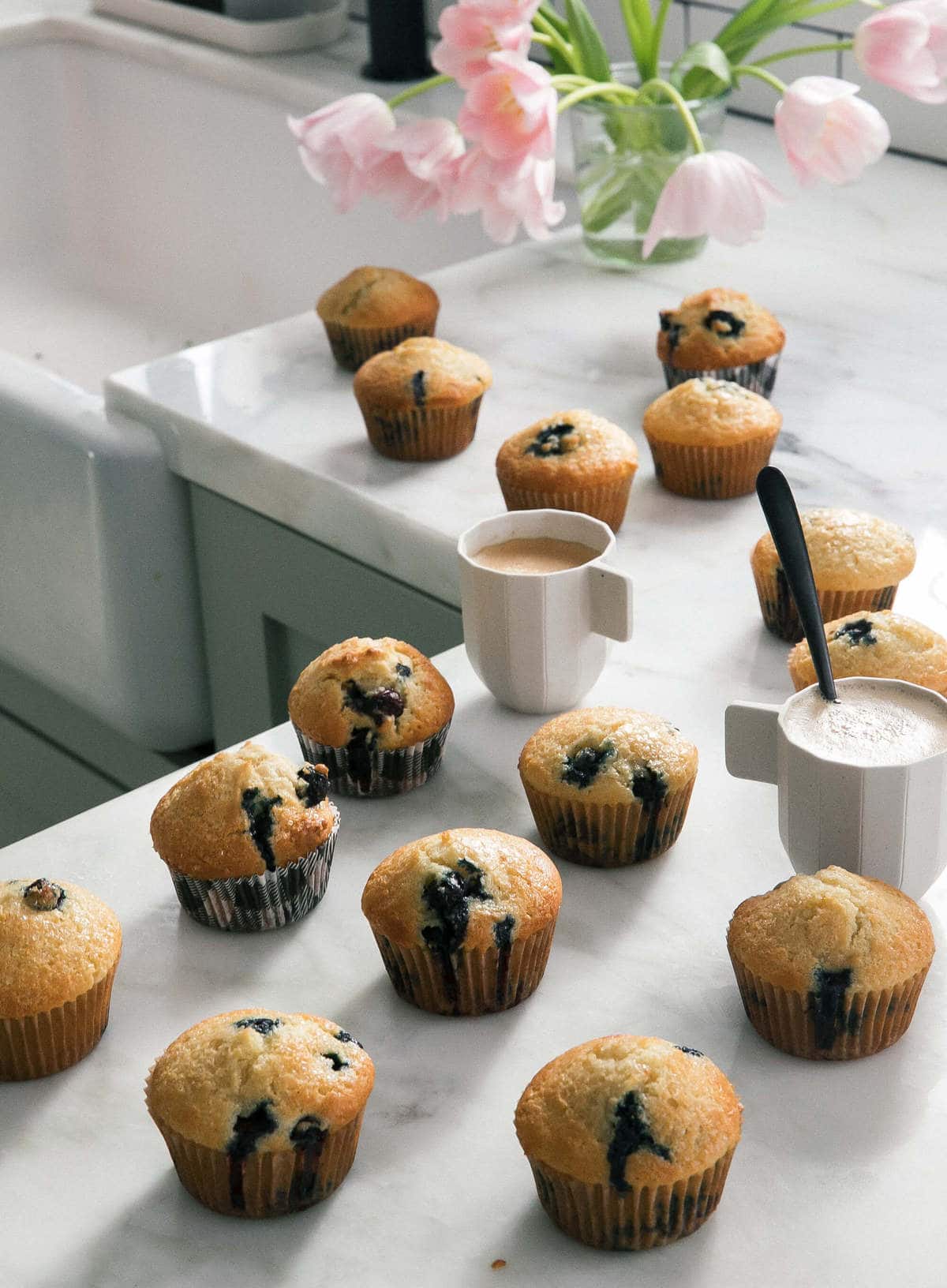 How to Get a Beautiful Domed Muffin Top for the Best Blueberry Muffins!
The wonderful dome topping is due to two things: resting the batter for at least an hour, but ideally overnight. And setting the oven to 400 degrees for the first 7 minutes. The high temperature creates steam, making the muffins super puffy.
The muffin is bakes for the remaining time at 350 degrees F.
Are Blueberry Muffins Healthy?
Well, I suppose that depends on what recipe you're using. I'm not a nutritionist, but I would suspect that they wouldn't say that a muffin like this is to be eaten for health purposes. It's delicious but should probably be eaten with balance in mind haha.
How to Get a Crunchy Muffin Top!
The crunchy top is thanks to the high temperature and a bit of turbinado sugar.
And that's it! Those two little things contribute to this super delicious muffin.
These muffins are absolute perfect but it takes a bit of a strategy to take them from basic to best.
Can I Use Frozen Blueberries for Muffins?
If you find yourself in the middle of winter with blueberries at the grocery store looking awful, I say you can absolutely use frozen blueberries. They will bleed throughout the batter a bit so just be warned.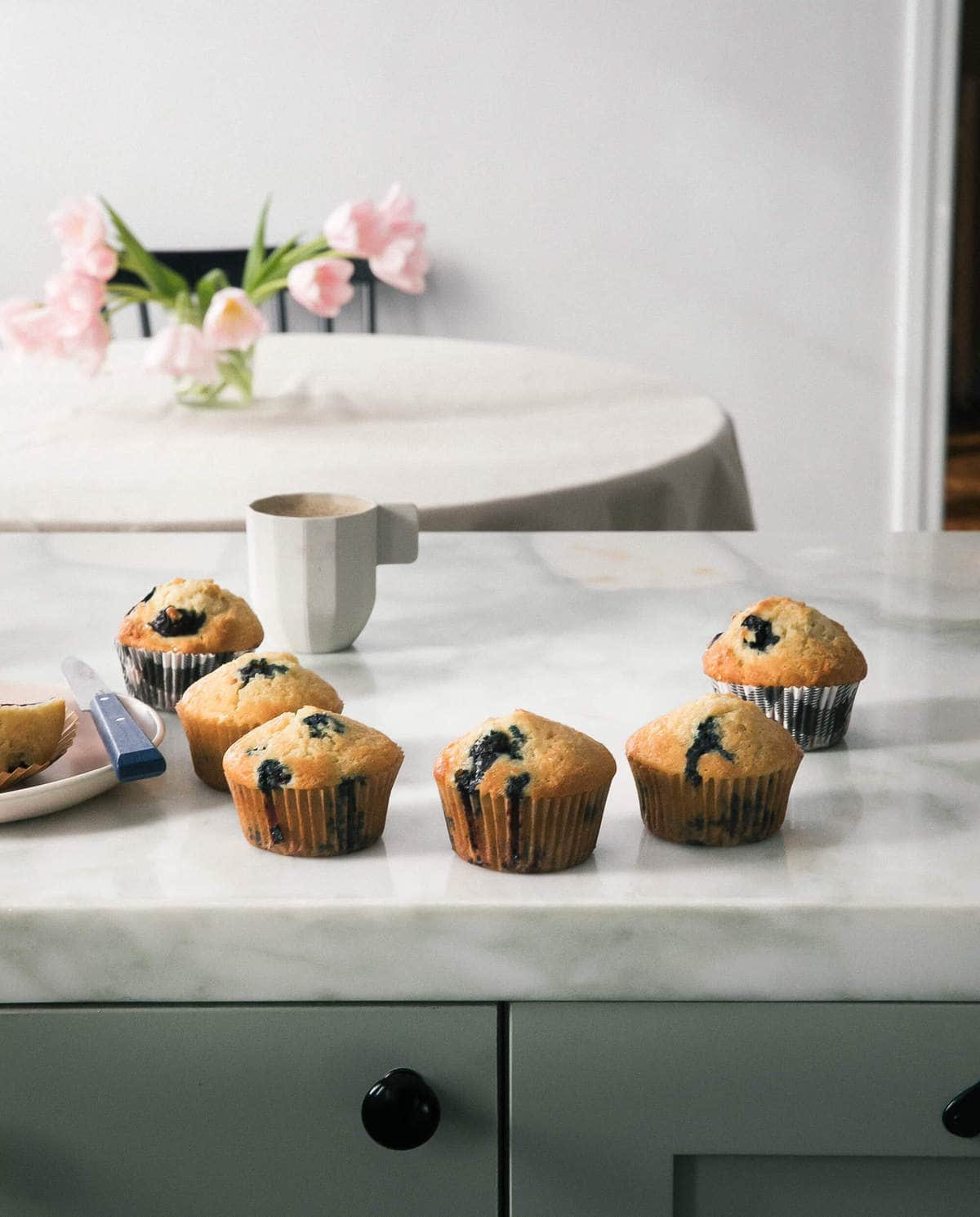 How To Make The Best Blueberry Muffins!
This recipe comes together super easily. And can be made ahead (see notes below).
Prep. I like to start with putting muffin liners in my muffin tin. It helps to get everything ready since this recipe is super easy!
Toss the blueberries with flour. Add the blueberries to a small bowl and toss them with a bit of flour. This will help the blueberries sinking.
Wet Ingredients. Whisk together the wet ingredients: buttermilk, melted butter, sugar, oil, eggs and vanilla extract.
Dry Ingredients. Whisk together the dry ingredients: flour, salt, baking powder and baking soda.
Rest the batter. For the blueberry muffins to really rise, the batter needs to rest at least an hour. What's awesome is that this means you can keep it in the fridge overnight turning them into overnight muffins!
Preheat the oven. Get it nice and hot!
Fill up the muffin tin. Add the batter to the muffin tins about 3/4 of the way.
Sprinkle the tops with turbinado sugar. This gives the muffins a nice crunchy top.
Bake the muffins. They need to stay in the oven from 10-12 minutes. They're ready when a toothpick inserted into the center comes out clean.
If you make these Best Blueberry Muffins, let me know on Instagram!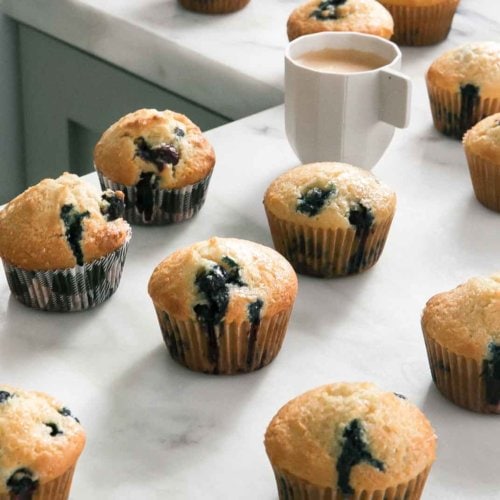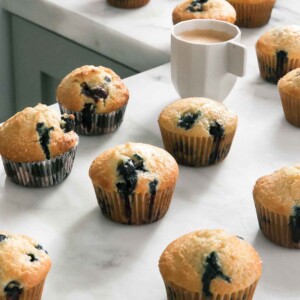 These are the Best Blueberry Muffins! Perfectly domed blueberry muffins that have a delicious, crunchy top. These are moist, delicious and not overly sweet.
Ingredients
2

cups

blueberries

,

tossed in a teaspoon of flour

1

cup

shaken buttermilk

1/4

cup

unsalted butter

,

melted

2/3

cup

white granulated sugar

3

tablespoons

neutral oil

,

(such as grapeseed, vegetable oil or avocado oil)

2

large

eggs

,

at room temperature

1

teaspoon

pure vanilla extract

2

cups

all-purpose flour

1/4

teaspoon

kosher salt

1

teaspoon

baking powder

1

teaspoon

baking soda

2

tablespoons

turbinado sugar

,

for topping
Directions
Place muffin liners in a muffin tin and set aside. If your liners aren't made of parchment and just paper, you might want to spray them with cooking spray.

In a bowl, toss the blueberries with the teaspoon of flour and set aside.

In medium bowl, whisk together the buttermilk, melted butter, sugar, neutral oil, eggs and vanilla extract. In a large bowl, whisk together the flour, salt, baking powder, baking soda. Pour the wet ingredients into the dry ingredients and mix until barely combined. Add the blueberries.

Cover the bowl with plastic wrap and allow to rest for at least 1 hour or you can allow them to rest in the fridge overnight. If you're resting them for an hour, no need to add them to the fridge.

Preheat the oven to 400 degrees F. Divide the batter amongst the twelve cavities in the muffin tin. Sprinkle the tops with turbinado sugar.

Transfer to the oven to bake for 7 minutes. Then immediately turn the oven's temperature down to 350 degrees F and bake for an additional 10 to 12 minutes, until the tops are lightly golden brown and nicely domed.

Let the muffins cool in the pan for 10 minutes and then carefully remove and allow to cool on a cooling rack. Muffins will last up to 3 days when stored in an air-tight container.
Notes
To Freeze the Muffins: 
Cool the muffins completely to room temperature. When they're cool, place the muffins back in the muffin tin cavities. Transfer to the freezer for 2 hours. At the 2-hour mark, transfer the muffins to a freezer-safe plastic bag or container. Label the container with the date and "blueberry muffins." Freeze for up to 3 months. 
To Thaw Frozen Muffins:
To thaw the muffins, set them out at room temperature until they're no longer frozen. And then warm up a bit in a 200F oven. OR, you can warm up frozen muffins in the microwave or oven. 
To Warm Up Frozen Muffins:
For a microwave, set the muffin on a napkin or microwave-safe plate. Microwave on "high" for about 30 seconds. 
For an oven, preheat oven to 350 degrees F. Wrap the muffins in foil and warm for about 15-17 minutes. 
Equipment:
Non-stick Muffin Tin | Stainless Steel Bowls | Silicon Spatulas | Muffin Liners | 
Serving:
12
g
|
Calories:
222
kcal
|
Carbohydrates:
33.3
g
|
Protein:
4.1
g
|
Fat:
8.5
g
|
Saturated Fat:
3.3
g
|
Cholesterol:
42
mg
|
Sodium:
216
mg
|
Potassium:
129
mg
|
Fiber:
1.2
g
|
Sugar:
16.1
g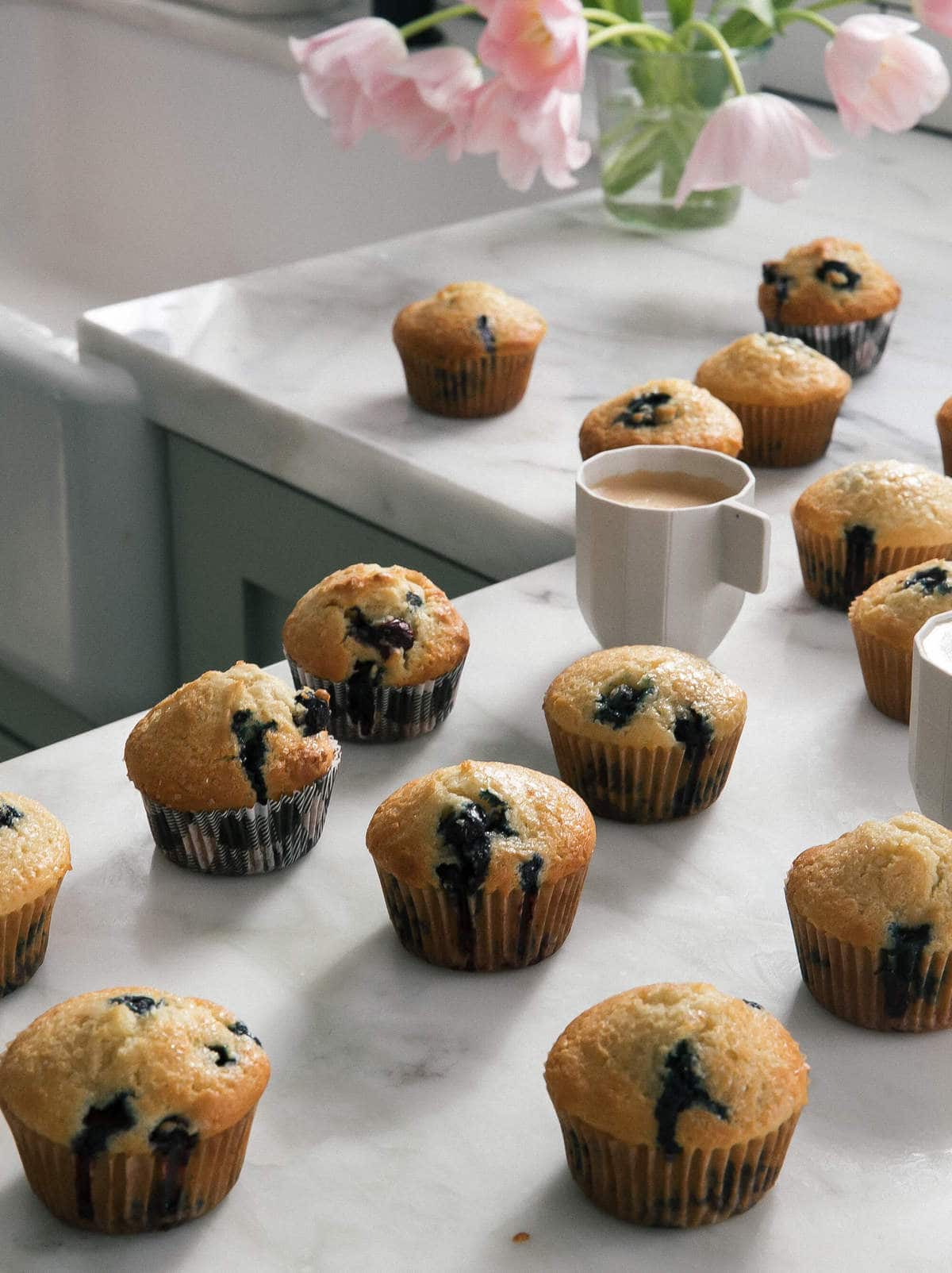 If you end up with leftover blueberries, here are some of my favorite blueberry recipes:
Blueberry Lime Poppy Seed Cake
Sweet Meyer Lemon Blueberry Cornbread
Vegan Blueberry Pancakes
Cornbread Blueberry Pancakes