If you've ever thought Homemade Cream Cheese was too difficult to make, this post is here to prove you wrong. Homemade Cream Cheese is fluffy, fresh and so utterly delicious.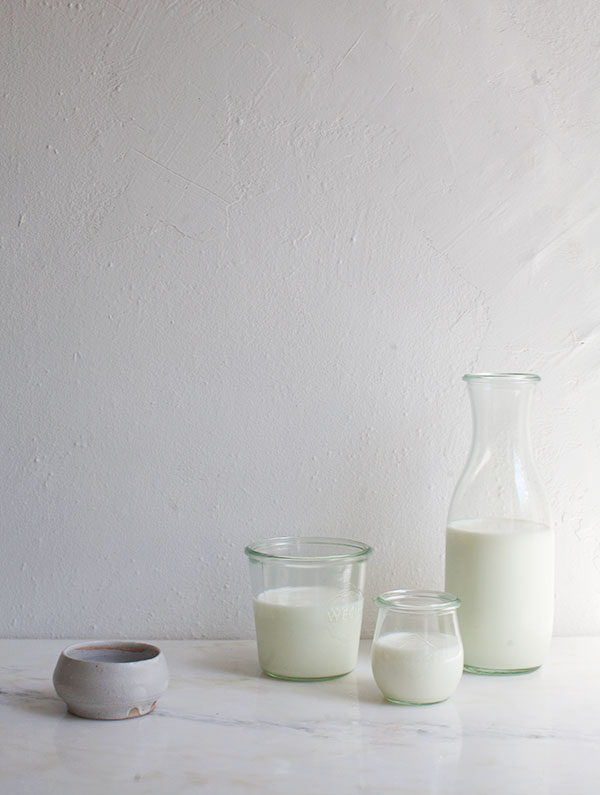 Naturally, cream cheese is also very important to me. I've been wanting to make homemade cream cheese 4evrrrrr. I'm so glad I finally got brave and decided to do it. It definitely took me a few times to get exactly right.
Supplies You'll Need to Make Homemade Cream Cheese
Most of the supplies you'll need to make homemade cream cheese are easy to find, especially on Amazon. Here is what you'll need: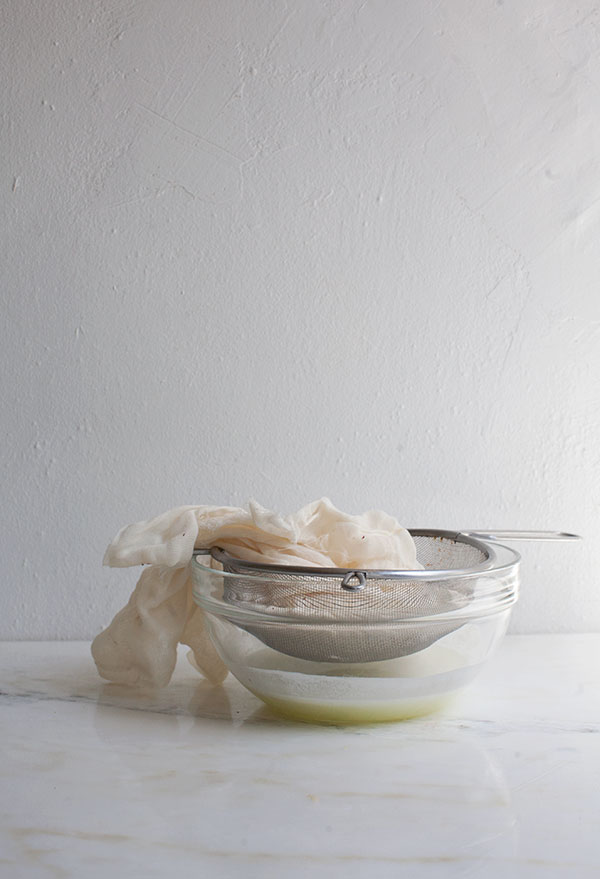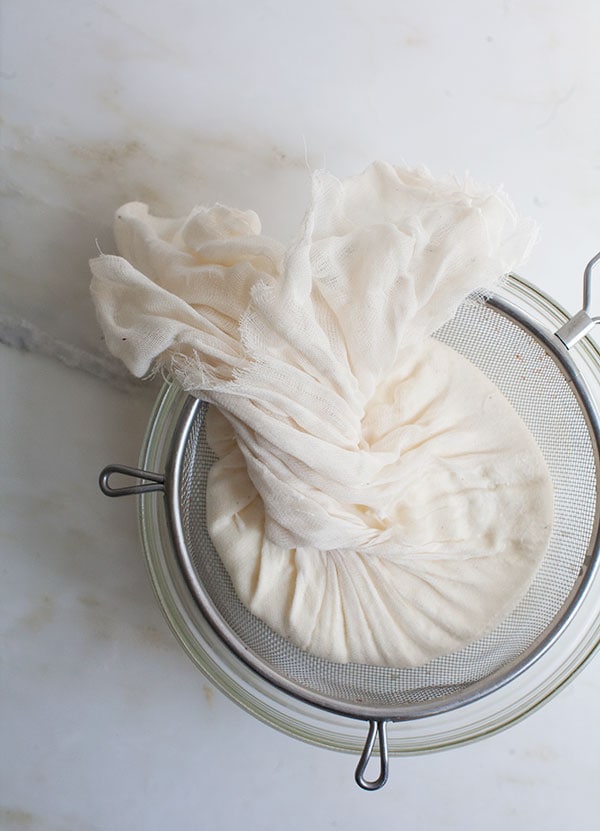 What's the Difference Between Homemade and Store Bought Cream Cheese?
There are plenty of things that I think are silly to make homemade. Cream cheese IS NOT ONE OF THEM. The texture is a million times better than the cream cheese you buy at the grocery store. It's so much smoother, lighter, creamier. The main difference is that store-bought cream cheese usually has a gum listed in the ingredients (guar gum, xanthm gum, etc.) which mean it's a lot thicker and denser. Well, not this one.
It's so good, that I probably won't ever go back to store-bought cream cheese ever again.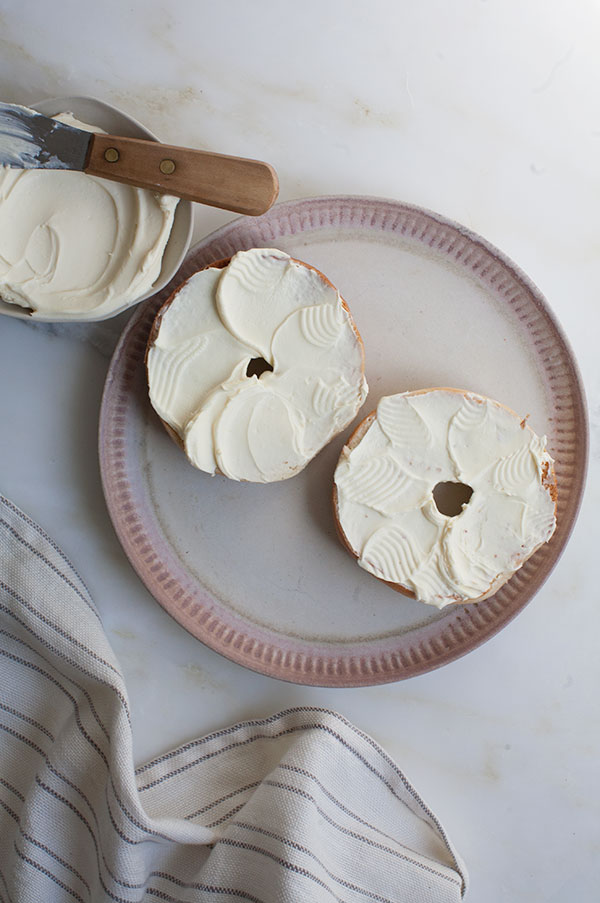 How to Make Homemade Cream Cheese
Combine the milks. In a big pot, add the heavy cream, whole milk, buttermilk and salt.
Warm to 75 degrees F. Heat the milk mixture to this temperature.
Mix in the rennet. Add the rennet and mix throughout. This is going to make it so the solids separate from the whey.
Allow to stand at room temperature in a warm place. In order for this to actually work, the temperature has to be nice and warm.
After 14 Hours, strain it. This takes about 14 hours for the whey and solids to separate. Line a sieve or strainer with a few layers of cheesecloth. Nestle it over a large bowl. Pour the mixture into the cheesecloth.
Allow it to drain. This should take about 4 hours for it strain.
One thing I'm SUPER excited about is what I'm doing with the leftover whey. Be sure to save it, use it in place of buttermilk in biscuits or pancakes!
If you make it, let me know on Instagram!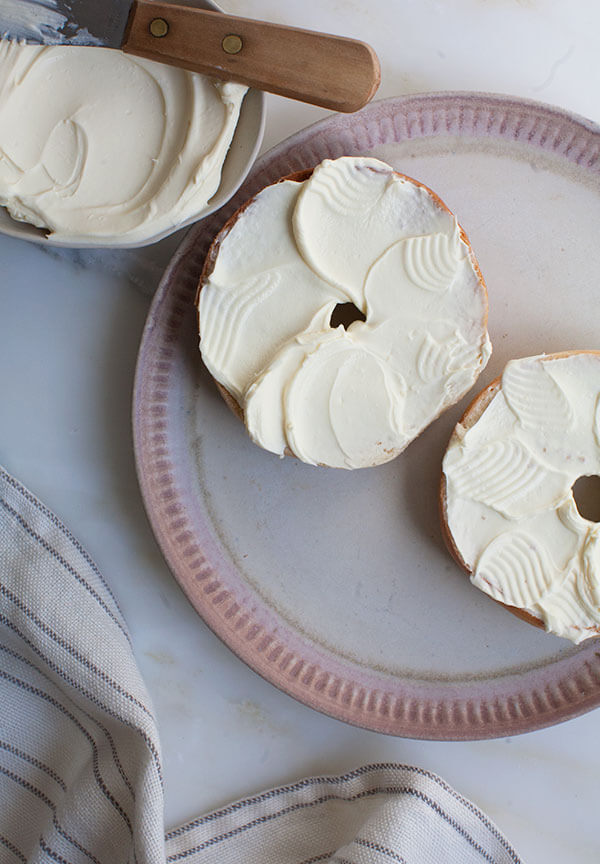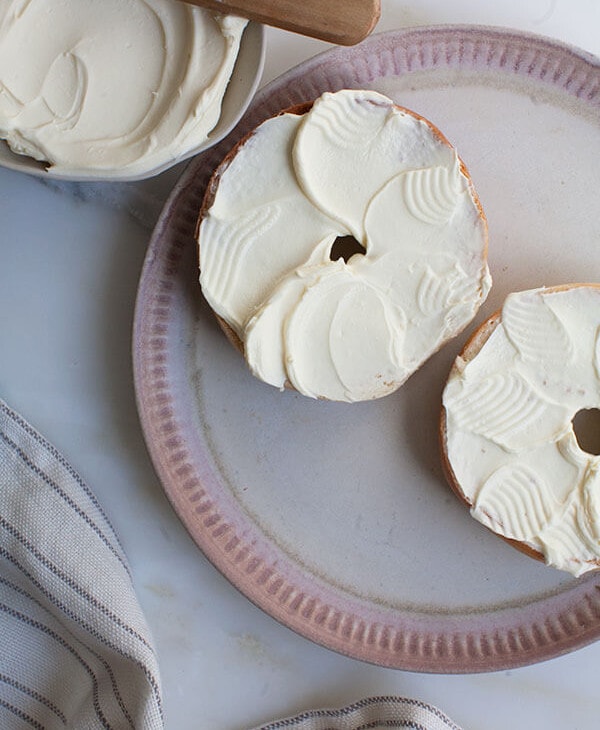 Print Recipe
Homemade Cream Cheese
This Homemade Cream Cheese recipe is super easy. It's creamy, fluffy and tastes so much better than the store-bought version we're all used to.
Serving Size:
cups of cream cheese
Ingredients
2

cups

heavy cream

2

cups

whole milk

ultra-pasteurized is ok!

2

tablespoons

buttermilk

shaken

1/2

teaspoon

kosher salt

3

drops liquid vegetable or animal rennet

dissolved into 2 tablespoons of water
Instructions
In a large pot, combine heavy cream, whole milk, buttermilk and salt. Heat to 75 degrees F. (Warm to the touch.)

Mix in rennet being sure it's evenly distributed. Cover with clean kitchen towel and allow to stand in place that's 75 degrees for 14 hours. Just a heads up, I tried this once during the day and once at night. No surprise that the batch that sat for 14 hours during the day was MUCH better. It was just warmer and was overall a better environment for the cream cheese.

Line a fine-mesh strainer with a few layers of cheesecloth; and then nestle it over a large bowl. Pour the cream/milk mixture into the cheesecloth and allow it to strain, on its own (don't work it through), for about 4 hours to 5 hours. When it's completely drained, the final product should be a creamier, smoother and lighter version of cream cheese that you're probably used to. It keeps in the fridge for 2 weeks.
Looking for more breakfast/brunch recipes?