Horchata Coffee is the combination of the two best things: horchata and coffee. Think of this coffee horchata recipe like cold brew. Coffee grounds are steeped with almonds, rice and brown sugar, blended and then strained to make the most delicious drink to start your day with.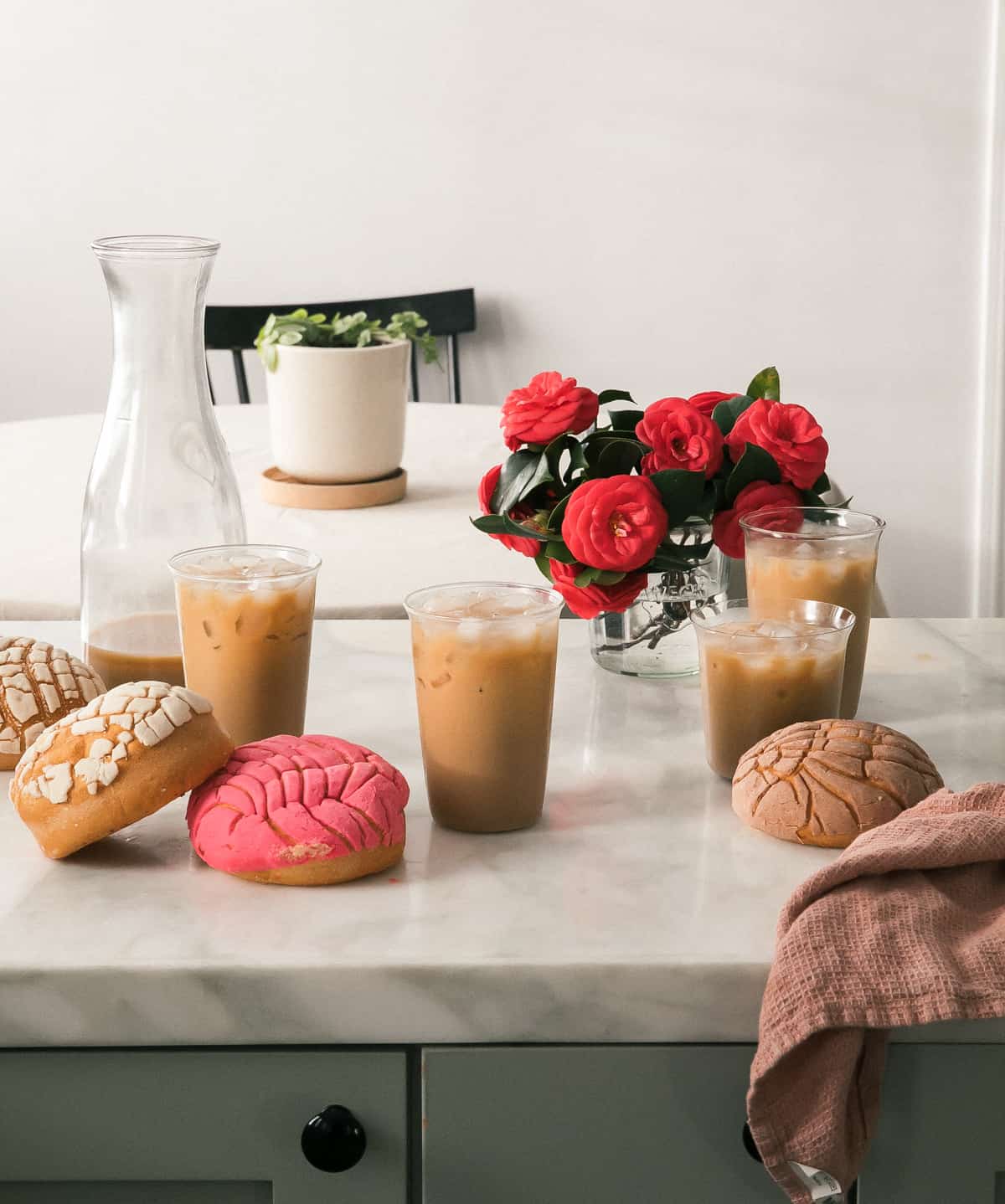 Last month I (re) shared my favorite horchata recipe which is totally dairy-free (tho you can add some dairy for added richness), super delicious, perfectly spiced and super easy to make.
This recipe is super similar tho it has a coffee element and some tweaks are made to adjust for the coffee flavor. A teeny bit more sugar is added and just the right amount of coffee grounds are used for that perfect balance of flavors of horchata and coffee.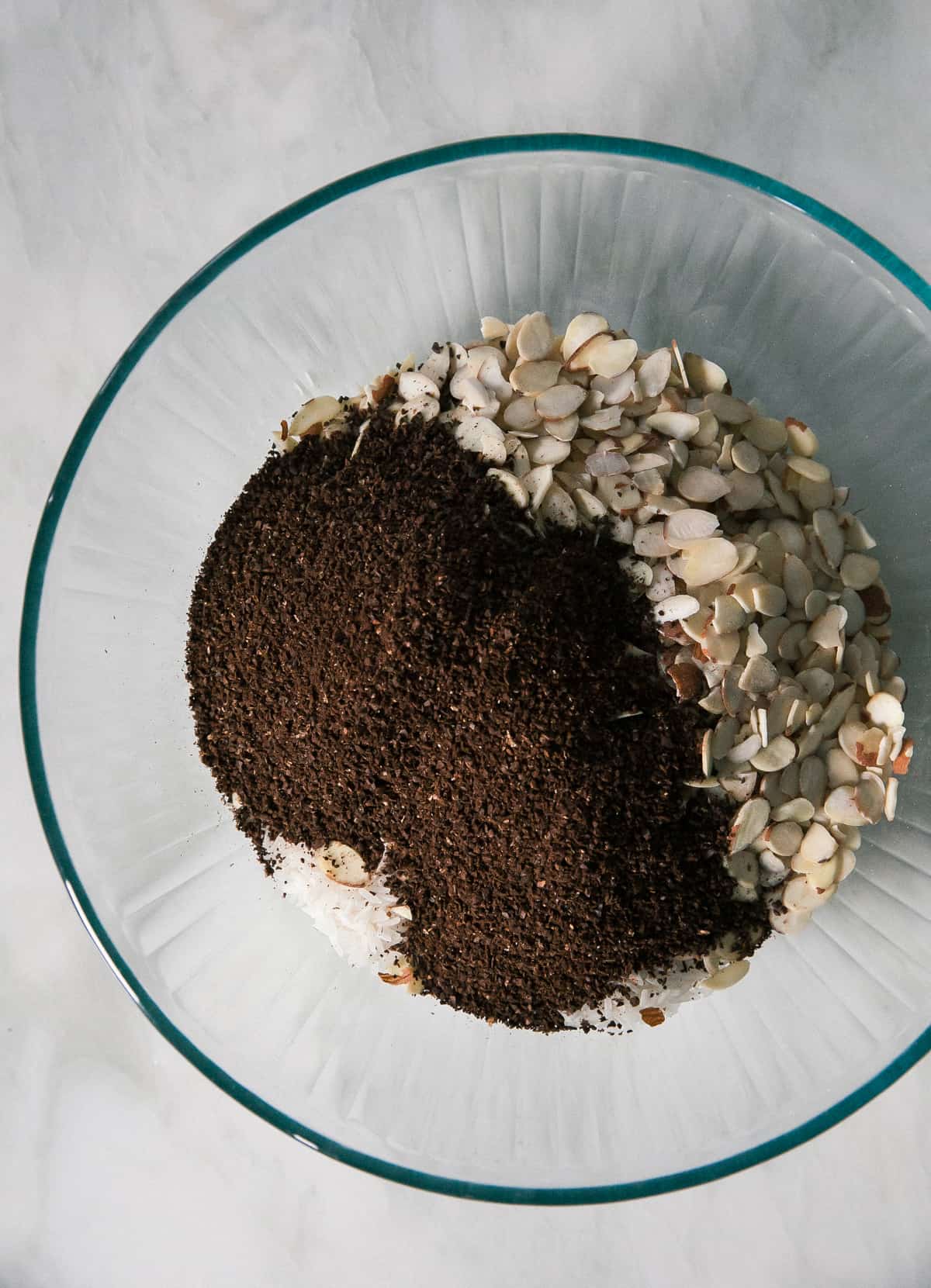 In case you're new here and have never had horchata, let's start with some basics:
What is Horchata
Horchata is a rice-based drink that has origins in Africa. From there it was brought by the Moors to Spain. And then when Spain colonized Central America and Mexico, brought it there. This version you see pictured is most similar to Mexican-style horchata.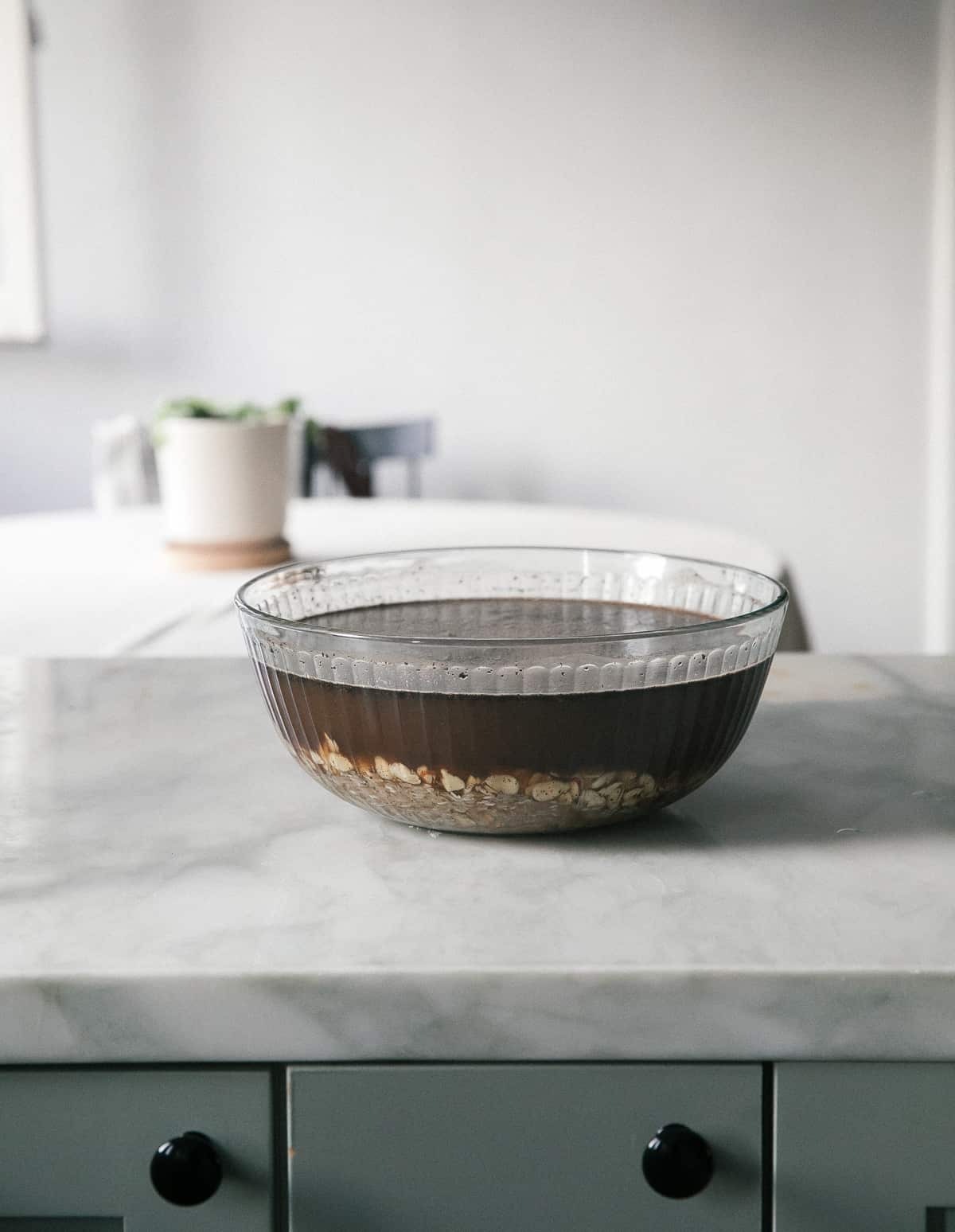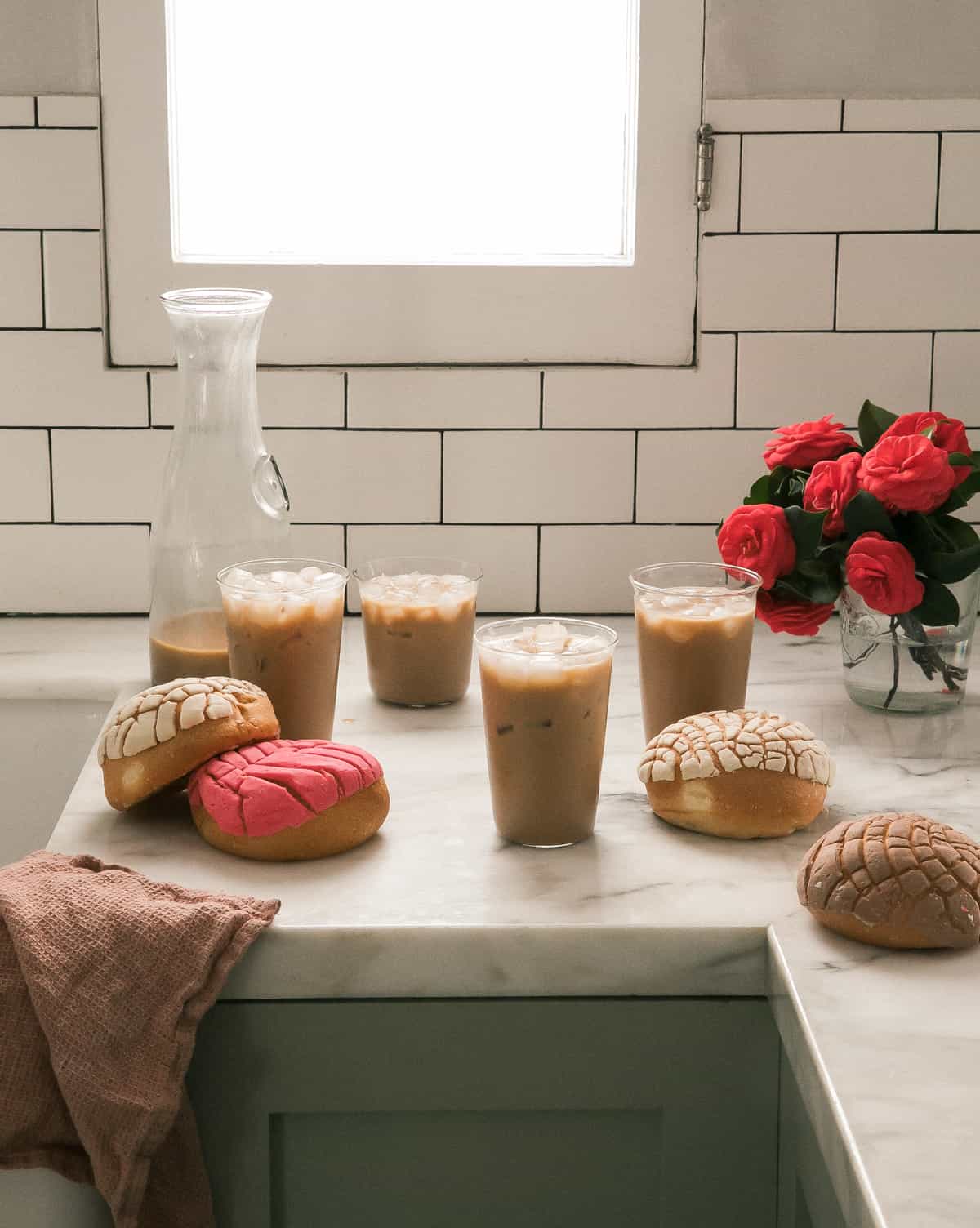 Ingredients You'll Need for Horchata Coffee
Rice. I like to use long-grain rice. Though I stay away from jasmine or basmati because of how distinctive the flavors are.
Almonds. This adds a nice nuttiness to the drink. In my plain horchata recipe, I toast the almonds but since we have the roasted flavor from the coffee, I skipped that step here.
Cinnamon Sticks. You really do need that flavor of cinnamon; as a result, it'll be give the horchata the essential hint of cinnamon.
Brown Sugar. I use brown sugar to mimic the flavor of pioncillo (a Mexican sugar).
Vanilla Extract. Not too much just enough to add a hint of vanilla.
How to Make Horchata Coffee
Combine the ingredients. In this case, it's ground coffee, almonds, rice, cinnamon sticks, vanilla and salt.
Pour in the filtered water.
Allow everything to soak for at least 4 hours. I soaked mine for about 6 hours. If you want to store it overnight, I would cover the mixture and stick it in the fridge.
Pour the mixture into the blender. I had to do this in two batches since my blender wasn't big enough.
Place a sieve over a bowl and pour it the horchata mixture through it. As a result, it will eliminate a good amount of the pulp.
*Options* I wanted it silky smooth so I passed it through a nut bag. This step is optional.
You could also nestle two sheets of cheese cloth on a sieve and pour it through there.
Add ice cubes to glasses.
Pour the horchata in the glasses.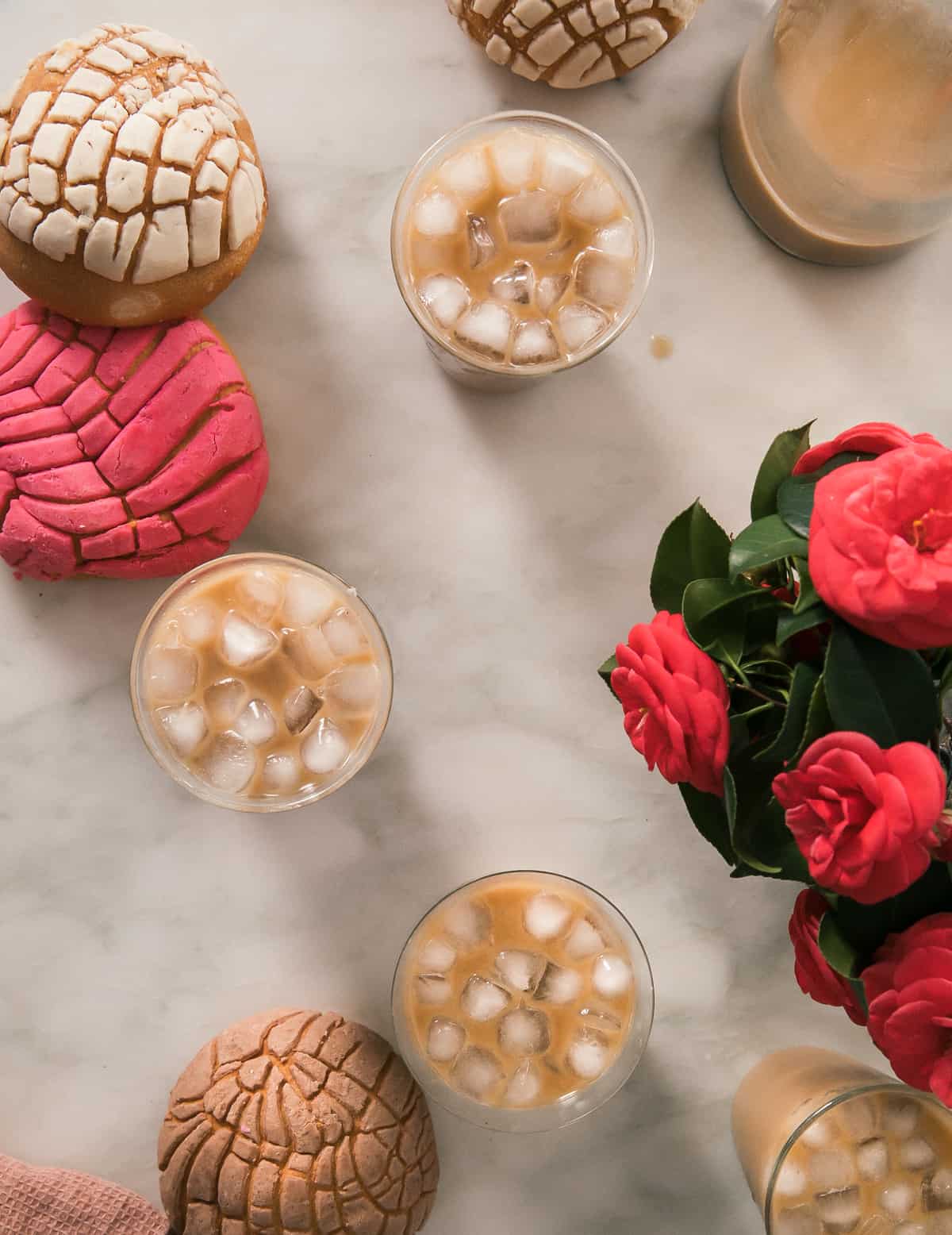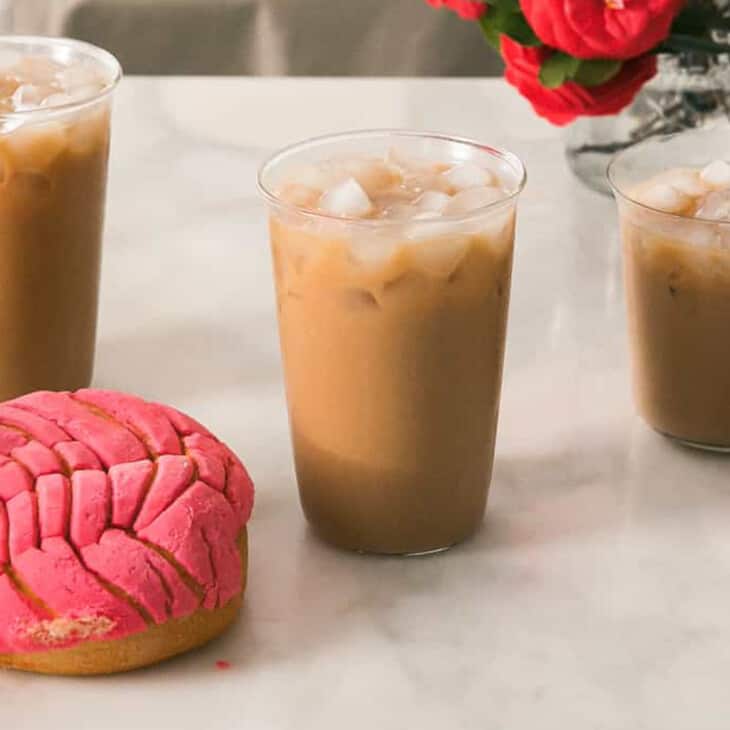 Print Recipe
Horchata Coffee Recipe
This Horchata Coffee consists of coffee grounds soaked with almonds, cinnamon sticks, rice and brown sugar. This steeps overnight and then blended, creating a horchata with a delicious coffee flavor.
Ingredients
1 1/2

cups

(6.5 ounces) blanched almonds

2 1/2

cups

(17.5 ounces) uncooked white rice

1

cup

ground coffee OR 2.75 ounces ground coffee (from 1 cup measured in beans)

1 1/4

cups

brown sugar

3

cinnamon sticks

2

teaspoons

vanilla extract

Pinch

kosher salt

10

cups

filtered water
Instructions
In a large bowl, combine the almonds, rice, coffee grounds, brown sugar, cinnamon sticks, vanilla extract, kosher salt and water. Mix everything up until combined and cover the bowl. Let sit at room temperature for 5 hours. Or overnight in the fridge.

Depending on the size of your blender, you may need to do this in batches. Transfer the horchata mix (including the cinnamon sticks) to your blender (adding what will fit, giving room at the top for blending). Blend for about 1 minute, until the horchata coffee turns cloudy and coffee-like.

After you blend it, allow the mixture to stand for 20 seconds (some of the pulp will fall to the bottom of the blender). Slowly pour through a strainer just until all of the liquid has been emptied out of the blender (leave the pulp in the blender and discard).

Pour through a mesh strainer into a bowl to catch the majority of the nut and coffee pulp. Re-strain the mixture once more to eliminate any teeny bits of coffee and almonds.

Transfer to the fridge in a pitcher. And then when you're ready, serve over ice.
Nutrition
Serving:
10
g
|
Calories:
182
kcal
(9%)
|
Carbohydrates:
47
g
(16%)
|
Protein:
1
g
(2%)
|
Fat:
1
g
(2%)
|
Saturated Fat:
1
g
(6%)
|
Sodium:
34
mg
(1%)
|
Potassium:
69
mg
(2%)
|
Fiber:
1
g
(4%)
|
Sugar:
14
g
(16%)
|
Calcium:
68
mg
(7%)
|
Iron:
1
mg
(6%)
If you make this recipe, let me know on Instagram!
Looking for more Latin-inspired recipes? Here are some favorites: