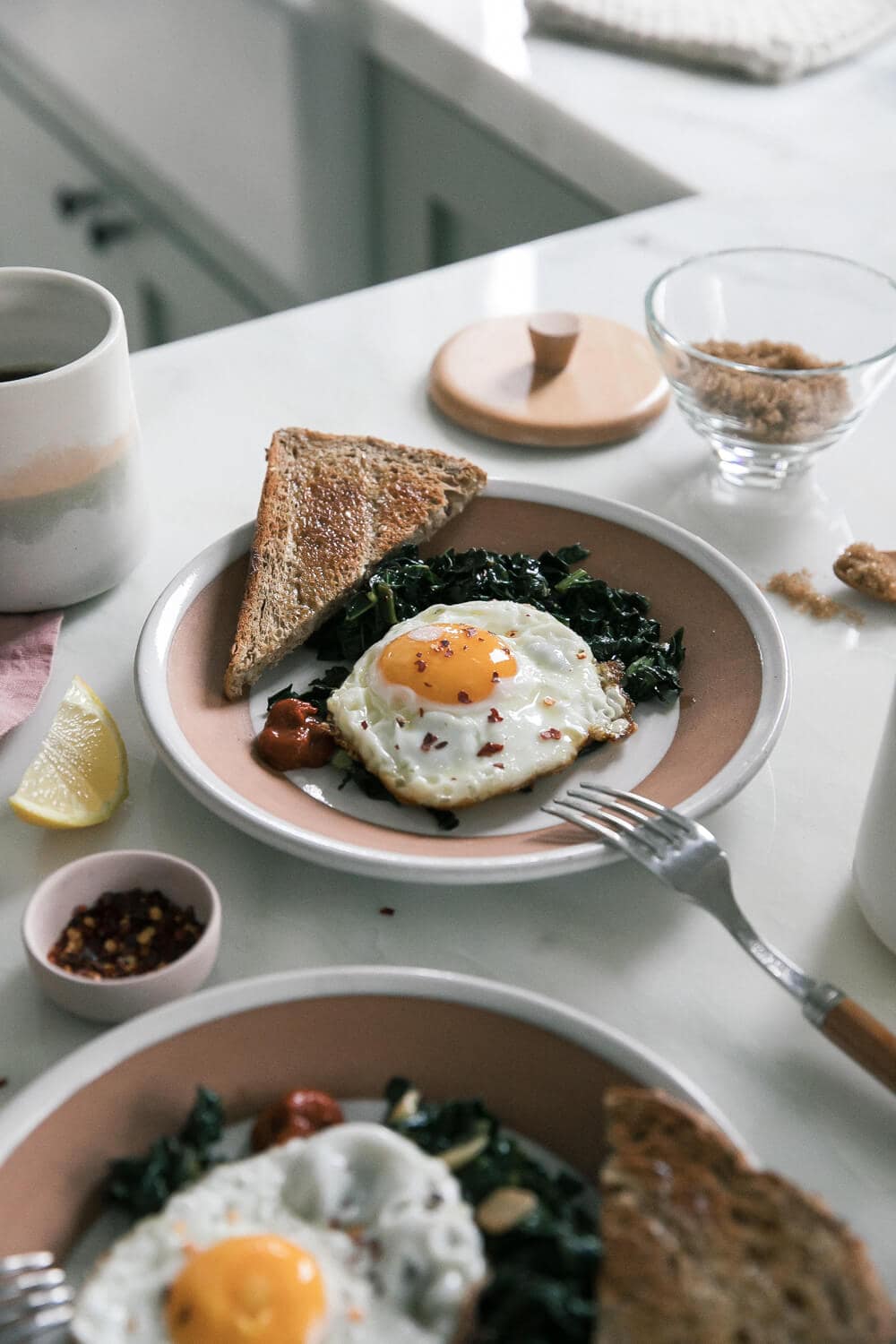 This is a sponsored conversation written by me on behalf of American Egg Board. The opinions and text are all mine.
This post is proof that breakfast doesn't have to be complicated. It doesn't have to involve pancake batter or a waffle iron or a whole lot of time. This is something I've been eating over and over since the beginning of the year and I am INTO IT.
One of my favorite breakfasts in Los Angeles is at Jon and Vinny's. First off, their pancakes are a dream. BUT, I never really order the pancakes, instead I always go with the olive oil fried eggs with braised kale. It's one of those breakfasts that makes you feel good after you eat; I have energy and am so happy.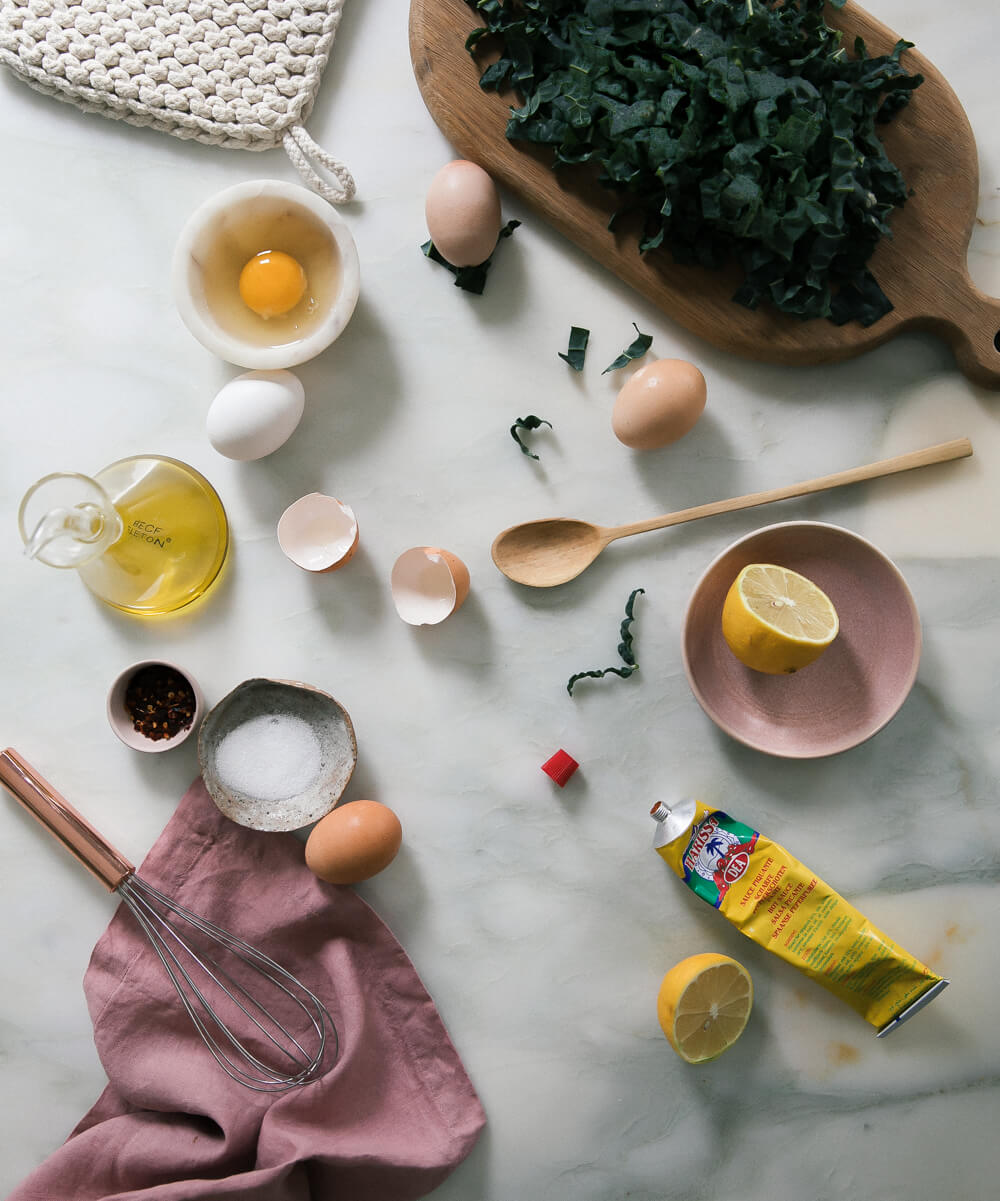 For this post, I teamed up with the American Egg Board to answer the question: How Do I Like My Eggs? (the age-old question posed in their new campaign). I like 'em like this! Well, I like them a lot of ways but this way is my favorite (at the moment).
I figured I'd do a version of Jon and Vinny's dish at home (since the restaurant is kinda far from me). Instead of braised—because I'm always short on time—it's sautéed kale with tons of garlic, salt, crushed red pepper and a squeeze of lemon.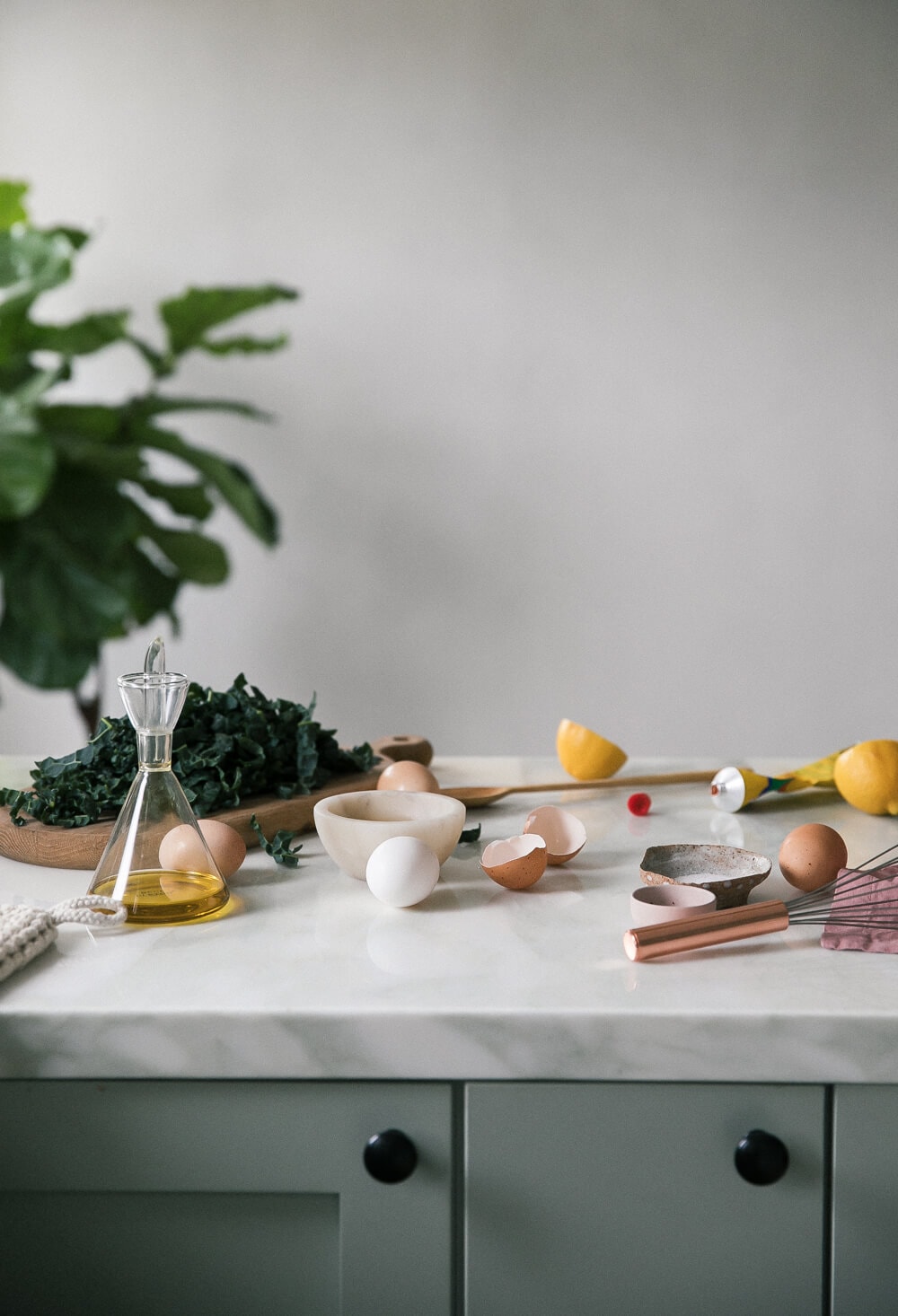 It's topped with olive oil-fried eggs with some toasted bread on the side. Their dish is served with a dollop of nduja so in place of that, I added a small dollop of harissa.
It's actually a super simple breakfast but it's my favorite.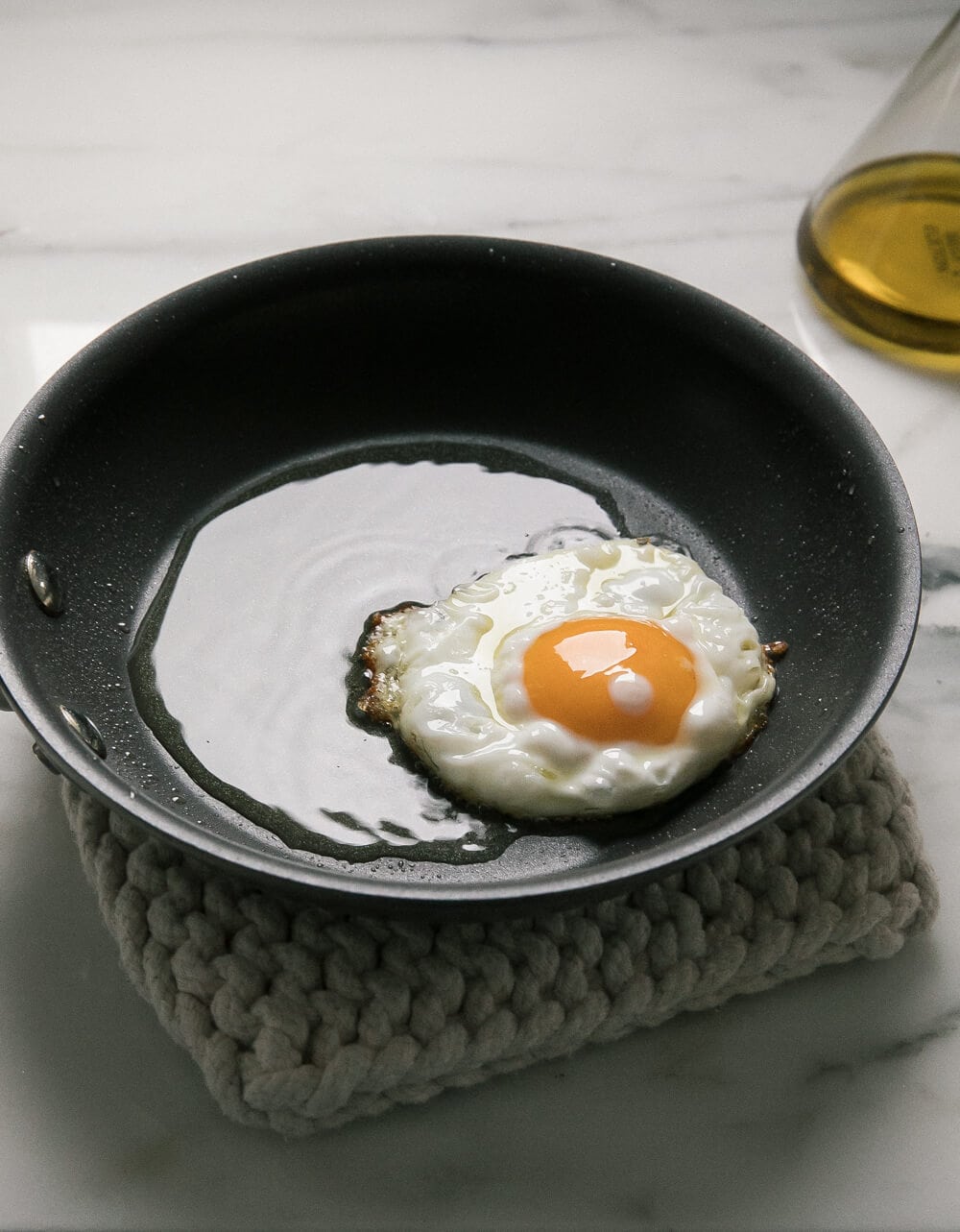 The eggs are pan-fried in a few tablespoons of olive oil until the egg whites are all crispy and lacy—I love them like this. I usually transfer it to a paper towel for a second or two just to get some of the excess oil off and then…on top of the kale they go!
I hope you give it a go and let me know, how do you like your eggs? For more information and delicious recipes, visit IncredibleEgg.org and on Facebook, Twitter, Instagram, Pinterest and YouTube.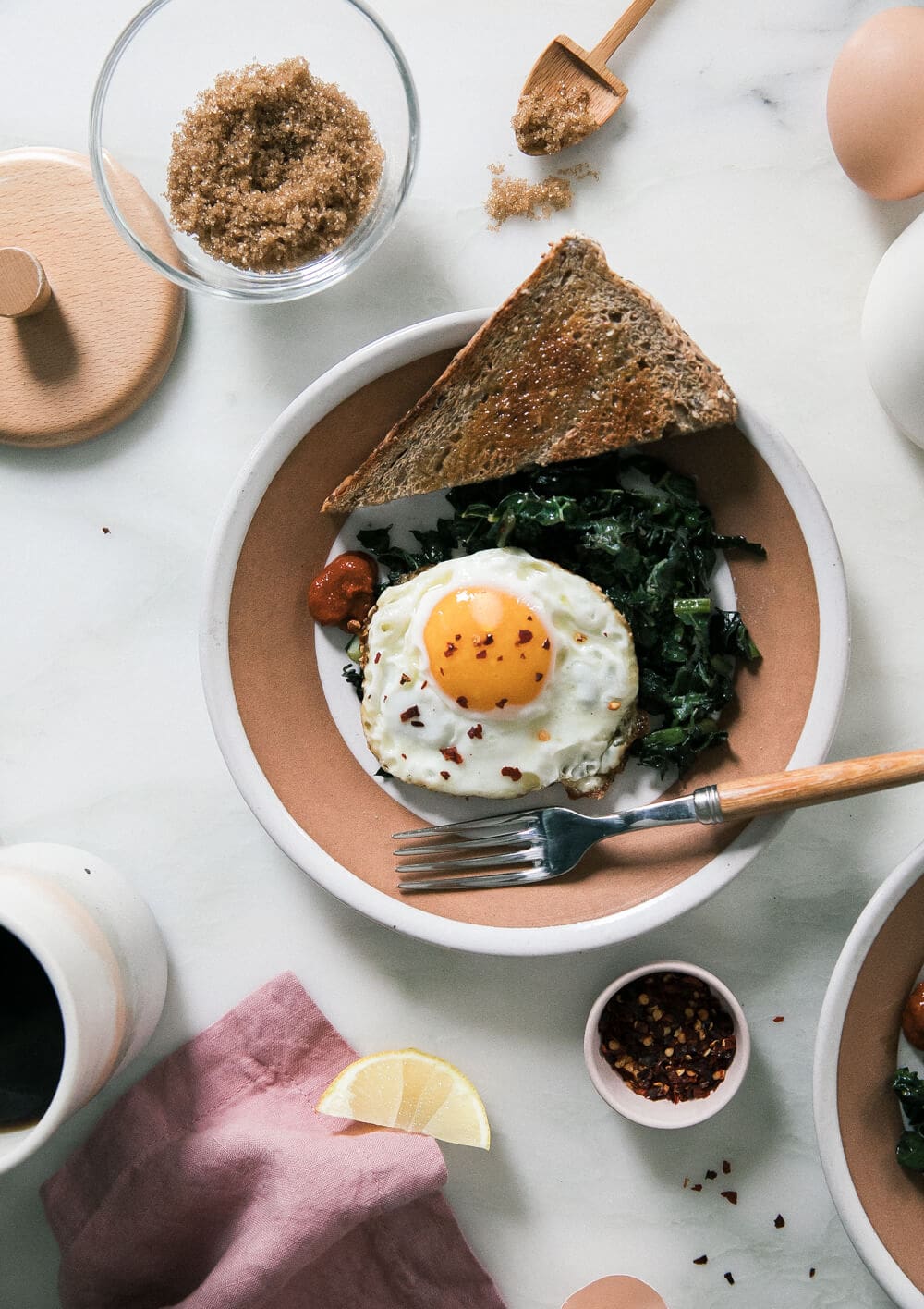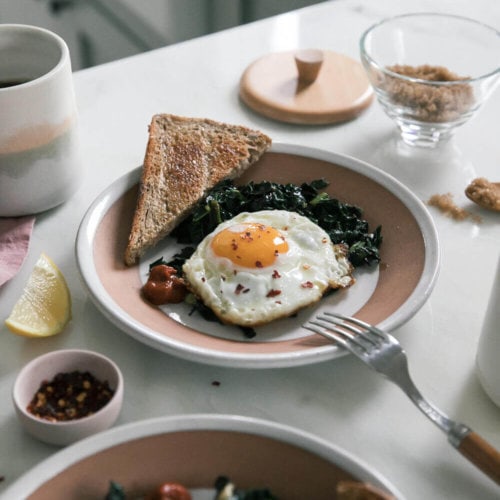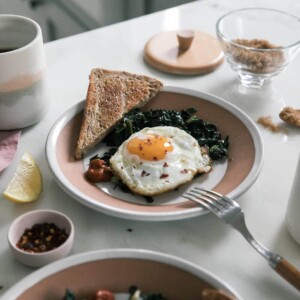 Ingredients
Sautéed Kale
Olive oil 

1

large bunch of kale

,

leaves removed from stems and chopped

1

garlic clove

,

peeled and diced 

2

green onions

,

trimmed and sliced 

1/4

teaspoon

crushed red pepper

Juice from 1/4 lemon
Olive Oil-Fried Eggs:
2

tablespoons

olive oil 

2

large eggs 
For Serving:
1

dollop of harissa

,

for garnish on the side

Toast

,

for serving
Directions
To Make the Kale:
In a medium pan or pot, set over medium heat, add few teaspoons of olive oil. When warm, add the kale, garlic, green onions, crushed red pepper and a few pinches of salt. Give it a stir and cook until wilted, about 3 to 5 minutes. Continue cooking until softened. Give it a taste and adjust the salt to your liking. Turn the flame to very low and cover the pan or pot. 
To Make the Olive Oil-Fried Eggs
In a small skillet (I used a non-stick), set over medium-high heat, add the olive oil. Crack the first egg into a small bowl (I find it easier to add it to the pan this way). When the oil is hot, slowly pour the egg into the pan. Fry the egg for about 2 to 3 minutes, until the egg white edges are lacy and crispy and the egg yolks has set. Gently transfer to a bed of paper towels and repeat with the second egg. 
To Serve:
Divide the kale amongst the two plates and top with the fried eggs. Garnish with the dollop of harissa and add toast to plates.