Homemade Harissa Paste
22
Jan 08, 2016, Updated Jan 07, 2020
Disclosure: This post may contain affiliate links, which means I may earn a commission if you click on the link and make a purchase.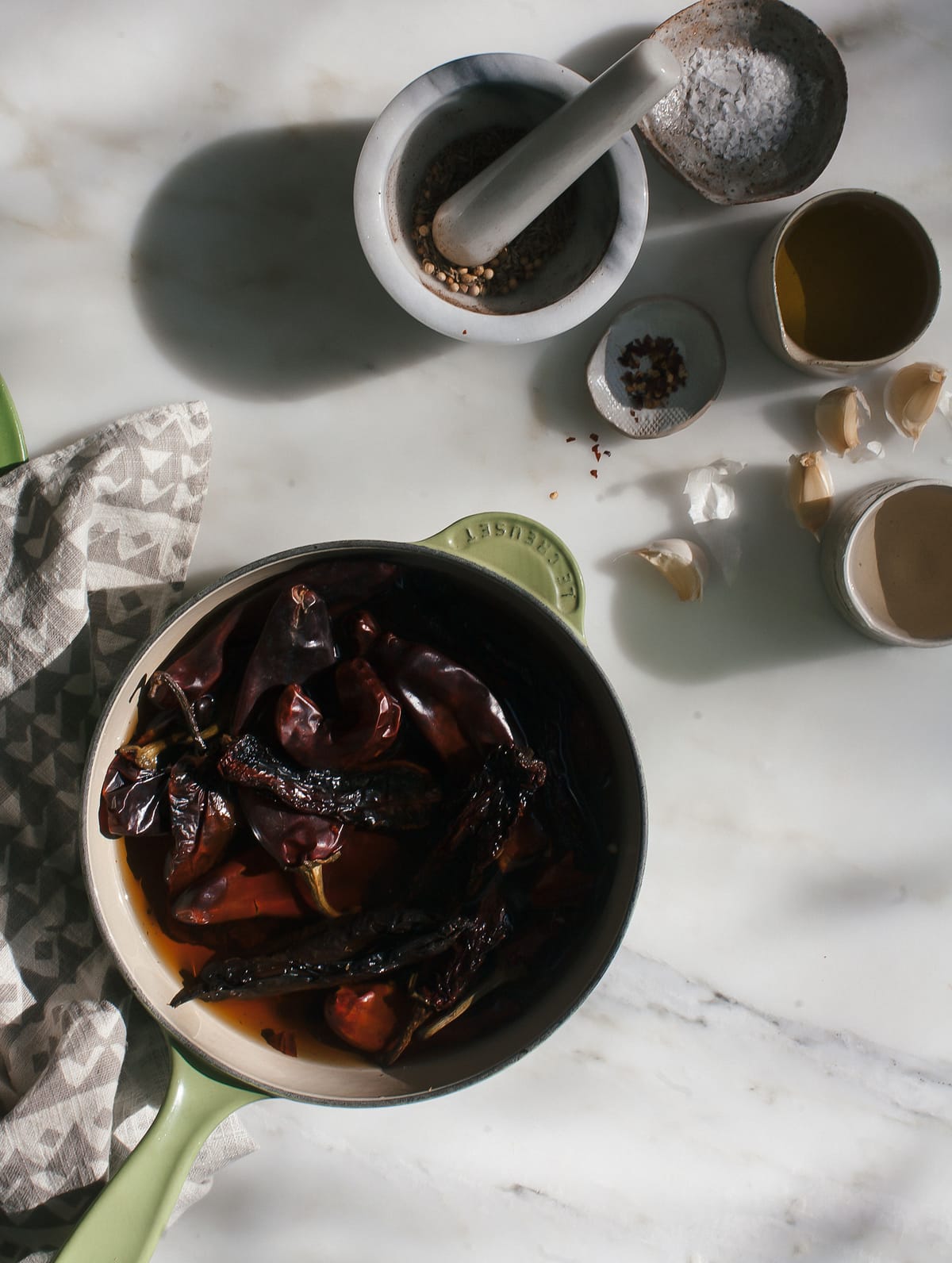 Homemade Harissa Paste is one of my favorite condiments to make. It's spicy and flavorful and can be used in a variety of different ways. I love to freeze it and add it to stews and soups.
If you've never had the pleasure of having and cooking with harissa, you're in for a real treat! Let's start with the basics.

What Country is Harissa From?
Harissa is from North Africa. Countries such as Tunisia, Libya, Morocco and Algeria use it often. It's considered the condiment of choice in Tunisia.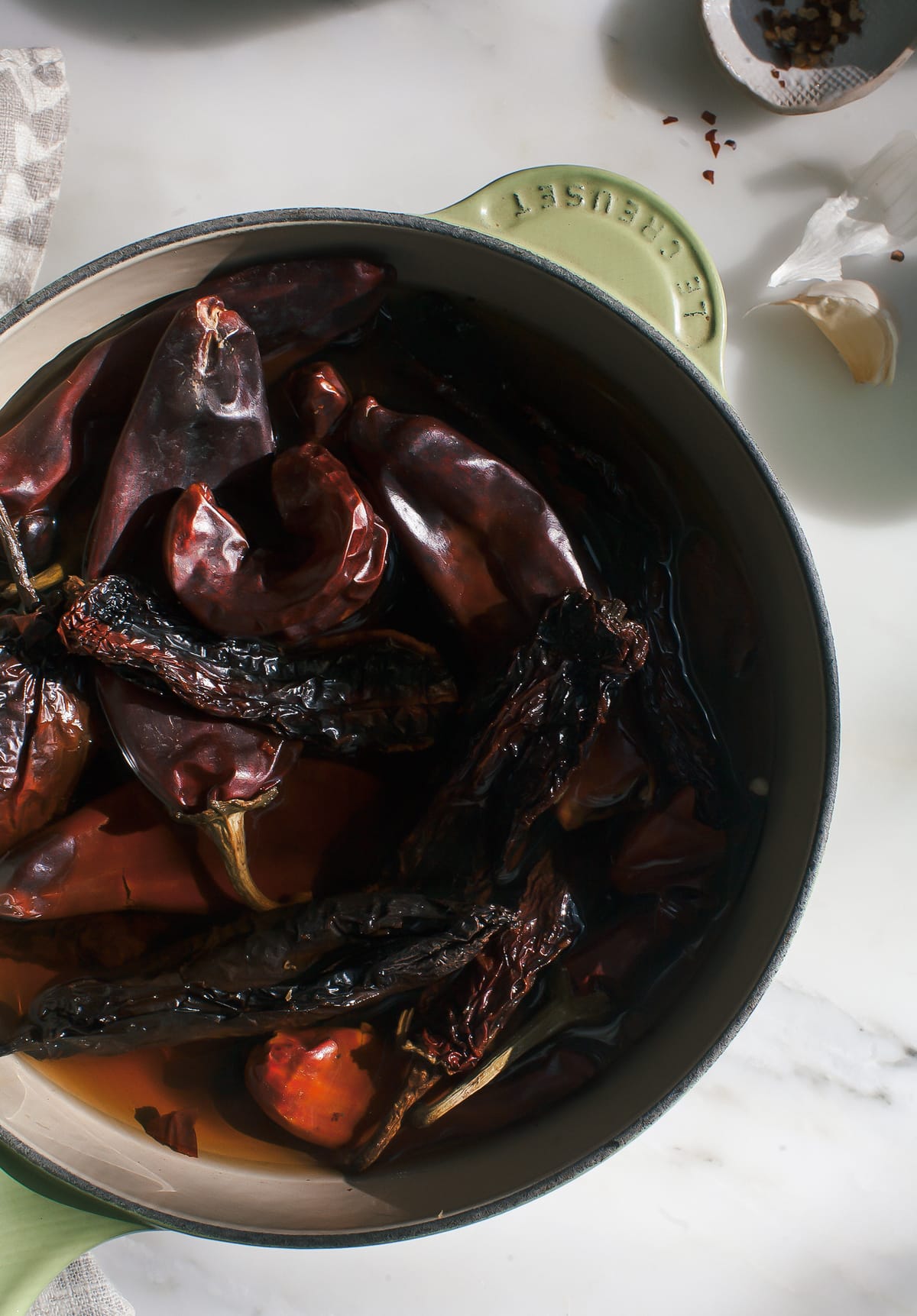 What Flavor Is Harissa?
Harissa is a North African chile paste that is made up of ground up dried chiles, spices and salt. It's spicy and delicious and can be paired with nearly everything. Harissa paste definitely packs a punch but if you're adverse to spice, you can scale it back. I would say that harissa sauce has a bit of a smoky, deep and rich flavor. I love it so much!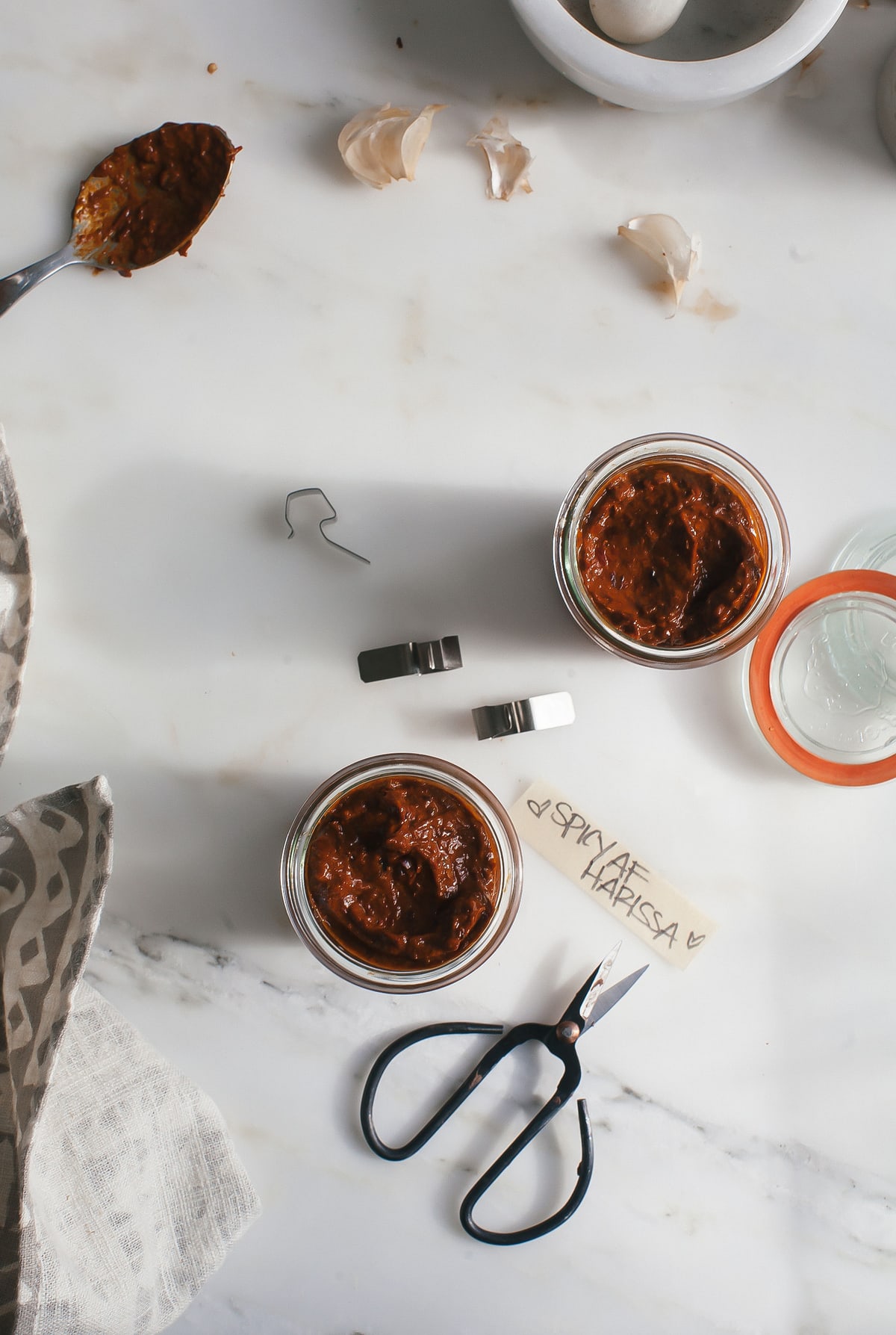 How to Make Harissa Sauce/Paste?
Making Harissa Paste is surprisingly easy but it does take a bit of time. The good news is that the majority of the time is spent rehydrating the dried chiles. Here's how to make it:
Bring a pot of water to a boil.
When the water is hot, add the dried guajillo chiles and dried papilla chiles. Allow them to steep and rehydrate for about 40 to 45 minutes.
Drain them and then cut the chiles into 1-inch pieces.
Using a mortar and pestle or a food processor, grind up the peppers and spices.
Transfer everything to the blender, along with fresh garlic and shallot.
With the blender running, add the vinegar and olive oil until a paste forms. You want it to be smooth-ish but with a bit of texture.
Season it with a bit of salt and that's it!
You can freeze it for up to 3 months or keep it in the fridge for up to a week.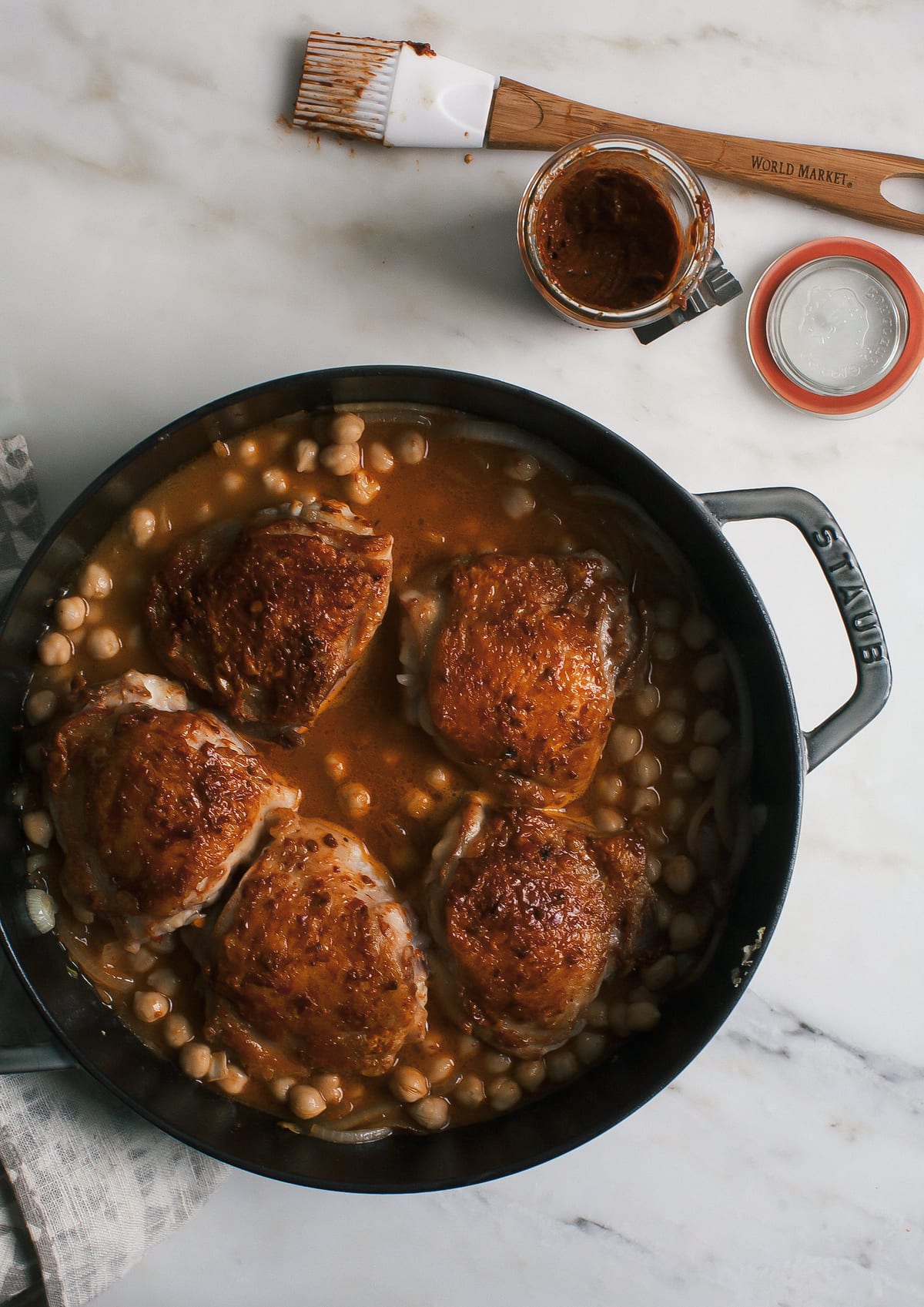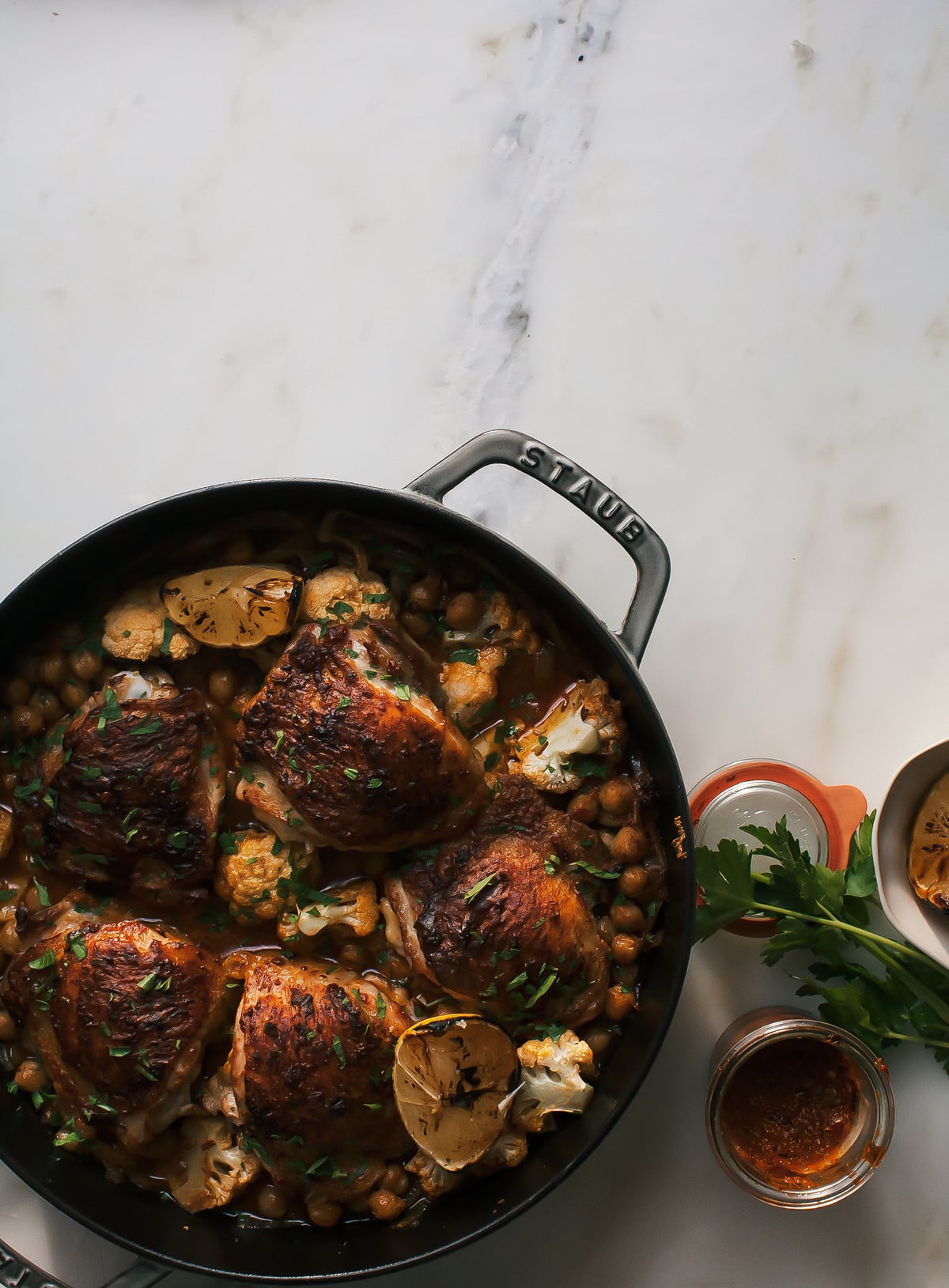 What to Pair with Harissa Paste?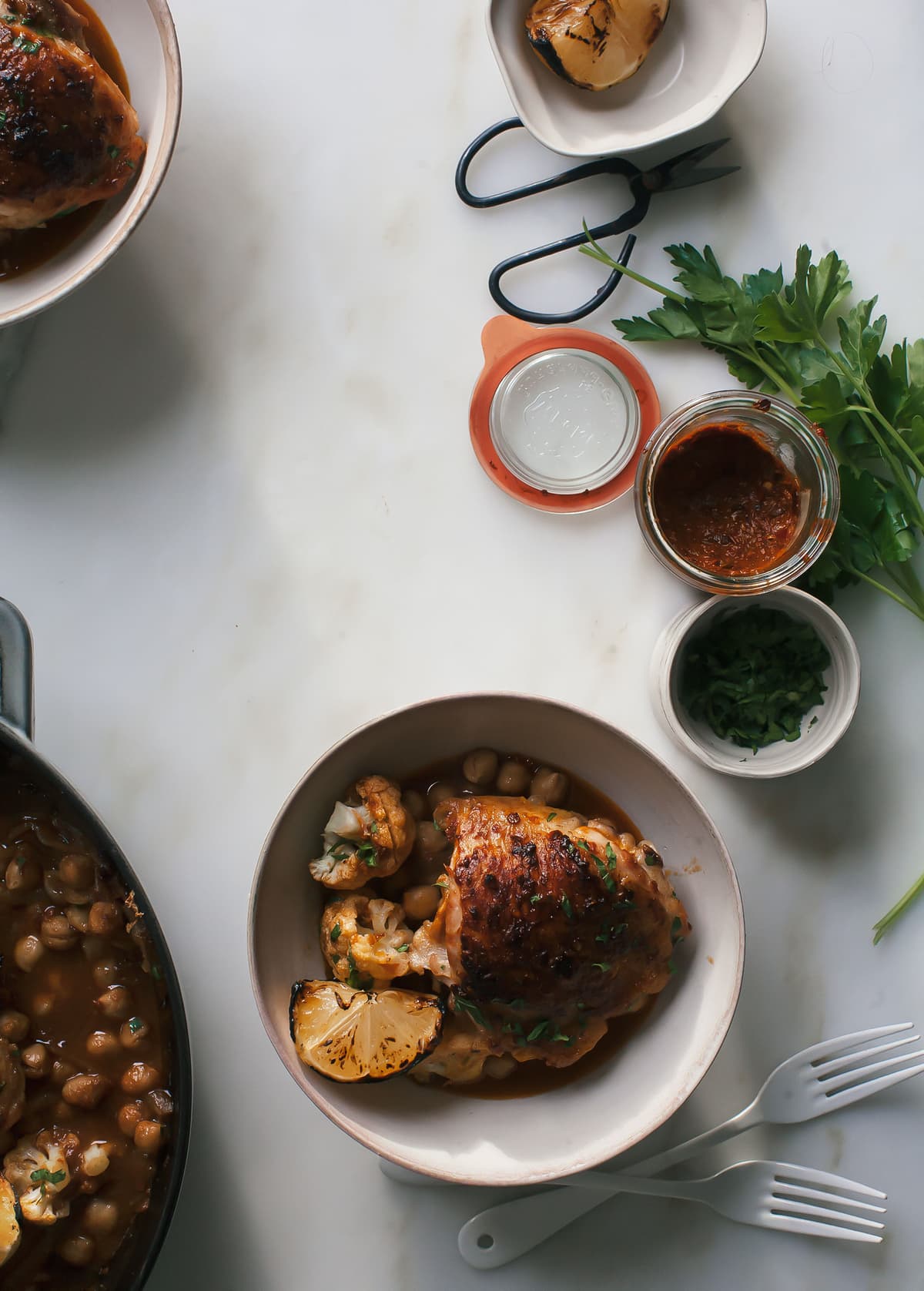 If you make this Homemade Harissa Paste, let me know on Instagram! 
Homemade Harissa Paste Recipe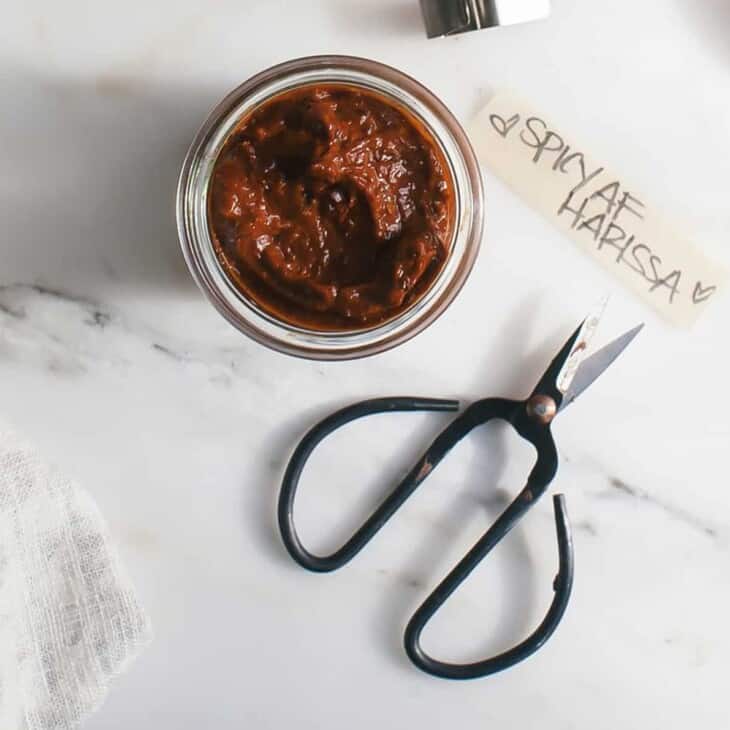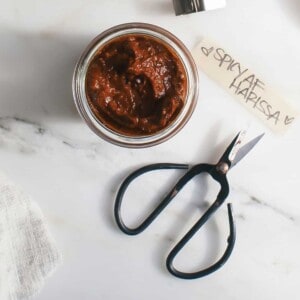 This homemade harissa paste recipe is a super easy DIY way to make harissa paste. This North African chile paste is versatile. Put it on scrambled eggs, chicken, meats or vegetables.
Equipment
1 blender

1 small saucepan
Ingredients
8

large dried guajillo chiles

8

medium dried pasilla chile peppers

,

see note below!

2

teaspoons

cumin seeds

1

teaspoon

coriander seeds

1

teaspoon

celery seeds

3

garlic cloves

1

shallot

,

peeled and ends trimmed

1/3

cup olive oil, plus 1 tablespoon more

1

tablespoon

champagne vinegar

1

teaspoon

kosher salt
Instructions
To Make Homemade Harissa Paste:
In a medium pot, bring water to a boil. Add the dried guajillo and ancho chile peppers, turn off the heat and cover. Allow to sit until softened, about 40 to 45 minutes. Drain. Remove the stems and seeds from the chiles and cut them into 1-inch pieces.

In a mortar and pestle (alternatively, you can use a food processor), add the cumin seeds, coriander seeds and celery seeds. Twist and grind the mortar until the mixture has reached a spice blend.

Transfer to a blender, along with the garlic and shallot. Pulse until finely chopped. Add the chiles and pulse until chopped. With the blender running, pour in the oil and vinegar until just incorporated (the harissa should be the texture of a paste vs. a smooth puree). Transfer to an airtight container. Mixture will last up to 10 days in the fridge.
Notes
Chile Alternatives:
I used pasilla but you could also use dried ancho chiles.
Ingredients: 
Dried Pasilla Chiles | Dried Guajillo Chiles 
Equipment: 
Blender | Silicon Spatula | Mortar & Pestle | Food Processor 
To Freeze: 
Surprisingly this paste freezes very well. To freeze, transfer to a freezer-safe bag or container and keep in the freezer for up to 3 months. 
My grandmother loved freezing pastes (like tomato pastes) in ice cube trays to add to sauces, etc. This would work in this instance, too! 
Store-Bought Harissa Paste: 
And while, this blog post is about a recipe for homemade harissa paste, I do realize that many people love to buy it. I love this store-bought harissa paste. 
Nutrition
Calories:
63
kcal
|
Carbohydrates:
11
g
|
Protein:
3
g
|
Fat:
2
g
|
Saturated Fat:
1
g
|
Sodium:
2342
mg
|
Potassium:
191
mg
|
Fiber:
2
g
|
Sugar:
2
g
|
Vitamin A:
51
IU
|
Vitamin C:
5
mg
|
Calcium:
103
mg
|
Iron:
4
mg
Nutrition information is automatically calculated, so should only be used as an approximation.