Pupusas are El Salvadorian stuffed corn cakes served with curtido and salsa roja. This how to make pupusas recipe, has them filled with melty cheese, pickled jalapeño and roasted squash, but the sky is the limit!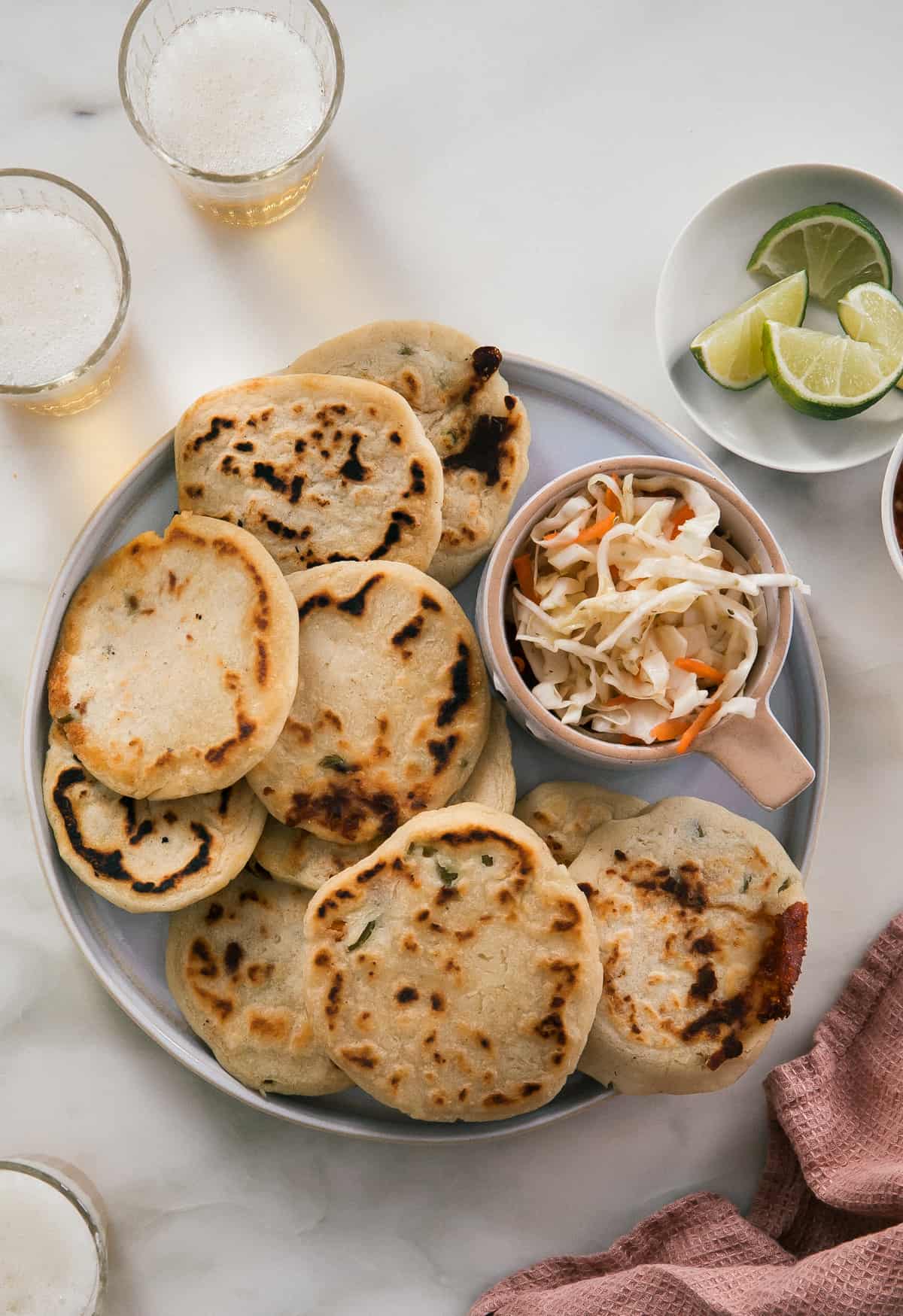 Let me start by saying that if your grandmother makes pupusas, she probably makes them better than me. And if your grandmother taught you how to make her pupusas, then you probably make them better than me.
But if you, like me, don't have a Salvadorian grandmother and have never made them/heard of them, then I feel like you're my target audience today.
Since I'm Salvadorian-grandmother-less, this recipe on how to make pupusas started with me taking a trip to South Los Angeles to eat one of the best pupusas in this city at Los Churros. They were cheesy (oh so cheesy!), filling, hearty and such flavorful masa cakes.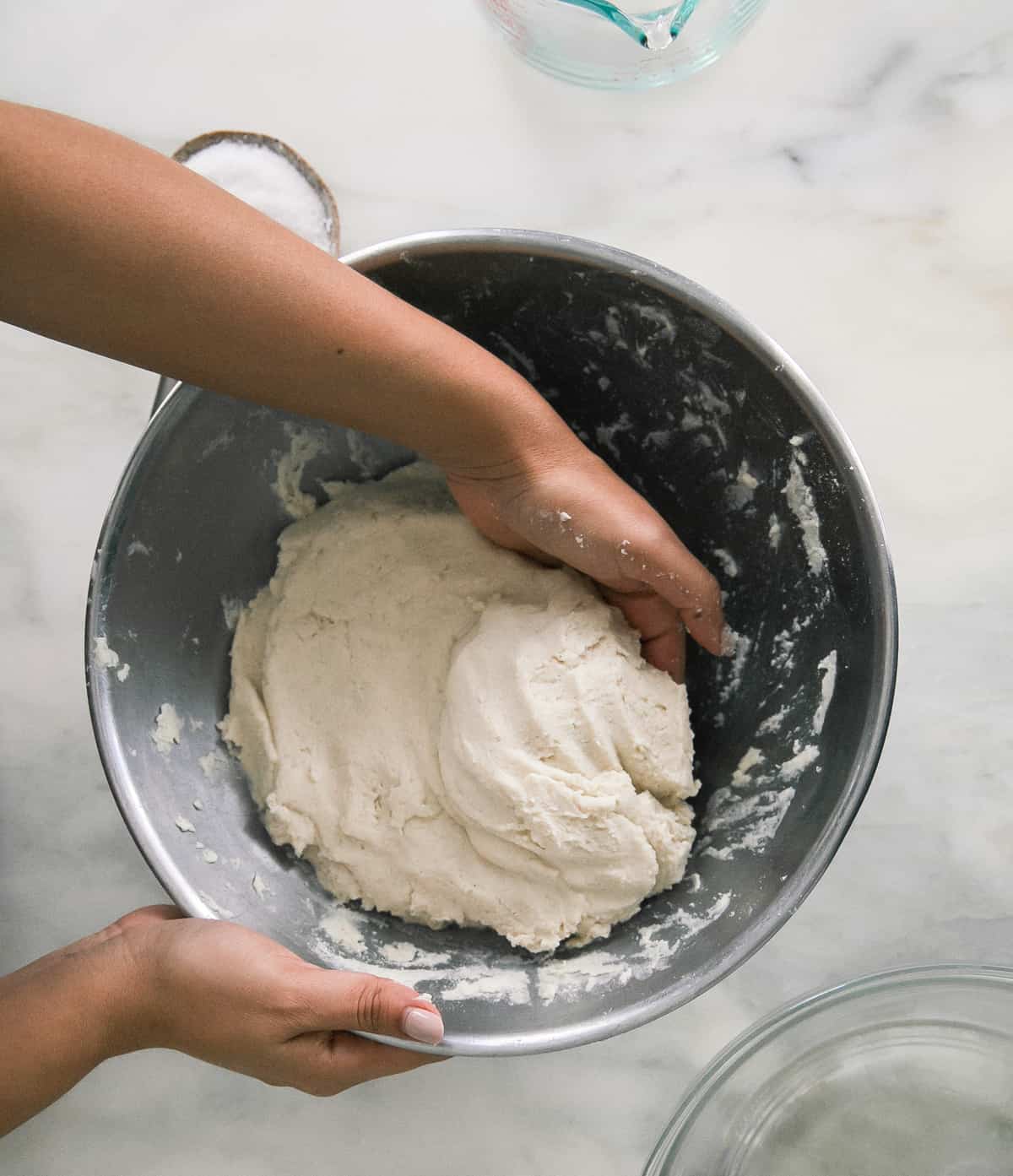 What Are Pupusas?!
Pupusas are made from masa harina (cormeal flour) or rice flour that are mixed with water to make a corn masa mixture. They are usually stuffed with delicious things like refried beans, shredded pork or cheese. And since they tend to be so rich and cheesy, they are topped with a pickled cabbage situation that adds a refreshing, light and tangy element that really balances the whole thing out. That is called curtido.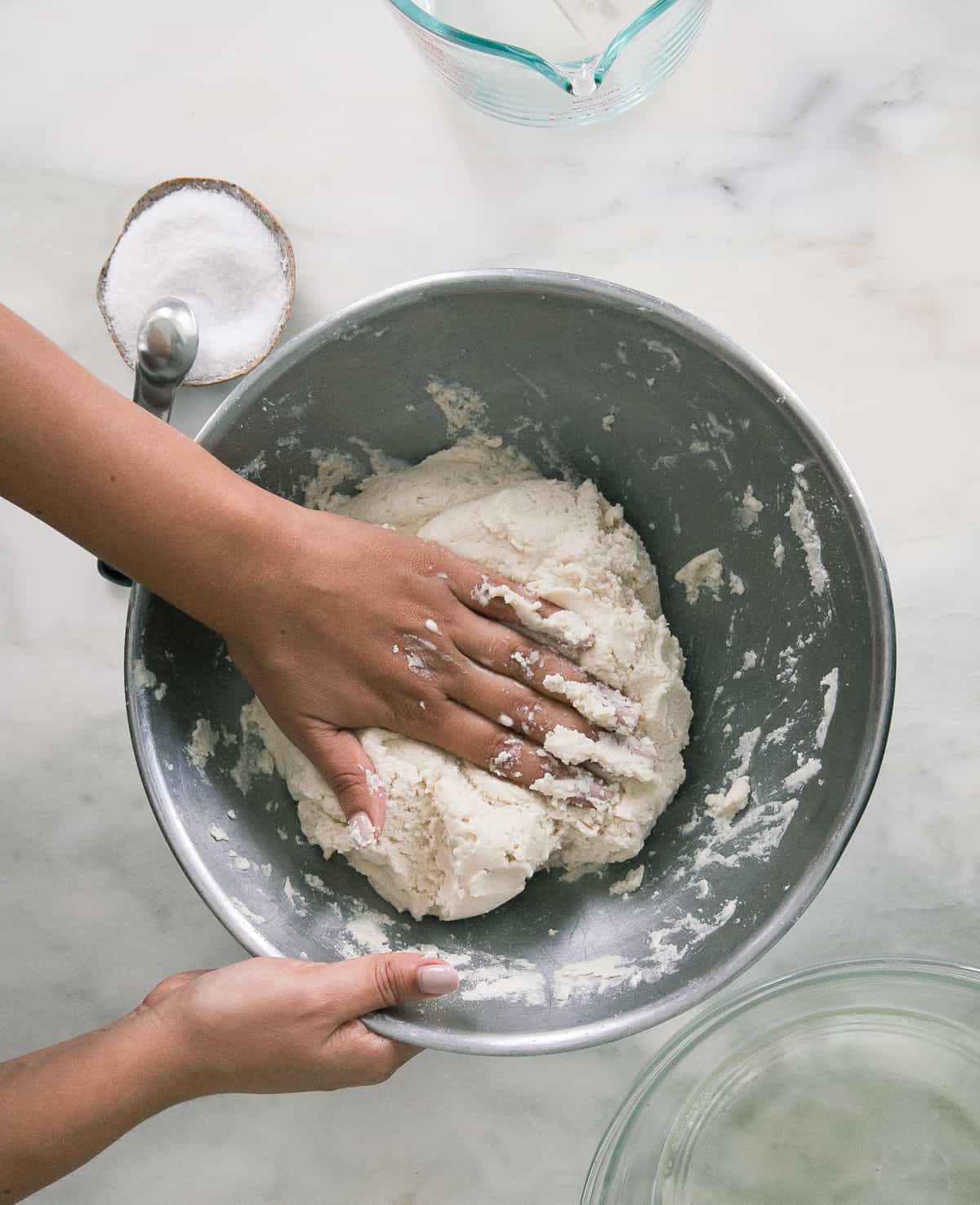 When I made them for the first time, I realized how similar they were to arepas. When my mom taught me how to make arepas (she was taught by my father's Colombian great aunt), she taught me with no measurements, just touch and feel and how the dough looked. For someone like me who sort of thinks in ratios, it was SUPER annoying.
But I get it, a lot of this is just touch and feel. SO, since that's the case, I figured I'd do a little how-to.
And here we go!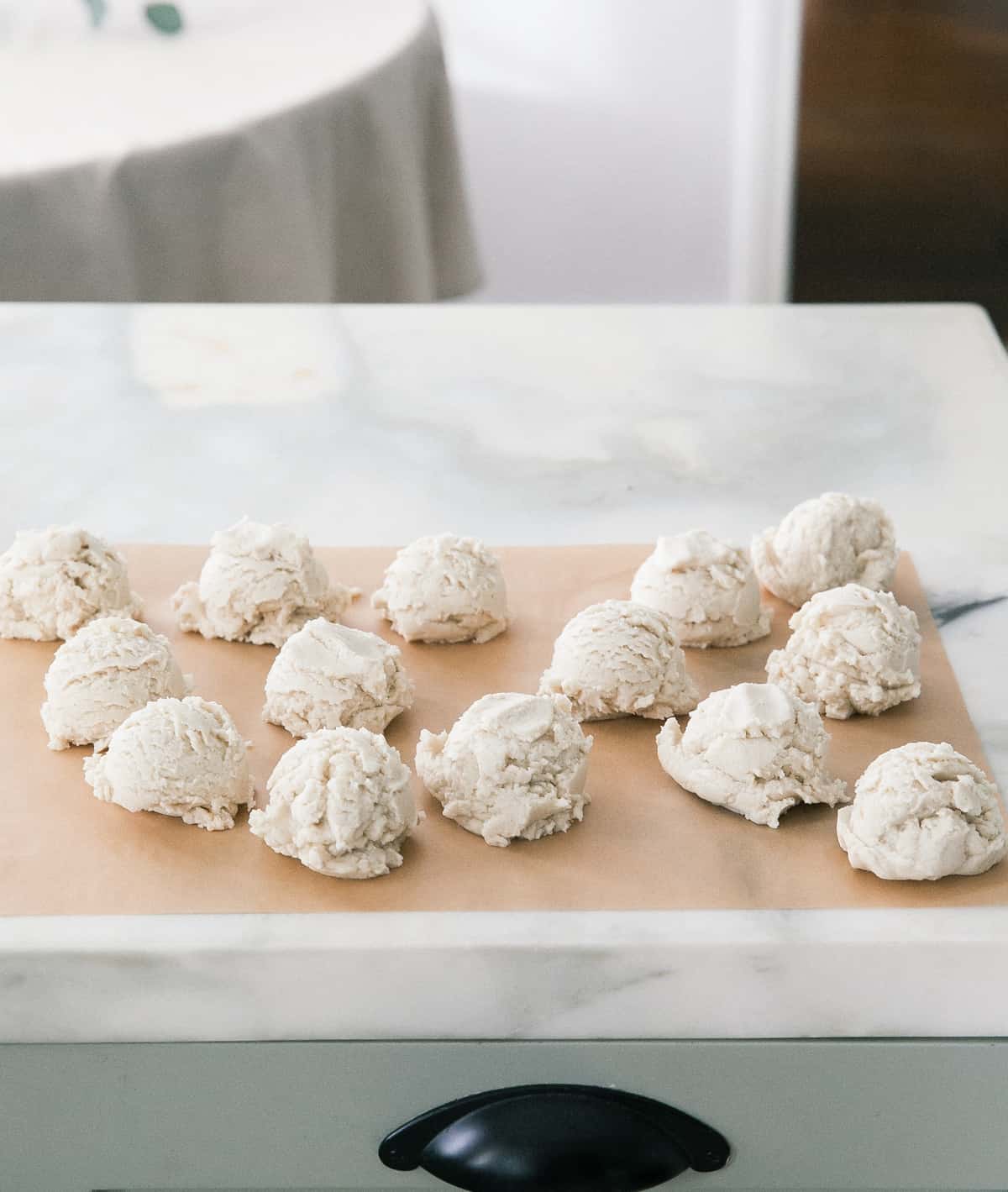 Pupusas Absolutely Need The Curtido!
Pupusas begin with making the curtido (the cabbage/carrot mixture above). It's pretty simple: cabbage, carrots and Mexican oregano mixed together. The vinegar/sugar/salt mixture is mixed together and then poured over it.
It's definitely a quick-pickle, but it'd ideally sit in the fridge overnight, but if you let it sit for three hours you should be ok.

How to Make Pupusas!
To make the pupusa dough, you start with whisking the masa harina and salt together. Masa harina is cornmeal flour. The most popular brand and the one I'm used to using is Maseca. It's super inexpensive (I'd say $3 for a big bag). I'd recommend finding the Latin grocery store nearest you and taking a visit.
Add the cold water and mix, using a spatula, until it's mostly combined.
Using your hands, mix it with your hands.
The masa will be very wet. That's ok! You just want it to be completely combined.
Divide the dough into 14 (2-ounce) balls. I used a 2-ounce cookie scoop and it made this process SUPER fast. They'll resemble the size of golf balls.
Mix together the oil and water mixture. This will help the masa from sticking from your hands.
Filling for Pupusas
The sky is truly the limit here. I chose roasted squash, pickled jalapeños and mozzarella cheese. Here are some other options:
Braised meats. You could braise a pork shoulder, beef, chicken. And add it to the center of the pupusas.
Veggies. Roasted squash was AMAZING. You could do puree cauliflower in a food processor, squash, zucchini, etc.
Pureed Beans. I would puree the beans in a food processor to make them soft. They're super delicious with beans and cheese!
Cheese. Of course, cheese is a must. You can use Oaxacan cheese, something super melty, like mozzarella. Or you could get creative and use gouda, tallegio, sharp cheddar cheese and/or fontina.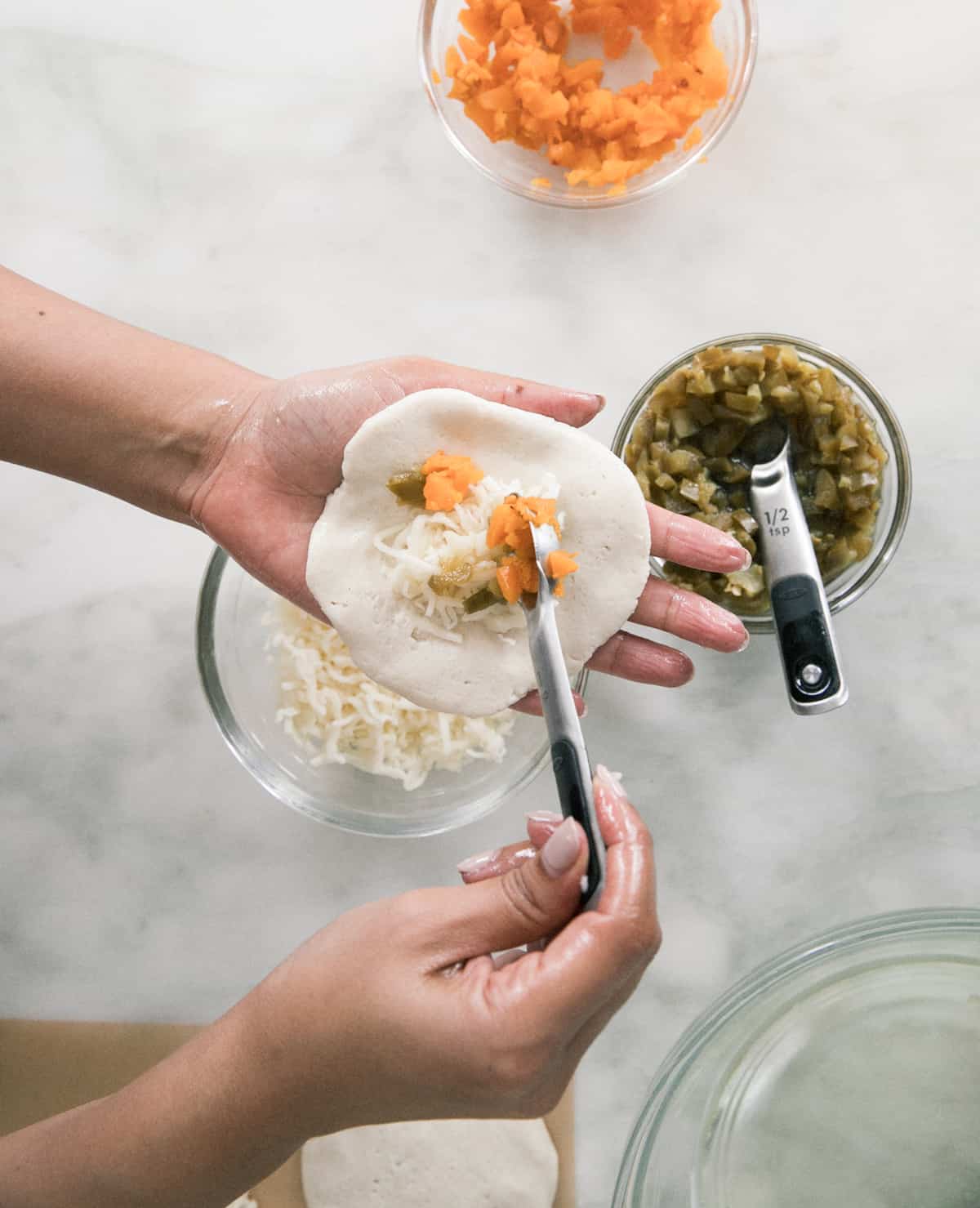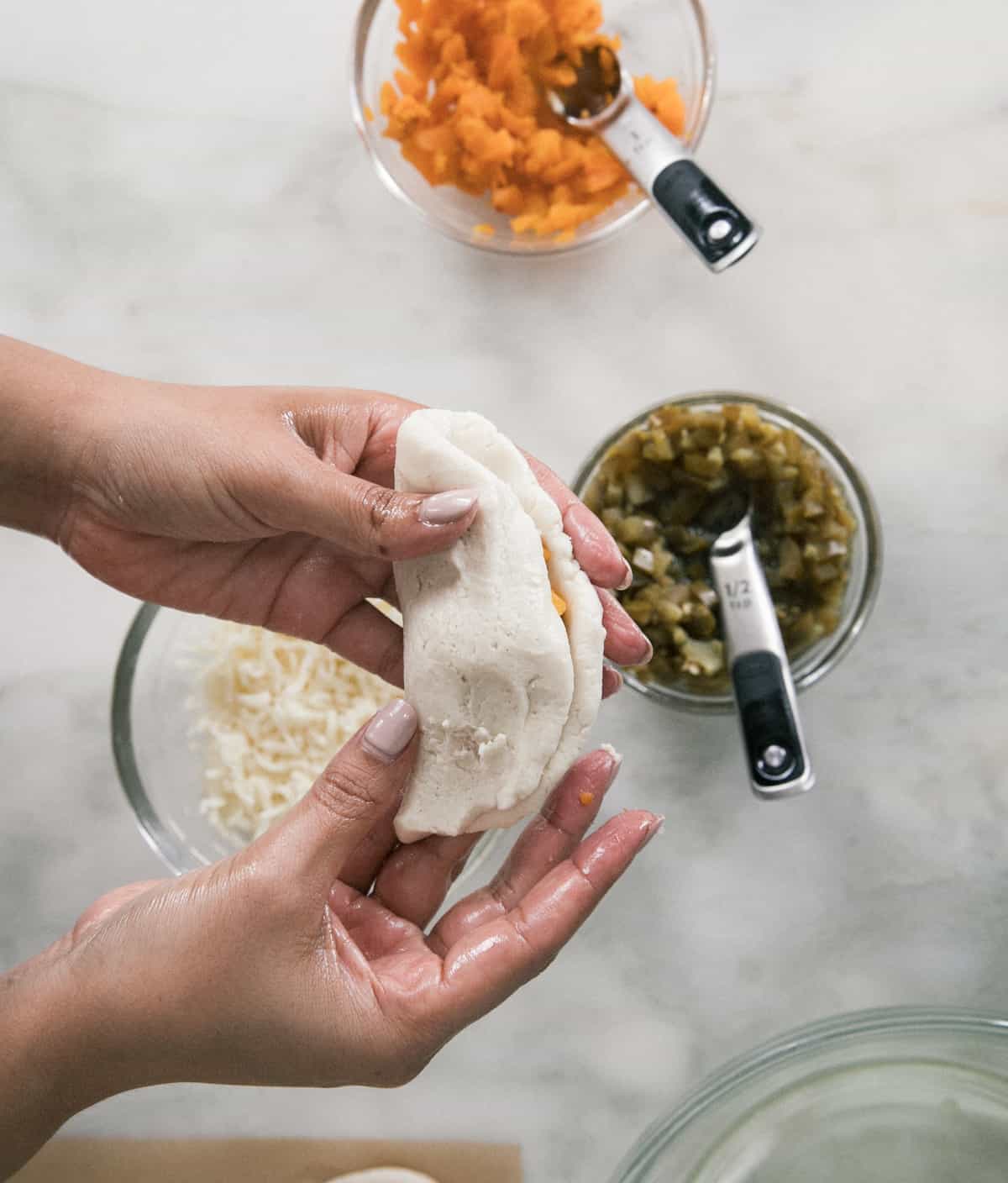 Stuff and Fill The Pupusas!
Flatten the pupusa and shape it into a disc that's about 1/4-inch thick.
Place a tablespoon or two of mozzarella cheese, a bit of diced jalapeño and squash in the center.
And then fold the sides together, creating a half moon shape.
Pinch the edges to seal the pupusa.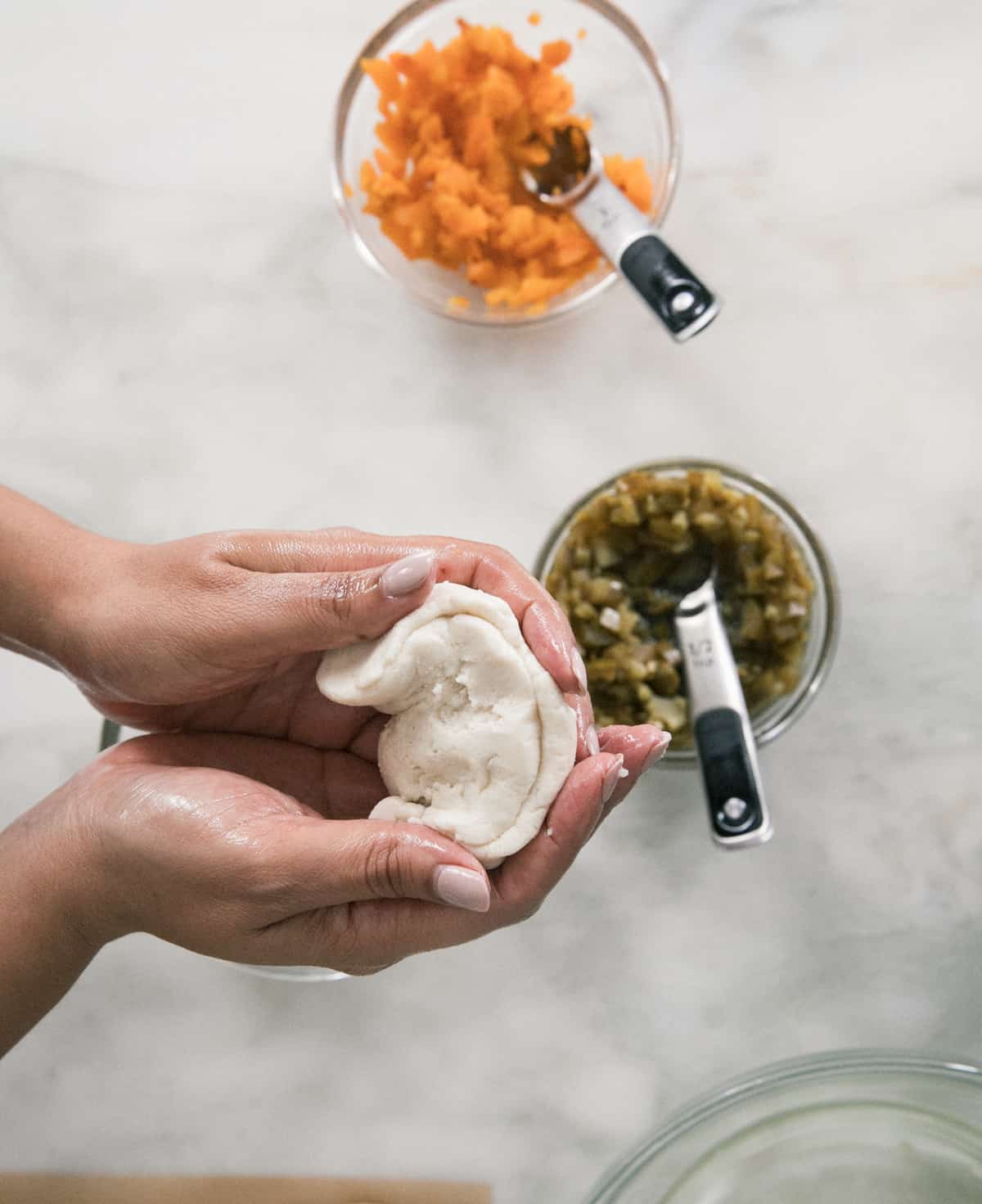 How to Assemble Pupusas!
After you've filled the pupusa and have shaped it into a half moon shape, tuck in the sides.
And gently pat the dough, flattening it, alternating your hands until it reaches about 1/2-inch thick and about 4-inches in diameter.
Dip your hands in the oil and water mixture, as needed.
Repeat with the remaining masa!
Cook 'em in a pan over medium high heat. And/or you can use a cast iron skillet. Add the pupusas on a hot pan. I tried to cook them for 2 to 3 minutes but found that they more needed, like, 4-5 minutes per side.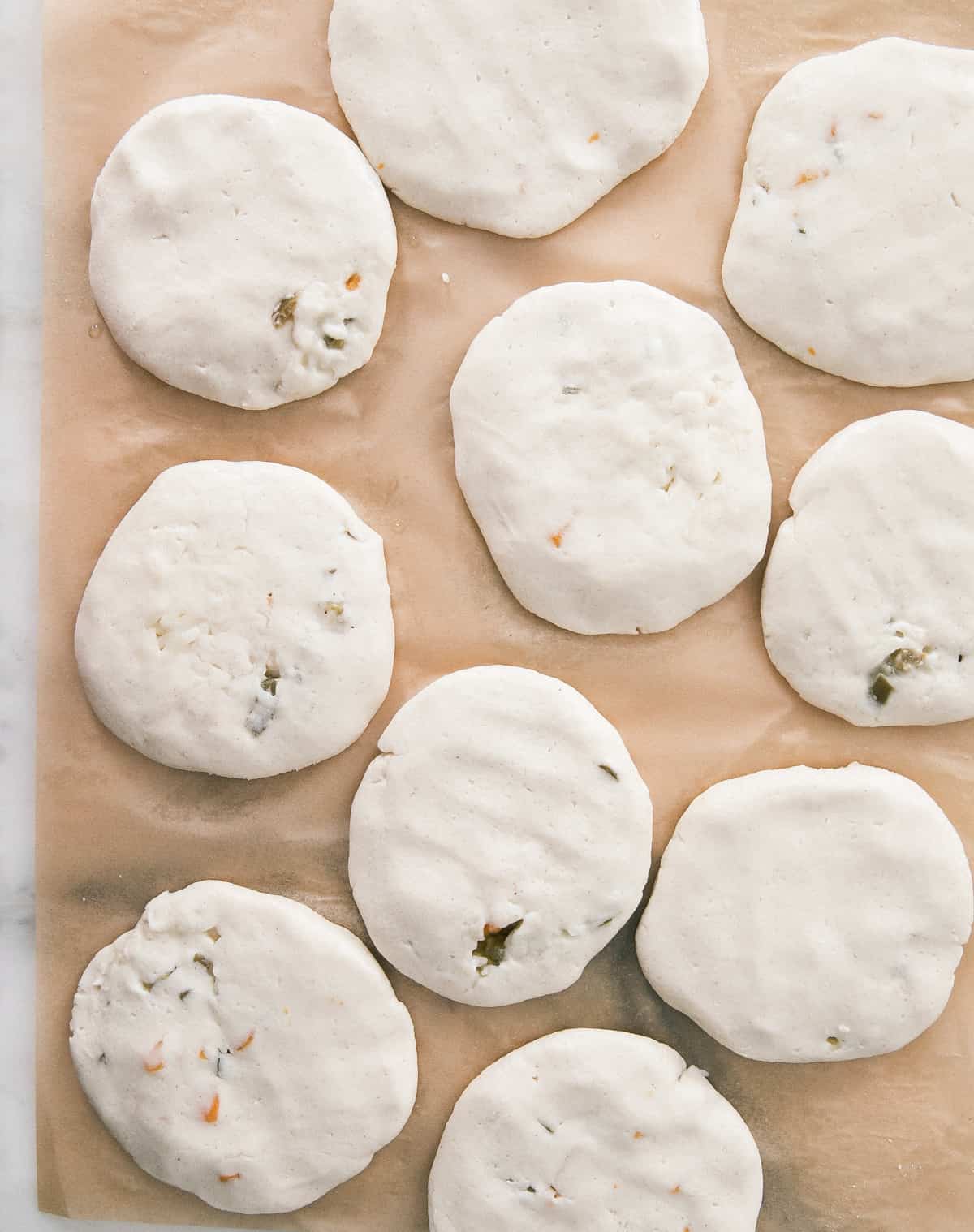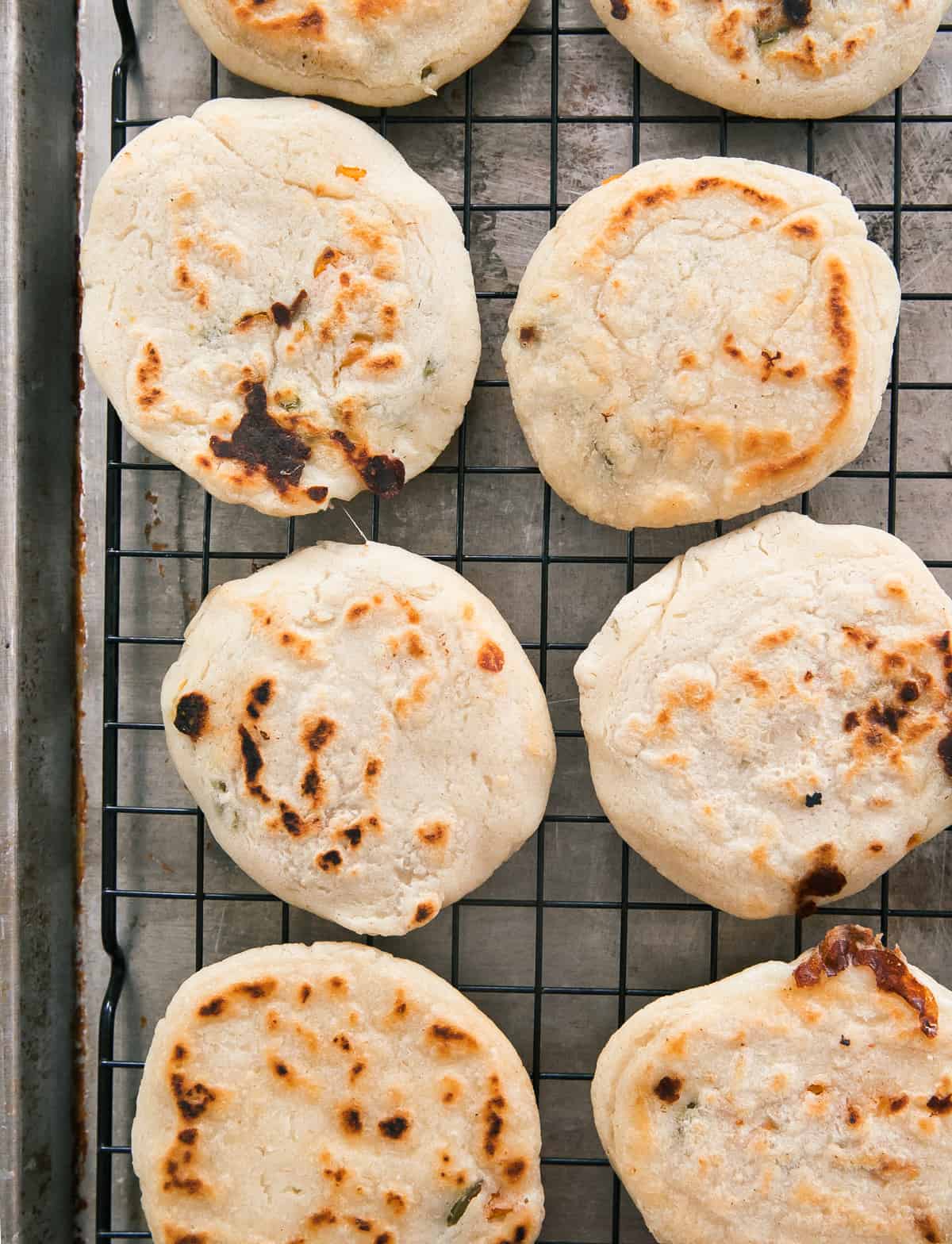 Can You Freeze Pupusas?
Absolutely! Yes, you can definitely freeze pupusas. To freeze pupusas, this is what you should do:
Place assembled (but not cooked) pupusas on a baking sheet lined with parchment.
Add the baking sheet with the pupusas to the freezer and allow to chill and get cold for 20 minutes.
Transfer the pupusas to an airtight container or freezer-safe plastic bag and write the date on the bag or container.
Place in the freezer to freeze for up to 4 months.
To cook frozen pupusas, cook from frozen. No need to thaw them at all! They make 1 to 2 more minutes to cook.

Can You Use Tamale Masa For Pupusas?
It's slightly different. Tamale masa has oil, lard or shortening, while pupusa masa dough does not. I find it different and it's so easy to make that I don't see why you wouldn't just follow the recipe below 🙂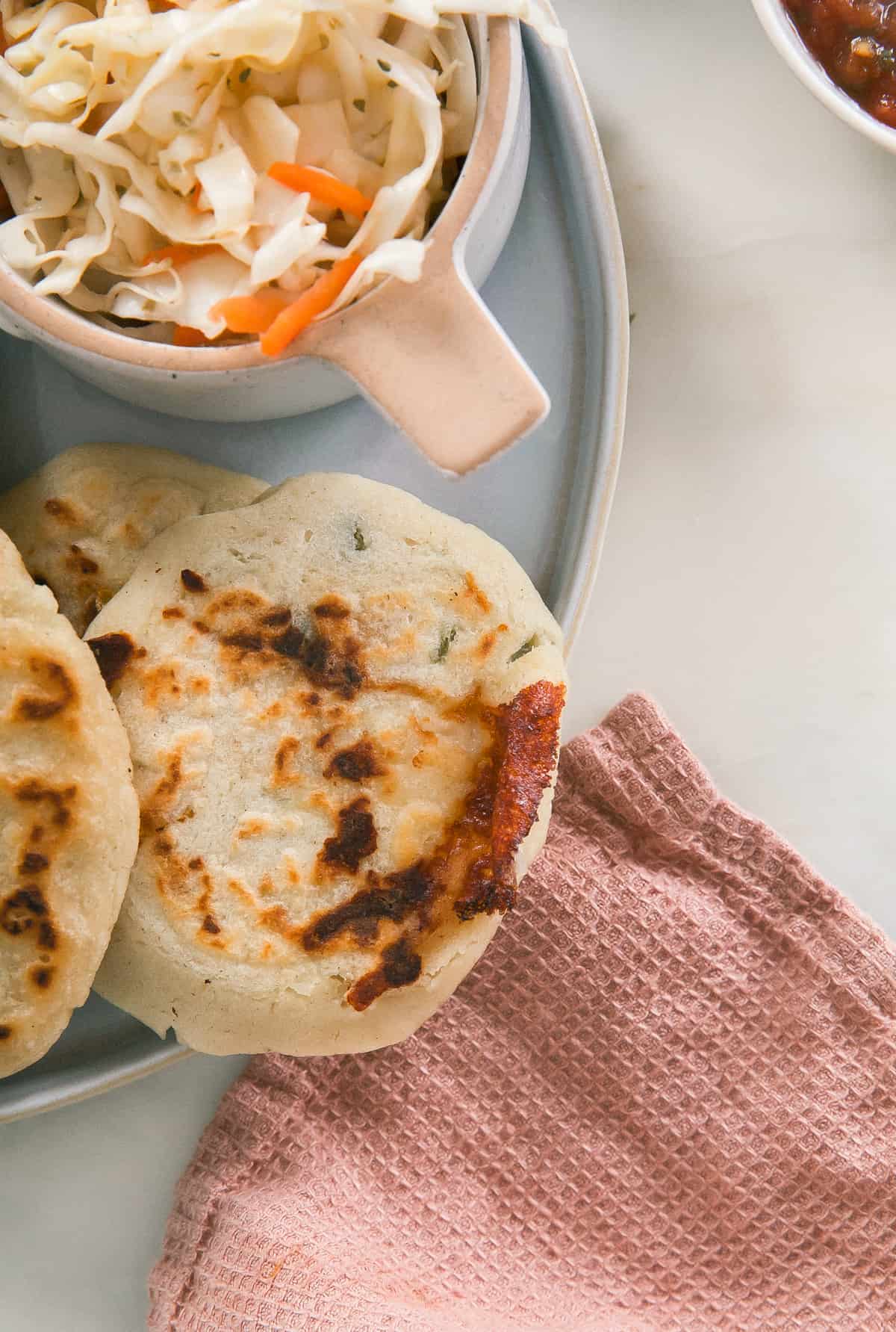 Tips and Tricks for Making Pupusas
I used a 2 ounce cookie scoop to divide the dough balls. It made it super quick and easy and made it so they were mostly the exact size.
Make sure your hands are always oiled. This dough is super sticky and the oil helps so much!
While forming the pupusas, if a tear appears, simply pinch the masa shut. Also if a bit of cheese leaks out of the pupusa while cooking it, that'll be delicious and make a bit of a cheese chip.
Let gravity be your friend. When you move the ball of masa from palm to palm, gravity will help make it get a bit flatter. Each time you move it from palm to palm, you should be gently flattening it.
When I was done forming each pupusa, I placed them on a piece of parchment. You can use a plate or cutting board, just be sure to grease it with a bit of oil so the formed pupusas don't stick.
If you don't own a large griddle (I don't own one) and want to keep the pupusas warm while you work your way through cooking them, use your oven. I like to place a cooling rack on top of a baking sheet and stick it in a 200 degree F oven. When I'm done making each pupusa, I just transfer it to the rack in the oven.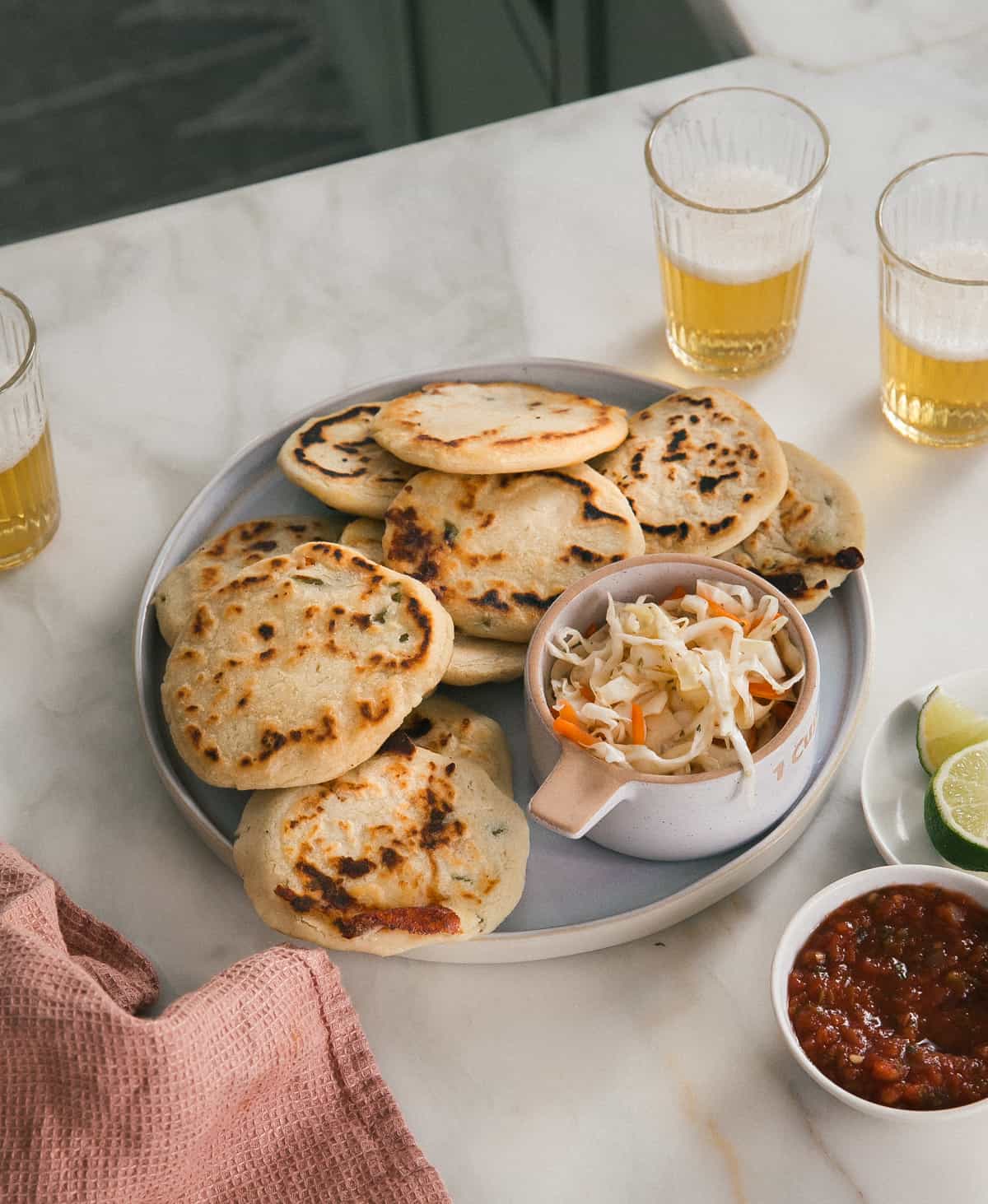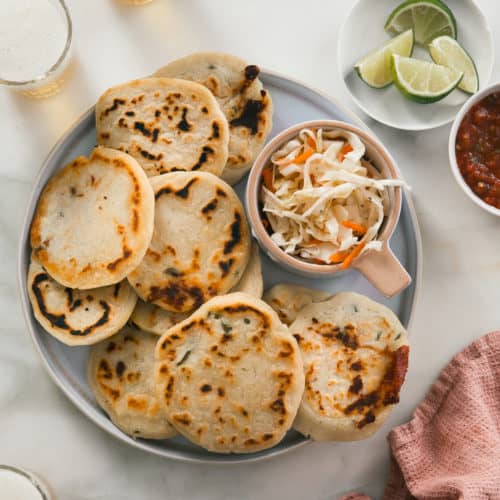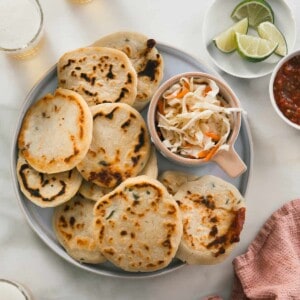 This is a step-by-step on how to make pupusas! This recipe hails from El Salvador and is made by mixing corn flour with water and salt. It's topped with a quick pickled cabbage slaw called curtido.
Ingredients
Curtido:
1/2

head of cabbage

,

(2 cups of shredded cabbage)

1

medium carrot

,

grated

1

tablespoon

dried Mexican oregano

,

(if you can't find Mexican oregano, use Italian!)

1

cup

hot water

1

cup

apple cider vinegar

1

teaspoon

kosher salt

1

teaspoon

granulated sugar
Pupusa Dough:
3

cups

(11.8 ounces/334g) masa harina

,

(such as maseca)

2

teaspoons

kosher salt

2 3/4

cup

cold water

,

(from the faucet is fine)
Filling:
2

cups

(7.5 ounces) shredded mozzarella

,

(or Oaxacan cheese or any other melty cheese)

1/2

cup

pickled jalapeño peppers

,

diced

1/2

cup

diced roasted butternut squash
For Hands:
1

cup

water

2

tablespoons

olive oil or neutral oil
Directions
To Make the Curtido:
To a medium bowl, toss together the cabbage, carrots and Mexican oregano. In a measuring cup, stir together the hot water, vinegar, salt and sugar; pour it over the cabbage/carrot mixture. Allow it to come to room temperature and then cover it with plastic wrap and transfer it to the fridge for at least 4 hours and preferably a day before serving.

To Make the Pupusa Dough:

In a medium bowl, whisk together the masa harina and salt. Pour in the cold water and using a spatula, stir the masa until mostly combined. Then, using your hands, mix the dough until a very soft dough forms. The dough will be very soft. This is totally okay; this means a delicious pupusa is on the way!

I found it easiest to use a 2 ounce ice cream scoop and scoop out the masa into balls onto a piece of parchment. You could also do this with your hands but be sure to make the water/oil mixture above and coat your hands with it first.
To Assembe the Pupusas:
Add the water to a measuring cup and pour in the oil (you can eyeball this). Lightly dip your hands in the water/oil mixture, making sure your palm are evenly coated. This will make it so the masa doesn't stick to your hands.

Preheat your oven to 200 degrees F. I like to place the pupusas in the oven while I make the rest of the pupusas so they can stay warm and melty. I placed a cooling rack atop a baking sheet and placed it in the oven.

Working one at a time, flatten the balls gently until they're about 1/2-inch thick discs. Place a tablespoon or two of mozzarella cheese, a small bit of diced jalapeño and squash into the center and wrap the dough around the filling creating a half moon shape. Pinch the edges to seal it completely. And then pat the dough gently, flattening it and alternating hands until it reaches about 1/4-inch thick and about 4-inches in diameter. Feel free to re-grease your hands as needed. Repeat with the remaining balls of dough.

Meanwhile, preheat a cast iron skillet over medium heat. Add a teaspoon of neutral oil and brush the surface with a silicon brush. Add the pupusas to the pan, fitting two to three at time. Don't be shy to break out another cast iron skillet (if you own it). Cook each pupusa for 4 to 6 minutes per side and then transfer to the baking sheet in the oven. Repeat this process until you've worked your way through all of the pupusas.
To Serve the Pupusas:
Serve the pupusas with the curtido, wedges of lime and salsa.
Nutrition Facts
Pupusa Recipe
Amount Per Serving (14 g)
Calories 125
Calories from Fat 27
% Daily Value*
Fat 3g5%
Sodium 500mg22%
Potassium 12mg0%
Carbohydrates 10g3%
Protein 2g4%
Calcium 1mg0%
Iron 1mg6%
* Percent Daily Values are based on a 2000 calorie diet.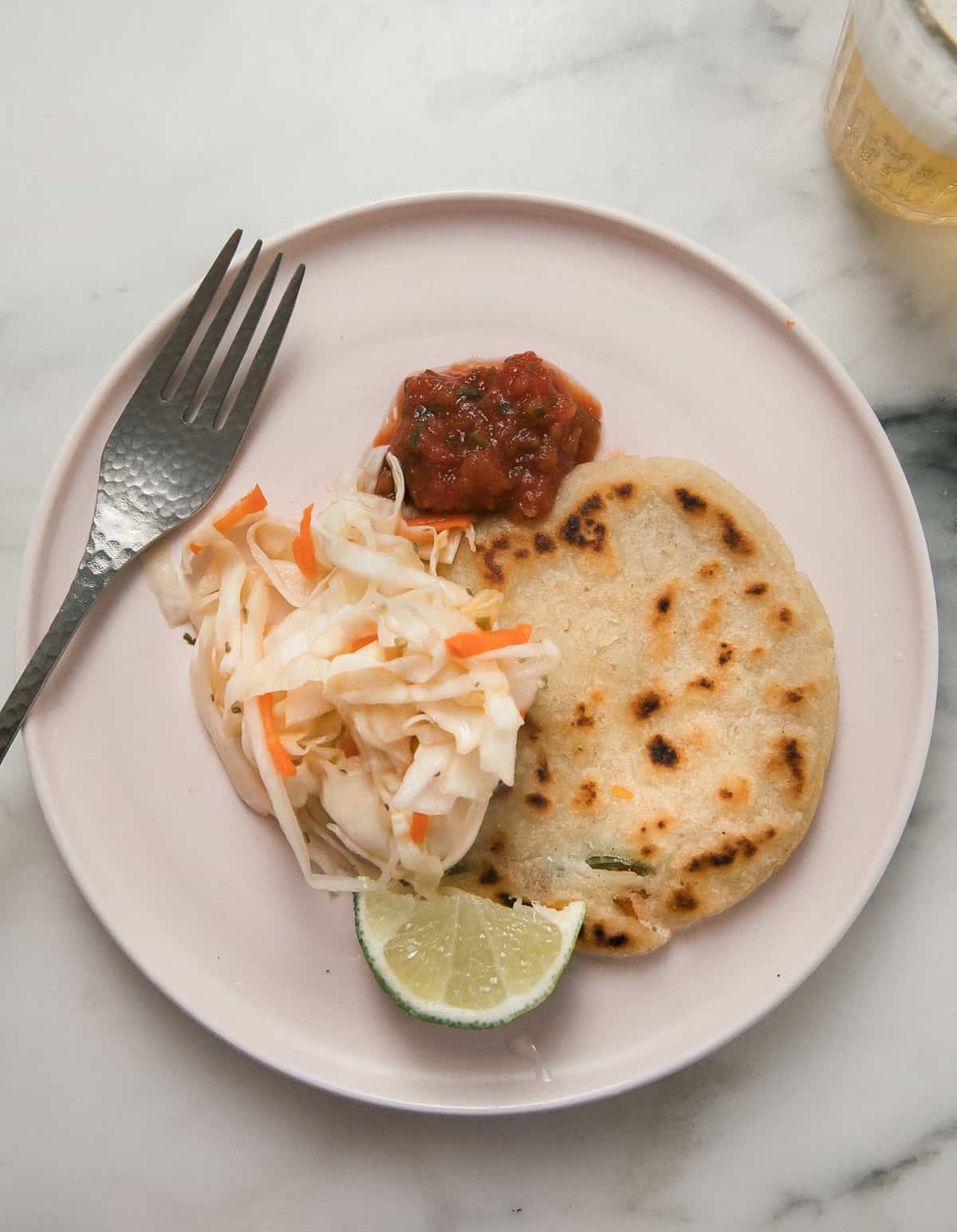 Looking for more Latin-inspired recipes? Here are some other favorites: 
Here's a step-by-step video on How To Make Pupusas!