Arepas are a cheesy like-pancake from Colombia and Venezuela. They are made from P.A.N., a corn flour and filled with melty cheese and served as breakfast, lunch or a midday snack.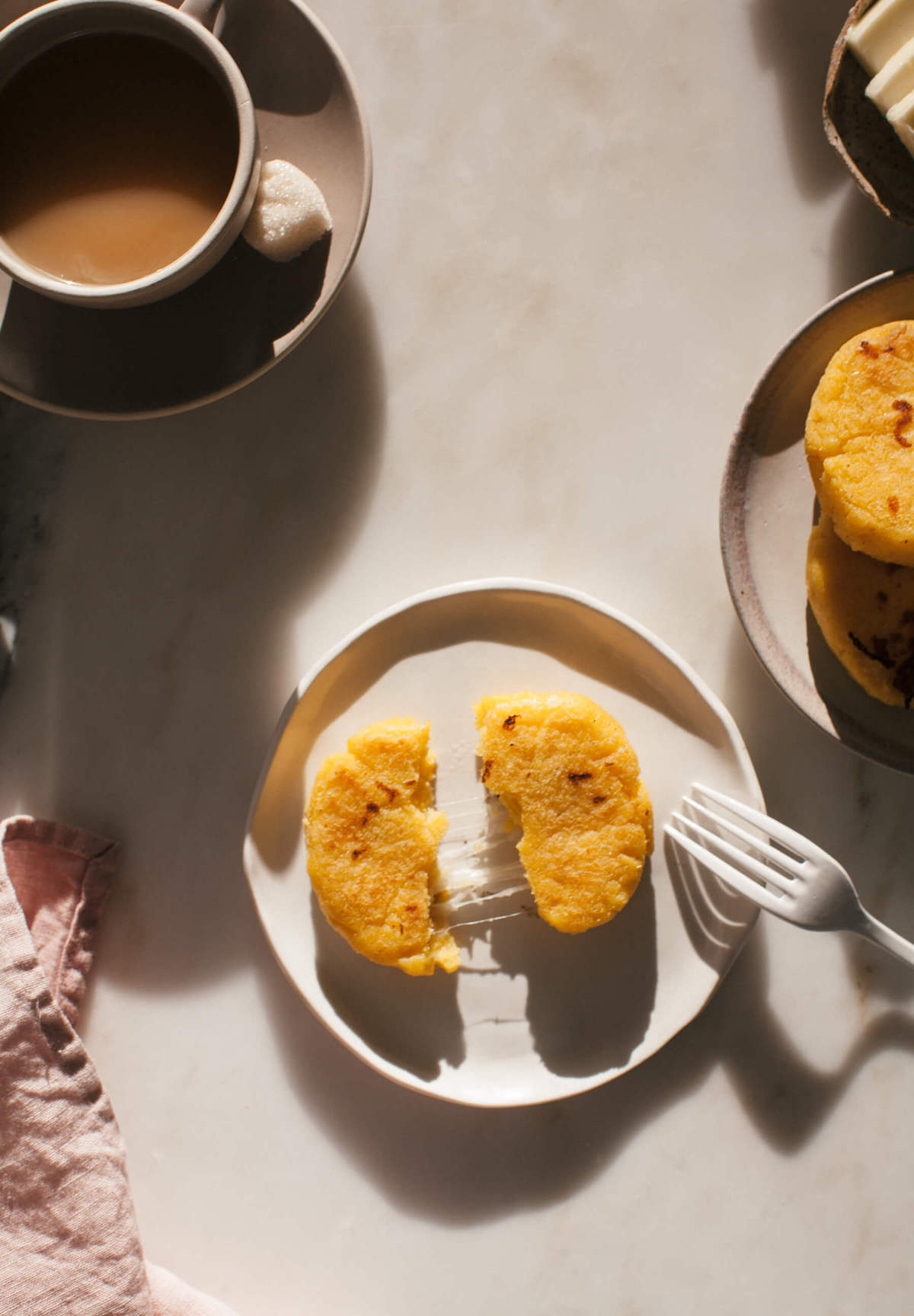 These were sorta sometimes my breakfast as a kid.
My mom isn't Colombian so this wasn't something she made for us. Instead, it was something that my dad's aunt taught me how to make. But since I was a lazy teenager, I never wanted to make them. I'd drive to this little Colombian restaurant near my house where they sold them frozen in batches of twelve. I'd just heat them up in oven and boom…breakfast, lunch, a snack.
They always were more cheesy than maybe arepas should be and I was totally ok with that. This and a Colombiana (a bright orange soda) were always my favorite after-school combination. In fact, all of my friends–none who were Colombian or even Latino–would come with me to the Colombian restaurant them with me.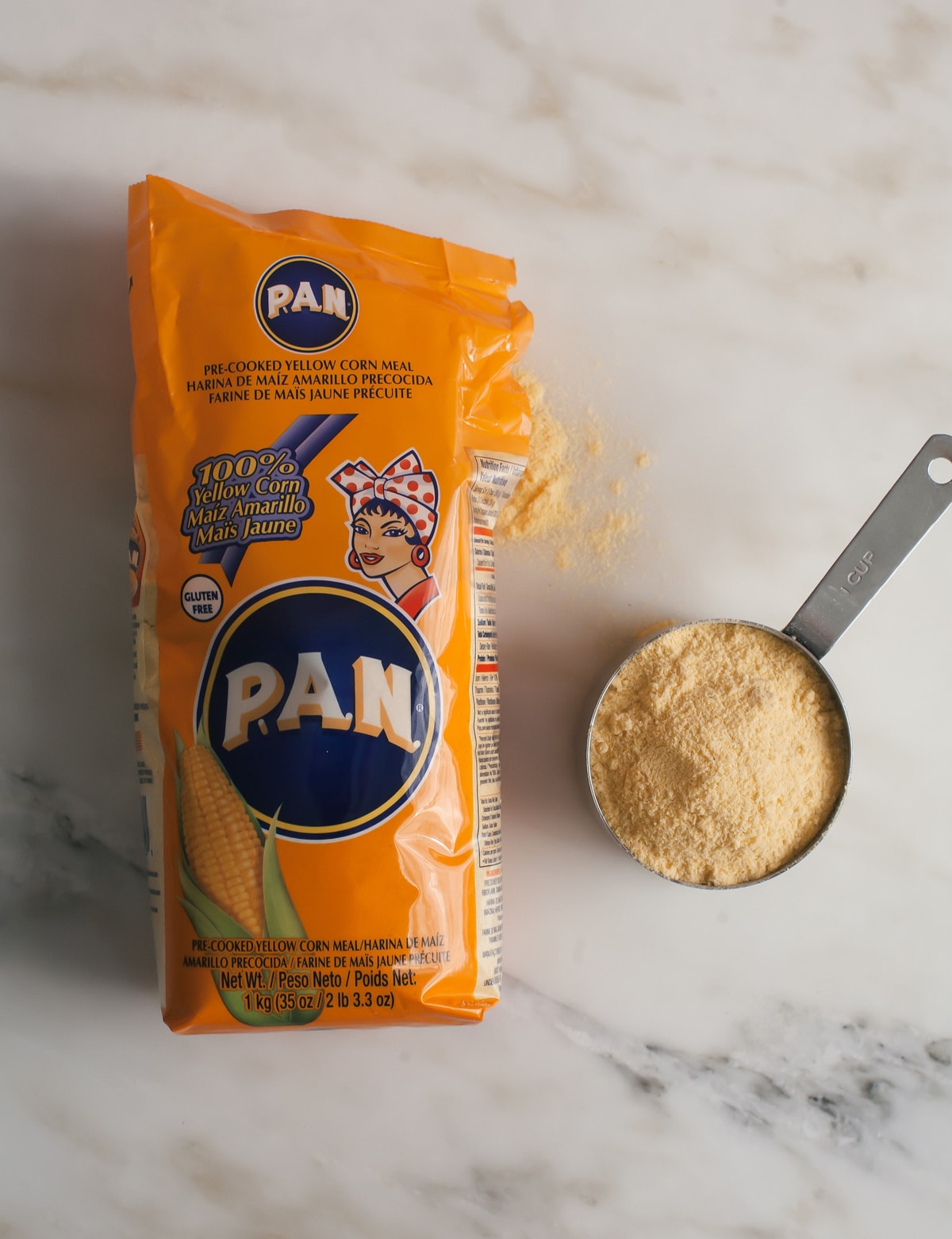 Arepas are made with PAN, which is essentially a finer MASA. It's considered more like corn flour than corn meal.
They couldn't be simpler. Once the corn flour is mixed with a combination of warm water, butter and salt, it rests. This gives you time to get your skillet on the stove and your mozzarella cheese all ready.
A lot of these types of recipes are by feel. My tia never really gave me a recipe, she just taught me basic measurements and more about how things should feel and take shape. Latinos are fun like that!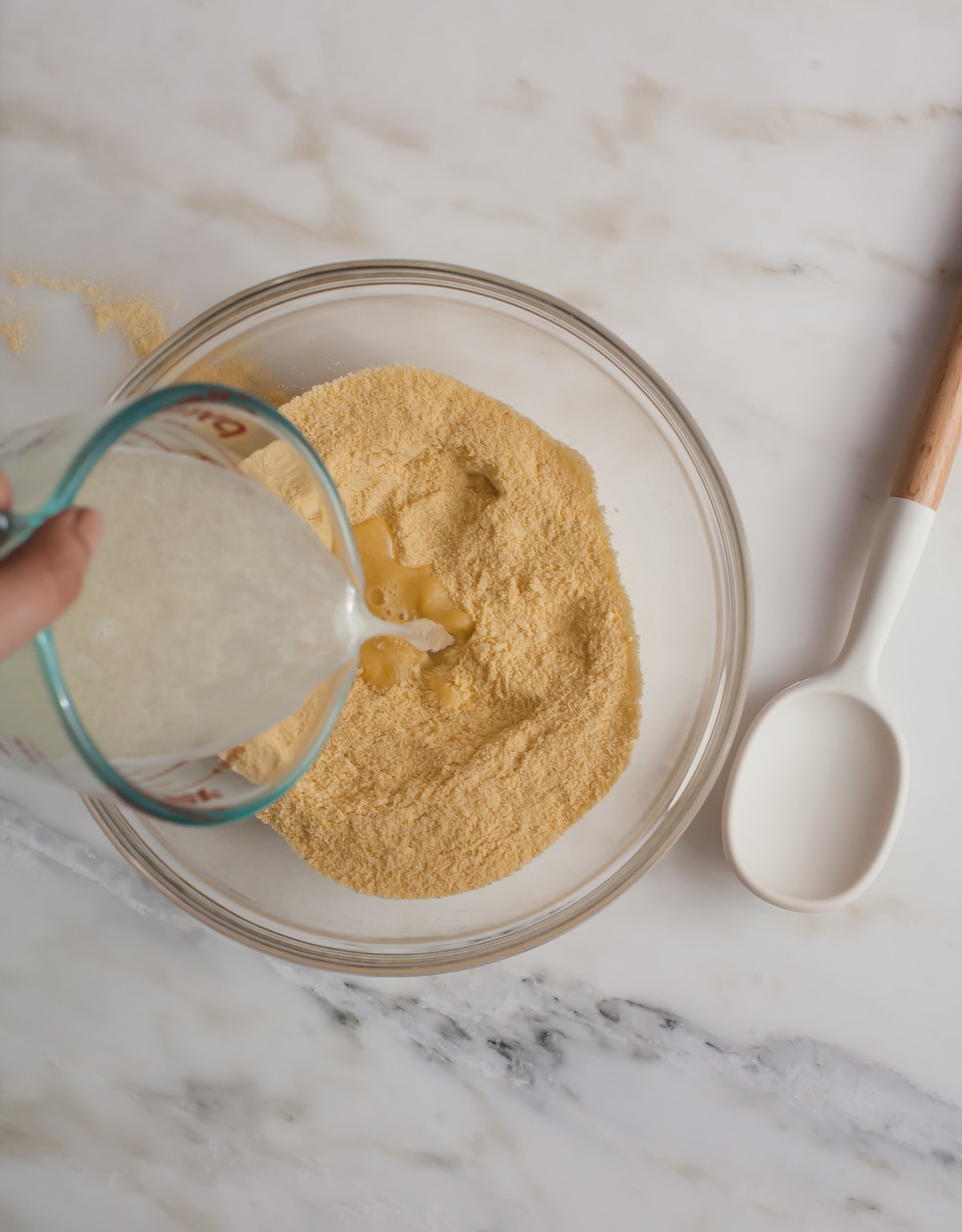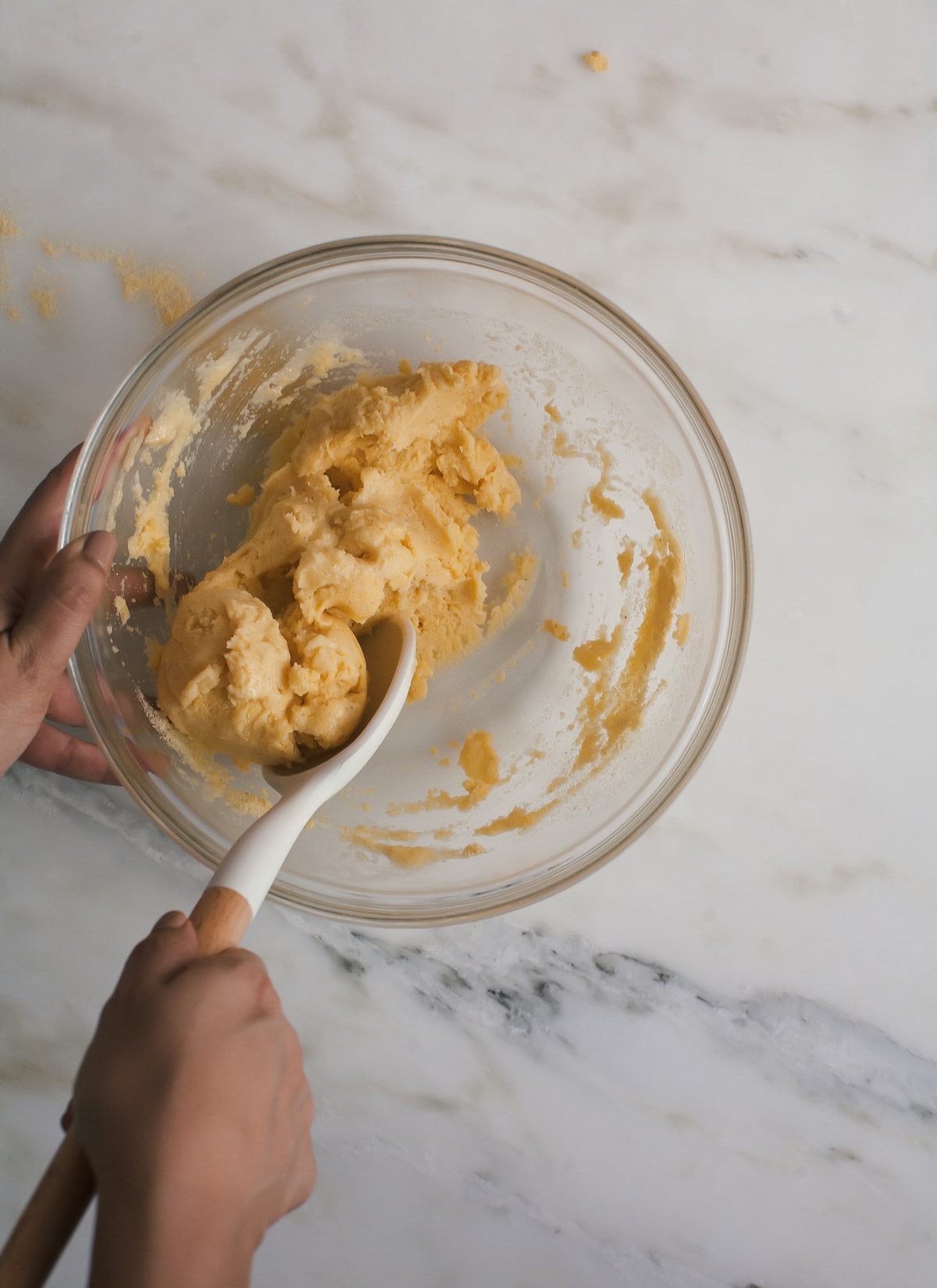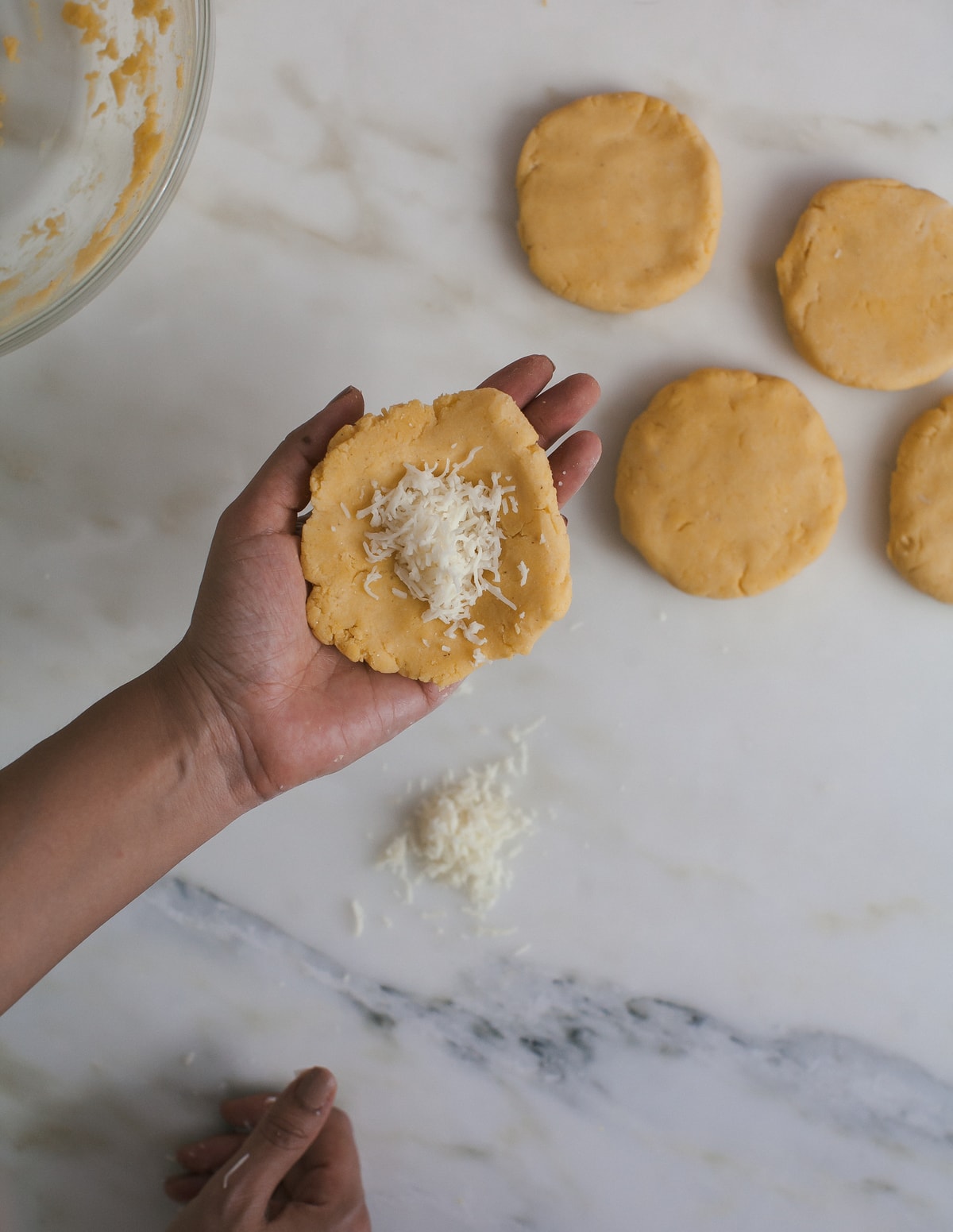 And then the arepas are formed and stuffed with shredded mozzarella. You could get fancy with your cheese but I decided to keep it classic and simple.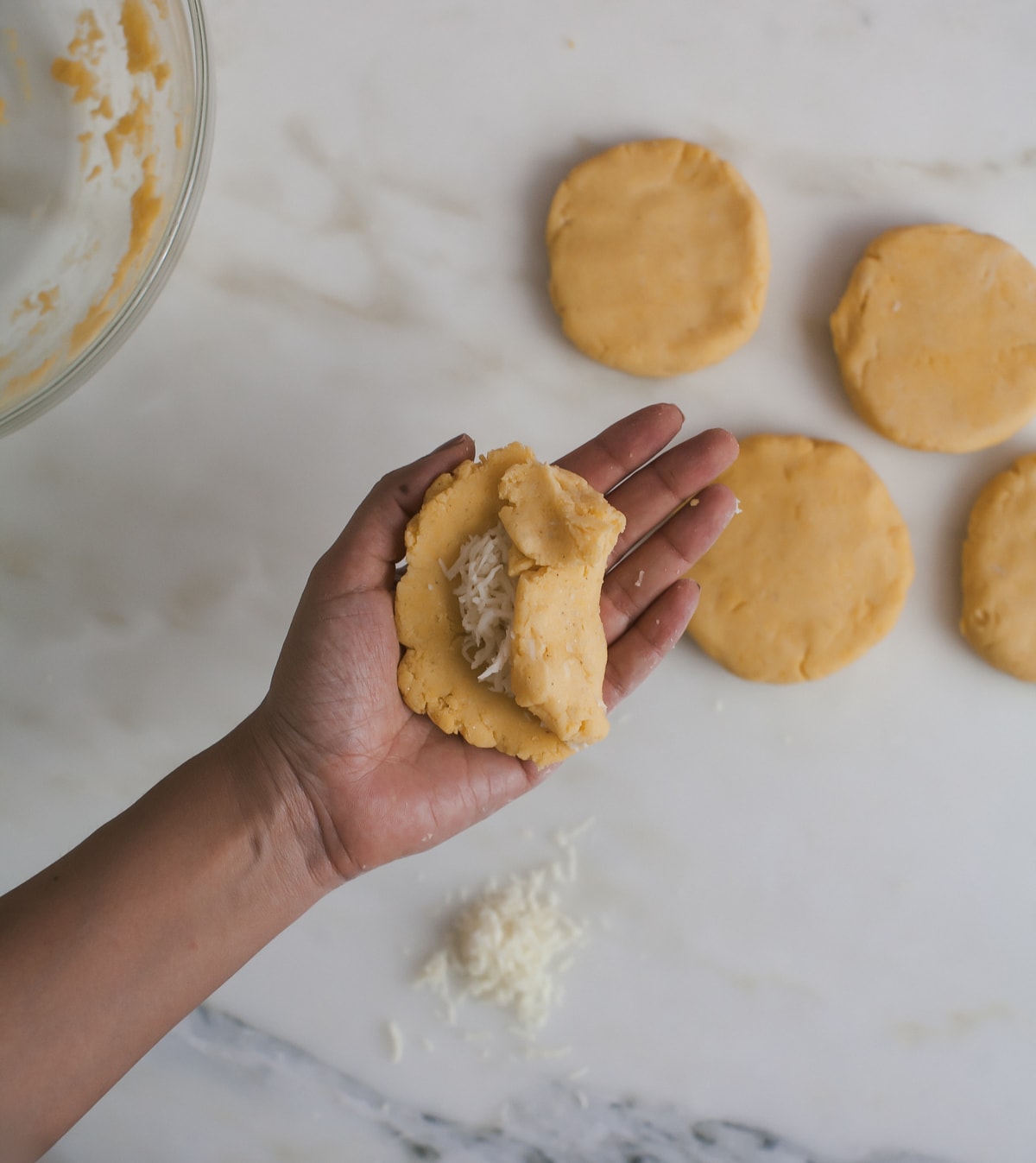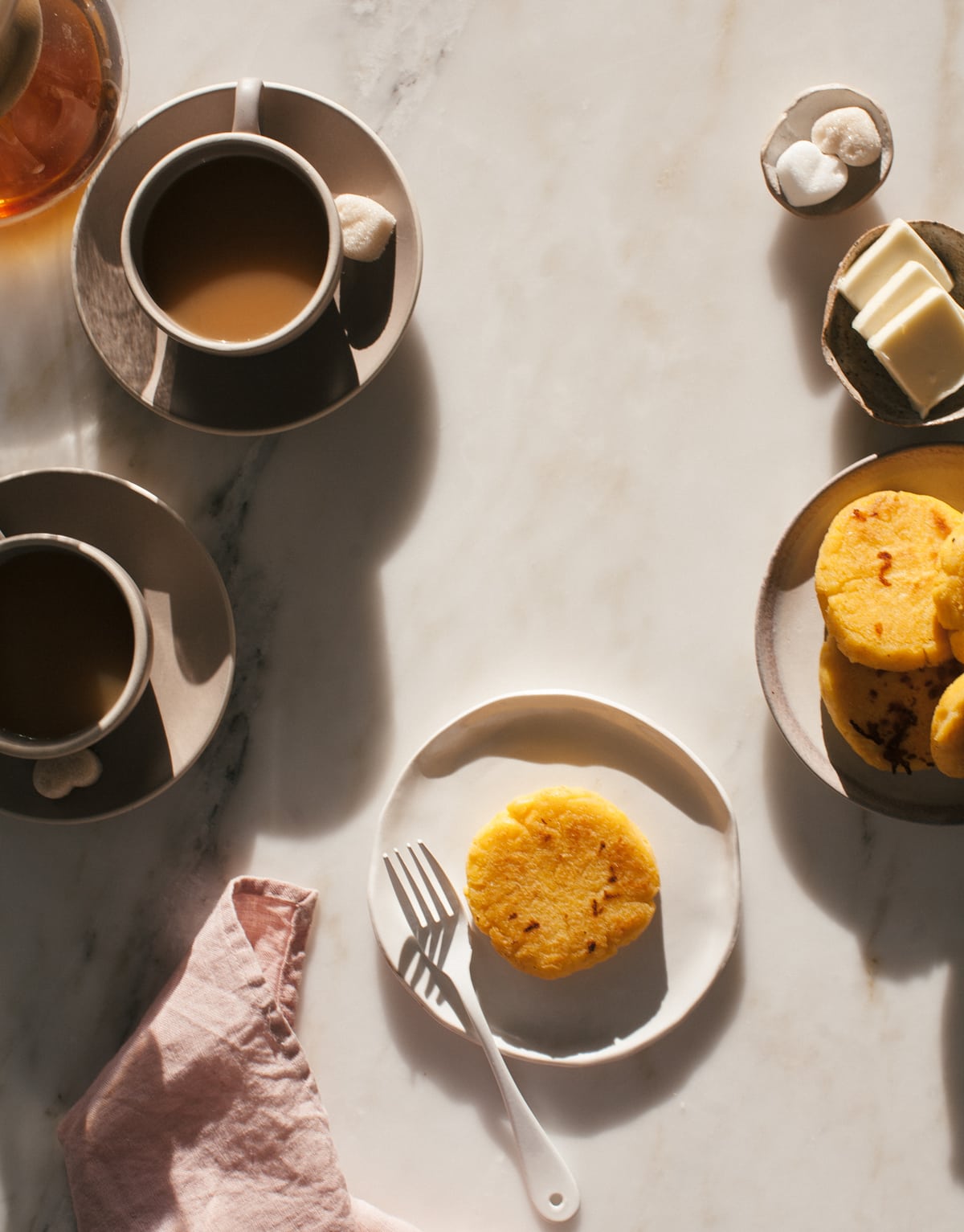 After they're cooked on a flat top with a pat of butter, you're supposed to pour the coffee, add the milk, pull out the paper (or your iPad)…and chill.
When you pull the arepa apart, the cheese will be melty and gooey and make you realize that cheese-pulls are one of the best things in the entire world.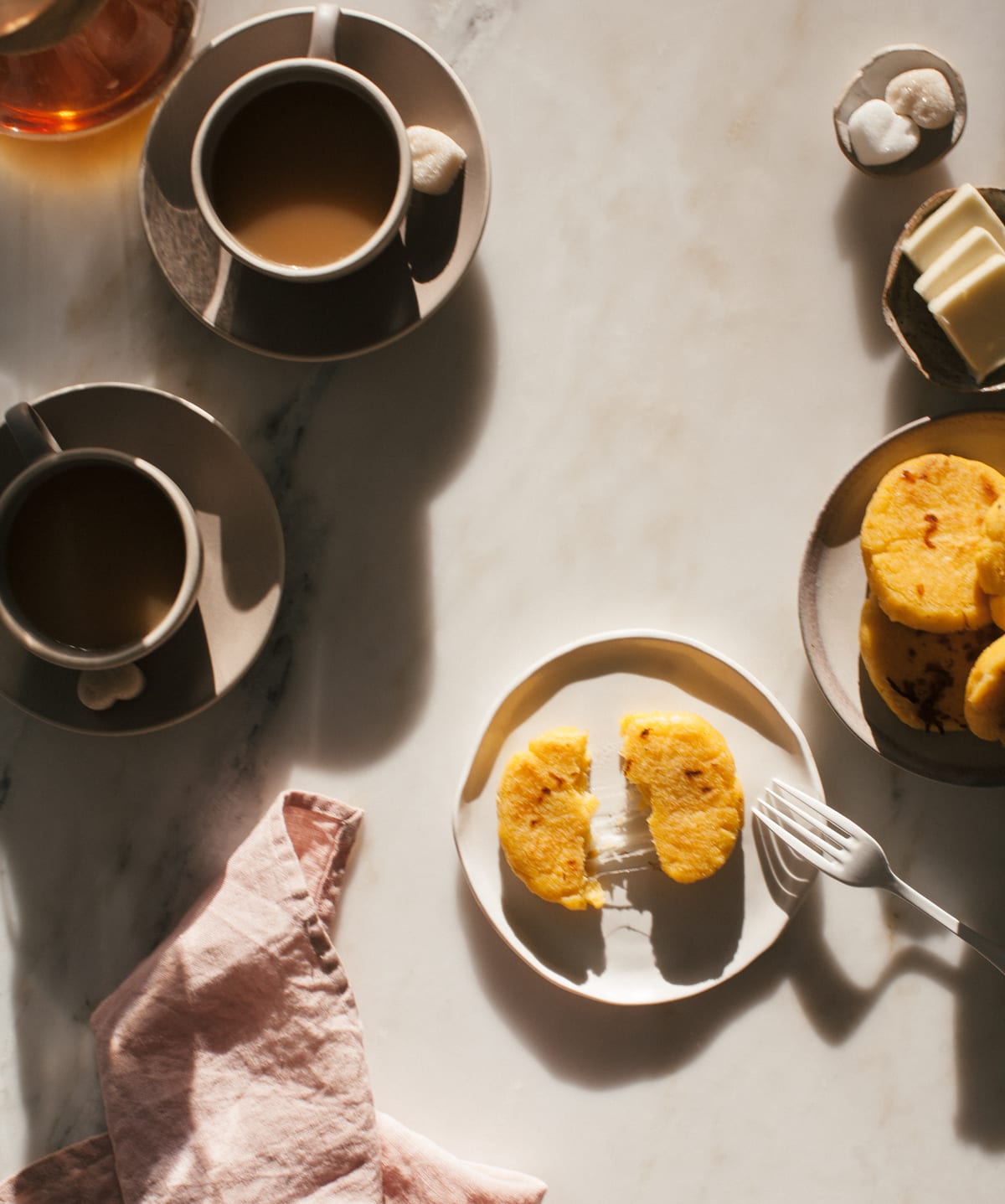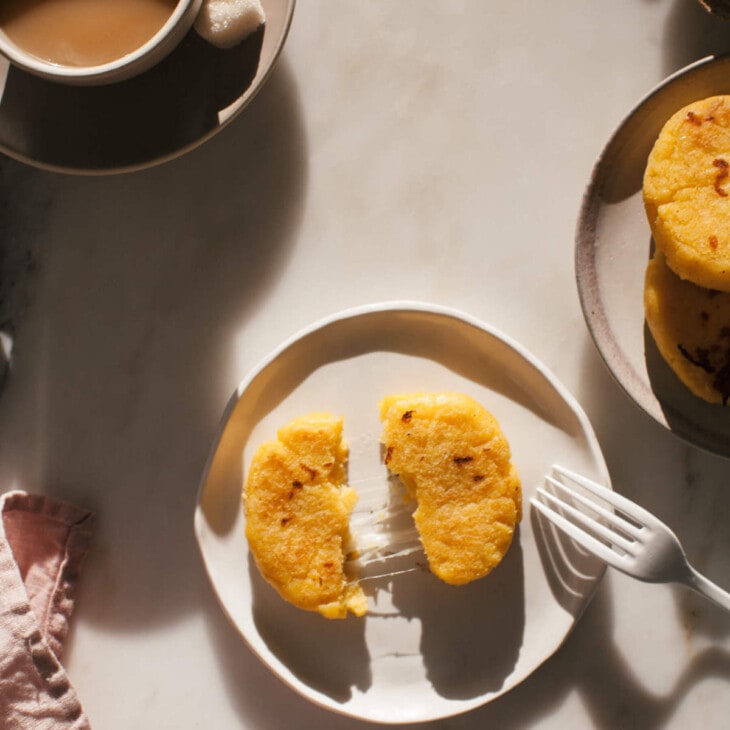 Print Recipe
Arepas
Arepas are a cheesy-filled like-pancake from Colombia and Venezuela.
Ingredients
2

cups

warm water

2

tablespoons

unsalted butter

melted

1

teaspoon

salt

2

cups

yellow or white corn flour

P.A.N flour

1/2

cup

shredded mozzarella cheese

1

tablespoons

unsalted butter

for the pan
Instructions
In a medium bowl, mix together the warm water, butter and salt. Place corn flour in another bowl, making a well in the center. Pour the liquid into the well, mixing with you hands until thoroughly combined. At first dough will stick to your hands; continue until it's soft and no longer sticky. Cover with a damp linen and allow the dough to rest for 10 minutes.

Separate the dough into 6 balls. Place the ball onto your palm, and flatten the ball into a disc, alternating between your two hand, that is 1/4-inch thick and 3-inches in diameter. To the center, add a tablespoon (you can eye ball this measurement) of mozzarella to the center. Fold in the sides until the mozzarella is no longer visible. And then gently form it into a 1/2-inch thick disc and press around the edges to eliminate any cracks.

Over moderately medium-high heat, brush the skillet with about the butter. Once the skillet is hot, add the arepas, being sure to not overcrowd the pan. Cook for 7-10 minutes on each side, until golden brown. Transfer the cooked arepas to a warm oven until you've gone through all 6.