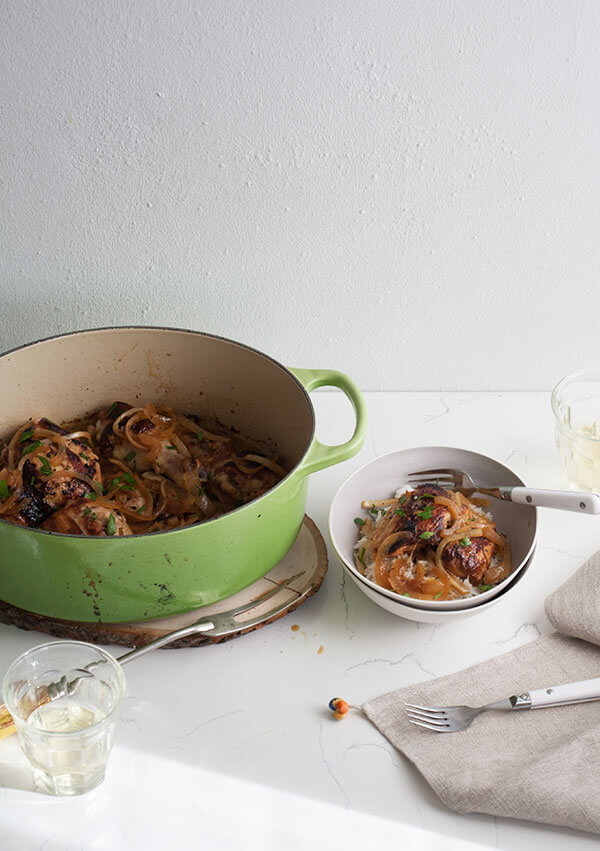 There are days when I miss home. I didn't grow up with my mom cooking Cuban food, but when you grow up most of your life in South Florida, Cuban food tastes like home, too.
Cuban food was a big part of my eating growing up. If there was a big family get together, we'd often times be eating at a Cuban restaurant. There were days when I'd get out of school and head to little hole in the wall Cuban joint and I'd sit there with my friends, in our Catholic school uniforms, drinking coke and eating chicken palomilla, maduros and my all-time favorite, ropa vieja.
I hardly ever get the opportunity to eat Cuban food now (the few Cuban restaurants in Los Angeles are kinda awful) so when this cookbook, The Cuban Table by Ana Sofia Pelaez, arrived at my doorstep, I was V V excited. I began thumbing through it, ooing and ahhing.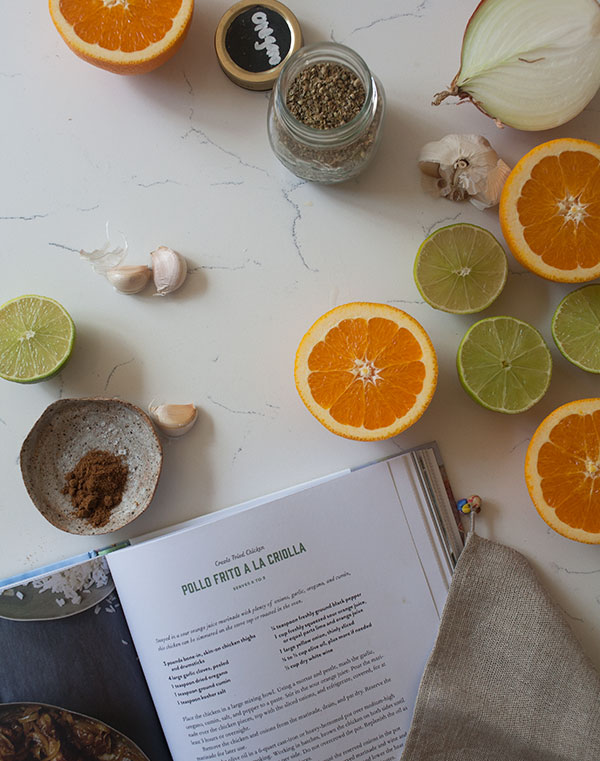 I landed on this chicken because it has everything I love about Cuban cooking. It's inexpensive, it uses my favorite parts of the chicken (dark meat 4evr!) and it has mojo. MOJO IS EVERYTHING!
Mojo is a combination of sour oranges, onions, garlic and spices like ground cumin and oregano. Mojo is the heart and soul of this dish and a popular base for a lot of Cuban dishes.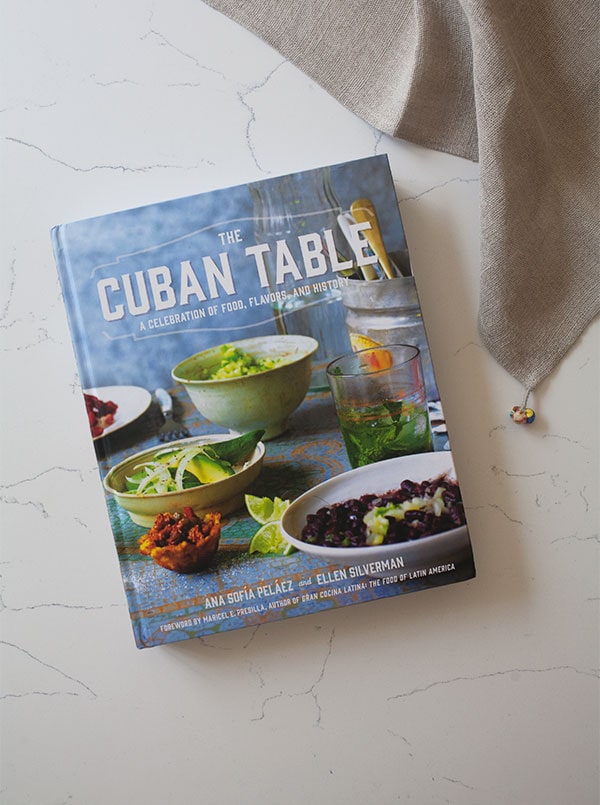 What's great is that if you don't have sour oranges (I did not), you can simply mix regular orange juice with lime juice. I love that the authors provided alternatives for the few hard-to-find ingredients that are in the book.
The book is also beautiful. It was shot by Eileen Silverman, who has shot numerous books, including Gwynnie's book, My Father's Daughter. The photos transport you to Cuba, into the markets, the countryside and kitchens. I love when cookbooks aren't shot entirely on a tabletop. I want to see the rest of the world, what type of place the food comes from and belongs to. This book shows you just that.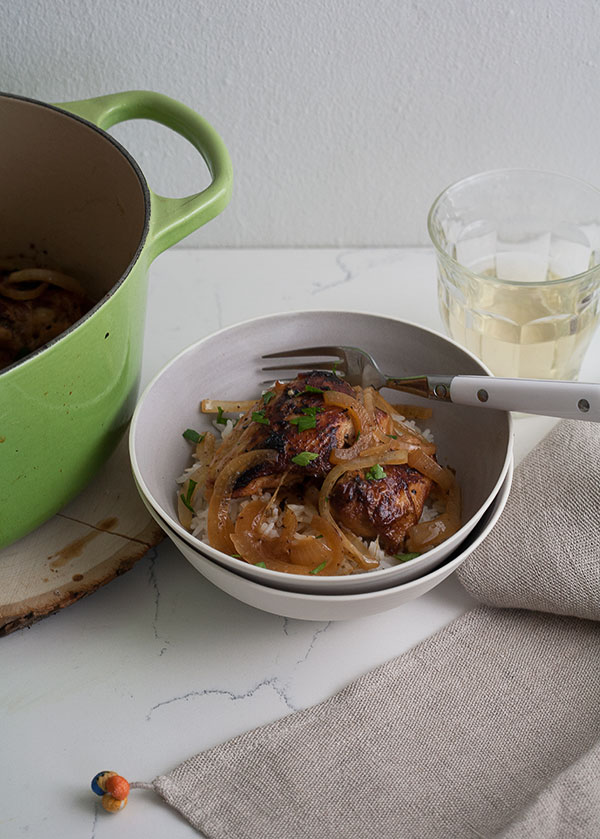 I ate this chicken for lunch and dinner. And like a lot of Latin food, this is meant to be served on a bed of rice. Everything with rice!
The chicken was tart and rich all in the same bite. The stewed onions were delicious. This recipe and book feels as if a Cuban grandmother just handed you her best recipes.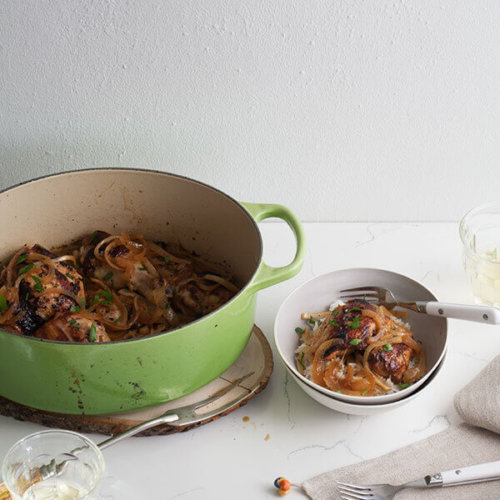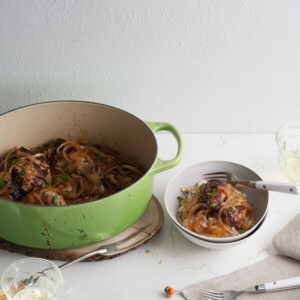 Ingredients
3

pounds

bone-in

,

skin-on chicken thighs and drumsticks

4

large garlic cloves

,

peeled

1

teaspoon

dried oregano

1

teaspoon

ground cumin

1

teaspoon

kosher salt

,

I used fine sea salt

1/4

teaspoon

freshly ground black pepper

1

cup

freshly squeezed sour orange juice

,

or equal parts lime and orange juice

1

large yellow onion

,

thinly sliced

1/4 to 1/2

cup

olive oil

,

plus more if needed

1/2

cup

dry white wine
Directions
Place the chicken in a large mixing bowl. Using a mortar and pestle (or you can use the back of a chef's knife), mash the garlic. In a measuring cup or medium bowl, add the garlic cloves, dried oregano, cumin, salt, pepper and orange and lime juice; stir until combined.

Pour the marinade over the chicken pieces, top with the sliced onions, and refrigerate, covered, for at least 3 hours or overnight.

Remove the chicken and onions from the marinade, drain and pat dry. Reserve the marinade for later use.

Heat the olive oil in a 6-quart cast-iron or heavy-bottomed pot over medium high heat until hot but not smoking. Working in batches, brown the chicken on both sides until the fat is rendered, 2 to 3 minutes per side. Do not overcrowd the pot. Replenish the oil as needed. Set aside the browned chicken pieces.

Pour out all but 2 tablespoons of the oil and saute the reserved onions in the pot until soft and translucent, about 5 minutes. Stir in the reserved marinade and wine and bring to a simmer. Return the browned chicken pieces to the pot and lower the heat.

Cook, partially covered, until the chicken is cooked through, 25 to 30 minutes.
Nutrition Facts
Pollo Frito a la Criolla
Amount Per Serving (6 g)
Calories 0
* Percent Daily Values are based on a 2000 calorie diet.