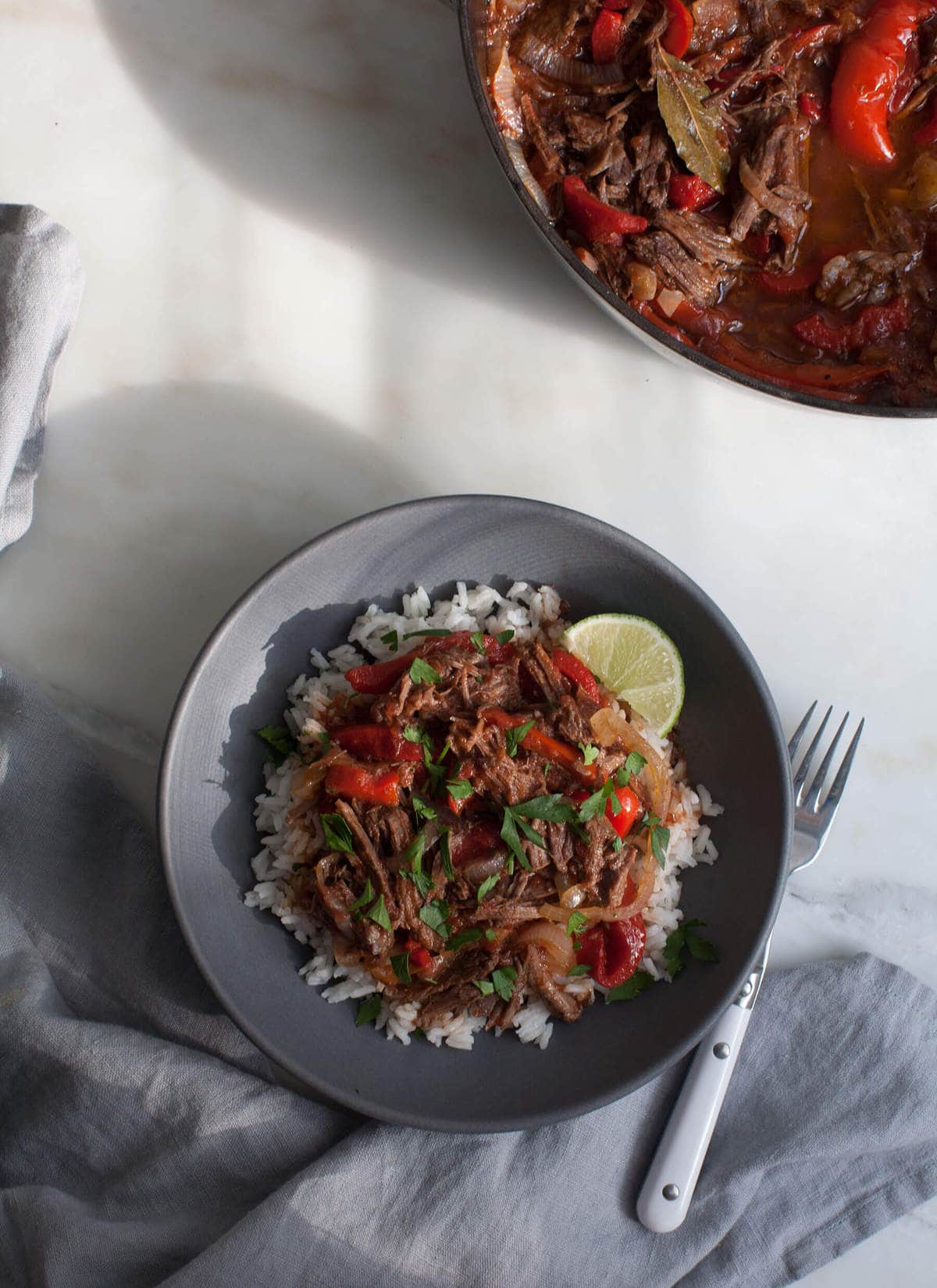 Where do I start with this recipe? Oh man, you know those recipes you've wanted to make/share for a long time? This is one of them. While my parents aren't Cuban, I grew up eating at Cuban restaurants. It's like a staple in South Florida. Everybody eats at them. They're always a great place to go with a large group of people; the food is affordable, comforting and just plain delicious.
I always, always order ropa vieja (direct translation: old man's clothes). It's shredded beef in a flavorful tomato-based sauce. I've always wanted to make it and for some reason never have.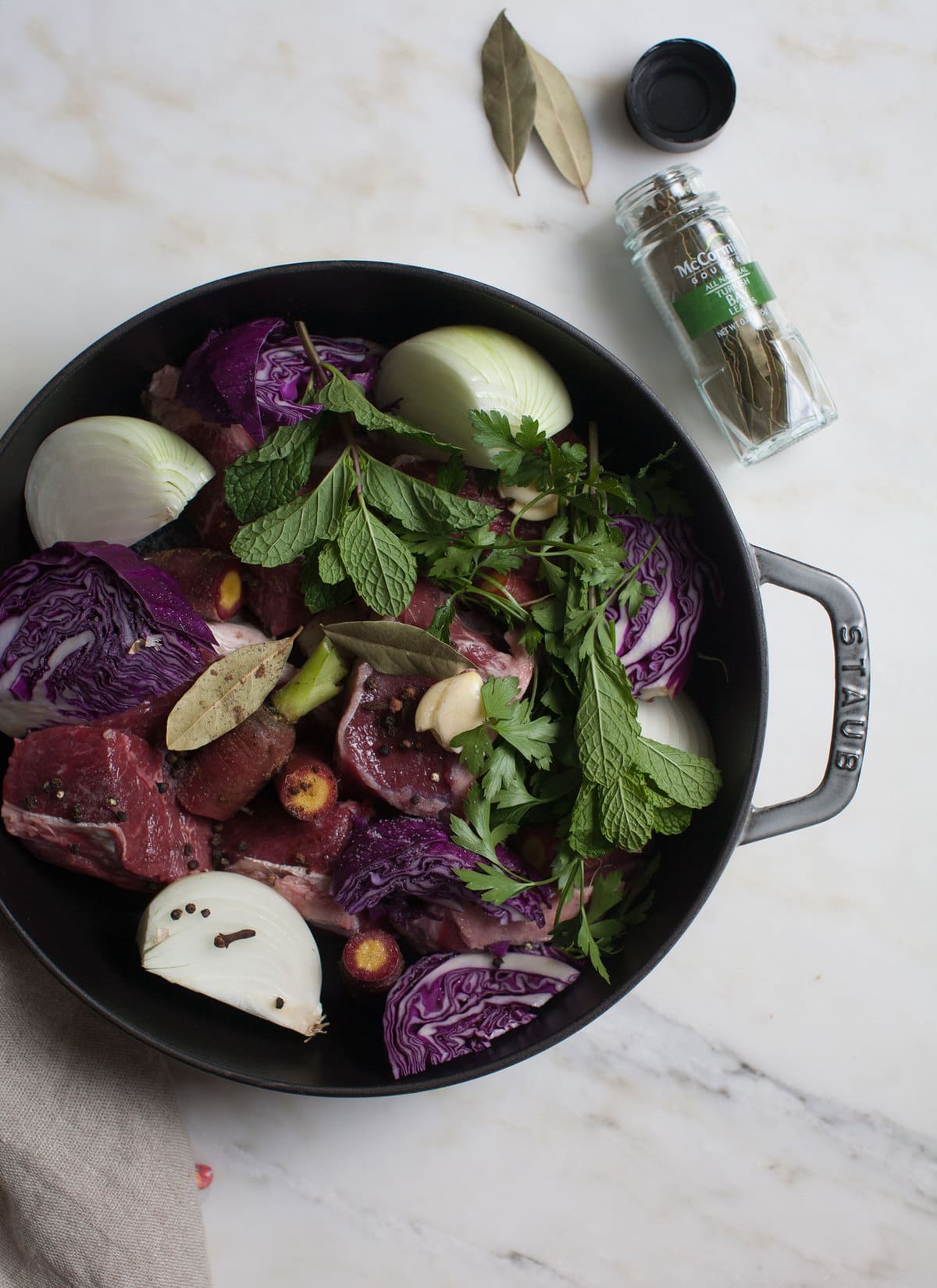 This recipe is in partnership with McCormick Gourmet. This recipe uses all sorts of spices, including the good ol' dried Turkish Bay Leaves.
Turkish bay leaves are different than the California variety. To me they're milder in flavor, less menthol-y (if that makes sense) and have a more pleasant aroma. Turkish bay leaves are also dried quickly which helps with retaining its flavor.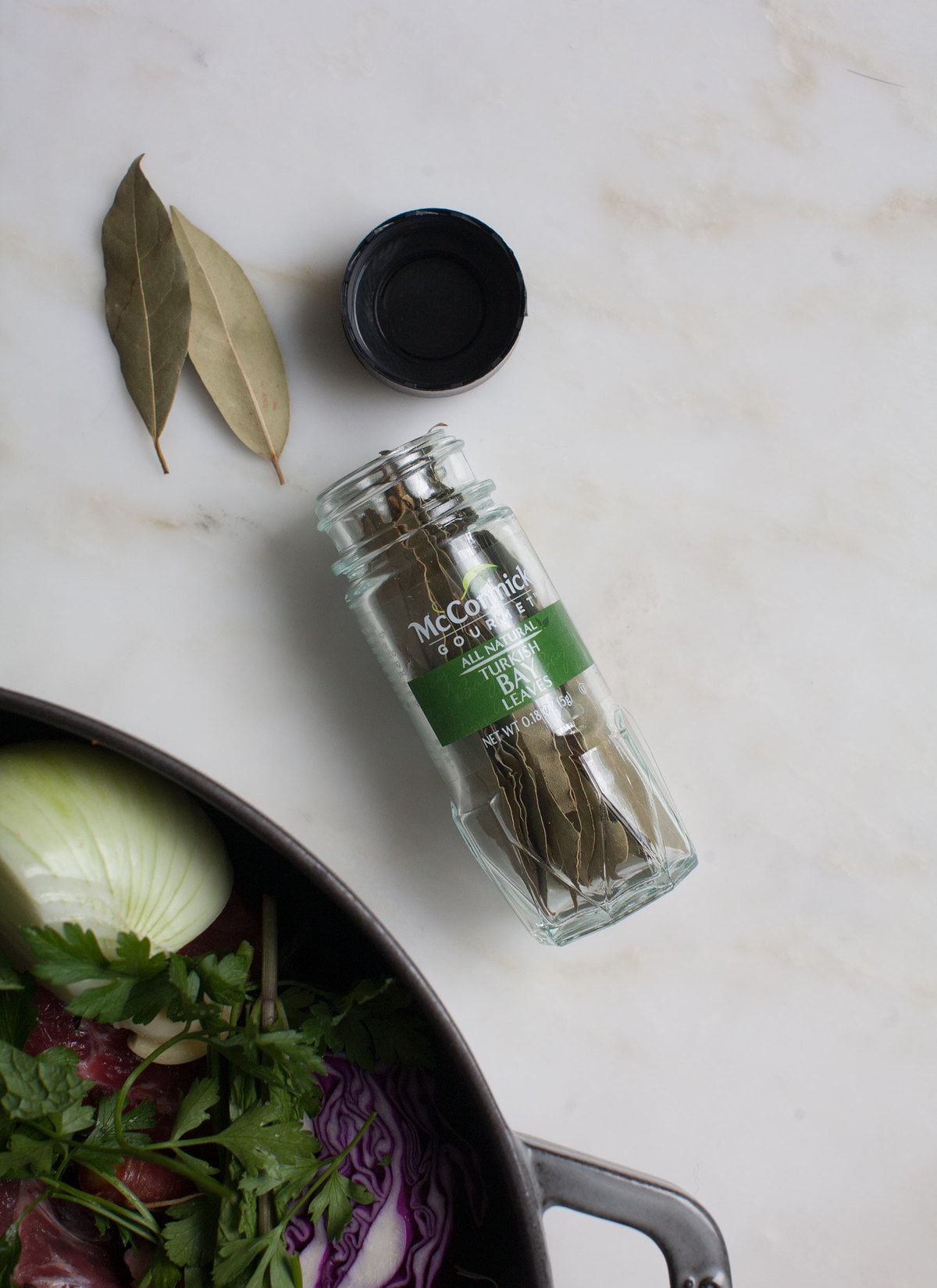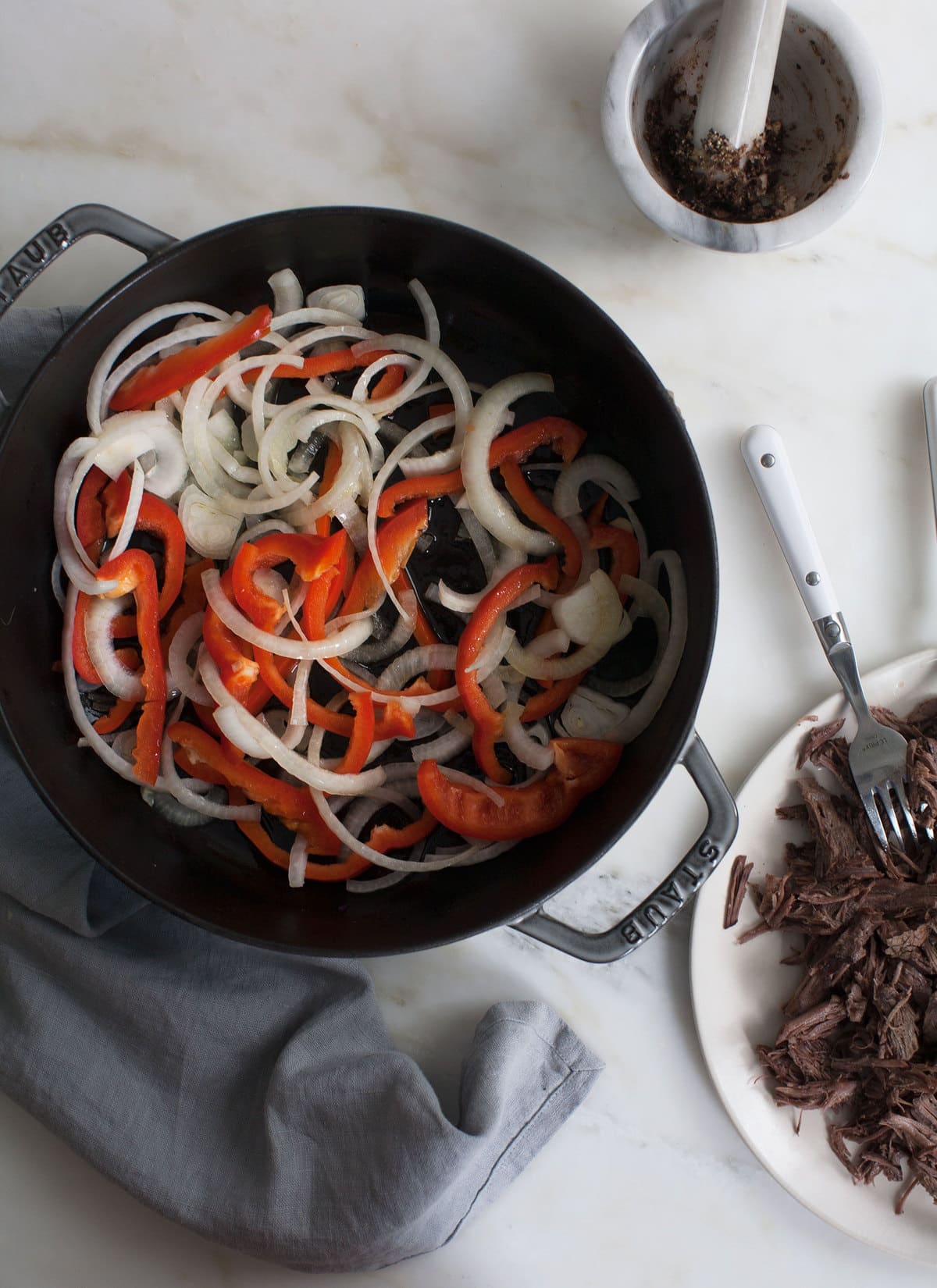 The scent and aroma from bay leaves remind me of Sundays when I was a kid. Sundays were always dedicated to lots and lots of cooking and slow cooking, things that need a good amount of time, but not a whole lot of attention.
This is definitely a "Sunday recipe."
The meat is first braised in spices, onion, carrots, cabbage and fresh herbs. After it's braised, the meat is shredded.
This is when it comes together. The ropa vieja sauce is made and then the meat is added to it.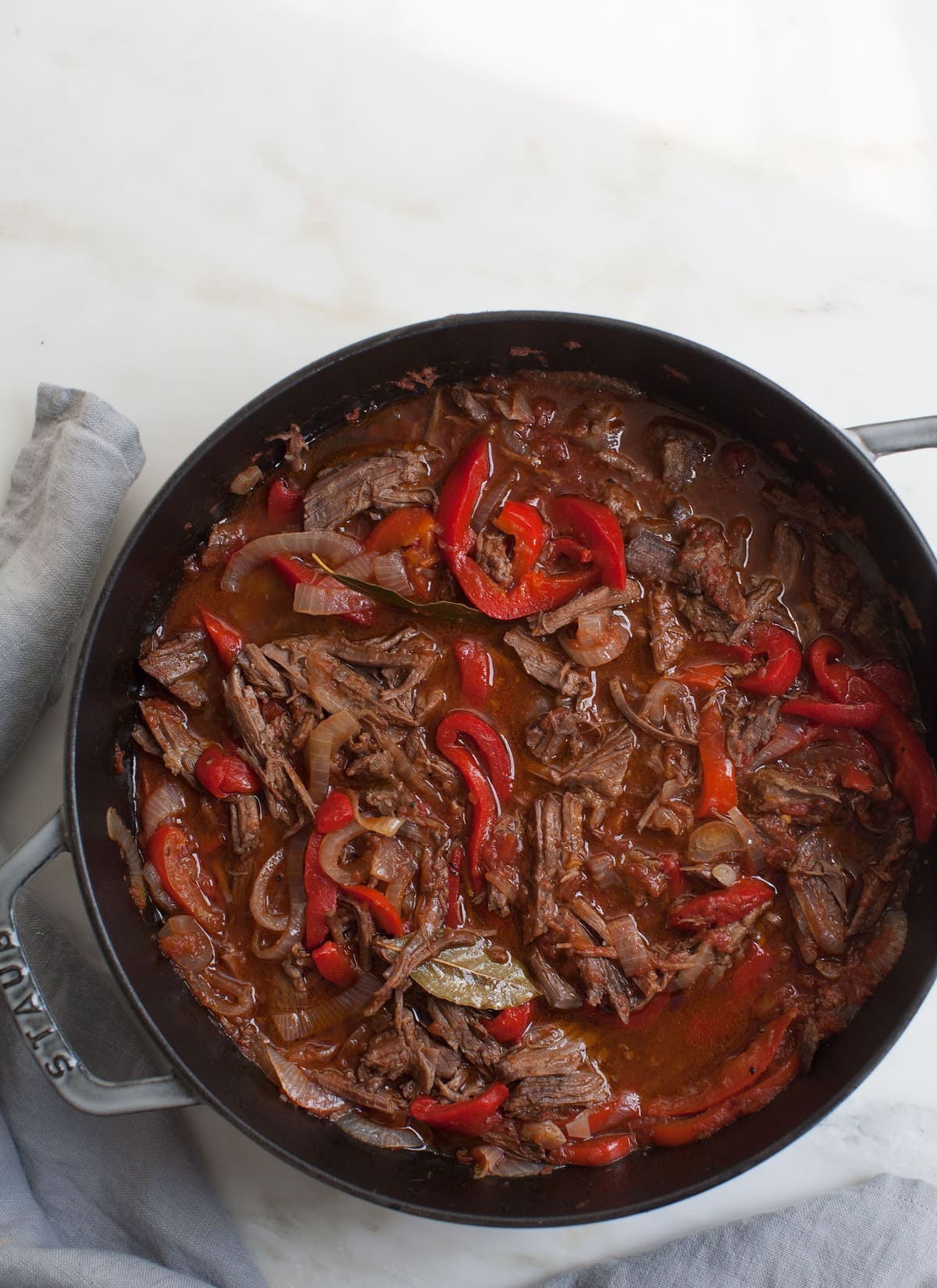 This must be eaten with rice. In Cuban restaurants all of the things (beans, rice, meat) all come separate so nothing gets soggy. It's one of the my favorite dishes in life EVERR.
When I was making this, I started thinking that you could make just the sauce and pour it over a bunch of cooked vegetables. I bet it would be delicious!
Veggie Ropa Vieja is next on my list.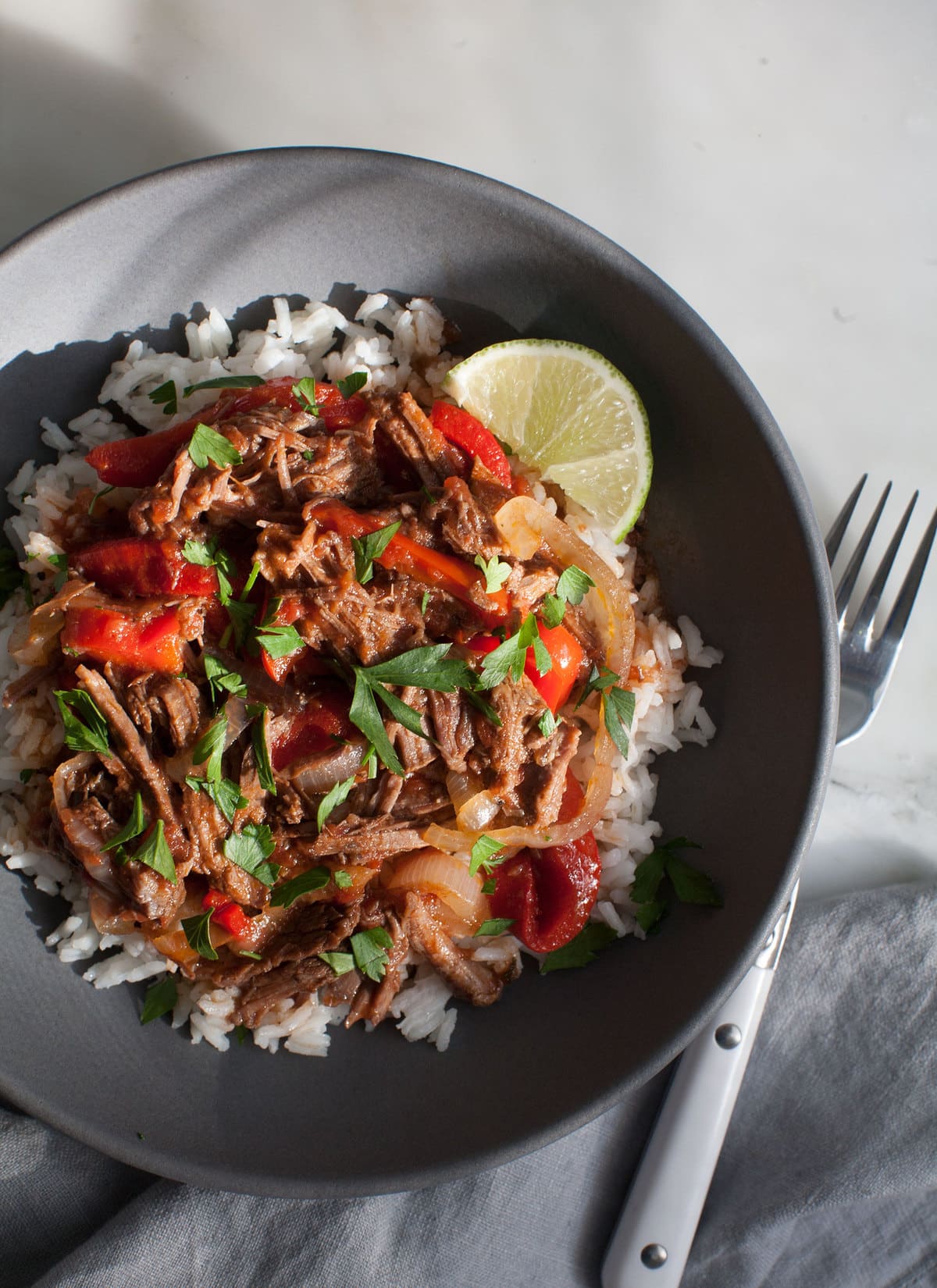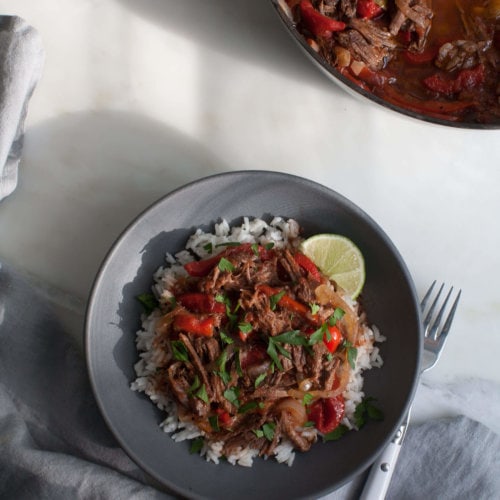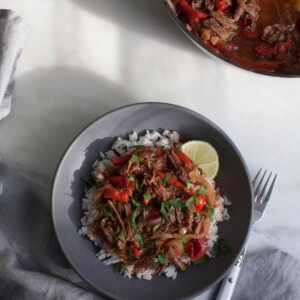 Cook Time:
3
hours
30
minutes
Total Time:
3
hours
50
minutes
Ingredients
For the Braised Beef: 
2

pounds

flank steak or brisket or top round, cut into 4 chunks 

1

large yellow onion, quartered

1

large carrot, peeled and cut into 1-inch chunks

1/2

small red or purple cabbage, quartered 

1/2

small bunch flat-leaf Italian parsley

2

sprigs fresh mint

4

garlic cloves, peeled and crushed 

1

teaspoon

McCormick Gourmet Sea Salt

1

teaspoon

McCormick Gourmet Black Peppercorns or 1 teaspoon Ground McCormick Gourmet Black Pepper 

1

teaspoon

McCormick Gourmet Whole or Ground Allspice Berries

1/2

teaspoon

McCormick Gourmet Whole or Ground Cloves

2

whole dried McCormick Gourmet Turkish Bay Leaves
For the Ropa Vieja: 
1/4

cup

olive oil

1

large yellow onion, thinly sliced

2

red bell peppers. stemmed, cored, seeded, and thinly sliced 

4

garlic cloves, peeled 

1

teaspoon

McCormick Gourmet Sea Salt 

1/2

teaspoon

freshly Ground McCormick Gourmet black pepper 

1/2

teaspoon

McCormick Gourmet Ground Allspice

1

pinch

McCormick Gourmet Ground Cloves

1

15-ounce can crushed tomatoes

Juice from 1 lime 

1

dried McCormick Gourmet Turkish Bay Leaf

Fresh flat-leaf parsley, finely chopped, for garnish
Directions
To prepare the braised beef, place the ingredients for the beef in a Dutch oven with 6 cups of water. Bring to a boil then reduce the heat to maintain a low simmer and cook, covered, until the beef is tender, 1 1/2 to 2 hours. If you're using top round, it'll take about 2 1/2 hours to be tender. 

Remove the pot from the heat and allow the beef to cool in the broth, so it will stay moist and juicy. Reserve about 3/4 cups of broth. Drain the beef and transfer to a cutting board. Using two forks, shred the beef apart. Set the shredded beef aside. 

To prepare the ropa vieja, heat the olive oil in a Dutch oven (you can use the one you used to cook the beef, no need to rinse it out either). Add the onion and red bell pepper and cook until the onion is soft and translucent, about 2 to 3 minutes. Using a mortar and pestle, mash the garlic, salt, black pepper, allspice, and cloves to form a paste. If you don't own one, you can combine these things in a small bowl. Add the garlic paste to the skillet and continue to cook until fragrant, an additional 2 minutes. Add the reserved broth, crushed tomato, lime juice, and bay leaf and return to a simmer. Stir in the shredded beef, reduce the heat to low, and cook, covered, 15 to 20 minutes. Give it a taste and adjust the salt according to your liking. Serve over rice and top with a sprinkling of parsley. 
Adapted from Cuban Table by Ana Sofia Perez (I love this cookbook!)
(This post is sponsored by McCormick Gourmet. Thanks for supporting the sponsors that keep A Cozy Kitchen cozy.)