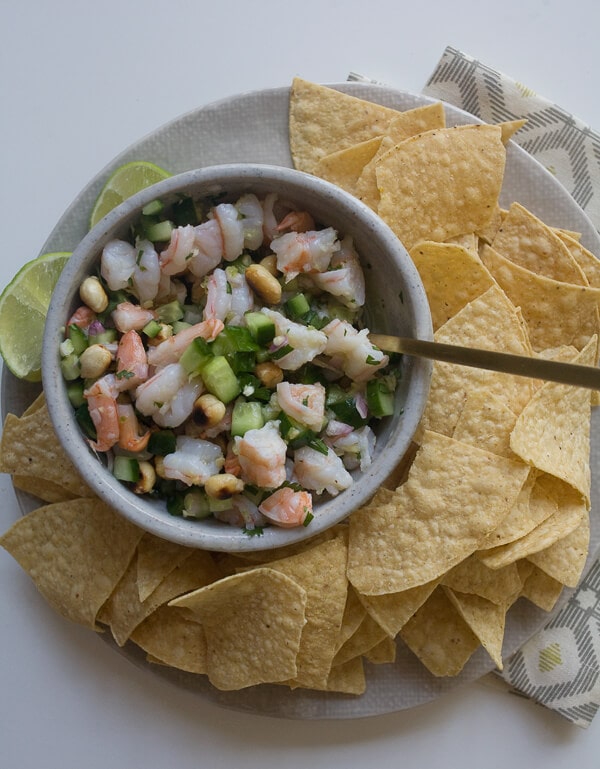 A large part of me (the sweaty part) despises summer, but this year I'm like super into it. I've been inspired to make all sorts of stuff. Also, I've embraced wavy hairs.
This shrimp ceviche might be my most favorite thing EVER. It's inspired by the ceviche I always order at one of my favorite LA restaurants, Corazon y Miel. The chef there loooves Peruvian food, you can just tell. I believe he's from somewhere in Central America and while people like to consider it a Mexican restaurant (and sure there are Mexican influences), it isn't completely true. It seems like he takes some of his favorite Latin American flavors and sort of does a mishmash of them, creating his own unique takes on traditional dishes.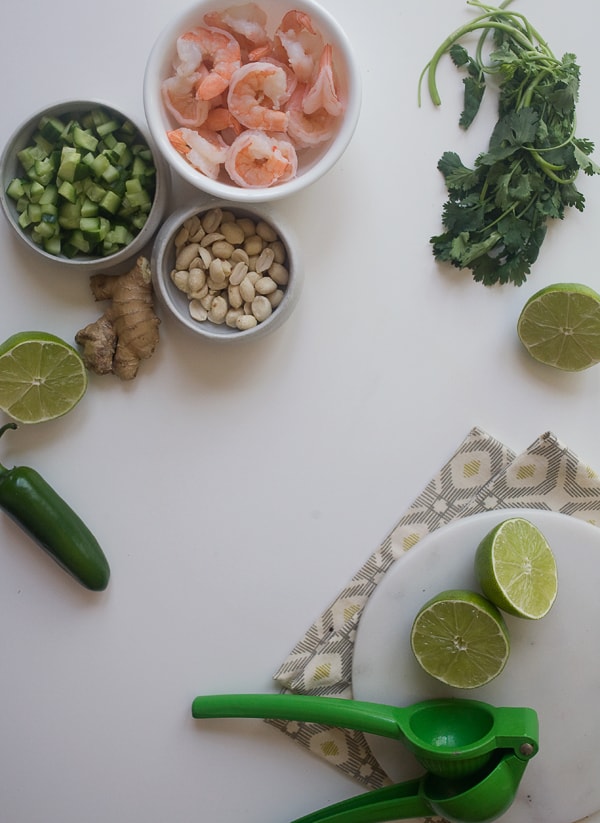 He sort of blurs the lines of tradition, taking what he likes from each region's version of a dish. His ceviche is probably my most favorite in LA. I know I'm somewhat bias (because I was raised on Peruvian-style ceviche), but ceviche made by Peruvians is like no other. I'll take it over Mexican ceviche any day of the week.
This is sort of a combo of the two, mainly because Peruvians never eat their ceviche with chips and Mexican ceviche tends to be tomato-based. This is like if the two different types of ceviche had off-spring.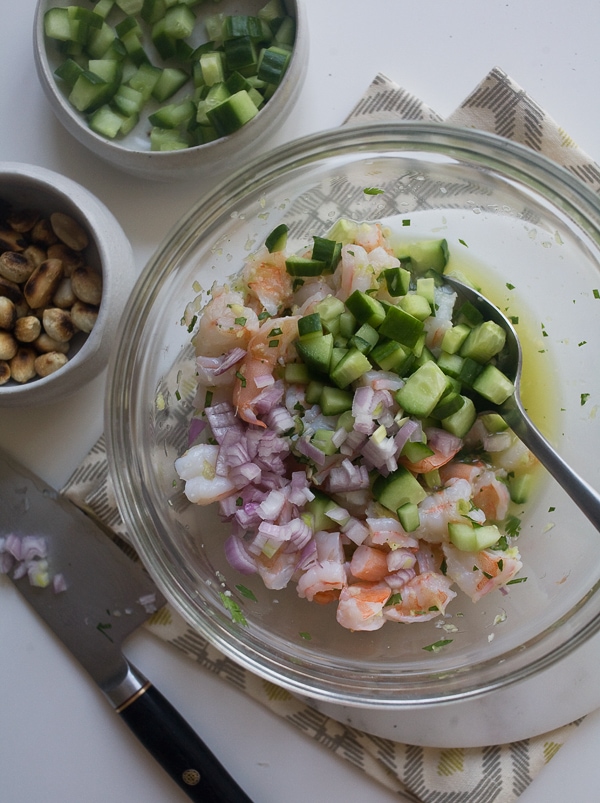 The base is spicy, a little gingery and very, very lime-y. Yassss!
The burnt peanuts are a take on the Peruvian style of adding burnt canchas. And the cucumber I don't think either ceviche ever utilizes but oh they should. It adds such a nice crunch and refreshing texture to the whole dish.
The key is cutting the shrimp up into bite-sized pieces. This and beer or a michelada. Omygoodness. Yes.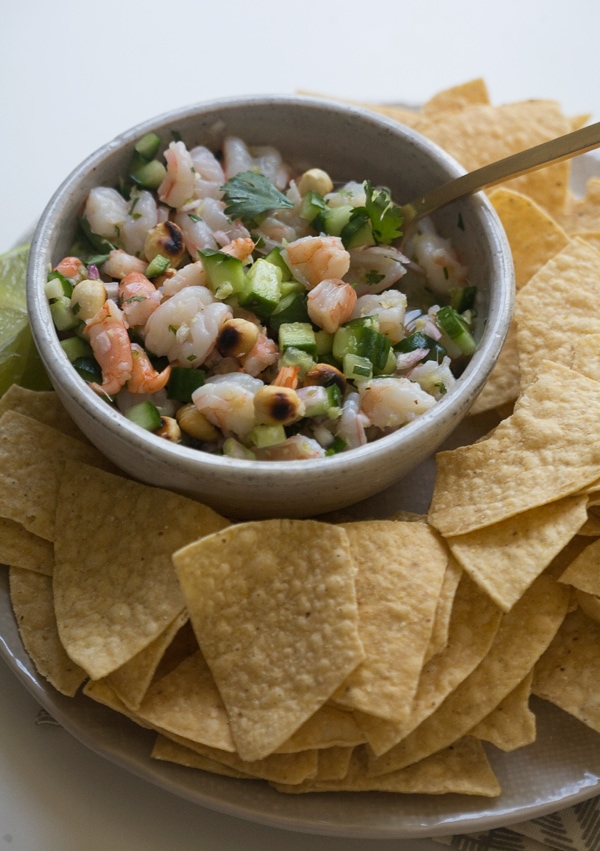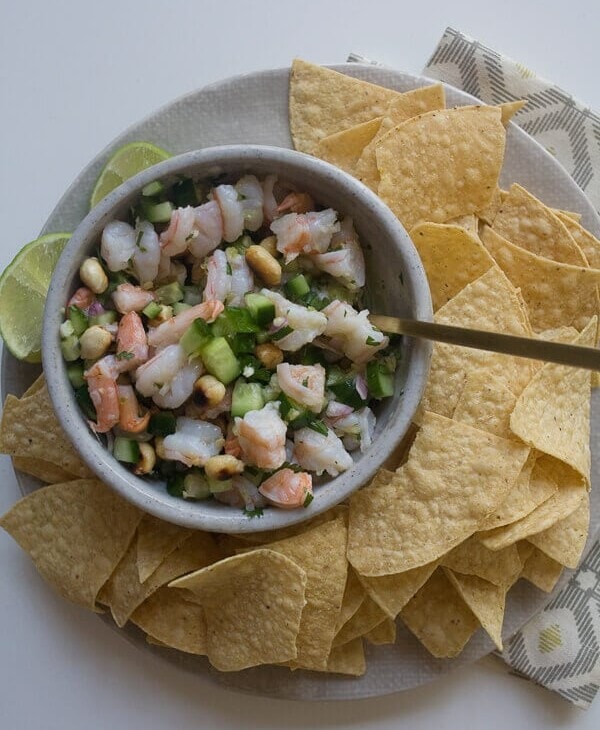 Print Recipe
Spicy Shrimp Ceviche with Cucumbers and Burnt Peanuts
Ingredients
½

pound

shrimp

peeled, tails off and deveined

¼

jalapeño

if you're adverse to heat, you can remove the seeds and ribs - I didn't because I liked the spice

½-

inch

knob of fresh ginger

peeled

1

tablespoon

minced cilantro

plus a few extra leaves for garnish

1

garlic clove

Juice from 2-3 limes

Salt

Handful of peanuts

1

Persian cucumber

cut into a small dice

1

small shallot

diced
Instructions
Bring a small saucepan, filled with about 2 inches of water, to a light simmer. Add the shrimp to the simmering water and cook for about 30 to 40 seconds; until the shrimp have turned pink but are still ever so slightly undercooked. The shrimp will continue to "cook" as they sit in the lime juice a bit later on in the process. Drain the shrimp and run them under cold water. Cut the shrimp into bite-sized pieces and transfer them to a bowl. Place the shrimp in the refrigerator to chill while you prepare the rest of the ceviche.

To a dry skillet, set over medium heat, add the peanuts. Toast the peanuts on each side for about 1 minute, until the peanuts appear slightly burnt. Burnt in this case is a good thing!

To a food processor, add the piece of jalapeño, ginger, minced cilantro, garlic clove, juice from 2 limes and a generous pinch of salt. Pulse until pureed. Remove the shrimp from the fridge and pour the lime juice mixture over the shrimp. Stir in the burnt peanuts, diced cucumber and shallot. Allow the shrimp to sit in the marinade for 5 to 10 minutes. Give the ceviche a taste and add more salt accordingly, being sure to keep in mind how salty the chips you'll be serving them with are. Mine were hardly salty so I added a few more pinches of salt.
Notes
The shrimp I used were 20-30 count; no need to splurge on super gigantic shrimp since we're chopping them up into bite-sized pieces.