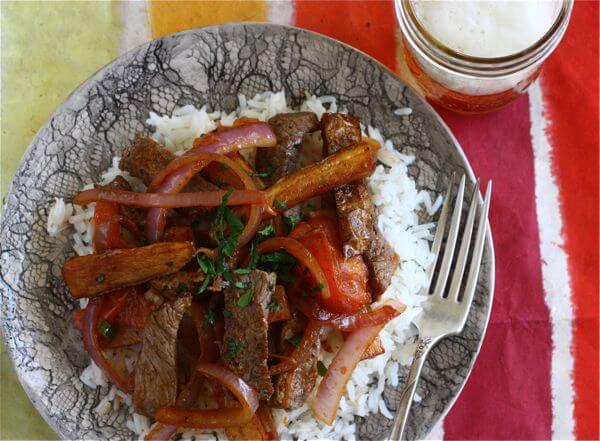 Here's another recipe straight from my mama's brain. It was one of my favorites growing up. There's French fries, strips of tender sirloin all tossed together with a spicy, rich flavored sauce. It's a stir-fry, essentially; a latin stir-fry!
That's kinda weird and unexpected, right? A lot of people are surprised to learn that Peru has a large Asian community. This Asian presence–over generations and generations–has had a huge influence on "traditional" Peruvian cuisine, basically making it into what it is today. This particular dish was derived from a Chinese stir-fry. The potatoes make it unique to Peru, along with the spices and thick sauce.
Get into it!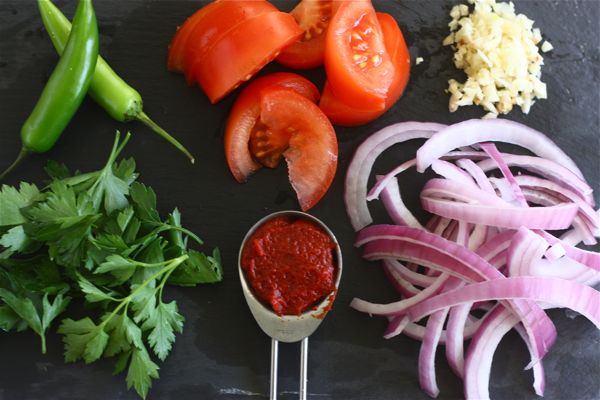 I've wanted to share this recipe for long time but not gonna lie, there are a few steps. The most annoying? Frying French fries.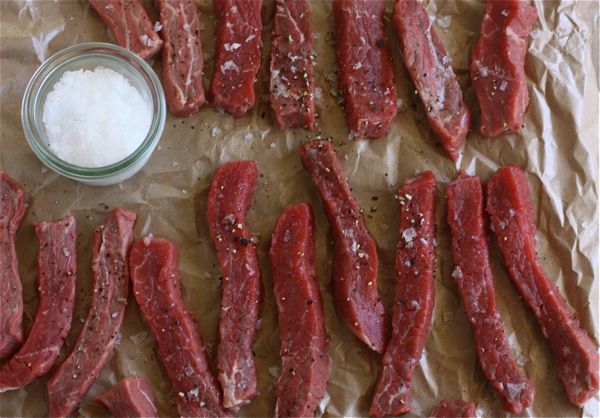 Pro-tip: My parents never fry up French fries. They go to McDonald's (YES YOU HEARD ME!) and pick up a few batches of French fries to toss them in at the last second. I'm not beneath this either, though today I totally fried up some French fries. I did a double-fry. It's all about the double-fry. There's no other way.
Again, if you want, just do the short cut. Whatevs.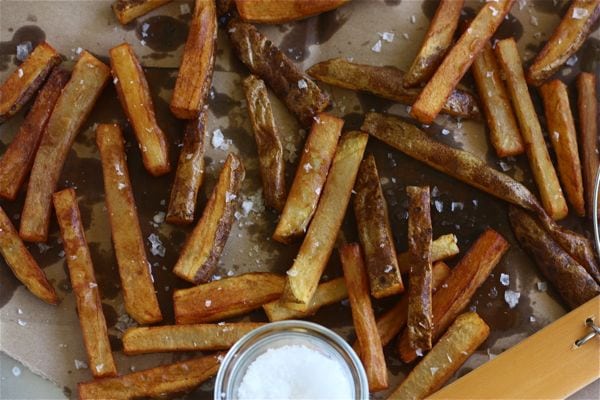 Once you get over that little hurdle, the dish is pretty simple. Brown the strips of sirloin. Remove. Then cook the onions and tomatoes for a bit.
Then add the serrano peppers (since aji amarillos are hard to fine), garlic, tomato paste, soy sauce, spices….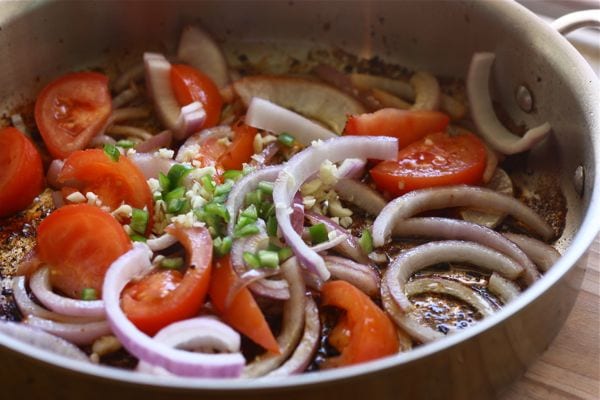 And beer! Adding a bit of beer gives the sauce an awesome flavor. If you don't want to use it, feel free to use beef broth. No bigs!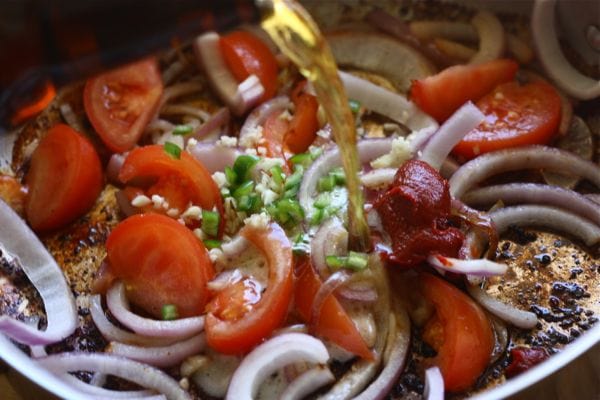 After that, add the French fries and strips of beef and toss. That's it!
This dish is awesome served on a bed of hot, steamy rice. I like basmati. And I always drink it with either an inca kola or a super cold beer.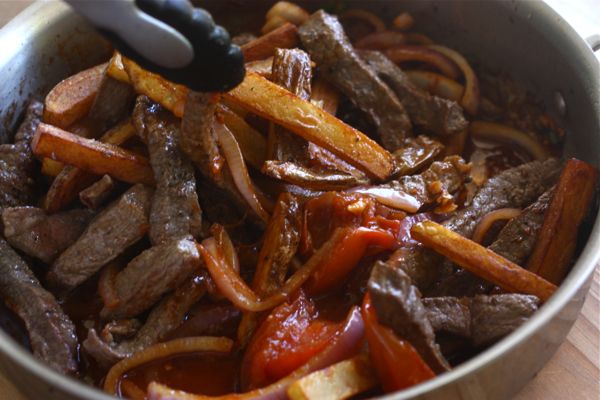 Lomo Saltado
Vegetable oil
2 russett potato, cut into matchsticks (or purchased fries)
Salt and Pepper
1 pound of sirloin, sliced 1/8 to 1/4 inch thick
Salt and Pepper
1 red onion, sliced (white or yellow work just fine, too)
2 roma tomatoes, sliced
2 serrano pepper, de-seeded and minced
3 garlic cloves, minced
1 teaspoon ground cumin
1 tablespoon tomato paste
1 teaspoon soy sauce
1/4 cup beer (an ale) or beef broth
Handful of Italian parsley leaves, minced
1. I always do a double-fry. To start, add the matchstick potatoes to a bowl of water and soak for 10 minutes. This will release some of the starch. Drain and dry the potatoes thoroughly. In a cast iron skillet (or heavy-bottom skillet) add 2 inches of vegetable oil and heat until it reaches 325 degrees F.
2. Gently add the potatoes, and fry in batches, being sure to not overcrowd the pot. Cook for 2-3 minutes, until the potatoes are a pale and slightly soft. Remove and drain on paper towels or brown paper. Increase the oil to 375 degrees F. Return the potatoes to the oil and cook for an additional 2-3 minutes, until crispy and golden brown. Drain on paper towels, sprinkle with salt and set aside.
3. Heat 3 tablespoons of olive oil in a large skillet over medium-high heat. While the oil is heating up, sprinkle a liberal amount of salt and pepper over the strips of meat. Add the meat to the oil and cook on first side for 1-2 minutes, until slightly browned. Flip and cook on opposite side for an additional 30 seconds. Remove the meat from the pan and set aside.
4. Add an additional tablespoon of olive oil and toss in the onions and tomatoes. Cook until slightly translucent, 2-3 minutes. Throw in the diced pepper, garlic, cumin, tomato paste and soy sauce. Pour in the beer and deglaze the pan, using a spoon. Cook mixture for an additional 2-3 minutes, until the alcohol is cooked out of the beer. Salt to taste.
5. Add in the cooked beef strips and French fries, and toss together. Serve atop steamed rice and garnish with minced Italian parsley.