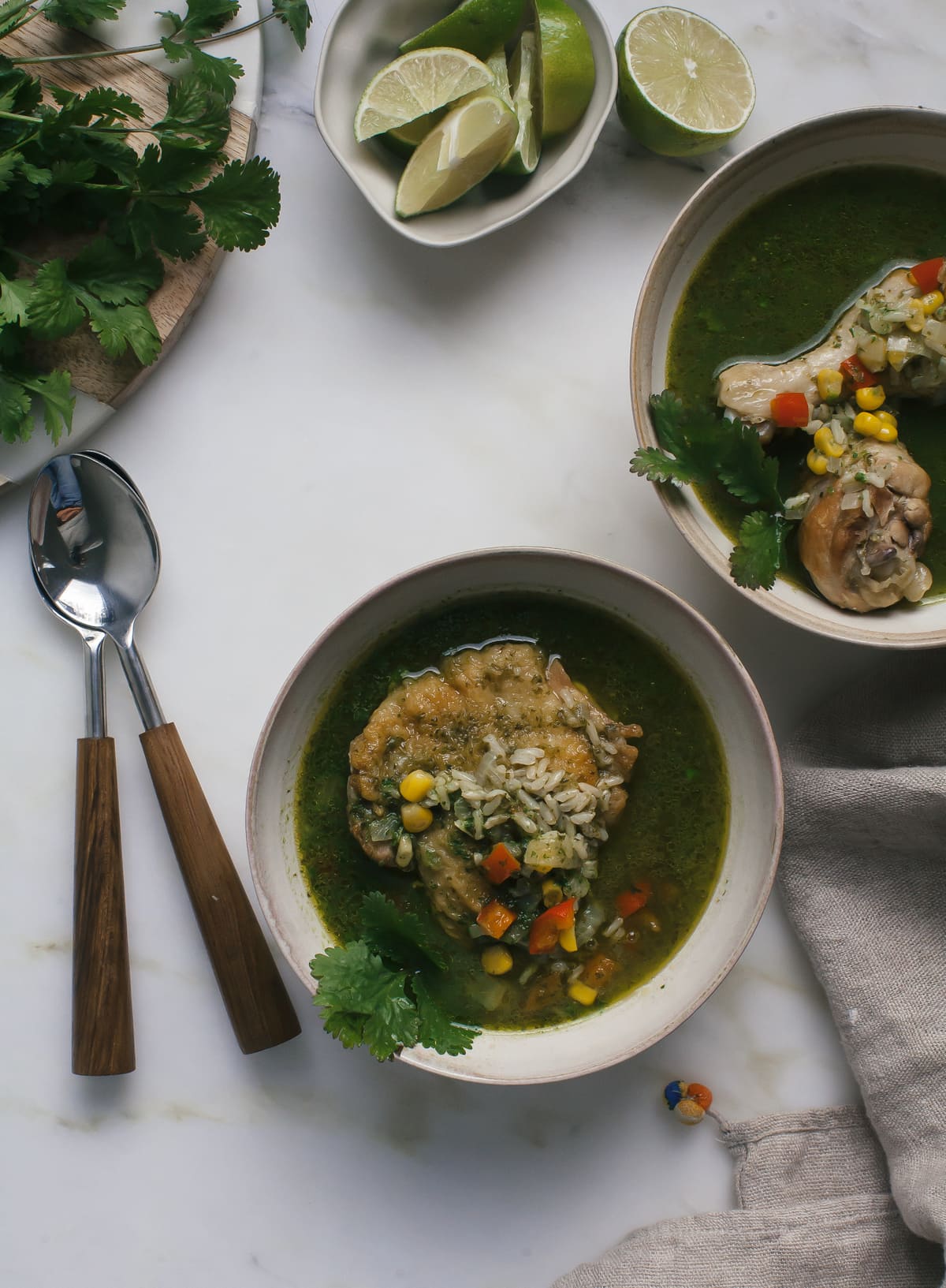 I've been writing this blog for SO long that I feel like some of my all-time favorite recipes are sort of in the dark depths of the archives…with terrible, terrible photos. From time to time during this year I'm going to be re-shooting these recipes, giving them a bit of a re-do.
The first one up is the childhood soup that was a staple in my house: Aguadito. I feel like every type of cuisine around the world has its own version of chicken soup. They're all meant to heal, warm and nourish you when you have the sniffles, are hungover, feel under the weather or when you're just really fucking cold.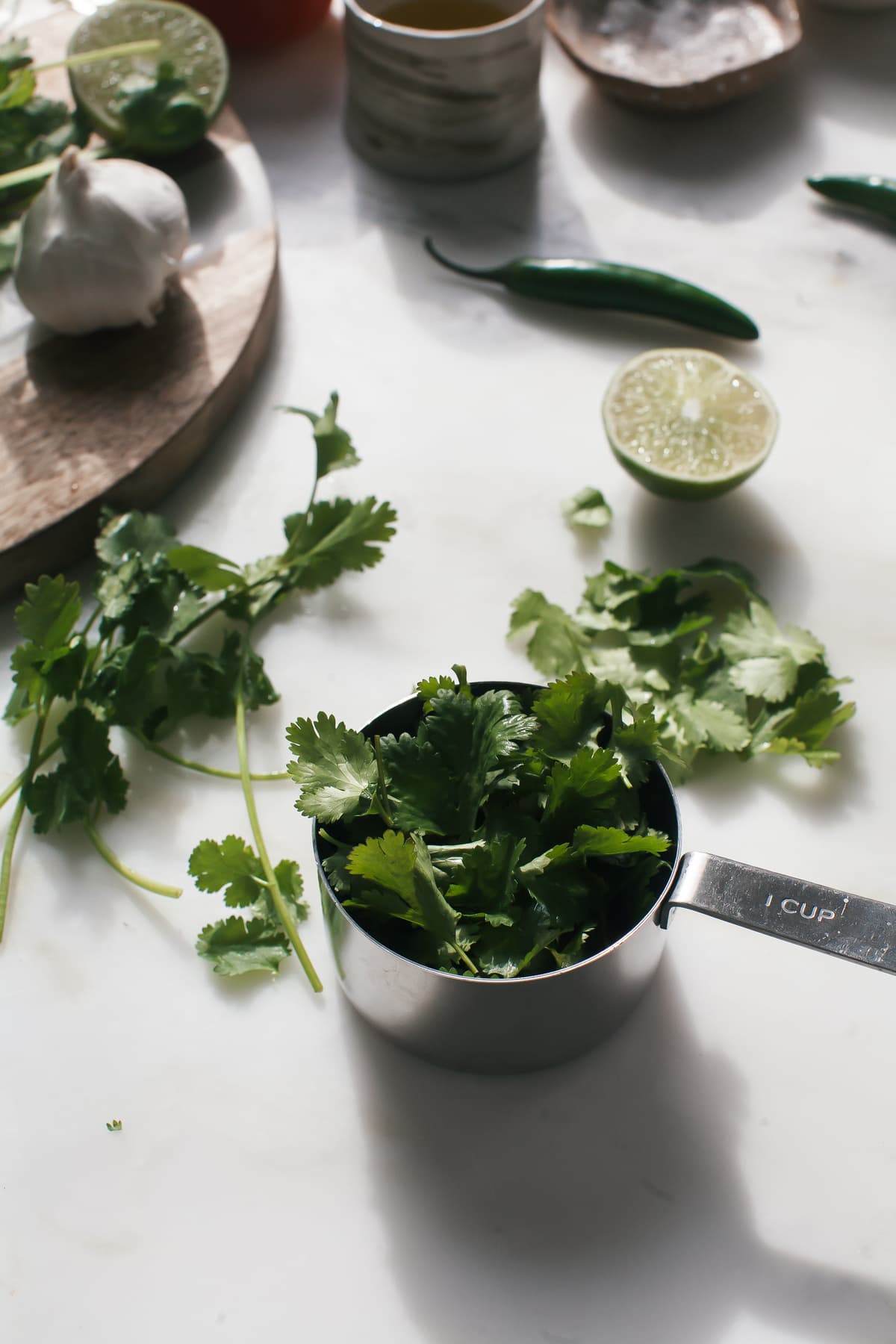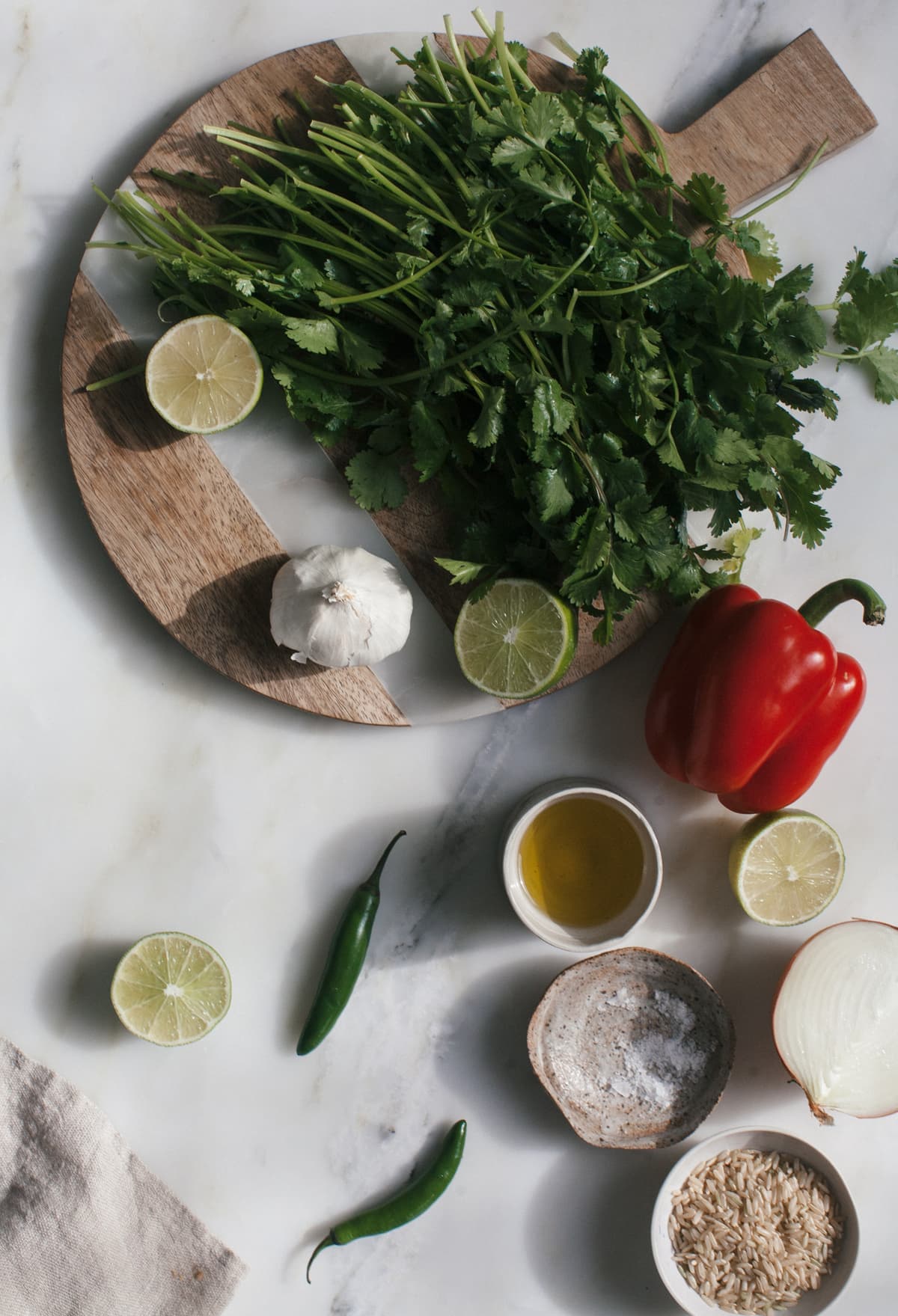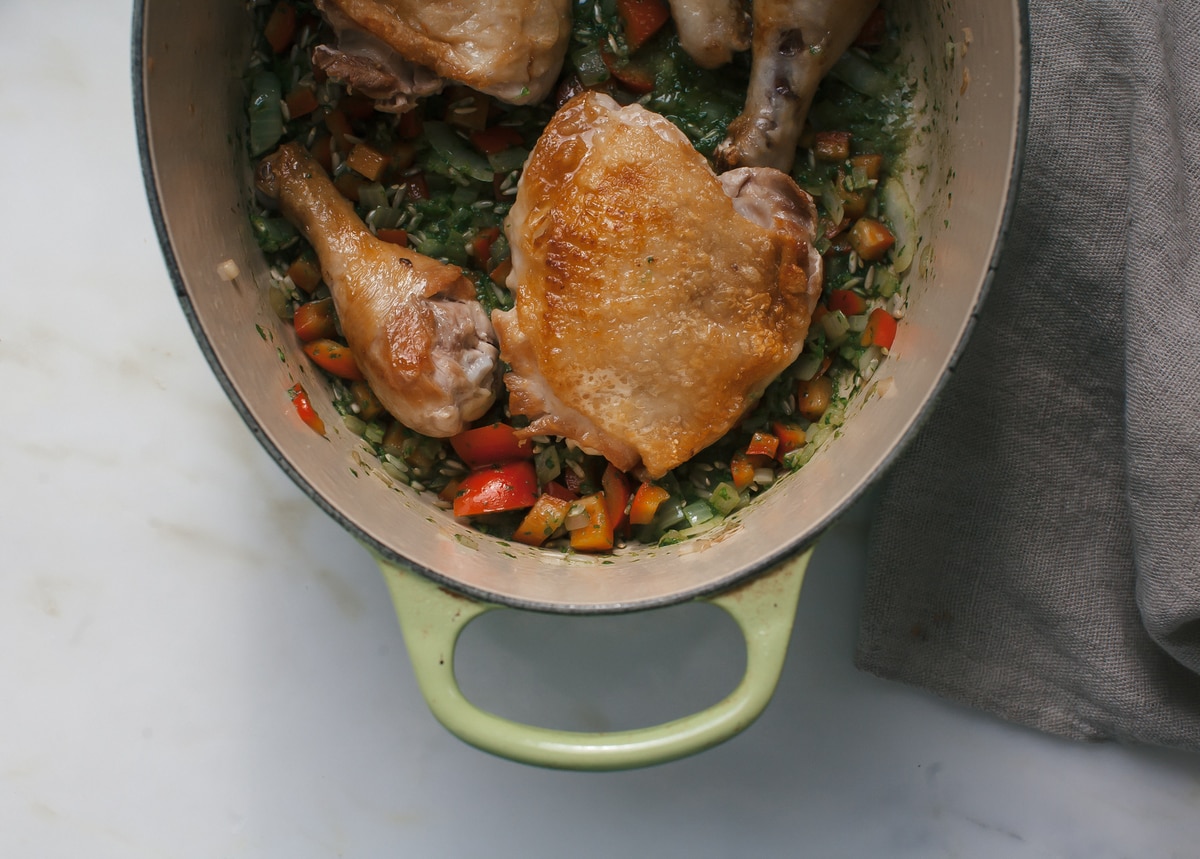 This soup will do all of that, and then some.
It's also super easy. Most of it is made in a blender.
There were so many chilly winter days when I would come home and my mom would be in front of the television picking the leaves off of the cilantro leaves. A lot of times she would ask us to help to make the process go faster. We'd sit there with her and pick the leaves off of the cilantro as she asked how our day went. It's feels almost like folding laundry but way less annoying.
If you feel a lil' cold coming on or want a pick-me-up that'll make you feel all warm and cozy inside, this soup is it!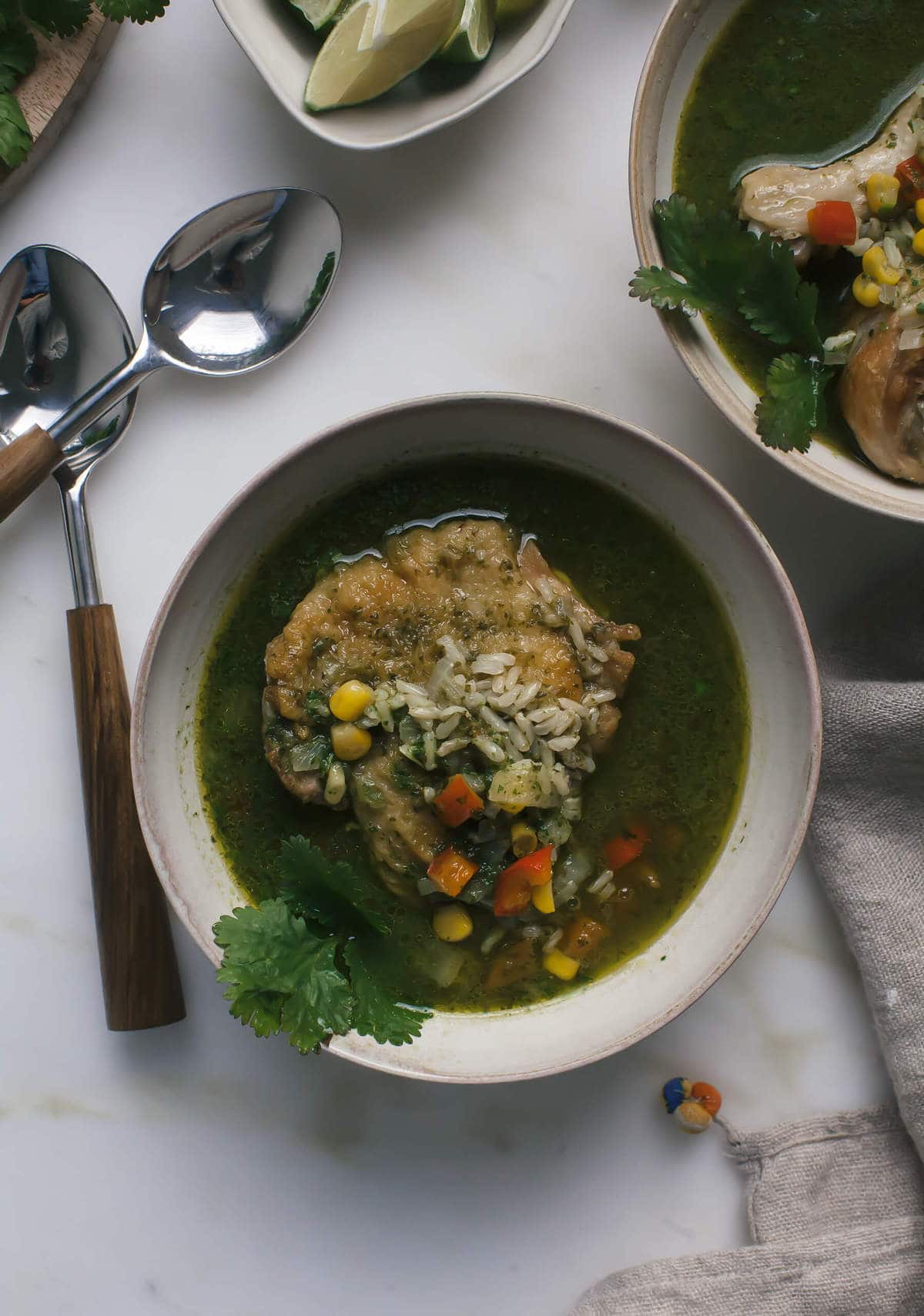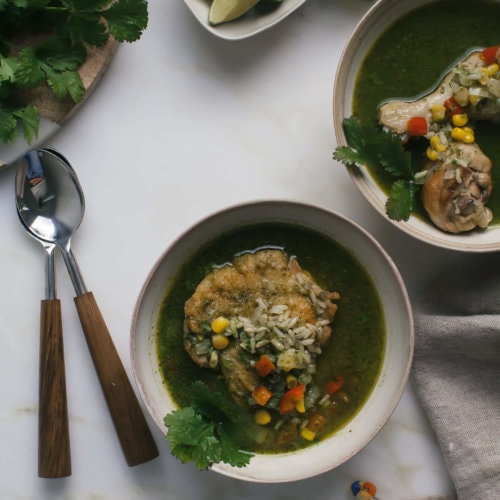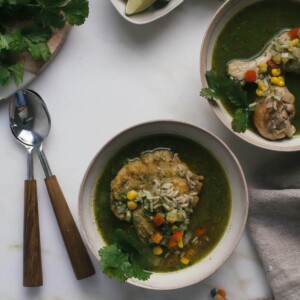 Ingredients
1 1/2

cup

cilantro leaves

,

from 1 bunch, divided

1

serrano pepper

,

halved and de-seeded

4

garlic cloves

,

peeled

4

cups

chicken broth

,

divided

2

tablespoons

olive oil

2

chicken thighs

,

skin-on and bone-in

2

chicken drumsticks

,

skin-on and bone-in

1/2

yellow onion or frozen peas (thawed)

,

diced

1

red bell pepper

,

diced

1/2

teaspoon

ground cumin

1/4

cup

white rice or brown rice

,

if using brown rice see note below!

1

ear of corn

,

cut off the cob or 1/3 cup frozen corn

Salt to taste

3

limes

,

cut into wedges
Directions
Add 1 cup cilantro leaves, serrano pepper, garlic cloves and 1/4 cup of chicken broth to a blender. Blend until mixture is pureed. Set aside.

In a large pot, heat olive oil over medium-high heat. When hot, carefully add chicken thighs and drumsticks, skin-side down. Cook on first side for 4-5 minutes, and until skin is crisp and slightly browned. Flip and cook for an additional 5 minutes. Remove from pot and set aside.

If the chicken absorbed all of the oil, add a teaspoon of olive oil. If it released too much fat, pour it out, reserving about a teaspoon. Add yellow onion and cook until translucent, about 3 to 4 minutes. Next, add red bell pepper and ground cumin, allowing to cook for 1-2 more minutes.

Add the rice and cilantro liquid mixture to the pot and mix, being sure to completely coat the rice. Gently add the chicken back to the pot and cover with about 3 1/2 cups of chicken broth. The broth should almost cover the chicken. Bring the soup to a simmer and then immediately turn the heat down to medium low. Cover the pot and cook for 20-30 minutes, and until rice is fully cooked.

Add the remaining 1/2 cup cilantro leaves to the blender and 1/4 cup chicken broth. Just before serving, add the mixture to the soup. This will give it a bright green color.

When you're ready to serve, add salt to taste. This will all depend on how salty your chicken broth was. I needed to add about 1 1/2 teaspoons of kosher salt. Mix in corn right before serving.

Add a few cilantro leaves to each bowl of soup, along with a few wedges of lime. It's important.
Notes
*If using brown rice, the soup will most likely take longer, closer to 40 minutes.
*Quinoa would also be super delicious and it will take about 20 minutes to cook.
*I sometimes add 1 peeled carrot that I slice up to the step with the onions. 
Nutrition Facts
A Re-Do: Aguadito (Peruvian Chicken Soup)
Amount Per Serving (4 g)
Calories 0
* Percent Daily Values are based on a 2000 calorie diet.