Peruvian Chicha Morada is a beverage originated in the Andean regions of Peru that's made from dried purple corn, along with fruit and spices. Served over ice, this delicious drink is very popular throughout Peru.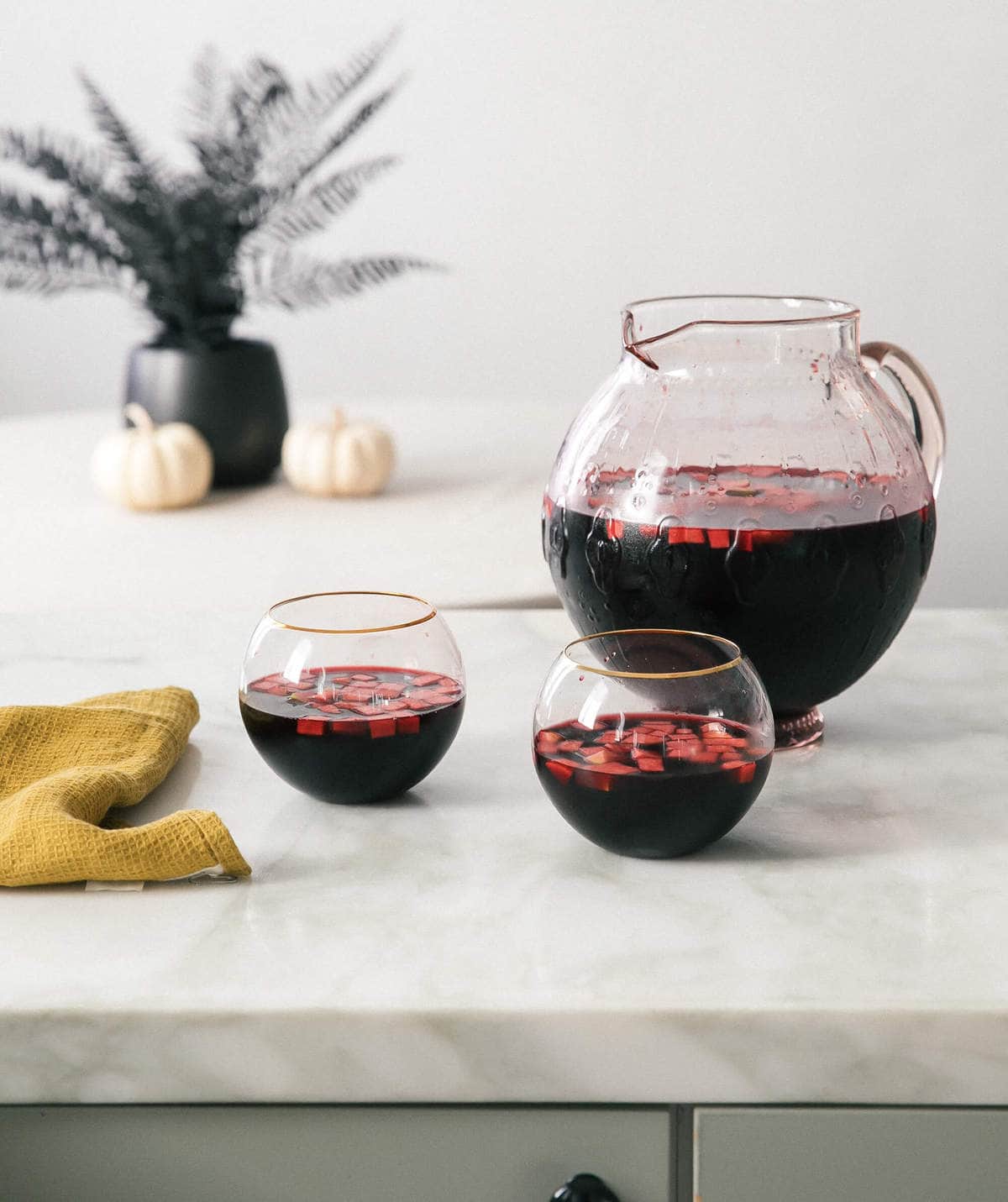 It has been so hot in Los Angeles. This unattractive heatwave inspired me to make my favorite cooling-off-drink of my childhood: Peruvian Chicha Morada. This is what my mama would make me when I was little.
What is Chicha Morada?
Let's talk about Chicha Morada. This is a drink from Peru. This drink is made from corn. Yes! Corn! Beautiful Peruvian dried purple corn. You can find it at most Latin supermarkets and online here.
Note: It should run you about $4 at a latin market, so amazon is a little bit more expensive. If you've watched a food tv show about Peru, you'll most likely be familiar with chicha as a drink that people make in Cusco, Peru. But it's actually made all over Peru in varying ways. In Lima, it's made from boiling dried purple corn.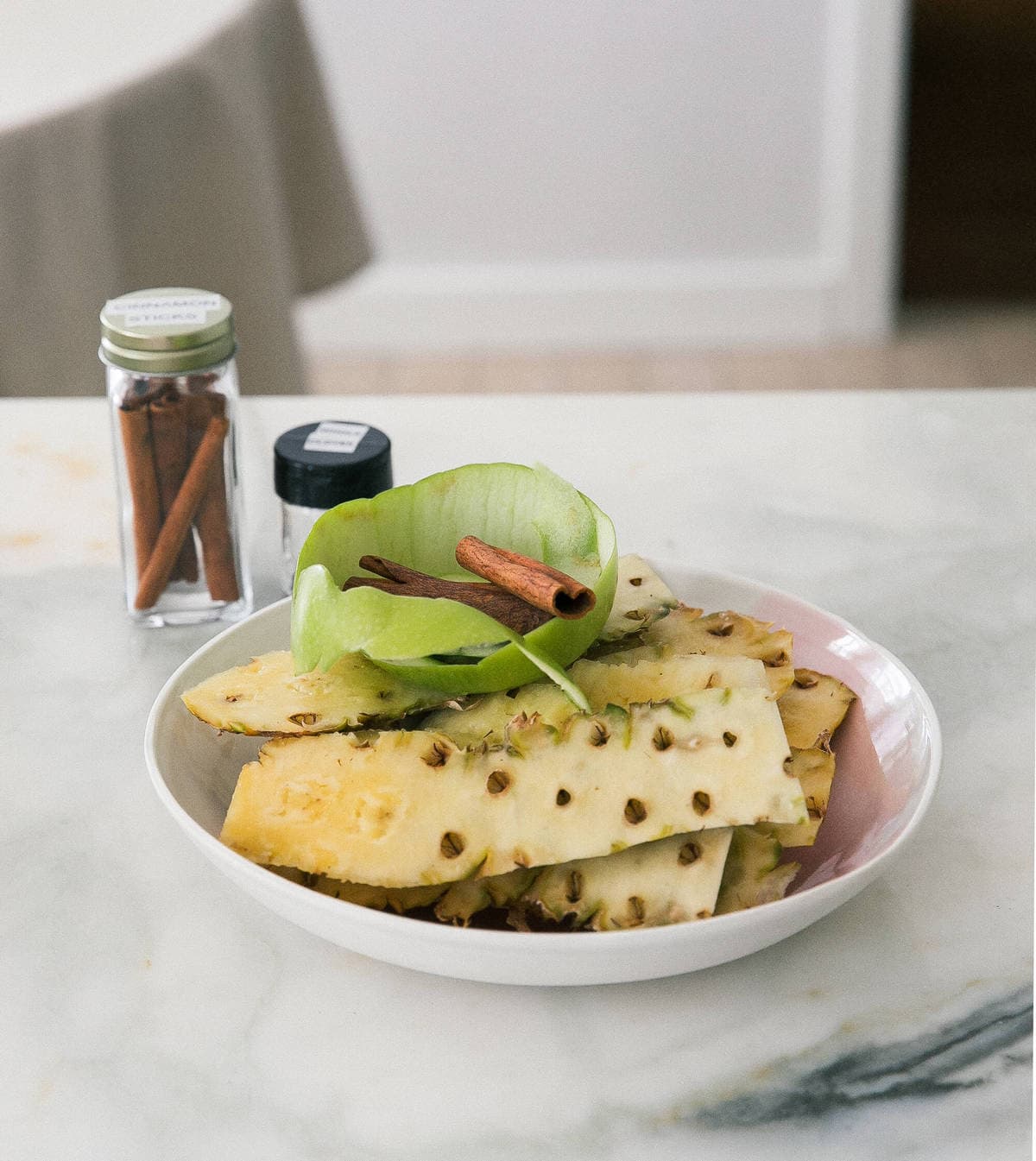 How to Make Chicha Morada
Look how pretty the purple corn is! To a large pot, you add the water, cinnamon sticks, whole cloves and the peel from a pineapple (waste nothing! and plus it gives it a hint of pineapple flavor).
Simmer for 45 minutes, until it smells fragrant and all of the flavors have married together.
Next, it's time to add the fresh lime juice and sugar. Below it says 1 cup of sugar. This wasn't super sweet, so feel free to taste it after the 1 cup of sugar and add more if you like!
Transfer to the fridge to chill for about 3 hours.
Dice up the apple and add a handful of diced apple and ice to each glass. And then, pour in the chicha morada.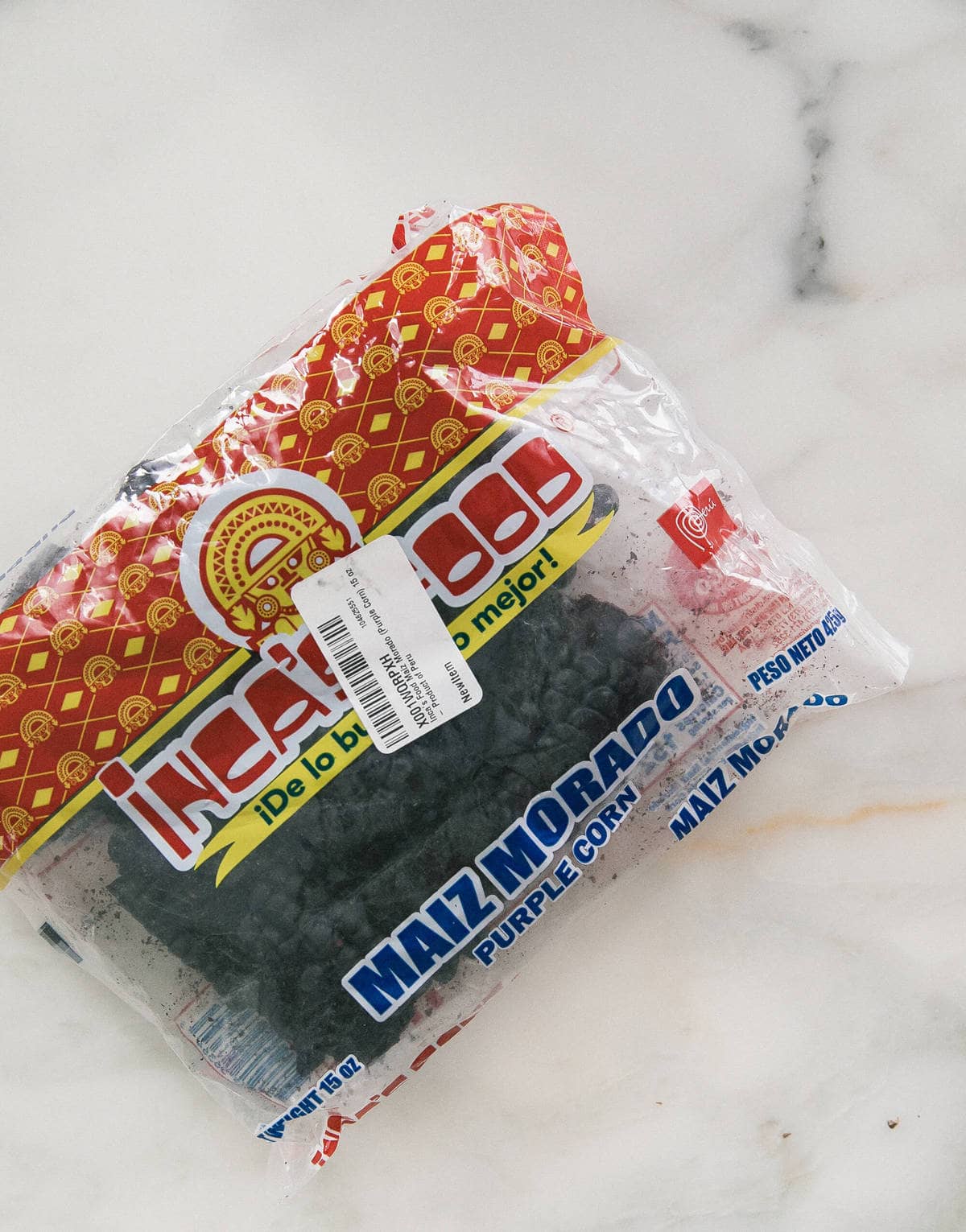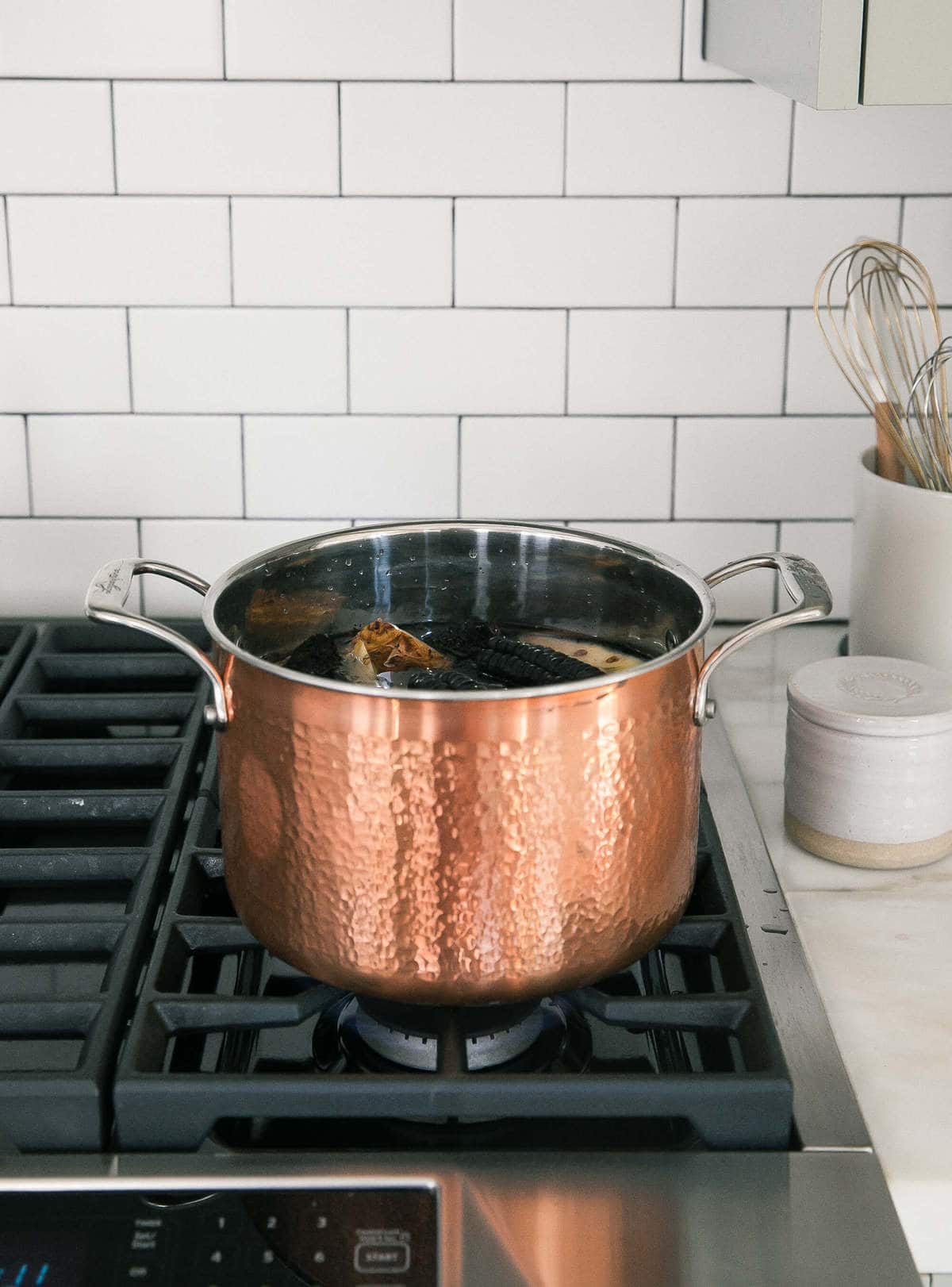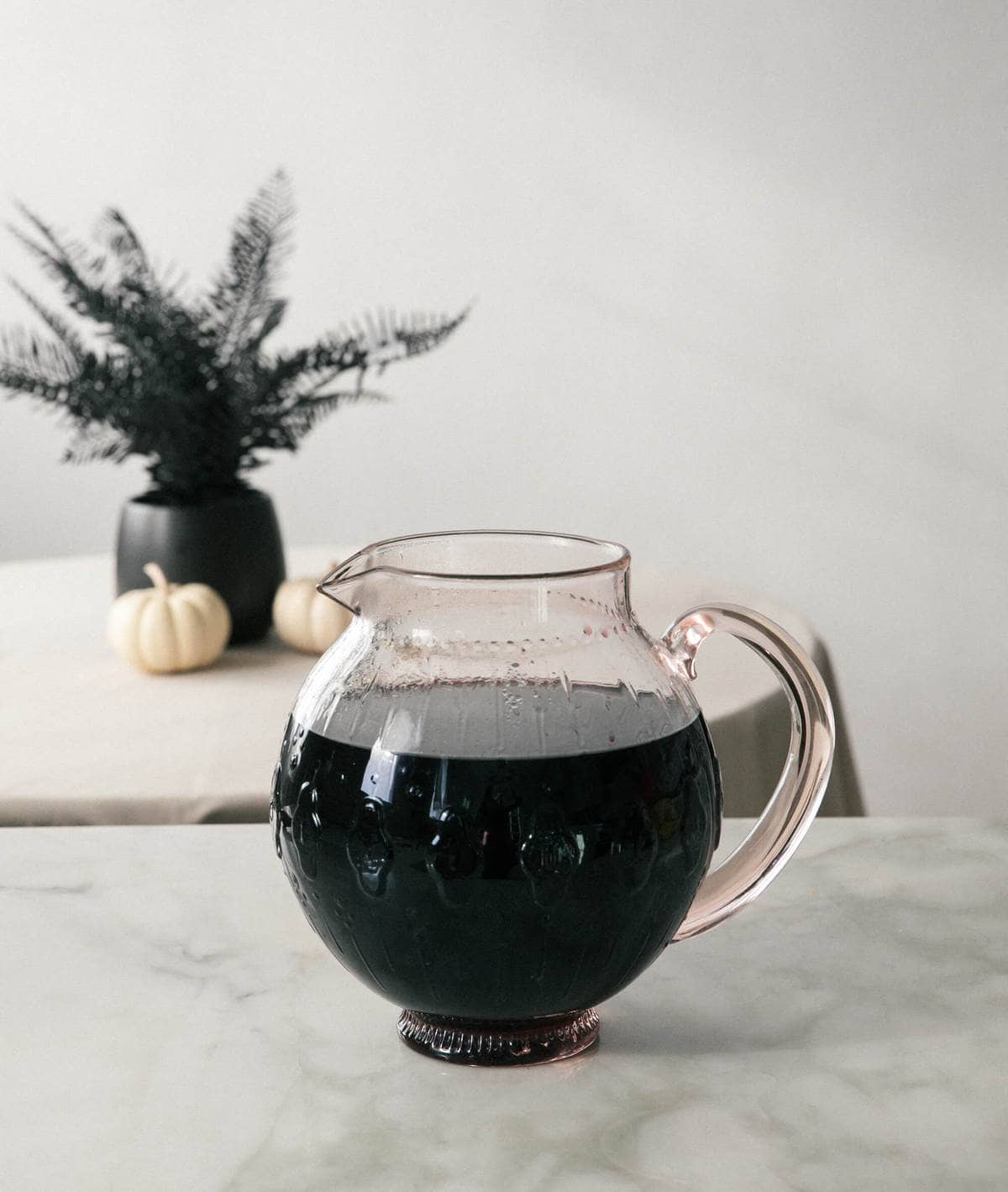 There are different types of Chicha!
Chicha usually comes in two forms: fermented and non-fermented.
That's not what we're making today! But if you decided to add a splash of rum or pisco to this, I wouldn't be angry with you.
Top each drink of Peruvian Chicha Morada with a small handful of diced pineapple and apple. Screams summer time.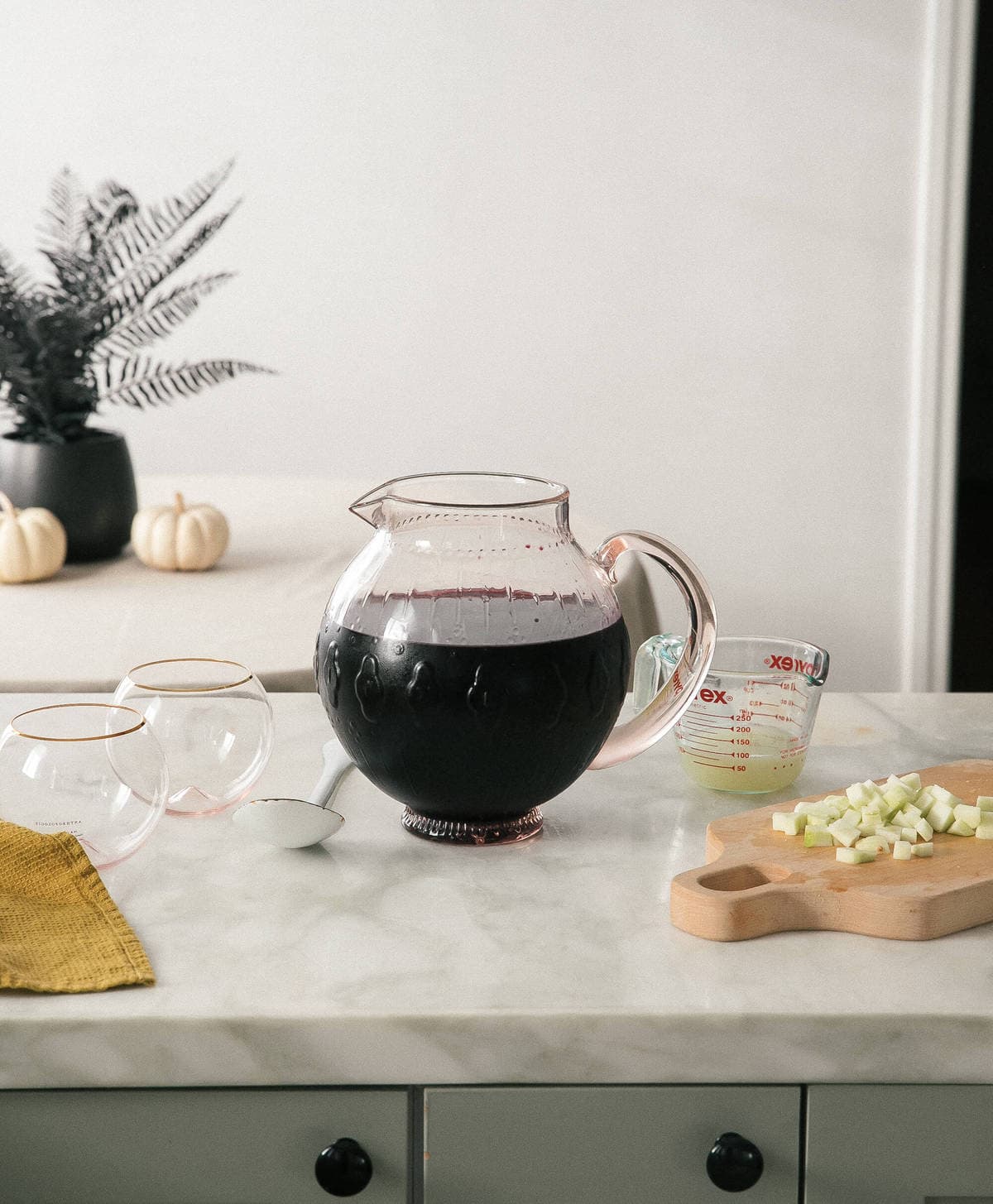 If you make Peruvian Chicha Morada, let me know on Instagram!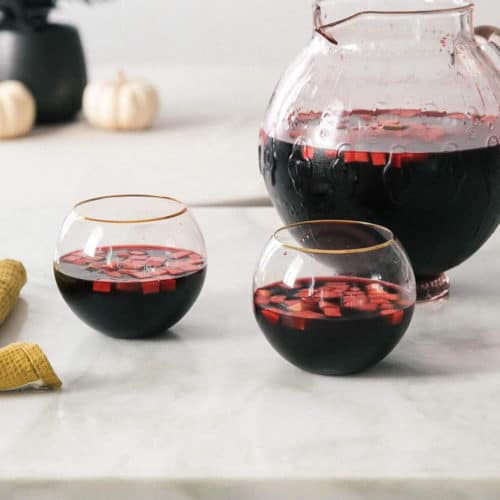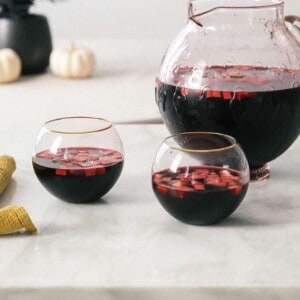 Chicha morada is a beverage originated in the Andean regions of Perú that's made from purple corn, along with fruit and spices. Served over ice, this delicious drink is very popular throughout Peru.
Ingredients
1

(15-ounce)

bag of dried purple corn

16

cups

water

3

whole

cinnamon sticks

5

whole

cloves

1

whole

pineapple, diced

,

(peel reserved)

1 1/2

cup

white granulated sugar

1/2

cup

fresh lime juice

1

green apple

,

diced, for serving (peel reserved)
Directions
To a large pot, add the dried purple corn, water, cinnamon sticks, cloves, the pineapple peels, sugar and apple peel. Heat over high heat and once the mixture reaches a boil, reduce the heat to medium-low and simmer for 45 minutes.

Remove the chicha from the heat. Place a strainer atop a large bowl and pour mixture through it, catching the large corn ears, pulp and pineapple. Transfer to a pitcher and allow to come to room temperature before refrigerating until cold. When the chicha has gotten cold, stir in the lime juice, diced pineapple and diced green apple. Divide amongst glasses and serve.
Notes
Reuse for a Larger Batch!
If you like, you can reuse the scraps of the dried corn/pineapple peels/apple peel once more. You can make more chicha by adding 8 cups of water and 3/4 cups of sugar. Any more water and I fear it'll be bland! 
Ingredients: 
Dried Purple Corn 
Equipment: 
Large pot | Strainer | Wooden Spoon | Pitcher (similiar to pictured) | Glasses  |
Serving:
10
g
|
Calories:
124
kcal
|
Carbohydrates:
2
g
|
Cholesterol:
3
mg
|
Sodium:
5
mg
|
Potassium:
25
mg
|
Fiber:
2
g
|
Sugar:
15
g
|
Vitamin A:
100
IU
Looking for more Latin-inspired recipes? Here are a few recipes: