Disclosure: This post may contain affiliate links, which means I may earn a commission if you click on the link and make a purchase.
This is what my Sunday afternoon lunch/dinners looked like growing up. Minus the beer. My mama never gave me beer.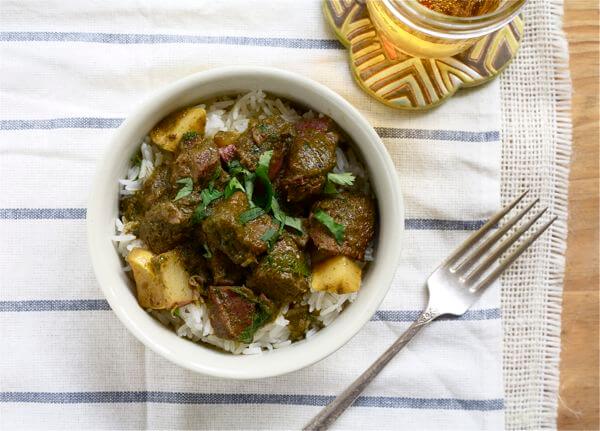 My dad, however, did give me whiskey when I was two. He figured if he let me try it that I'd end up hating it and would never drink it again. I did hate it…until I didn't. Only a temporary success, papa.
Back to seco.
This stew was designed for a cold Sunday.
I recommend putting on a pair of big, warm socks and prepping this thing in the late morning, sticking it in the oven and forgetting about it for a few hours. When you return, the flavors will be all combined, rich and delicious, and the meat will be so soft you won't even need a knife. Just a fork will do.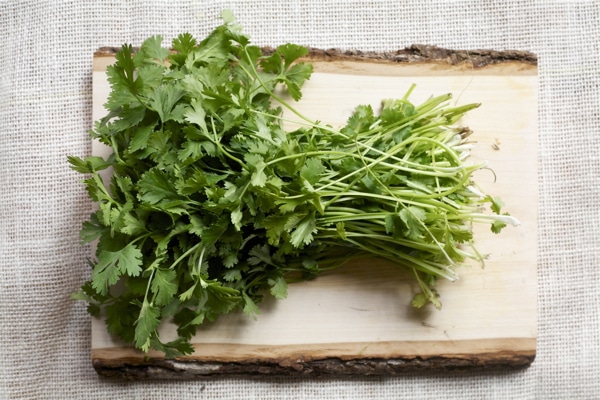 What is Peruvian Seco exactly?
Seco is the spanish word for "dry," which is funny because this dish isn't dry at all. I honestly don't know how the dish got its name and it's gotten too late to text my mama. She likes to go to bed early.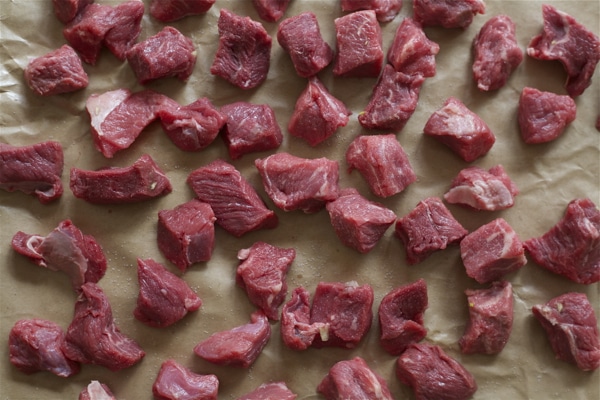 What I do know is that VERY dry meat is added to hot oil as the first step. This gives the meat a nice crust. It's removed and set aside while the rest of the dish is put together, including the base.
The base of the dish is made from a mix of cilantro, peppers (in this case I used serrano) and chicken stock.
It's blended together until it reaches an almost pesto-like consistency.
Beer is added and the meat is braised in that mixture for a few hours. The sugar in the beer help break down the meat until it's fall-apart delicious.
The flavor is rich and bright and aromatic. The beef is soft. Traditionally the dish has frozen peas and corn. You're more than welcome to add those, if you like. I chose to throw in some potatoes and cubed winter squash.
This dish is flexible in the addition category.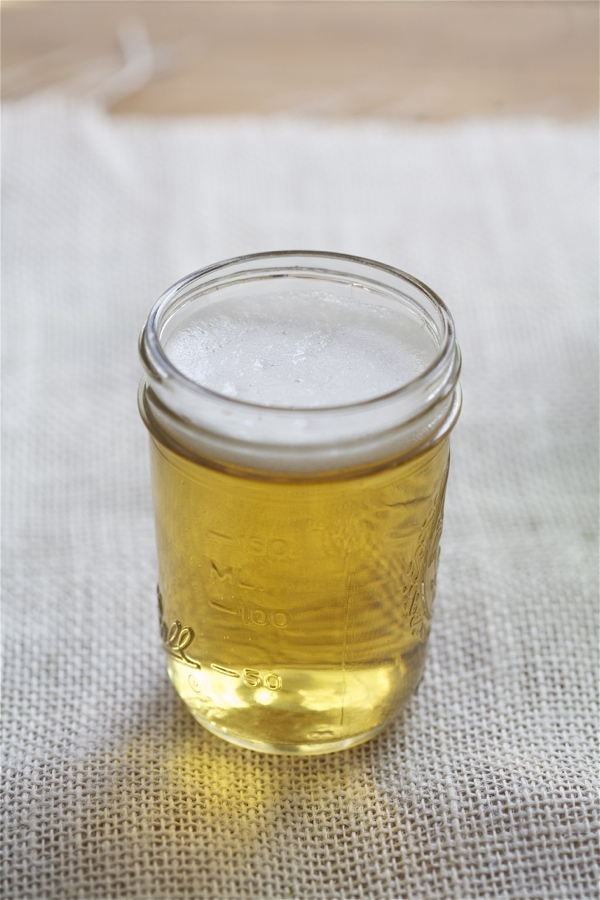 Peruvians eat everything with rice…including potatoes. Starch on starch on starch.
I recommend eating this over a bed of rice, or couscous or even quinoa.
More Peruvian dishes?! Yes! And most of them are green. STRANGE!
Aguadito (Peruvian Chicken Soup)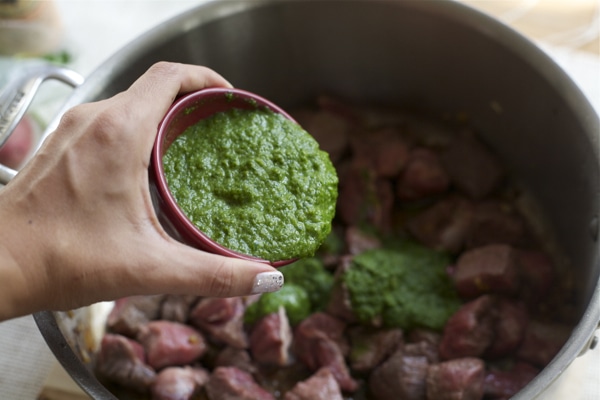 Peruvian Seco
Olive oil
Sea salt
1 1/2 pound stew meat, cut into 1-inch cubes
1 yellow onion, diced
3 garlic cloves, minced
2 teaspoons ground cumin
1 1/2 teaspoons ground pepper
1 teaspoon paprika
1 large bunch cilantro, leaves picked and stems discarded
3 serrano peppers, deseeded and chopped
1 1/2 cup low-sodium chicken stock, divided
1 cup beer – must be a lager (like Heineken or Beck's)
4 small potatoes, cubed
4 small winter squash, cubed
1. Preheat oven to 325F. Sprinkle the cubes of meat liberally with salt.
1. In a large pot, add 2 tablespoons of olive oil and heat over medium heat. When the oil is hot, add the meat in one layer, being sure to not overcrowd the pot (you may have to brown the meat in 2 batches – I did!). Cook meat on both sides for about 30 seconds or so. Remove the meat from the pan and transfer it to a bowl. Set aside.
2. To the jar of a blender, add the cilantro leaves, 3 chopped serrano peppers and 1/4 cup of chicken stock. Blend until smooth – the mixture will resemble a pesto. Set aside.
3. In the same pot, add 2 tablespoons of olive oil and add the onions; cook until translucent, about 5-7 minutes. Add the garlic and cook until fragrant, an additional minute. Stir in the cumin, pepper, paprika and 1 teaspoon of salt. (Note: If you're not using low-sodium chicken broth, I'd recommend adding 1/2 teaspoon of salt.)
4. Pour in the beer and deglaze the bottom of the pot, scraping the brown bits as the beer foams up and steams. Add the meat and its juice back to the pot (it will release some juice as it sits), along with the cilantro mixture and remaining 1 1/4 cup of chicken stock.
5. Cover the pot with its lid and transfer it to the oven. Allow to gently simmer for 1 1/2-2 hours, until the meat is tender. Check on it at the 1 hour mark and add any additional chicken stock if liquid is running low (I added about 1/2 cup over 2 hours). At the 1 1/2 hour mark, check the meat – depending on the quality of meat, it might still be tough. If needed, cook for an additional hour, adding any liquid if necessary. Fold in the potatoes and squash. Cook for an additional 30 minutes, until potatoes are tender.
6. Before serving, adjust salt and pepper to taste. Serve over a bed of warm rice, couscous or quinoa. Garnish with a sprinkling of cilantro.
Serves 4