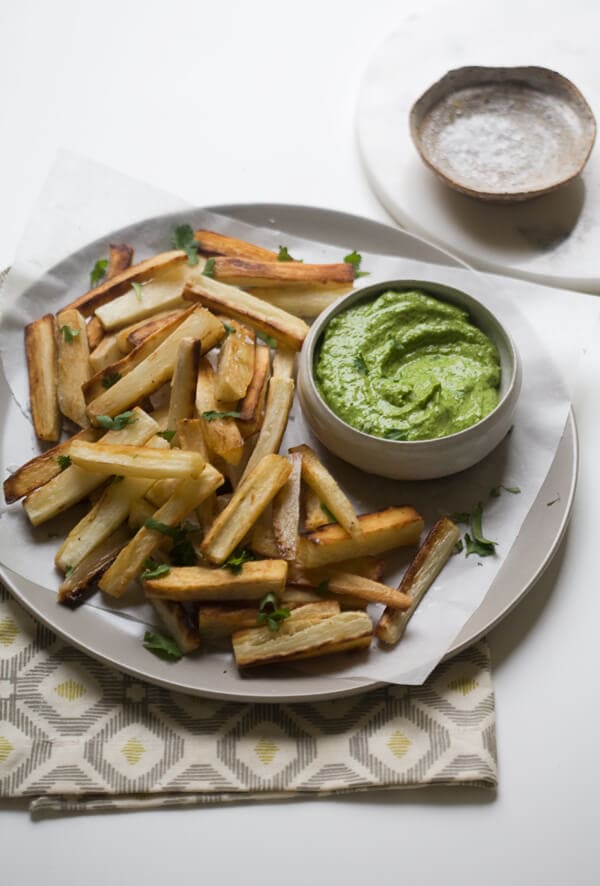 Last Friday I bought a $13 movie ticket, along with a small bag of $6 popcorn, and joyfully watched the new Jon Favreau movie, The Chef. I loved it! Sure, there were problems with the movie, like the relationship between him and Sofia Vergara (seems a little unrealistic) but whatever, I took the ride.
Not to give too much of the movie away but part of it was shot in South Florida, where I grew up the majority of my life and it made me miss home in a way I never do. I miss my family, but I rarely miss Florida. My meh-ness toward Florida can usually be summed up with one word: humidity.
Despite the excessive moisture in the air, Miami does have a vibrancy and energy that I really do love. And I love all the Latin people (and food) in South Florida. It made me want the food of my peeps. For as long as I can remember I've always been obsessed with this Peruvian Aji.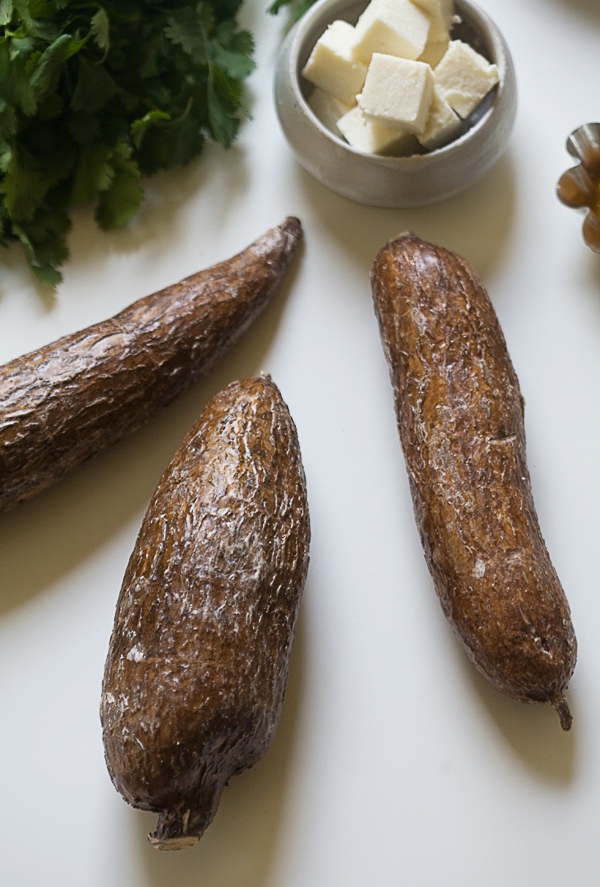 If you go into a Peruvian restaurant, most likely it'll be on every single table. We eat it with everything. The ingredients can be tough to find. There's usually a bit of black mint and fresh aji amarillos peppers in the sauce. So, in order to make it as assessible, I altered the recipe below to be as United States-friendly as possible.
Aji amarillo paste might be the toughest ingredient to find, though if you live near a Latin American market, it'll most likely be there. It's also online. If you can't get a hold of it, you can always add a bit more jalapeño.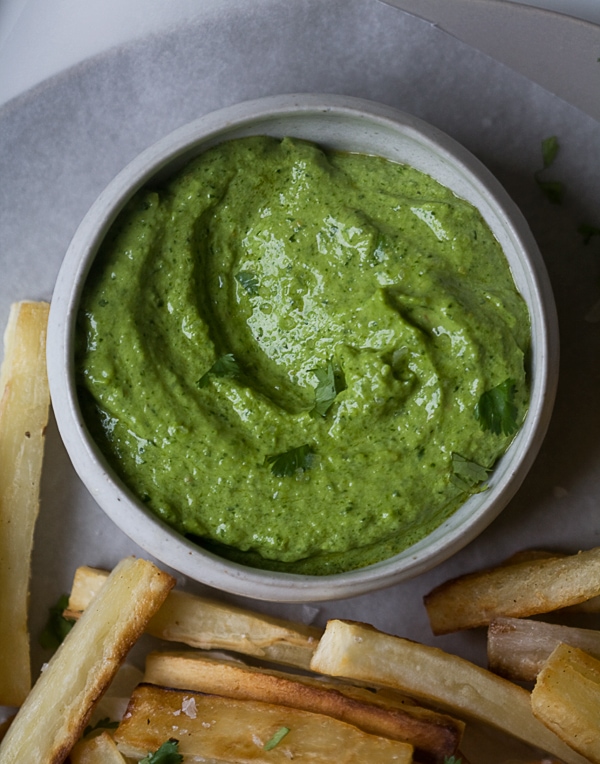 These fries can definitely be baked, if you'd like to skip the fry-step. I didn't fry them in a deep pot of oil at all, just a few tablespoons. But feel free to finish them in the oven–they'll just be slightly less crispy. And I'm a fan of crisp.
But really, the most important thing is the aji. It really is super important.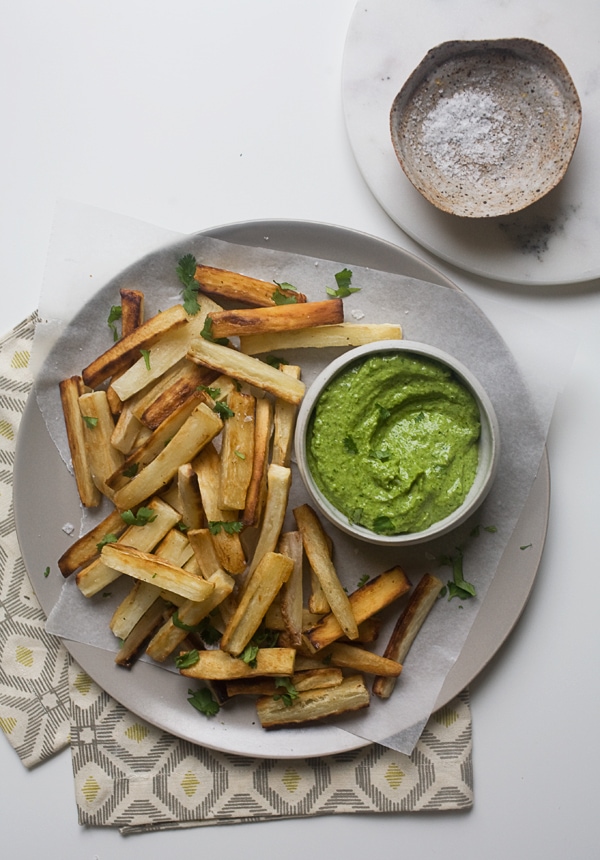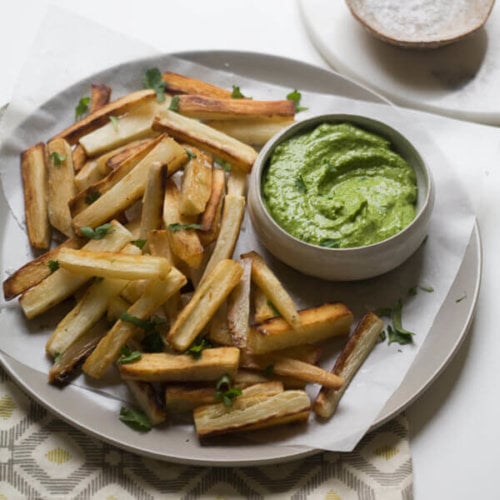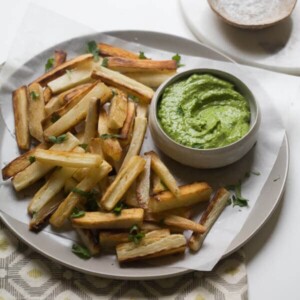 Ingredients
Yucca Fries
1 1/2

pounds

yucca root

,

peeled and cut into matchsticks

Vegetable oil

Sea salt
Peruvian Aji
1 3/4

cups

cilantro leaves

1/2

cup

cubed queso blanco

1/4

cup

mayonnaise

2

teaspoons

aji amarillo paste

1

garlic clove

,

minced

Juice from 1 lime

Juice from 1 lemon

2

teaspoons

vegetable oil
Directions
Bring a medium pot of water to a boil; add the yucca matchsticks and allow to simmer for 15 to 20 minutes. Drain and allow to air dry thoroughly.

While the yucca is drying, let's make the aji. In the jar of a blender, add the cilantro leaves, cubed queso fresco, mayonnaise, aji amarillo paste, garlic clove, juice from the lime and lemon and vegetable oil. Pulse until very smooth, starting and stopping the blender to scrape the sides of the blender as needed. Transfer to a small bowl and set aside.

In a medium saucepan, add about 1/2-inch of vegetable oil. When the oil is hot, add the yucca fries (you may have to fry these up in batches). Fry the yucca on both sides for 1 to 2 minutes each. Transfer to a bed of paper towels and place them in a warm oven, while you continue to fry up the remaining yucca. Sprinkle the yucca fries with a bit of salt and a sprinkling of cilantro. Serve alongside the Peruvian aji.