Yucca Fries
16
Feb 27, 2020, Updated Sep 17, 2023
Disclosure: This post may contain affiliate links, which means I may earn a commission if you click on the link and make a purchase.
These Yucca Fries are deliciously crispy on the outside with a soft interior. They are served with a spicy Peruvian aji verde and topped with flaky sea salt. Serve this yuca frita with pollo a la brasa or even by themselves for a delicious snack.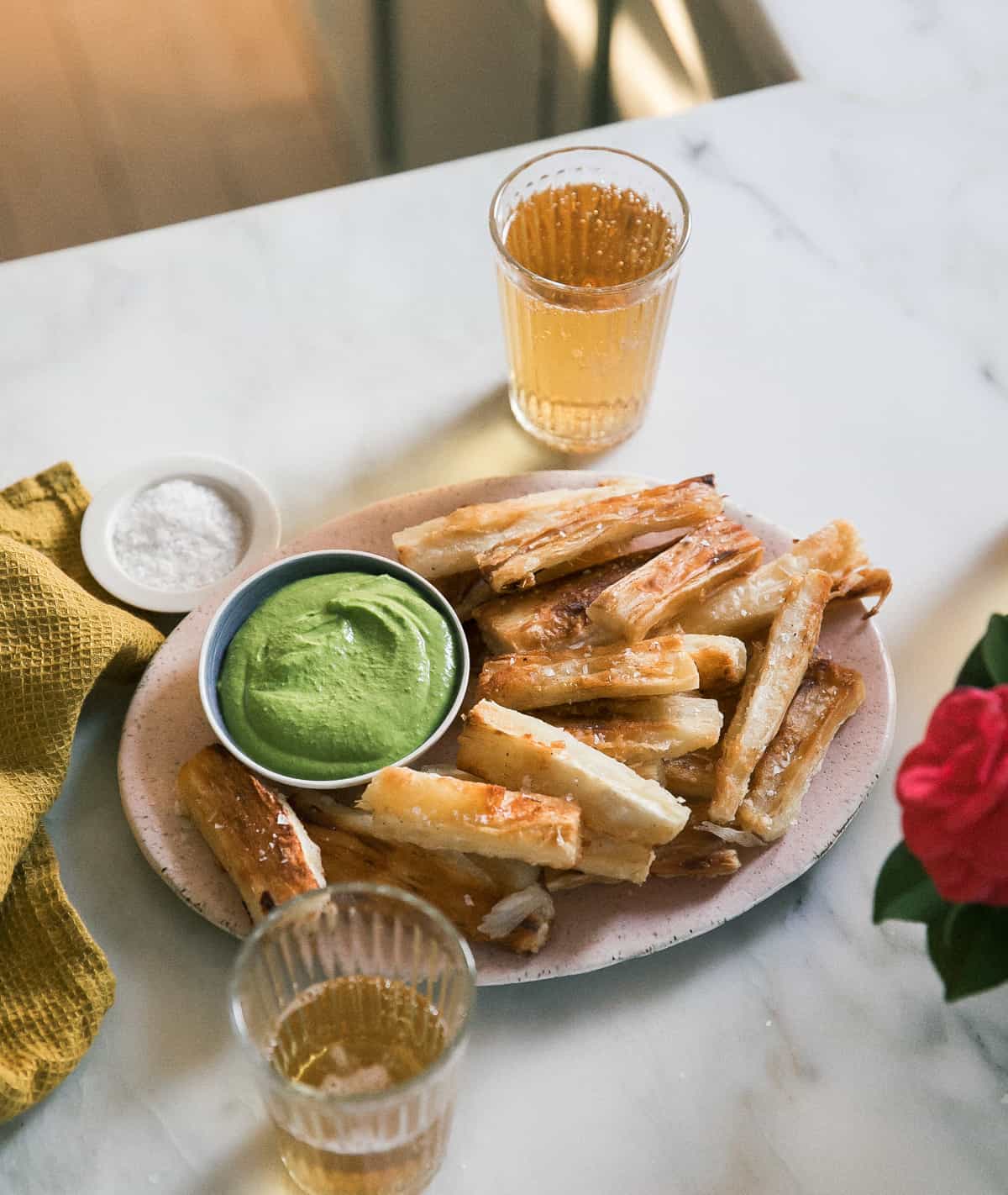 South Florida is the place where I grew up the majority of my life and sometimes I really miss that place.  My meh-ness toward Florida can usually be summed up with one word: humidity.
Despite the excessive moisture in the air, Miami does have a vibrancy and energy that I really do love. And I love all the Latin people (and food) in South Florida. It made me want the food of my peeps. For as long as I can remember I've always been obsessed with this yucca frita served with aji verde. It is truly my jam!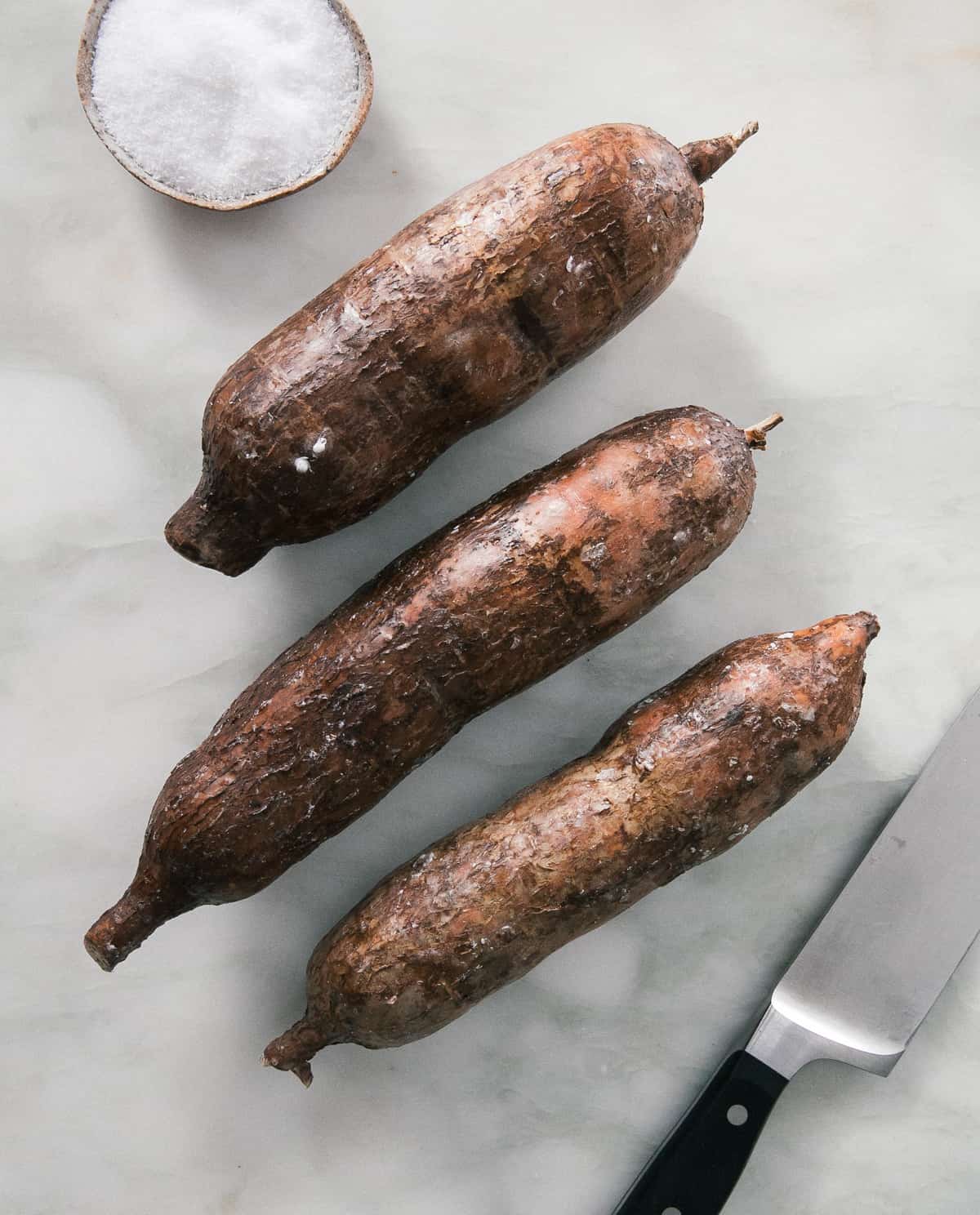 What is Yucca?
Yucca is classified as perennial shrub. The root is what we know as yucca, though there are certain cultures that eat the flowers, too. Yucca is spelled "yuca" in Spanish. So you may see the two interchangeably and both are correct!

Where Does Yucca Grow?
Yucca thrives in tropical climates in South America, Central American, Mexico and parts of the Caribbean. It's a relatively slow-growing plant so it definitely requires some patience.
How to Cut Yucca
I like to trim off the ends and then cut the yucca into 4-inch pieces. I've seen family members, just peel the peel of the yucca off and honestly, that has never worked for me lol. I always ruin my nail polish and nails. Call me a wuss, but I prefer to just slice off the peel with a knife, going all the way around the root.
For this recipe, I like to then cut those pieces into matchsticks. They certainly don't have to be perfect and won't be (without a lot of waste). Imperfect pieces are totally fine.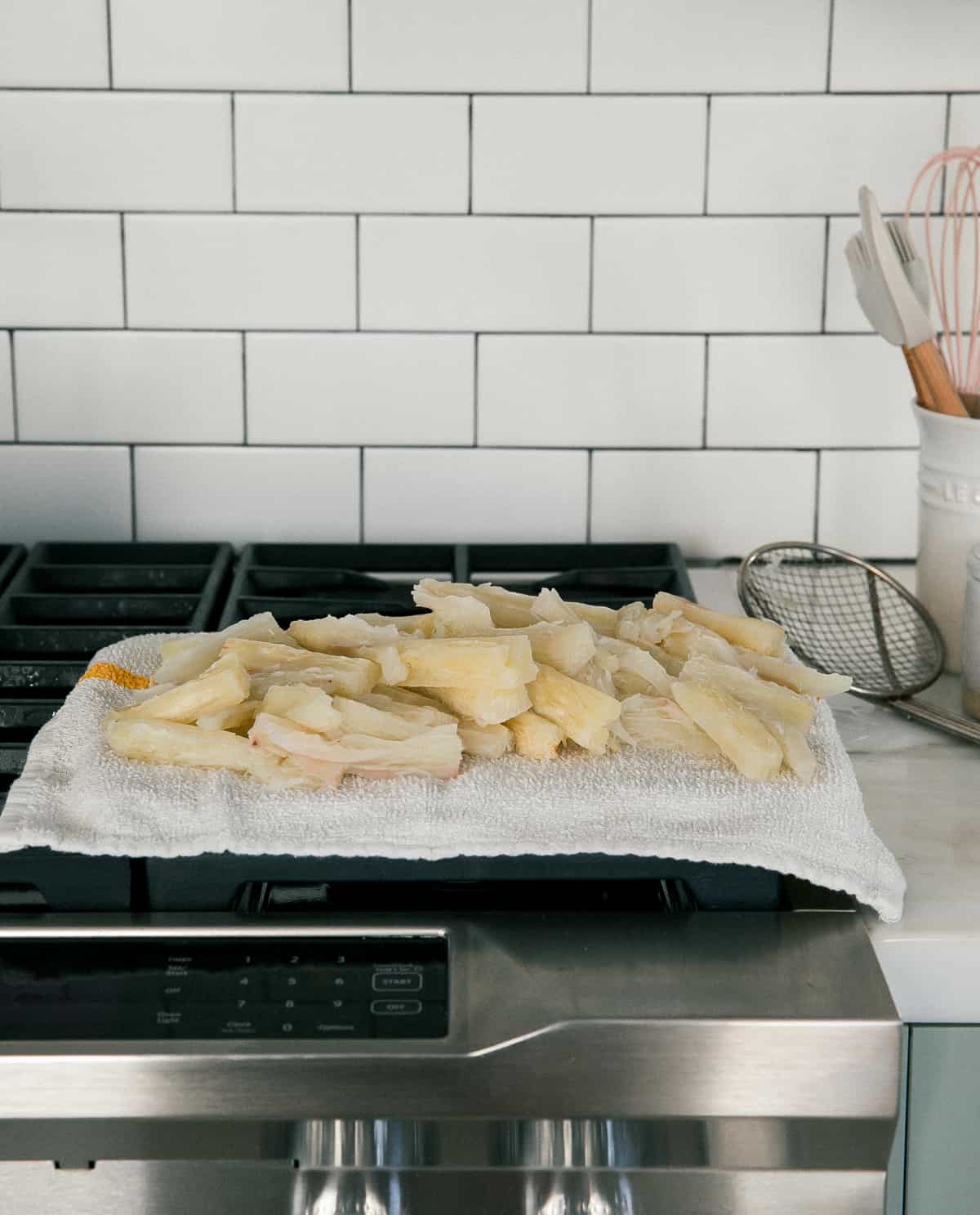 How to Cook Yucca
Yucca (yuca) root is super versatile; people fry it, boil it, put it in soup broths, mash it and even grind it up to make cassava flour.
I grew up eating it in soups (like chicken broth), eating it fried (like you see pictured) and having it mashed. If you've ever had an upset stomach, eating soft yucca is perfect because it aides in an upset stomach. What are yucca fries? Well, they're essentially the shape of fries but made with yucca! Hello, yuca frita!
How to Make Yucca Fries
Trim the yucca! This is the most annoying part, I'm not going to lie lol. I like to trim off the ends, trim off the bark/peel and then cut the yucca into matchsticks.
Bring a pot of water to a gentle boil. I like to boil the yucca in salted water so a few liberal pinches of kosher salt will do you good.
Drop the yucca in and cook away! While this is going, I like to get my salsa together. I always serve this with aji verde because that's what I grew up eating it with. But there are other options! You could do a mojo sauce, other salsas.
Transfer them to a bed of clean kitchen towels or paper towels. This really dries them out. You want to do this before you fry 'em up.
Wipe out the pot. I like to use the same pot I boiled them in just to save on dishes. You want to make sure there isn't any water in the pot before you add the water.
Add the 1-inch of oil to the pot and heat it up. I used avocado oil in this recipe but in the past have used vegetable oil and grape seed. You want to use a high-smoke point oil that's neutral in flavor.
Next, in batches, you want to add the pieces of yucca. You will definitely have to cook these in batches; no over crowding the pot. As a result, you'll end up with super crispy yucca fries.
Fry them on each side for 2 to 3 minutes, until medium golden brown. 
Remove them from the pot and drain them on a bed of paper towels or kitchen towel. And sprinkle with flaky sea salt.

How to Bake Yucca Fries
Can you bake yucca fries? Absolutely. You can. But here's the thing: they aren't as good. I know, I know, frying things is always a drag. The plus side is these are in a super shallow amount of oil–so they don't create that big of a mess.
If you want to make baked yucca fries, you can do that. Preheat your oven to 425 degrees F. Toss the yucca gently with about a tablespoon of oil. Transfer them to a baking sheet and bake them. The yucca root fries won't really be golden brown but will definitely be a bit crispy on the edges.
Can you make yucca fries in the airfryer? You can! I did it. Follow the directions above and cook them in your airfryer for about 20 minutes.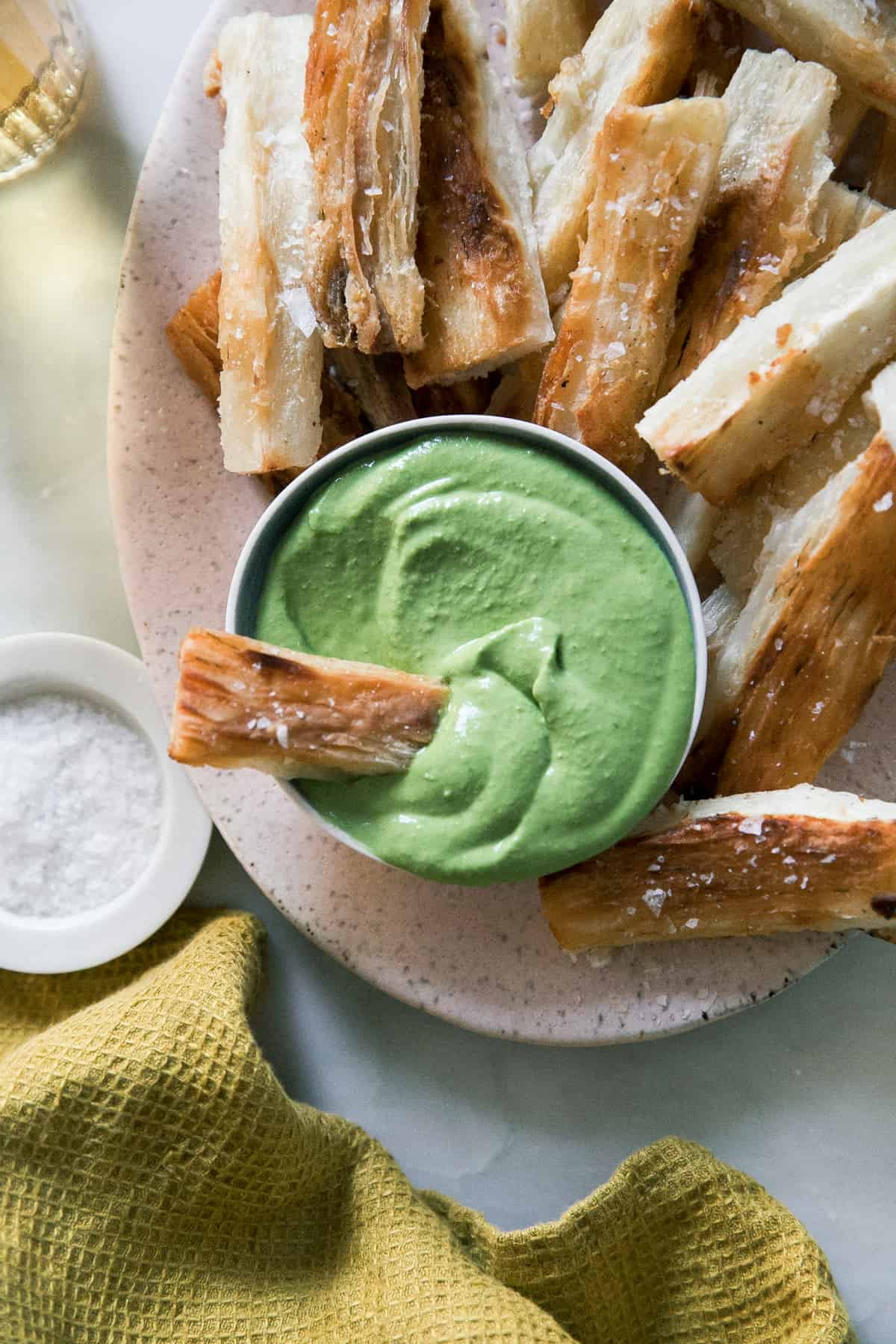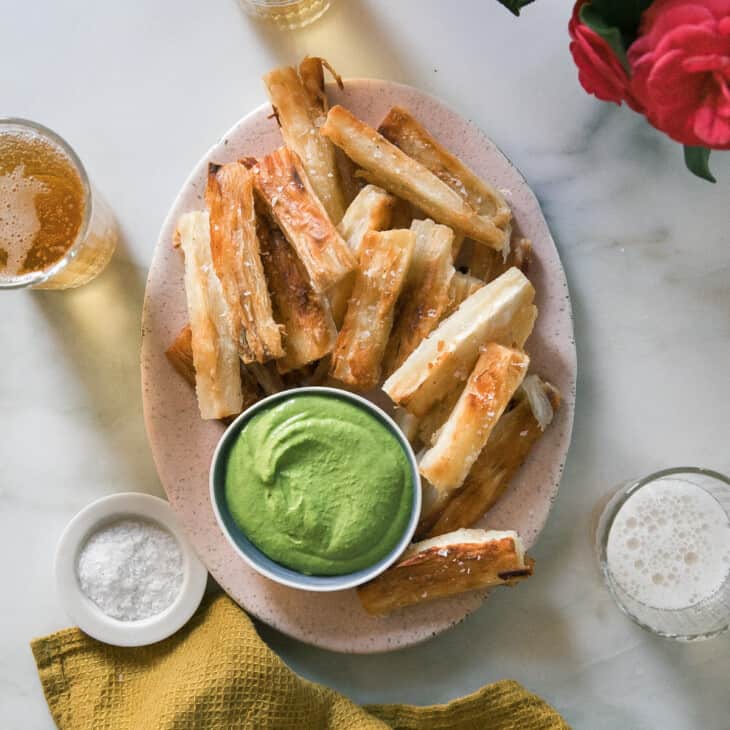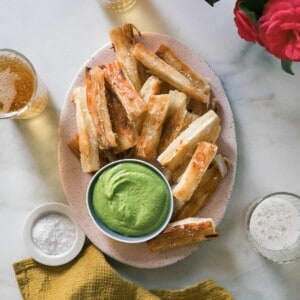 These crispy yucca fries are first peeled, boiled and then pan-fried until crispy on the outside and soft on the inside. They're best served with a side of aji verde.
Ingredients
Yucca Fries
3

pounds

yucca root

,

peeled and cut into matchsticks

Kosher salt

Neutral oil

,

(such as avocado oil or grapeseed oil)

Aji Verde,

(for serving)
Instructions
To Prep the Yucca Root:

Slice off the ends of the yucca root. Next, cut them into 4-inch rounds (this will vary depending on big the yucca is). Turn them on their flat side and slide the peel off on all sides, cutting off the least amount of yucca as possible.

Next, cut the yucca into matchsticks.

Bring a medium pot of salted water to gentle simmer. Add the yucca matchsticks and allow to cook for about 20 minutes. Drain and transfer to a clean kitchen towel or bed of paper towels. You want them to dry out.

In a medium saucepan or Dutch oven, add about 1-inch of neutral oil (I used avocado oil). When the oil is hot, add the yucca fries (you will have to fry these up in batches).

Fry the yucca on both sides for 2 to 3 minutes each, until medium golden brown. Transfer to a bed of paper towels or clean kitchen towel and place them in a warm oven, while you continue to fry up the remaining yucca.

Sprinkle the yucca fries with a bit of salt. Serve alongside the aji verde.
Notes
To Bake in the Oven: 
I baked these in the oven and didn't love their lack of color and crispy texture. But if you like, you certainly can. Preheat your oven to 425 degrees F. Toss the yucca gently with avocado oil. And place on a baking sheet. Bake for about 25 minutes, flipping them half way through. 
Equipment: 
Dutch Oven | Kitchen Utility Towels | Chef's Knife | Baking Sheet | 
Nutrition
Calories:
124
kcal
|
Carbohydrates:
23
g
|
Protein:
3
g
|
Fat:
1
g
|
Saturated Fat:
1
g
|
Sodium:
32
mg
|
Potassium:
615
mg
|
Fiber:
4
g
|
Sugar:
4
g
|
Vitamin A:
29
IU
|
Vitamin C:
47
mg
|
Calcium:
36
mg
|
Iron:
1
mg
Nutrition information is automatically calculated, so should only be used as an approximation.
If you make these Yucca Fries, let me know on Instagram! 
Looking for more Latin-inspired recipes? Here are some favorites: